Butterfly Beach is the prettiest beach in Santa Barbara County.
This palm lined beach has soft, white sand, and is hemmed in by a sea wall with a beautiful stone balustrade. It's named after the monarch butterflies that once inhabited the native grasses along the beach.
There's free parking along Channel Drive, then take the ramp or stairs to the beach.
There are no public facilities like restrooms, picnic tables or lifeguards, and dogs must be on a leash. Bring your own food or drink, or drive 3 minutes to charming Coast Village Road at Montecito for restaurants and cafes.
5 best things about Butterfly Beach
1. Butterfly Beach has an enchanting setting, across the road from the Four Seasons Resort and multi-million dollar homes.
The historic Four Seasons Resort Biltmore was constructed in 1927, in the Spanish Colonial Revival style so popular in this area. Many celebrities also have houses in this area, like Oprah Winfrey and Rob Lowe. The lush gardens and landscaping in this area are reminiscent of Hawaii.
2. Enjoy sweeping views of the coastline from Butterfly Beach, up to Santa Barbara Point.
Look across Santa Barbara's harbor to landmarks like Stearns Wharf and Shoreline Park. If you're lucky you might even spot some dolphins frolicking off the coastline.
3. The Cabrillo Bike Path runs 4.5 miles west from Butterfly Beach in Montecito, to Leadbetter Beach at Santa Barbara.
Ride along this gorgeous path, all the way to Santa Barbara.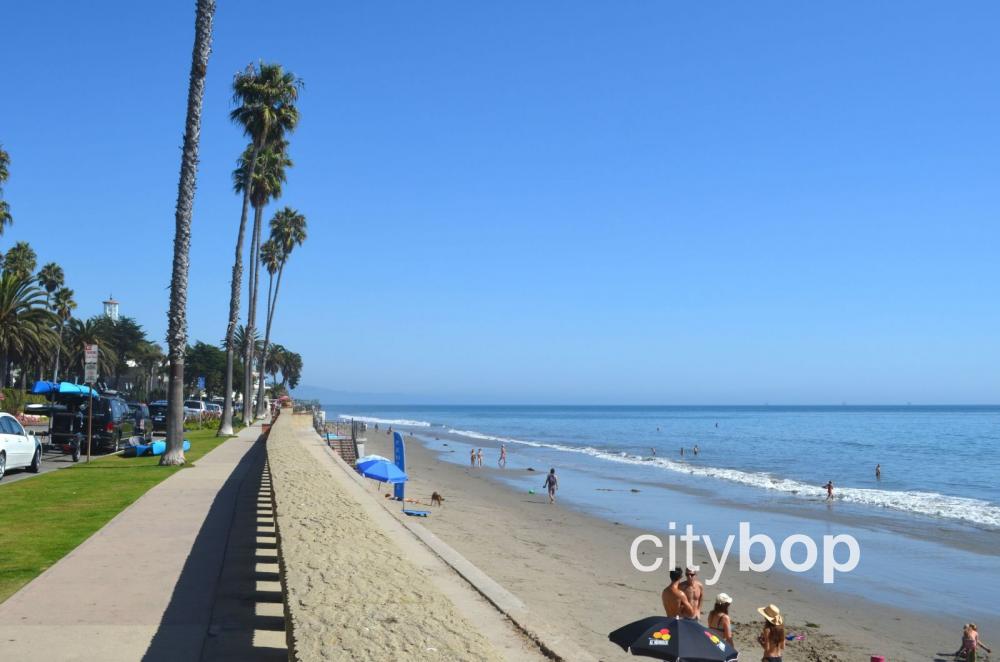 4. It's perfect for a beach day.
The average water temperature in summer is around 65 degrees, dropping to 57 degrees in winter. There are no lifeguards at Butterfly Beach.
5. Butterfly Beach is one of the only west facing beaches in this area, so the sunsets are simply stunning.
Know before you go
Address: 4-miles east of Santa Barbara's downtown, along Channel Drive at Montecito.
Restrooms: No.
Picnic tables: No.
Lifeguards: No.
Parking: There's free parking along Channel Drive, then take the ramp or stairs to the beach.
Other Santa Barbara Beaches
Learn more about other Santa Barbara Beaches including East Beach, West Beach, and Hendrys Beach.
More Beaches in Santa Barbara