East Beach Santa Barbara is directly east of Stern's Wharf, along Cabrillo Boulevard.
This Santa Barbara beach has an expansive lawned area with palm trees and a waterfront path.
Stroll or bike along the relaxing promenade and enjoy views of the glistening ocean and majestic Santa Ynez Mountains. If you're feeling more energetic, there are volleyball courts on the beach.
Dogs are not allowed on East Beach.
10 best attractions at East Beach Santa Barbara
1. Go swimming in summer.
East Beach is popular in summer for swimmers and sunbathers, with an average water temperature of 65 degrees, dropping to 57 degrees in winter. Find a scenic spot on the beach near Mission Creek. This picturesque creek flows through Mission Canyon in the foothills of the Santa Ynez Mountains, down to East Beach. You can visit the Santa Barbara Botanic Garden to see the lush section of the creek in Mission Canyon.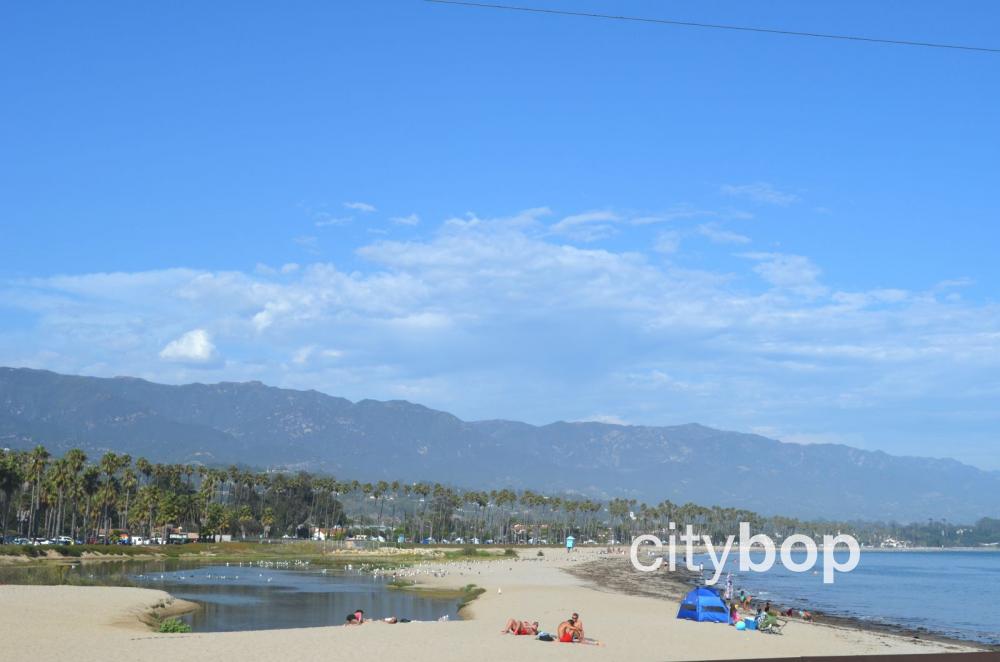 2. Ride along the 4.5 mile beachfront path.
This popular bike path takes you on a scenic ride from Santa Barbara to the neighboring town of up-scale Montecito. The path starts at Leadbetter Beach in Santa Barbara, traveling past West Beach and East Beach and finishes at beautiful Butterfly Beach in Montecito. Rent from Santa Barbara Bike to Go, or Wheel Fun Rentals.
3. Stroll along the 3-mile Santa Barbara waterfront path.
Walk along the 3-mile Santa Barbara waterfront path that starts at East Beach, and continues west towards Stearns Wharf, West Beach, and Shoreline Park. The beautiful Santa Ynez Mountains forms a spectacular backdrop to the 1-mile section of this path along East Beach.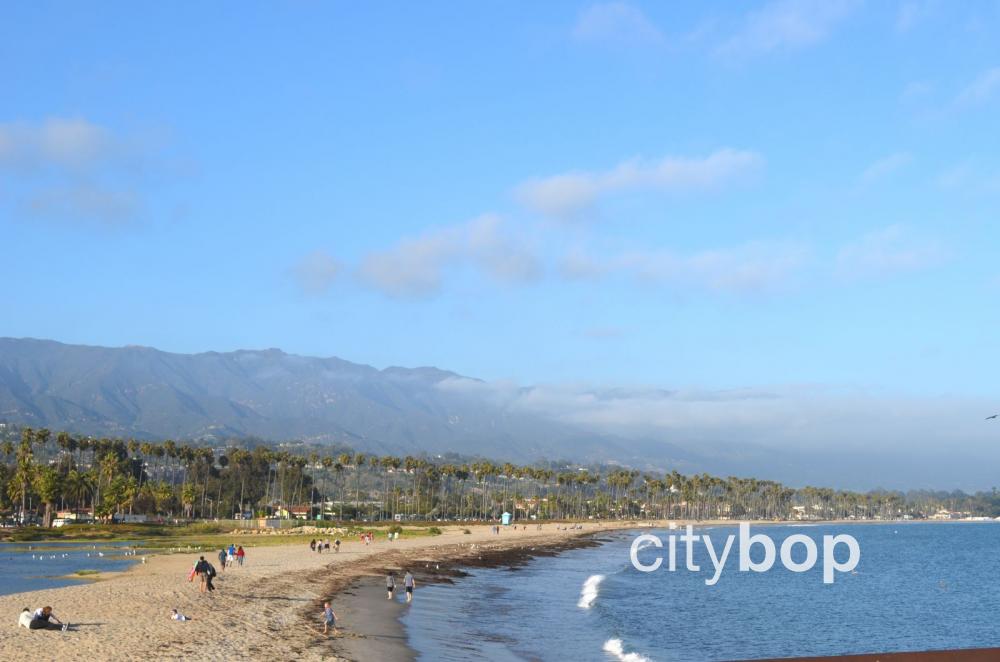 4. See beautiful Chase Palm Park.
East Beach Santa Barbara is also flanked by Chase Palm Park, located on both sides of Cabrillo Boulevard. Chase Palm Park also has the historic Carousel House Event Center, that's popular for weddings and summer concerts. It overlooks the sunken garden in an elegant, circular plaza with a fountain feature. There's a stream nearby with ducks and turtles, and plenty of picnic tables.
5. Visit the awesome Shipwreck Playground.
The fabulous Shipwreck Playground is also at Chase Palm Park. The playground is divided into two sections for toddlers and bigger kids. Kids can explore the play equipment with soft sand underfoot, while enjoying views of the coast.
6. Explore the restaurants at Stearns Wharf.
Stearns Wharf is at the west end of East Beach, and is the perfect place for a meal.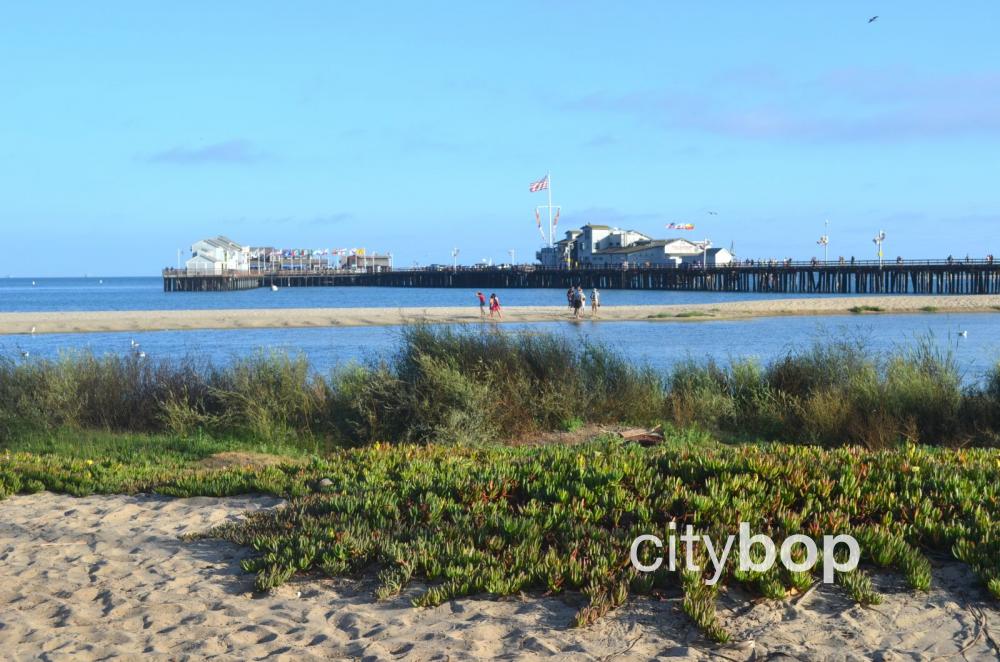 7. Play at the world famous beach volleyball courts.
The Volleyball courts are at the east end of East Beach, and home to volleyball tournaments each year.
8. Have a picnic on the grassed area.
There are a few picnic tables scattered about the grassed area of East Beach near the volleyball courts. Nearby Chase Palm Park also has picnic tables.
9. Watch all the activity out on the ocean, with plenty of leisure ships, and the occasional warship.
Can you see the distant oil rigs in this picture?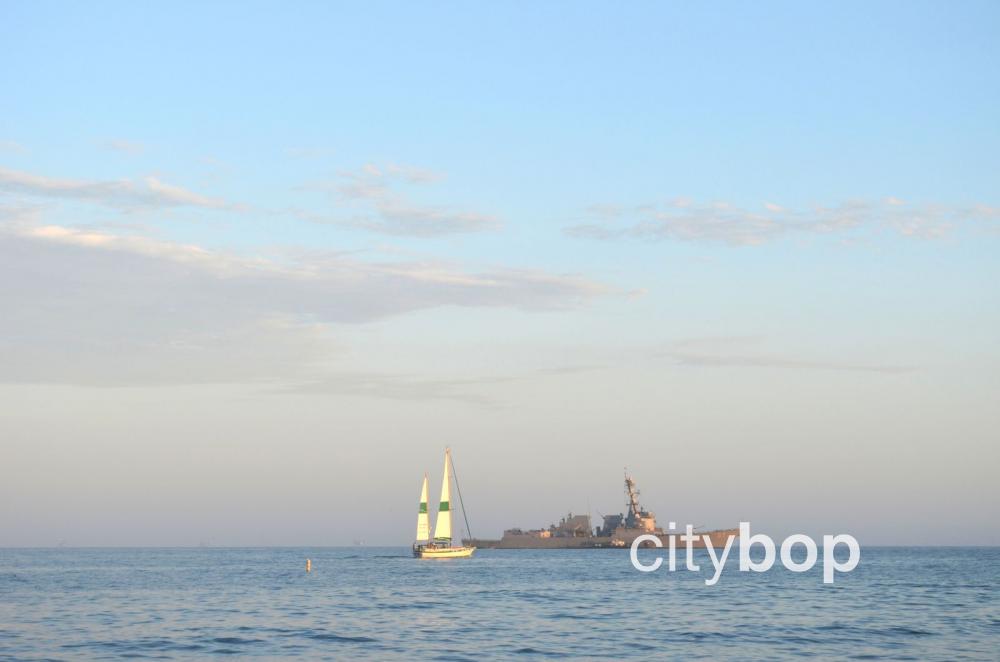 10. Dusk is a magical time to visit East Beach, when the landscape is bathed in golden light.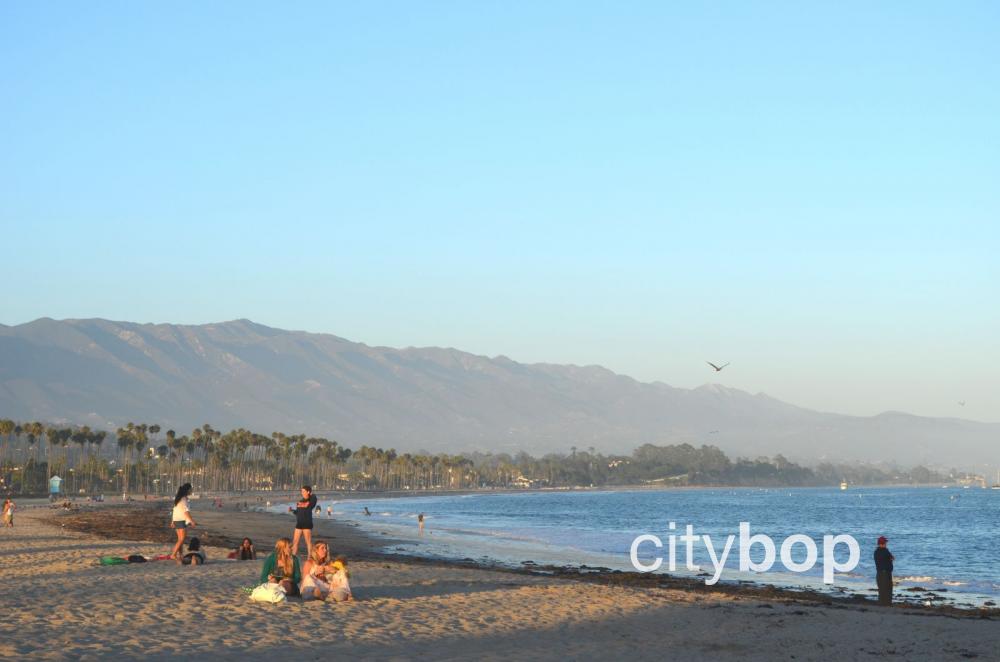 Know before you go
East Beach Santa Barbara parking: Palm Park Parking lot.
Restroom: yes.
Picnic tables: yes.
Dogs: no.
Playground: Chase Palm Park.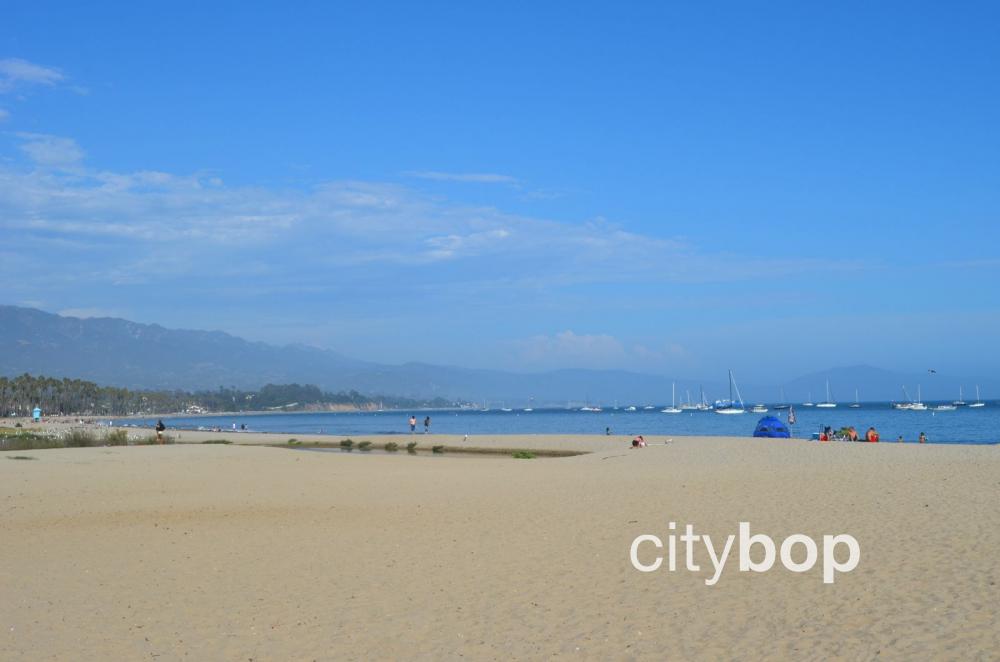 Other Santa Barbara Beaches
Learn about other Santa Barbara Beaches like Hendrys Beach and Leadbetter Beach. Gorgeous Butterfly Beach is a must-see.
More Beaches in Santa Barbara