The Fishermans Wharf is a charming slice of old Monterey.
The Fishermans Wharf harks back to Monterey's earliest days as a bustling fishing port.
It was first established in 1846, and serviced immigrant fisherman who took advantage of the bountiful offerings in the Monterey Peninsula.
Today you will find many family owned seafood restaurants with mouth watering fish fresh off the boat, and glorious bay views. The shops are fun to browse, with unique trinkets, candy and icecream, and there's also a colorful seafood market.
10 best things to do at Fishermans Wharf Monterey
1. Take a photo at the entryway sign.
The Fishermans Wharf was first constructed as a stone pier in 1846, then became a commercial pier in the 1900's for Monterey's thriving fishing industry.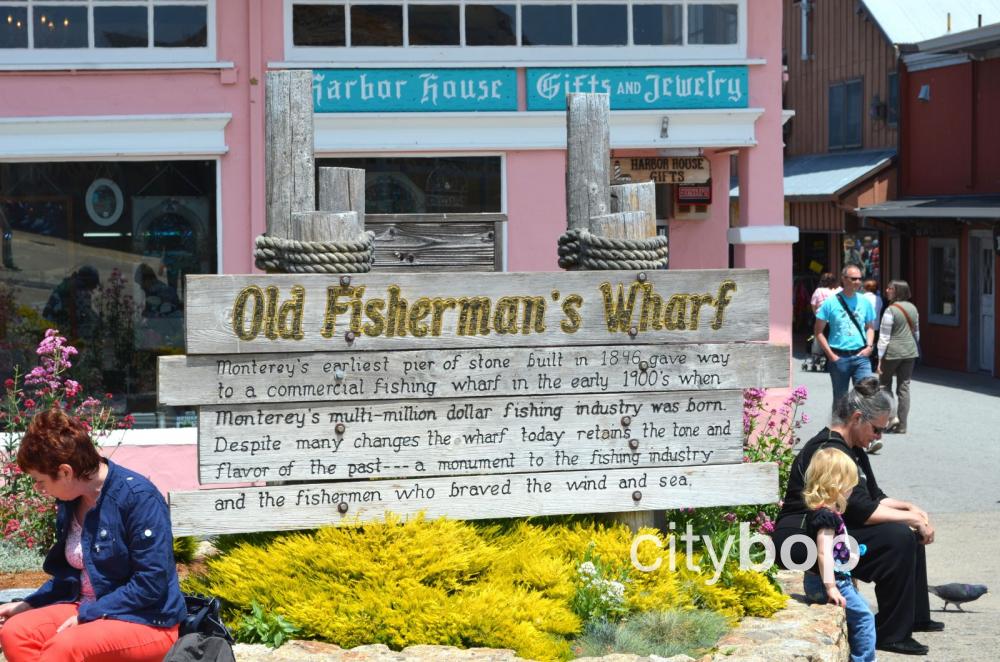 2. Walk the full length of the pier to explore unique gift shops, a chocolate store, restaurants, and a fish market.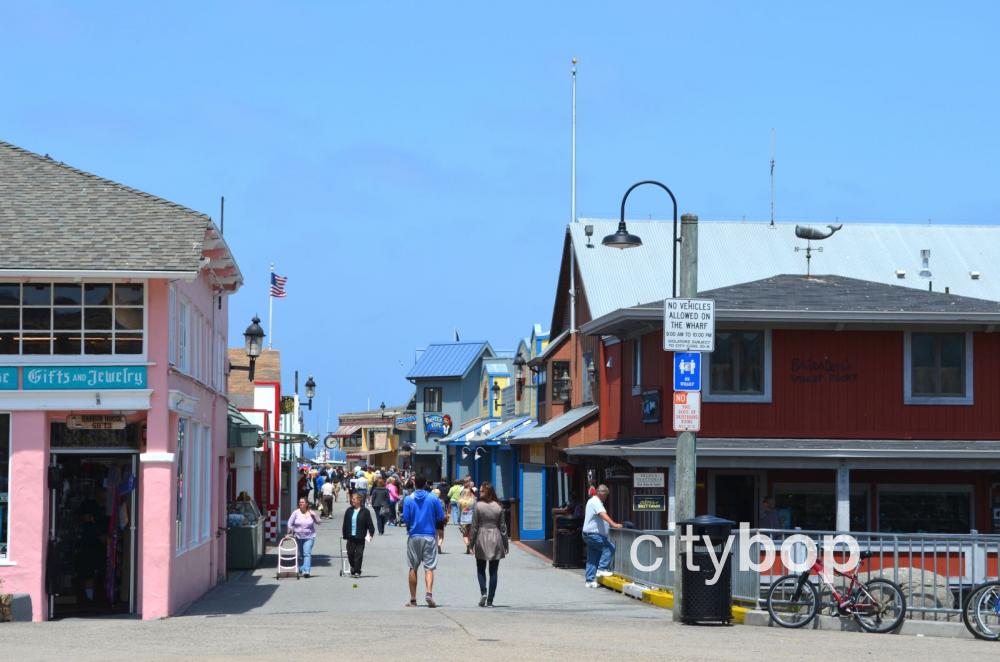 3. Visit the general store at the start of the Fishermans Wharf, with great souvenirs and a lovely wrap-around balcony perfect for coastal views.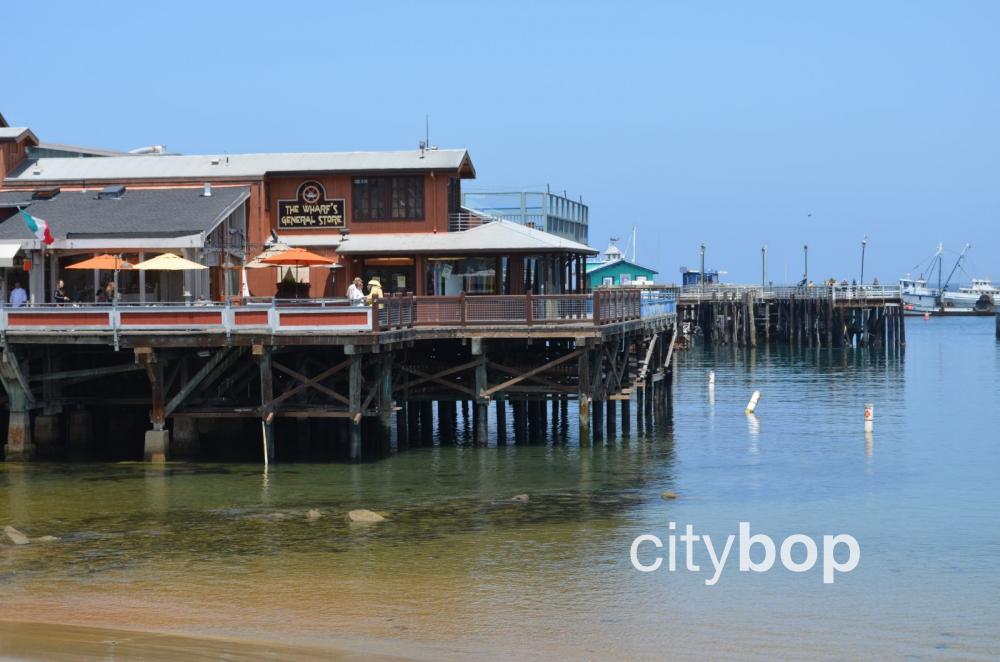 4. Visit the Old Fisherman's Grotto restaurant which has been around since the 1950s.
This seafood and Italian restaurant serves fish straight off the boat from Monterey Bay, and is renowned for its clam chowder.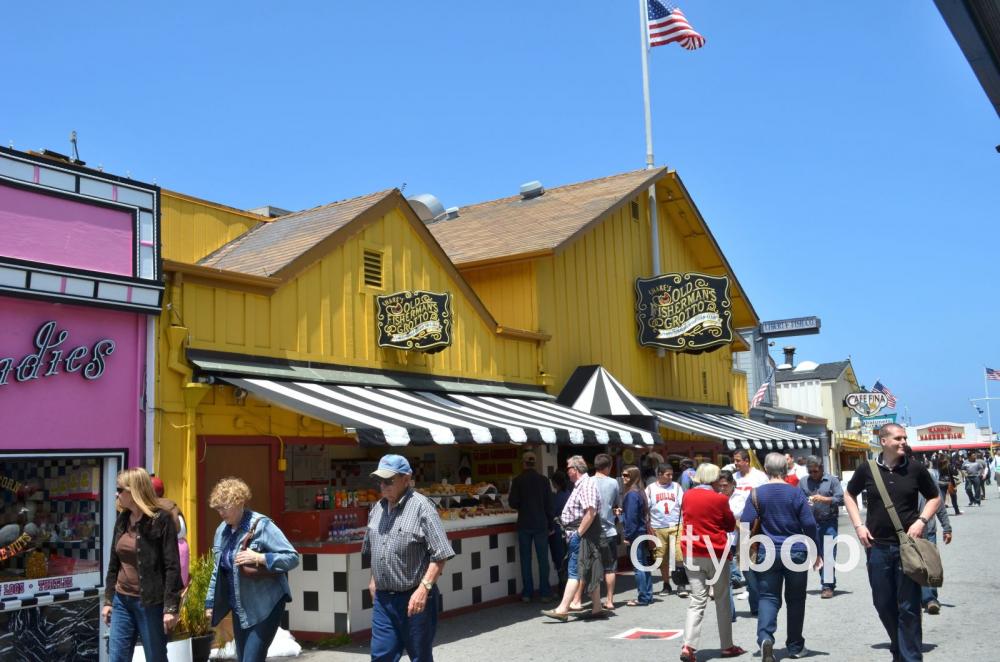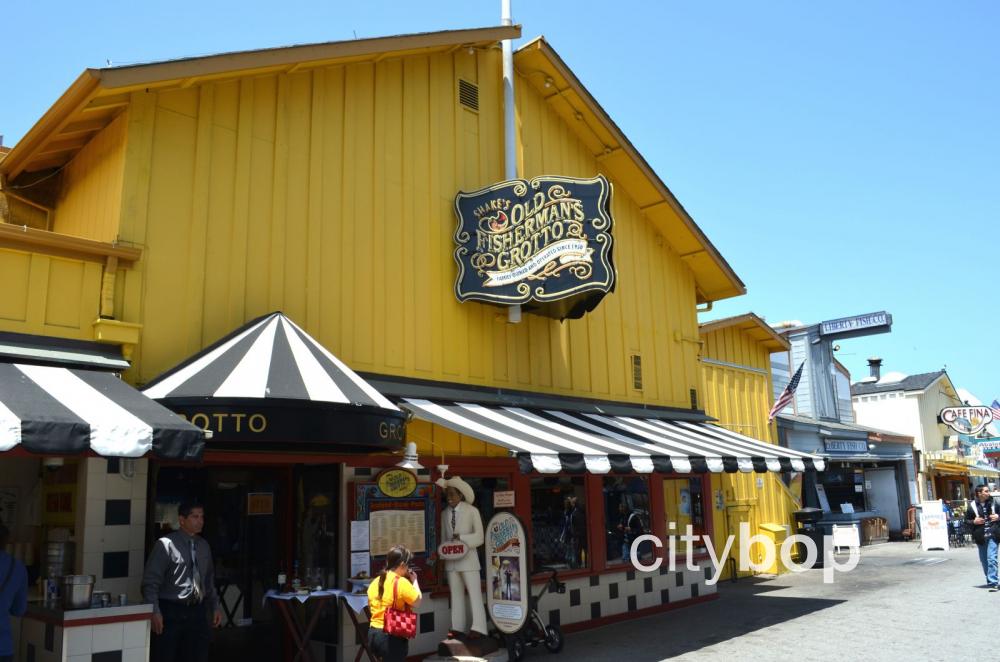 5. Carousel Candies has been a favorite on the Fishermans Wharf since 1960.
Try some hand-made salt water taffy, made right on the premises. There's also other goodies to tempt you, like caramel apples, popcorn, fudge, rocky road, marsipan and gummies.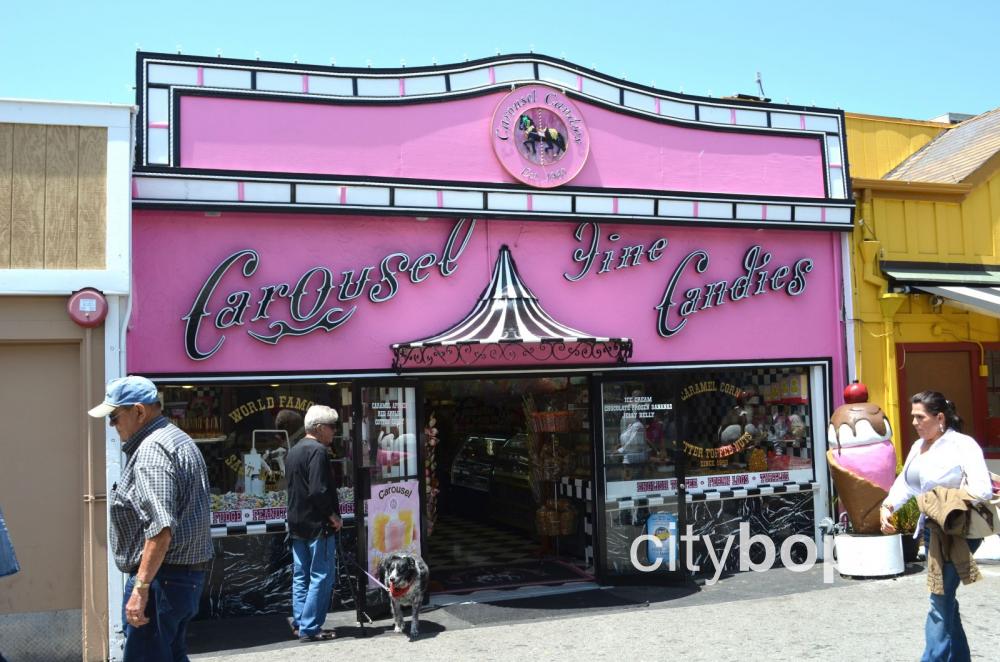 6. Enjoy panoramic water views from another classic seafood restaurant, Big Fish Grill (formerly known as Rappa's).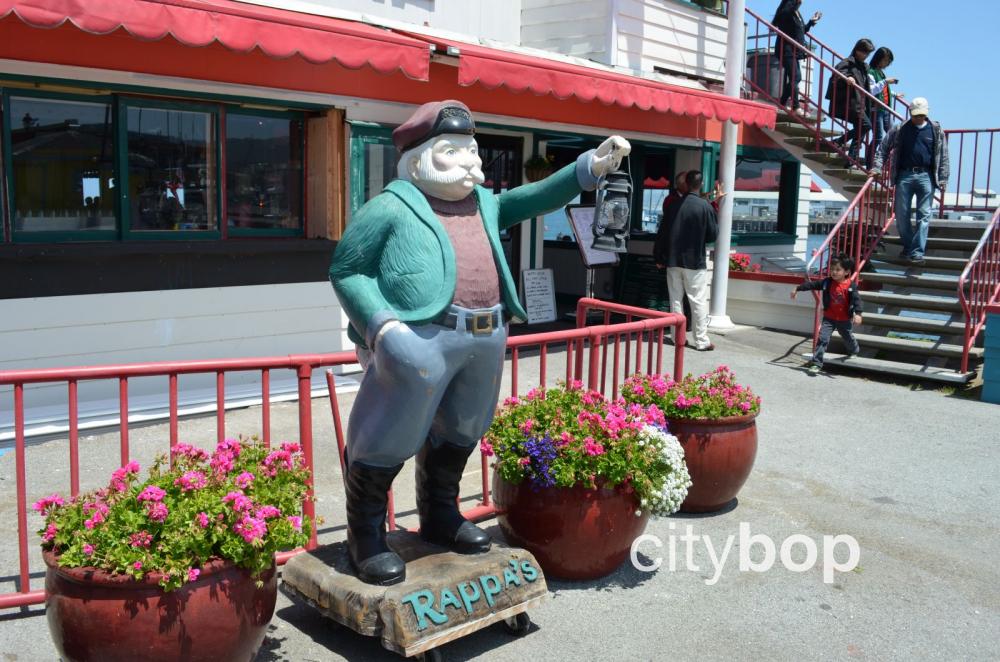 7. Sit at an outdoor patio, and take in the sights and sounds of this bustling pier.
8. Look out at the sandy beach visible at the south end of the Fishermans Wharf, at high tide.
9. Book a whale watching tour. The Fishermans Wharf is also a departure point for the very popular Monterey Bay Whale Watching tours. The rich marine ecosystem of Monterey Bay ensures that there are plenty of wildlife sightings, like whales, sea lions, seals, sea otters and dolphins.
10. It's also a short walk to the quieter Monterey Municipal Wharf, seen here in the background behind the marina.
Buy free seafood on the Municipal Wharf, or enjoy watching the harbor seals that frolick close to the wharf.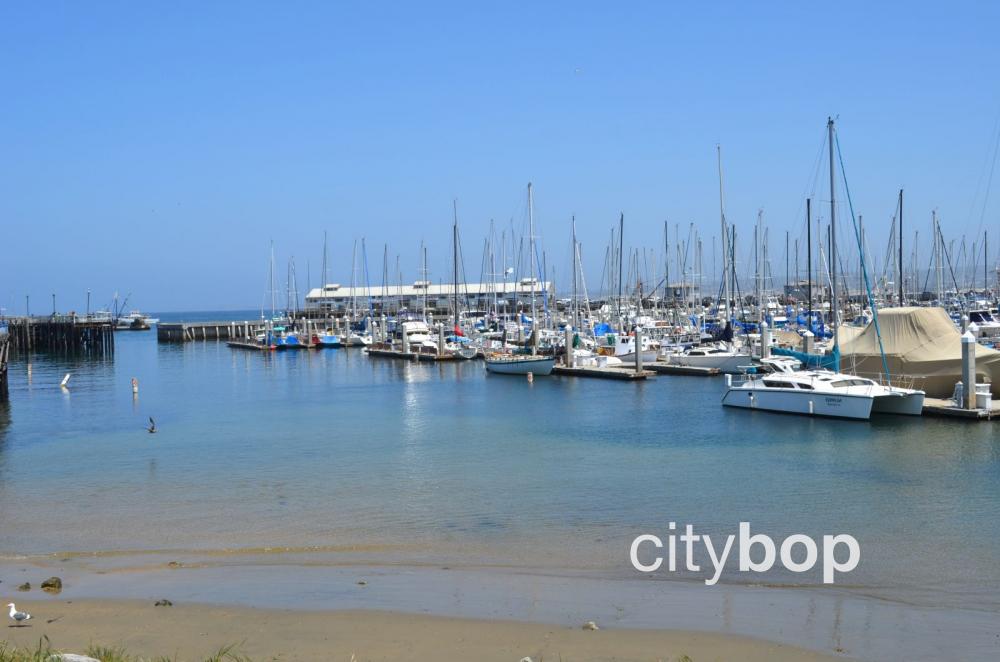 Know before you go
Location: Monterey waterfront, walkable from Cannery Row.
Parking: Look for the "Historic Monterey Waterfront Parking" at 245 Washington Street.
Restrooms: End of the Fisherman's Wharf.

Restaurants:

Six restaurants.

Coffee: The trendy Water and Leaves coffee shop is an unexpected delight. It has a hipster esthetic with industrial furniture, exposed beams and reclaimed wood tables. However, the best part is enjoying a latte at the coffee shop's waterfront bar, while watching the boats putter by.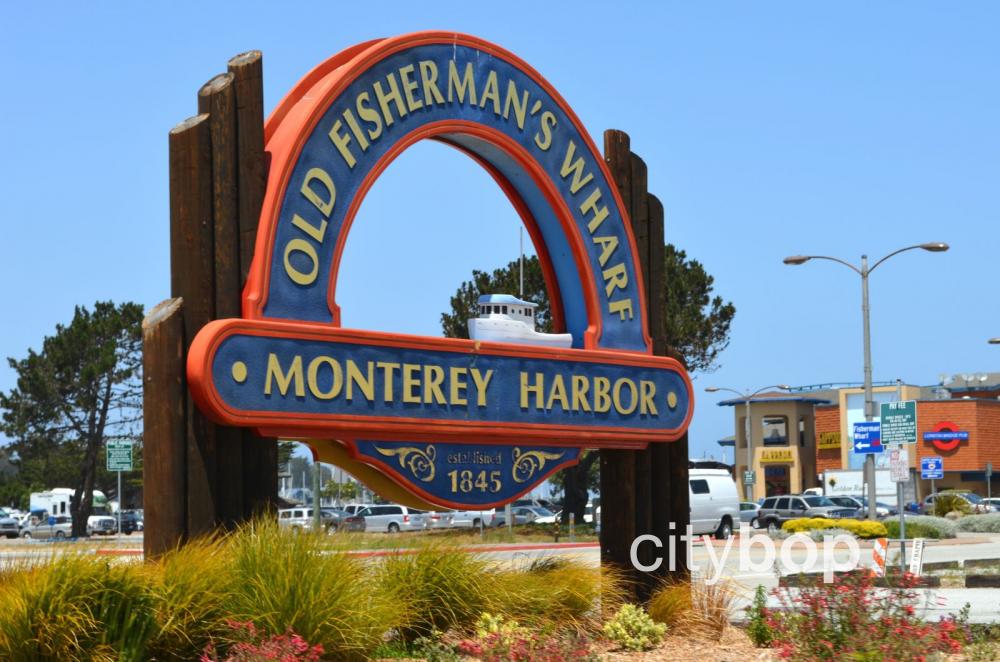 More Restaurants & Shopping in Monterey