Coronado is on a peninsula, 15 minutes drive from downtown San Diego. It has a beautiful, white sandy beach with the iconic, Hotel del Coronado in the background.
Coronado started out as a resort town, with the Hotel del Coronado built in 1888. The hotel has a rich history, graced by many Hollywood celebrities, and presidents.
The Oceanfront Path runs past the Hotel del Coronado and is perfect for biking or strolling.
The best lunch and shopping options are at nearby bustling Orange Avenue.
10 BEST things to do in Coronado
1. Walk along the magnificent Ocean Pathway.
Start your exploration of Coronado along the oceanfront pathway that runs past the Hotel del Coronado. Marvel at the hotel's stunning architecture, with dramatic red turrets and an elegant white facade.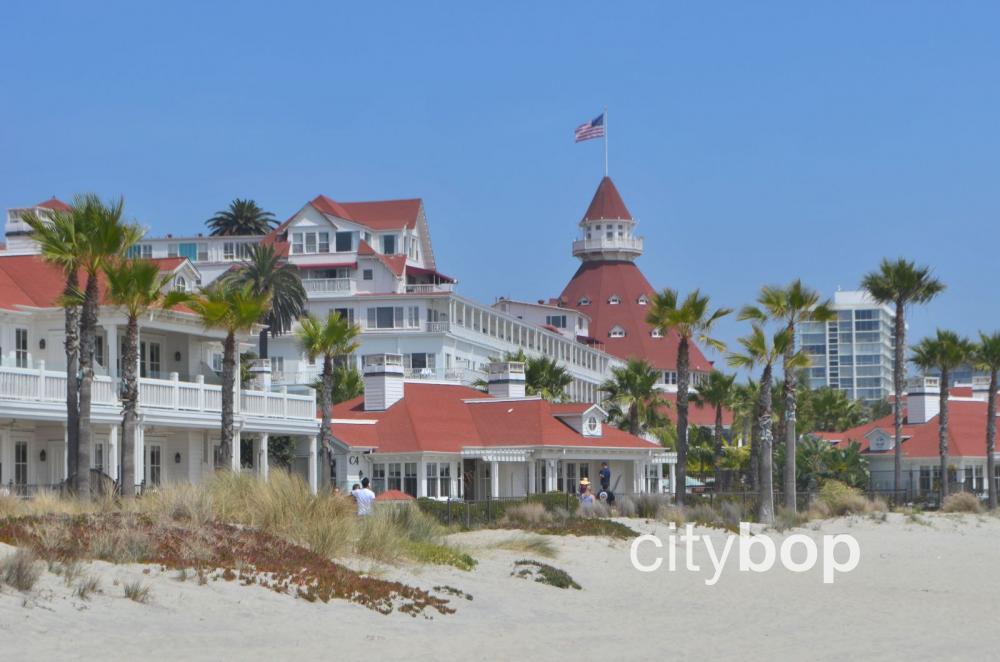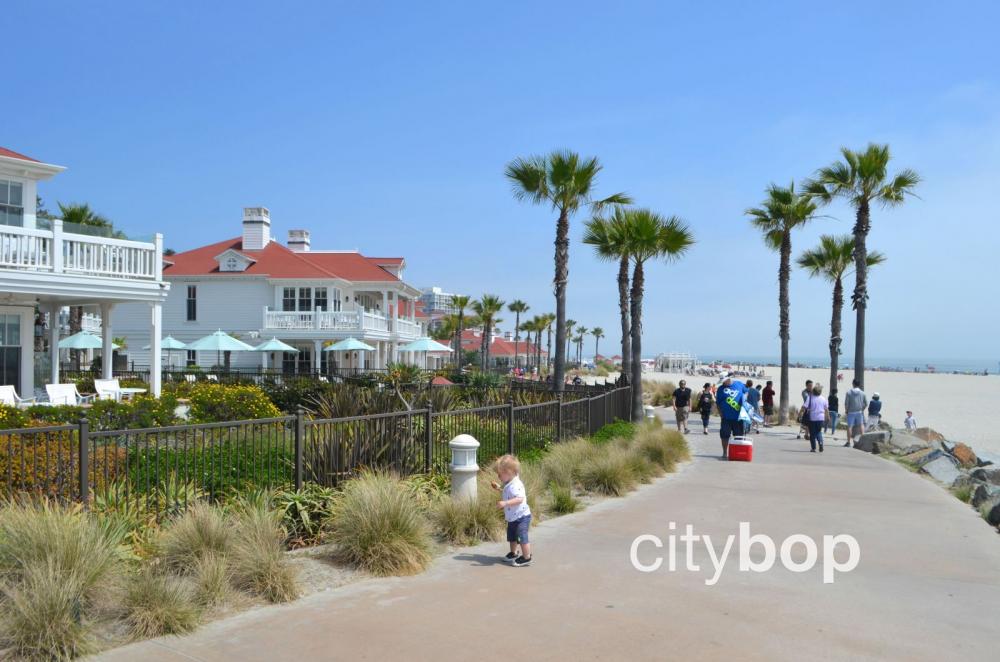 10 BEST Attractions at Coronado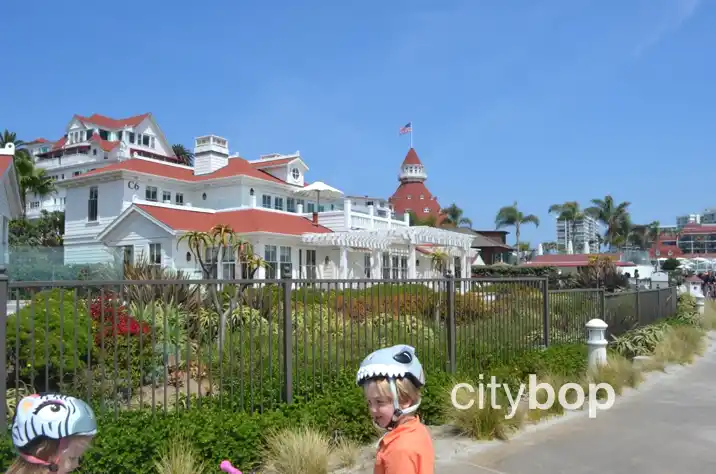 Visit Coronado
2. Rent a bike to explore key sights along the stunning Ocean Pathway.
Book a bike at Wheel Fun Rentals, and choose from electric bikes, cruisers, kids bikes, tandem bikes, two seaters and four seaters.
You can also do a 2 to 4 hour self-guided tour that laps around the island, covering off key attractions like the Hotel Del Coronado, Coronado Bay Bridge, and Frank Baum House. Frank Baum is the famous author of the Wizard of Oz series, who often rented a house on Coronado Island during his many summer stays.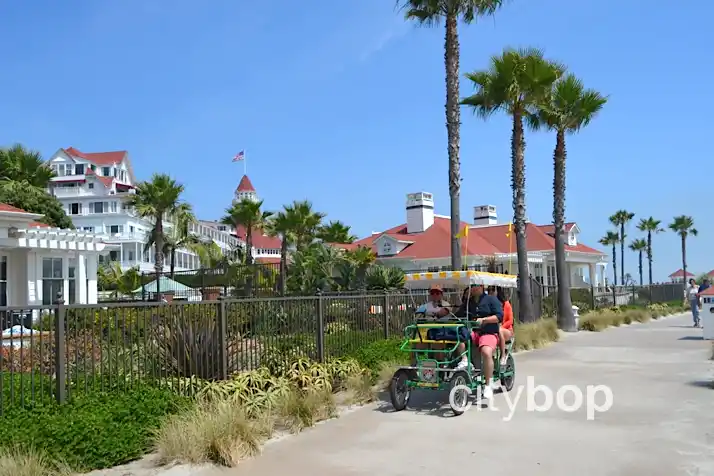 Coronado: 10 BEST Things to Do
4. Stop for a refreshment at the Del Beach Bar.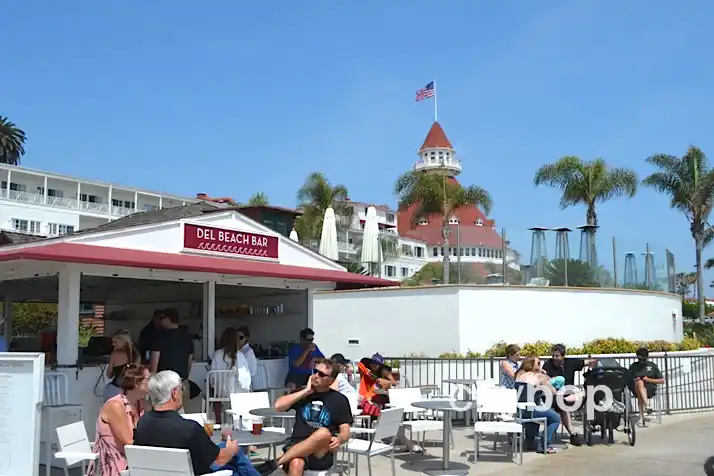 4. Explore the famous Hotel del Coronado that has hosted politicians, royalty and celebrities.
Step inside the hotel's famous Rotunda lobby to experience a bygone era, resplendent with chandeliers and intricate, dark wood paneling, and vintage elevator.
The adjacent Crown Room has a dramatic, arched ceiling made from sugar pine. A banquet was held here in 1920 for the Prince of Wales where it's rumored he met Wallis Simpson.
The Hotel del Coronado has an incredible history, with Presidents and movie stars staying here. Marilyn Monroe's 1958 film "Some Like it Hot" was filmed here.
This unique building was also the inspiration for the Emerald City in Frank Baum's the "Wizard of Oz". Frank Baum designed the two chandeliers in the Crown Room.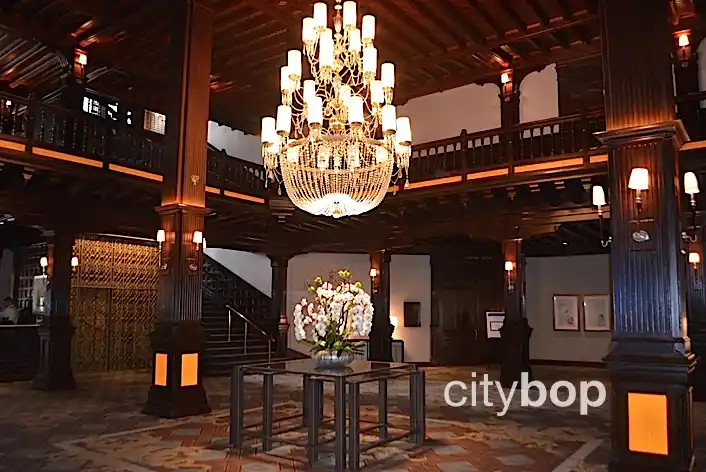 Hotel Del Coronado History
5. Enjoy lunch at a choice of restaurants at the Hotel del Coronado.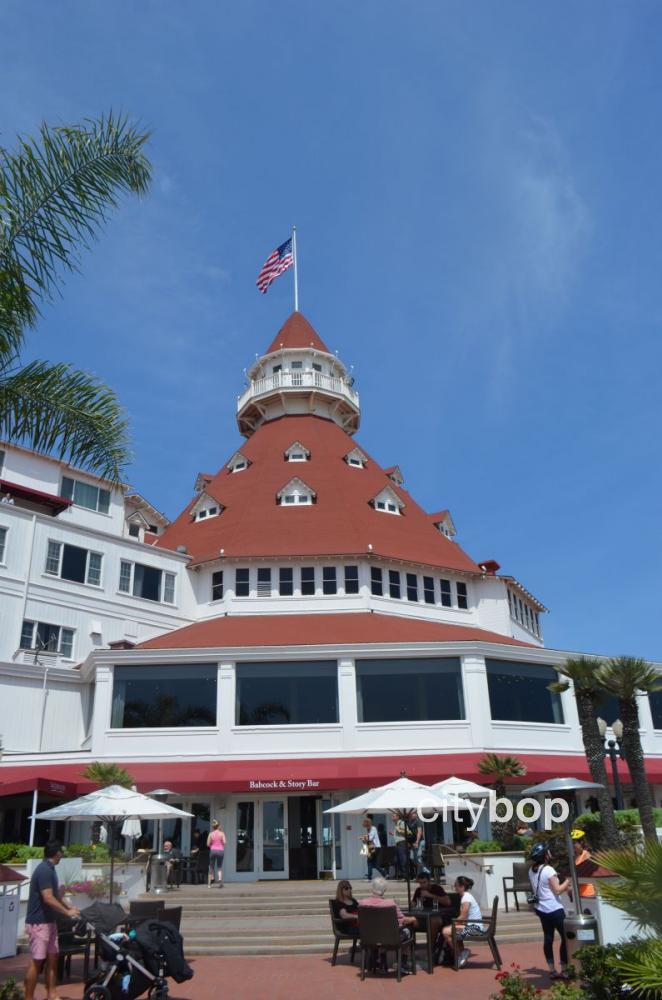 Step inside the busy Babcock and Story Bar, on the ground floor of Hotel del Coronado.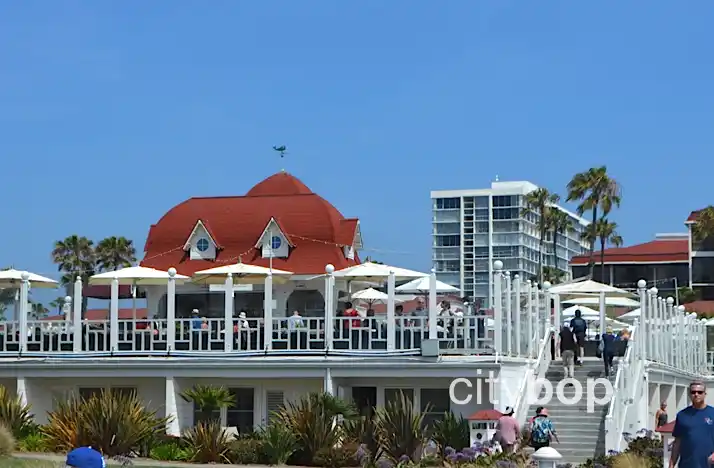 Coronado restaurants
Reserve a table at the Sun Deck Bar & Grill.
6. Visit beautiful Coronado Beach.
Wander outside to the sandy Coronado Beach, perfect for sunbathing or people watching.
You can see all the way across the San Diego Bay to the Cabrillo National Monument. The Coronado peninsula is home to a Naval Air Station, so you might catch a glimpse of military boats and helicopters practicing maneuvers.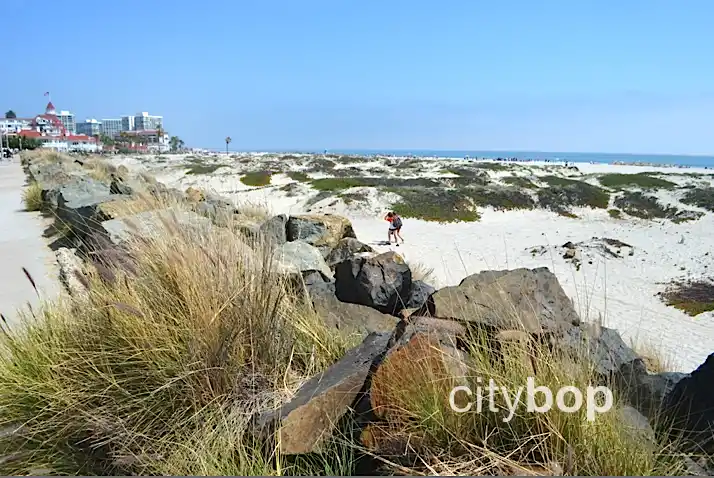 Coronado Beach San Diego
7. Explore restaurants and shops along bustling Orange Avenue.
Walk into downtown Coronado, and browse the beautiful shops along Orange Avenue.
Enjoy a meal at the retro Clayton's Coffee Shop, an americana themed diner with fun booths and jukeboxes. Or treat the kids to an ice-cream at MooTime Creamery, and take a photo with Elvis and the dairy cow out front.
8. Stop by the Coronado Visitor Center to learn more about this area.
Next, stop by the Coronado Visitor Center and free museum (1100 Orange Avenue), featuring a fascinating collection of photos, paintings and architectural drawings. Docent led walking tours also start here.
9. Stroll through Coronado's historic neighborhoods and admire vintage homes.
10. Take a breathtaking ride on the Coronado Ferry to downtown San Diego.
To conclude your visit, take the 15-minute Coronado Ferry from Coronado Island to downtown San Diego, with spectacular views of the city skyline.
Know before you go
Main restaurant street: Orange Avenue.
Historic hotel: Hotel del Coronado.
Coronado Visitor Center: 100 Orange Avenue.
Coronado Ferry Schedule: check here (15 minutes from downtown San Diego to Coronado).
More Beaches in San Diego