The Gaslamp Quarter is San Diego's main entertainment district, with restaurants, cafes and a vibrant nightlife.
The Gaslamp Quarter is composed of 16 city blocks in downtown San Diego, full of restaurants, cafes, rooftop bars and a few museums.
It runs north-south for half a mile along 4th, 5th and 6th Avenues, bookended by Broadway on its northern boundary and Harbor Drive on its southern boundary.
The Gaslamp Quarter became San Diego's downtown center during the 1860's, and has streets lined with beautiful Victorian buildings and historic gas lamps from this era. It replaced the Old Town settlement located 4-miles north, settled by the Spanish in the late 1700's.
5 best things to do in the Gaslamp Quarter
1. Take a photo at the famous Gaslamp Quarter sign.
The best starting point for exploring the Gaslamp Quarter is at the arched entryway sign, on the corner of L Street and 5th Avenue, across from the San Diego Convention Center. The sign reads Historic Heart of San Diego.
2. Eat out at fabulous restaurants and cafes at the Gaslamp Quarter.
The Gaslamp Quarter is one of the best places in San Diego for a meal or a night out on the town.
Start the day with a yummy brunch at eclectic Cafe 21.
Dine at chic restaurants like the Lionfish Modern Coastal Cuisine (seafood), Rustic Root (American cuisine), and Provisional Kitchen (seasonal fare), or enjoy cocktails at rooftop lounges with fantastic city views, like Altitude Sky Lounge, The Nolen, or the Fairweather Rooftop Bar.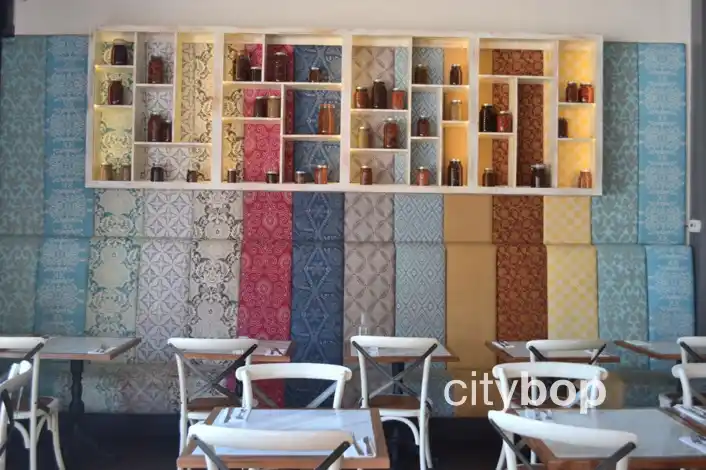 3. Visit downtown San Diego's oldest building at the Gaslamp Museum.
The Gaslamp Museum (410 Island Avenue) is a saltbox house constructed in 1850. It's the oldest surviving structure in downtown San Diego. Tour the beautifully preserved rooms. You can also book a walking tour of the Gaslamp Quarter from here. Hours and admission.
4. Learn about Chinese history in the Gaslamp Quarter at the Chinese Historical Museum.
The Chinese Historical Museum (404 Third Avenue) has a beautiful exhibit collection and garden, documenting Chinese history in the Gaslamp Quarter. Hours and admission.
5. See modern art inside the spacious interior of The Museum of Contemporary Art.
The Museum of Contemporary Art (1100 Kettner Boulevard) is another attraction close to the Gaslamp Quarter.
More Restaurants & Shopping in San Diego