Shop, eat and play at a historic Naval Training Center in San Diego. Scenes from Top Gun were once filmed here!
Liberty Station is a decommissioned Naval Training Center on San Diego Bay near the airport, that has a second life as a shopping, restaurant, museum and entertainment space.
The 550-acre Naval Training Center operated here from 1923 to 1997, but was no longer required after the Cold War. A lot of soldiers passed through here, and it once housed 33,000 men in WWII, 40,000 men during the Korean War, and up to 18,000 for the Vietnam War.
The stunning Liberty Station grounds have 1920's Spanish Colonial Buildings with grand promenades, marching plazas, lush courtyards, and arched corridors. Spend a relaxing day exploring every nook and cranny of this fascinating site.
10 best things to do at Liberty Station
1. Find movie locations from the Top Gun Movie (1986)
Some scenes from the 1986 Top Gun movie, were filmed in the Command Center Building 200 (pictured). Be prepared for the sound of regular planes passing overhead from the adjacent airport. If you're an aviation enthusiast this will give you quite the thrill!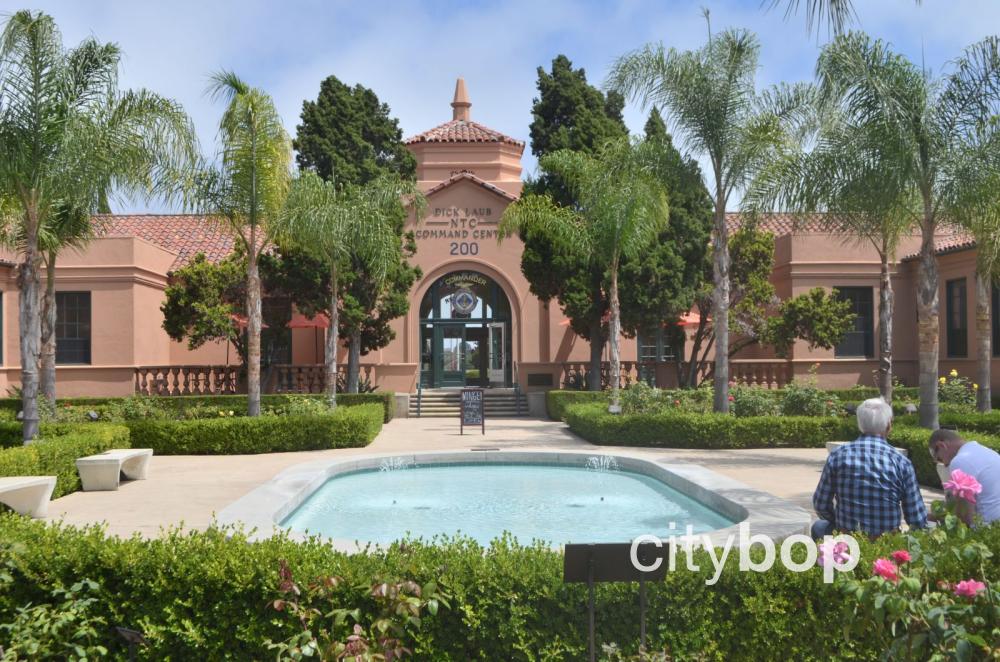 2. Eat and shop at the lively Liberty Public Market.
Spend an hour exploring the fascinating offerings at bustling Liberty Public Market. There are sweet treats, toys, fresh produce, and lots of food vendors. (2820 Historic Decatur Road, check hours).
3. Stop for Coffee & Gifts at chic Moniker Coffee Co.
Grab a coffee or cocktail at trendy Moniker Coffee Co. across the road from the Liberty Public Market. Check out the gift shop with a tasteful selection of local San Diego goods. Check hours.
4. Enjoy trendy restaurants with gorgeous interiors and patio dining.
The 23,500 square foot Stone Brewing World Bistro is housed in the old navy Mess Hall. It has an impressive dining room, rock garden with water features, and bocce ball courts. Officine Buona Forchetta is a trendy pizza restaurant with a playground in the courtyard for kids! Breakfast Republic has colorful, quirky surroundings.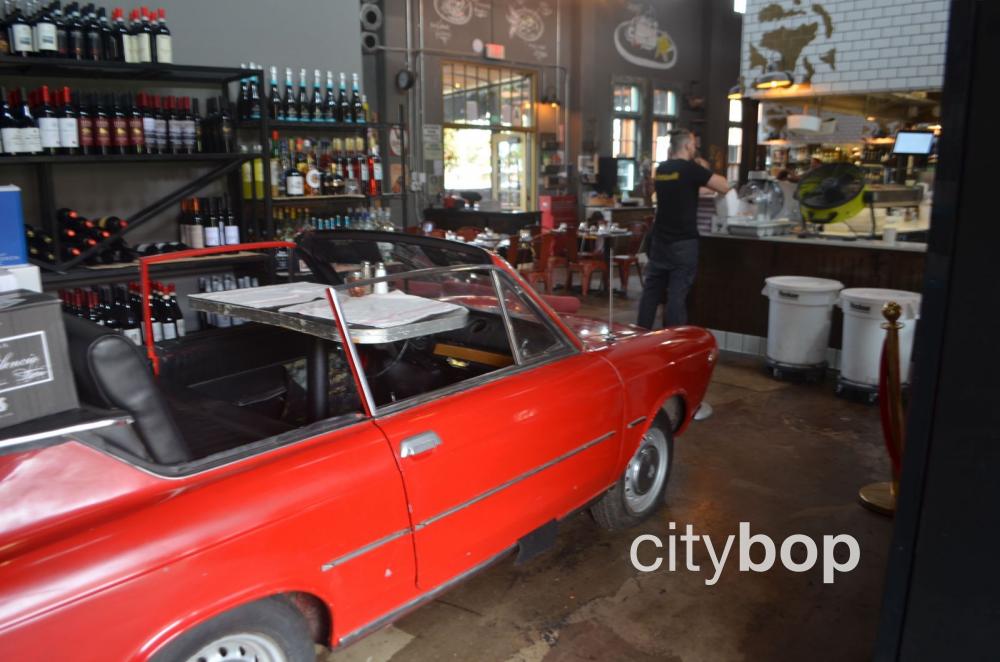 Liberty Station: Visitor Guide
The cool interior of Officine Buona Forchetta
Relax on the outdoor patio at Stone Brewing World Bistro.
5. Take a photo infront of the brightly colored Liberty Station mural.
This eye catching mural at Liberty Station, is popular for photos!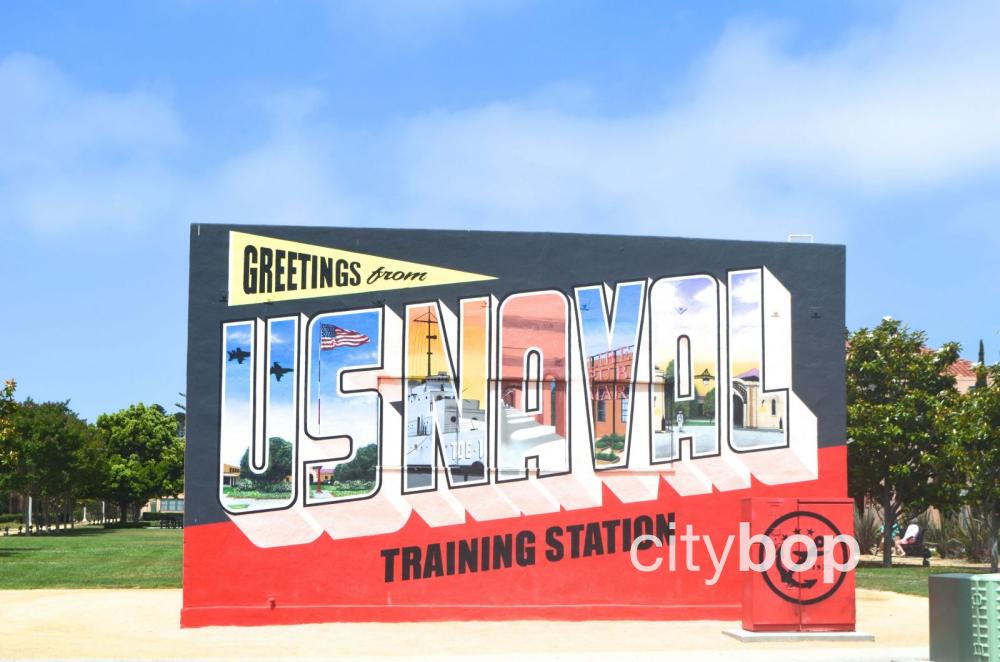 Visiting Liberty Station
6. Find a unique gift at an artisan shop.
Discover a broad array of artisan shops selling handmade jewelry, tea, comic books, yarn, pottery, and art.
7. Take the kids to a choice of two playgrounds.
Take your kids to the playground on the waterfront at Liberty Station Park. There's also a playground adjacent to Officine Buona Forchetta restaurant in a lovely lawned internal courtyard.
8. Watch a movie at the luxurious THE LOT Cinema.
Catch a movie at The LOT cinema complex. This luxurious theater experience includes leather recliners. There's also a cafe, restaurant and bar on a sophisticated, glass enclosed atrium with firepits at night. This was previously known as the LUCE Auditorium where the troops were once entertained by big names like Nat King Cole and Bob Hope. New recruits would also listen to training videos here.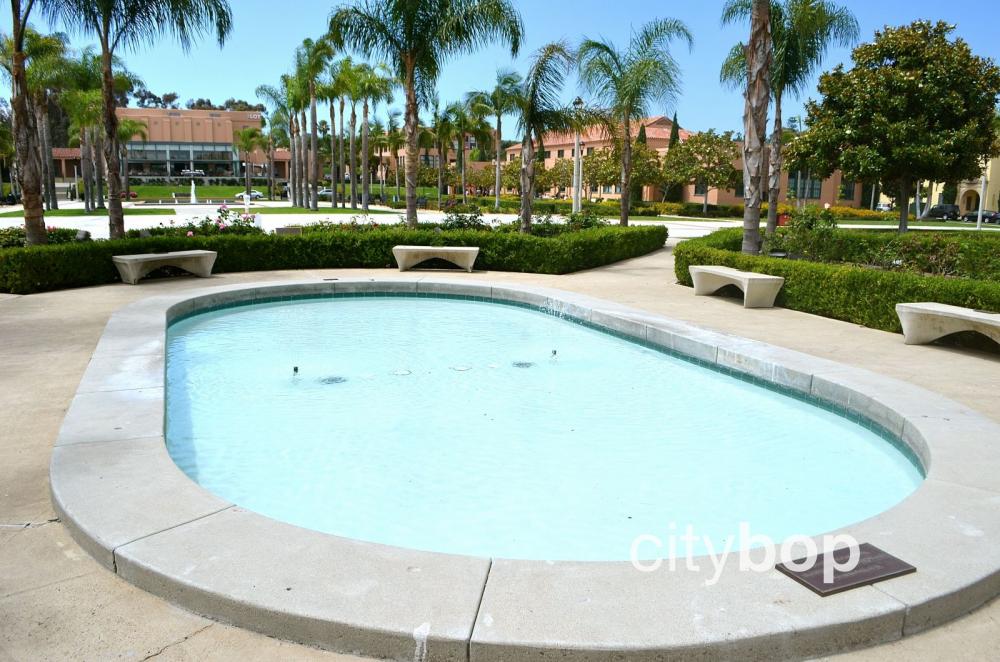 Best of Liberty Station
9. Visit a model of a destroyer ship, once used for training.
This 2/3 scale model of a destroyer ship was commissioned in 1949. It was used to train new recruits in naval procedure. It's located at the south end of Liberty Station, just near Homewood Suites. Hopefully one day there will be tours inside it, but for now you can only walk around it.
10. Explore three different museums.
The Women's Museum of California has rotating exhibits on remarkable women throughout America's history (closed Monday and Tuesday). Learn about the immigrant experience in America at the New Americans Museum (closed Monday and Tuesday). See gorgeous contemporary quilts and textiles at the Visions Art Museum (closed Monday).
Know before you go
Address:

Directly west of the San Diego International Airport.

Parking: Guests can park for free in the Liberty Station parking lots, for a maximum of 3 hours.
Liberty Market: 2820 Historic Decatur Road.
The LOT Cinema: 2620 Truxtun Road.

Museums:

three.

Restaurants/cafes: twelve.
Playground: yes.
More Restaurants & Shopping in San Diego