Enjoy a meal or shop for a souvenir at charming Seaport Village on San Diego's waterfront.
Beautiful Seaport Village is a spanish-style, open-air village on San Diego's waterfront with fun shops and restaurants.
It's a lovely place to relax, with shaded courtyards, tiled fountains, and a pond with ducks and koi.
Be entertained by live music at the open air food court while enjoying a coffee or icecream, or dine at a fabulous waterfront restaurant.
Seaport Village is at 849 W Harbor Drive, San Diego CA 92101. There's a metered parking lot out front.
5 best things to do at Seaport Village
1. Shop for an eclectic range of goods and gifts at quirky stores.
There's a little bit of everything at Seaport Village, including American nostalgia books, t-shirts, sunglasses, hats, xmas ornaments, flags, candles, hot sauces, magnets, kites, wines, chimes and bells, and shells.
Each store has a treasure trove of unexpected delights, so you won't leave empty handed!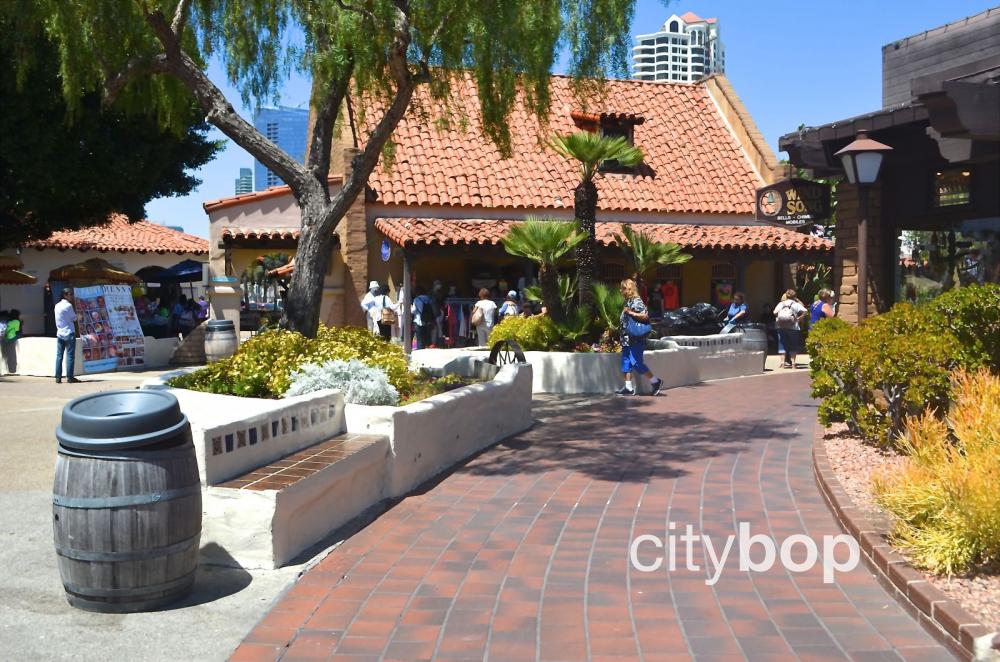 Seaport Village San Diego
The Wind Song store (above) sells hundreds of bells and wind chimes.
Alamo Flags stocks just about every type of flag imaginable, including country, city, sporting and military flags!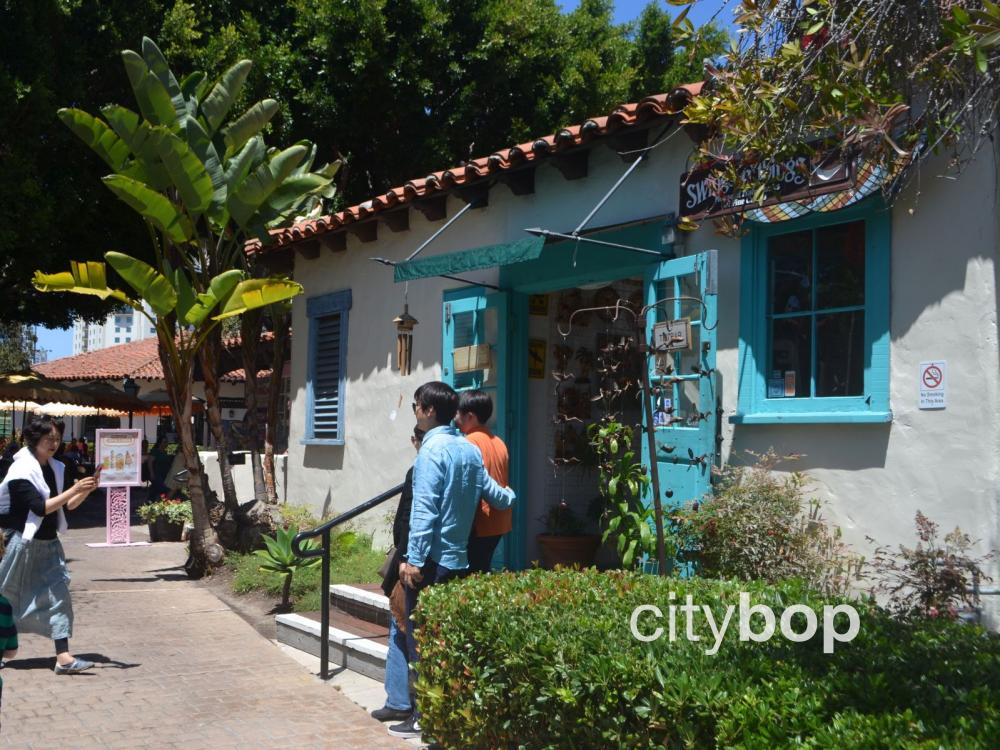 Seaport Village Sandiego CA
Seaport Fudge Factory sells belgian waffles, frozen treats and milkshakes, in flavors like mango, pineapple and watermelon!
Pick up some local Californian wines at San Pasqual Winery.
2. Dine at the waterfront Shorebird restaurant.
Dine at the new Shorebird seafood and steak restaurant (opening early 2024), with an enviable setting atop a historic pier with incredible views of San Diego Bay. The best part is watching a passing parade of navy, commercial and leisure boats from the comfort of your table.
Visit other waterfront restaurants at Seaport Village, including the Edgewater Grill (below), and trendy Malibu Farm (opening late summer 2023).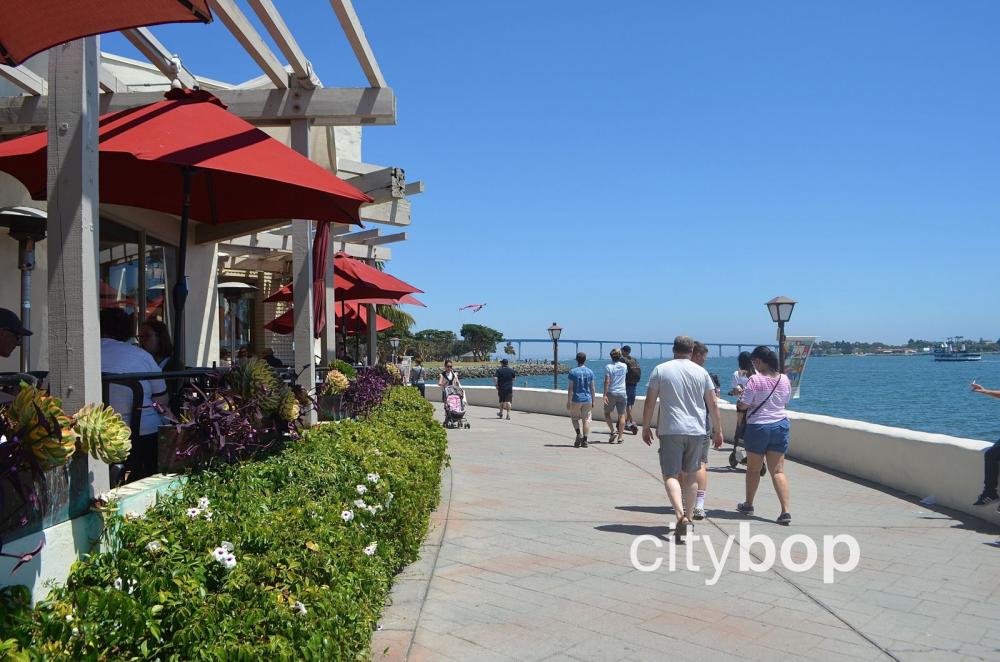 #1 GUIDE to Seaport Village
3. Sit in the open air food court at Seaport Village and enjoy free entertainment from a regular schedule of performers.
The lively outdoor setting in the open air food court is incredibly fun, and the perfect place for lunch, an ice-cream or coffee. This is the heart and soul of Seaport Village, and pulses with life and activity. It's easy to while away a few hours here while soaking up the incredible atmosphere.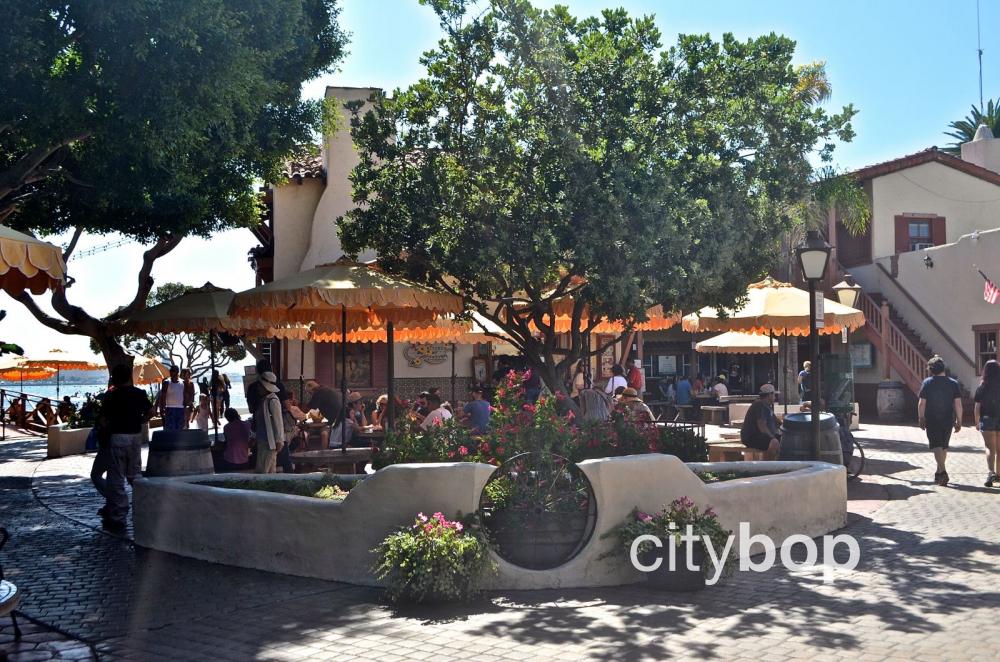 VISITOR GUIDE to Seaport Village
4. Get away from the hustle and bustle of Seaport Village, by relaxing on a bench beside the koi pond.
The pond is a quieter corner of Seaport Village, away from all the frenetic activity at the shops and restaurants. Take a seat on the bench and watch the ducks gliding over the surface of the water, and brighly colored koi darting beneath the waters.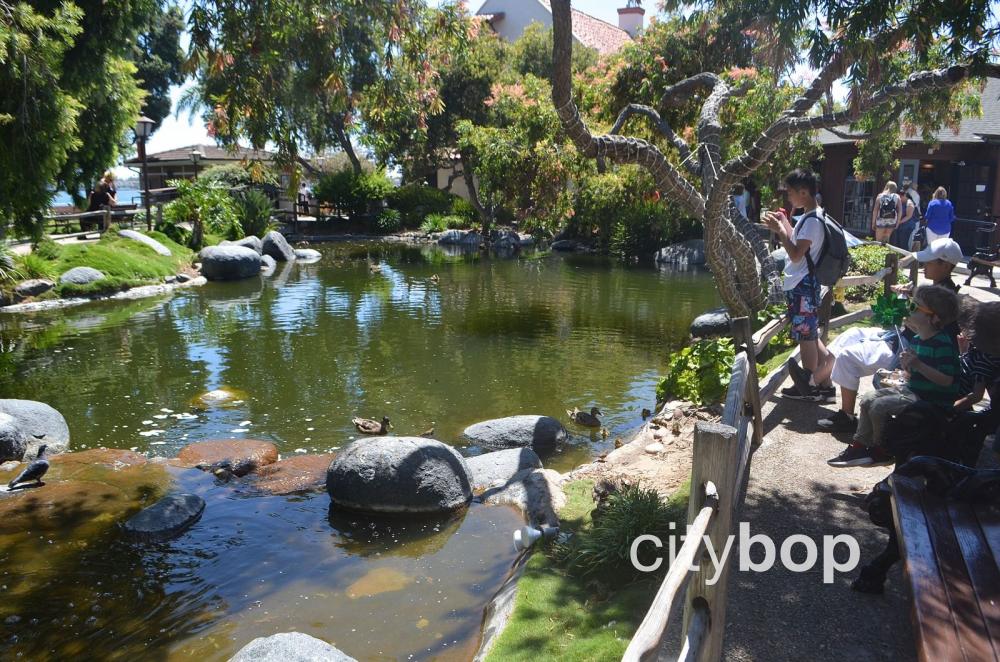 Visit Seaport Village
5. Stroll along the waterfront path that runs past Seaport Village, to see San Diego's top attractions.
Seaport Village connects with major attractions along the San Diego Waterfront, like the USS Midway Museum, Embracing Peace Statue, and Maritime Museum.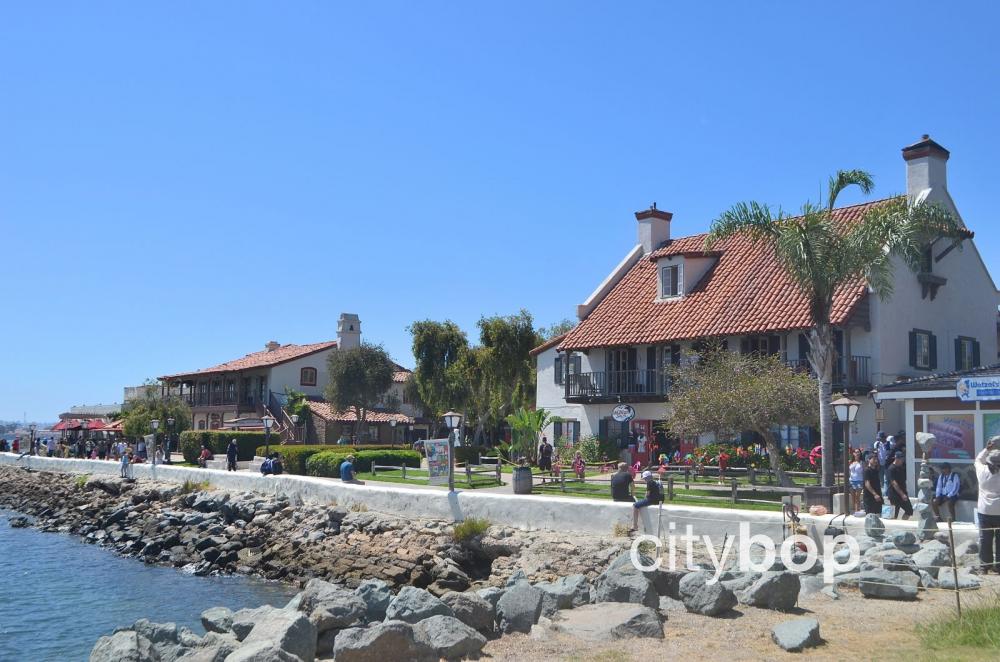 Seaport Village shopping & restaurants
This is the waterfront path passing the distinctive Spanish-style buildings at Seaport Village.
This flat, paved path has soaring views of Coronado Island across San Diego Bay.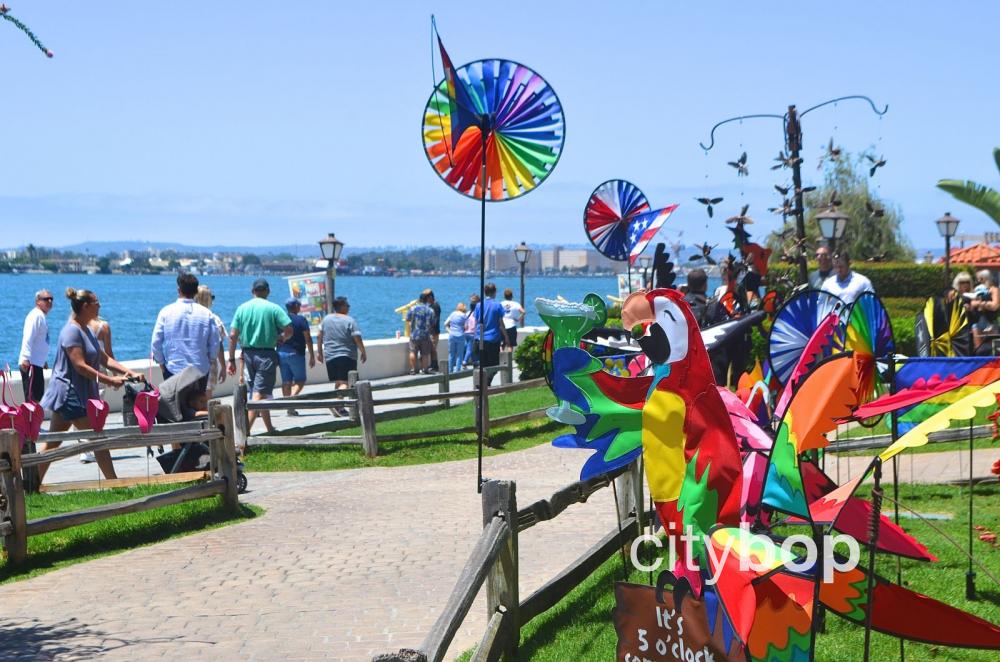 Seaport Village San Diego shops
The waterfront path can get very busy, but it's no wonder with those magnificent views! This is hands down one of San Diego's best walks.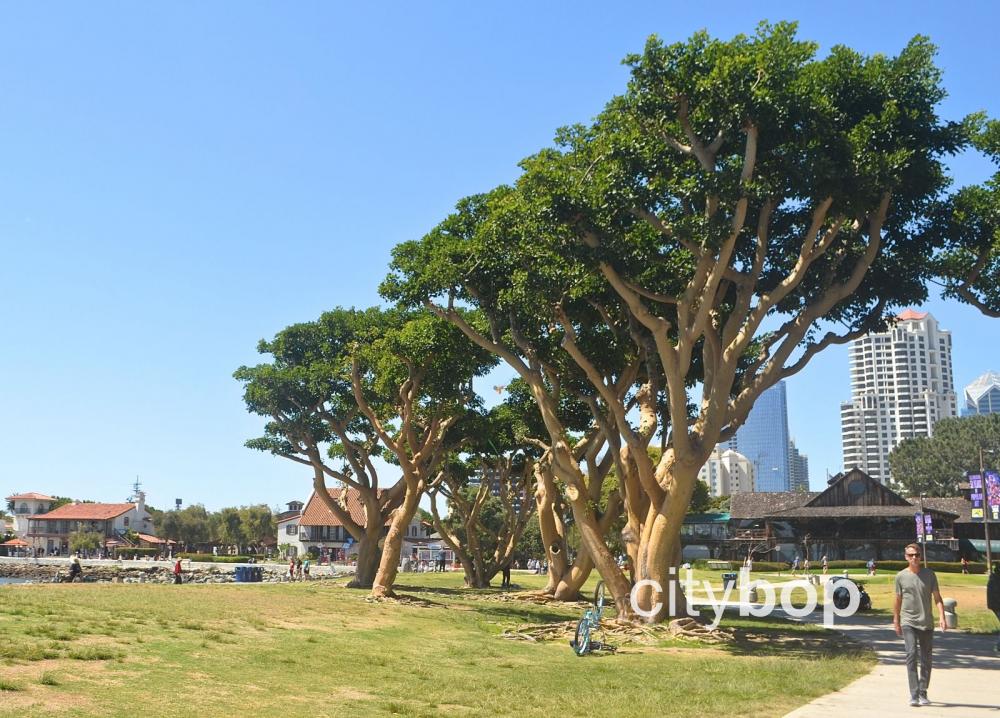 Embarcadero Marina Park North
The best place to start the waterfront path is at the grassy park that juts out into the Bay, just south of Seaport Village. It's known as the Embarcadero Marina Park North.
This park is a hive of activity, full of street performers and professional kite flyers, all competing for your attention. It's also a lovely place for a picnic, or to soak up the sunshine and enjoy the distant views of the Coronado Bridge. There's always something happening on the water, so you'll never get bored.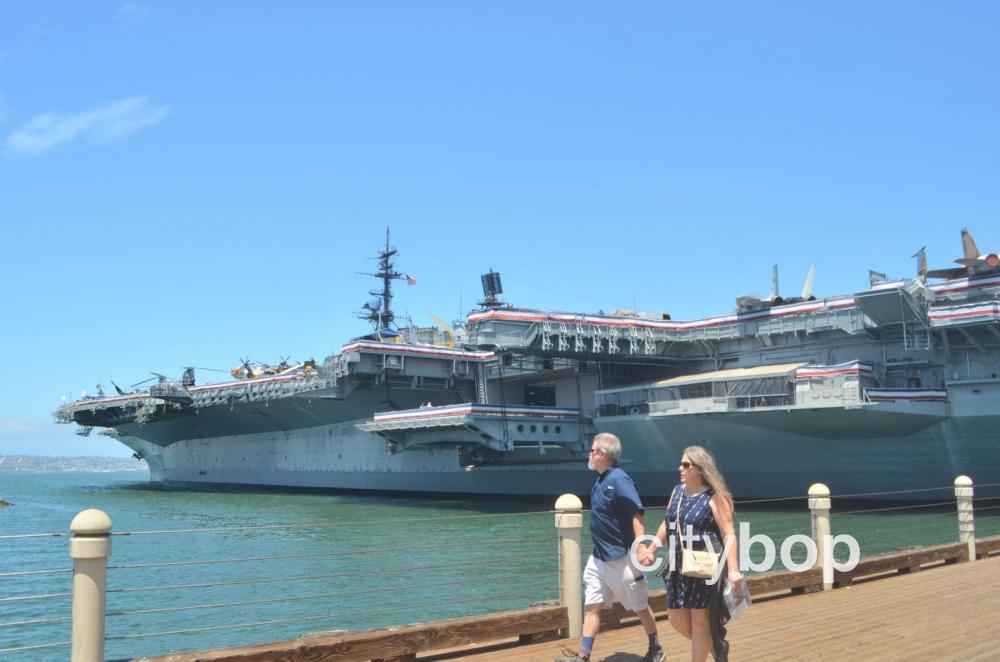 It's a leisurely 15 minute walk along the waterfront path from Seaport Village to the USS Midway Museum.
This gigantic aircraft carrier was operational from 1945 and 1992, and is now open for tours. Explore all four levels of the aircraft carrier, visit the theater, and check out the cool flight simulator.
The iconic Embracing Peace Statue is dwarfed by the USS Midway Museum, and a popular place for photos. It's got a bird's eye view of all the action out on the water, including U.S. Navy ships, sailing boats, and leisure craft.
Continue another 10 minutes along the waterfront path to the San Diego Maritime Museum.
It has a flotilla of eleven ships, including the British frigate used in the Russell Crowe movie, Master and Commander.
Families can go to the fabulous wading pool and playground at the San Diego Waterfront Park, across the road from the Maritime Museum.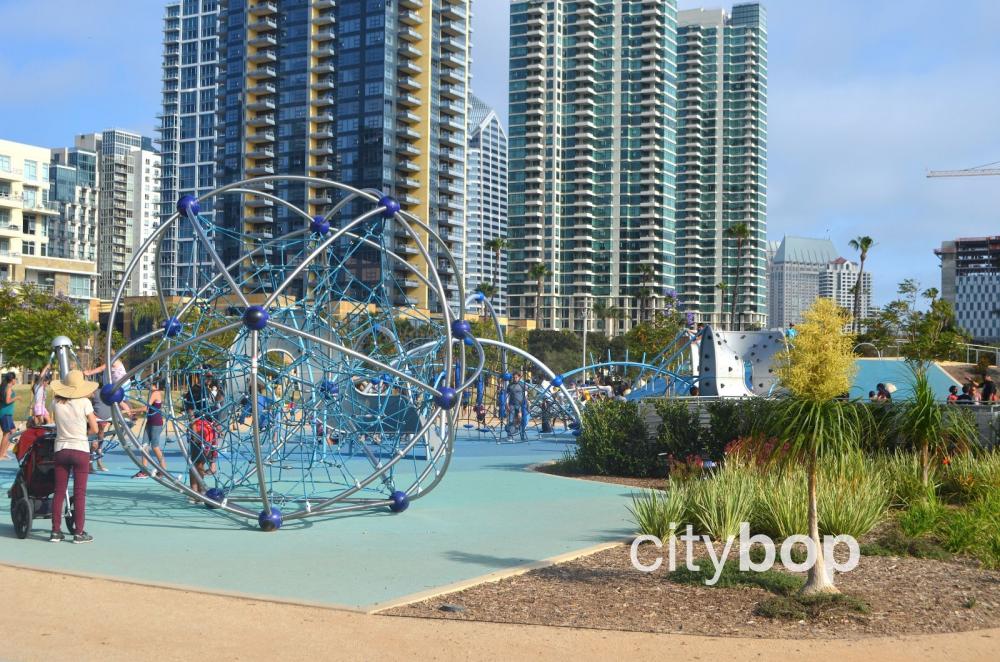 There's also a modern playground at the San Diego Waterfront Park.
Check out the magnificent Serpent Tree Sculpture, also at the Waterfront Park.
Know before you go
Seaport Village address: 849 W Harbor Drive, San Diego CA 92101.
Parking lots: metered parking.
More Restaurants & Shopping in San Diego