Plan a fun beach day at La Jolla Shores beach and park.
La Jolla Shores beach is directly north of the upscale village of La Jolla. This 1-mile stretch of sand is ideal for a beach day.
The parking lot is along Camino Del Oro Drive, adjacent to a grassy park with picnic tables and a playground.
Choose from two lovely beachfront hotels with swimming pools at La Jolla Shores; the La Jolla Shores Hotel, and La Jolla Beach & Tennis Club.
5 best things about La Jolla Shores
1. This beautiful beach is popular with families, and usually patrolled by lifeguards in warmer months. It's also a great spot to learn how to surf, and there are surf schools on hand to provide private lessons.
The Memorial Pier is closed the the public, but attracts visitors who love to take photographs of the unique perspective beneath the pier.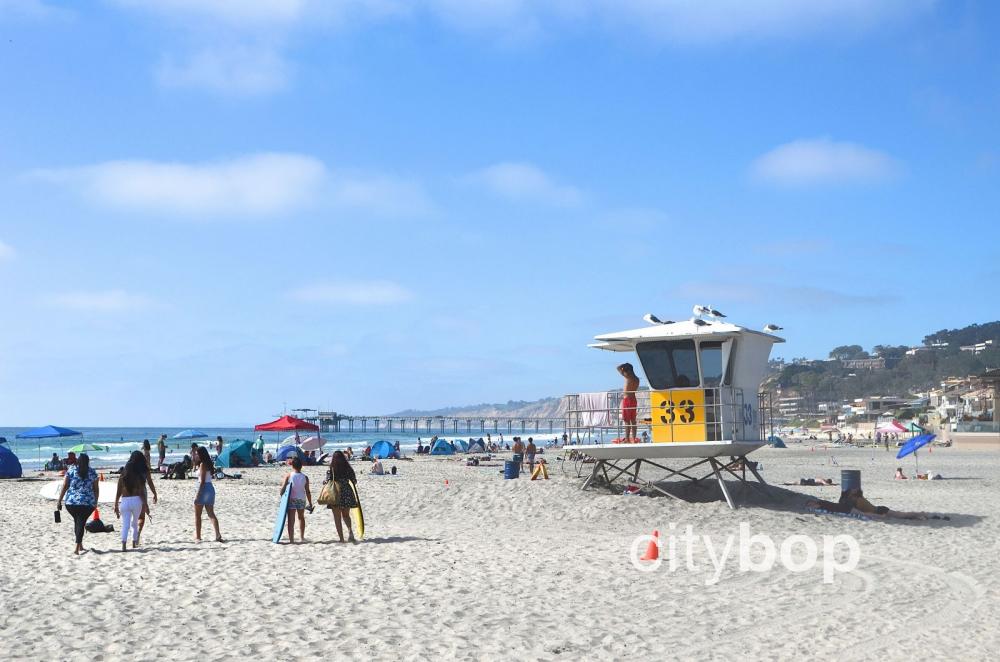 10 BEST Attractions at La Jolla Shores Beach
2. A grassy park flanks the shoreline at La Jolla Shores beach, with convenient amenities like picnic tables, restrooms and showers. There's even a playground for kids.
3. Enjoy a relaxing stroll along the 0.5 mile beachfront promenade at La Jolla Shores beach. Savor magnificent views of La Jolla Cove to the south, and Torrey Pines to the north.
4. Explore restaurants along the Avenida de La Playa. The Avenida de La Playa street runs perpendicular to La Jolla Shores beach, and is the go-to destination for restaurants at La Jolla Shores. Choose from Piatti (Italian), Osteria Romantica (Italian), Barbarella Restaurant (European), House of Pizza, Beach Burger, or the Shorehouse Kitchen.
5. Eat at one of two waterfront restaurants at La Jolla Shores. If you're interested in a trendy cafe with incredible water views, stop at Caroline's Seaside Cafe. The more formal Marine Room at the La Jolla Beach and Tennis Club Hotel, also has a waterfront restaurant.
Fun things to do near La Jolla Shores beach.
Explore the gorgeous beaches and upscale shops at nearby La Jolla village, just a short distance away. The excellent Birch Aquarium is also up the back of La Jolla Shores, with incredible views.
Know before you go
Parking lot: Camino Del Oro Drive.
Playground: yes.
Restrooms: yes.
Picnic tables: yes.
Main restaurant street: Avendida de La Playa Street.
Gorgeous waterfront cafe: Caroline's Seaside Cafe.
More Beaches in San Diego