San Diego's gorgeous Pacific Beach has a mix of upscale and casual restaurants and hotels, and a relaxed beach vibe
Pacific Beach is directly north of San Diego's better known Mission Beach.
The most unique feature of Pacific Beach is the Crystal Pier Hotel and Cottages on the pier, built in the 1930s and available for overnight stays.
Bustling Garnet Street is the main thoroughfare for restaurants and shops, leading directly to the pier.
There's also a popular 2-mile Ocean Front Walk that connects Pacific Beach to Mission Beach.
10 best attractions at Pacific Beach San Diego
1. Swim at lovely Pacific Beach.
Pacific Beach is popular with families, and has seasonal lifeguards. Water temperature is highest in July, August and September, when it can get into the high 60s.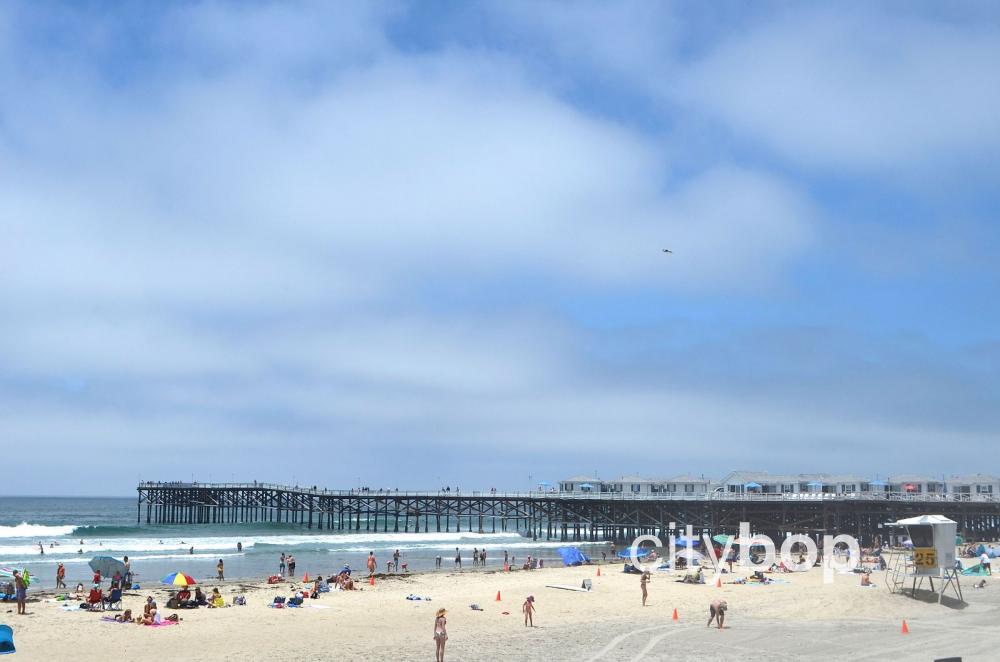 San Diego Pacific Beach
2. Walk out along Crystal Pier for soaring views.
Crystal Pier extends 872 feet into the ocean, and is open to the public until sundown. This historic pier opened in 1927 as Pickering's Pleasure Pier with a magnificent ballroom at its end.
However, disaster struck when it was discovered the pier was not structurally sound, because an inferior material had been used to treat the pilings, enabling tiny sea creatures to bore into the pilings. The ballroom was promptly shut down three months after its opening, then dismantled.
The pier was reconstructed and re-opened as a fishing pier, with the cottages constructed in 1930. You can see the original, vintage buildings at the arched entrance to the pier, now occupied by clothing shops.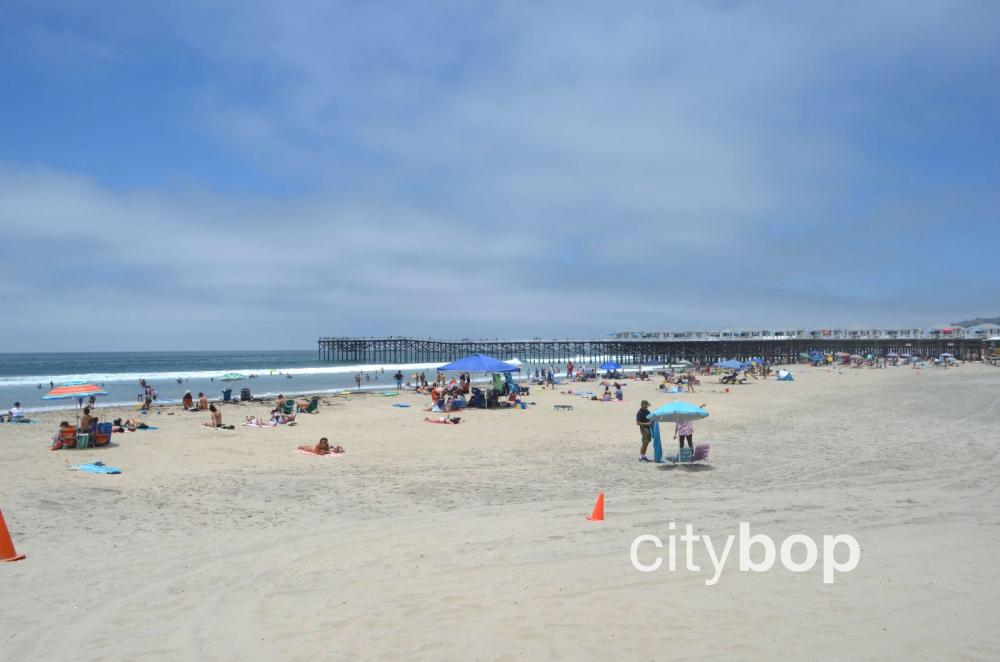 #1 GUIDE to Pacific Beach San Diego CA
3. Sleep over the ocean at a cottage on the historic pier.
Choose from over twenty cottages on the Crystal Pier, each with kitchenettes and private patios. These charming Cape Cod style cottages were constructed in the 1930s and are hugely popular. Book here.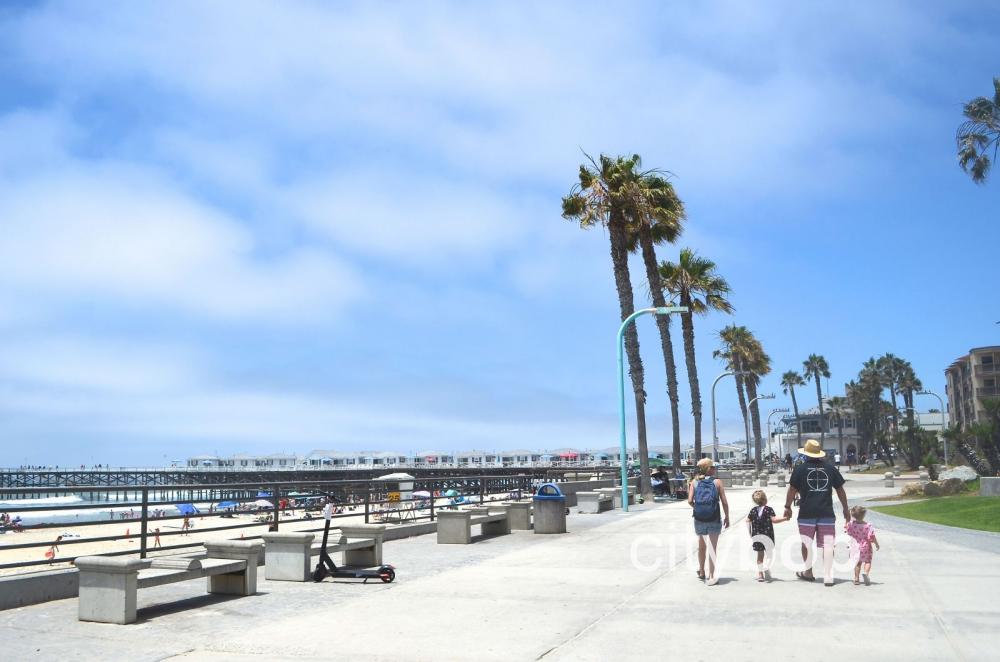 5 BEST Attractions in Pacific Beach San Diego
4. Book a cool surfing lesson from one of many schools at Pacific Beach.
No experience is necessary! Sign up for a group or private lesson.
5. Take a relaxing stroll along the Pacific Beach promenade.
The concrete promenade flanks the beach, and is perfect for people watching and observing all the action at Pacific Beach.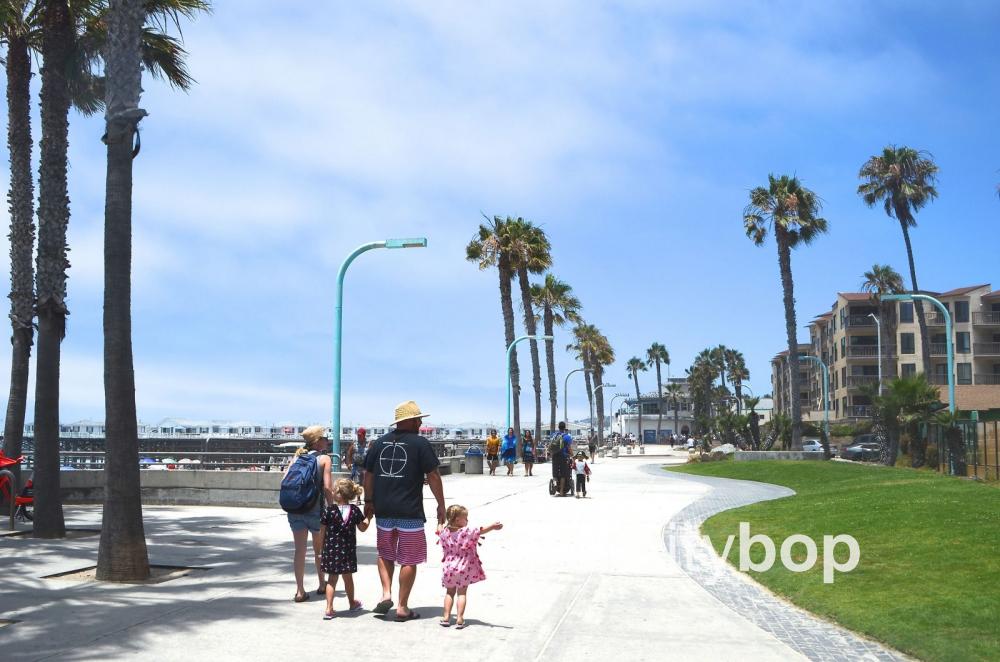 VISITOR GUIDE to Pacific Beach San Diego
6. Rent a bike and ride 2-miles south down to Mission Beach.
Choose from multiple bike rental shops in Pacific Beach, and enjoy a glorious waterfront bike ride all the way south to Mission Beach.
It's roughly 2 miles between the Pacific Beach Pier and Belmont Amusement Park at Mission Beach. The path continues another mile to South Mission Beach Park.
7. Stay at a luxurious beachfront hotel at Pacific Beach.
If your budget permits, book a stay at the sleek Tower23 Hotel, or mediterranean-style Pacific Terrace Hotel. Some other beachfront hotels at Pacific Beach are the Diamond Head Inn and Ocean Park Inn.
8. Find a laid-back restaurant or cafe along Garnet Avenue.
Pacific Beach has a wonderful mix of both casual and trendy restaurants, catering to all tastes. Check out the laid-back Lahaina Beach House or Baja Beach Cafe, or grab some comfort food at the Pacific Beach AleHouse.
9. Explore chic dining options at Pacific Beach.
Dine at the fancy Waterbar San Diego with ocean views, upscale Pueblo mexican restaurant, and The Grass Skirt Polynesian restaurant. A few blocks back from the beach, Breakfast Republic is perfect for morning fare.
10. Spend some downtime at Kate Sessions Park, a short drive from Pacific Beach.
The park has a grassy slope with glorious views of Mission Bay, downtown San Diego and the beaches. There's also a playground, walking trails and picnic tables. This is a great place to get away from the crowds and enjoy the cool breezes.
Know before you go
More Beaches in San Diego