La Jolla Cove is one of the best snorkeling and diving destinations in California, with crystal clear waters.
La Jolla Cove is 20-minutes north of downtown San Diego, in the stunning seaside enclave of La Jolla village.
The cove is flanked by dramatic sandstone cliffs, with stairs leading down to the beach. It's the most popular of La Jolla's famous beaches, so be prepared for crowds.
There are picnic tables, showers and restrooms on the clifftop above La Jolla Cove, and on-street parking is available on Coast Boulevard.
5 best things to do at La Jolla Cove
1. Go snorkeling or scuba diving in the crystal clear waters of La Jolla Cove.
La Jolla Cove has two artificial reefs to keep the water calm, making it perfect for snorkeling and scuba diving. Visibility can sometimes reach over 30-feet in these pristine waters. There are plenty of places to rent snorkeling gear or organize a diving tour at La Jolla, and all experience levels are welcome.
La Jolla Cove is part of the 6,000 acre San Diego-La Jolla Underwater Park Ecological Reserve, guaranteeing an abundance of sea life. Dive through a rich kelp forest, or glide past sea caves in a 600-foot canyon that's part of the Underwater Park. See an array of marine life, like orange garibaldi fish, stingrays, spiny lobsters, sheep crabs, sea bass and leopard sharks.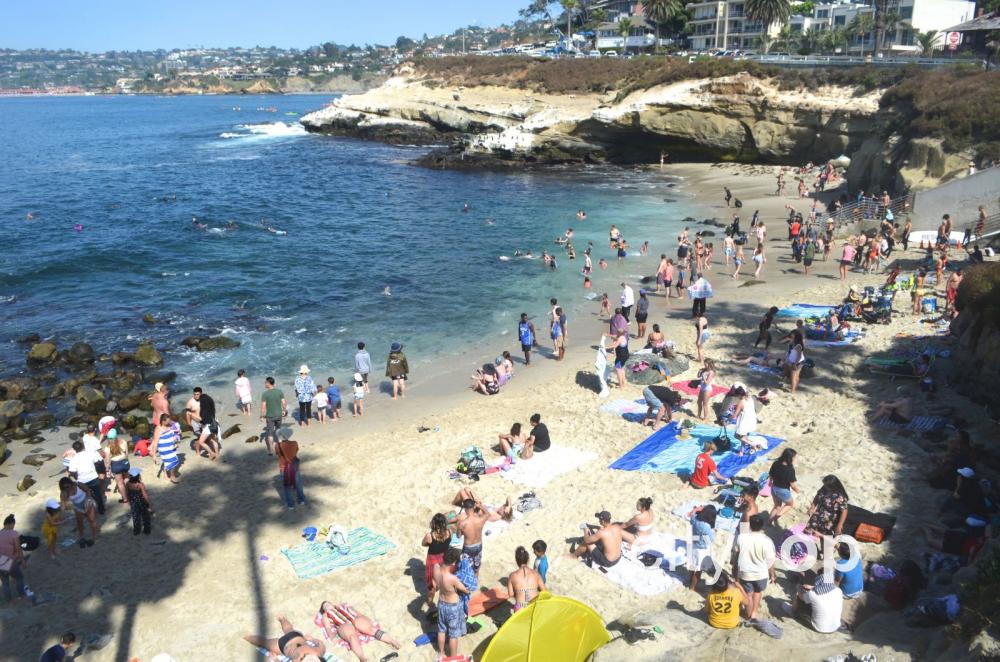 La Jolla Cove San Diego
2. Check out the sea lions and seals on the surrounding rocks.
Prepare to be overwhelmed by the barking sounds of the playful sea lions!
Sea lions and seals are great for a photo, but always keep a safe distance from these wild creatures because they can bite if provoked. So how can you tell them apart? The easiest way is compare their ears. Sea lions have an ear flap, whereas seals only have an ear hole.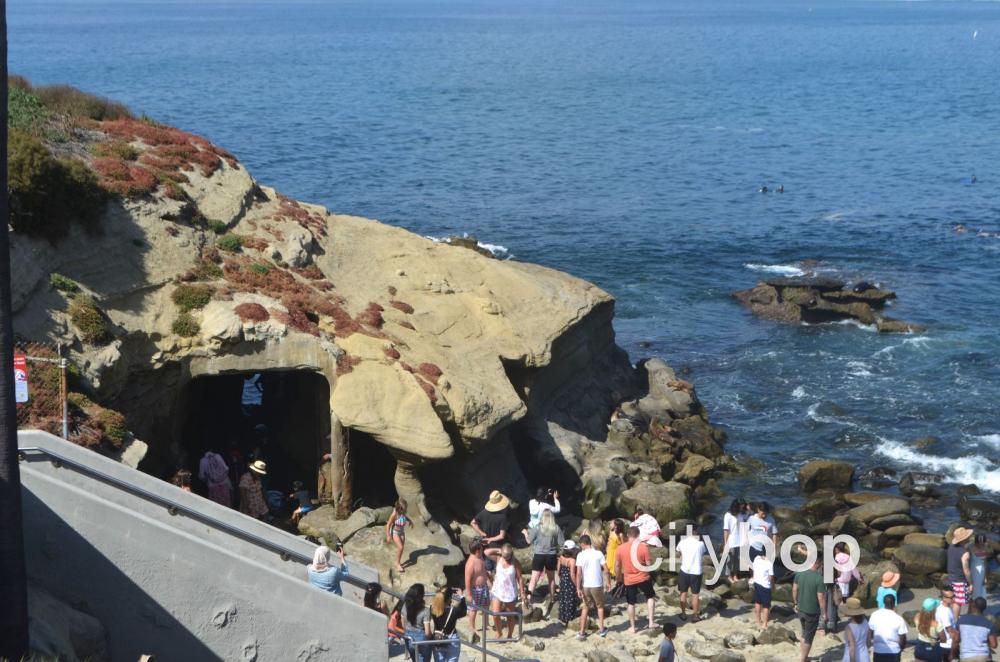 La Jolla Cove Beach
3. Sunbathe on the golden sands.
Find a spare patch of sand, lay out your towel, and soak up the glorious sunshine at La Jolla Cove.
Other popular beaches in this area include La Jolla Shores beach, the Children's Pool Beach, and Windansea Beach.
4. Go swimming at La Jolla Cove.
Many people enjoy swimming in the calm waters of La Jolla Cove, and La Jolla cove is usually manned by life guards.
The best months to swim at La Jolla Cove are July, August and September, when water temperature can get up to the high 60s. However surfboards and boogie boards are banned because this is a marine reserve.
5. Explore upscale La Jolla village, directly behind La Jolla Cove.
Choose from a wide range of restaurants and cafes at charming La Jolla village, especially along the main thoroughfare at Prospect Street.
Know before you go
Location: 20-minutes north of downtown San Diego.
Parking: On-street parking is available around La Jolla Cove (on Coast Boulevard).
Showers/restrooms: Directly behind La Jolla Cove.
Safety:

La Jolla Cove is usually manned by San Diego life guards. Always check in with them to determine water conditions, and don't venture out beyond La Jolla Cove.

Dogs: not allowed.
More Beaches in San Diego