Fort Worden is one of Washington State's most beloved parks, and spectacular places to visit.
Fort Worden is two-hours northwest of Seattle in the Olympic Peninsula, on a breathtaking bluff near the charming township of Port Townsend.
See two museums and an aquarium, admire the Point Wilson Lighthouse, explore the spooky tunnels and chambers of abandoned military bunker, wander along romantic beach trails, or book an overnight stay in beautifully preserved historic buildings, including an old castle!
There are also two dining options; Taps at the Guardhouse pub with tables amongst the jail cells, and the Reveille cafe inside Fort Worden's newest building. The canteen is also open in warmer months, across the road from a gorgeous sandy beach that's super popular in summer.
Fort Worden has a picture perfect setting, and it's no wonder it was chosen as a movie location! Movie buffs come from around the world to scout locations from the hit movie An Officer and Gentleman (1982) starring Richard Gere and Debra Winger.
10 best things to do at Fort Worden
1. Explore or stay in historic buildings at Fort Worden, including a castle!
Fort Worden has an incredible setting on a bluff, overlooking Admiralty Inlet, with rows of Colonial-Revival style military buildings. You can book a stay in these buildings, or pick up a pick up a map at the Coast Artillery Museum at Fort Worden and do a self-guided walking tour.
There's so much to see in this mini-city, like the Officer's Quarters, Bandmaster's home, Corporal's home, Engineer's Cottage, Watchman's Cottage, General's House, Steward's House, Sergeant's Home, and balloon hangar.
Stay overnight in a one bedroom castle at Fort Worden! Alexander's Castle was built by a local rector in nearby Port Townsend in 1886, for his Scottish fiance. However, upon returning to Scotland he discovered that she had married someone else. The bedroom is upstairs in the old water tower, and has soaring views of Puget Sound.
Book an overnight stay in one of the grand homes along Officers' Row on Pershing Avenue, including the Commander's, General's and Colonel's homes, built between 1904 and 1915. These overlook an expansive parade ground where soldiers once practiced daily drills, preparing for an invasion that never came. Today the parade ground is perfect for flying kites or enjoying a picnic.
These white, colonial-style army barracks are on the other side of the parade ground along Eisenhower Avenue, and were constructed in 1904. They are home to the Coast Artillery Museum (building 201) and the Park Visitor Center (building 200).
The dormitories in the army barracks are available for rent, perfect for larger groups. Building 225 (pictured) has the best coastal views!
This is the Park Visitor Center (building 200) along Eisenhower Way, where you can pick up gifts or maps, or get general information.
2. Eat a delicious meal inside an old guardhouse with jail cells!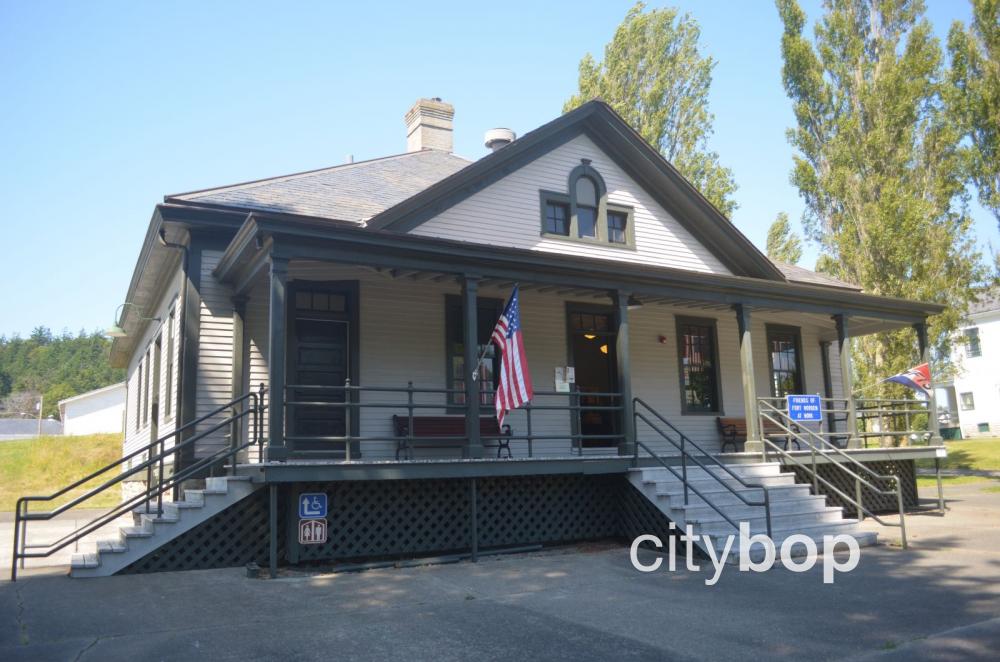 The guardhouse at Fort Worden.
Stop by the pub at the Taps at the Guardhouse (300 Eisenhower Avenue), once used as a jail to discipline unruly soldiers.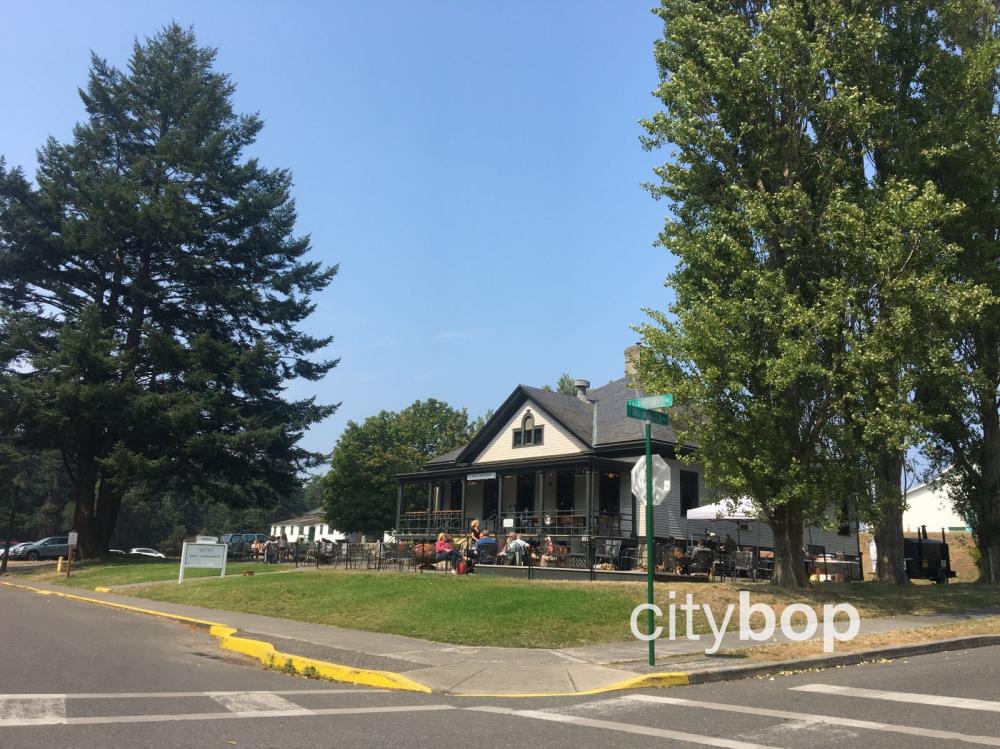 Restaurants at Fort Worden.
Dine amongst the eerie jail cells at Taps at the Guardhouse, or sit out on the patio during warmer weather and soak up the incredible atmosphere (check hours).
You can also enjoy breakfast or lunch at the Reveille at the Commons cafe (210 Battery Way), with wonderful pastries and coffee (check hours).
Reveille cafe is inside the 16,000 square foot Fort Worden Commons building, with a lobby area for visitors to check-in for overnight stays, or attend conferences at meeting rooms.
The lobby has a cosy fireplace, perfect for enjoying a coffee or a board game.
3. Tour the stunning 19th century home of Fort Worden's Commanding Officer.
Visit the Commanding Officers' Quarters Museum at the head of Officer's Row on Pershing Avenue. The Commanding Officer was the highest ranking individual at Fort Worden, and so it's not surprising he had the nicest digs! Wander through three levels of the house with twelve different furnished rooms, and experience what home life was like for the Commanding Officer's family in the 19th century. The water views from the east-facing rooms and porch are incredible!!
Check hours and admission here.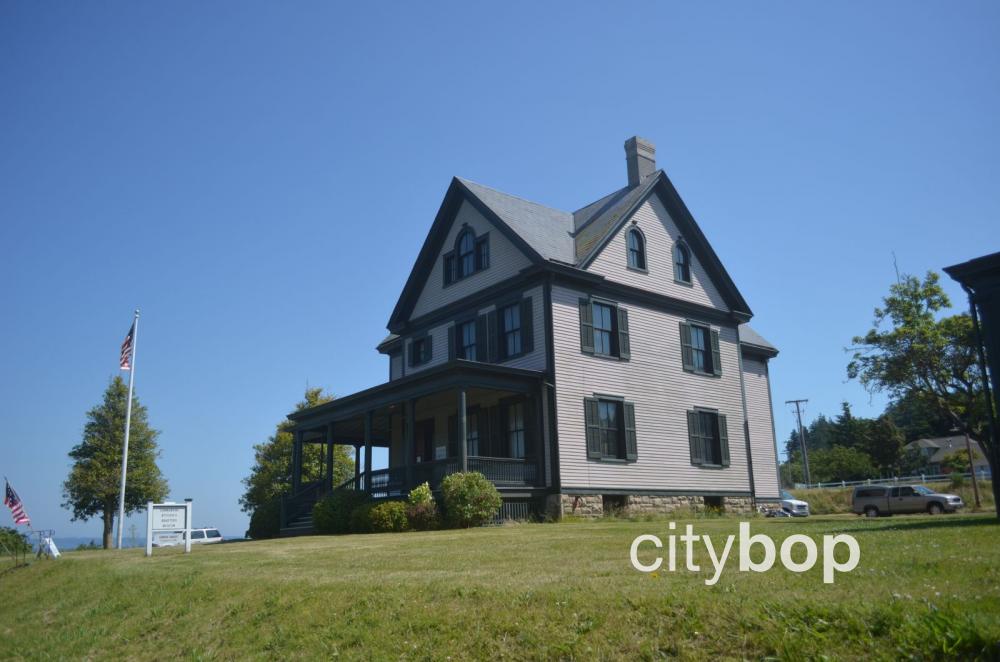 Commanding Officers' Quarters Museum at Fort Worden.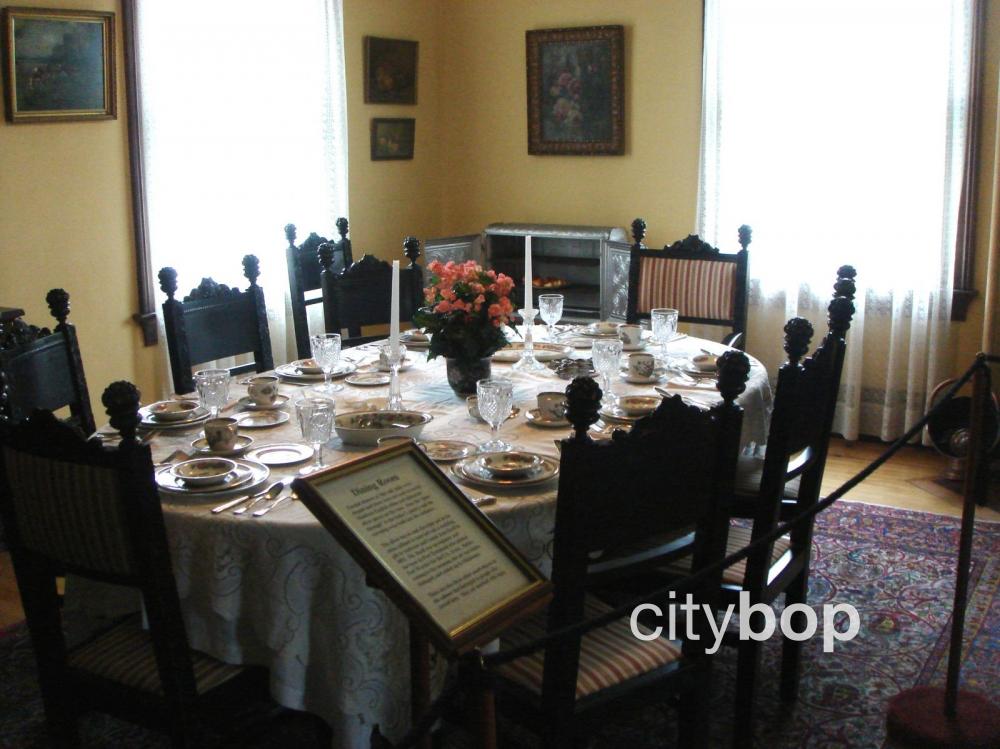 Dining room at Commanding Officers' Quarters Museum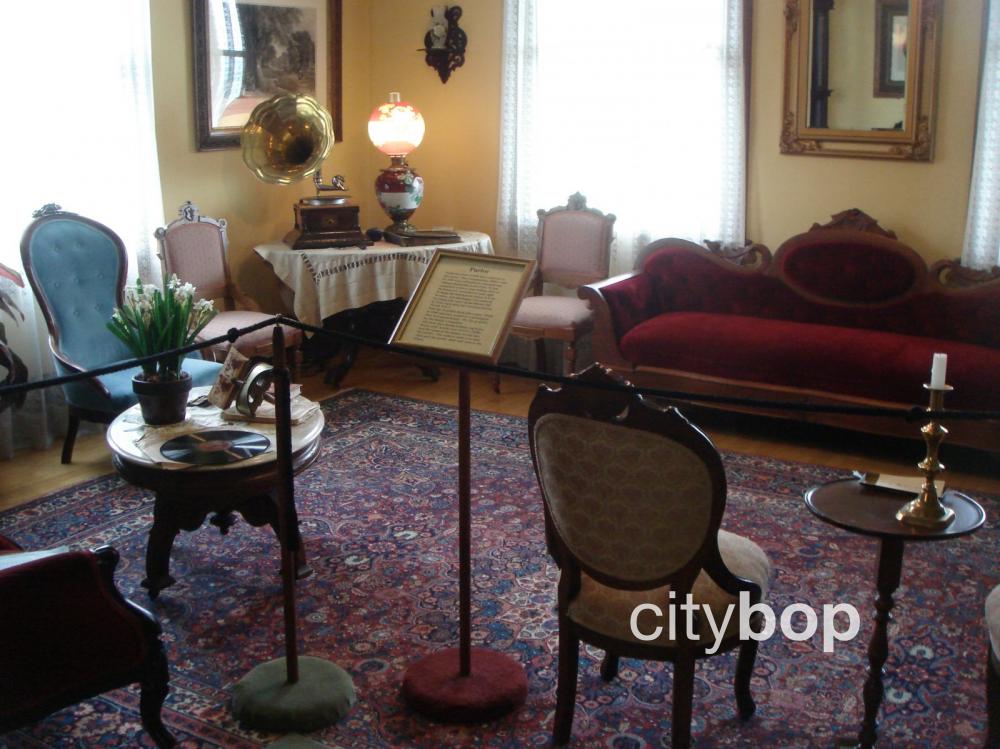 Sitting room at Commanding Officers' Quarters Museum at Fort Worden.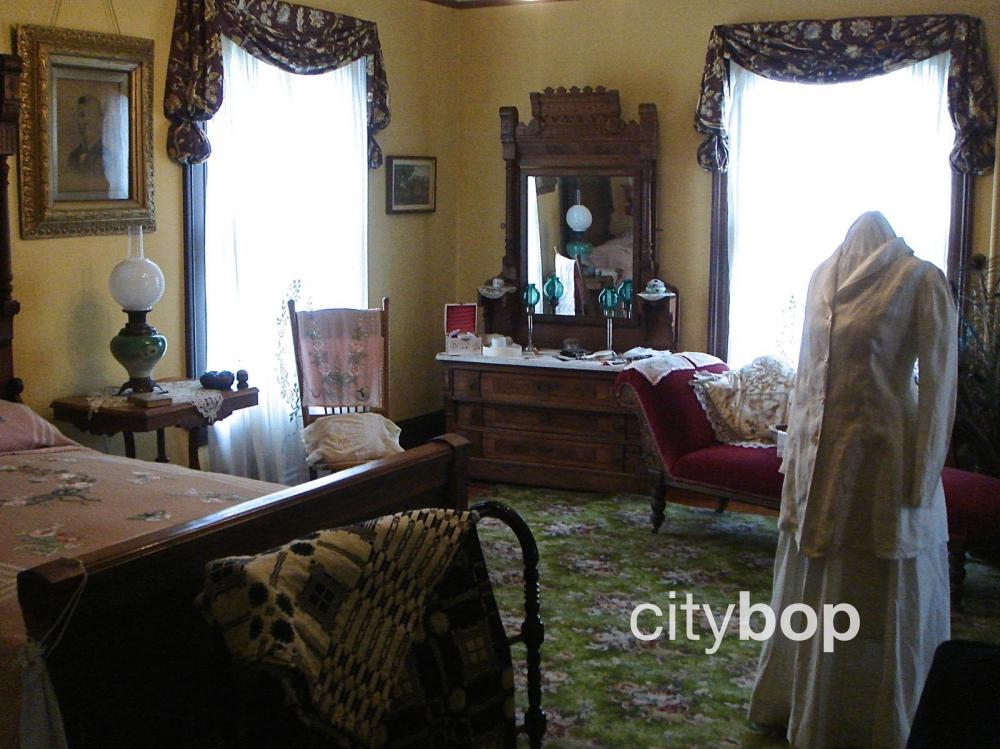 Bedroom at Commanding Officers' Quarters Museum at Fort Worden.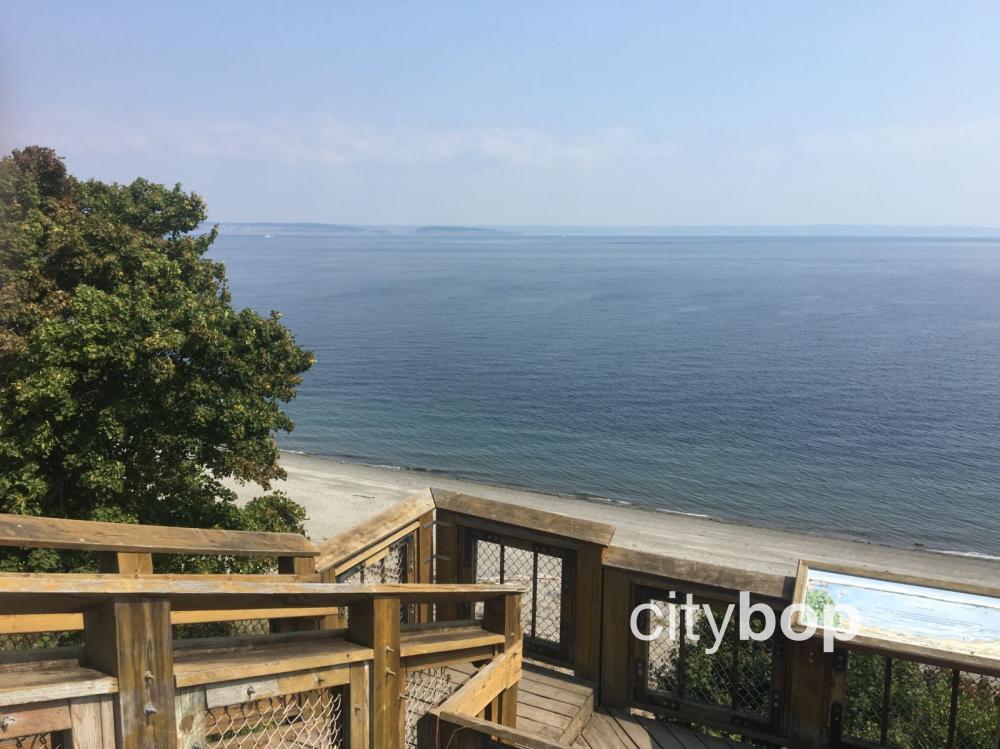 Views of Admiralty Inlet at Fort Worden.
Cross the road from the Officers Quarters Museum, to see a beautiful overlook and staircase down to the sandy beach.
4. Visit a museum that shows how Seattle was protected from invasion.
The Coast Artillery Museum (Eisenhower Avenue) has informative exhibits on the harbor defenses at Puget Sound, from the 19th century to the end of WWII. It's fascinating to learn about the very real fear that Seattle and other Puget Sound cities would be invaded by a foreign enemy.
Check hours & admission.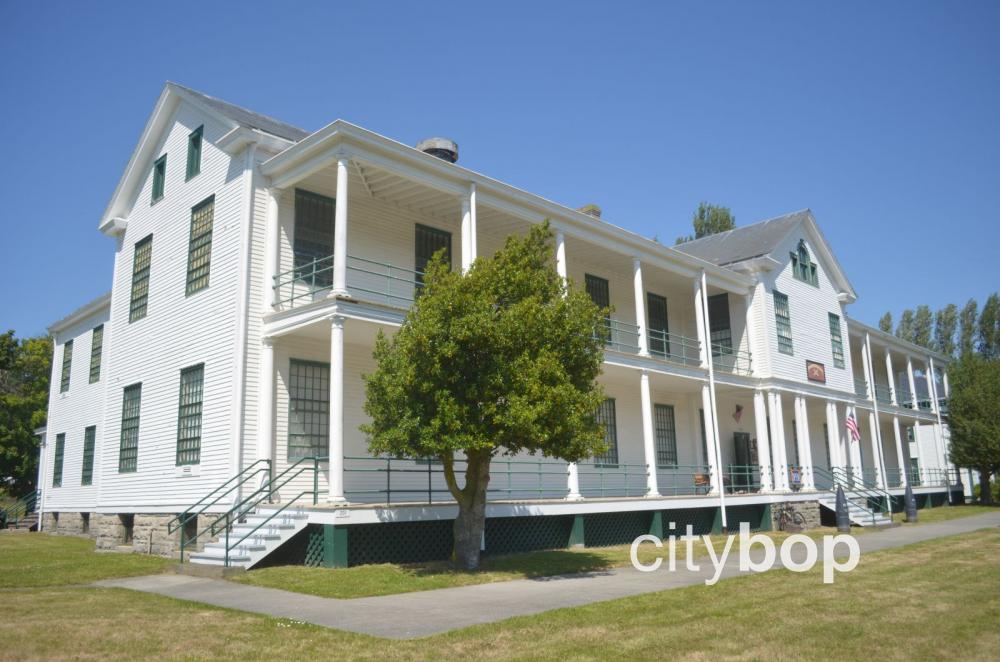 Coast Artillery Museum at Fort Worden.
There's so much to see at this military museum, including rifles, machine guns, cannons, soldier uniforms and barracks, an original searchlight and a plotting room.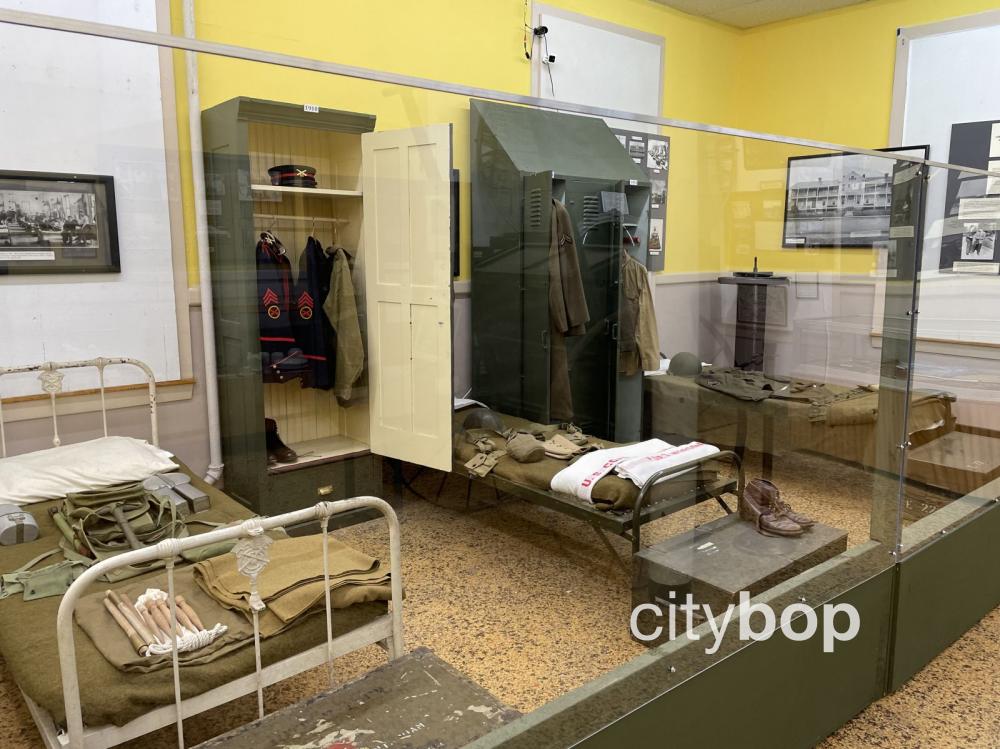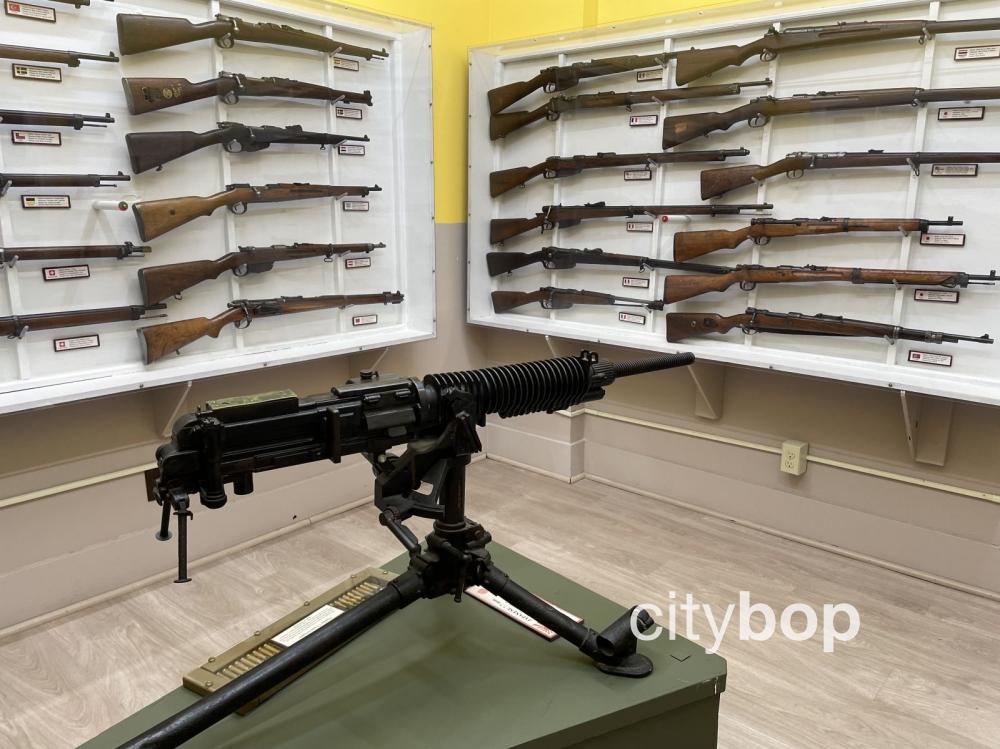 You can also learn about Seattle's sophisticated system of air defences, with nike missiles, long range radars, and a missile control room. Look at all those missile launchers surrounding Puget Sound!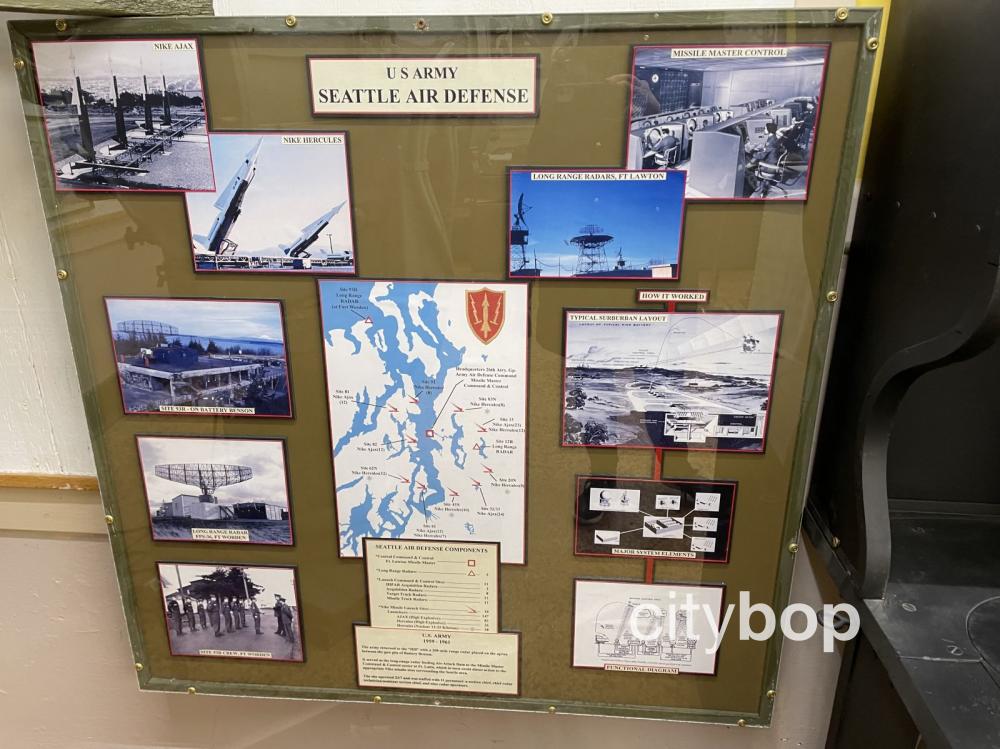 5. See starfish and an octopus at the Marine Science Center.
Visit the Marine Science Center on the pier at Fort Worden, along Harbor Defense Way. The aquarium has fabulous touchpools with starfish and sea anemones. There's also a tank with a Giant Pacific Octopus, and fun activities for kids.
Walk across the road to a second building that houses some fascinating marine exhibits, with lots of hands-on activities for kids. There's also a seasonal snack bar if you need to load up on refreshments.
Check hours and admission here.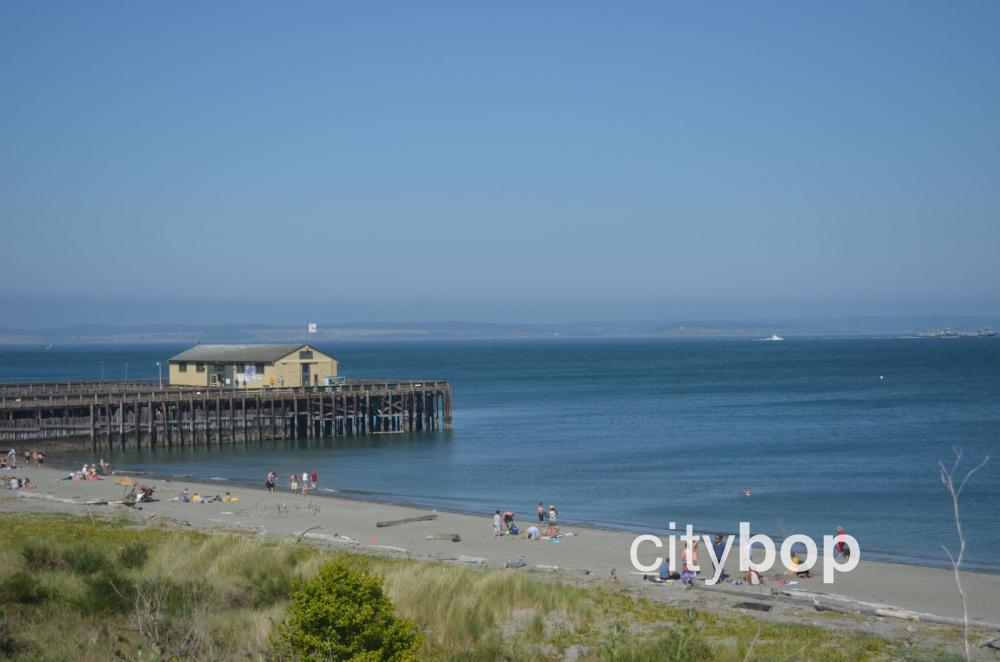 Marine Science Center aquarium at Fort Worden.
The Marine Science Center is the yellow building at the end of the pier at Fort Worden.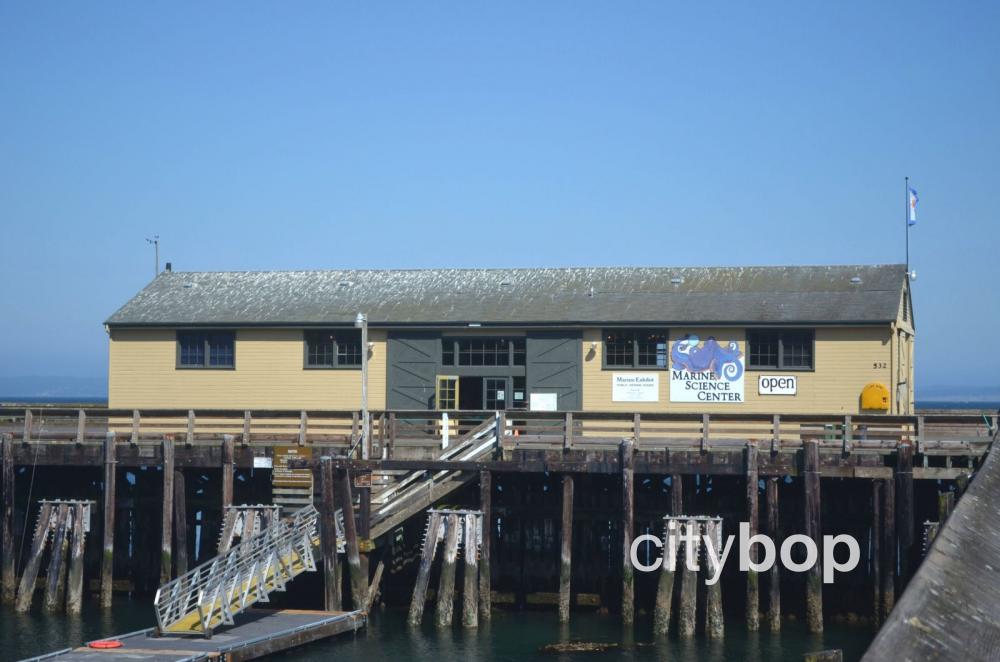 Aquarium at Fort Worden.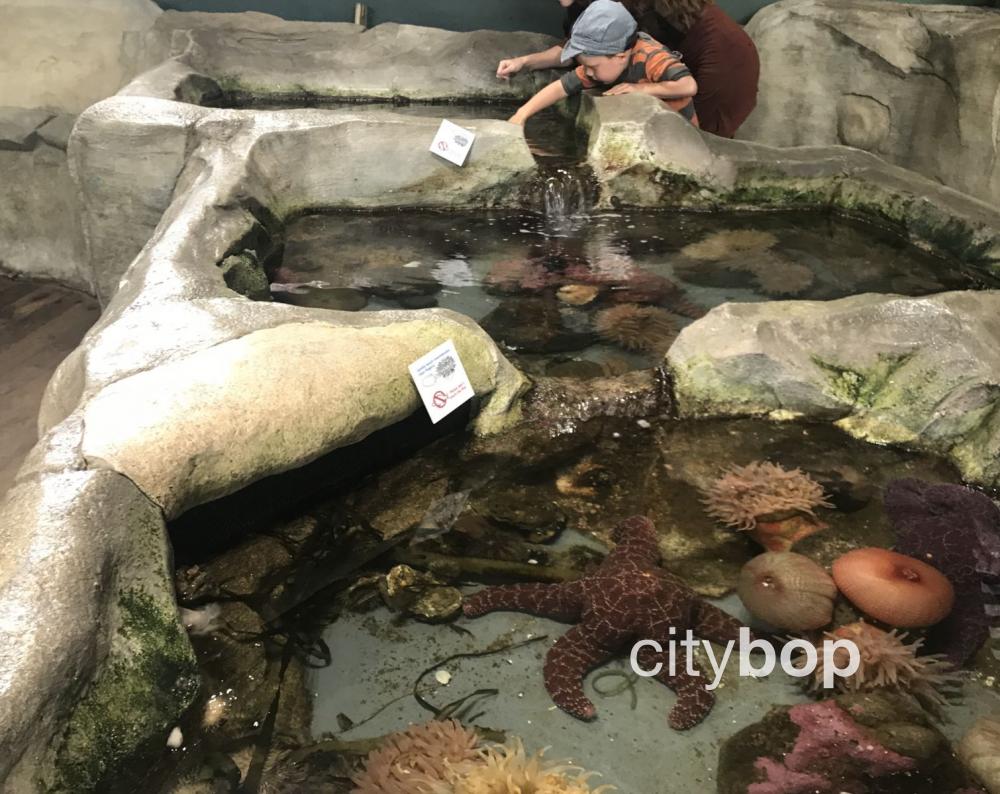 Check out that gigantic starfish!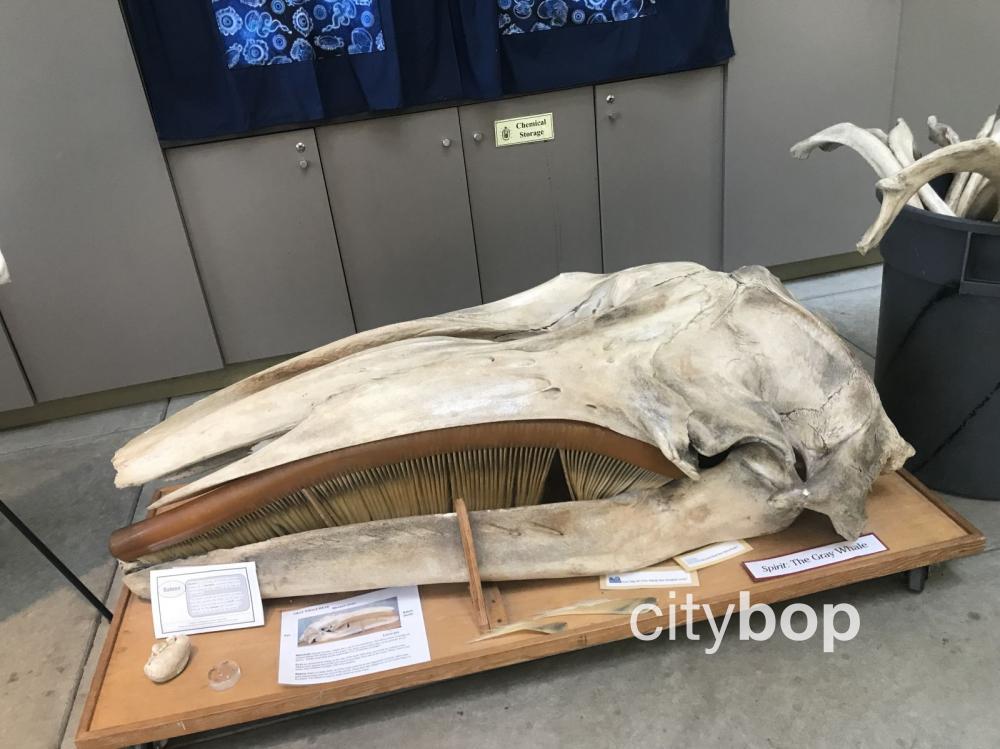 Cross the road to see other marine exhibits, like a gray whale's skull and an orca's skeleton.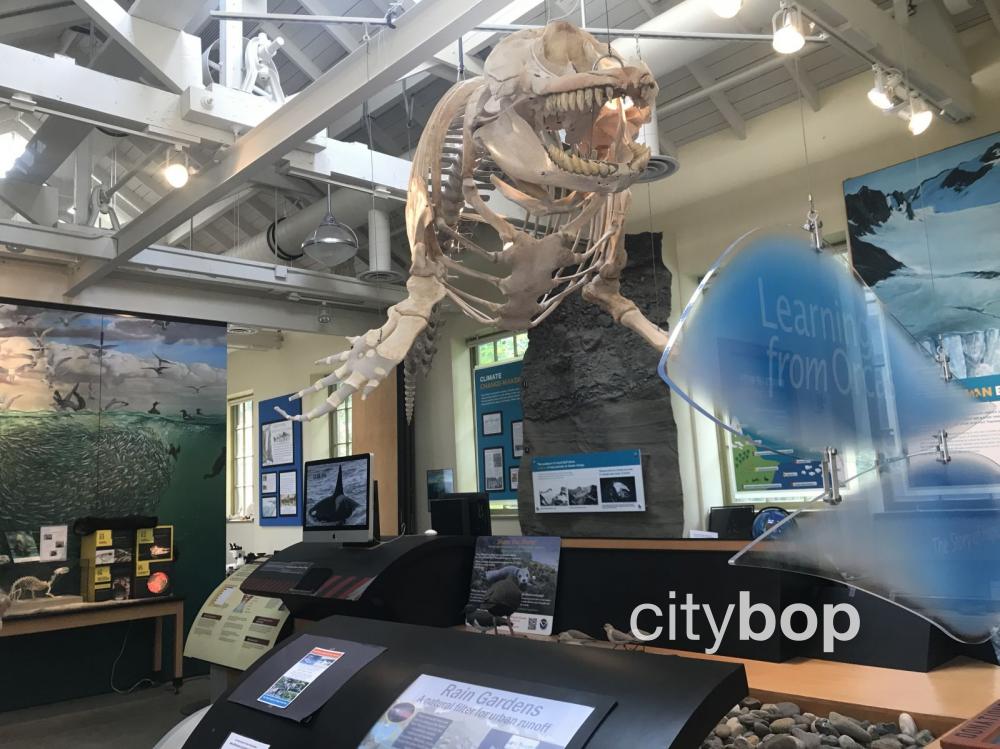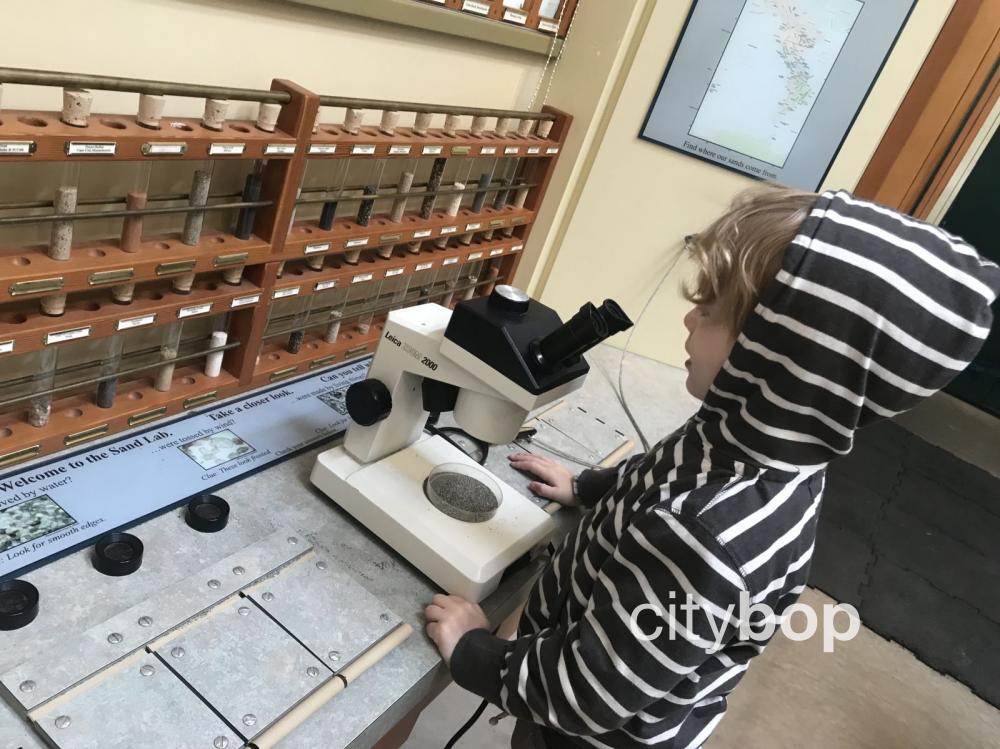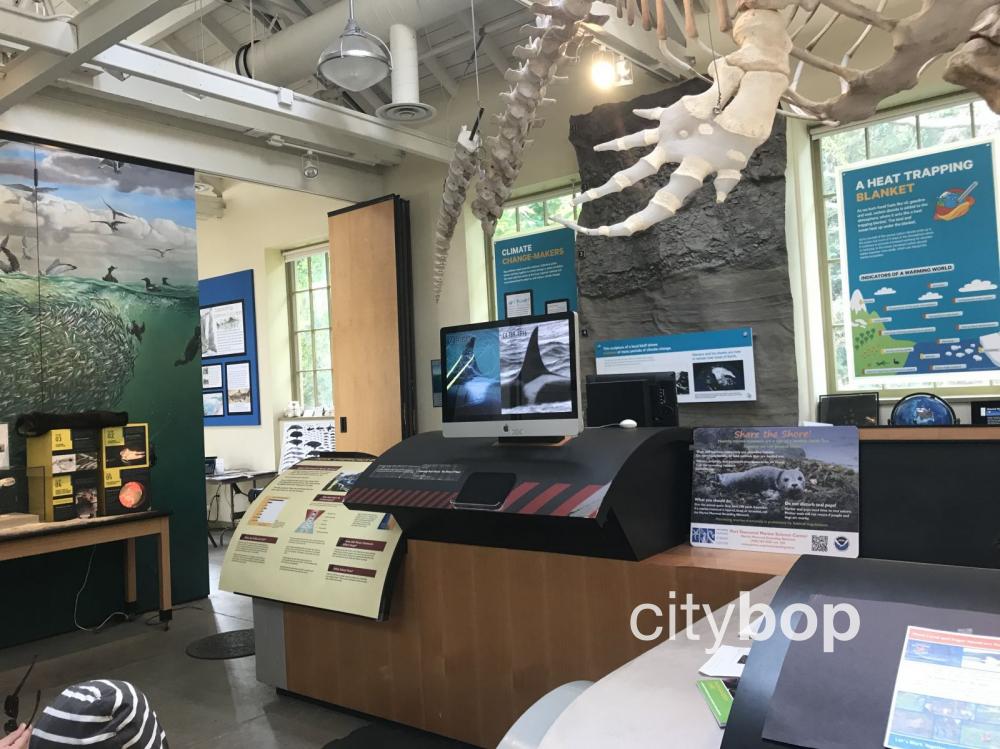 6. Relax on sandy beaches at Fort Worden.
Fort Worden has an abundance of sandy beaches, perfect for those long summer days.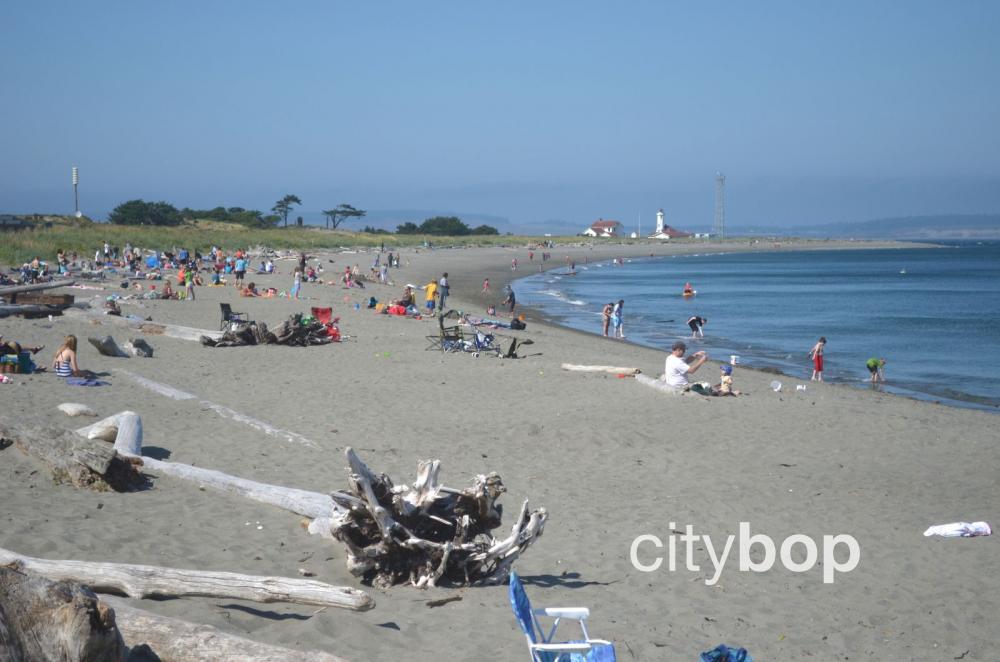 Popular sandy beach at Fort Worden.
The most popular beach at Fort Worden is north of the Marine Science Center.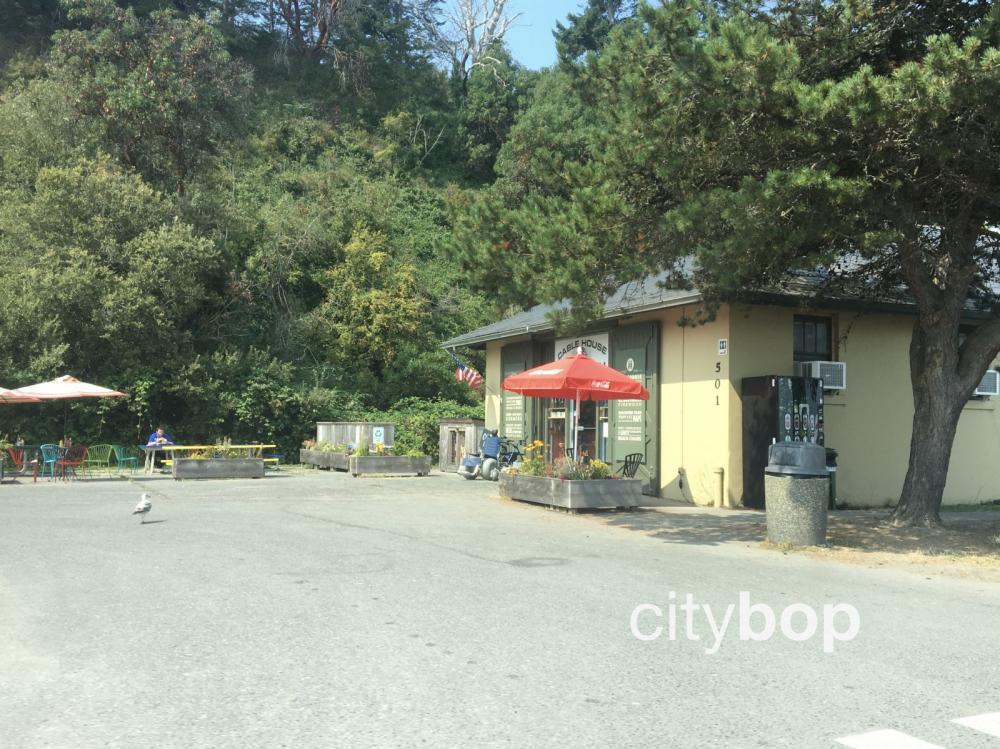 There's also a convenient seasonal kiosk with snacks and drinks across the road from this beach.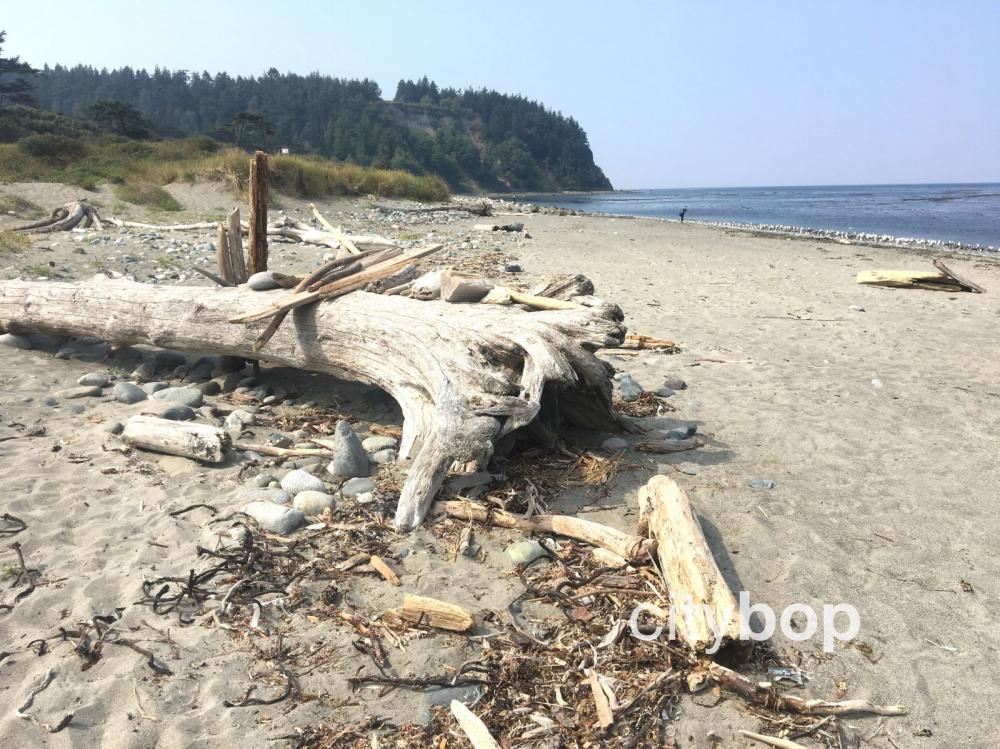 Beach at Fort Worden with Artillery Hill behind it.
This more dramatic and secluded beach is directly west of the Point Wilson Lighthouse.
7. Get close-up views of the Point Wilson Lighthouse.
After visiting Battery Kinzie, take a stroll along the gorgeous beach at Point Wilson to see the Point Wilson Lighthouse. It's still an active navigational aid and therefore not open for tours, but wonderful to see up close.
Point Wilson Lighthouse is an imposing sight, standing 51-feet tall, making it the tallest lighthouse in Puget Sound. In 1879 it started out as a light on top of the lighthouse keeper's building. A new structure was built in 1913, with a 46-foot octagonal tower.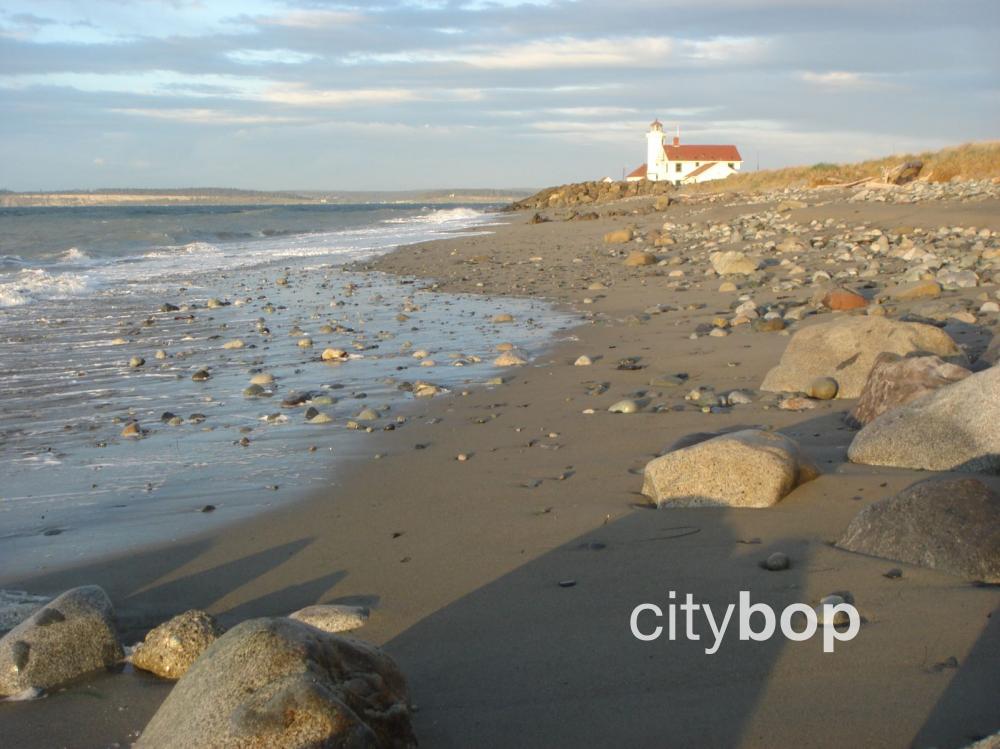 Point Wilson Lighthouse at Fort Worden with beach.
The lighthouse is on a finger of land that juts out at Point Wilson, flanked by sandy beaches on either side. This beach west of the lighthouse was featured in the jogging scene in An Officer and a Gentleman.
This beach is south of the Point Wilson Lighthouse, with piles of artfully strewn driftwood and make-shift shelters. Snow-capped Mount Baker is visible in the distance.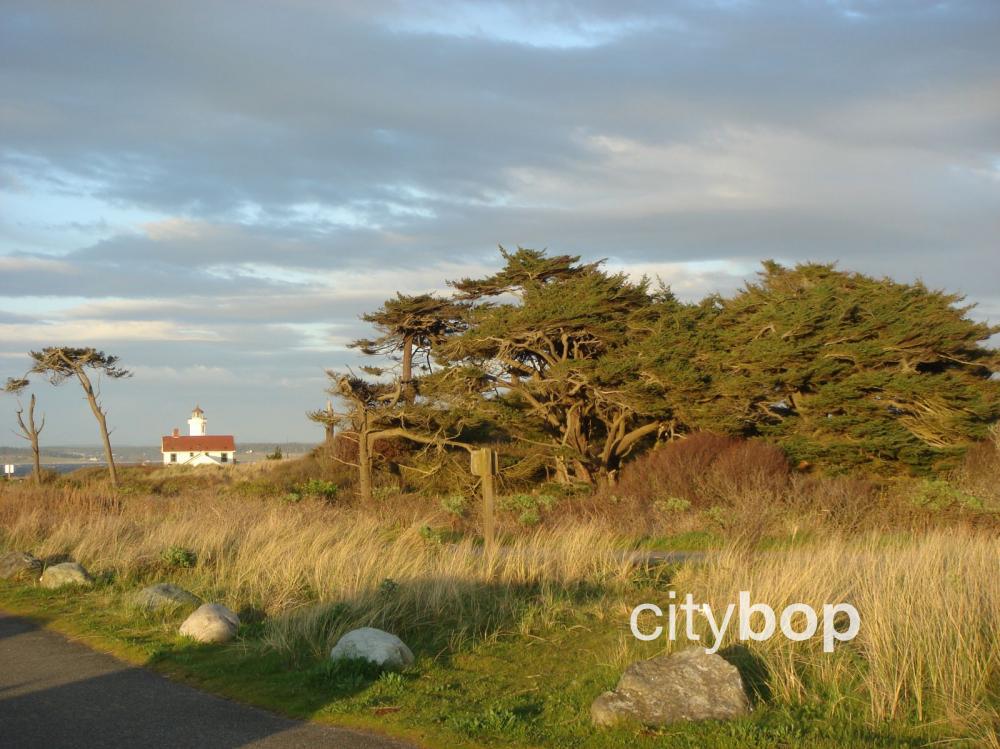 These windswept pines behind the lighthouse are evidence of the fierce winter storms that roll through here.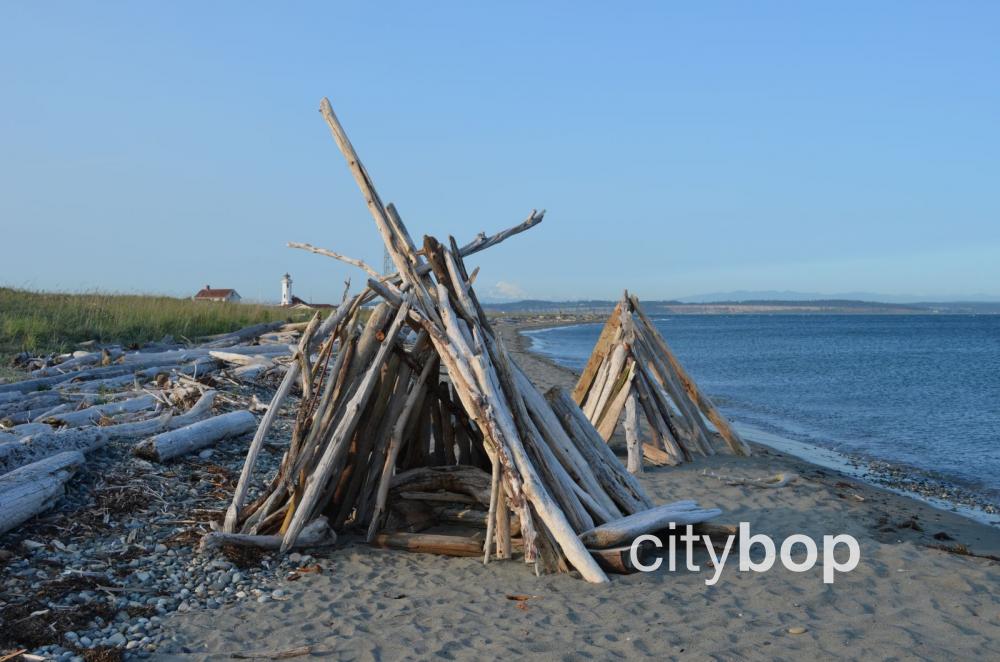 Driftwood on beach at Fort Worden.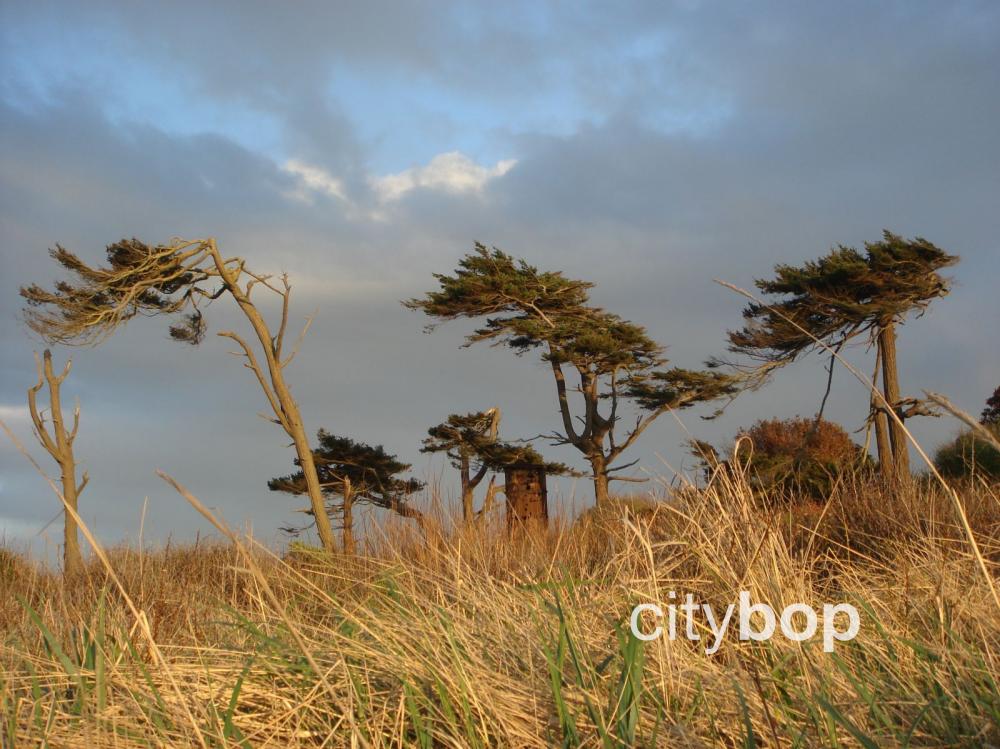 Windswept pines at Fort Worden.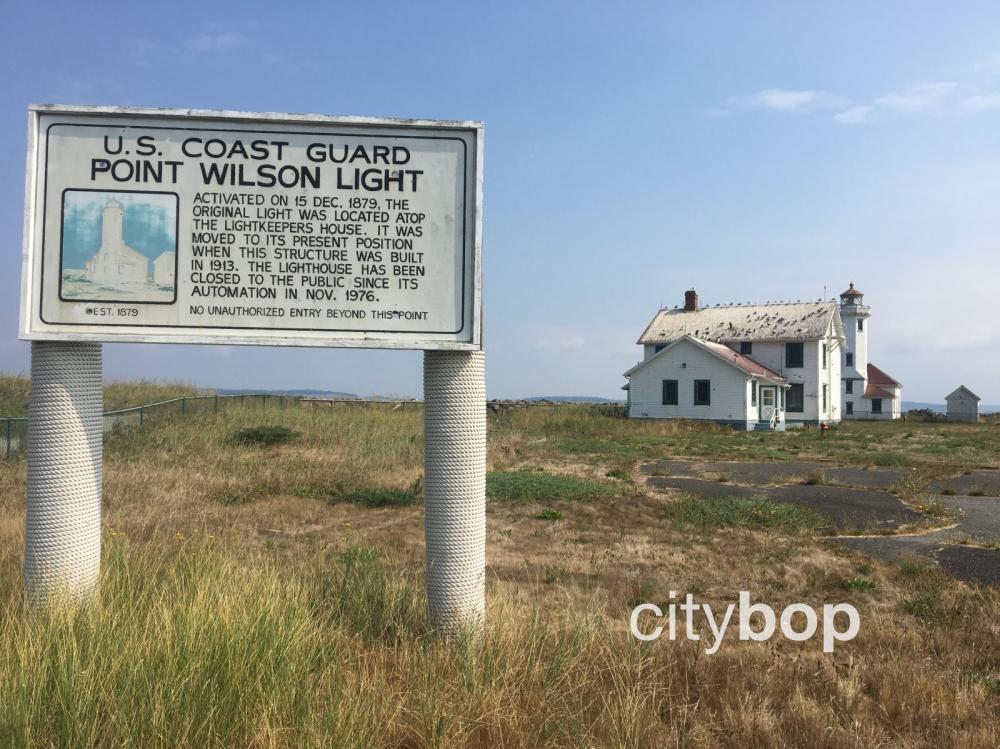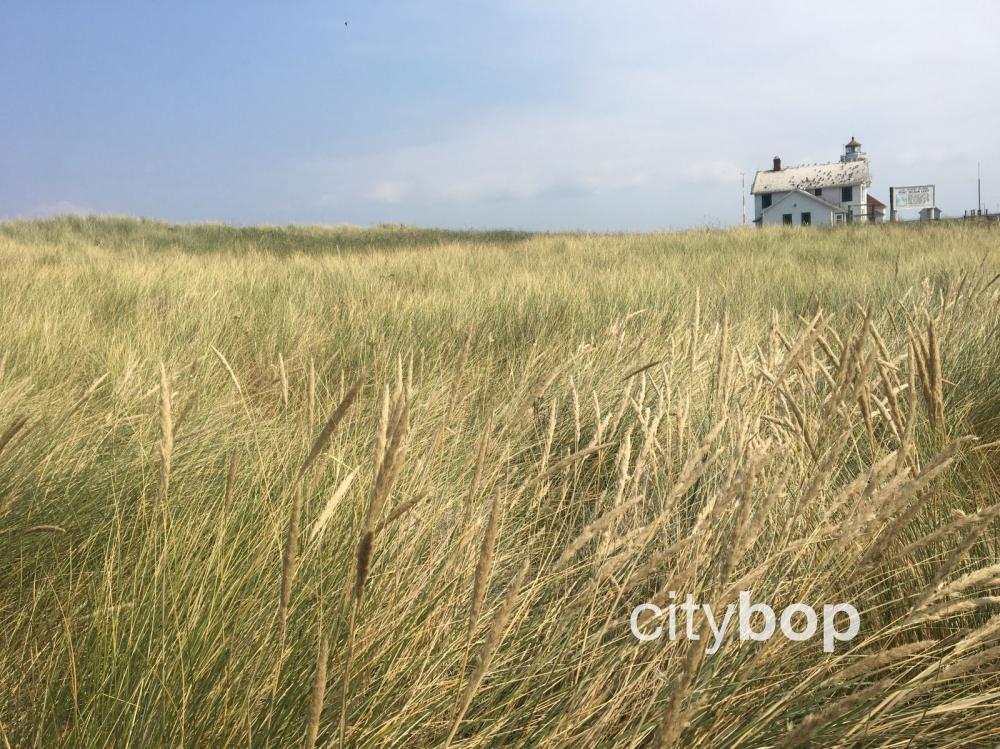 8. Explore Fort Worden's most accessible military battery.
If you have limited time, or don't want to do a lot of walking, then Battery Kinzie is the most accessible military battery at Fort Worden. It's super easy to get to. Just drive north along Harbor Defense Way to the parking lot outside Battery Kinzie. You can also access the Point Wilson Lighthouse from here.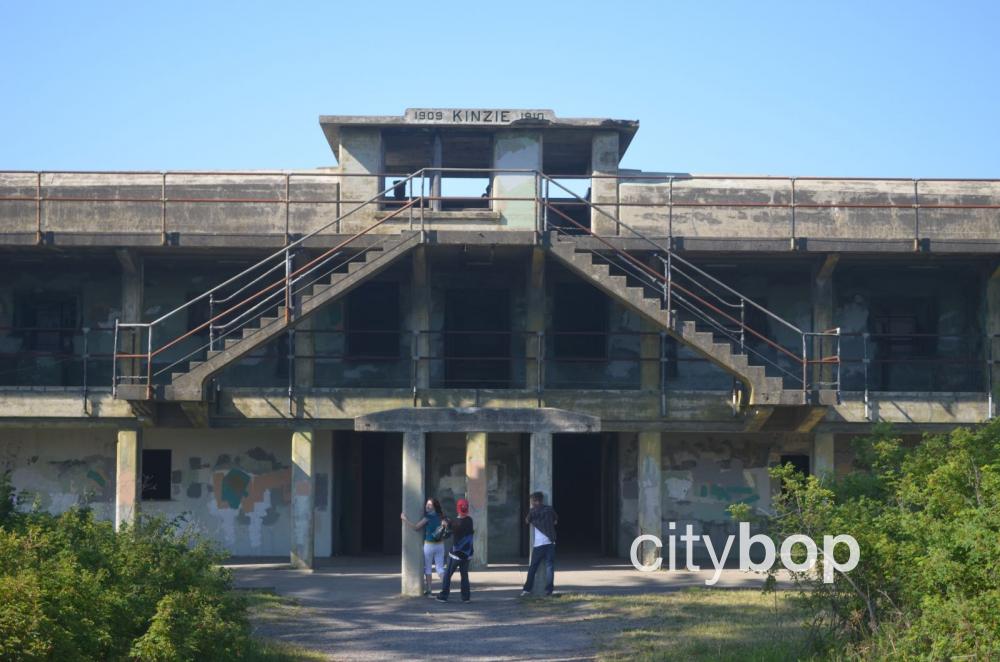 Battery Kinzie at Fort Worden.
Bring a flashlight and explore the tunnels, secret chambers and stairways inside Battery Kinzie. Loads of fun!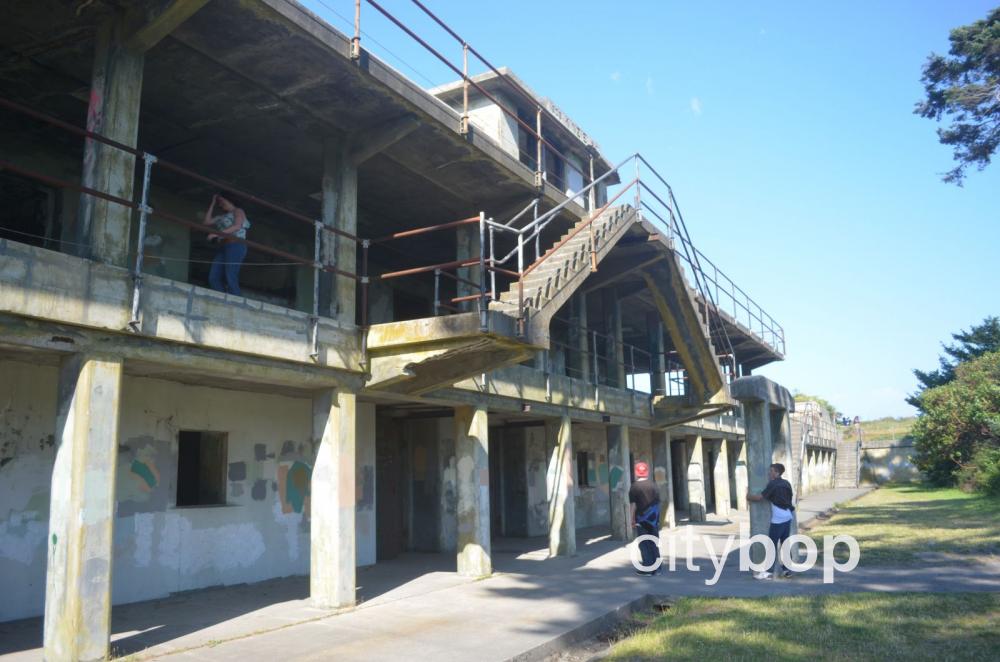 Battery Kinzie.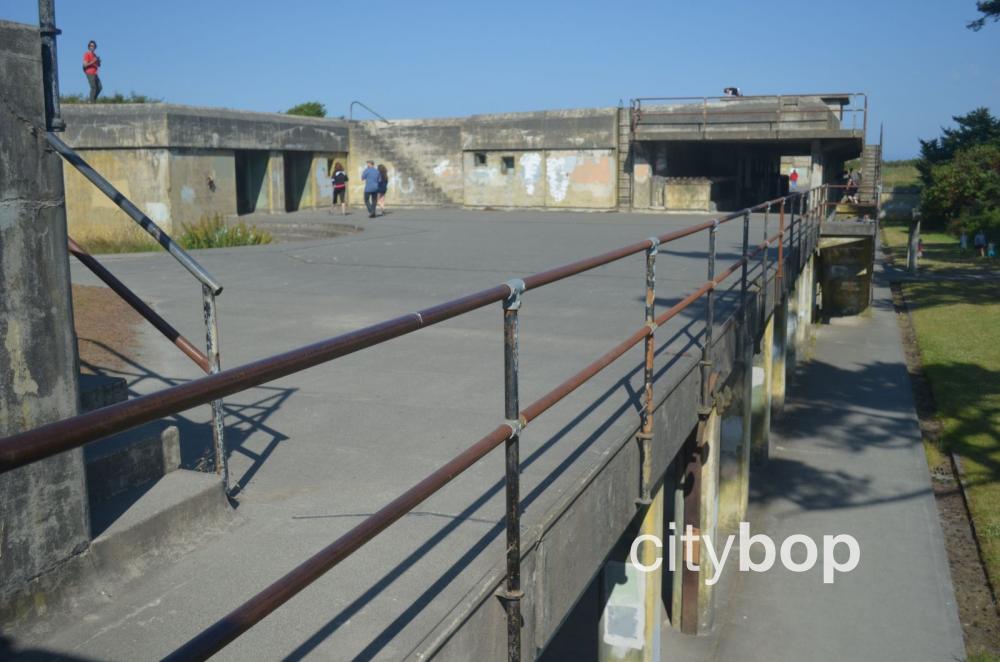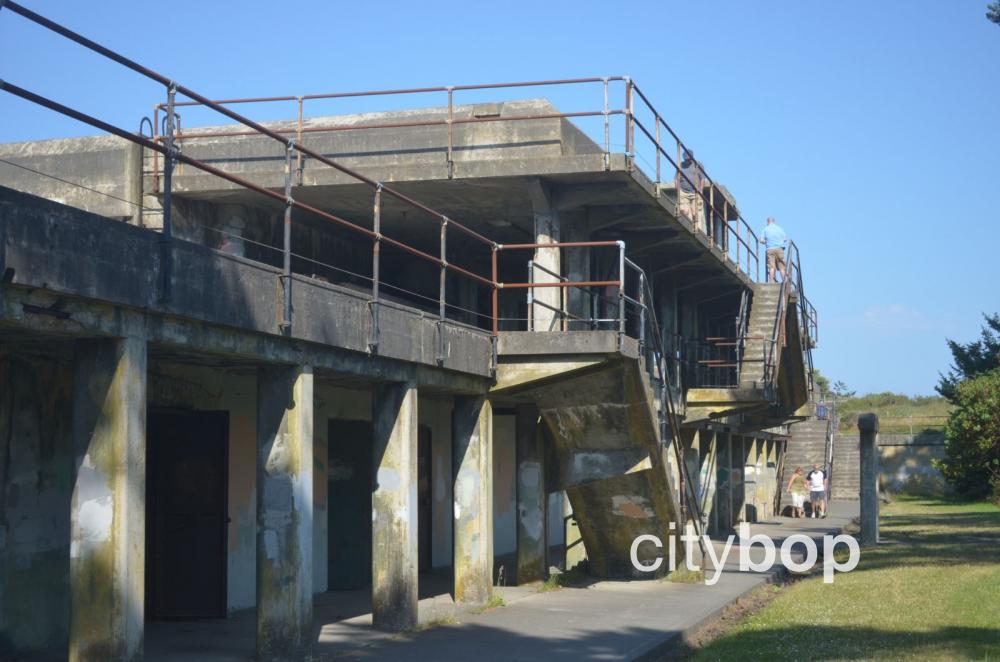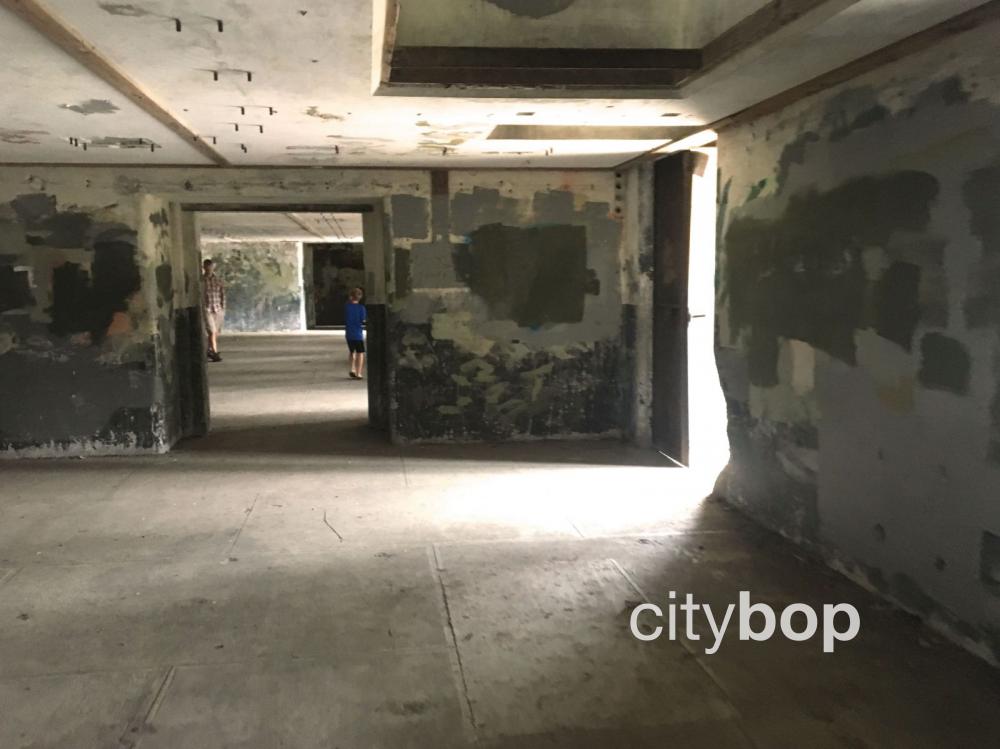 9. Walk up Artillery Hill to see more military batteries.
Artillery Hill is up the back of Fort Worden, and contains the majority of the abandoned military batteries. This raised vantage point was an obvious choice for a military defense system, perfect for firing on enemy ships. It takes about 10 minutes to walk from the main Parade Ground to Artillery Hill. Here's a trail map.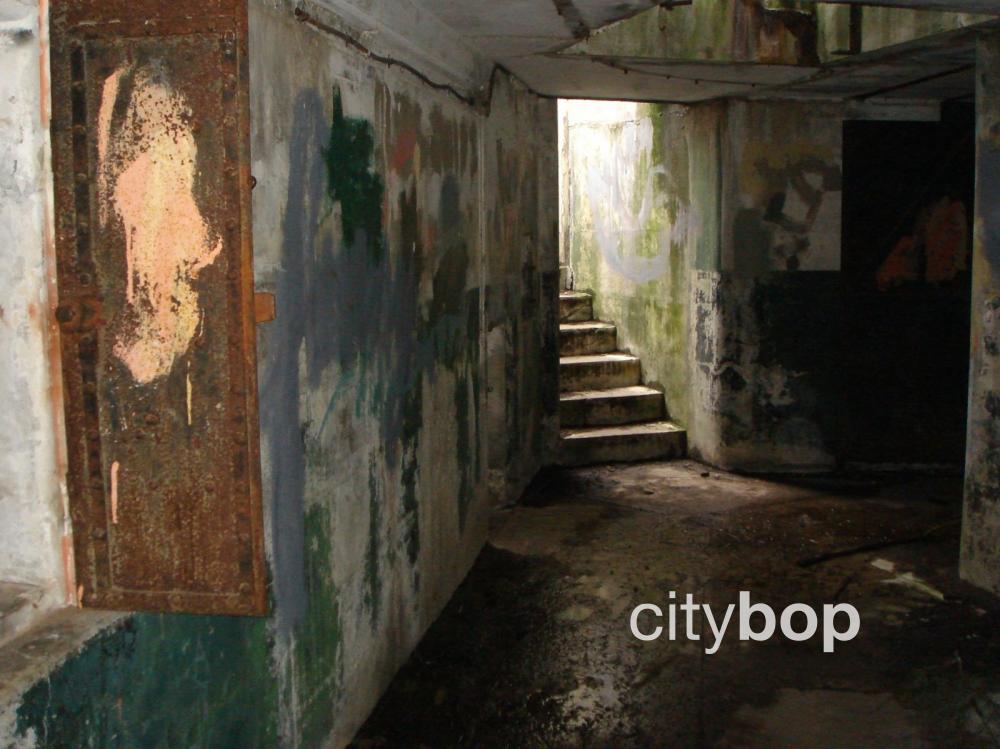 Fort Worden bunkers.
Exploring these decaying batteries is like entering a secret world full of tunnels, chambers and walkways, with something new around everyone corner. Let your imagination run wild!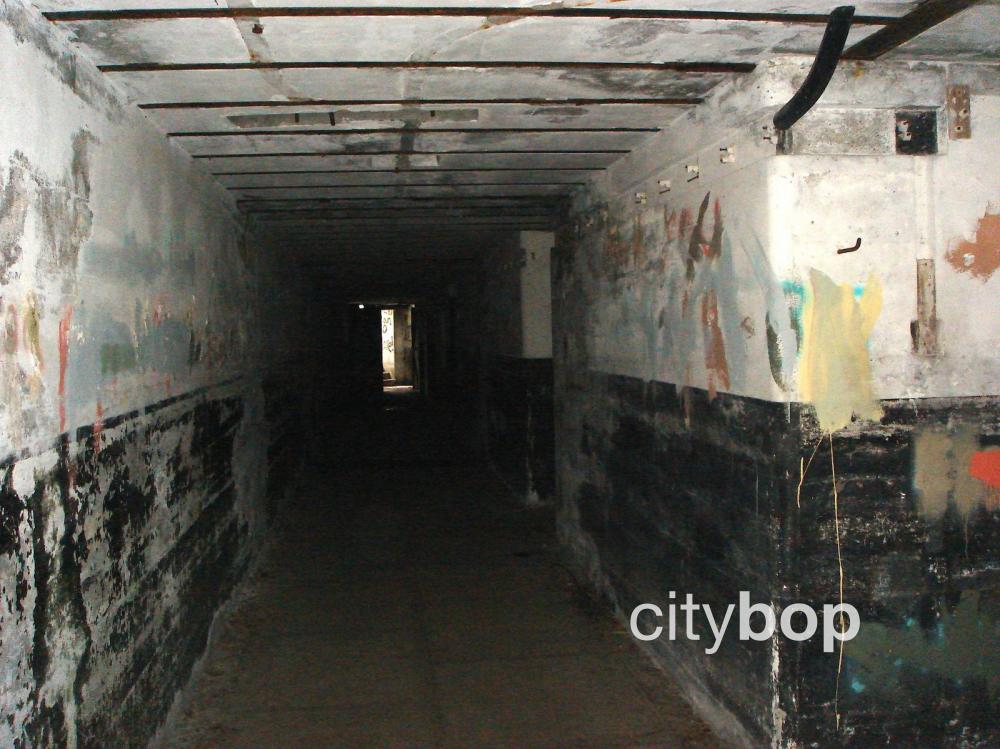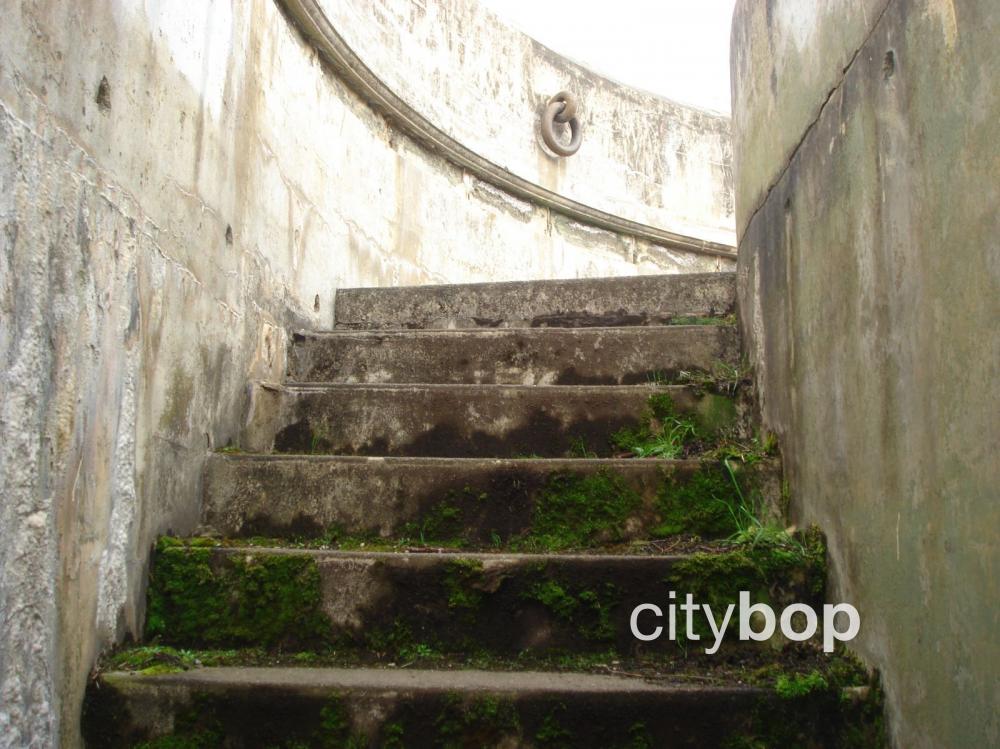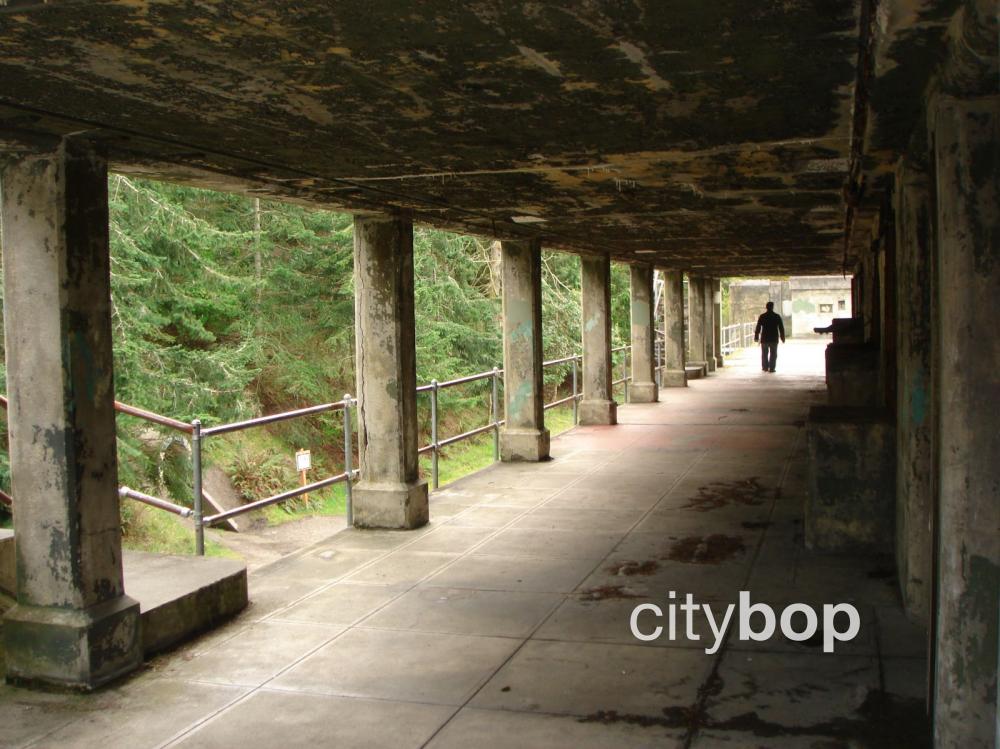 There is so much beauty in these decaying structures, gradually being reclaimed by mother nature.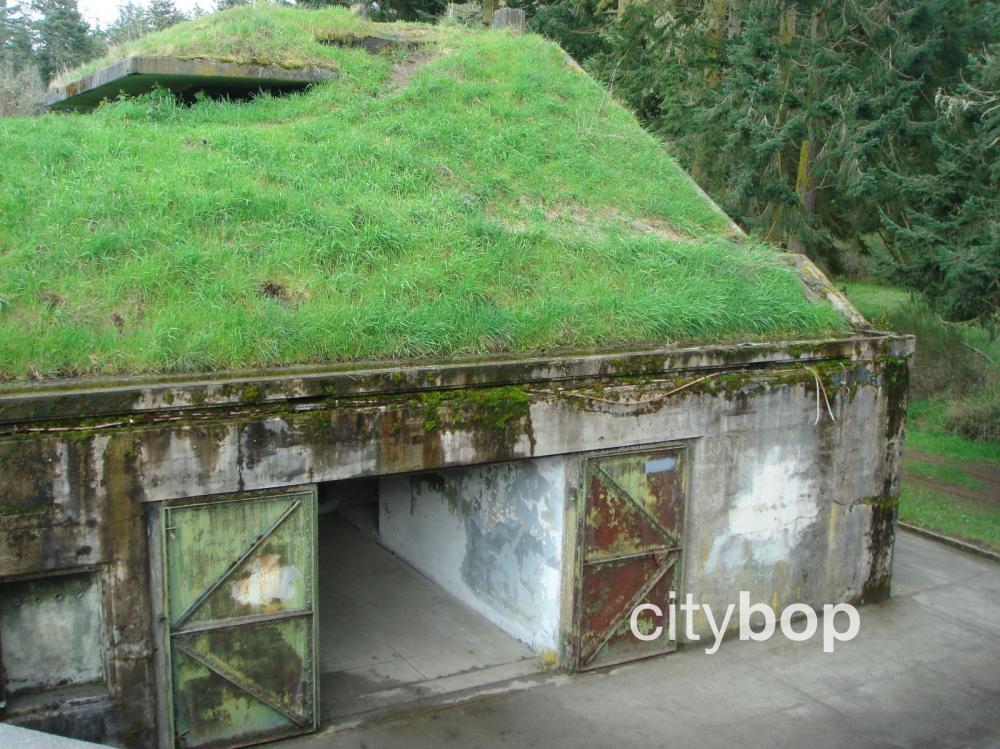 It's fascinating trying to guess the purpose of each of these chambers.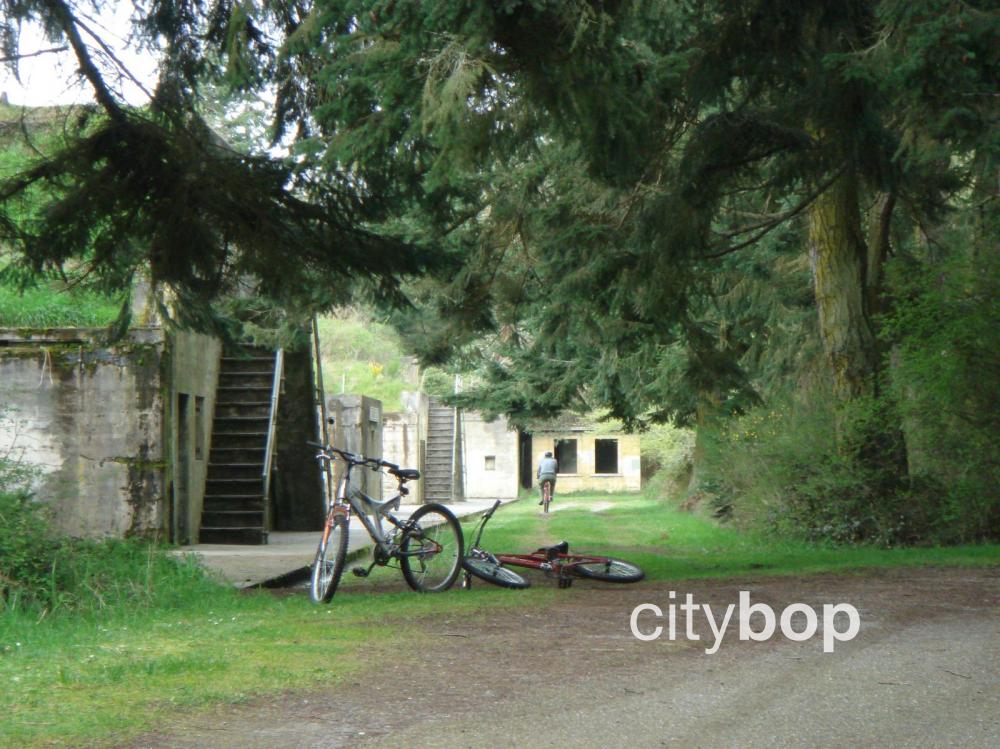 Artillery Hill is also popular with cyclists.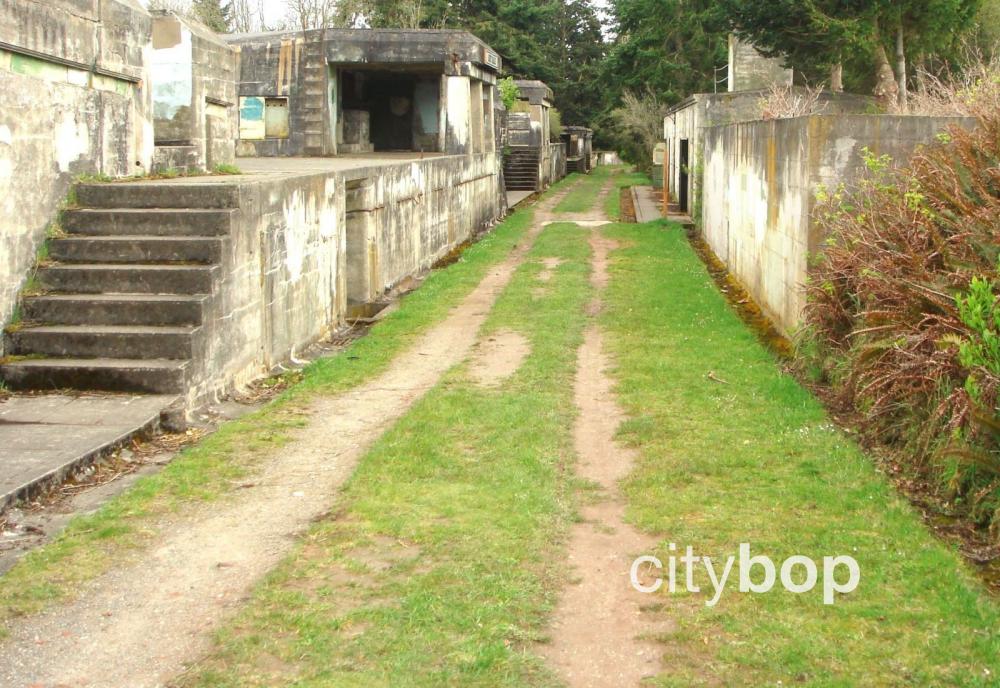 The batteries on Artillery Hill are named after notable military figures, with names like Battery Ash, Quarles, Randol, Tolles, Walker, Powell and Brannon.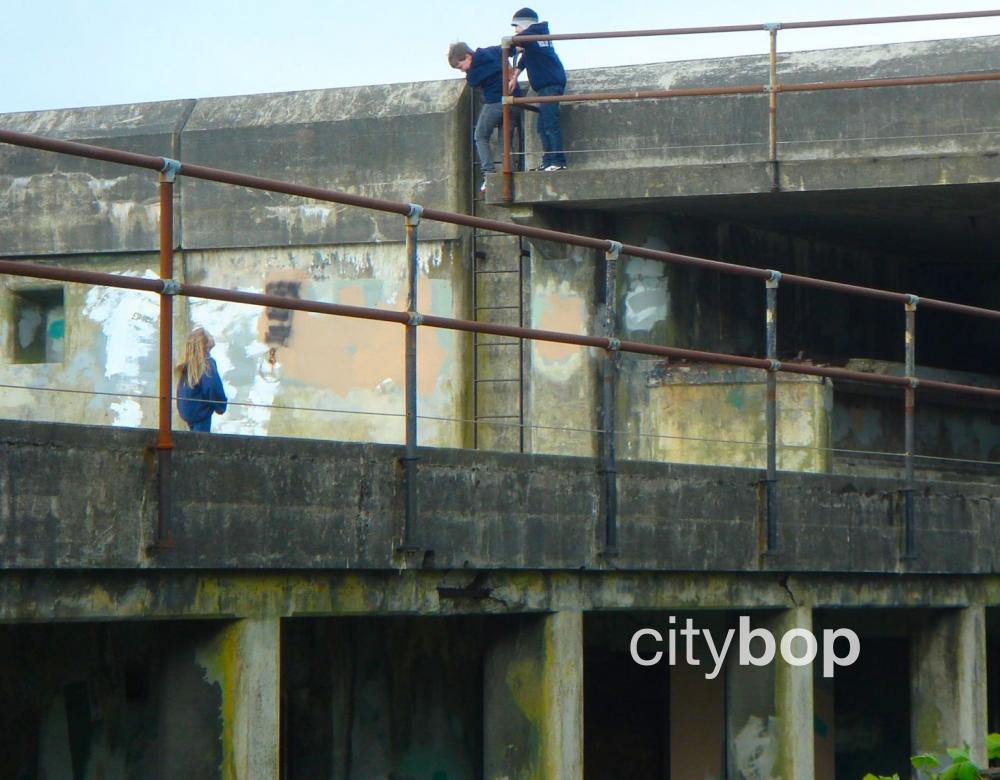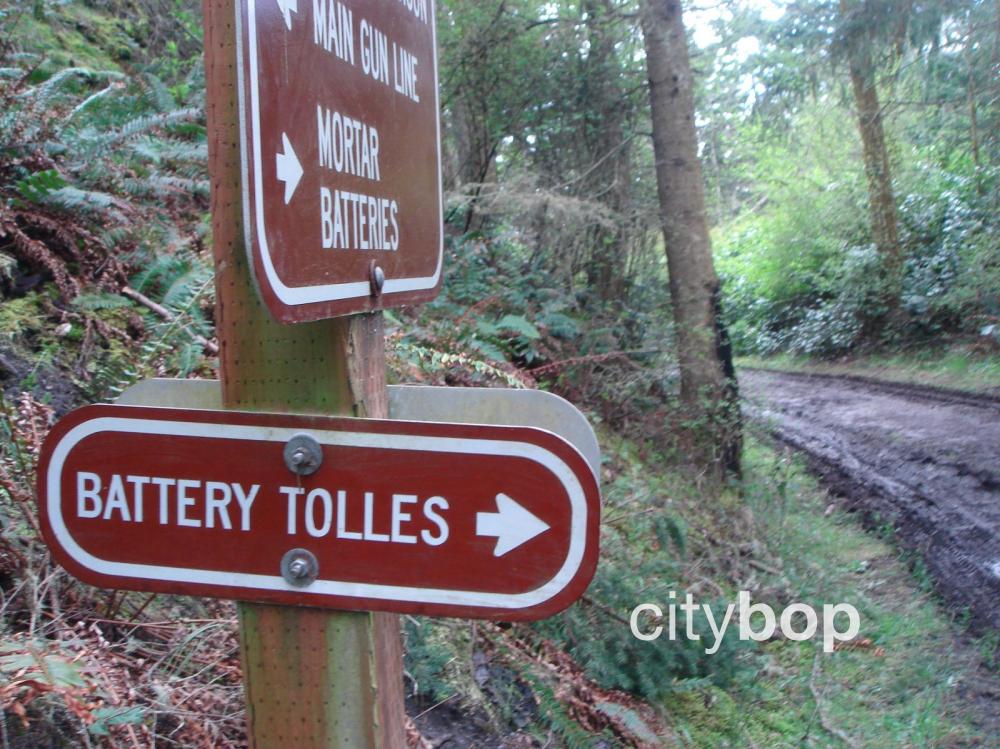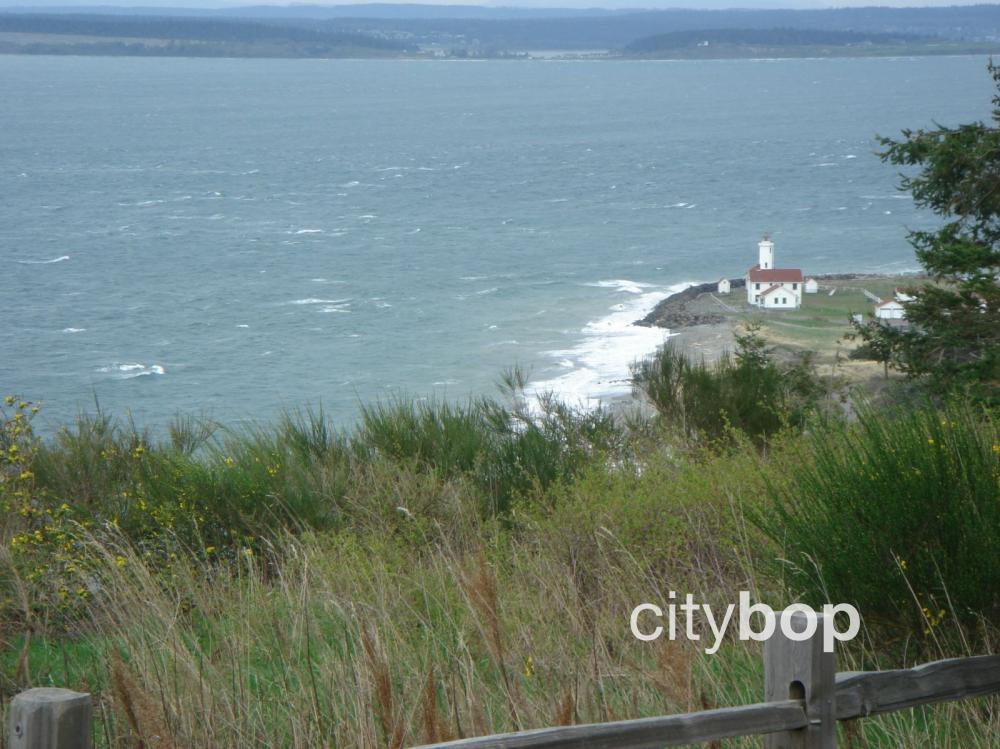 Your best photo opportunity is at the Point Wilson Lighthouse Overlook, near Battery Ash on Artillery Hill at Fort Worden.
10. Find filming locations from An Officer and a Gentleman (1982).
Nearly 40 years later, Fort Worden still attracts fans of the popular movie an Officer and a Gentleman (1982) starring Richard Gere and Debra Winger. Most of these locations are relatively unchanged from nearly 40 years ago and include:
Graduation scene on porch of building 204.

Haircut scene on ramp of building 203.

Fight scene in balloon hangar (McCurdy Pavilion).

Dance scene in USO Building 326.

Jogging scene along the beach near Point Wilson Lighthouse at Fort Worden.

Training scene on Battery Kinzie – where Richard Gere says "I got no where else to go".
Travel a few minutes to Port Townsend to find other interesting locations, including:
Motel scenes at Tides Motel (1807 Water Street). Remodeled, but original section is still there.

Bar scene at the N.D. Hill buillding (639 Water Street).
Stay overnight at Fort Worden.
Both camping and vacation rentals are available at Fort Worden. You can also stay at the charming seaport town of Port Townsend just a few minutes away.
Check here for Fort Worden Vacation Rentals in historic military buildings like the Officer's Quarters, Alexander's Castle, Engineer's Cottage and Steward's Cottage.
Check here for Fort Worden Camping Reservations. Camping is available at the lower and upper campgrounds, however the lower campgrounds are by the water and have much better views.
Fort Worden guarded Seattle from sea invasion.
Fort Worden was the site of a U.S. Army Base from 1902 to 1953. It was established as part of the Ring of Fire in the early 20th century to guard the entrance to Puget Sound, and protect cities like Seattle and the naval shipbuilding town of Bremerton.
The Ring of Fire consisted of Fort Worden, Fort Casey, and Fort Flagler, and had the combined weaponry of 100 canons. The first troops arrived at Fort Worden in 1902, and construction of the permanent post buildings occurred from 1904-1915. In all those years, no cannons were ever fired outside of practice sessions.
What's near Fort Worden?