​Alcatraz Island is a 15-minute ferry ride from San Francisco.
Tours of Alcatraz are very popular, so it's recommended you purchase a ticket well in advance.
Alcatraz Island is a hauntingly beautiful place with breathtaking views, a wild seascape, and decaying buildings to explore.
After stepping off the ferry at Alcatraz Island, you're immediately greeted by a Park Ranger for a short briefing. You then walk uphill to the Main Cell Block where an audio tour is provided.
Set aside 3 hours for a fascinating tour of the buildings and grounds at Alcatraz Island.
10 best things about Alcatraz Island
The 15 minute ferry ride to Alcatraz Island is breathtaking. The ferry leaves from Pier 33 at the Embarcadero, near the Bay Street intersection. Purchase tickets.
You can do a self guided audio tour of the Main Cell Block. The tour passes through the cell house, laundry, recreation yard, library and chow house, and ends at the gift shop. Set aside 3 hours to see everything.
The chilling audio tour is narrated by corrections officers and inmates. Learn the stories of prisoners

and attempted prison breakouts on the fascinating audio tour. Alcatraz inmates survived in miserable conditions in cold, damp cells as the wind whistled outside. It's difficult to imagine being confined in a 5 by 9 foot cell for most of the day, so step inside and experience it for yourself!

There were 14 escape attempts from Alcatraz Island.

Many inmates drowned and guards were murdered during these escape attempts, and there has never been confirmation that any inmate made it to dry land. The most violent battle took place in 1946, when six inmates took over the Main Cell Block and murdered two guards. The U.S. Marines had to intervene to bring the situation under control.

America's most dangerous gangsters and murderers were confined here. The worst offenders were placed in isolation in D Block, in the Treatment Unit. Some famous prisoners in D Block include Robert "Birdman" Stroud and Alphonse "Scarface" Capone. Many were kept in complete darkness and only permitted to leave their cells once a week.
Alcatraz first served as a military fort in 1859. Fort Alcatraz opened in 1859 to protect San Francisco against foreign invasion after the massive influx of wealth during the Gold Rush. Most of these original military structures were built over during the construction of the Main Cell Block, but high-tech radar has recently identified military tunnels and ammunition magazines just inches below the concrete recreation area.

It was then designated as a military prison in 1861.

Alcatraz Island is surrounded by cold water and sharks, making it the ideal location for a military prison.

Alcatraz became a federal penitentiary between 1934 to 1963.

It was finally closed in 1963 when it became too expensive to run.

See the spectacular ruins of the Warden's House mansion. This 15 room mansion was originally built in the 1920's, and later housed the four wordens of Alcatraz when it was a federal penitentiary from 1934 to 1963. The wardens held lavish cocktails parties, enjoying superb views of the Bay. The mansion was burned to the ground during the American Indian Movement occupation of Alcatraz Island in 1970.
Admire the striking Alcatraz Lighthouse. The first Alcatraz Lighthouse was constructed in 1854, but then damaged in the 1906 earthquake. Eventually a decision was made to demolish it, because it wasn't tall enough to shine above the Cell House. The lighthouse you see today was constructed in 1909, and stands 95 feet tall. It was automated in 1963, and still shines a bright beacon. Surprisingly it was one of the few structures that was not burned to the ground during the American Indian Movement occupation of Alcatraz in 1970.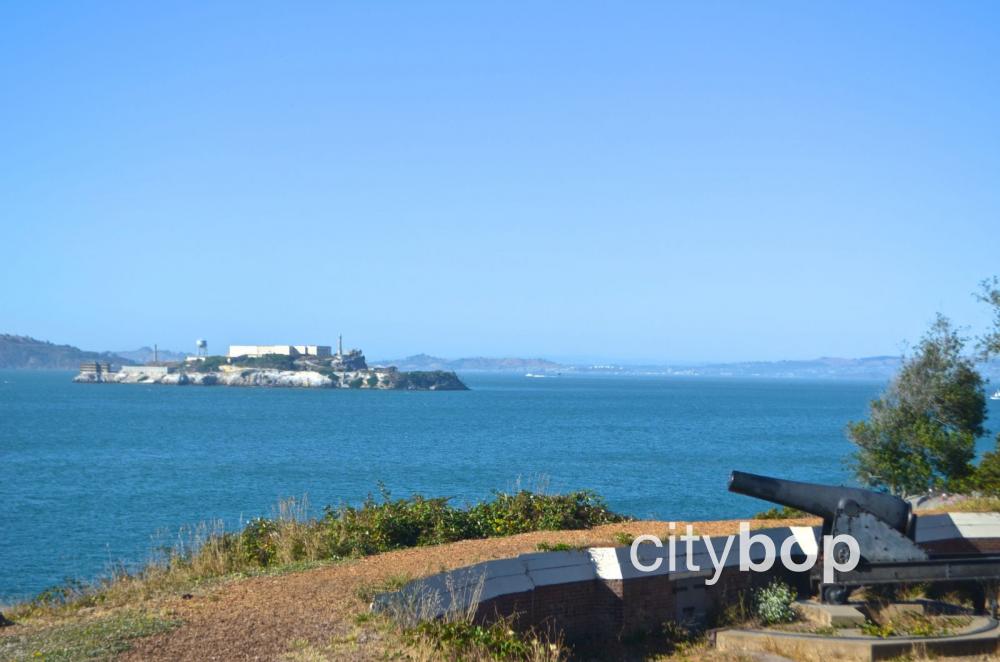 Alcatraz Prison
This is a view of Alcatraz Island from Fort Mason.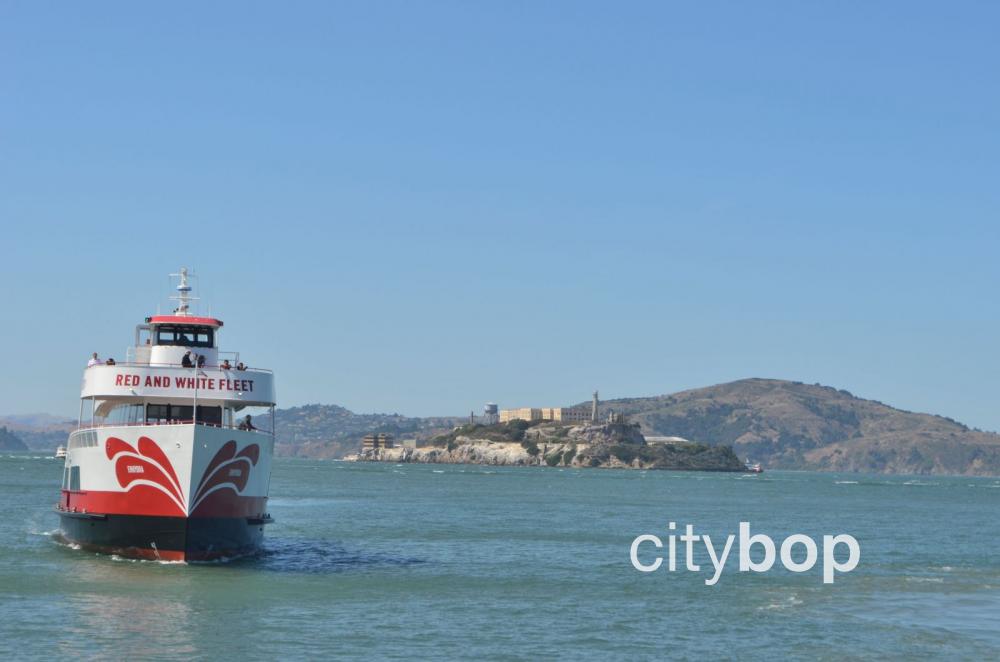 Ferry to Alcatraz Island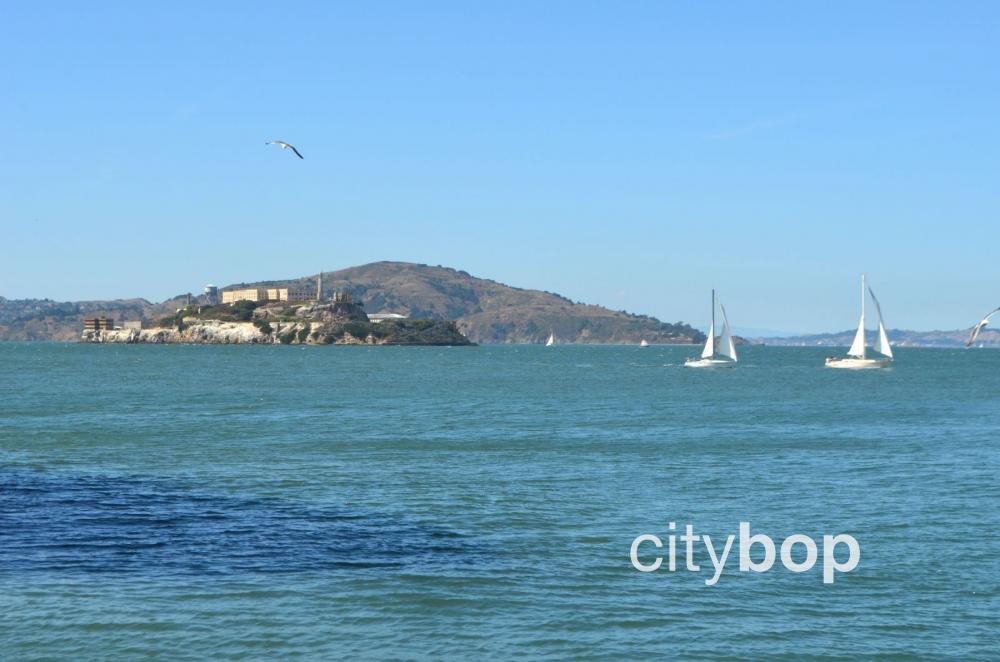 Alcatraz Island views from Pier 39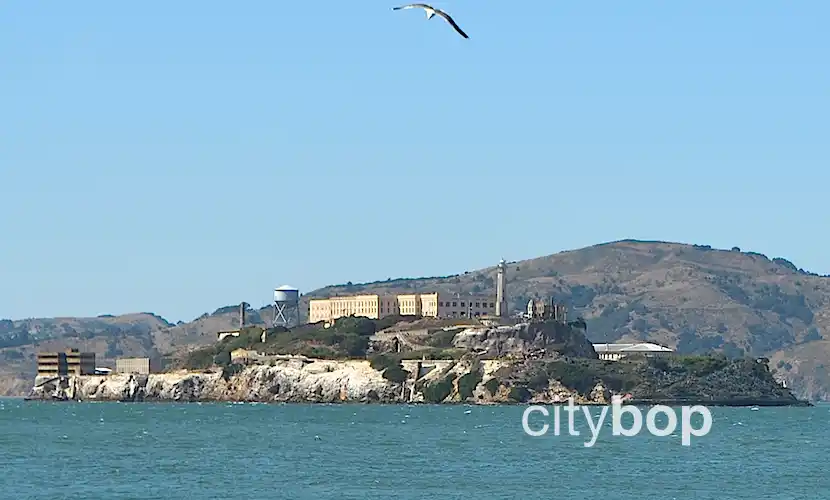 Alcatraz Island
Know before you go
Alcatraz Ferry: Pier 33 at the Embarcadero, near the Bay Street intersection.

Alcatraz Tickets:

Purchase

tickets.
Food: There are no food vendors on the island, but you can purchase food at the Pier 33 landing at the Embarcadero. Picnics are only allowed in the dock area of Alcatraz.
More Museums in San Francisco