The De Young Museum is in a striking building in Golden Gate Park in San Francisco.
The De Young Museum has one of the best collections of American Art, with paintings from the prestigious Rockefeller collection, and a free 144-foot tower with panoramic views over San Francisco and Golden Gate Park.
10 best things to do at De Young Museum
1. Admire the striking, modern building.
The De Young Museum building has a bronze exterior, with a spiraling 144-foot tower. Nearly a million pounds of copper was used in the construction of the remarkable building in 2005!
2. See incredible views from a free tower.
The Hamon Observation Tower is free to visit, with panoramic views of San Francisco and the Golden Gate Park.
3. View an amazing collection of American art.
The De Young Museum has a permanent exhibition with four centuries of American art and sculpture, from the 17th Century to today.
4. See iconic paintings from the prestigious Rockefeller Collection.
John D. Rockefeller Third and his wife donated an incredible collection of American art, including 110 paintings, 29 drawings and 2 sculptures. See well known paintings such as Frederic Edwin Church's Twilight (1858) or Martin Johnson Heade's Singing Beach (1863).
5. See cool African artifacts.
The African and Oceanic Art Exhibitions are equally impressive with a fascinating range of artifacts like ancestor figures, protective statues, dance drums, masks, bowls and shields.
6. Relax at the scenic cafe.
The cafe at the De Young Museum overlooks an attractive courtyard, and has an outdoor patio for warmer days.
7. Visit a studio just for kids.
The free De Younger's studio is for kids aged 3 to 6, with cool technologies for kids to explore, including lightboxes, touchscreens, interactive videos and more.
8. Wander through the Osher Sculpture Garden.
A fun sculpture garden is on the west side of the museum, with contemporary pieces like a giant safety pin, and glazed apples scattered through the lawn.
9. Pick up a cool gift at the museum store.
Find something original at the museum store, with art-themed gifts like books, clothing, prints, picture frames and more.
10. Explore nearby attractions.
There are so many things to do at the Golden Gate Park, you'll need a few days to see it all! For example, check out gorgeous gardens like the Japanese Tea Garden, and San Francisco Botanic Garden, or visit a massive aquarium and indoor rainforest at the California Academy of Sciences.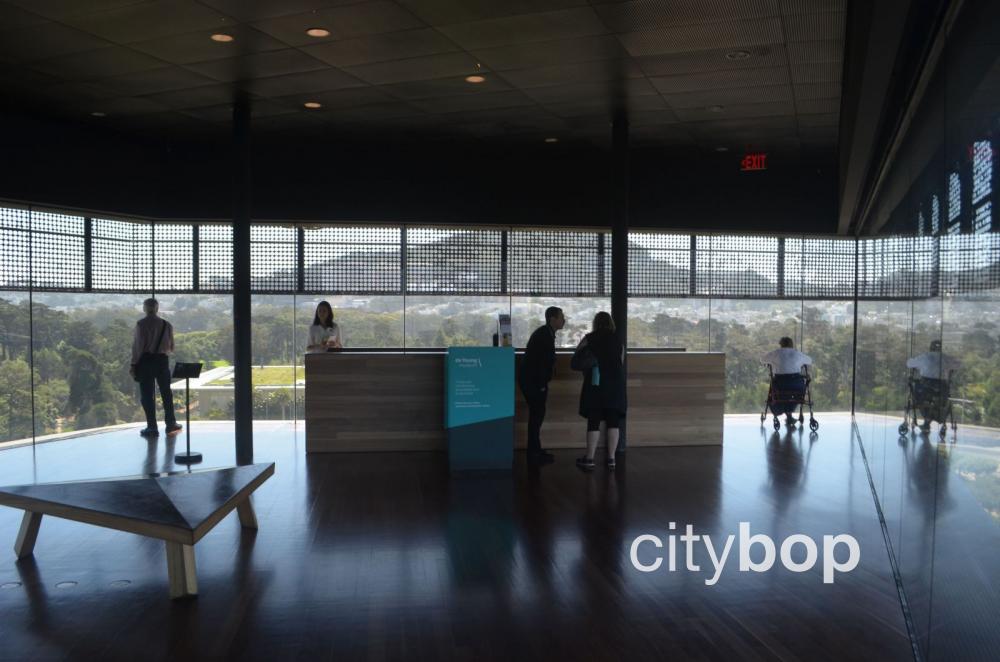 Best San Francisco views from Hamon Tower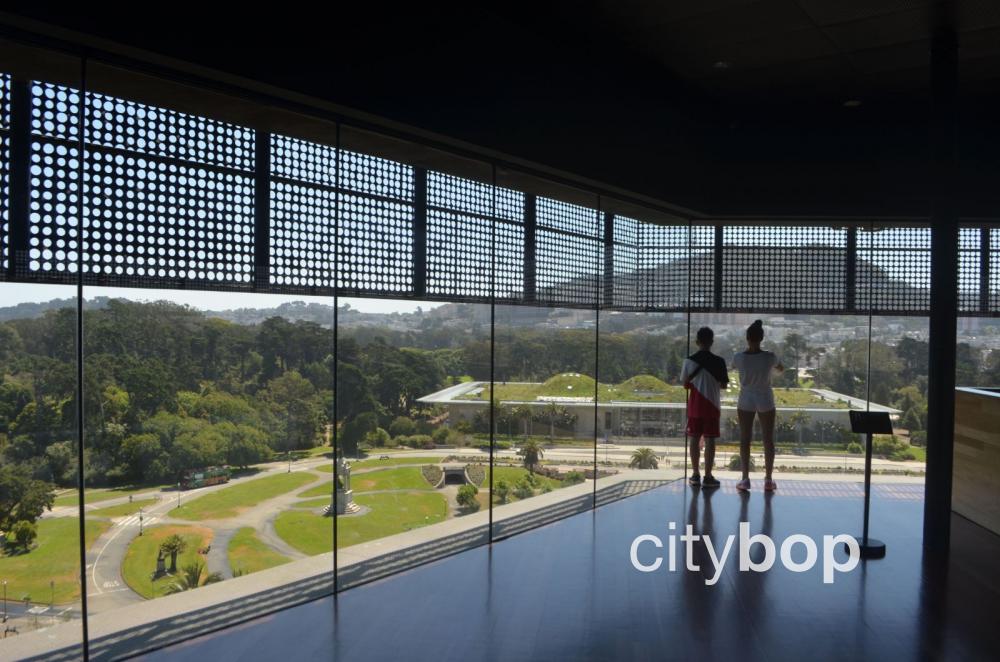 San Francisco best views from Hamon Observation Tower
Know before you go
Address: 50 Hagiwara Tea Garden Dr, San Francisco, CA 94118.
Hours and Admission: Check here.
Cafe: Yes.
Gift Shop: Yes
Parking: Along JFK Drive, or Martin Luther King Jr Drive.
More Art Museums in San Francisco