Take your kids to a cool playground in the heart of North Beach in San Francisco.
After indulging in a delicious Italian meal in North Beach, burn off some energy by taking your kids to the Joe DiMaggio Playground.
This 2-acre park and playground is two blocks from Washington Square in North Beach (651 Lombard Street).
The Jo DiMaggio Playground is free to visit, and great for both toddlers and older kids!
10 best attractions at Joe DiMaggio Playground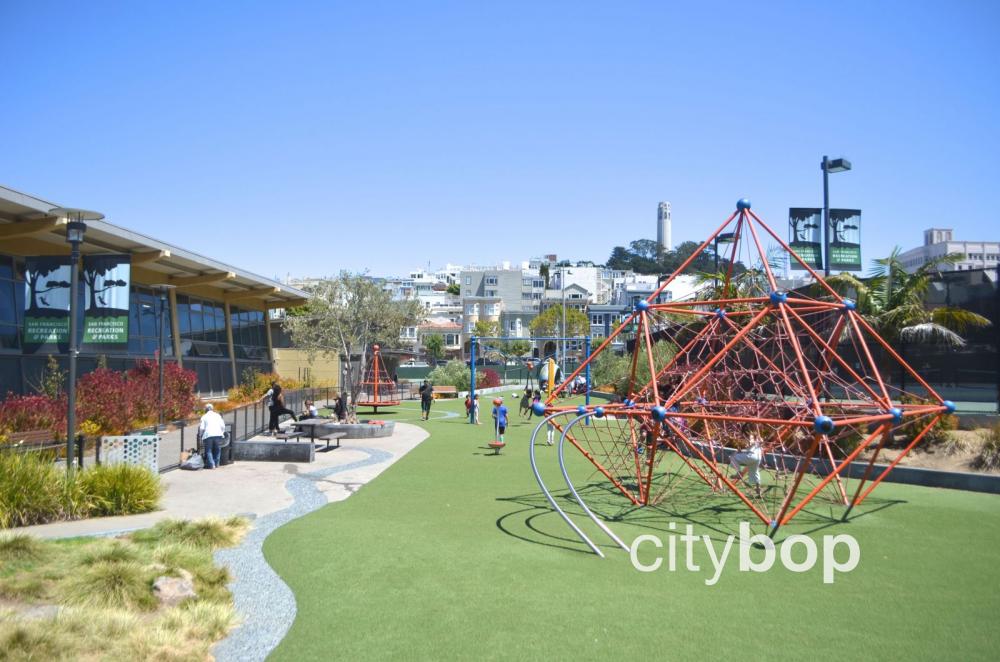 North Beach Playground
1. Ride the fun double slide down a hill from a turreted tower.
2. Check out the cool rides like the spinner, whirl, swings, and see-saw.
3. Climb the big spider web structure.
4. Have lunch at the picnic tables.
5. Play tennis and basketball on the resurfaced courts.
6. Check out the indoor swimming pool.
7. Play on the bocce courts in a charming olive grove.
8. Look out at famous landmarks like Coit Tower, and Saints Peter & Paul Church.
9. Play ping-pong at the indoor recreation center.
10. Walk to major North Beach attractions.
You can also check out other nearby North Beach attractions like the Beat Museum, Vesuvio Cafe, City Light Booksellers, the National Shrine of St Francis of Assisi, Saints Peter and Paul Church, and Coit Tower.
Joe DiMaggio learned to play baseball at this playground!
Joe DiMaggio is one of America's most famous baseballers, and grew up in North Beach in the 1920s, the son of an Italian fisherman. He even brought Marilyn Monroe back here to live, when they married in 1954. They had a civil ceremony at City Hall, then posed on the steps at the Saints Peter and Paul Church in North Beach.
Joe and his brothers used to play at an older version of this playground when they were kids, and this is where he learned to play baseball. It was originally known as the North Beach Playground, and opened in 1910 with a giant slide, big swings, and separate swimming pools for boys and girls. Italian families had deep roots in this neighborhood, and used to gather at the playground for get-togethers.
The playground was renamed the Joe DiMaggio Playground in 1981, then underwent a $7.3 million renovation in 2015 with modern equipment.
More Kids Activities in San Francisco