Learn about the fascinating history of San Francisco's rough and tumble waterfront.
There's so much to see at the San Francisco Maritime National Historical Park.
It's located in the quieter section of the Fisherman's Wharf, an easy 15 minutes walk west of Pier 39.
5 best attractions at San Francisco Maritime National Historical Park
1. The free Visitor Center has an award winning exhibition that chronicles the colorful history of San Francisco's waterfront. It's housed inside an 1800's era cannery warehouse, with an incredible ambience (499 Jefferson Street).
2. Hyde Street Pier has a flotilla of 19th Century ships to tour. Visit the Hyde Street Pier to see a square rigger that navigated Cape Horn 17 times, or a historic steam powered ferryboat with a deck full of antique cars (2905 Hyde Street). Kids under 15 are free!
3. The free Maritime Museum is in a historic 1930s bathhouse with exhibits on San Francisco's maritime history. The Maritime Museum has ship models, the hull and rudder of a Gold Rush era boat, and historic photos on what life was like for local fisherman and sailors (900 Beach Street).
4. Aquatic Park beach is a protected lagoon with beautiful views of Alcatraz Island and the Golden Gate Bridge. Hang out at the sandy Aquatic Park beach (900 Beach Street).
5. Aquatic Park pier was constructed in 1931, and extends 1,400 feet into the Bay. Now closed.
What should I see first?
There's lots to see at the San Francisco Maritime National Historical Park, but the best place to start is the Visitor Center on the corner of Hyde Street and Jefferson Street.
The Visitor Center museum has an excellent Waterfront Exhibition. This exhibition shows the evolution of the San Francisco waterfront, from wetlands and mudflats populated by Native Indian villages, to the wild days of the 1850s Gold Rush, and the fishing boom that attracted Italian immigrants. This area is brimming with history.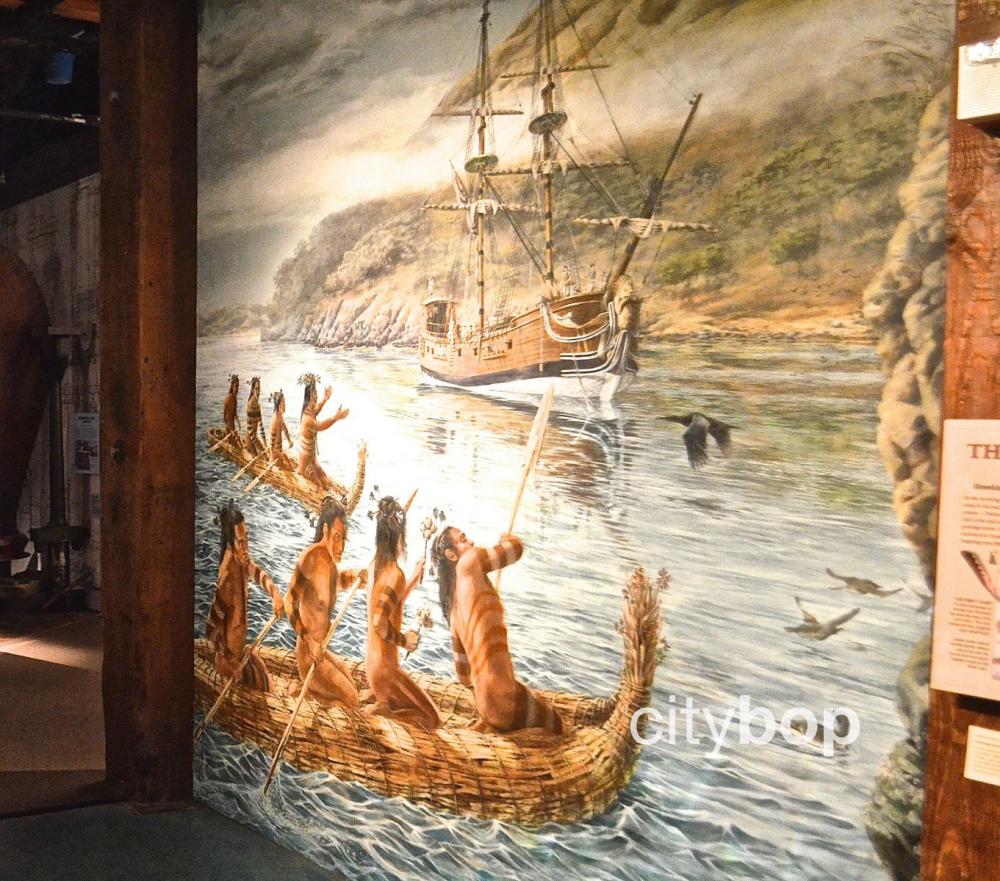 San Francisco Native American Tribes
The exhibition paints a vivid picture of the San Francisco waterfront, before the first settlers arrived and permanently altered the landscape. For thousands of years Native Indians lived at nearby Crissy Field. Crissy Field looked very different than it does today, and was a pristine, tidal wetland with abundant bird life.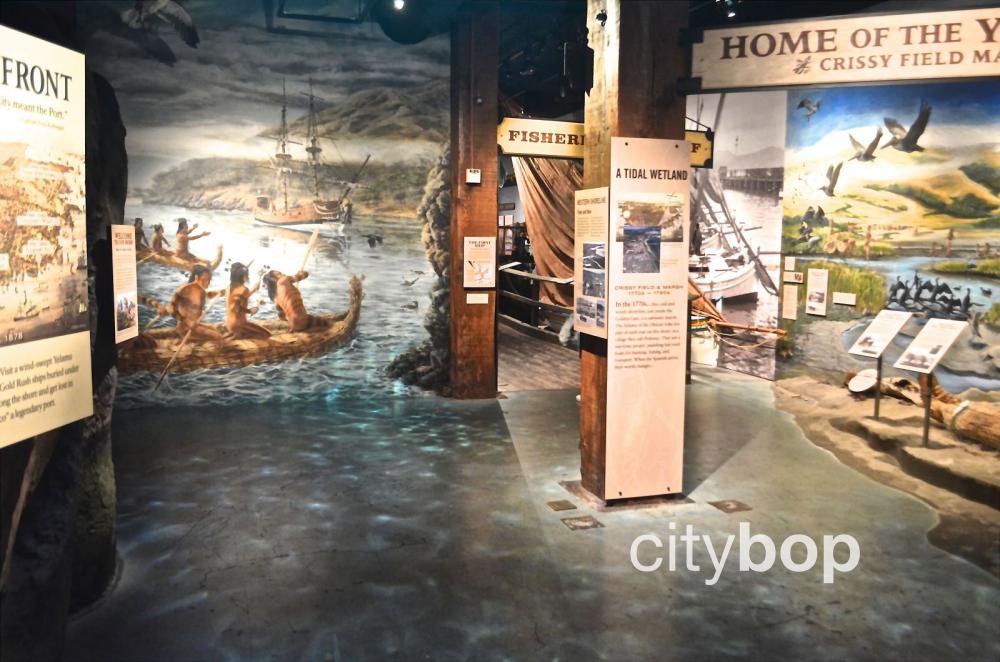 gaspar de portola expedition 1769
In 1769, Spanish explore Gaspar de Portola reached San Francisco Bay. A small party from the Spanish Army arrived in the 1770s, establishing an adobe at the Presidio to protect their claim to Alta California.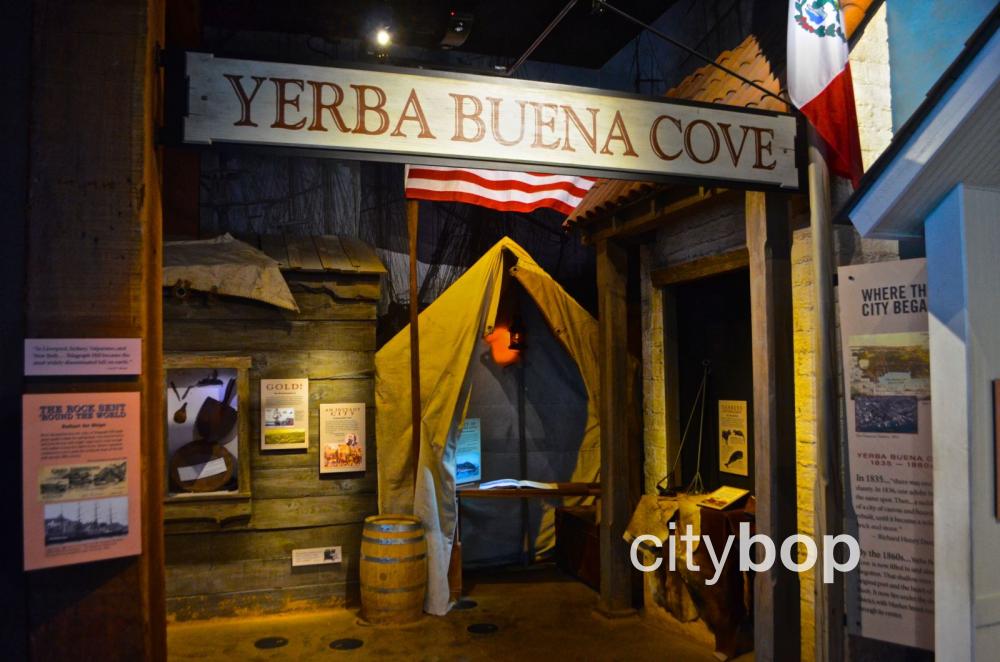 san francisco gold rush
The Gold Rush of the 1850s transformed the San Francisco waterfront. People from around the world arrived in dozens of ships, dazzled by the prospect of striking it rich. San Francisco's population exploded, transforming it from small town to big city.
Many of these ships are now buried beneath San Francisco's waterfront. These ships were damaged after making the dangerous voyage to San Francisco, and many were simply abandoned, or used as building materials for waterfront buildings. When the mudflats were filled in to make it easier to reach deeper water, many of these abandoned ships were buried beneath San Francisco's reclaimed land.
The Visitor Center museum has a map that shows you exactly where the ships are buried. Next time you're walking around the waterfront, consider you're probably walking on top of a gold-rush era ship!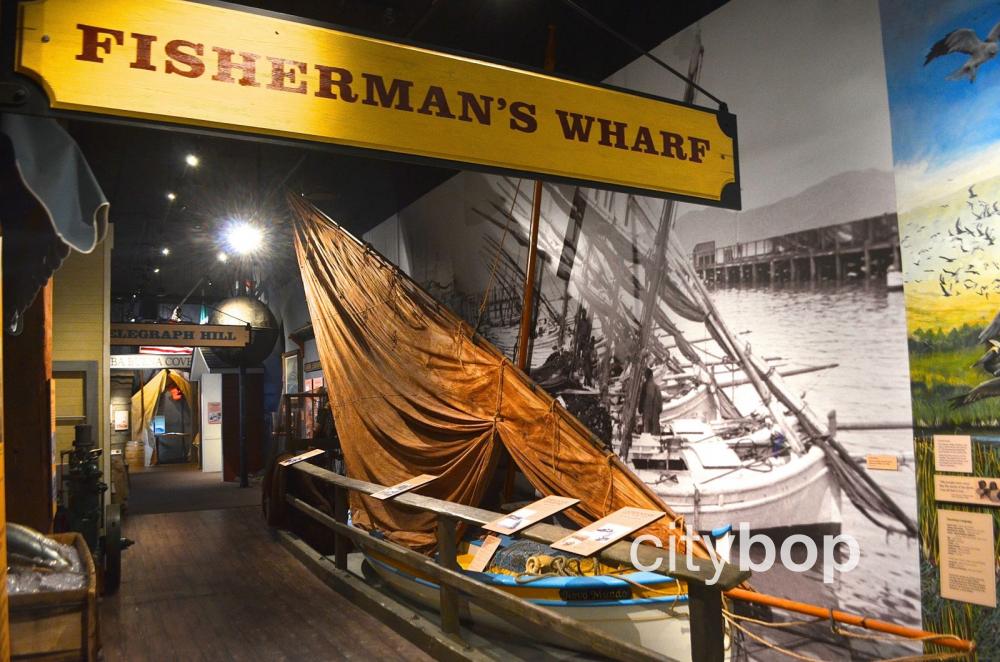 fisherman's wharf history
The Gold Rush brought another period of prosperity to the waterfront, when waves of Italian immigrants became fisherman. They navigated the bountiful waters in lateen-rigged sailboats, called feluccas, and established many of the seafood restaurants that are still here today.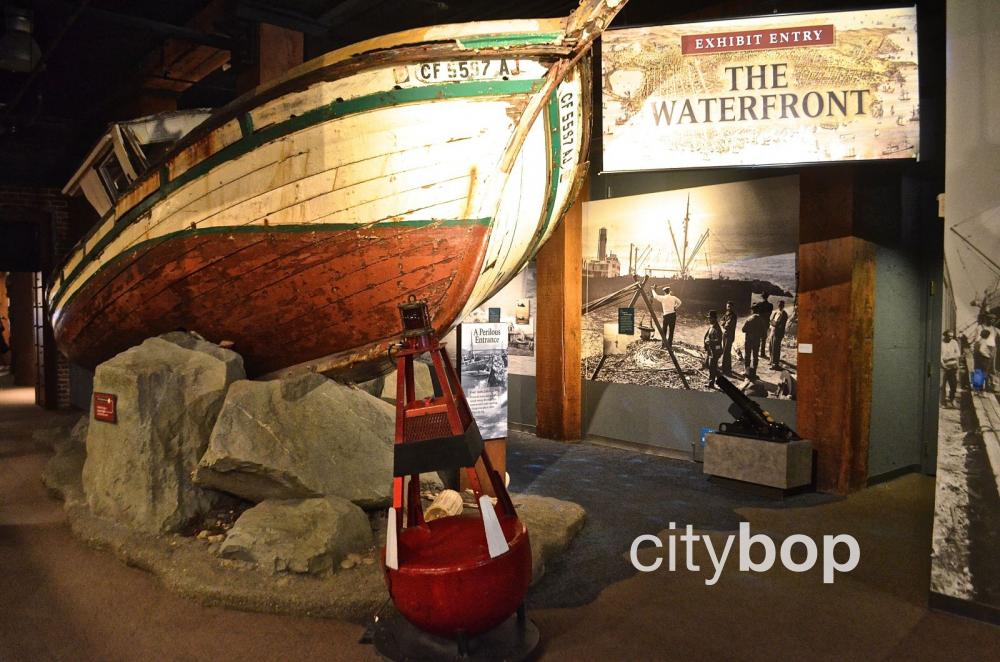 This is a second generation Italian fishing boat from the 1920s called a Monterey Clipper, complete with a gasoline engine.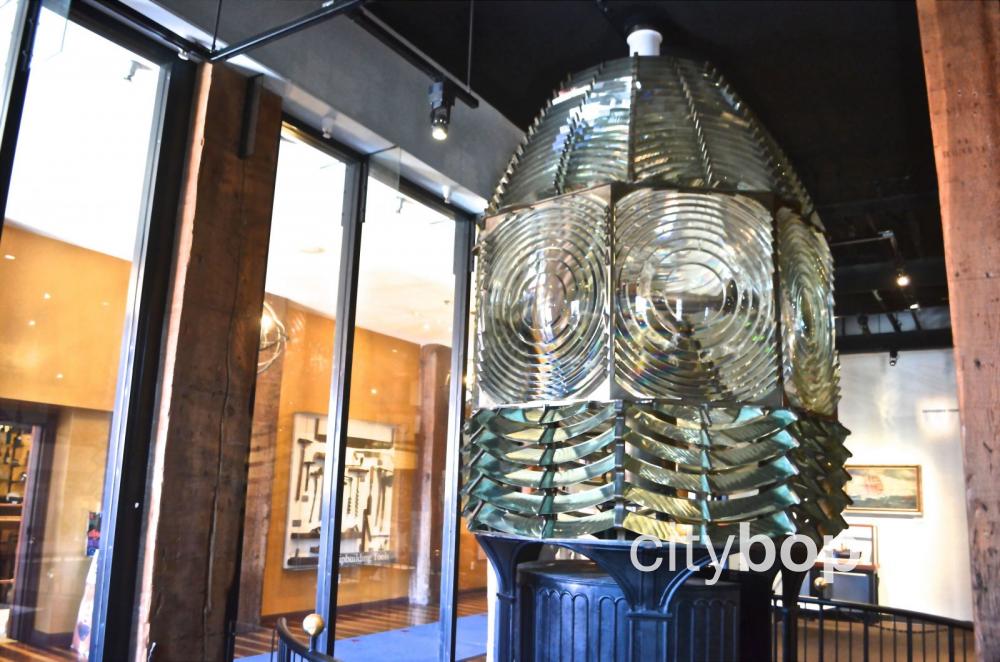 Farallon Island lighthouse lens
The Visitor Center museum at the San Francisco Maritime National Historical Park has secured some cool artifacts, like this fresnel lens from the remote Farallon Island Lighthouse. This lighthouse was lit in 1855, and warned approaching ships of the rocks at the entrance of San Francisco Bay.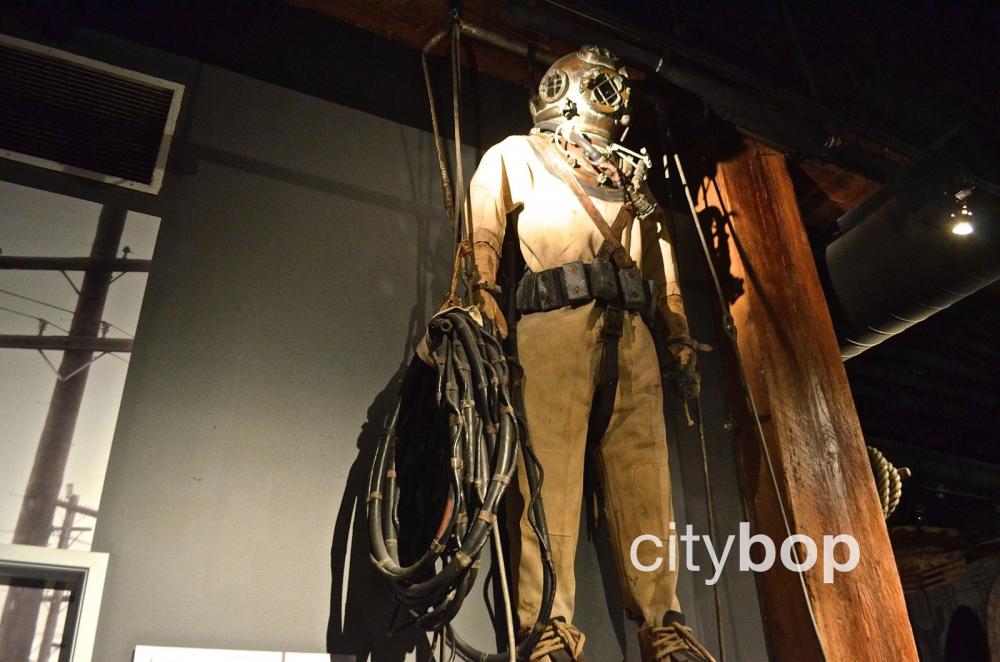 diving suit old
There's also a vintage diving suit on display. The weights were used to keep the diver submerged!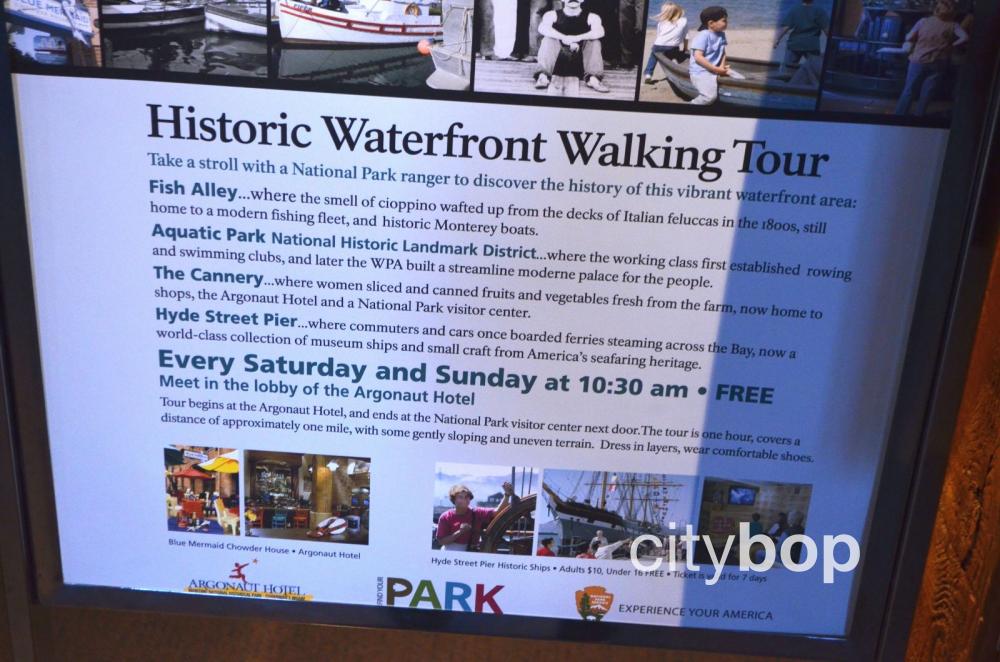 What to do at Fisherman's Wharf
There are walking tours that leave from the Visitor Center Museum each weekend, exploring key attractions at the San Francisco Maritime National Historical Park.
More Museums in San Francisco