The Painted Ladies are an iconic row of Victorian homes, also referred to as Postcard Row.
The Painted Ladies are set against the spectacular backdrop of the San Francisco skyline, and have been featured extensively in popular culture.
This stunning row of houses is located at Alamo Square, 710 to 722 Steiner Street (between Grove and Hayes Streets).
10 best things about the Painted Ladies
1. The Painted Ladies gained global awareness from the hit 1980s TV show, Full House.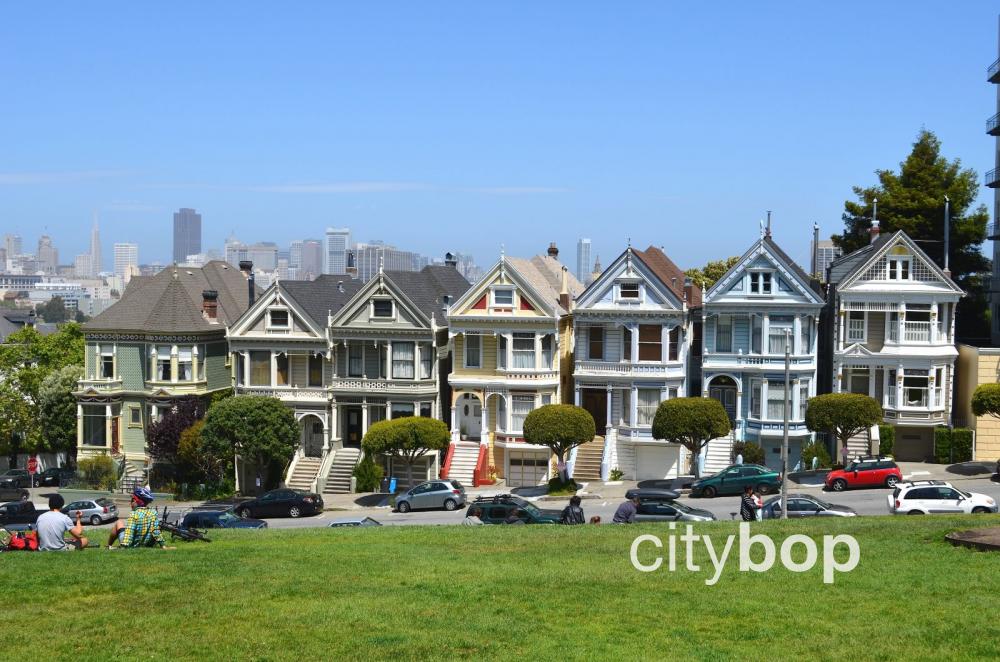 Painted Ladies San Francisco
2. Roughly 48,000 of these homes were built after the San Francisco Gold Rush.
Many of these 48,000 Edwardian and Victorian homes were constructed, due to the massive influx of wealth from San Francisco's Gold Rush. Look closely at all the decorative flourishes, like turrets, bay windows, pedimented porches, and intricate trimming, characteristic of this era.
3. The seven Painted Ladies were built between 1892 to 1896, and the oldest is the green home on the far left.
The original developer, Matthew Kavanaugh, lived in this green home at 718 Steiner Street.
4. During WWI and II, these types of homes were painted grey.
5. In 1963 the artist Butch Kardum started the "Colorist Movement" and painted these homes in bright colors to replace the drab grey.
6. The term "Painted Ladies" was originated by authors Elizabeth Pomada and Michael Larsen in their 1978 book, to describe Victorian homes painted in three or more colors.
The term wasn't intended to specifically describe the Steiner homes.
7. The Painted Ladies are also known as "Postcard Row" or the "Seven Sisters".
8. One of the Painted Ladies sold for $3.55 million in 2020 (714 Steiner Street).
The home was bid up $800k above listing price, despite the fact it was a fixer upper.
9. The Painted Ladies are at Alamo Square, which has incredible skyline views and a playground.
10. The famous Westerfield House is also on Alamo Square.
This iconic Victorian home (1198 Fulton Street) was constructed in 1889 by a successful German confectioner, and is considered to be haunted. During the 1960s it was owned by occult film maker, Kenneth Anger, and supposedly had regular visits from Charles Manson.
Know before you go
Address: Alamo Square, 710 to 722 Steiner Street (between Grove and Hayes Streets).
Restrooms: Alamo Square.
Playground: Alamo Square.
More Sites & Landmarks in San Francisco