Union Square is in the bustling heart of San Francisco.
Union Square is a must-see for tourists, surrounded by big brand shops and department stores, and a wide choice of luxe hotels. It's also a fabulous place for a meal, or a night out on the town at a popular theater or cocktail lounges.
It's also a great launch pad to explore other major attractions in San Francisco by cable car.
The Powell Mason cable car starts at Union Square and goes to the Fishermans Wharf Area, with stops at China Town, North Beach and Fishermans Wharf.
The Powell Hyde cable car also starts at Union Square and goes to the Fishermans Wharf Area, with stops at Lombard Crooked Street, China Town, Ghirardelli Square and the San Francisco Maritime National Historic Park.
10 best things to do in Union Square
1. Shop 'til you drop.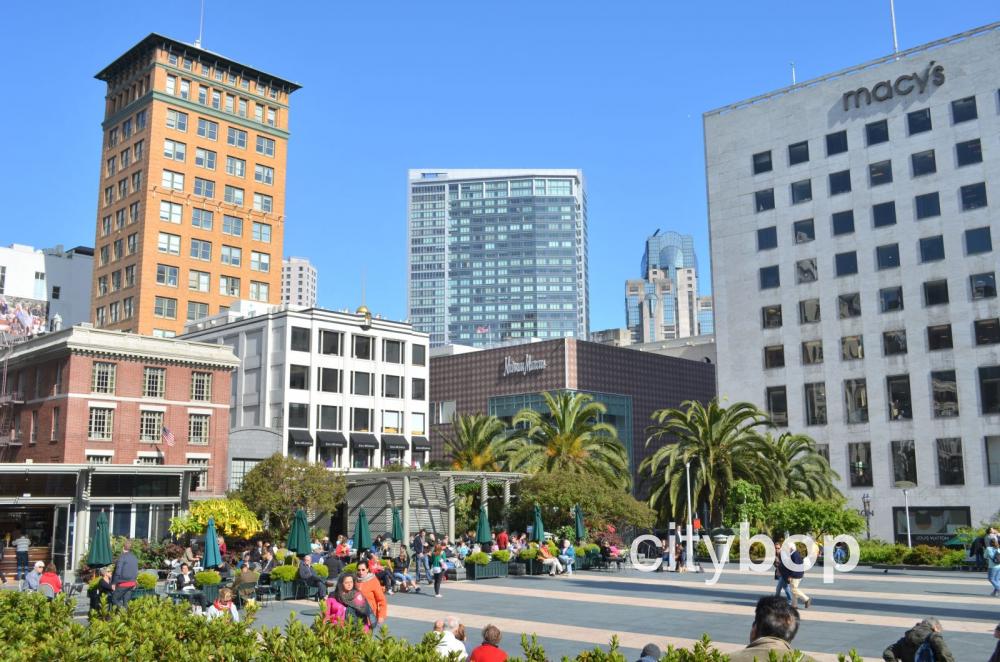 Union Square SF
Visit a wide array of shops at Union Square with big name brands, including Apple, Tory Burch, Louis Vuitton, Tiffany's and Gucci. There are also three major department stores, Macy's, Saks, and Neiman Marcus.
2. Enjoy a delicious meal.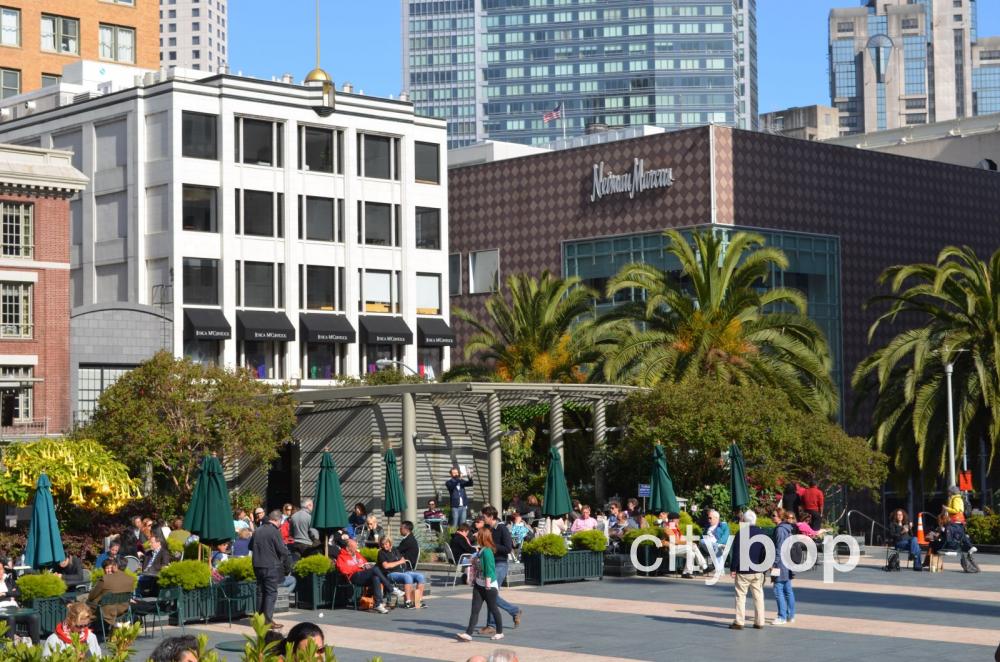 SF Union Square
Choose from popular Union Square restaurants like E&O Kitchen and Bar, Sears Fine Food, and The Rotunda at Neiman Marcus. There's also outdoor cafes at Union Square to soak up the sunshine.
3. Relax on the steps at Union Square.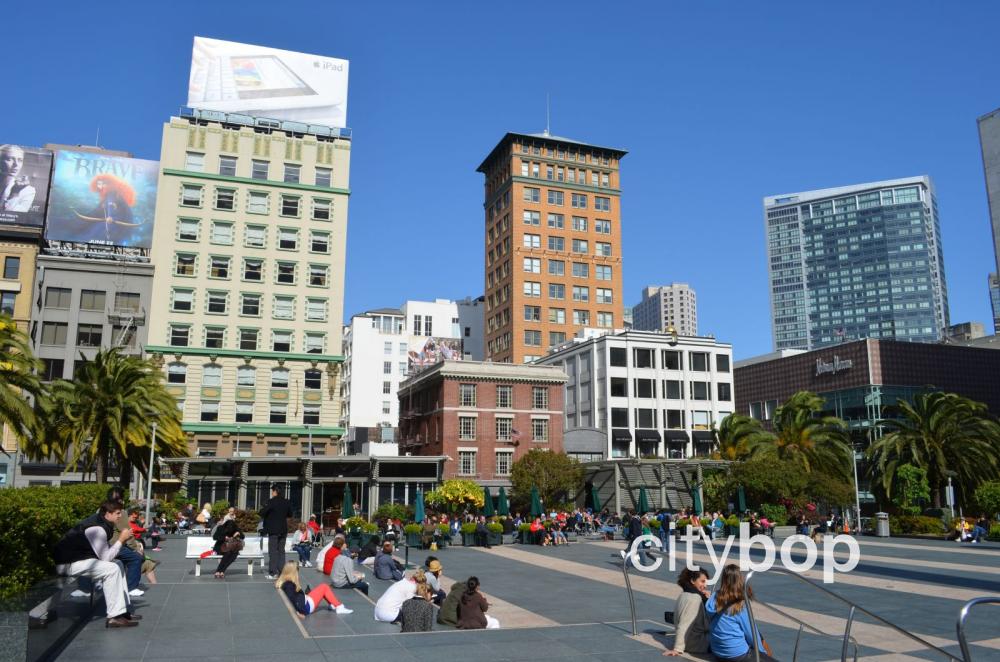 Union Square #1 Guide
Grab a coffee, sit on the stairs, and enjoy the bustle of activity around you.
4. Order a cocktail at the famous Starlight Room.
Union Square also has close proximity to fabulous, live entertainment. The elegant Starlight Room (415 Geary Street) is a rooftop bar located in the historic Sir Frances Drake Hotel. It has an old world ambience, with red tufted banquettes, gold accents, and chandeliers. Grab a cocktail and hit the dance-floor while looking out over the city skyline.
5. Catch a show at the Toni Rembe Theater
The nearby historic interior of the Toni Rembe Theater (415 Geary Theater) is stunning, rebuilt after the 1906 earthquake. Marlene Dietrich, Clark Gable and Mae West all performed here. Check the schedule for current plays and musicals.
6. Visit the San Francisco Playhouse.
Just a few blocks away from Union Square, the San Francisco Playhouse founded in 2003, also has regular shows (450 Post Street).
7. See the Marrakech Magic Theater.
If you're interested in a combined magic and comedy show, visit the popular Marrakech Magic Theater (419 O'Farrell St).
8. Watch the Cable Car Turnaround at Powell Street.
The Cable Car Turnaround Powell Street is just blocks away from Union Square. It's located on the corner of Powell and Market Street. Observe the fascinating process of a cable car being manually turned around by a conductor on a turnstile. San Francisco has the world's largest manually operated system, and the iconic cable cars are a national historic landmark.
9. Check out the fun Museum of Icecream.
This cool museum is full of instagram worthy photos, and has some yummy treats.
10. Stay at a luxe hotel.
Union Square is surrounded by hotels like the Marriott, Grand Hyatt, Westin and so many more!
More Restaurants & Shopping in San Francisco