Visit the Walt Disney Family Museum to learn Walt Disney's amazing story.
The Walt Disney Museum was founded by Walt Disney's daughter in 2007, and is in the historic Presidio at San Francisco.
The museum has two floors of exhibits, showcasing Disney's achievements as one of the great innovators in American history.
Walt Disney was a risk taker with boundless imagination, surviving one bankruptcy in his 20's. He was a trailblazer who created the cultural icon Mickey Mouse, and the first full length animated film and family theme park.
15 best things to do at the Walt Disney Museum
1. Admire the historic building that houses the Walt Disney Family Museum.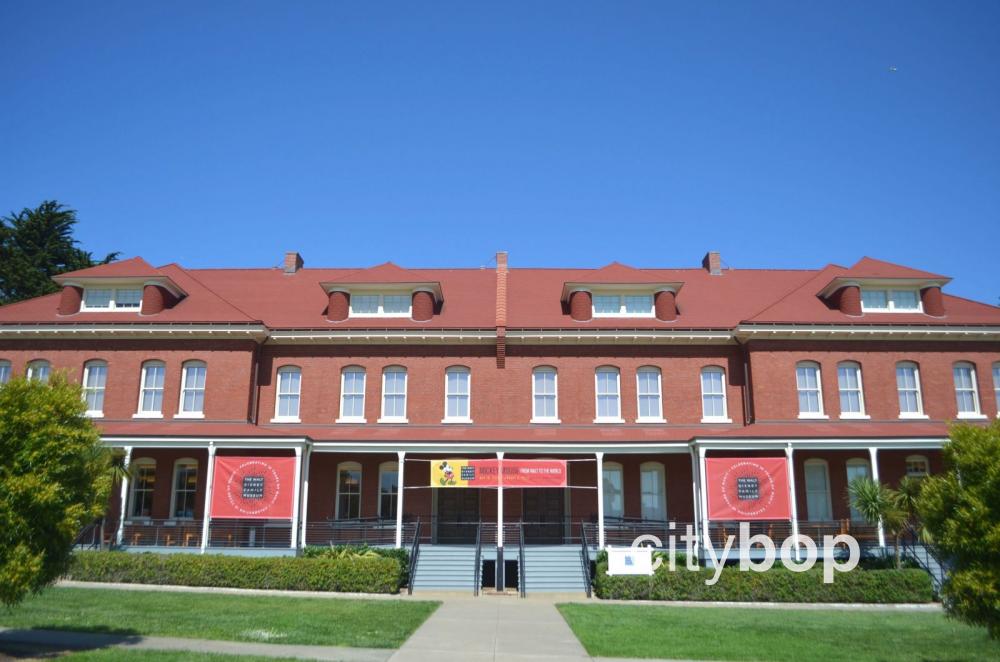 The Walt Disney Family Museum
The Walt Disney Family Museum is located on Montgomery Avenue in the Presidio. The Presidio was an army post from 1776 to 1994 under Spanish, Mexican and finally U.S. rule, and the U.S. Army finally handed it over to the National Park Service in 1994.
The red brick building that houses the Walt Disney Family Museum was originally used in the 1890's as an enlisted men's quarters, known as the Montgomery Street barracks, and has now been beautifully renovated.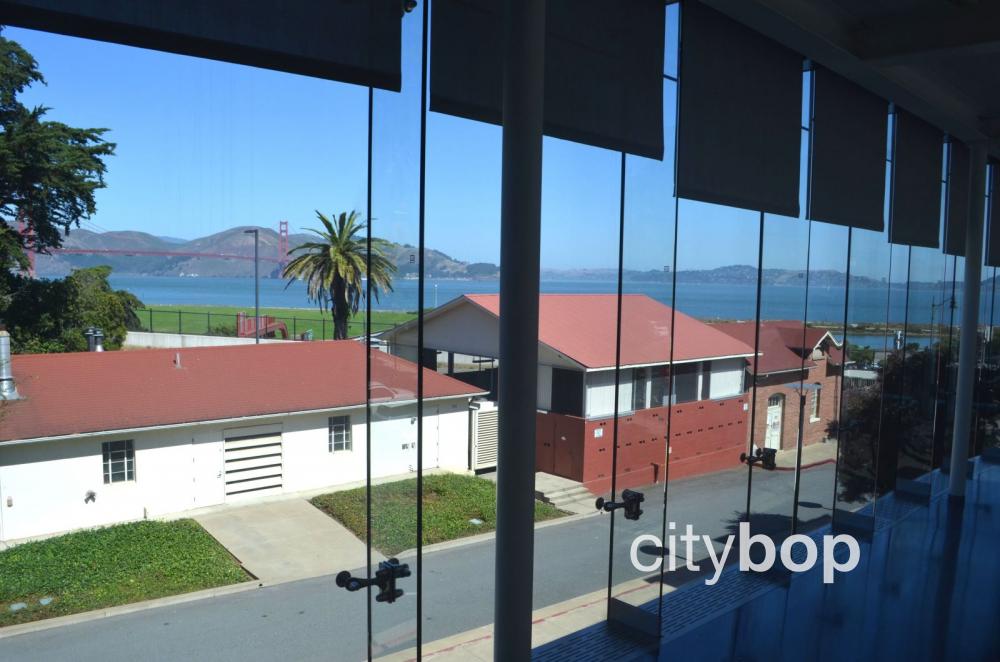 Views of Golden Gate Bridge from Walt Disney Family Museum
Enjoy the gorgeous views of the Golden Gate Bridge, from the top floor of the Walt Disney Museum.
2. Learn about Walt Disney's difficult childhood in Chicago
The museum captures Walt Disney's early life, starting in 1901 when he was born in Chicago. His family later moved to a farm in Marceline, Missouri, where Walt developed a love of drawing. He took art lessons, and even became a cartoonist for his high school newspaper.
The family fell on hard times and eventually sold the farm, relocating to Kansas City where his father purchased a newspaper route. It was here that Walt started a grueling newspaper round at the tender age of nine. This laid the groundwork for Walt's incredible work ethic. Eventually his father sold the newspaper route, and moved the family back to Chicago.
3. See the type of ambulance that Walt Disney drove in Paris in WWI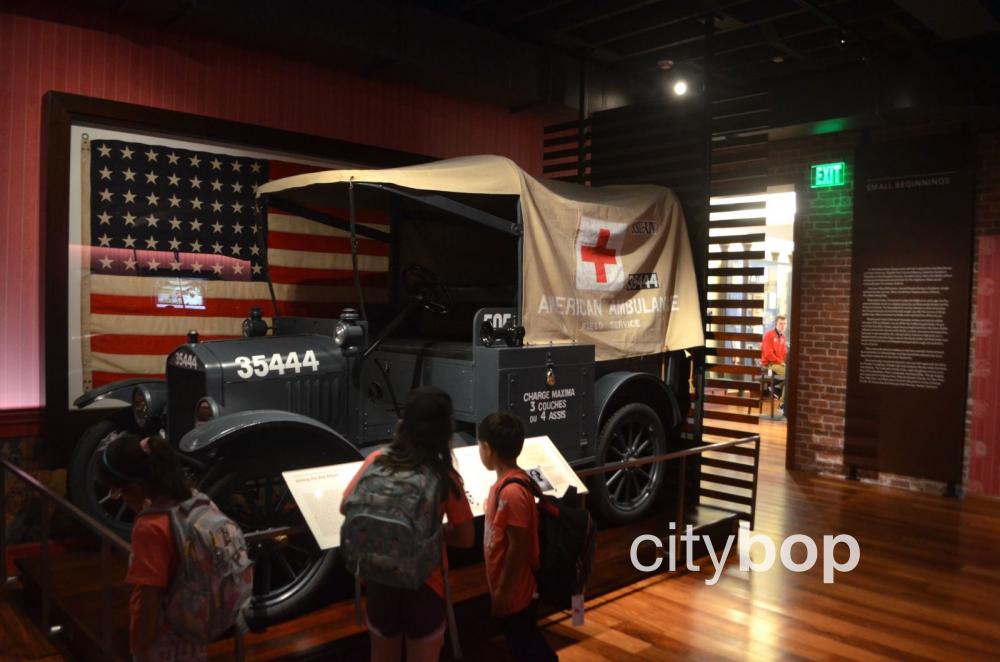 Ambulance at Walt Disney Family Museum
Walt joined the Red Cross Ambulance Corps in WWI at age sixteen, and worked at a field hospital in Paris. He had forged a certificate to declare that he was seventeen, the minimum age required. There's an ambulance on display at the Walt Disney Family Museum, similar to the one he worked on.
4. Learn about Walt's bankruptcy, then move to Hollywood at age 21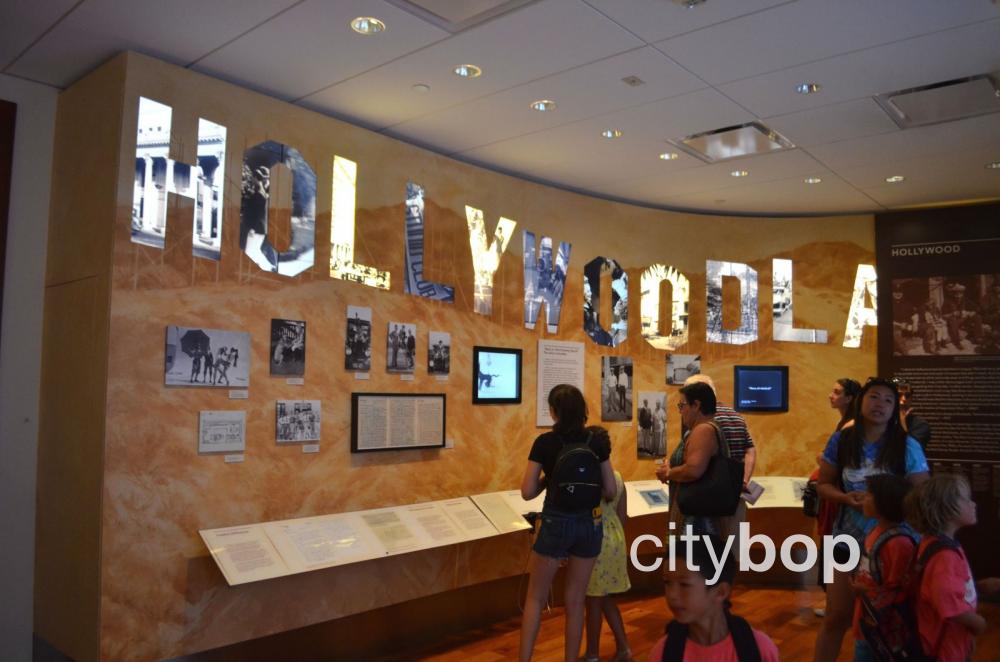 Walt Disney story
After the war, Walt joined his brother Roy at a Kansas City ad company where he got started as an animator. He worked on his own company called Laugh-O-Grams in the evenings, but it went into bankruptcy due to his inexperience in dealing with predatory business practices. Walt was philosophical about the failure, and chalked it up to a great learning experience.
Walt then decided to take his chances in Hollywood, moving there in 1923 at the age of 21, joining his brother Roy who was already there.
Walt and his brother Roy launched Hollywood's first cartoon animation studio, the Disney Brothers Studio (later known as Walt Disney Studio). Their roles were clearly defined - Roy worked on the financial side of the business, and Walt was the creative talent and developed the animations.
5. Discover how Walt Disney taught himself animation!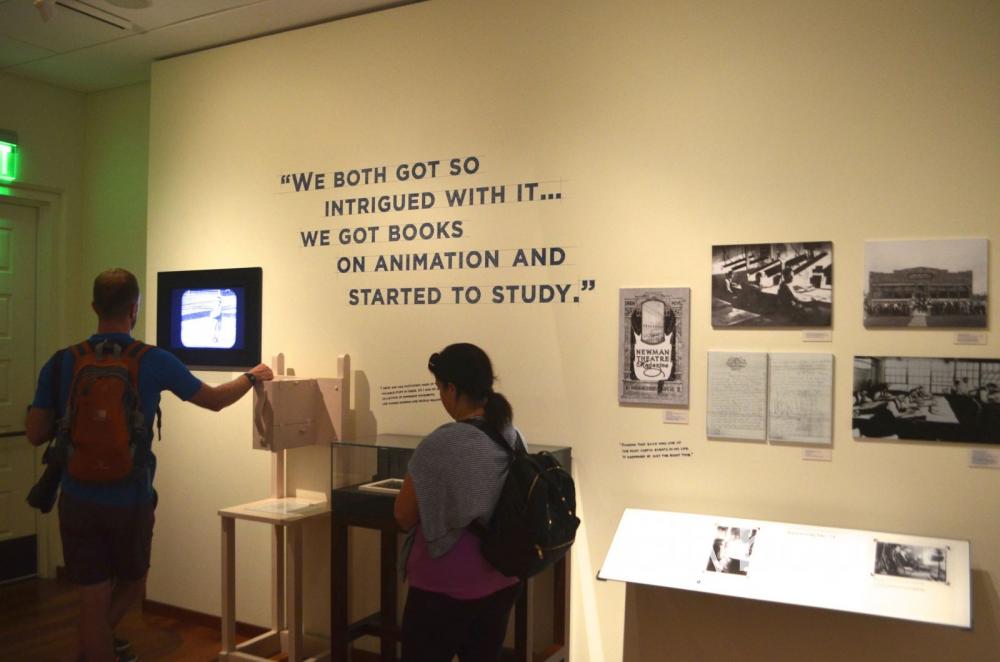 walt disney life story
Another really fascinating part about Walt Disney's story, is the degree to which he was actually self taught in animation. He and his brother Roy sourced every book on the topic, and studied relentlessly.
6. Learn how Mickey Mouse saved Walt Disney from financial ruin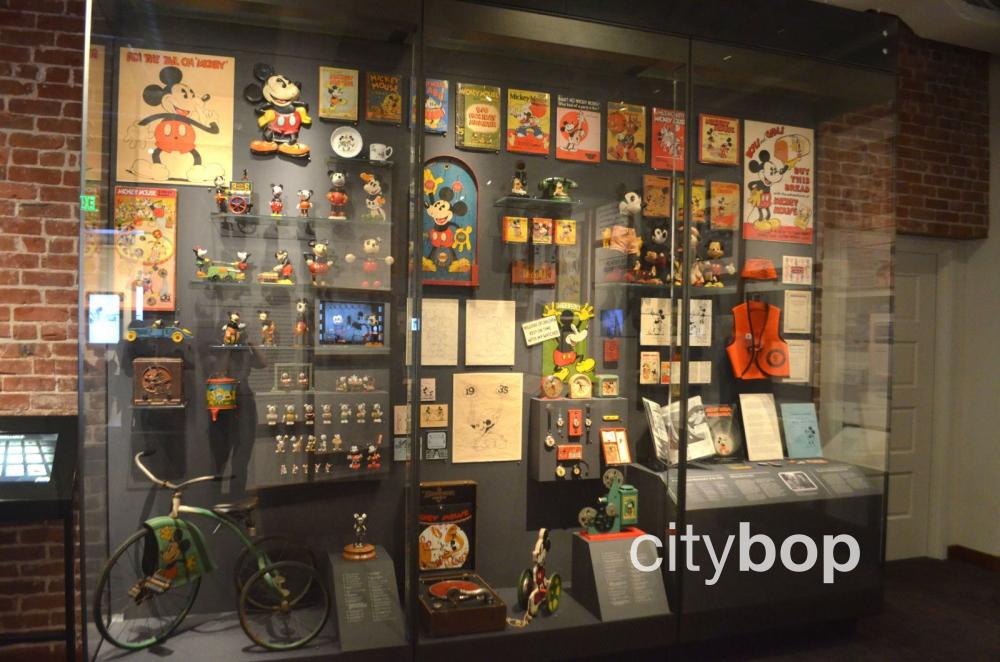 Walt Disney success story
Walt came up with the iconic character of Mickey Mouse, on a train ride from Manhattan to Hollywood in 1928.
Another interesting revelation from the museum, is that Mickey Mouse saved Walt Disney and his brother from imminent financial ruin. The creation of Mickey Mouse turned around the company's flagging fortunes at a point when Walt and his brother were on the brink of bankruptcy.
Without this lovable character, it's unlikely Walt Disney would've achieved his monumental success. It was also fortunate that Walt's wife convinced him to call the character Mickey Mouse, instead of Mortimer Mouse.
Walt Disney's brilliance was that he understood the importance of characterization. Other animators of the time, had always developed characters that were mere supports for a comedy routine. However, Walt had the unique idea to infuse Mickey Mouse with a larger than life personality.
Walts other stroke of genius was to understand the importance of merchandising Mickey Mouse. Although merchandising is a commonplace concept today, he was really the first person in Hollywood to seize upon it.
With the help of business partner, Herman Kamen, a Kansas City Advertising executive, Walt Disney's merchandise ended up in every department store in America! The demand was huge and the public couldn't get enough. For example, the first day Mickey Mouse time-pieces hit the market in 1933, over 11,000 were snapped up in one day at New York's Macys.
Walt was obsessed with product quality, so would only work with the best manufacturers to produce merchandise, including Mickey Mouse figures, telephones, bicycles, watches, clocks, toy cars and more.
You can see some of this original merchandise at the Walt Disney Family Museum. His merchandising efforts were so wildly successful, that they funded future movies, and merchandising is still a big part of the Disney story today.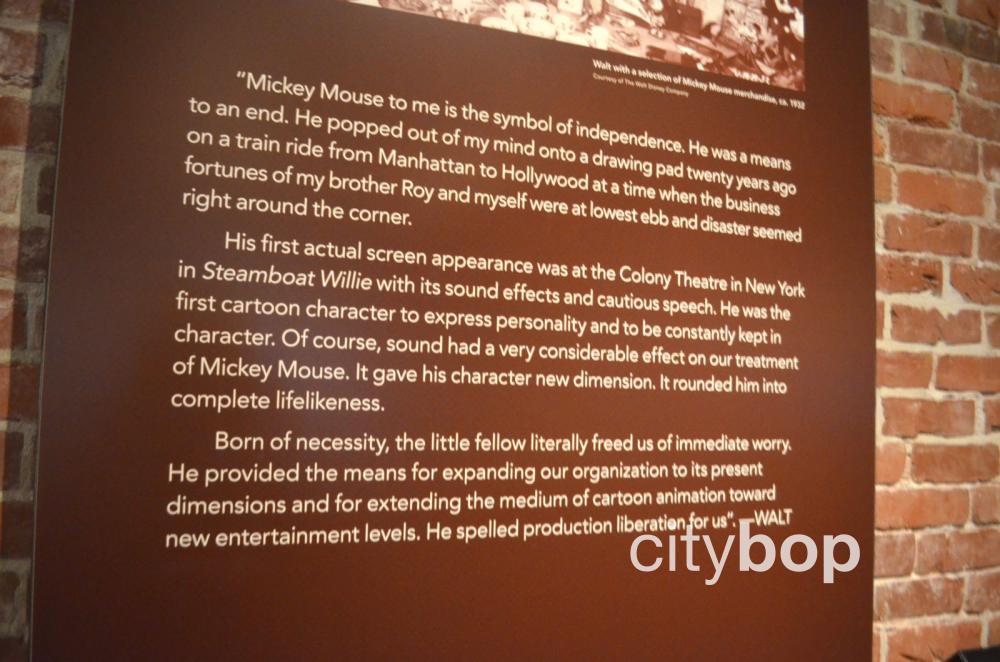 Steamboat Willie
7. See Mickey Mouse's first appearance in Steamboat Willie.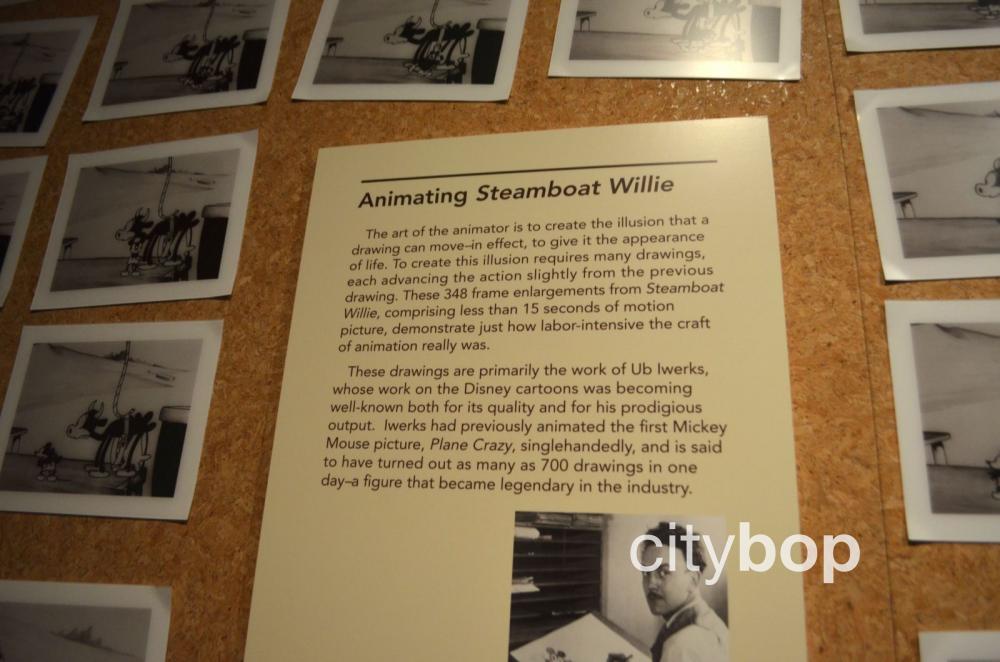 Steam Boat Willy
Mickey Mouse first appeared in Steamboat Willie, at the Colony Theater in New York, and Mickey Mouse's voice was done by Walt Disney. He was a fun, expressive figure and a ball of energy. The audience loved him.
You can see some of the earliest drawings of Mickey Mouse, at the museum.
8. Learn how Walt developed the first film with synchronized sound.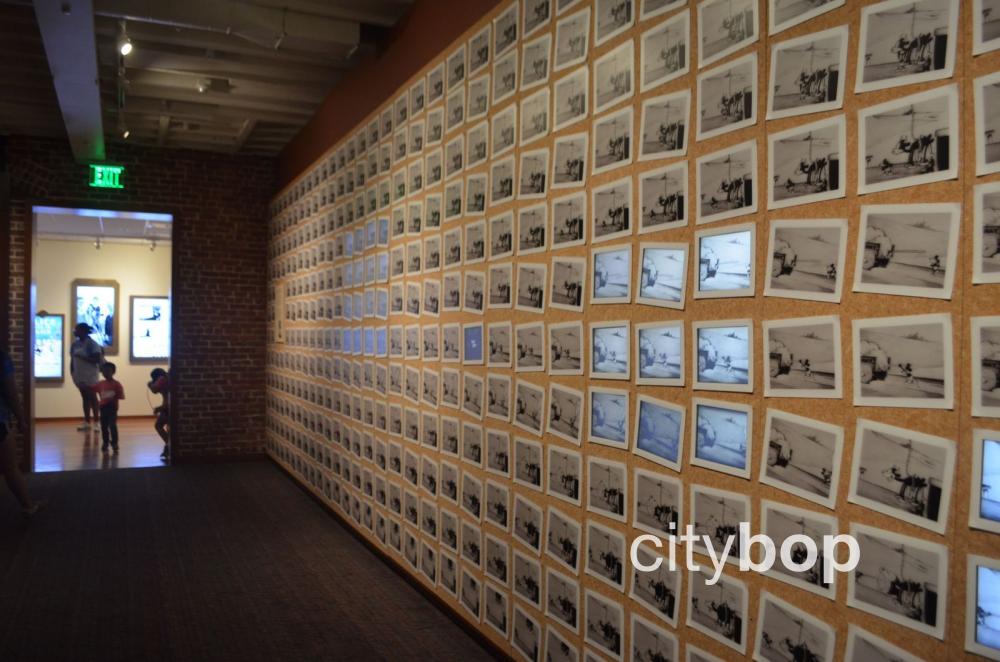 Steamboat Mickey
Steamboat Willie was a breakthrough short film in it's own right, because unlike the silent movies of the day, it managed to synchronize sound with moving pictures.
The process of animation was incredibly time consuming, requiring tens of thousands of frames. There's a really cool wall at the Walt Disney Museum that illustrates this perfectly, displaying the 348 frames from Steamboat Willie that only created 15 seconds of screen time. By this time the drawings were done by employees, like animator Ub Iwerks. The legendary Ub Iwerks could complete 700 drawings a day - quite a feat!
9. Learn about Walt's 22 Oscar wins and 59 nominations!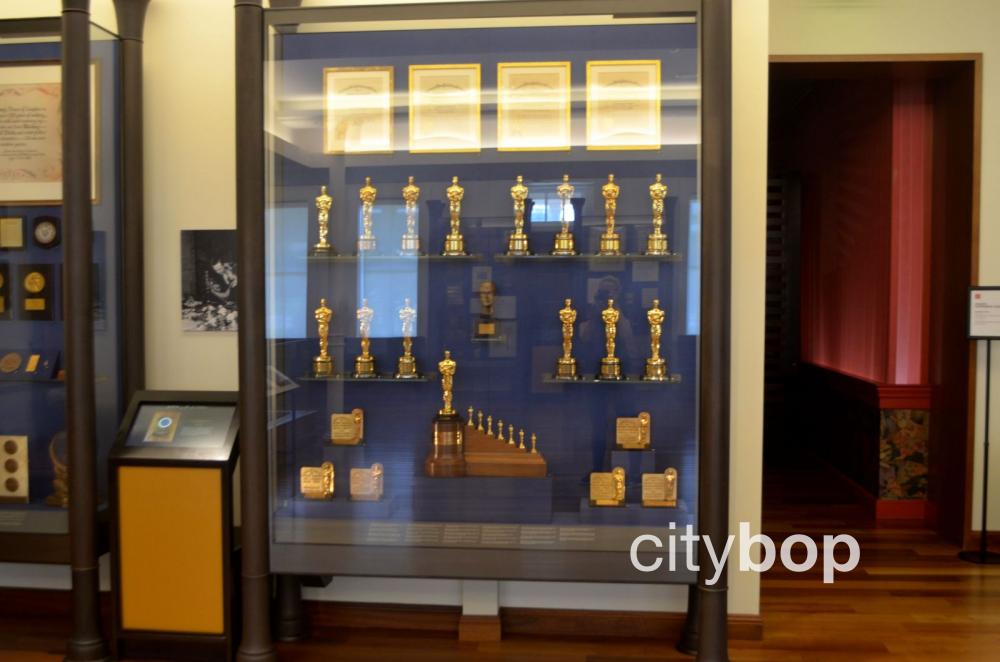 Walt Disney Oscars
Due to the success of Steamboat Willie, Walt was able to produce the Silly Symphonies series, which included the first color animated film Flowers and Trees (1932). This eight minute animation film won Walt his first Oscar in 1932. This win was groundbreaking, because a cartoon had never won an Academy Award before.
Over the course of his career, Walt Disney achieved the amazing feat of winning 22 Oscars, from 59 nominations, and holds the record for winning the most Oscars. There's a glass display cabinet at the Walt Disney Family Museum that holds some of these Oscars. It's kind of awesome getting so close to an actual Oscar!
Walt took his winning formula of infusing characters with big personalities, to cartoons like the Three Little Pigs (1933). Each pig was personified with a name; Fifer Pig, Practical Pig and Fiddler Pig. The Big Bad Wolf was an analogy for dark forces in the world like the rise of Hitler in Europe, and the Great Depression. The short animation was incredibly successful, netting another Oscar win in 1934.
Walt had hit his stride, and was keen to move on to even bigger and better things.
10. See how Walt Disney broke into full length feature films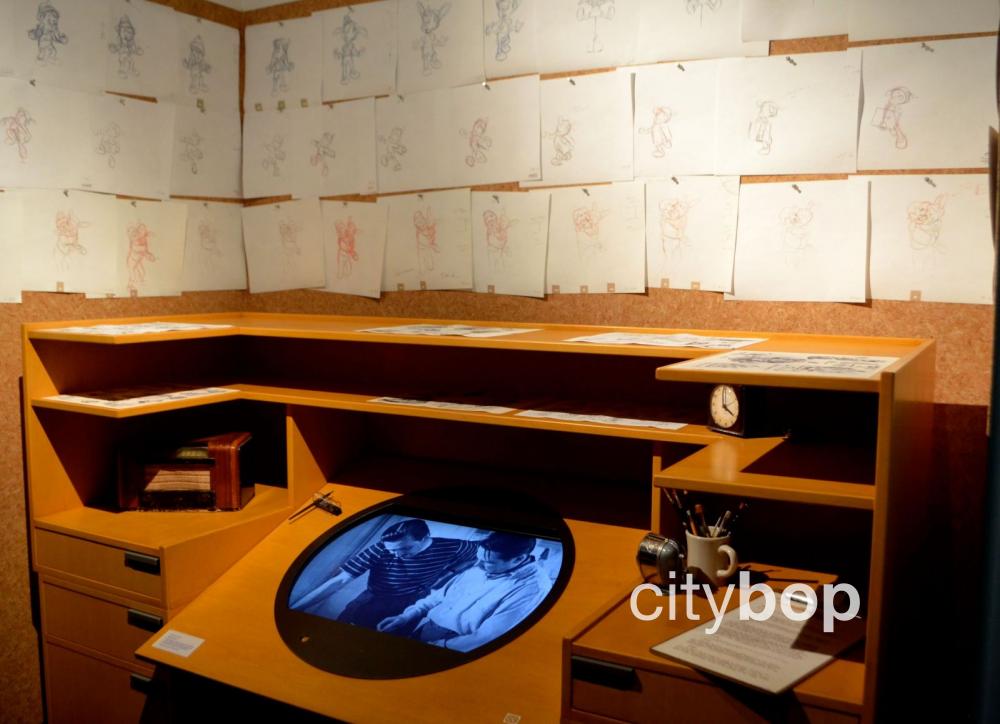 pinocchio walt disney animation
Walt was now focused on the idea of making a feature film.
His first full length animated film was Snow White and the Seven Wolves (1937) in full technicolor, premiering at the Carthay Circle Cinema in L.A. Even half a century later, this is one of Disney's best films and stands the test of time. Once again, Disney implemented the tried and true formula of incredible characterization, with seven lovable dwarfs named Sneezy, Happy, Bashful, Grumpy, Sleepy, Dopey, and Doc, and a terrifying witch.
Walt made Snow White and the Seven Wolves at huge personal risk, even financing the film by taking out a mortgage on his home. The film over-ran it's budget by a multiple of six, and took three years to make. It was known around Hollywood as Disney's Folly, but Walt proved everyone wrong by making it a tremendous success. Adjusted for inflation, Snow White and the Seven Wolves is the highest grossing animated film of all time.
Walt was presented with an honorary Oscar, and seven miniature statuettes for the dwarfs, by Shirley Temple in 1939. You can see these seven dwarfs in the glass cabinet at the Walt Disney Family Museum.
Walt's second animated feature film was Pinocchio (1940), based on an 1880's Italian children's novel. Walt certainly had an eye for great stories. It wasn't as commercially successful as Snow White, but was critically acclaimed. The movie won an Oscar for Best Original Song, "When You Wish Upon a Star".
You can see some of the animation frames for Pinocchio at the Walt Disney Family Museum (see below). This is what a typical animator's desk looked like, well before the days of computers.
It was during this time that Walt also pioneered the use of the multi-plane camera, that gave his movies more depth, and was a groundbreaking technical innovation in animation. You can see one of Walt's multi-plane cameras at the Walt Disney Family Museum.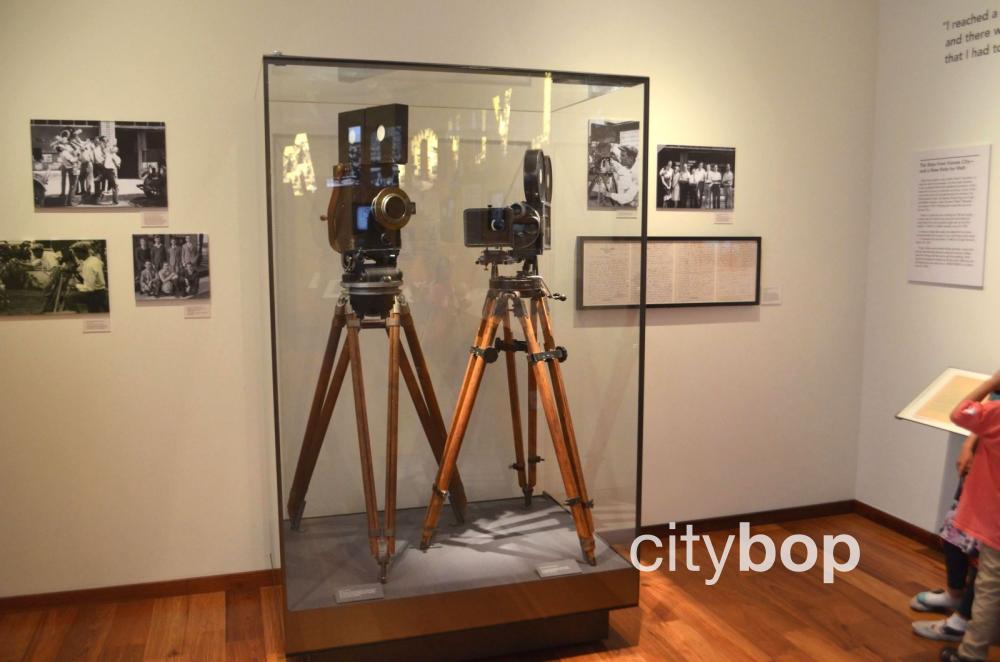 Walt Disney multi plane camera
There are also some vintage cameras on display. These Universal Cameras are similar to the one Walt purchased for $300 when he was running his Laugh-O-Gram company.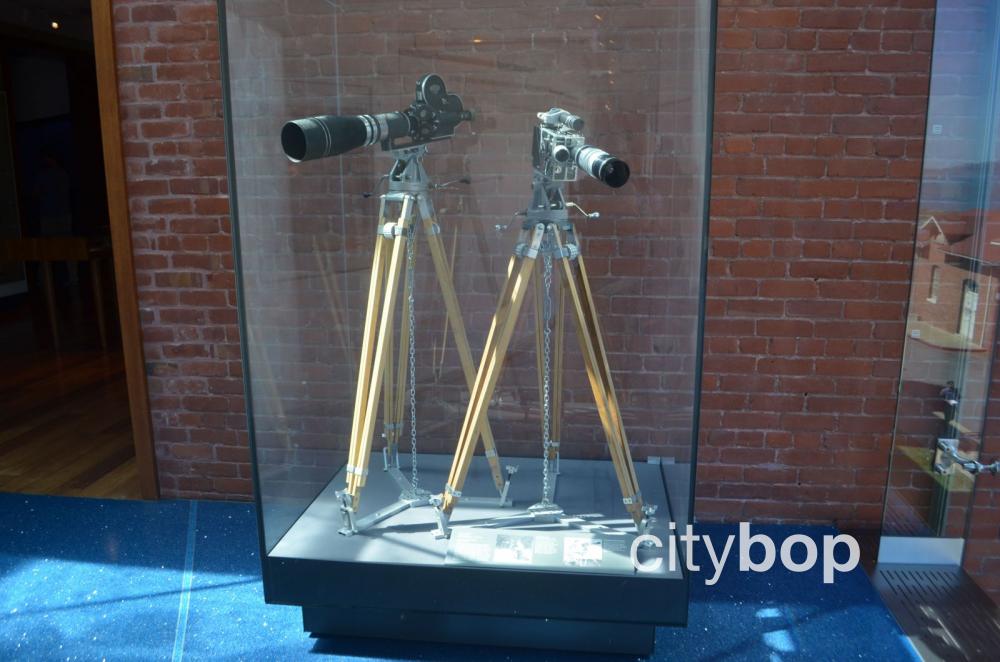 These are some cameras used during the 1950s.
11. Learn how Disney Studios develops patriotic movies during WWII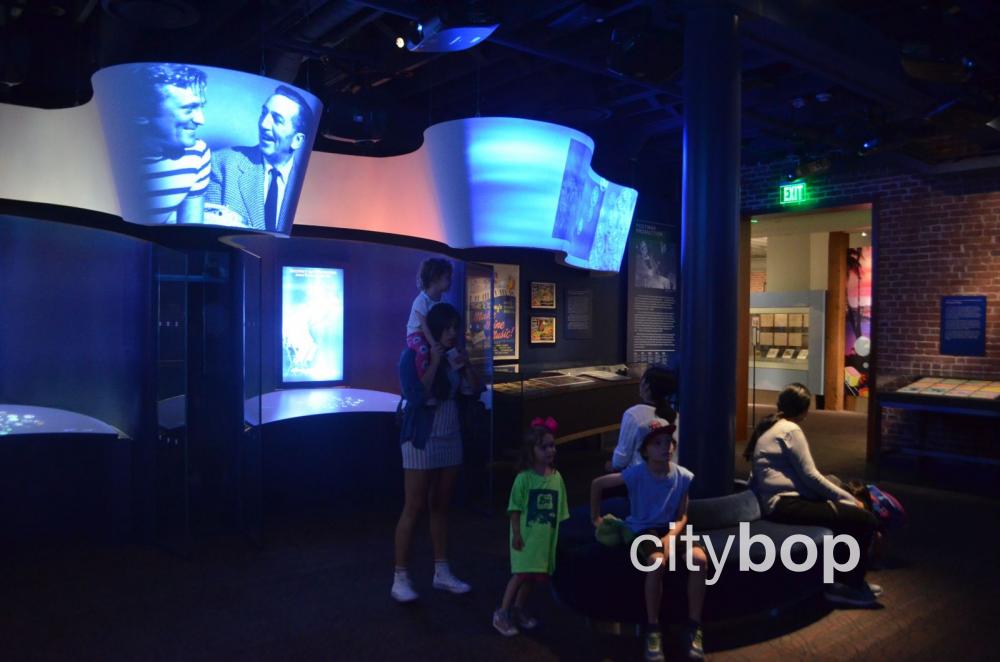 BEST things to see at Walt Disney Family Museum
In 1941 Disney's fortunes were declining, as audience numbers fell due to WWII. There was also a wage dispute that led to an animator's strike in 1941.
Disney's fortunes were revived by producing patriotic films during the war, such as Der Fuehrer's Face (1943), which openly mocked Hitler, or The New Spirit (1942) which encouraged U.S. citizens to pay their taxes to support the war effort. In addition, he produced training videos for the military.
He also produced films that were a combination of live action and animation, like The Three Caballeros (1944).
12. Discover how Walt invented the new genre of nature documentaries
During the late 1940's and 1950's, Walt also explored the new genre of nature documentaries, producing fourteen features under the banner of True-Life Adventures, with animals like seals, beavers, insects and water birds.
Walt Disney is actually credited with launching the genre of nature documentaries, and was determined that these documentaries never be boring, instead infusing them with a sense of fun and drama. First and foremost they needed to be entertaining, rather than purely educational. Many of Walt's nature documentaries went on to win Oscars.
The 1950's and 60's also ushered in live action movies like Treasure Island (1950), and the beloved Mary Poppins (1964).
13. See exhibits on the Disneyland opening in 1955, and Walt's apartment there.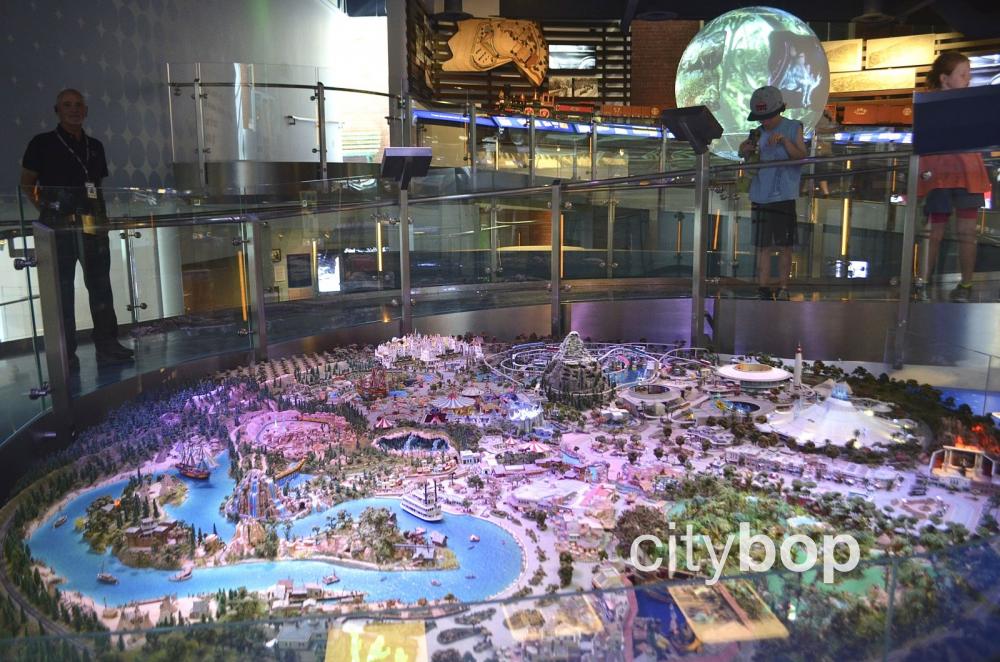 Walt Disney Museum
Walt soon became consumed with his groundbreaking new pet project - a theme park targeted at both parents and children alike.
He often took his daughters to playgrounds and fairs, and imagined something on a larger and on a more audacious scale. Walt was also discouraged by the state of local fairs, with their haphazard layout, degenerate behaviors from drunk patrons, and sanitary issues.
The time also seemed right to launch an ambitious theme park to tap into the post WWII prosperity, where families had increased leisure time.
The family theme park, Disneyland, opened in 1955, with 26 rides and much fanfare. There was a live TV broadcast watched by millions of Americans on opening day, and hosted by Ronald Reagan. There was some teething problems on opening day, like a gas leak and counterfeit tickets, however it was a resounding success.
By 1960, Disneyland was attracting 5 million visitors a year. The first children that visited Disneyland were today's Baby Boomers.
You can check out a 14-foot diameter model of Disneyland in the Walt Disney Family Museum. Walt had always been interested in trains, and you can see these integrated throughout his parks. Disneyland is anchored by the Walt's idealistic Main Street, modeled on Marceline Missouri, where he had grown up. A grand train station greets visitors as they make their way to Main Street. Main Street then leads to seven different dreamlands.
Walt understood the importance of good publicity, and developed the Mickey Mouse Club TV show that broadcast each afternoon, starring school-aged children as mouseketeers, to promote Disneyland.
Walt loved to spend time at Disneyland and had his own apartment there. The Walt Disney Family Museum has re-created his famous apartment.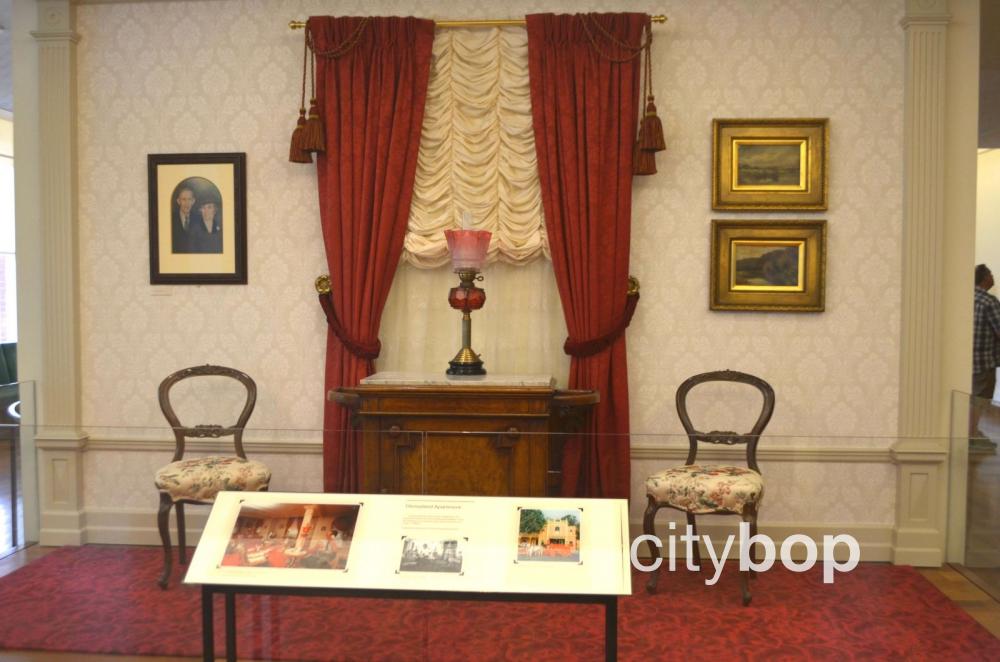 The Walt Disney Family Museum apartment
14. Learn how Walt Disney died before Disney World opened in Orlando in 1971
Walt then began working on Disney World in Orlando, and the futuristic theme park of Epcott. He felt the space constraints of the Disneyland location in Anaheim California, and was excited by the possibilities of the bigger 30,000 property in Orlando.
Unfortunately Walt Disney died in 1966 of lung cancer at the age of 65, before either Disney World or Epcott opened. Walt Disney World opened on October 1, 1971, with the Magic Kingdom and two hotels. Epcott opened much later, on October 1, 1982.
15. Visit the cafe and gift shop at the Walt Disney Museum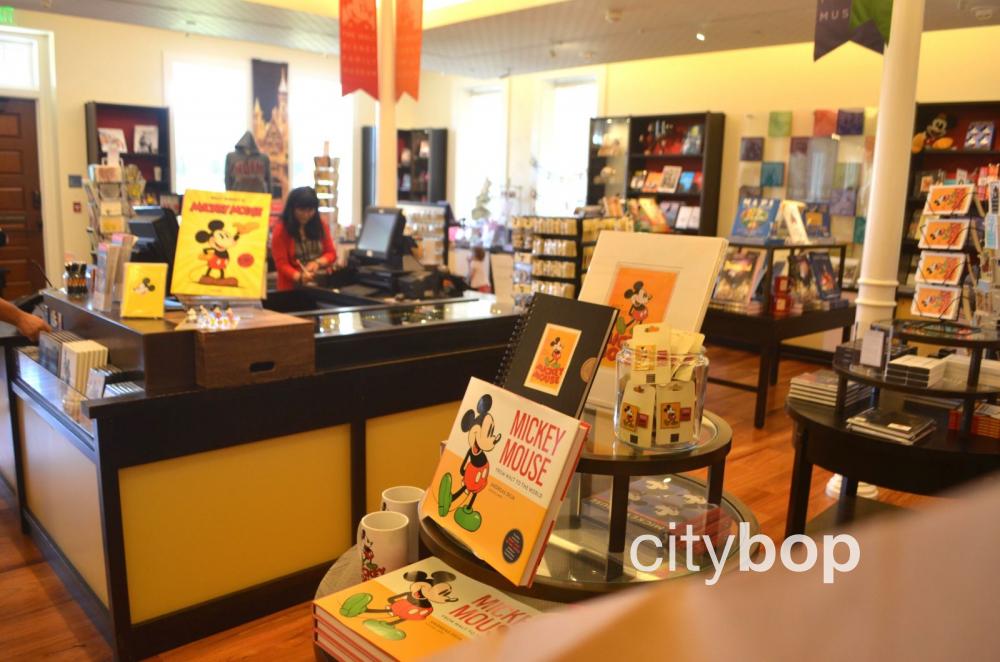 Walt Disney Family Museum Gift Shop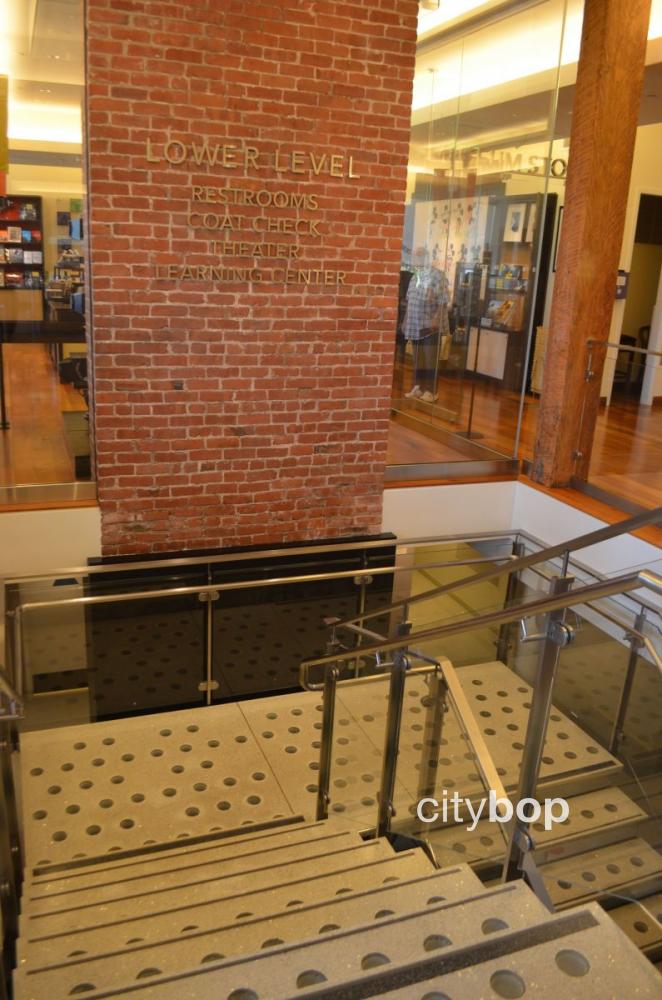 The lower level of the Walt Disney Family Museum, has a coat check, theater, and learning center.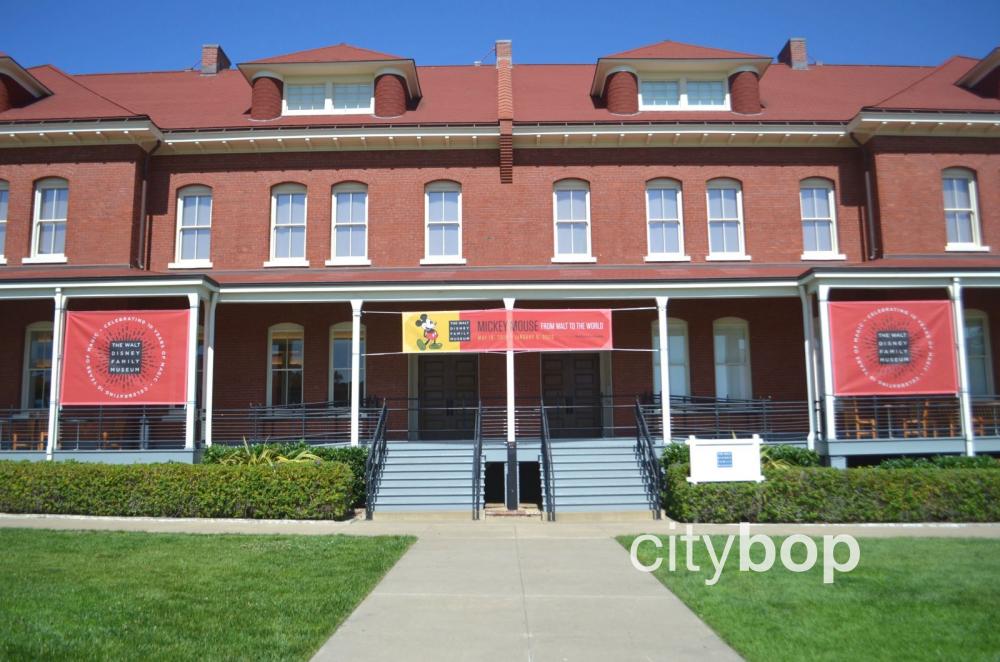 Disney Museum Presidio
Know before you go
Address:

104 Montgomery Street, San Francisco, CA 94129.

Tickets & hours: check here.
Cafe: yes.
Parking: on-street parking. Usually spots available.
Presidio Shuttle: free shuttles from downtown to the Presidio, and around the Presidio.
More Museums in San Francisco