North Beach is a vibrant, walkable neighborhood in San Francisco, otherwise known as Little Italy.
When visiting North Beach, follow the Italian flags down Columbus Avenue past pizzerias, trattorias and cafes.
By the 1920's North Beach was a predominately Italian neighborhood with many locals working in the fishing industry. Famous baseballer Joe DiMaggio grew up in North Beach as the son of a local Italian fisherman, and Bank of America Founder Amadeo Giannini also started his business here providing low income loans.
North Beach also became famous as the hangout for the Beatnik Generation, the literary counterculture of the 1950's rebelling against the oppressive social environment of Post WWII. Famous writers like Jack Kerouac and Allen Ginsberg met in North Beach's cafes and drank coffee years before it became a mainstream beverage in America.
10 best things to do at North Beach
1. Eat at famous North Beach restaurants.
Visit one of North Beach San Francisco's famous Italian restaurants like The Stinking Rose, North Beach Restaurant or Tony's Pizza Napoletana.
Enjoy streetfront dining at the Californian-Italian style The Stinking Rose (formerly Calzones).
Hang out with the locals at the North Beach Restaurant.
2. Stop for a coffee at chic Reveille Coffee Company.
Start the day with a latte at Reveille Coffee Company (200 Columbus Avenue).
3. Visit the Beatnik-era Vesuvio Cafe.
Cross the street to Vesuvio Cafe (255 Columbus Avenue), a well known hangout for Beatniks like Jack Kerouac, and check-out the Beatnik memorabilia on it's walls.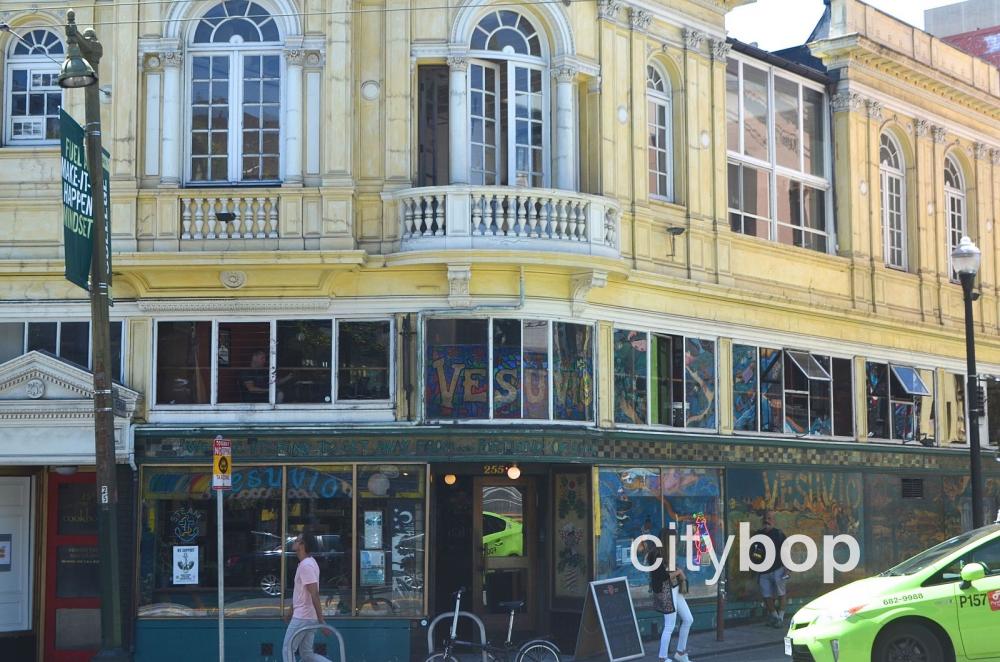 Vesuvio Cafe North Beach
Jack Kerouac Alley is just outside, with some colorful murals.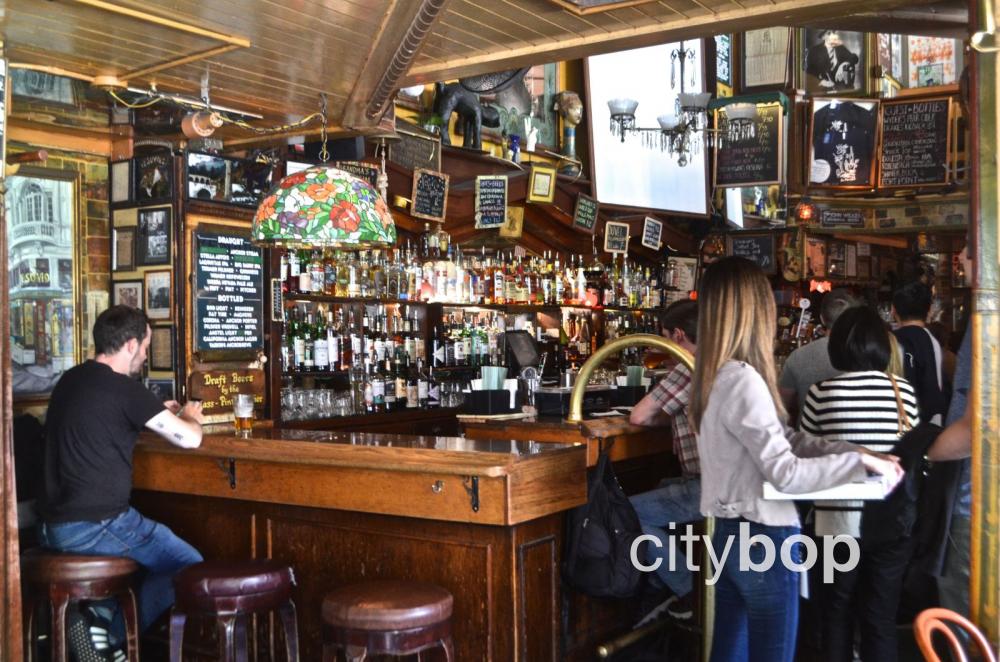 Vesuvio Cafe San Francisco
4. Shop at the historic City Light Booksellers and Publishers.
Go next door to City Light Booksellers and Publishers (261 Columbus Avenue).
This famous independent bookstore was founded in 1953 by poet Lawrence Ferlinghetti, and was once the main gathering point for Beatnik writers with poetry recitals and discussions. Ferlinghetti's publication of Allen Ginsberg's Howl and other Poems in 1955 led to an obscenity trial due to sexual and drug content in the book.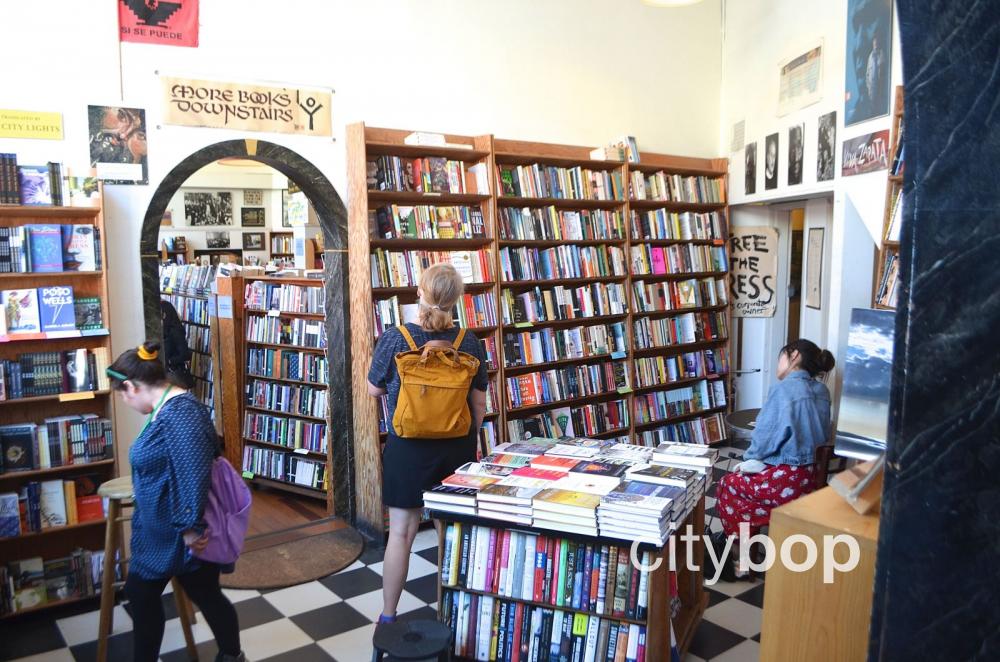 City Lights Books
5. Check out fascinating memorabilia at the Beat Museum.
Turn right on Broadway and visit the small Beat Museum (540 Broadway), with a fascinating array of letters, photos, and posters from the Beat Era, and even a vintage 1949 Plymouth car from On the Road. Check out the letter from Kerouac to Marlon Brando, asking him to play the lead in On the Road!
The museum also has a gift shop with a great selection of books and vinyl.
6. Visit the stunning National Shrine of St Francis of Assisi.
Walk one block to the National Shrine of St Francis of Assisi (610 Vallejo St). It was built in 1860, but only the towers and front walls survived the 1906 earthquake, and the churches interior was rebuilt in 1919.
Explore the interior of this stunning shrine that is now a historic landmark, and see exquisite murals at the front of the church by Italian painter Luigi Brusatori.
7. Relax at Washington Square.
Continue north along Columbus Avenue to Washington Square. The park has a lovely green space for relaxing, and a small playground, and is the perfect place in North Beach San Francisco for kids.
8. Take part in the blessing of the fishing fleet, at the St Peter and Paul Church.
Walk across the road from Washington Square, to peek inside the stunning Saints Peter and Paul Church (666 Filbert Street) built in 1924.
This church was the pillar of the Italian fishing community, and each September the blessing of the fishing fleet still takes place with a parade from the church to Fisherman's Wharf.
The church also appears in Hollywood movies, including scenes from Clint Eastwood's Dirty Harry movie. In 1954 Joe DiMaggio and Marilyn Monroe also had their photo taken here after their civil marriage ceremony.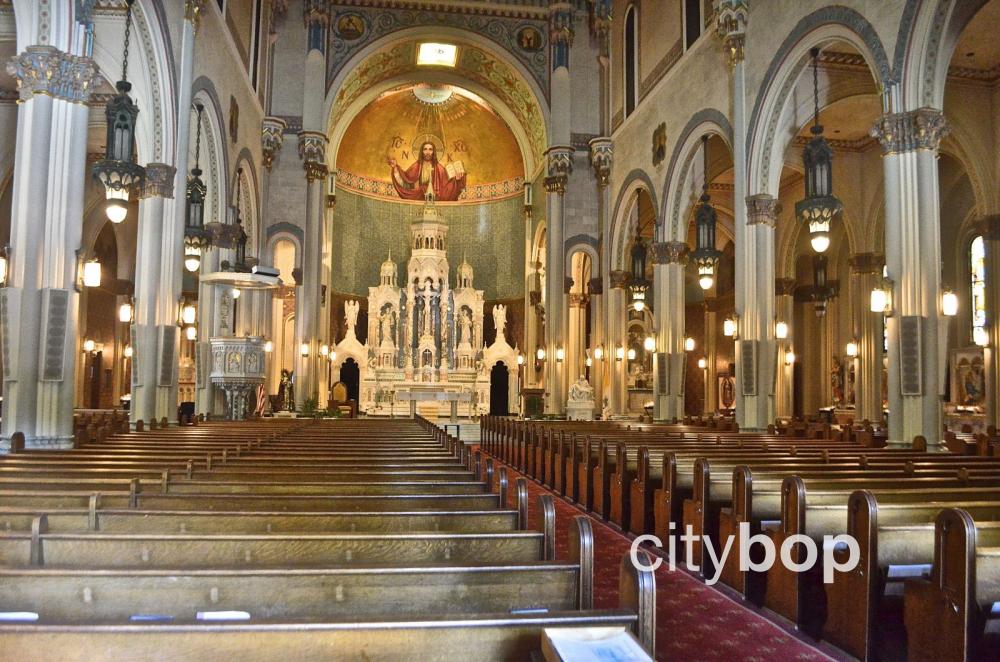 St Peter and Paul Church San Francisco
9. Take kids to the cool Joe DiMaggio Playground.
Continue two blocks up Columbus Avenue to the new Joe DiMaggio Playground (651 Lombard Street). Wow! This is a beautifully landscaped park, with slides, climbing structures, towers and basketball courts. Your kids will love it.
10. Climb up Coit Tower for magnificent views.
Drive up to nearby Coit Tower, and climb the steps to the top of the tower for magnificent views over San Francisco.
More Restaurants & Shopping in San Francisco