The Yerba Buena Gardens is in the heart of old San Francisco, with art museums, parks, restaurants, and a cool playground.
The Yerba Buena Gardens is spread over two city blocks in downtown San Francisco, connected by a convenient elevated walkway. It's also an easy 10 minute walk from Union Square.
There's so much to do here, including beautiful gardens, a grassed recreation area, the charming Upper Terrace and Yerba Buena Lane for restaurants, and family friendly attractions like a carousel, children's museum and playground. Art enthusiasts also have a choice of four art museums, including the celebrated SFMOMA.
The Yerba Buena Gardens was opened in the 1990s as part of an urban renewal program to build local community.
10 best things to do at the Yerba Buena Gardens
1. Stroll around the park and gardens at the Esplanade.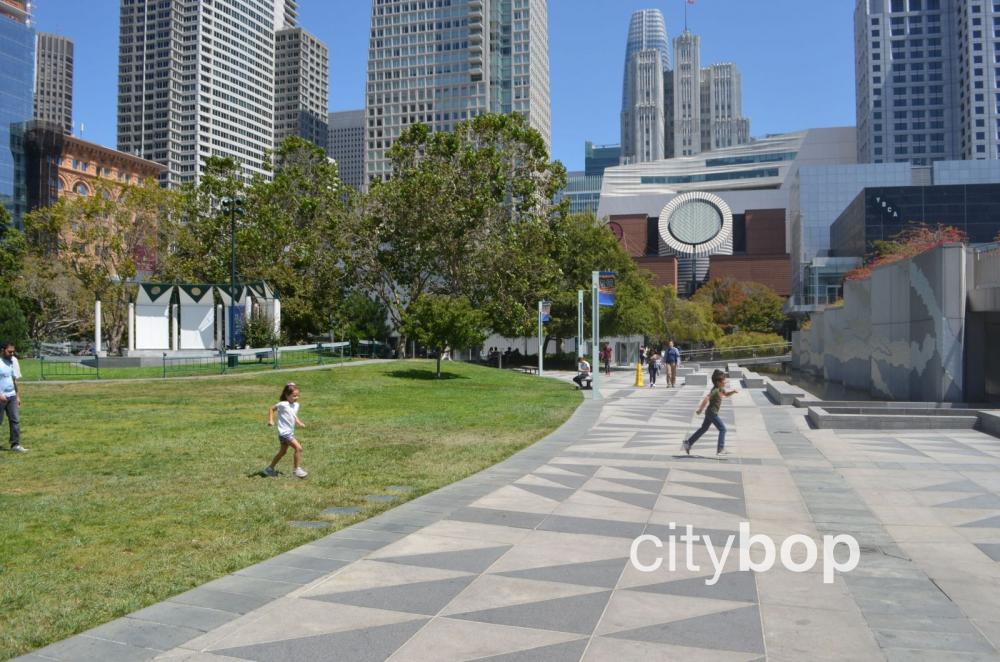 Yerba Buena Gardens San Francisco
Explore the beautiful terraces, walkways, and landscaped lawns at the five-acre Esplanade, a lovely oasis in the middle of the city. Many visitors choose to relax on the grassed recreation area, or catch a live performance at the outdoor stage.
The Esplanade is on Mission Terrace, across the road from St Patrick's Church (756 Mission Street). It's worth a peek inside this church to admire the stunning Gothic Revival architecture. The historic St Patrick's Church was founded in 1851 by Irish immigrants, later destroyed by the San Francisco earthquake of 1906, then finally rebuilt.
2. Eat at a restaurant overlooking the park.
Climb the stairs from the grassy Esplanade, up to the striking Upper Terrace at the Yerba Buena Gardens. The plantings have been thoughtfully selected from San Francisco's eighteen sister cities.
There are two restaurants on the Upper Terrace, with patio dining and gorgeous city views. Samovar Tea Lounge has a wholesome and health-conscious menu, sourcing tea from far flung places like China, Japan and Hawaii, and the B Restaurant and Bar is a sophisticated hotspot for brunch or happy hour.
3. Visit the Martin Luther King Jr Memorial.
Visit the Martin Luther King Jr Memorial along the Esplanade. Some of Martin Luther King Jr's poignant words are inscribed on the glass walls behind the waterfall, written in the foreign languages of San Francisco's sister cities. It's a truly peaceful area, and a wonderful respite on a hot day.
4. Take kids to the Children's Creativity Museum & Carousel (221 Fourth Street).
The Yerba Buena Gardens is a fabulous place for kids! Kids can ride the 1906 vintage carousel, then visit the fun Children's Creativity Museum next door.
The Children's Creativity Museum is a cut-above, and exactly what you'd expect from a high tech city that has spawned so many world famous companies. Kids get an incredible range of hands-on experiences at this museum. For example, there's an Animation Studio where kids can make a short movie from clay figures, an Innovation Lab for new inventions, a Tech Lab to program robots, a Community Lab where kids can contribute sketches to a virtual city, and an Imagination Lab with blocks and magnets to play with. Wow!
Check hours and admission.
5. Have fun at the Yerba Buena Ice Skating and Bowling Center (750 Folsom Street).
Burn off some energy at the huge Yerba Buena Ice Skating Rink, or Bowling Center, both in the same complex. Much of the original thinking around Yerba Buena Gardens, was that it needed to be accessible to neighborhood kids with fun activities like bowling and skating. Check hours & admission.
6. Visit the playground.
The free playground is next to the Children's Creativity Museum, and has towers with slides and climbing walls, and a special toddler area.
7. Go shopping at Metreon (134 Fourth Street).
Metreon has four levels of shopping, with a Target Store, 16-screen AMC Theater, and over a dozen casual restaurants to choose from.
8. Visit the Yerba Buena Center for the Arts (701 Mission Street).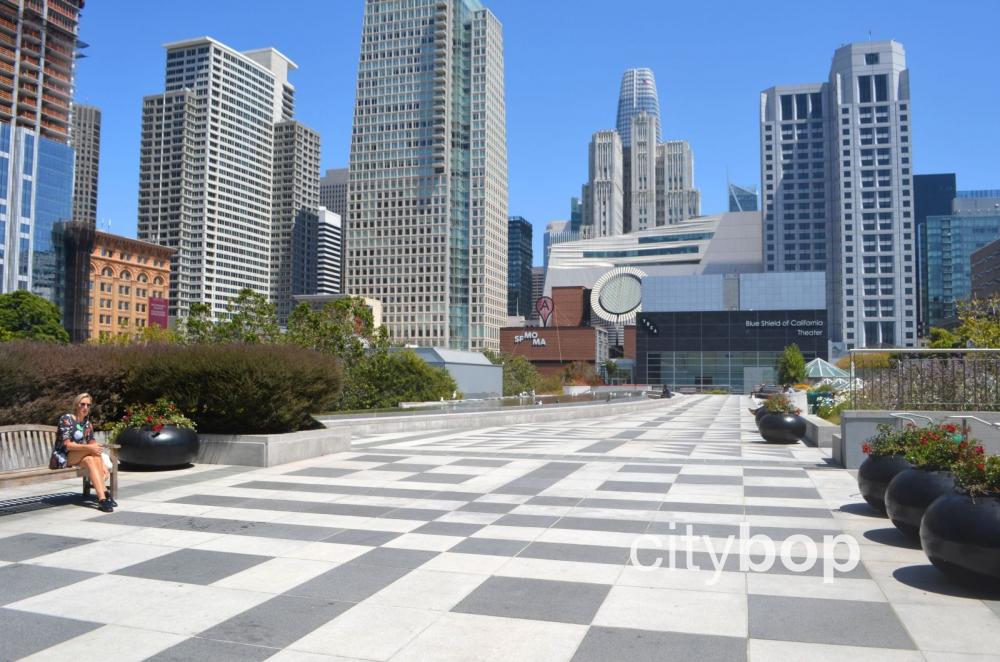 Yerba Buena Center for the Arts
The Yerba Buena Center for Arts is the black building at the end of the Upper Terrace in the photo above, and has theater performances, art exhibitions, and screenings and films, with an emphasis on Bay Area communities and artists. Some of the modern art in the small gallery is quite striking and thought provoking, with constantly rotating exhibitions. Check the events calendar here.
9. Experience incredible art at SFMOMA (151 3rd Street).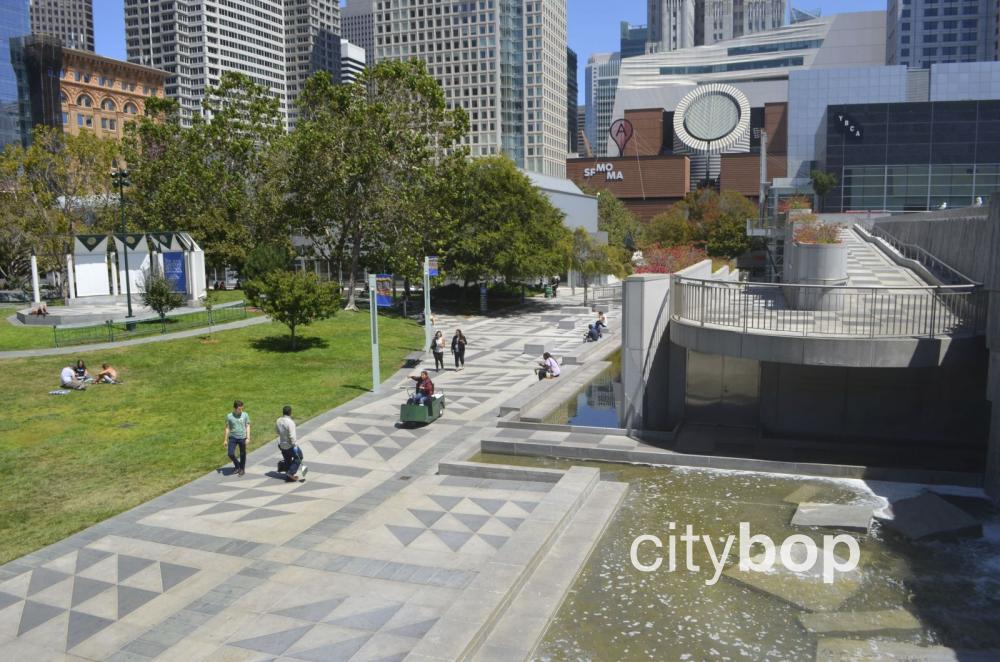 Things to do at Yerba Buena Gardens
The SFMOMA is conveniently located across the road from the Yerba Buena Gardens in the red brick building, and is San Francisco's flagship art gallery. It's a must-see after its recent renovation, with seven floors of galleries and stunning new outdoor spaces. Check hours & admission.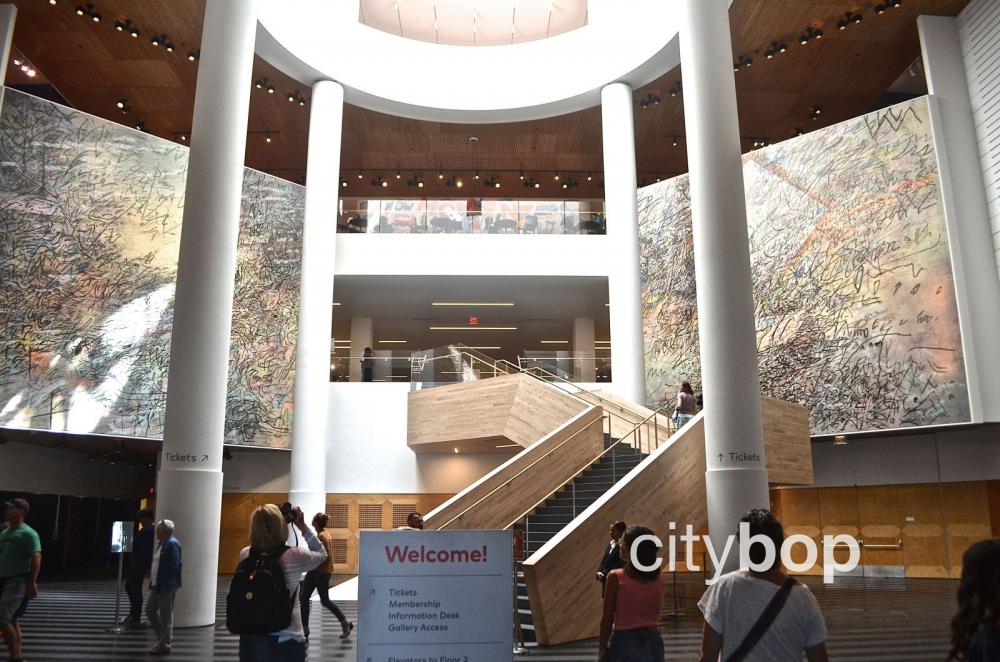 10. See the latest art exhibitions at the Contemporary Jewish Museum (736 Mission Street).
The Contemporary Jewish Museum has regular art exhibitions based on contemporary Jewish culture and ideas. Check the calendar here to see what's on, and hours & admission.
11. Visit the Museum of the African Diaspora (685 Mission Street).
The African Diaspora is a beautiful contemporary art museum on three floors, with constantly changing exhibitions through the lens of the African Diaspora. Check the latest exhibition here.
12. Learn about San Francisco's history at the California Historical Society (678 Mission Street).
The California Historical Society is a small museum, with permanent and temporary exhibitions on fascinating Bay Area history like the 1850's Gold Rush and 1906 Earthquake. There's also a gift shop with San Francisco themed gifts. Check hours & admission.
13. Eat a delicious meal along Yuerba Buena Lane (just off Mission Street).
Yerba Buena Lane is a pedestrian walkway across the road from Yerba Buena Gardens, with a tantalizing selection of restaurants and cafes.
Choose from chic Amber restaurant for high-end Indian food, Tropiseuno restaurant for Mexican food in friendly, relaxed atmosphere, and trendy Ippudo restaurant for Ramen. There's also some great brunch and lunch spots, like Lev by Wise Sons for comfort food, and Mixt salad shop.
Know before you go
Address: Two blocks in downtown San Francisco, bordered by Mission Street, Folsom Street, Third and Fourth Streets.
Map and parking garages: here.

Closest hotels:

Palace Hotel, Westin Hotel, Four Seasons, SF Marriott Hotel, W Hotel.
More Parks & Nature in San Francisco