Rent a boat at charming Stow Lake at Golden Gate Park.
Stow Lake is at San Francisco's beautiful Golden Gate Park, and is a tranquil respite from the city in a heavily wooded, natural setting.
Check boat rental rates and hours here.
There's a small parking lot at the boathouse (50 Stow Lake Drive), and on-street parking along Stow Lake Drive.
10 best things to do at Stow Lake
1. Rent a row boat or pedal boat.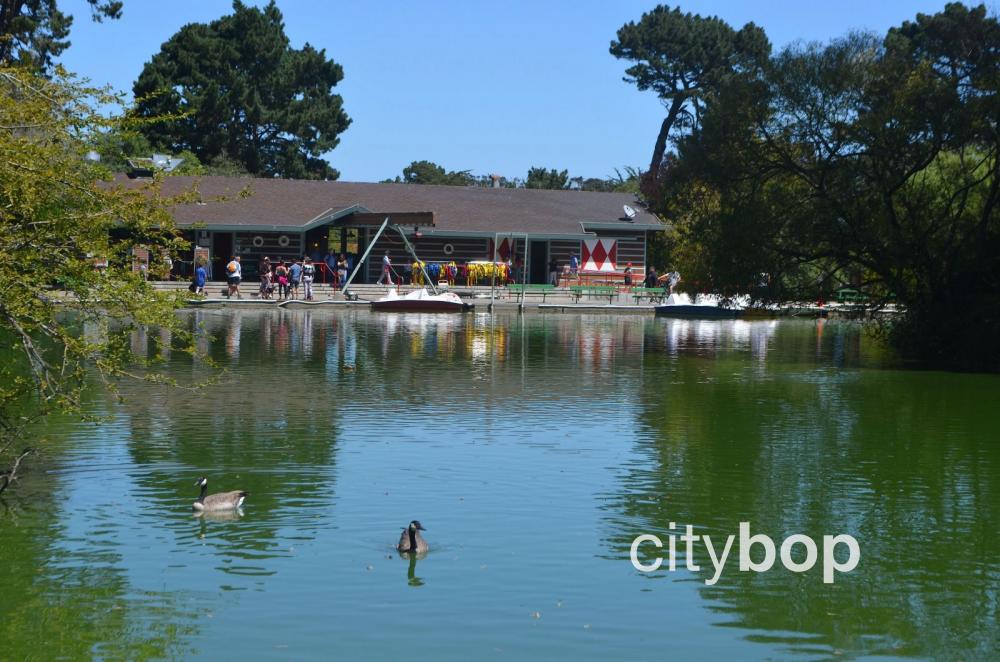 Stow Lake Boathouse
The old boathouse has been offering boat rentals since the park's opening in 1893. If want to take it easy, the pedal boat comes with a battery powered option, so you can kick back and motor around the lake! The pedal boats can seat up to six people.
The original boathouse burned down in 1937, and was replaced with a chalet-style building that was completed in 1949.
2. Paddle the 45 minute loop around Stow Lake.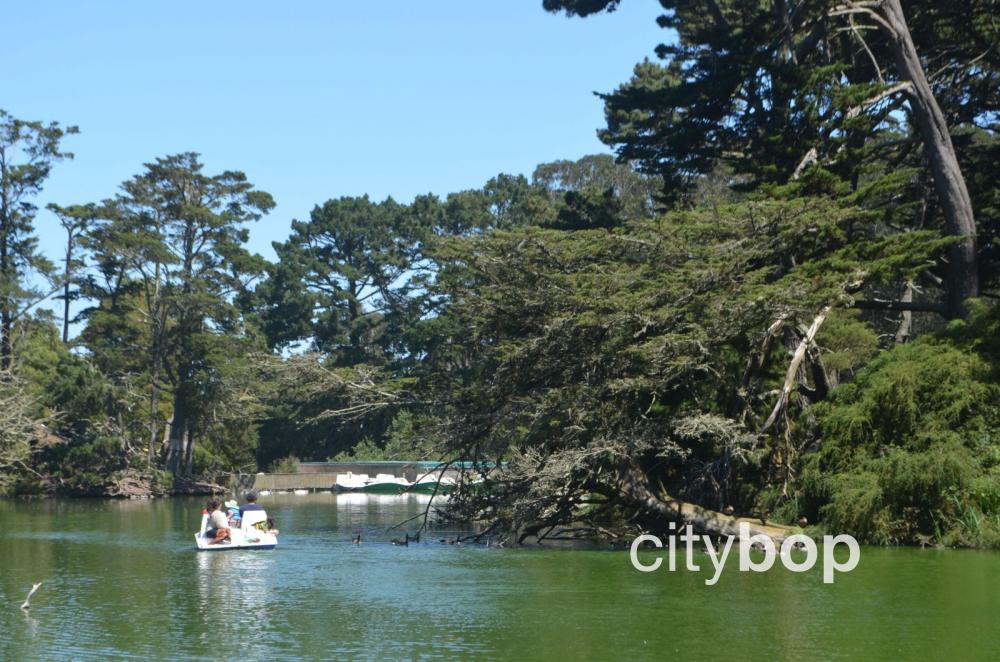 Stow Lake SF
It takes about 45 minutes to complete the loop, and the boats are rented by the hour.
3. Search for wildlife on Stow Lake.
There's lots of ducks, swans, and geese along the way, and you might even spot a few turtles.
4. Purchase some snacks at the kiosk.
The historic boathouse has a walk-up kiosk for snacks. You can also bring your own picnic hamper, and take advantage of the outdoor seating near the kiosk at Stow Lake.
5. Walk over the bridge to Strawberry Hill Island.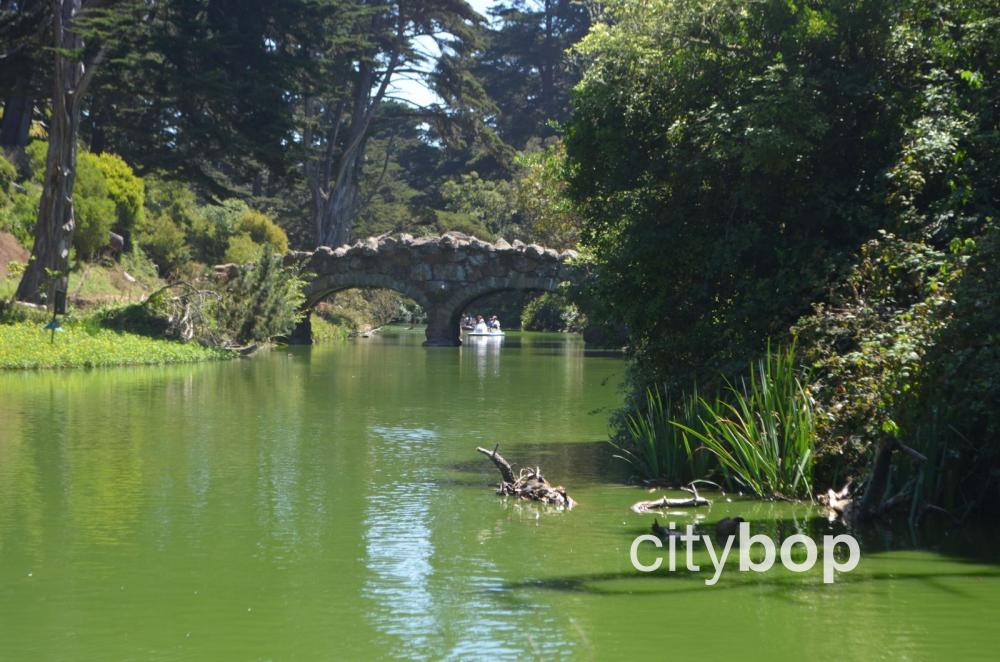 Stow Lake San Francisco
Stow Lake is full of fascinating sights to explore, including two islands.
The larger island is known as Strawberry Hill Island. Cross the bridges that connect to Strawberry Hill Island, and follow the wooded paths all the way to the top.
6. See the 100-foot Huntington Waterfall.
Walk to the top of this beautiful waterfall on Strawberry Island, or view it from the water.
7. Relax inside the stunning Chinese Pavilion.
The red Chinese Pavilion (pagoda) was gifted by San Francisco's sister city Taipei in 1976, and is visible near the stone bridge on Strawberry Island. There are stone tables and benches inside, perfect for a picnic.
8. Stroll along the 1-mile walking path around the lake.
9. Walk down to the playground.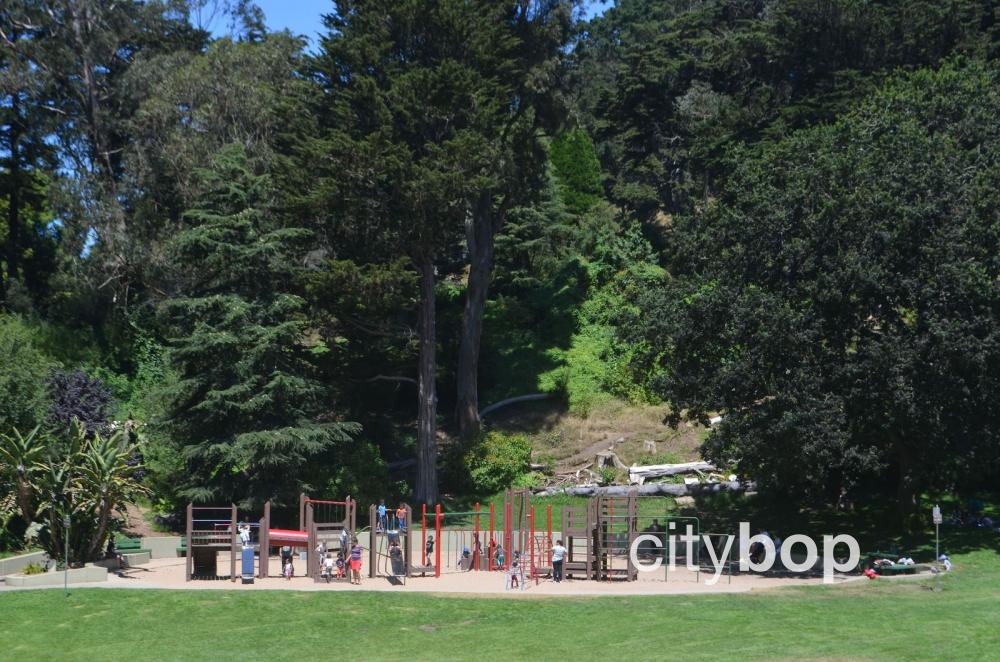 Golden Gate Park Playground
Explore the playground south of Stow Lake, along Martin Luther King Junior Drive. It's a 10 minute walk downhill from Stow Lake, or you can park along Martin Luther King Junior Drive.
10. Learn about other attractions at Golden Gate Park.
Other Golden Gate Park attractions include a Japanese garden, botanical garden, science museum, art museum and more.
Know before you go
Boating rates & hours: check here.
Boathouse address: 50 Stow Lake Drive E, San Francisco, CA 94118.
Parking: Small parking lot at the boathouse, and on-street parking along Stow Lake Drive.
Restrooms: Yes.
More Parks & Nature in San Francisco