​The beautiful Descanso Gardens has a serene setting in an old oak grove, just 14 miles north of downtown LA.
The 160-acre Descanso Gardens was once owned by prominent L.A. newspaper editor E. Manchester Boddy. Boddy purchased the land in the late 1930's, then sold it to Los Angeles County in 1953 to use as a park.
It's such a beautiful garden, that Walt Disney once scouted it as a possible location for his theme park!
You will need 3 to 4 hours at Descanso Gardens to explore 20 themed gardens, and visit Boddy's 12,000 square foot house. Stop by the restaurant, cafe and gift shop, and take kids to the miniature railroad.
Descanso Gardens is located at 1418 Descanso Drive, La Canada Flintridge. Check hours & admission.
10 best things to do at Descanso Gardens
1. Eat at the cosy restaurant or outdoor shaded patio.
Enter a relaxing courtyard area at Descanso Gardens Pasadena. It has a walk-up cafe, and outdoor shaded patio. The cafe serves sandwiches and wraps, salads, wine, beer and coffee. There's also a kid's menu.
The patio area in this LA garden was featured in the highly successful HBO TV series Big Little Lies, with Reese Witherspoon and Nicole Kidman. Hang out on the patio and have coffee like Reese and Nicole.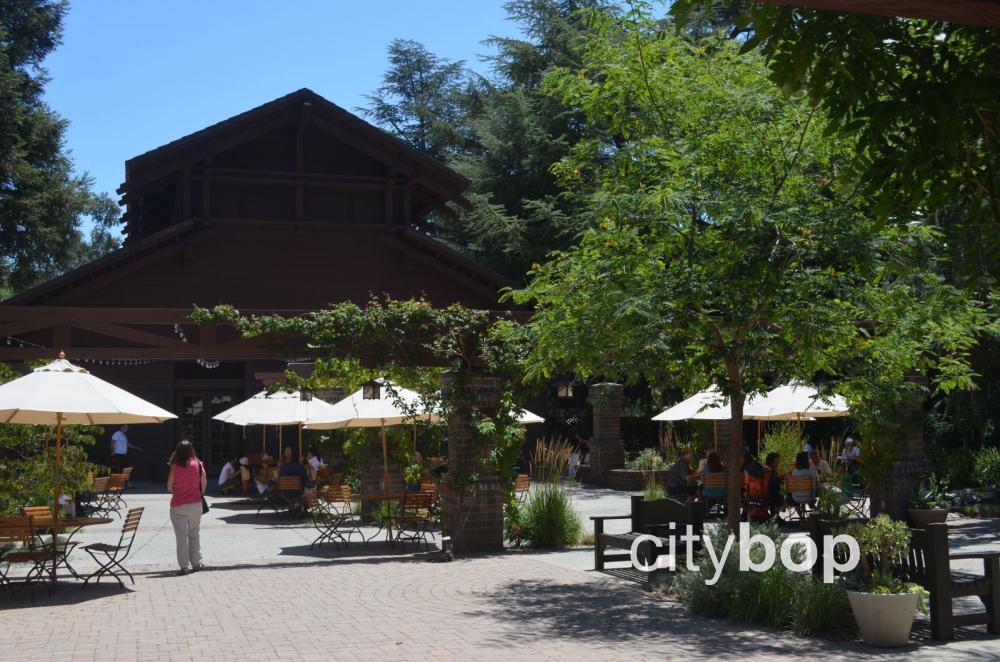 Descanso Gardens: 10 BEST Attractions
The adjacent Maple Restaurant is housed in a cosy, craftsman cottage. It serves brunch (weekends only). Their delicious brunch menu has options like avocado toast, eggs benedict, pancakes, pudding and mimosas. It has a gorgeous setting inside an arts and crafts dining room. The interior has vaulted ceilings and french doors overlooking the courtyard. It's also a very family-friendly restaurant.
2. Explore the fun gift shop at Descanso Gardens.
The Gift Shop has a wonderful selection of eclectic merchandise like candles, jewelry, cards, hats, ornaments and books. It's housed inside a charming arts and craft building with loads of ambiance. You don't need to pay an entrance fee to visit the Gift Shop.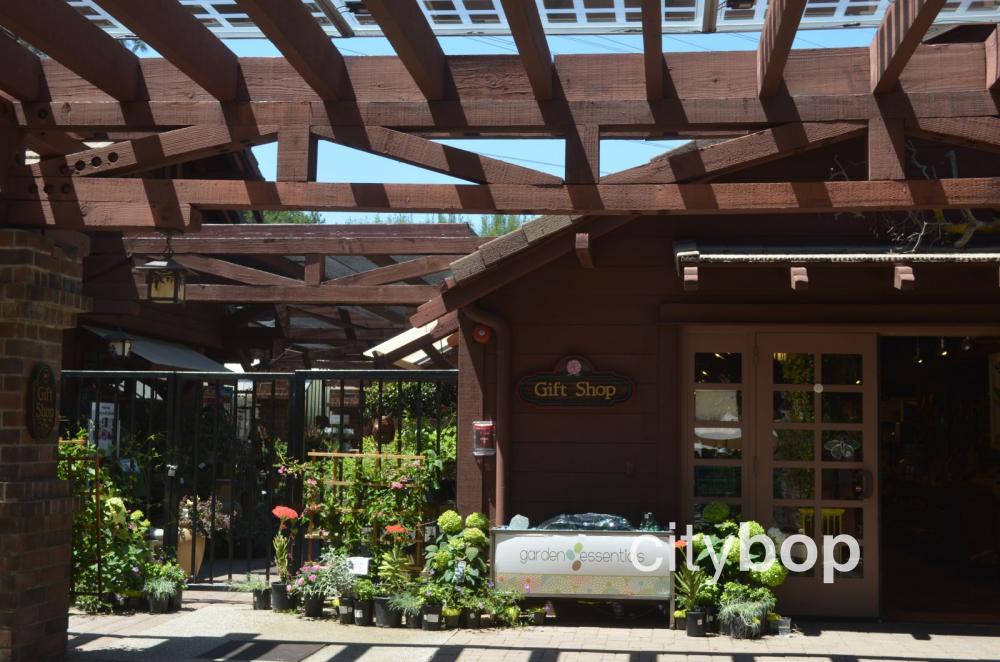 Descanso Gardens Gift Shop
The best time to visit this LA garden is around Halloween and Christmas. This is when there are gorgeous seasonal decorations. Don't miss the discount table for great buys. There's also a kid section with books and puzzles.
The small nursery is on the other side of the Gift Shop, at Descanso Gardens Pasadena. It has plants, unique pots, wall art, outdoor lanterns, and bird houses.
3. See 600 varieties of roses at the Rose Garden.
The 5-acre rose garden has 600 varieties of roses, in a romantic setting with a fountain.
It's more informal than a typical rose garden, because the roses aren't laid out in rows. The roses are mixed in with colorful perennials giving it the appearance of a cottage garden. It has a romantic, whimsical feel.
The fragrant roses reach full bloom in early Spring. Wander along paths with exotic varieties from China and Japan, and beneath metal and wooden archways festooned with climbing roses.
Many of the roses at this LA garden were hybridized by Boddy's chief botanist, Dr Walter Lammerts. This is just a fancy way of saying that he combined different rose species. Many rose varieties needed to be hybridized to ensure their health and survival, because they had been overbred.
Dr Walter Lammerts was actually creating a super-class of new roses. By combining different species he strengthened their genes and they bloomed more frequently. The most famous example of a hybrid rose is the pink Queen Elizabeth (1954). This co-incided with the coronation of Queen Elizabeth in England.
There's also an open air pavilion at the Rose Garden that can be rented for special events at this LA garden, that seats 170 people.
Don't miss the two day Rose Festival each May with music, floral art, and guided walks through the Descanso Gardens.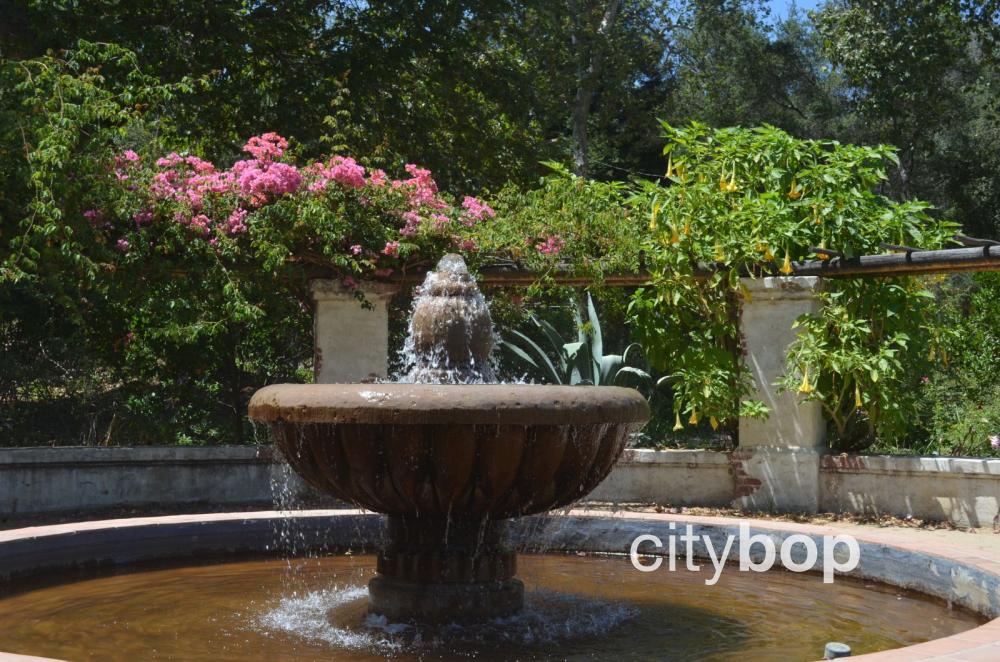 Descanso Gardens: 10 BEST Things to Do
The rose garden's fountain is exquisite. It's in the Mission part of the Rose Garden. The fountain is based on the style seen in old Californian Missions. See native birds drinking at the fountain's edge. There's a curved pergola behind the fountain draped in bougainvillea. This is possibly the most peaceful setting in the gardens.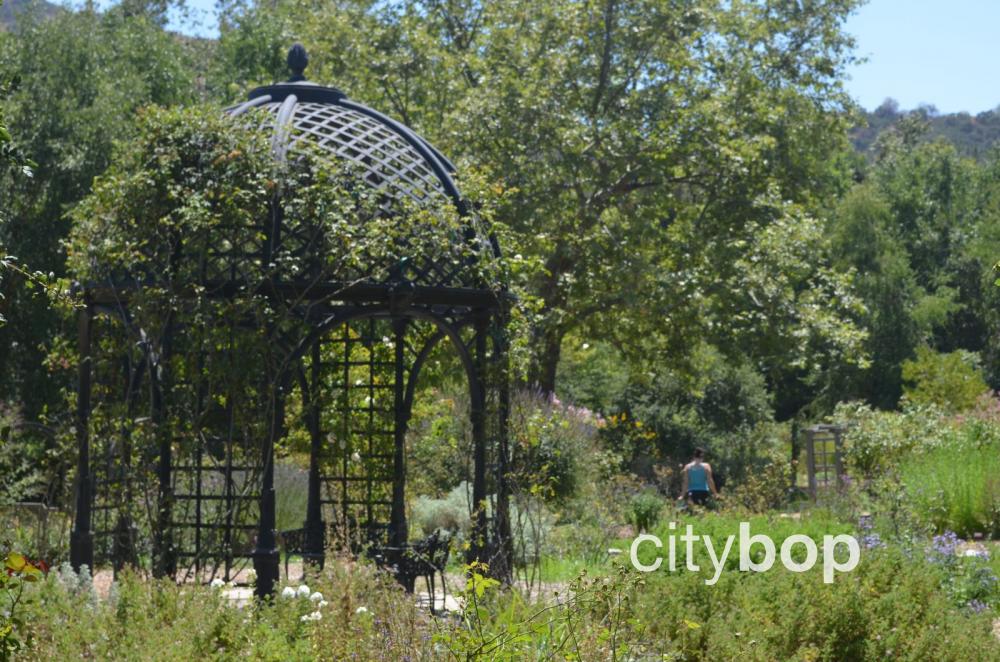 Descanso Gardens Gazebo
This is the Victorian Gazebo at which is popular for weddings. Relax on the ornate benches with intricate ironwork designs.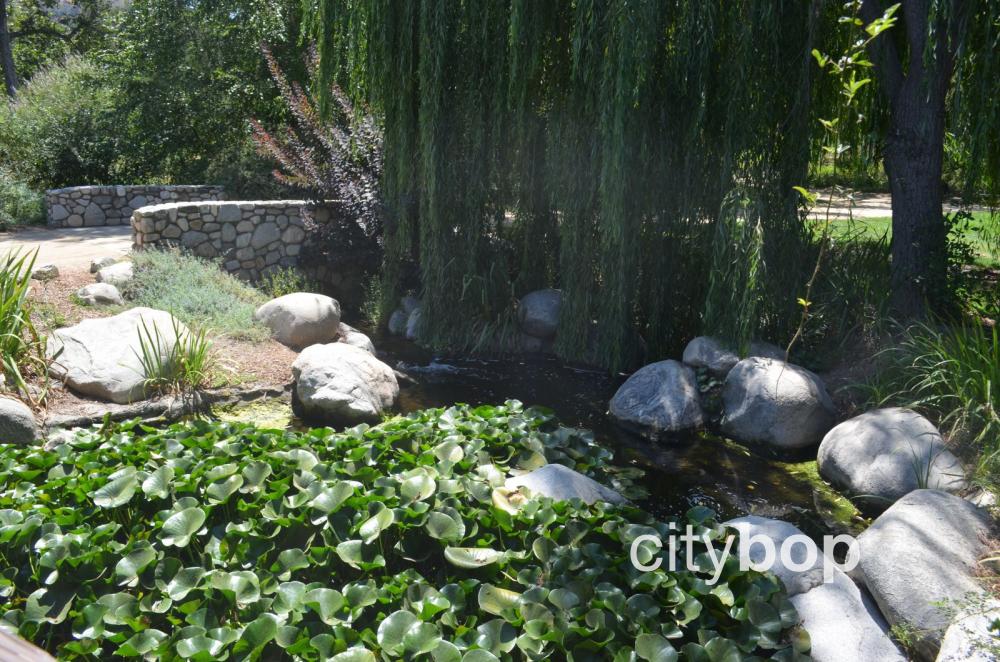 Descanso Gardens Stone Bridge
A stream runs through the Rose Garden. When the garden was planned, the stream was beautifully integrated with a stone bridge.
The stunning promenade that runs along the Rose Garden's northern border, is lined with Camellia bushes planted in the 1940s. The Camellias are in bloom from October through May. How wonderful to see a flower in bloom, in the middle of winter.
The Camellia's thrive under the shade of coastal oaks, native to the Descanso Gardens Pasadena.
Boddy acquired the biggest Camellia collection in the US, by purchasing them from two local Japanese nursery owners during WWII (the Yoshimura and Uyematsu families). These families were forced into internment camps after the Japanese bombed Pearl Harbor on December 7, 1941. An Executive Order by President Roosevelt sent 120,000 Japanese to internment camps.
Boddy had compassion for these Japanese nursery owners, and offered them a fair price for their camellias before they entered the camps. This demonstrated integrity because most Japanese were forced to sell their possessions for cut rate prices, losing almost everything. Boddy also took over one of the local nurseries for a Japanese family that was interned.
Boddy was a savvy businessman and wanted to enter the Camellia trade, because during the 1940's there was massive demand for Camellias on the East Coast. As an added bonus, they flowered during the colder winter months in an LA garden. Boddy was successful cutting and selling these flowers to the East Coast market.
4. Spot koi in the Mulberry Pond.
The hillside Mulberry Pond has a waterfall that cascades into the pond. It's also full of koi.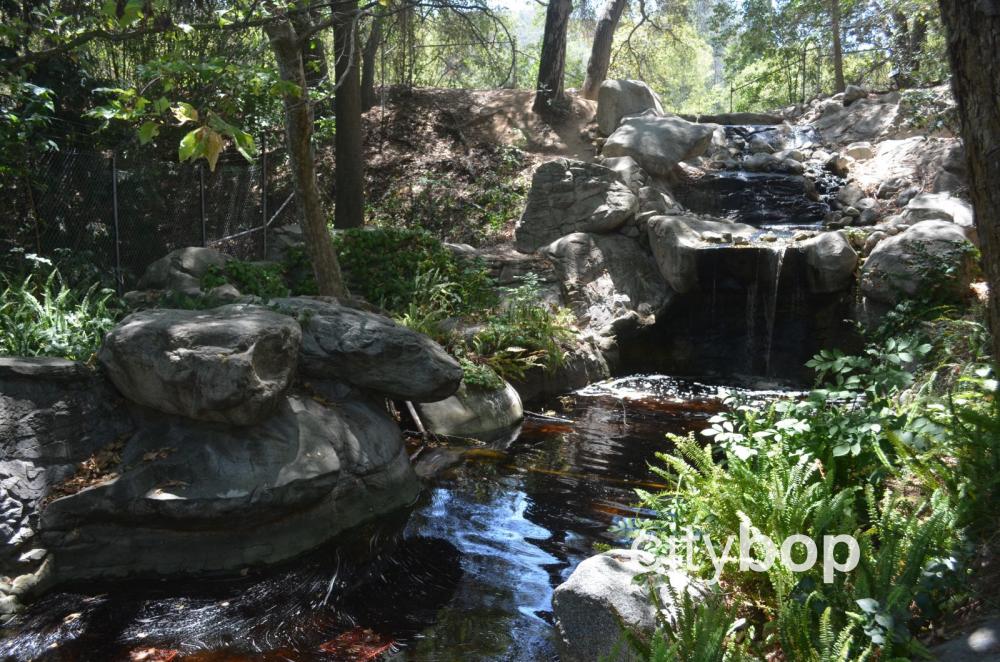 Descanso Gardens Mulberry Pond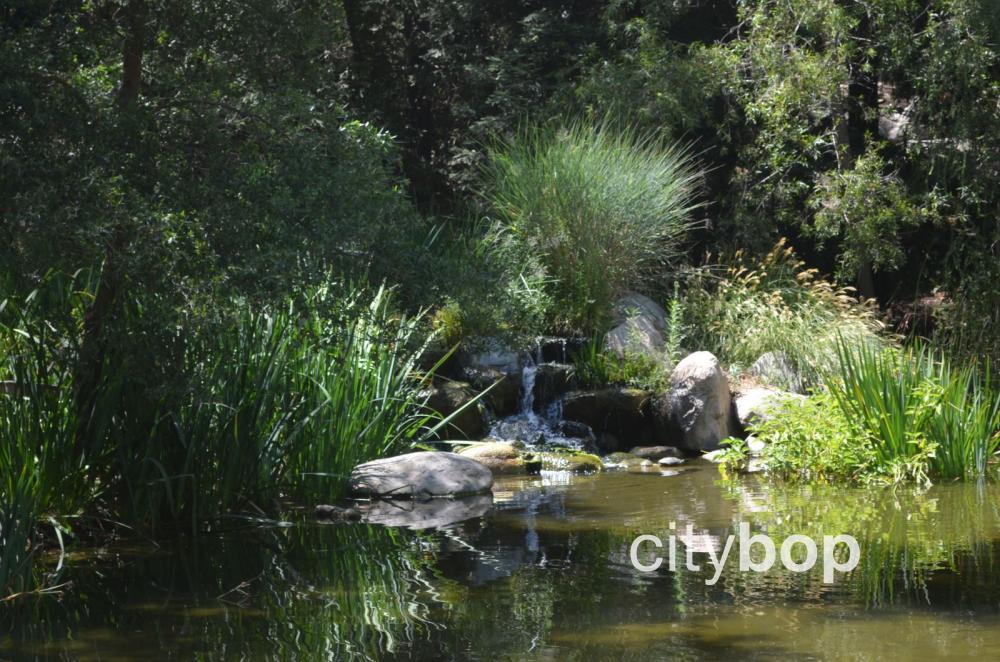 Descanso Gardens Pond
5. Stroll through the enchanting Japanese Garden at Descanso Gardens.
The Descanso Gardens has an enchanting Japanese Garden. The garden has a red temple bridge, tea house, stone lantern and torri gates. It opened in 1966 with a high level of consultation from the Japanese community.
There's a lovely stroll garden with meandering stream and waterfalls. The Zen garden has raked sand, signifying the elements.
The tea house used to be a refreshment stand selling tea and cookies. However, when the restaurant and cafe was constructed in the 1980s at the entrance to Descanso Gardens the refreshment stand was closed.
E. Manchester Boddy had a profound respect for the Japanese, their work ethic and cultural norms. He even wrote a book published in 1921 titled Japanese in America. You can purchase a reproduction copy on Amazon.
The temple bridge was designed by Kenneth Masao Nishimoto, and styled after one in Kyoto, Japan.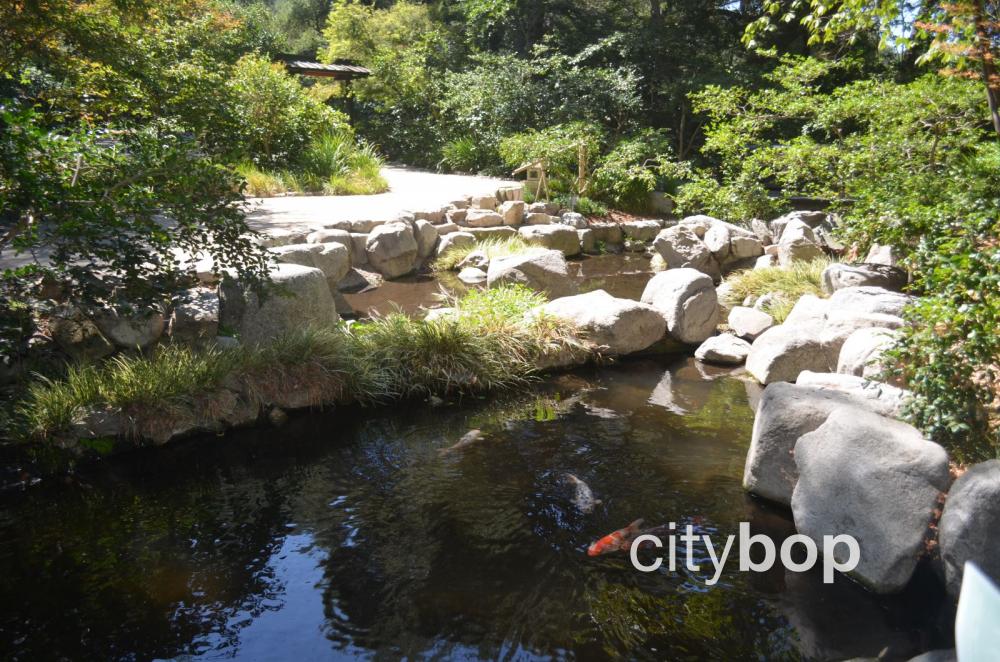 Descanso Gardens Waterfall
The pond at Descanso Gardens is full of koi.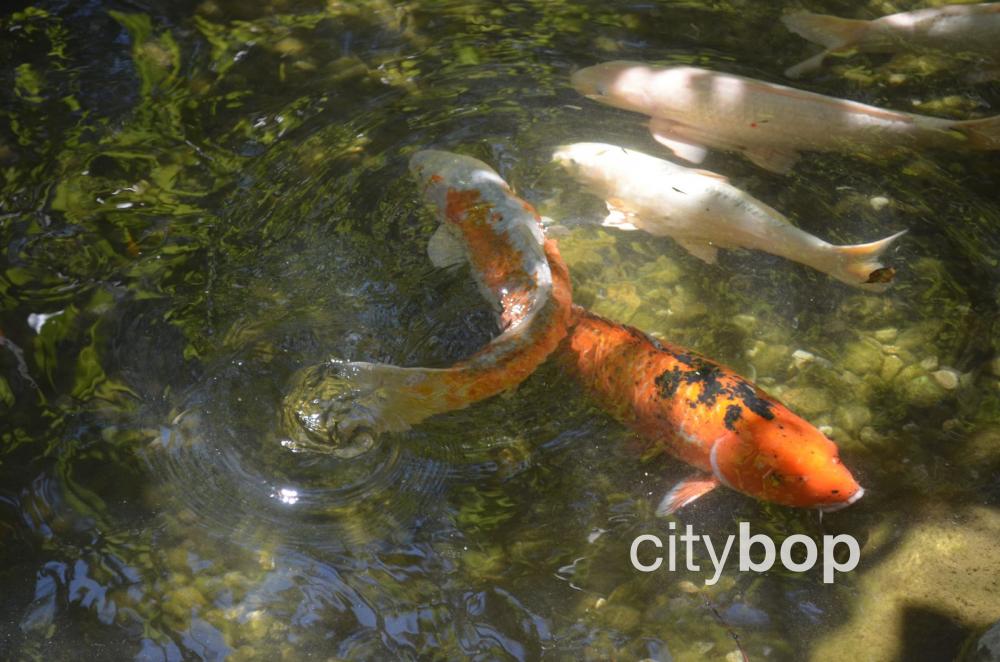 Descanso Gardens Koi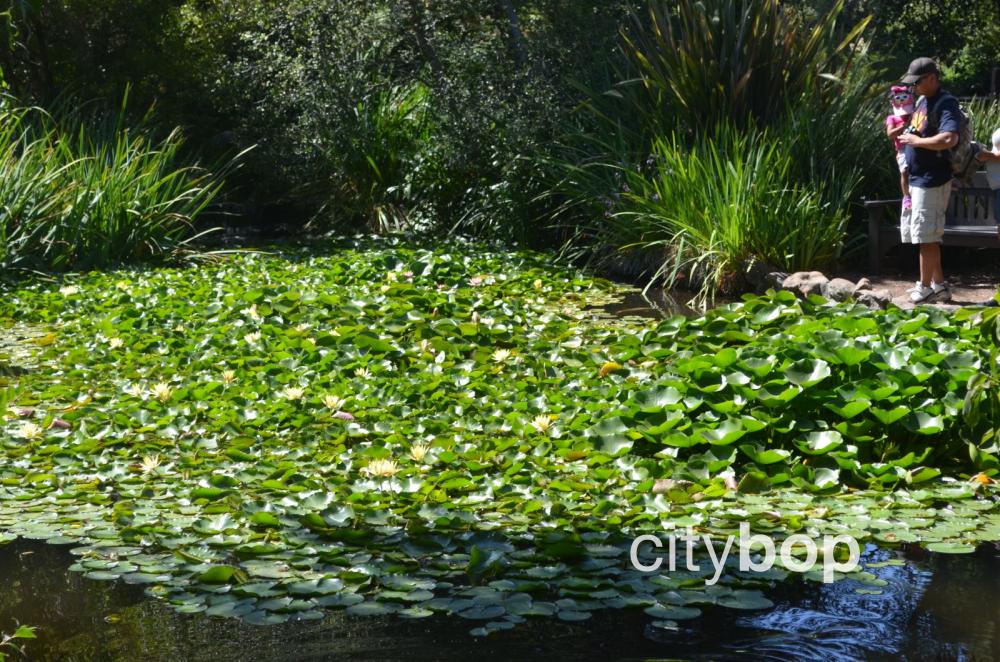 Descanso Gardens Lily Pad
6. Cool off in the shade at the Ancient Forest at Descanso Gardens.
The Ancient Forest is a welcome respite from the scorching Californian sun in this LA garden. It has a pathway lined with Jurassic-era tree ferns, known as the Fern Canyon, and a natural stream meandering through it.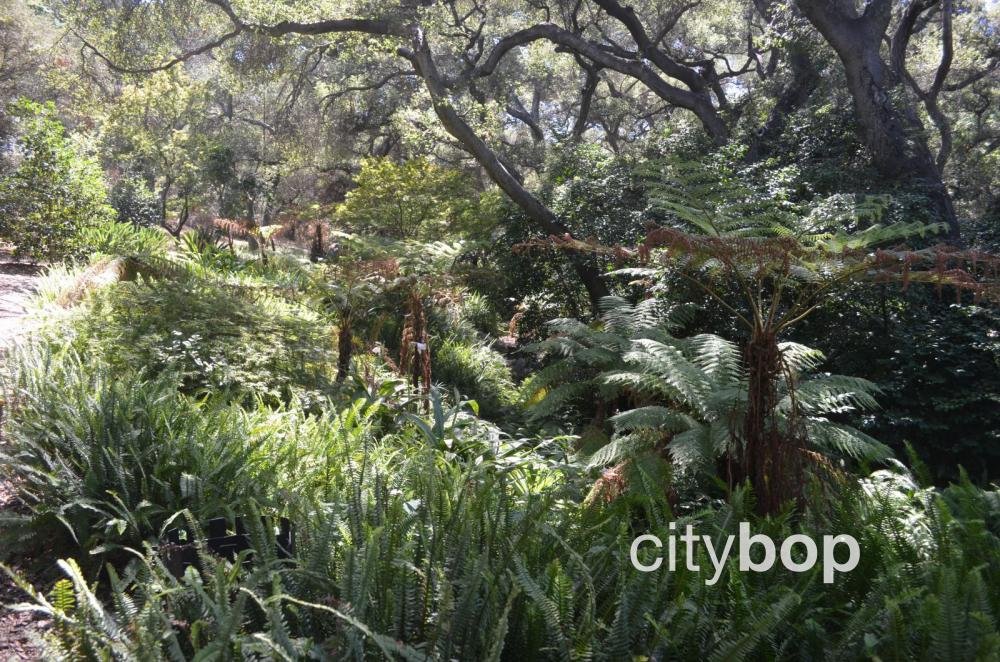 Descanso Gardens Ferns
7. Explore the historic 12,000 square foot Boddy House.
Stroll up the hill to the Boddy House at Descanso Gardens. It was constructed in 1939 by newspaper editor E Manchester Boddy who published the LA Illustrated Daily News. The Boddys lived in this house for 14 years, from 1939 to 1953, and had 2 sons.
The lower floor of this 12,000 square foot home is open to visitors, and has fascinating exhibits on the history of house. There are 22 rooms in total.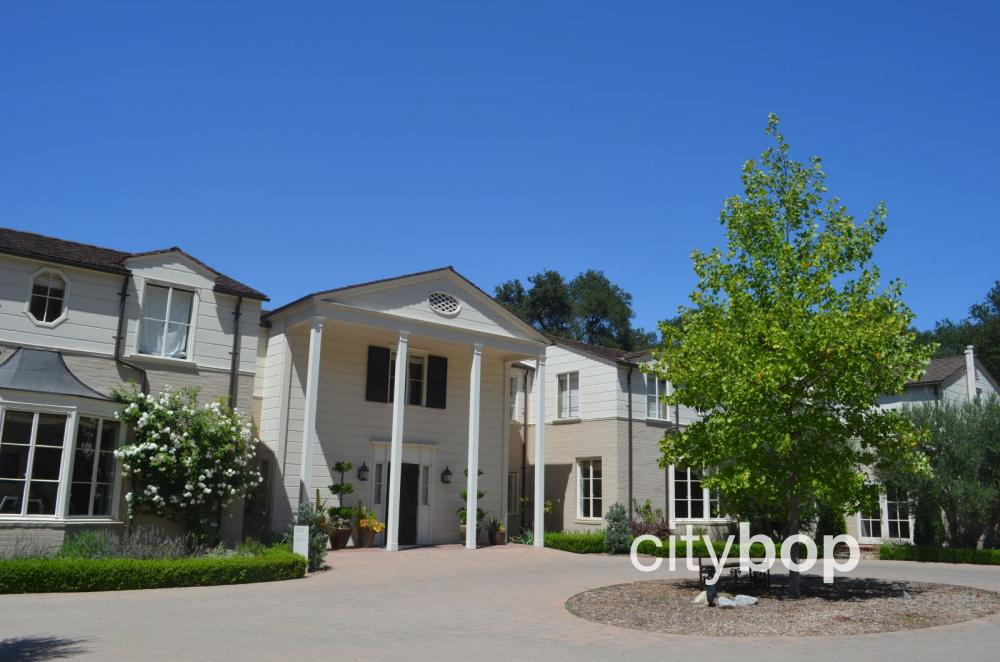 Descanso Gardens Boddy House
Boddy originally purchased the property in 1937 as a ranch, attracted to the beautiful spring-fed streams and stunning oak groves in the foothills of the San Gabriel mountains. Native Americans once used the acorns as a food source and for medicinal purposes, and were able to make starch from the acorns. The oak groves also supported an incredible eco-system of wildlife.
In 1950 Boddy opened his LA garden one weekend to the public. It attracted an incredible 5,000 visitors! This came as quite a shock to the neighbors. Boddy then tried to get the proper permits to run his property as a garden open to the public, however the neighbors lobbied hard against this.
In 1953 Boddy retired and put the property up for sale. It actually attracted the attention of Walt Disney who thought this LA garden might be perfect for his new theme park. There was another proposal on the table to use the land as a dump.
The estate was finally deeded to Los Angeles County for $1.16 million, to be used as a public garden. A group of neighbors came together to form a Guild to promote and fundraise for the garden.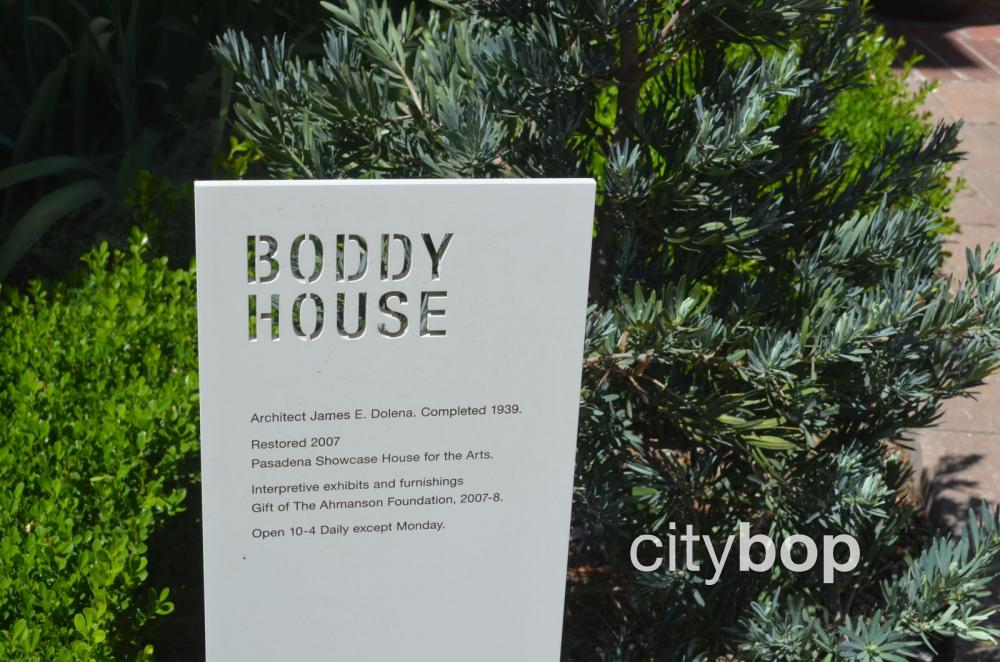 Descanso Gardens Boddy House sign
The Boddy's house was designed in the Hollywood Regency style. They hired 'Architect To The Stars' James Dolena. There are many examples of Dolena's work throughout Beverly Hills and Brentwood.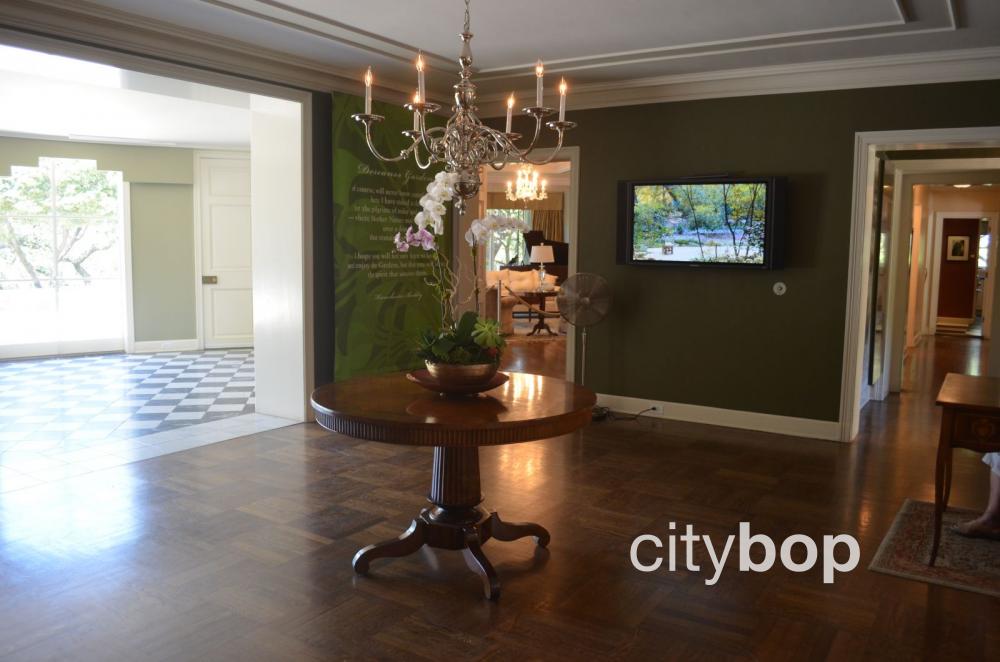 Descanso Gardens Boddy House entry
The Boddy House is available to rent for special events. Look at the inspirational quote on the wall from Boddy.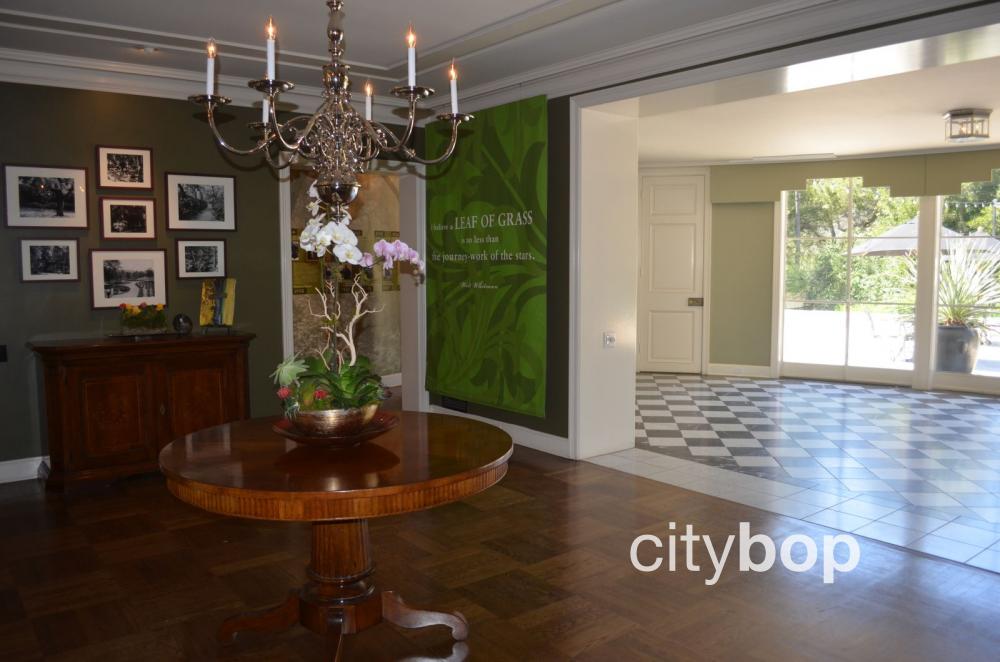 Descanso Gardens Visitor Guide
This is the entry way and sun room to Boddy's house. There are lots of historic exhibits about this LA garden.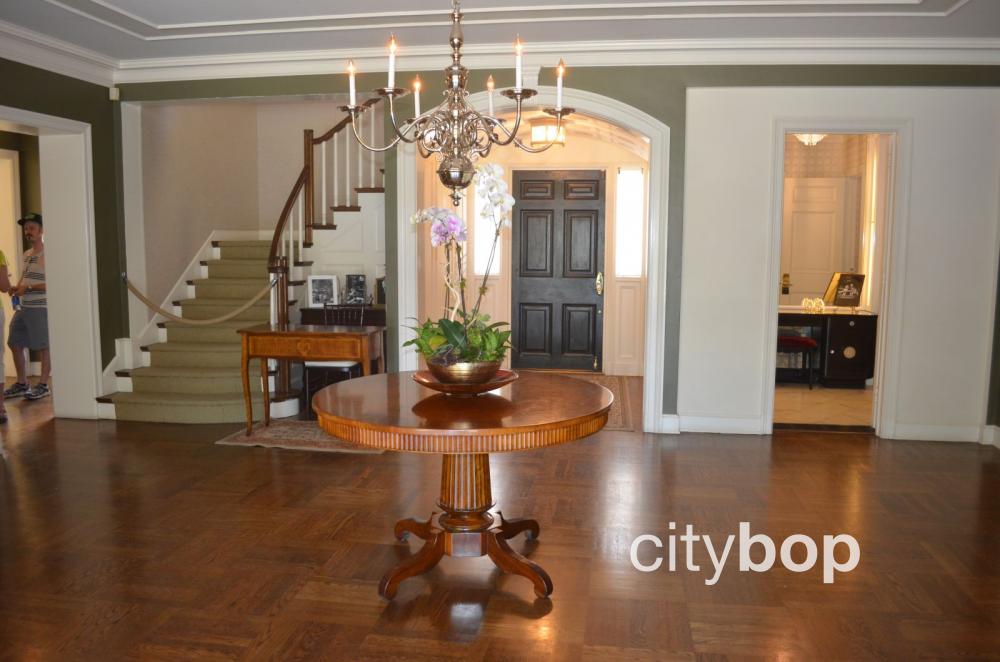 Descanso Gardens Tourist Guide
Look at the gorgeous parquet floor, and ornate chandelier.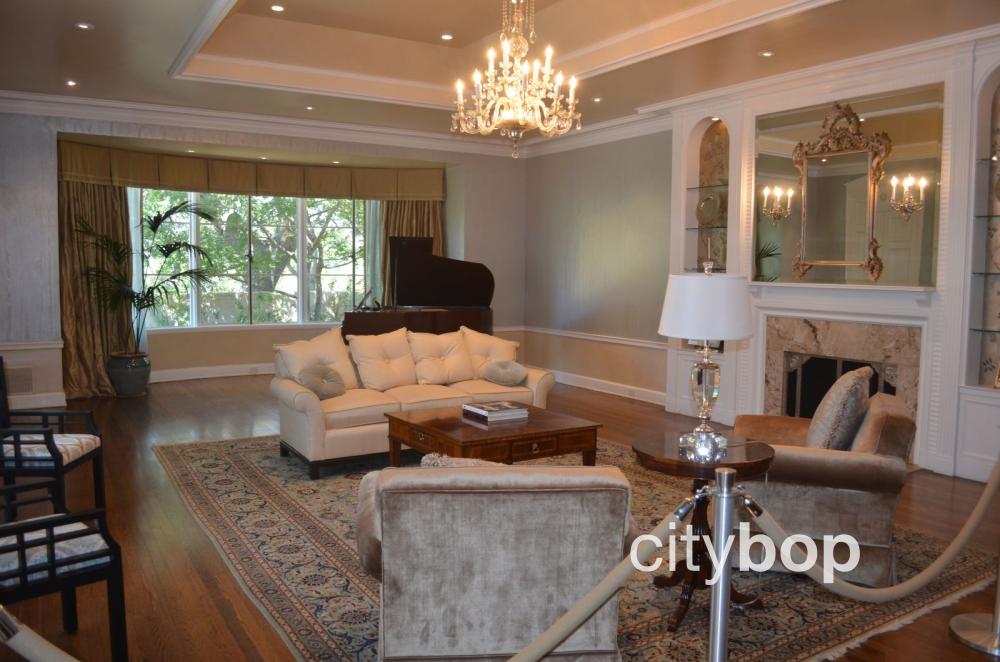 Descanso Gardens Boddy House living room
Boddy was an influential figure. This is the living room at Boddy House where he entertained the founder of Time Inc, Henry Luce. Queen Wilhelmina of the Netherlands also visited here. The marble inlay fireplace is gorgeous.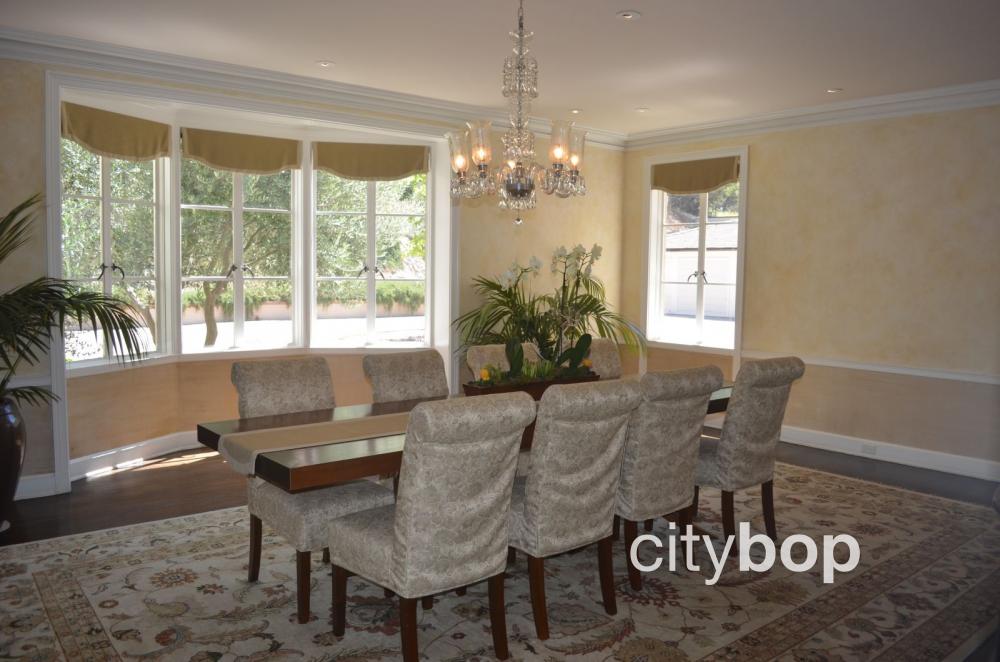 Descanso Gardens Boddy House dining room
The Boddy House at Descanso Gardens Pasadena received a 2007 grant by the Ahmanson Foundation to restore this LA garden. The original light fittings are here. Look at the beautiful bay windows.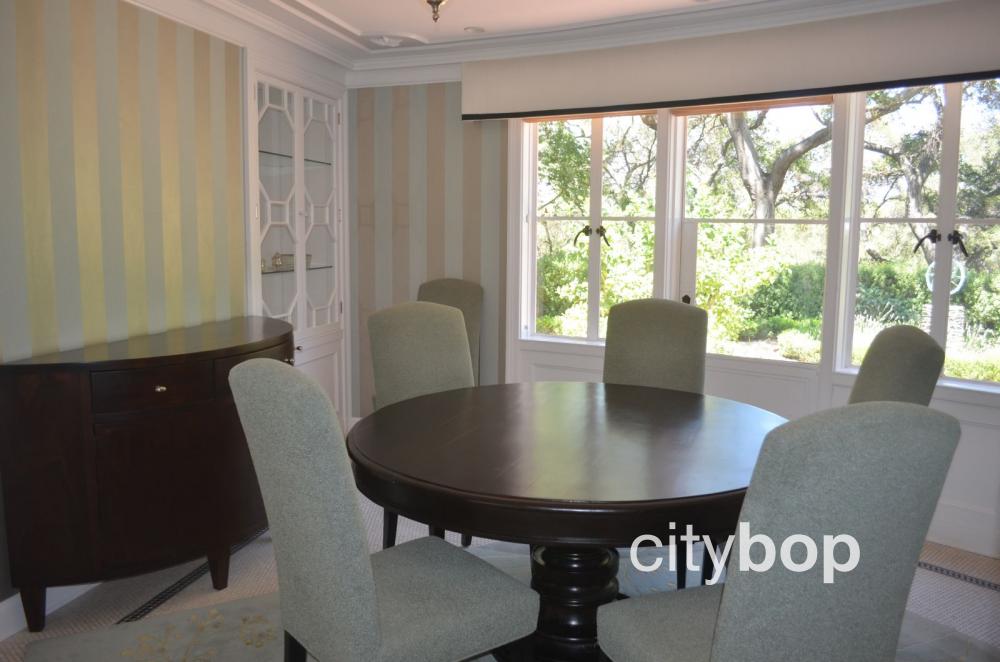 Descanso Gardens Boddy House meeting room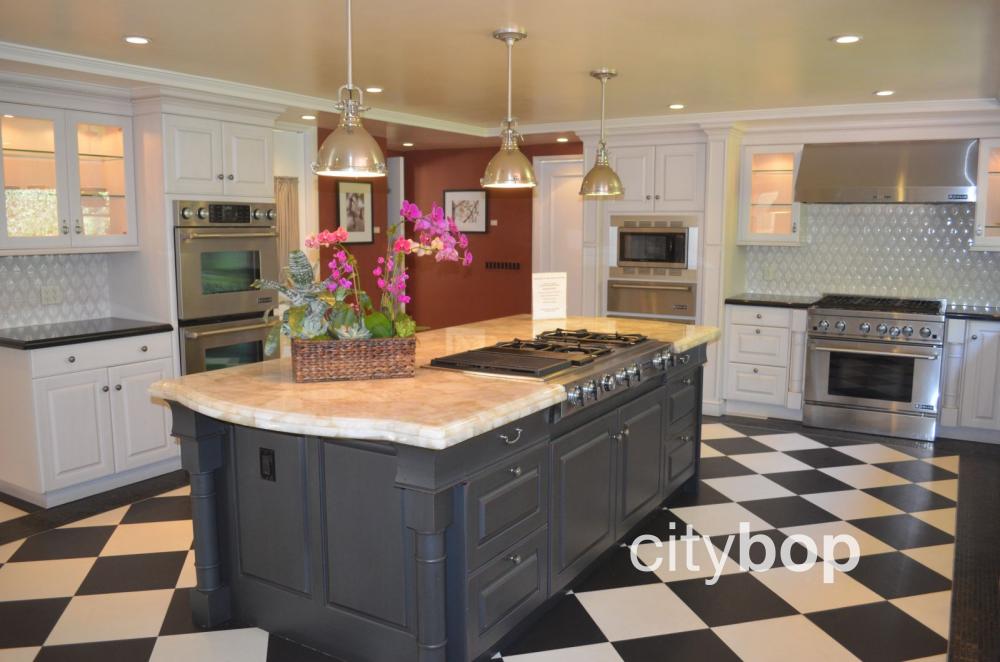 Descanso Gardens Boddy House kitchen
This is not the original kitchen. It was added later to ensure that the Boddy House could support catering for larger events. You can book a reception for up to 100 people at the Boddy House and lawn.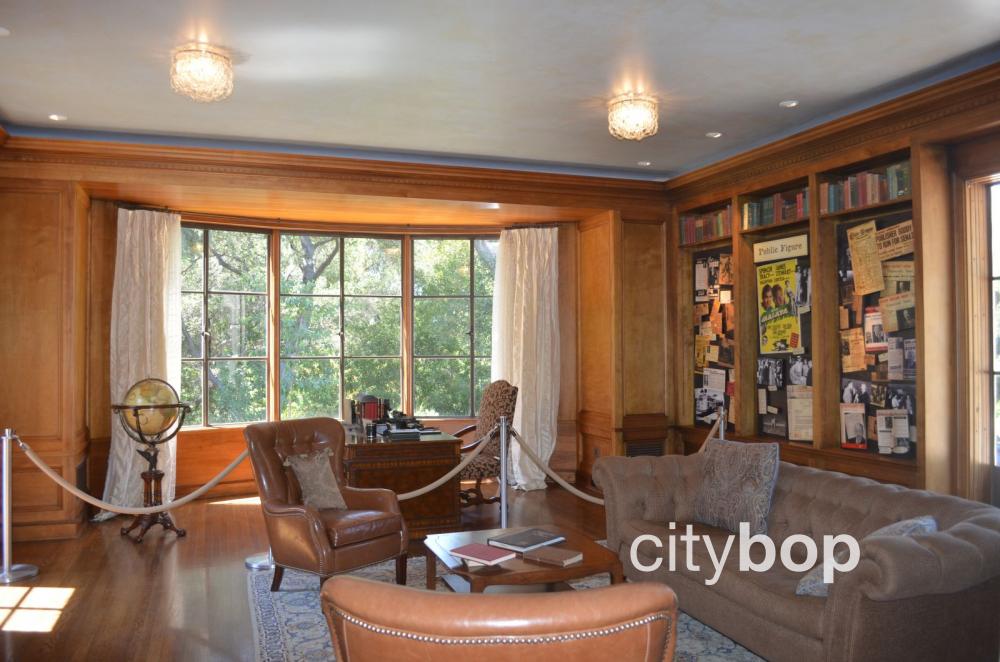 Descanso Gardens Boddy House study
This is Boddy's study at Boddy House. Can you imagine Boddy sitting at this desk writing his popular newspaper columns? The bookshelf is full of his writings and memorabilia. The wood panelling gives this room a more masculine feel.
Look at the newspaper clippings in the display shelf. One reads "Publisher Boddy to run for Senate". In 1950 Boddy ran for the Californian Senate seat before eventually dropping out of the race. Richard Nixon ended up winning the seat. This put Nixon on the path to becoming President.
Boddy had a rags to riches story. He was born into poverty in a cabin in Lake Tapps, Washington State, and after a series of odd jobs eventually became a salesman for Encyclopedia Britannica in NY. He was injured in WWI from a German mustard gas attack, and returned home to continue selling encyclopedias.
Boddy moved out to the West Coast to improve his health in the warmer climate. In 1926 he became Editor of the NY Illustrated Daily News owned by the Vanderbilts. Boddy then aquired the paper from the Vanderbilts after it went into bankruptcy. He was so successful that the paper began turning a profit in the 1930s and 1940's. This was because Boddy adopted a celebrity, tabloid-style format which resonated with the public.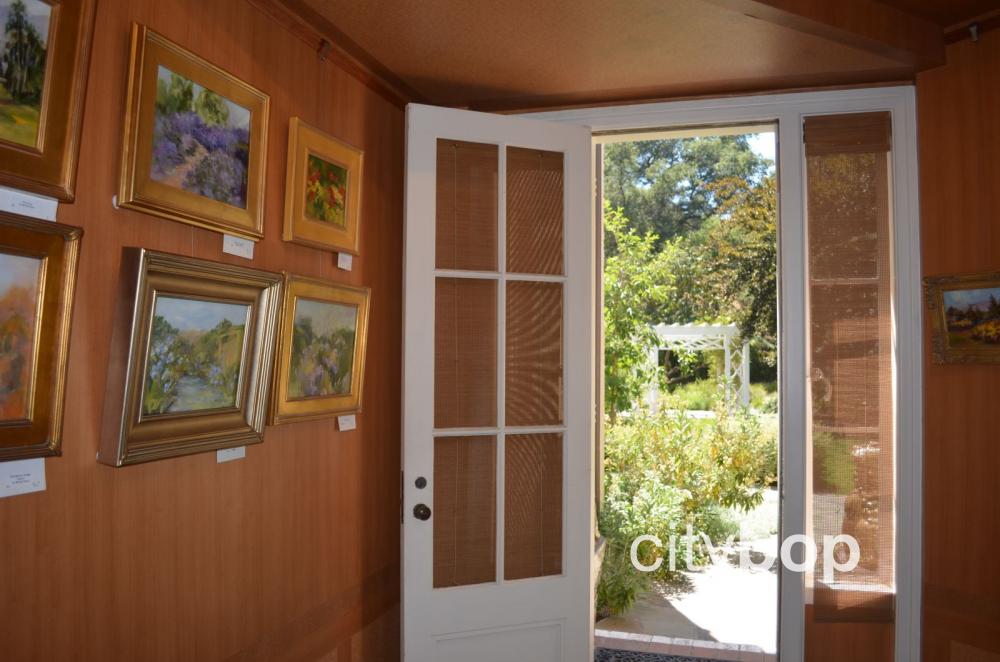 Descanso Gardens Boddy House art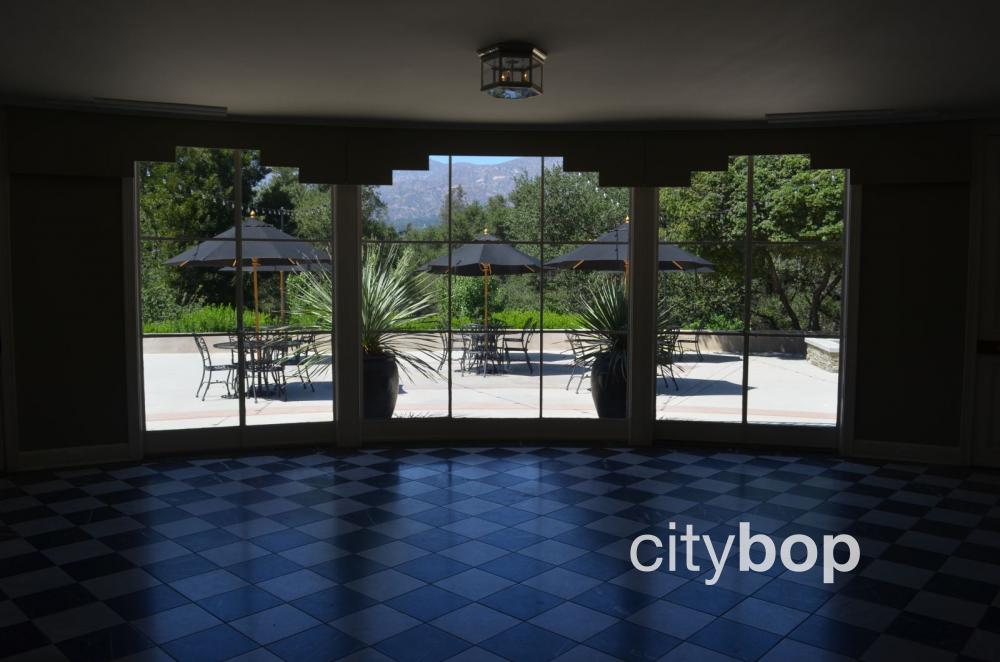 Descanso Gardens Boddy House patio
Enjoy magnificent views of the San Gabriel mountains through an olive grove. The chessboard black and white tile is exquisite. It infuses the room with 1930's Hollywood glamour. Some fabulous parties were probably thrown here overlooking this stunning LA garden.
8. Browse art exhibitions at the Sturt Haaga Gallery.
The adjacent garage has been beautifully renovated to accommodate the Sturt Haaga Gallery, with ten rotating exhibitions each year.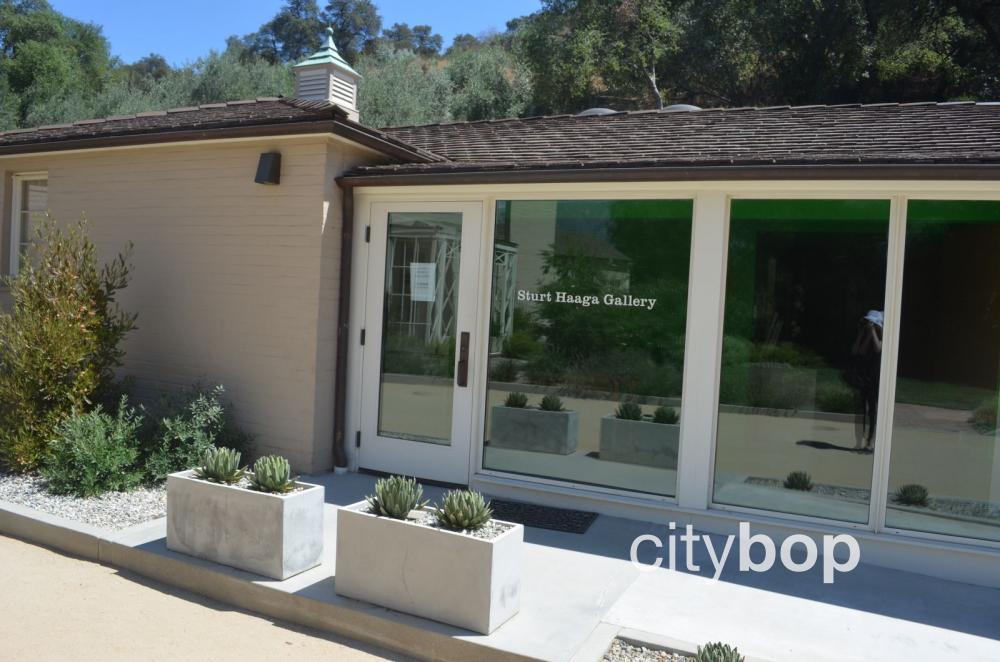 Descanso Gardens art gallery
The Sturt Haaga Gallery has three gallery spaces across 1,500 square feet. There's a modern extension to the garage to house the gallery. What a great use of space at Descanso Gardens.
9. See the vertical garden and living roof at Erskine Garden.
The Erskine Garden is in the courtyard of the Boddy House, and has a beautiful vertical garden and a living roof.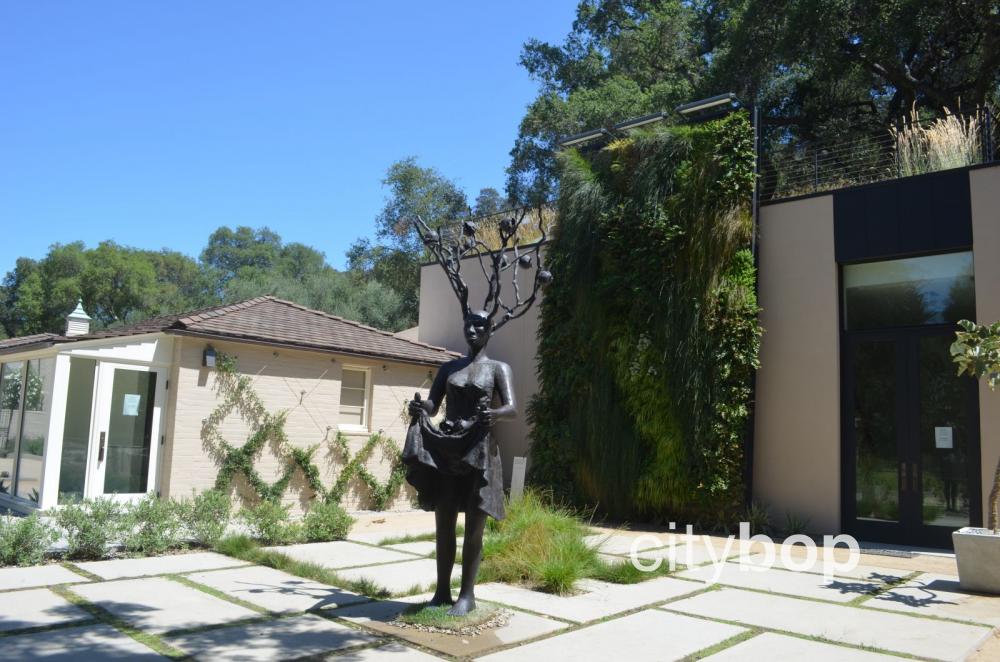 Descanso Gardens: BEST Attractions
The Fall sculpture is by Alison Saar (2011). This bronzed goddess is making some type of offering. The Descanso Gardens is full of oak trees with acorns, so perhaps she is offering up acorns. The overall effect of this LA garden is very dramatic.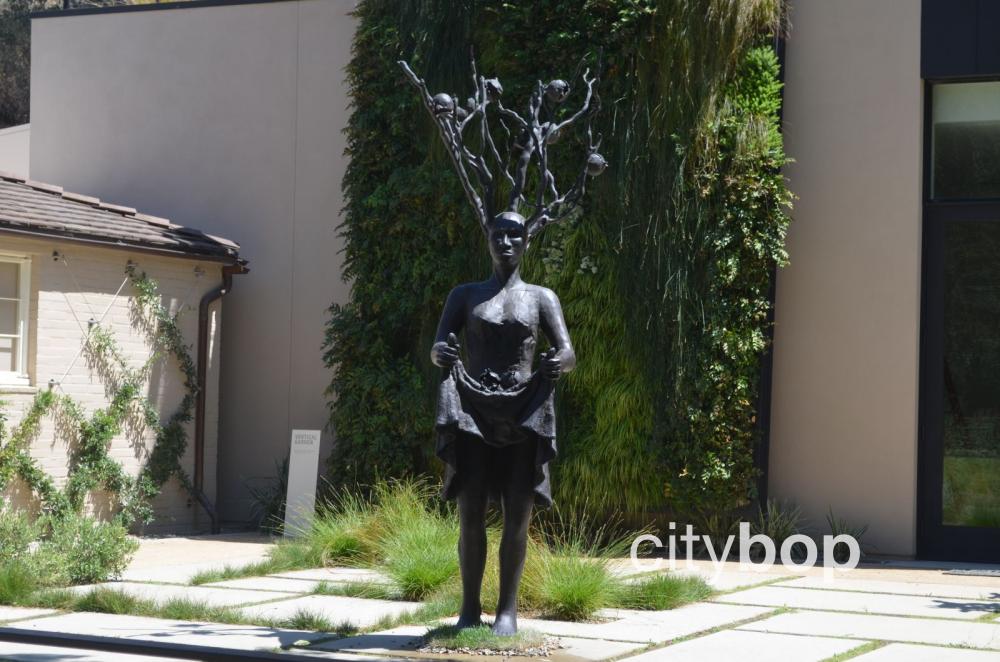 Descanso Gardens sculpture
Here's a closer look at the sculpture at Descanso Gardens.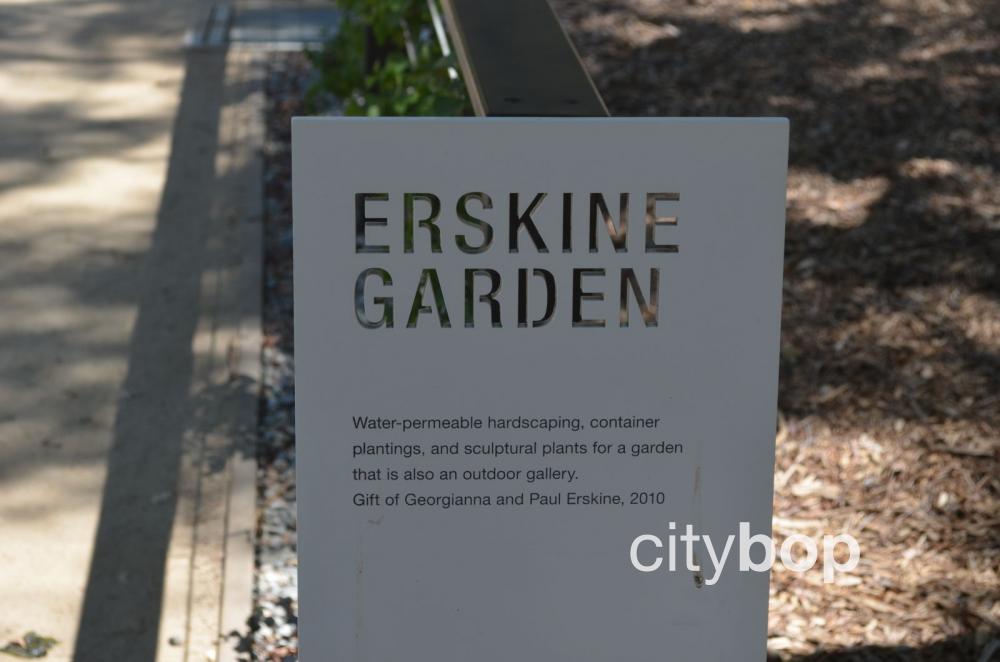 Descanso Gardens Erskine Sign
10. Celebrate Holiday lights and Halloween pumpkins.
The Descanso Gardens is home to popular seasonal events that sell out quickly.
In October the Carved event features a 1-mile pathway lined with illuminated pumpkins around this LA garden. A 1,000 pumpkins are decorated by skilled artisans.
In late November and December the Forest of Light transforms another 1-mile pathway into a magical, winter wonderland. The illuminated trees are absolutely stunning. Purchase tickets.
Explore Descanso Gardens with kids.
Kids will love the miniature railroad. The 5-minute railway ride traverses a small section of the gardens near the Promenade.
The yellow train is a 1/8th scale replica of a diesel train. Parents can even ride along too! Listen to the clank of the bells as the train approaches pathways. At one point the train even crosses a bridge and passes through a tunnel. This is a great way to see the gardens. Check here to see if the railroad is open.
The lake on the east side of Descanso Gardens has slider turtles, swans and ducks. The turtles were relocated from Swan Lake at the LA Zoo in 1991.
This lake is where Boddy used to launch his boat and is a wonderful place for bird watching. There's a Bird Observation Platform at the lake that is fun for kids to climb. It was built in 1961 by the San Fernando Valley Audubon Society. See an incredible variety of birds like finches, blackbirds, thrushes, warblers, jays, larks and crows.
Kids can also check out the koi at the Mulberry Pond and Japanese Garden Pond.
Descanso's Maple Restaurant also has a kid's menu. There's a Gift Shop next store with fun toys.
What's blooming at the Descanso Gardens?
Call ahead to check if your favorite flower is blooming: 818-949-4200.
Here's a rough guide to what's likely to be blooming at this LA garden:
Camellias: September thru May.

Roses: May thru October.

Cherry Trees: January thru February.

Irises: March thru May.

Azaleas: May.

Daffodils: February thru March.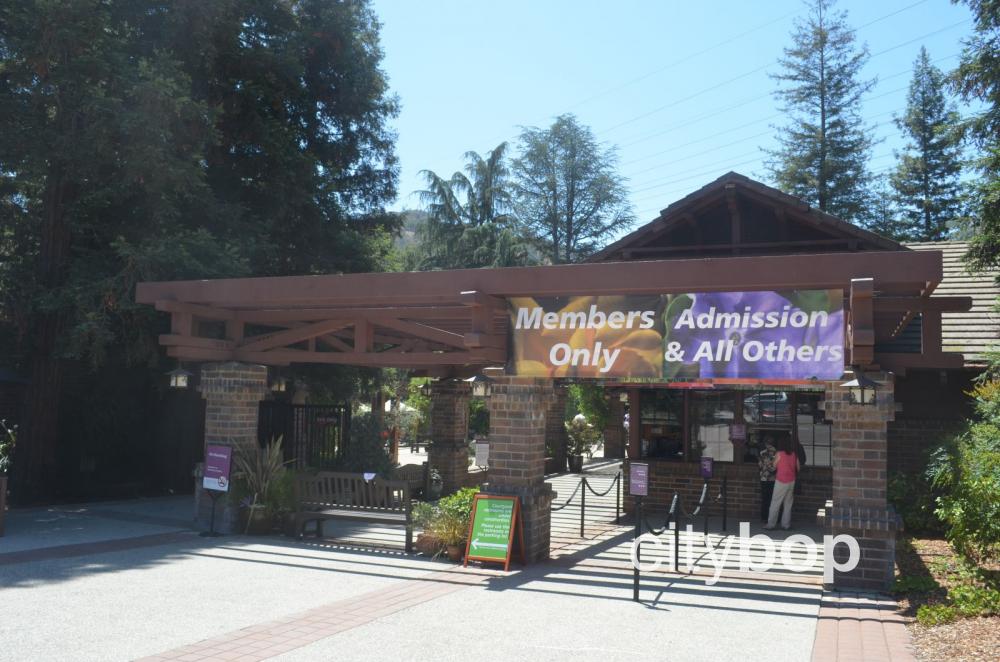 Descanso Gardens Entry
Know before you go
Address: 1418 Descanso Drive, La Canada Flintridge, CA 91011.
Descanso Gardens hours: check here.
Admission: check here.
Parking: free.
Things to do nearby
Visit the incredible Huntington Library, Art Museum and Botanical Gardens 10-miles southeast.

Enjoy upscale restaurants and shops at nearby Old Pasadena along Colorado Boulevard.

Travel 9-miles southwest of the Descanso Gardens to the LA Zoo in Griffith Park.
More Gardens in Los Angeles