Head to Venice Beach to watch talented skateboarders at the legendary skate park.
It's easy to spend a few hours at the Venice Skate Park, watching talented skateboarders perform tricks!
The Venice Skate Park is located just off the Venice Boardwalk at 1800 Ocean Front Walk, Venice Beach. The closest cross-streets are Market Street and Speedway.
The 16,000 square foot skatepark was constructed in 2009 at a cost of $3.5 million to the city, and is the most expensive in the world.
There was a 20-year campaign to get the skate park built, spearheaded by local skateboarding legend Jesse Martinez. Check out the documentary "Made in Venice" (2016) to learn all about the hard fought campaign to get it built.
5 best things about Venice Skate Park
1. Anyone can watch - it's free!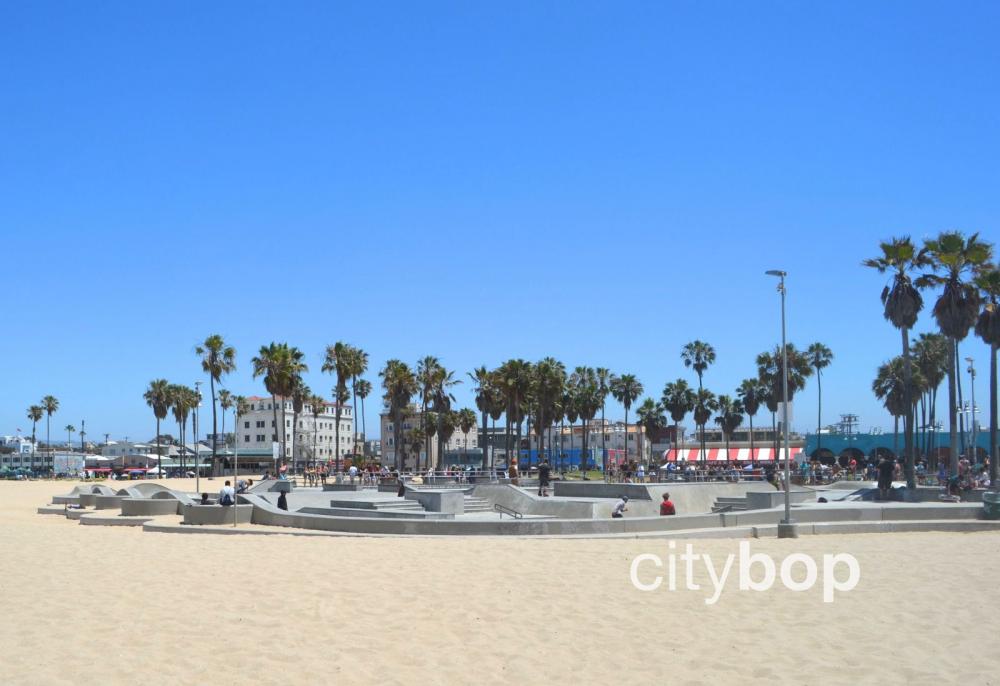 Venice Skate Park: 5 BEST Things
2. The skateboarders put on a great show with tricks like heel flips, kick flips, grinds and board slides.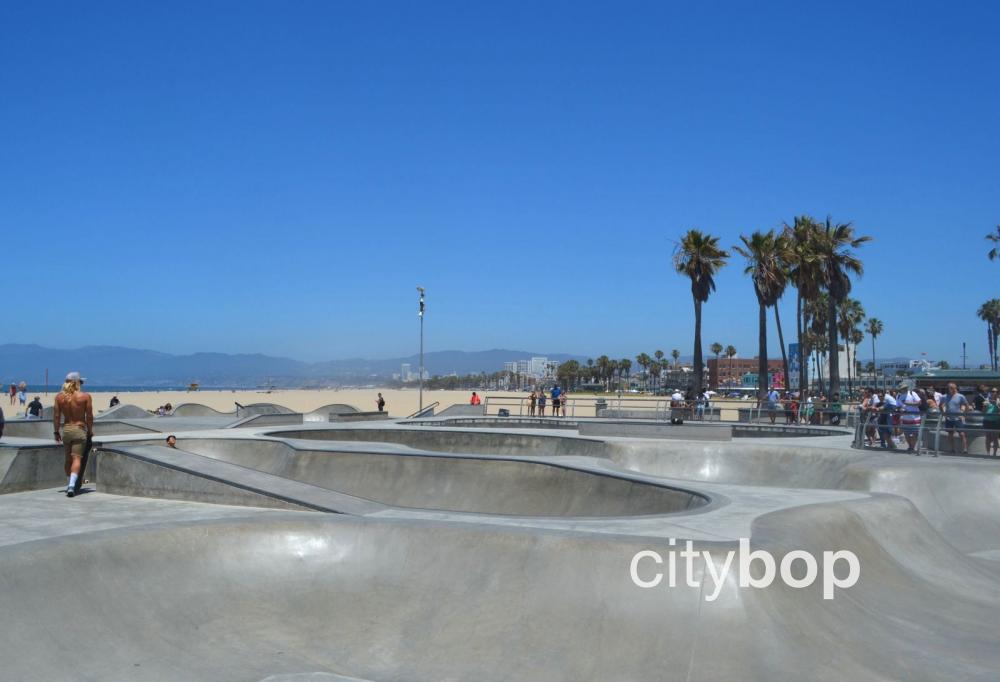 Venice Skate Park: What to Do There
3. The Venice Skate Park has a cool snakerun, ramps, steps and platforms, and resembles two empty swimming pools. It's a super challenging course, and one of the only ones in the world on a beach!
4. This is where skateboarding was invented in the 1970s.
Skateboarding has always been a big part of Southern California's counterculture movement. It emerged in the 1970s during a severe drought when surfers began experimenting with riding skateboards in empty swimming pools.
The Zephyr Skateboarding Team was formed by local teens and surf shops owners in the Venice Beach and Santa Monica areas. These two beach neighborhoods became known as Dogtown.
5. They even made a movie about it!
The Hollywood movie Lords of Dogtown (2005) follows the exploits of the kids who gained national renown for their incredible skateboarding skills at Venice Beach.
Other fun things to do at Venice Beach​.
1. Sunbathe on the golden sands of Venice Beach.
2. Stroll or ride along the vibrant Venice Boardwalk to see street entertainers, fortune tellers, burger joints, and souvenir shops. There's always something new everyday. Along the way you'll see the Muscle Beach outdoor weightlifting area where Arnold Schwarzenegger and Lou Ferrigno used to train.
3. Explore the sidewalks and bridges of the picturesque Venice Beach Venice Beach Canals.
4. Shop and eat at Abbot Kinney in Venice Beach, one of LA's hippest streets, with boutiques, restaurants and gorgeous murals. This street is the definition of California cool.
More Sites & Landmarks in Los Angeles