Visit Grand Park, a beautiful oasis in downtown Los Angeles, with the fountain featured in Pretty Woman!
Downtown Los Angeles has undergone some major revitalization.
One of the great success stories is the revitalized Grand Park, which has 12-acres of lawns over 4 city blocks, including botanic gardens, a fountain, splashpad, cafe, dog park and super cool playground.
This is the perfect place to hang out on a hot day!
Grand Park is like an outdoor living room, where the whole community comes together for musical events, to enjoy a picnic, relax on a park bench, or take kids to the splashpad and playground.
It's located at 200 N Grand Ave, Los Angeles, CA 90012.
10 best things to do at Grand Park Los Angeles
1. Start at the spectacular overlook on Grand Avenue.
The overlook on Grand Avenue has an amazing perspective of the cascading terraces of Grand Park, all the way down to City Hall, with the dramatic fountain in the foreground. Grand Park connects all the art galleries and music halls at the top of Bunker Hill, to the Civic Buildings at the bottom of the hill, like City Hall.
This is the fountain featured in a scene with Julia Roberts and Richard Gere in the 1990 hit, Pretty Woman.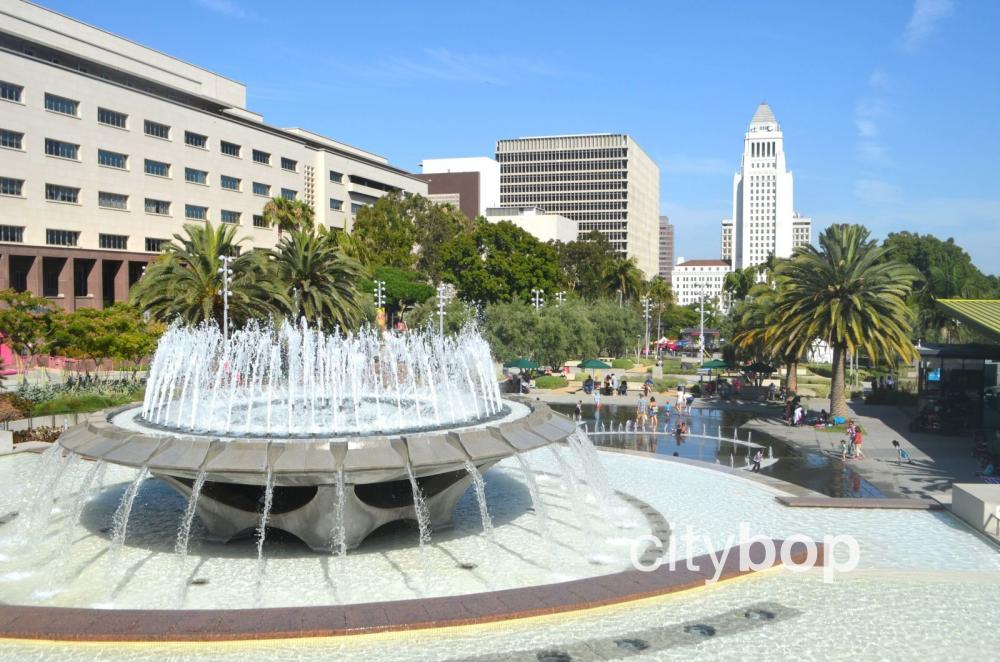 Grand Park Los Angeles: 10 BEST Things to Do
2. Dip your feet in the splashpad below the Arthur J. Will Memorial Fountain.
Kids love to splash around in the lower membrane pool, made from 6,200 square feet of granite. The upper fountain pools are off limits, so you can only hang out in the lower pool.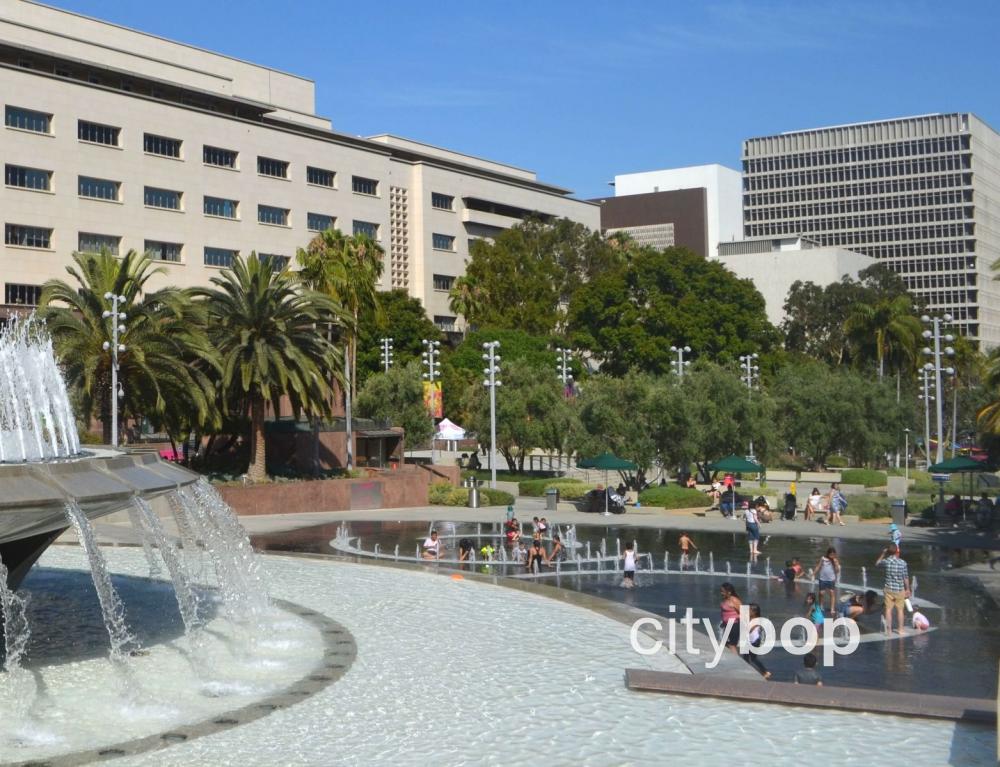 3. Grab some refreshments at the Starbucks, conveniently located next to the splashpad.
Find a relaxing place to sit amongst the bright pink tables and chairs scattered about outside Starbucks, or retreat inside to air conditioned comfort.
4. Visit the Arthur J Will fountain at night when it's beautifully illuminated.
It's worth returning at night when the Arthur J Will fountain is illuminated in striking colors, making this a magical setting. This 1960s-era fountain was restored in 2012, at a cost of $54 million, and has a 60-foot stream of water that shoots up from the central fountain.
5. Attend an outdoor event like a movie or concert on the upper Performance Lawn.
Grand Park incorporates a lot of open green spaces, with an upper Performance Lawn for movie nights and concerts, and a lower Event Lawn that can host up to 15,000 people. Check the latest events.
6. Hang out at an incredible 75-foot long picnic table at Grand Park!
Gather together a group of friends, and plan a meal at the 75-foot long picnic table on the lower terrace of Grand Park, just off N Broadway.
7. Check out the cool playground on the lower terrace.
This brightly colored playground has a 12-foot slide, super cool tunnels and mounds, and a fun treehouse tower. It's for kids aged 2 to 12, located between Spring Street and Broadway.
8. Take fido to the gated dog run at Grand Park on the lower terrace.
Dogs are in for a treat at the Grand Park dog run, located between Spring Street and Broadway, with benches and shaded areas.
9. See incredible views from the 27th floor observation deck at City Hall.
Stunning City Hall is at the end of the Grand Park promenade on N Spring Street. This art deco building was completed in 1928, and was once the tallest in L.A. City Hall has a free observation deck on the 27th floor with amazing views of Grand Park and L.A. It's usually open during business hours.
10. After visiting Grand Park, visit other great attractions in downtown Los Angeles

.
There's so much to see in the newly revitalized downtown Los Angeles, like The Broad (art gallery), Angels Flight (railway), and The Last Bookstore.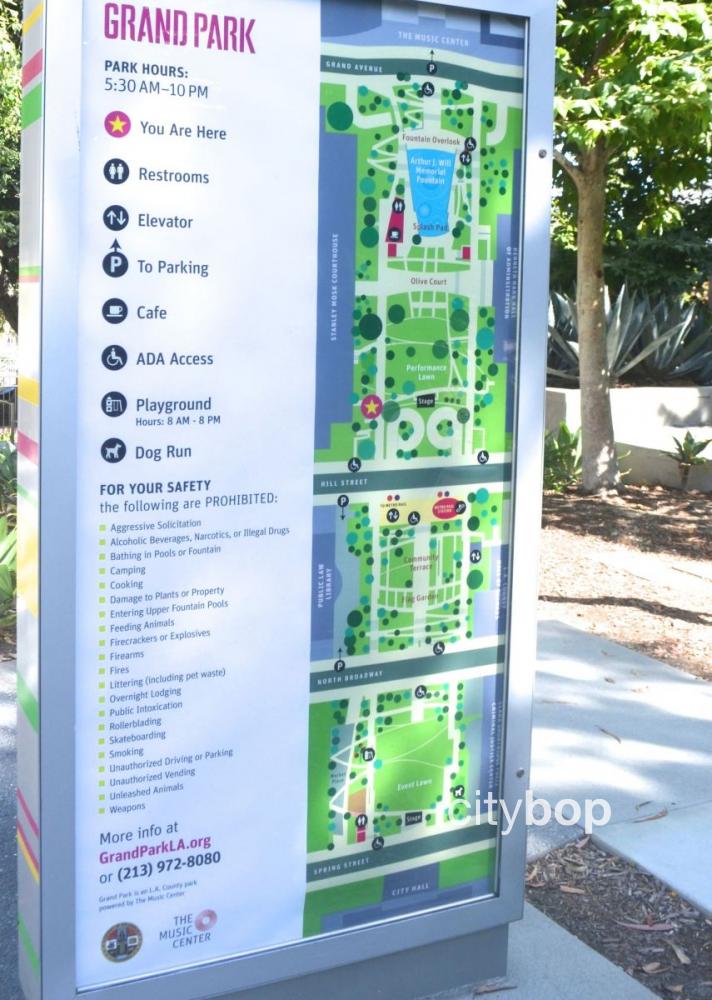 Know before you go
Address: Across the road from the L.A. City Hall, downtown L.A.
More Parks & Nature in Los Angeles