Rodeo Drive provides the ultimate luxury shopping experience.
Rodeo Drive has luxury retailers like Chanel, Prada, Gucci and Jimmy Choo along a sophisticated, palm-lined boulevard.
This place oozes wealth and provides a glimpse into the alternate reality of the ultra rich. Expect to see top-of-the-line Lamborghinis, Ferraris and Bentleys cruising along Rodeo Drive.
10 BEST things to do on Rodeo Drive
1. Shop for clothes and accessories.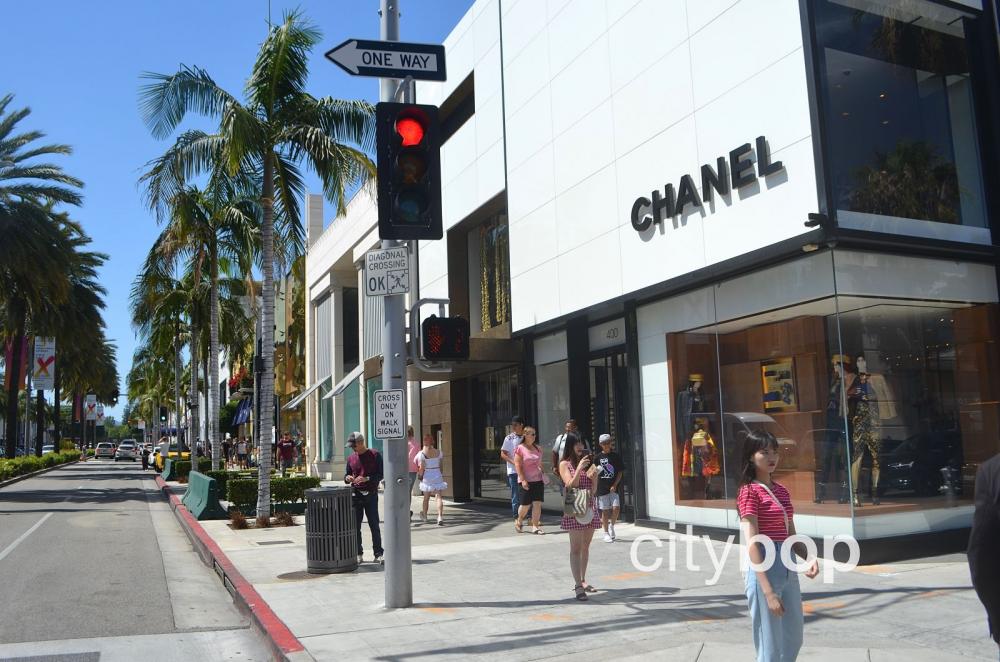 Rodeo Drive shopping
Choose from luxury brands like Chanel, Jimmy Choo, Tiffanys, Carolina Herrara, Lanvin, Versace, Louis Vuitton, Burberry, Dior, Guess, Dolce and Gabbana, Prada, Tom Ford, Tory Burch, Cartier, Hermes, Max Mara, Ralph Laurent and Celine.
2. Stop by the Beverly Hills Visitor Center for maps, brochures and coupons.
Get maps, brochures and coupon books at the Beverly Hills Visitor Center (9400 S Santa Monica Boulevard, 90210), just a 5 minute walk from Rodeo Drive. Browse the vintage photos of Beverly Hills, and take a photo in front of the famous brown and yellow Beverly Hills shield street sign at the Visitor Center.
3. Stroll along the charming cobblestone alleyway, 'Two Rodeo Drive'.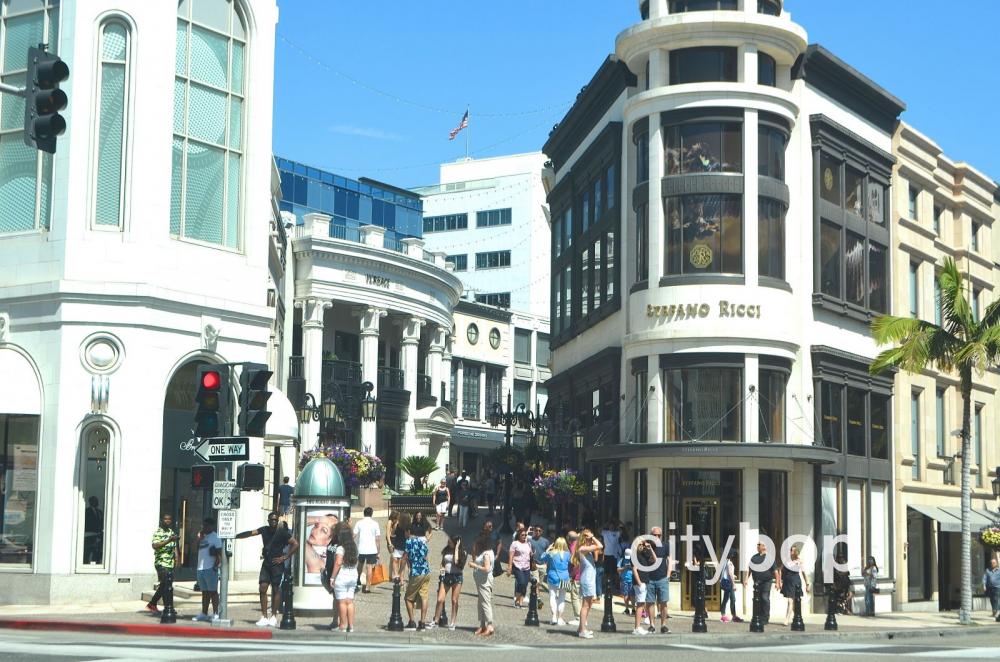 Two Rodeo Drive
Two Rodeo Drive is a cobblestone pedestrian alleyway off Rodeo drive, with faux Classical buildingss, beautiful floral arrangements and old world lamp posts. Take a photo of the magnificent staircase and fountain adjacent to Tiffanys, or stop for a meal at 208 Rodeo in a romantic, alfresco dining setting.
4. Visit the 'Pretty Woman' hotel in Beverly Hills.
Cross the road to the italian-renaissance style Beverly Wilshire hotel where the external shots for the movie Pretty Woman were filmed. Elvis Presley and John Lennon lived here at various times. Get your nails done at The Nail Bar as you watch the Pretty Woman movie play on continuous loop.
5. Check out the $1.6 million yellow Rolls Royce.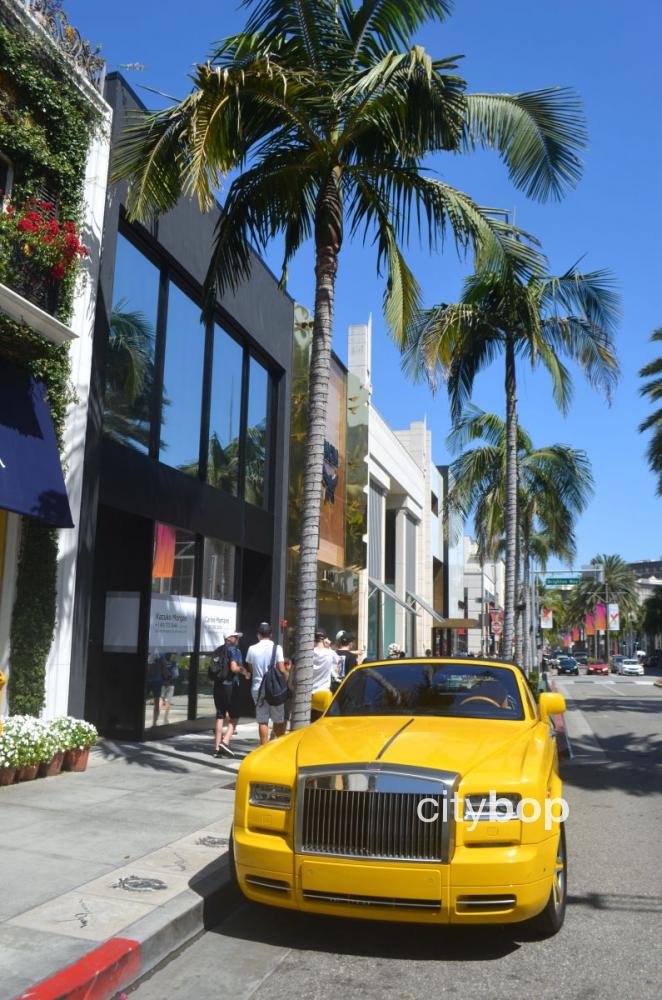 Rodeo Drive Phantom Rolls Royce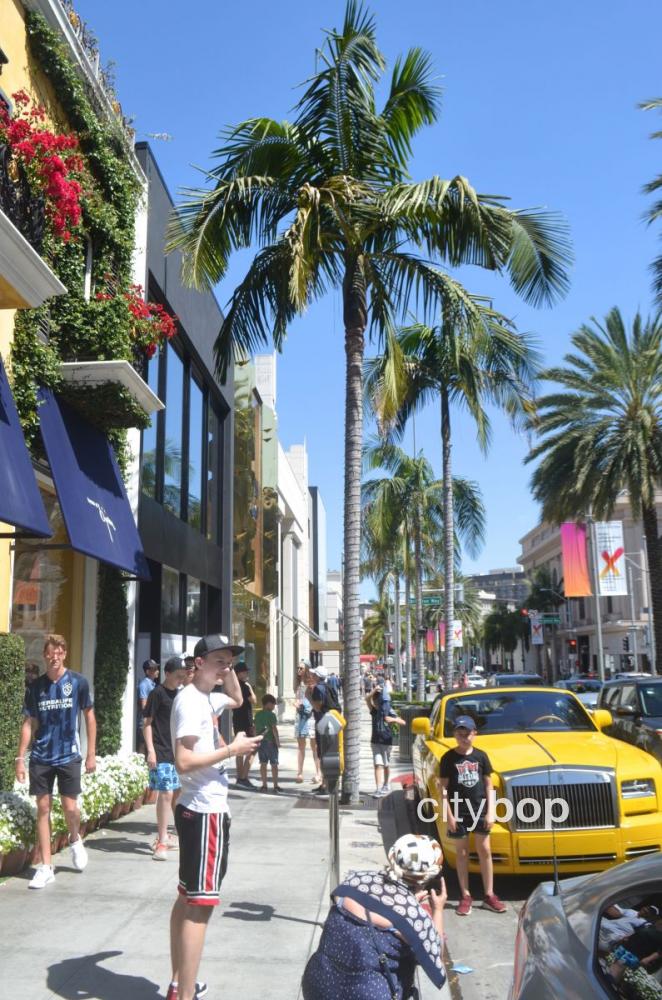 Check out the $1.6 million yellow Rolls Royce Phantom Drophead Coupe (pictured) often parked outside the men's boutique House of Bijan. This is one of the most expensive menswear stores in the world, responsible for dressing five presidents.
6. Take a photo at the iconic Beverly Hills Sign.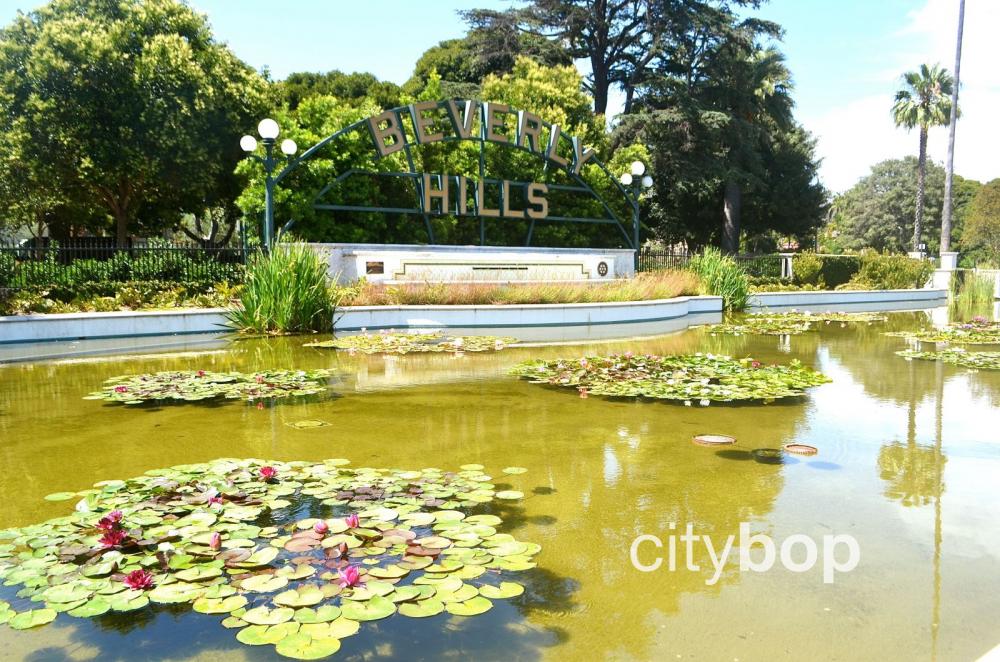 Take a photo of the iconic Beverly Hills sign one block north-east of Rodeo Drive at the Beverly Hills Garden. It's on Santa Monica Boulevard (between Canon Drive and Beverly Drive).
7. Check out public art at the Beverly Hills Garden.
See beautiful sculptures at the Beverly Hills Garden. Start at the intersection of Rodeo Drive and Santa Monica Boulevard, and see amazing sculptures like Erratic, Hymn of Life: Tulips, Endless V, The Drummer, Hunter and Hounds, Playground, and Sitting Figure on a Short Bench. There's 4 blocks of art along Santa Monica Boulevard between Rodeo Drive and N Rexford Drive.
8. Visit an enchanting courtyard with restaurants at the Beverly Canon Gardens.
Walk two blocks east of Rodeo Drive to the Beverly Canon Gardens (241 N Canon Drive, 90210). This enchanting courtyard is stunning, and resembles a European piazza with colonnades and a fountain. Enjoy a gelato, coffee or crepe at the Sweet Beverly cafe.
9. Treat yourself to a sweet treat at Sprinkles Beverly Hills Cupcakes.
Walk two blocks west of Rodeo Drive to the Sprinkles Beverly Hills Cupcakes for some sweet treats (9635 S Santa Monica Boulevard, 90210). It's brightly colored exterior is Instagram worthy. Don't forget to check out the fun cupcake ATM!
10. Visit the mansion that's the most popular filming location in the world.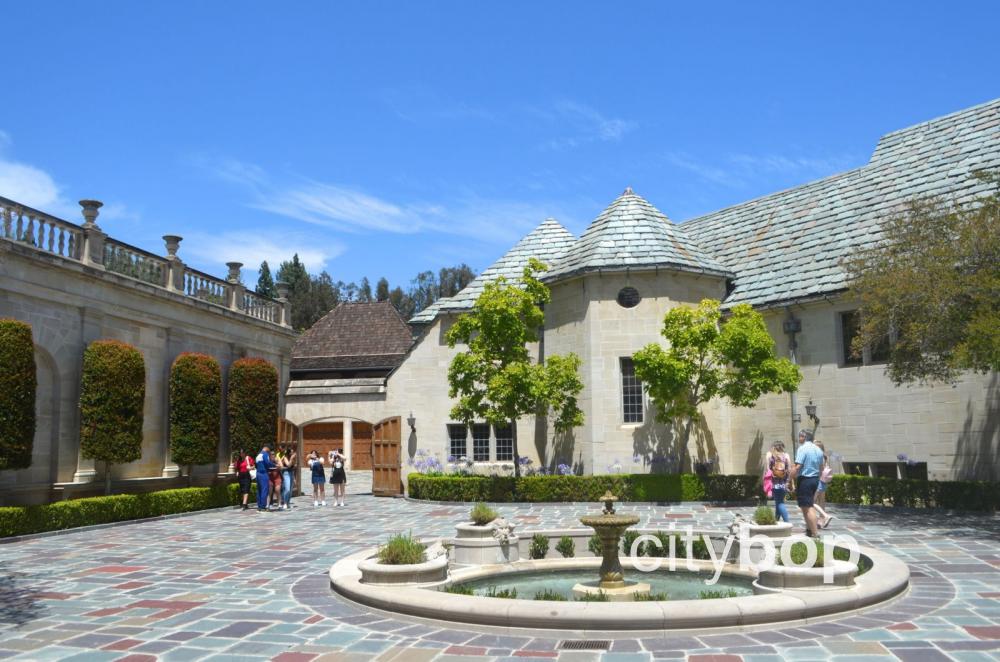 When in Beverly Hills, set aside some time to visit the Greystone Mansion featured in many blockbusters movies like Spiderman. It's 2-miles north of Rodeo Drive, and the grounds are free to visit.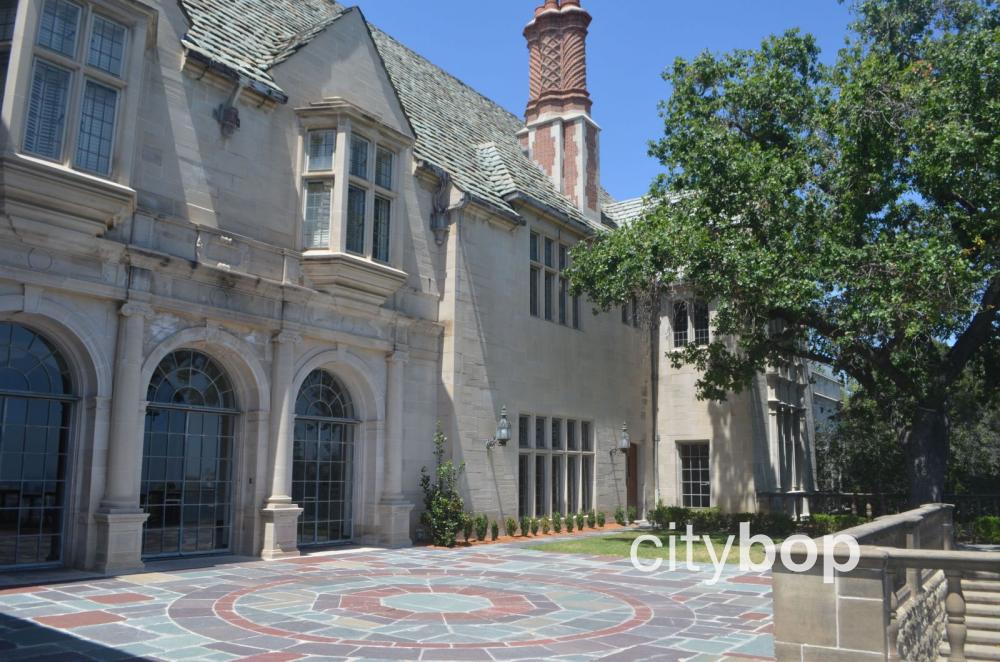 The Greystone Mansion has a stunning Front Terrace with soaring views.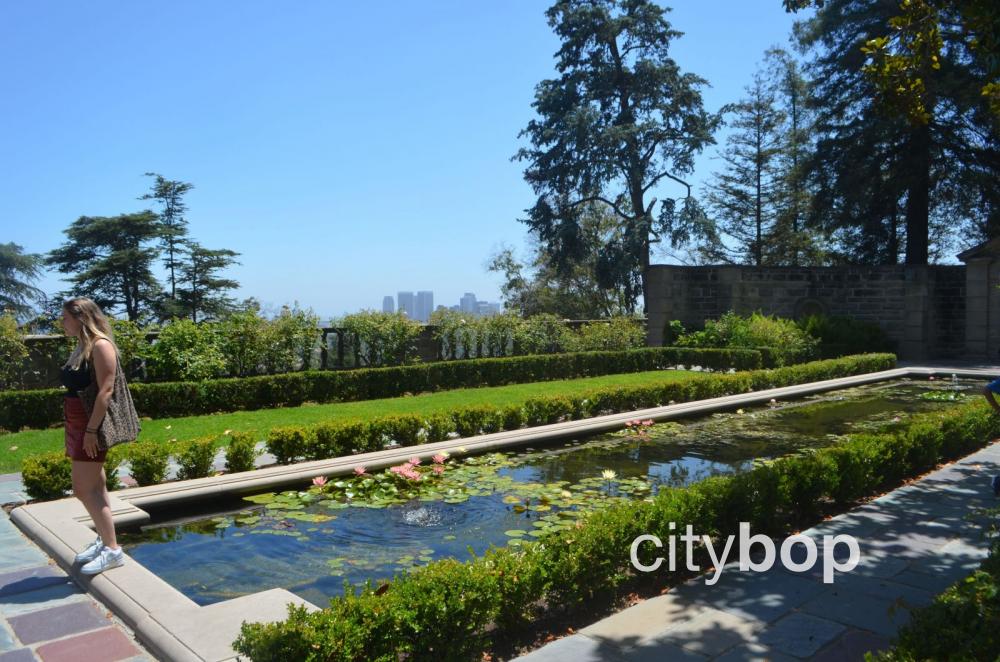 The Reflecting Pond is the perfect place for a photo.
More Restaurants & Shopping in Los Angeles