Malibu has 21-miles of dramatic coastline along the Pacific Coast Highway.
Malibu is 7-miles northwest of Santa Monica up the Pacific Highway, and attracts 15 million visitors each year.
The backdrop to Malibu is the stunning chaparral slopes and deep canyons of the Santa Monica Mountains.
Malibu was incorporated as a city in 1991, and extends 21-miles from Topanga Beach to Leo Cabrillo State Beach.
10 best things to do in Malibu
1. Stroll along Malibu Pier and eat at a waterfront restaurant and cafe.
The 780-foot historic Malibu Pier has both a restaurant and cafe. The more casual Malibu Farm Pier Cafe is at the pier's end.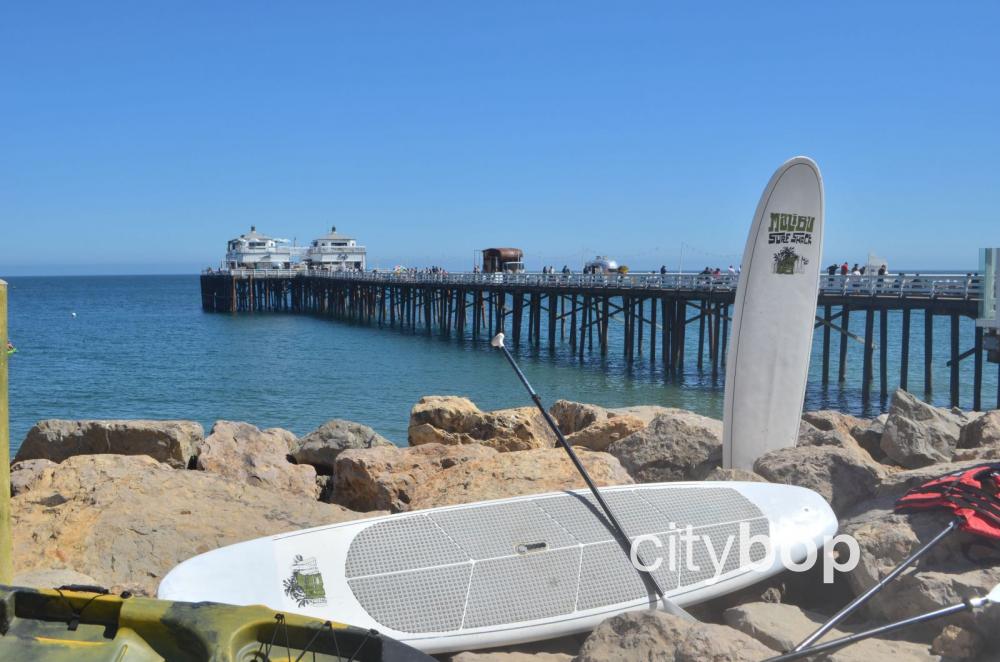 Visit Malibu Pier
Zuma Jay's is up the road from the pier and has surfboards, kayaks, and wet-suits for rent, and also sell surf gear. See sea lions, dolphins and otters while out on the water!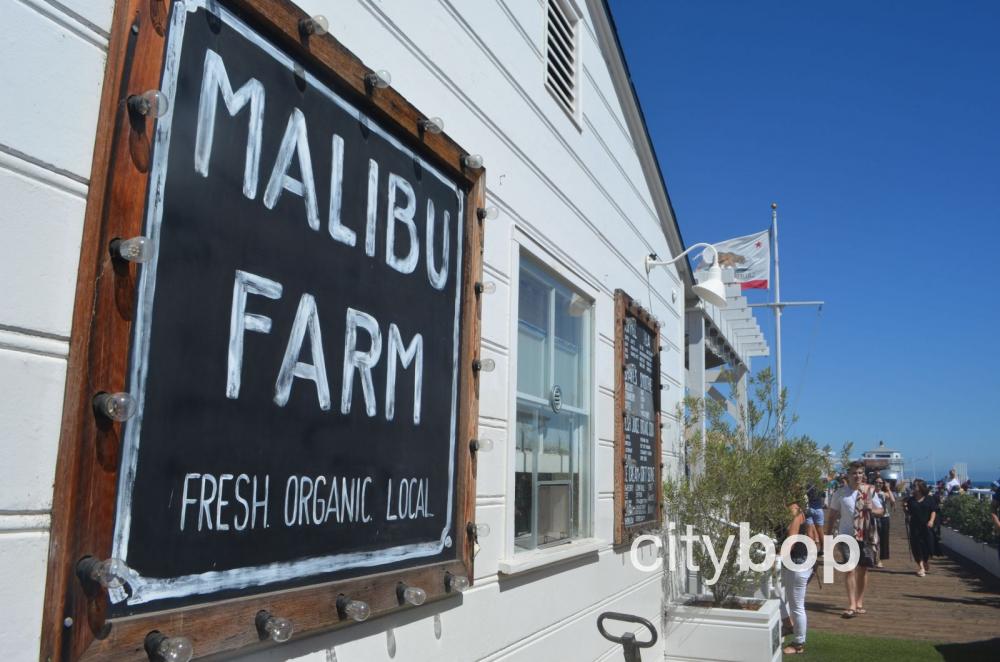 Malibu Pier restaurants
The trendy Malibu Farm Restaurant is at the historic pier's entrance, and has stunning water views.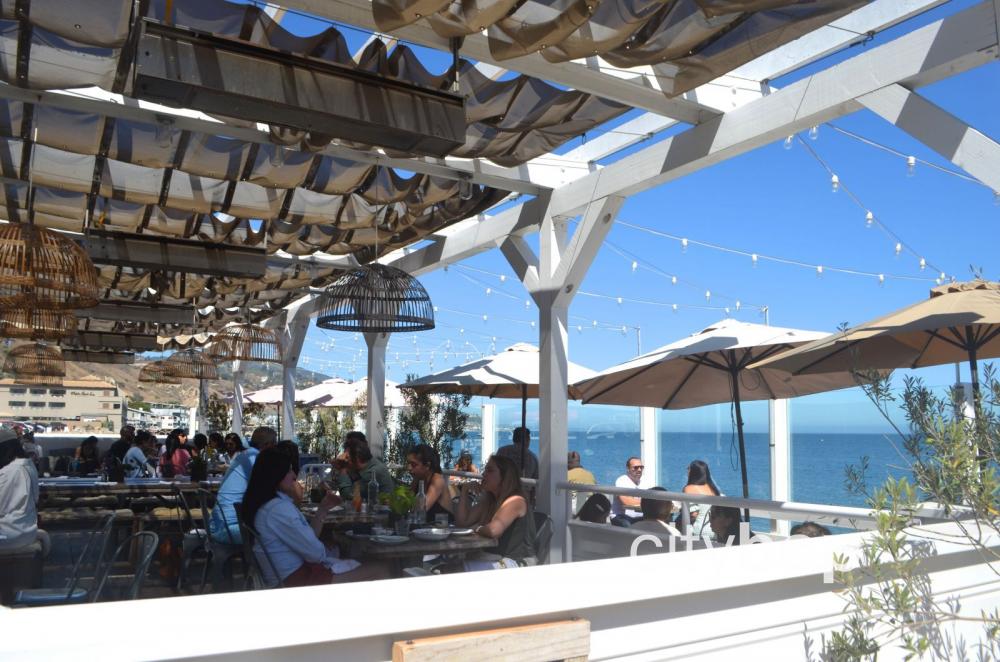 Eat at Malibu Pier
Eat on the patio with umbrellas for shade and sweeping views of the coastline.
Or find a table at the entrance to the historic Malibu Pier.
2. Swim at Surfrider Beach.
The famous 1-mile Surfrider Beach is adjacent to the Malibu Pier and has seasonal lifeguards and restrooms. Surfrider Beach gained fame in the surfing movie Gidget (1959) and became a hot spot with surfing pioneers of this era. Check out the surf break on the right side of this photo!
3. See prolific birdlife at the serene Malibu Lagoon State Beach.
The Malibu Lagoon State Beach is west of Surfrider Beach, across Malibu Creek. It offers a more serene experience with a broad sandy beach set amongst a 20-acre bird estuary and saltwater marsh. You can walk to historic Adamson House from here.
4. Visit the historic home of the family who once owned most of Malibu.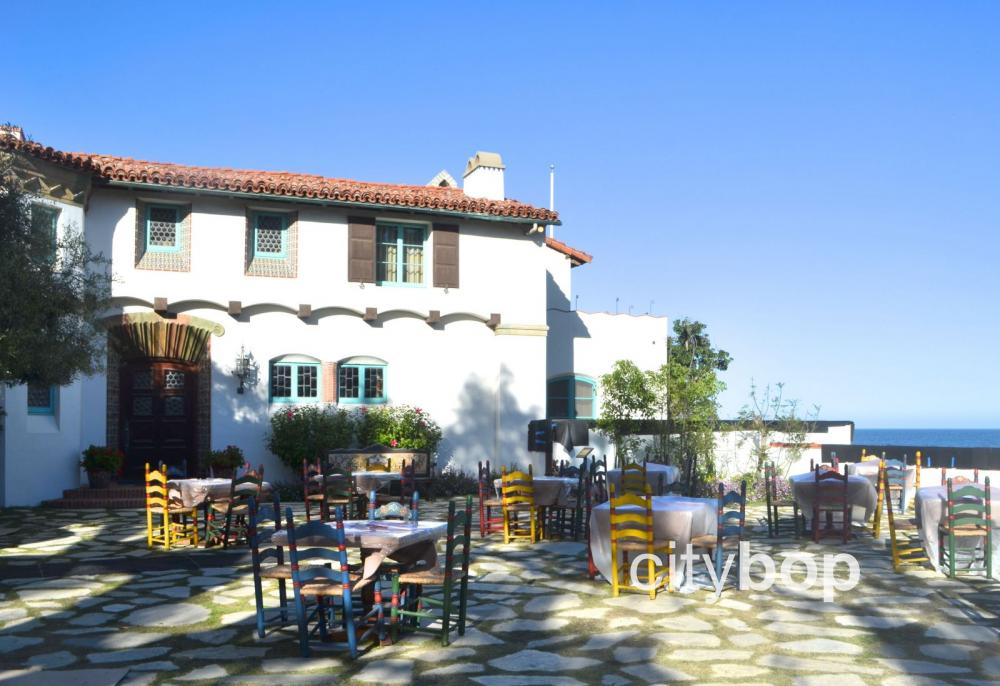 Adamson House at Malibu
Adamson House was built in 1929 as a beach house by the daughter of the wealthy Rindge family, who once owned most of Malibu. Check admission and hours (cash only).
Malibu was exclusively populated by the Chumash Indians, until 1542 when it was discovered by the Spanish explorer Juan Rodriguez Cabrillo. When the Spanish returned to create their Californian Mission System, they established a 13,000 acre land grant at Malibu in 1802, and the land grant passed through three owners before being purchased by the wealthy Rindge family in 1891.
The Rindge family became the final owners of the Rancho Malibu land grant (modern Malibu today) and expanded it to 17,000 acres. The Rindge's enjoyed many idyllic years in Malibu in relative isolation, because the ranch was difficult for the outside world to access due to its lack of roads and mountainous terrain.
After her husband passed away in 1905, May Rindge fought endless court battles to prevent any development on the ranch and maintain her private property rights. To generate income, May opened a pottery factory near the Malibu Pier that produced ornate tiles, and these tiles were later used in her daughter's beach home at Adamson House near the Malibu Lagoon.
In 1923 a US Supreme Court decision permitted the construction of the Roosevelt Highway (Pacific Highway) through May Rindge's property.
May's land was later subdivided, and one of the most famous subdivisions is the 1-mile Malibu Colony Estate just west of the Malibu Lagoon. May Rindge rented cottages here to Hollywood celebrities in the 1920's, and in the 1930s she allowed them to purchase their homes. Hollywood royalty has always lived here, including Bing Crosby, Gary Cooper, Tom Hanks, Sting, and Jim Carrey.
Mary Rindge finally died in 1941 with deep debts from both the 1930's Great Depression and her own lengthy legal battles. She had fought to preserve a piece of paradise, but ultimately lost out to development.
5. Visit trendy shops and restaurants at Malibu Country Mart.
The mediterranean-style Malibu Country Mart is an outdoor mall that's popular with Hollywood celebrities, and has charming courtyards, fountains, and beautiful landscaping. Hang out at the central courtyard with a playground, or shop at trendy boutiques including Vince, James Perse, Free People and Paige. Enjoy a meal at Marmalade Cafe, or Taverna Tony (greek).
The Malibu Lumber Yard mall is next door to the Malibu Country Mart, and has a sleek, stylish courtyard with 8-foot aquariums. The expansive deck is full of outdoor sofas to relax on. Check out the wonderful Cafe Habana (mexican) owned by model Cindy Crawford's husband Randy Gerber.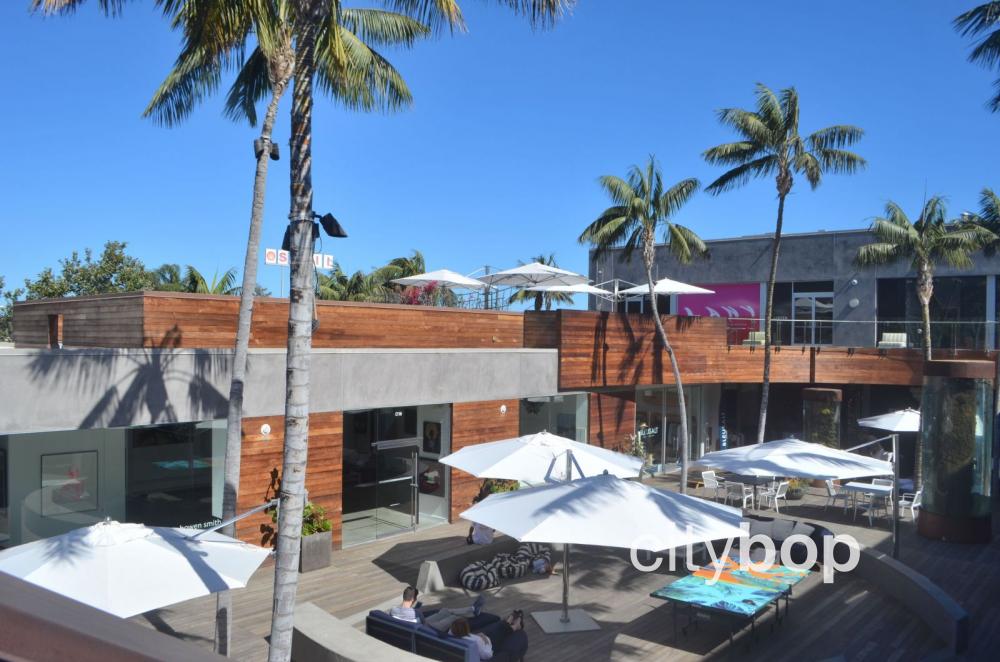 Try some wine tasting at Strange Family Vineyards, and visit the fun Sorenity Rocks next door with the largest quartz cluster in the world! The crystals range in price from a few dollars to a million and are stunningly beautiful. You can also relax in the free sofas, chairs and beanbags beneath the palms, and there's even a ping pong table.
6. Take in stunning views at Malibu Bluffs Park.
This 10-acre park has sweeping coastal views from an overlook with telescopes for whale watching. There are also picnic tables, restrooms, a playground, and two baseball fields, however you can't access the beach from here.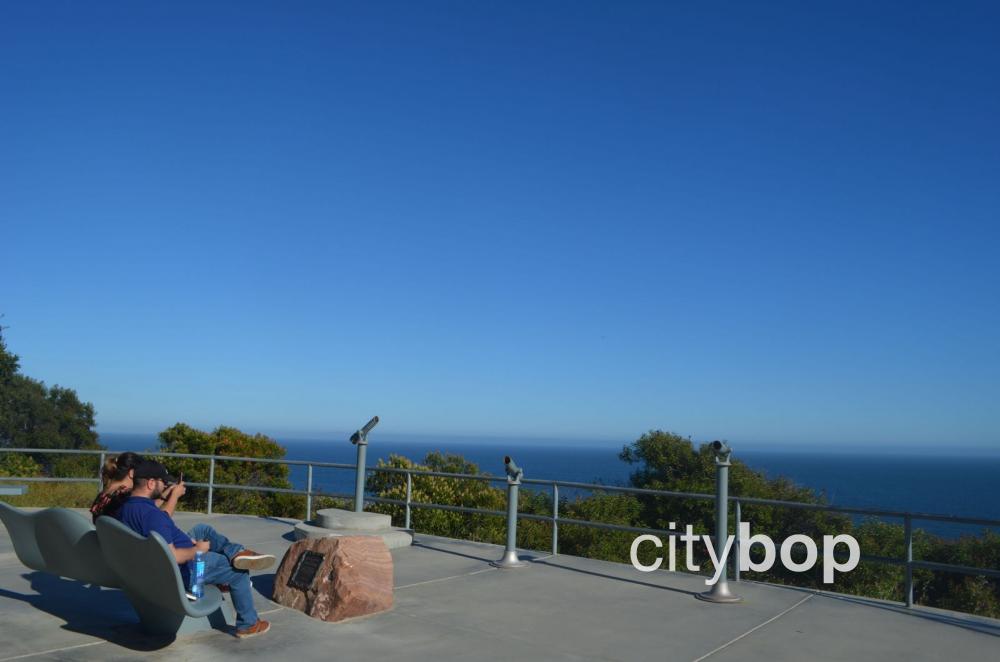 Visit Malibu Bluffs Park
The views down the coastline are incredible!
7. Drive to Westward Beach, 9.2 miles west of Malibu Pier.
Westward Beach is along Westward Beach Road near Point Dume, and has a beachfront parking lot, restrooms, and seasonal lifeguards. Trails lead from the beach to the blufftop at Point Dume. The coastal views of Santa Monica Bay are incredible from here, however you need to stay on the trail to avoid the dangerous cliffs. Not recommended for young kids.
8. Explore Zuma Beach, 9.5 miles west of Malibu Pier.
Zuma Beach is directly west of Westward Beach along Zuma Beach Access Road. It has a larger parking lot and gets busier due to its closer proximity to the highway. There are seasonal lifeguards, a cafe and restrooms. There's also a Starbucks across the road with lots of celebrity sightings.
9. Visit the dramatic El Matador State Beach, 12 miles west of Malibu Pier.
El Matador State Beach has a blufftop parking lot and stairs down to the beach. Unlike the long sandy beaches of Zuma or Westward Beach it has dramatic rocky outcrops, archways and caves. The rocky outcrops make it unsuitable for swimming.
El Matador is one of three mini beaches that form the Robert H Meyer Memorial State Beach. The other two beaches are La Piedra Beach and El Pescador Beach.
10. Enjoy gorgeous Malibu waterfront restaurants.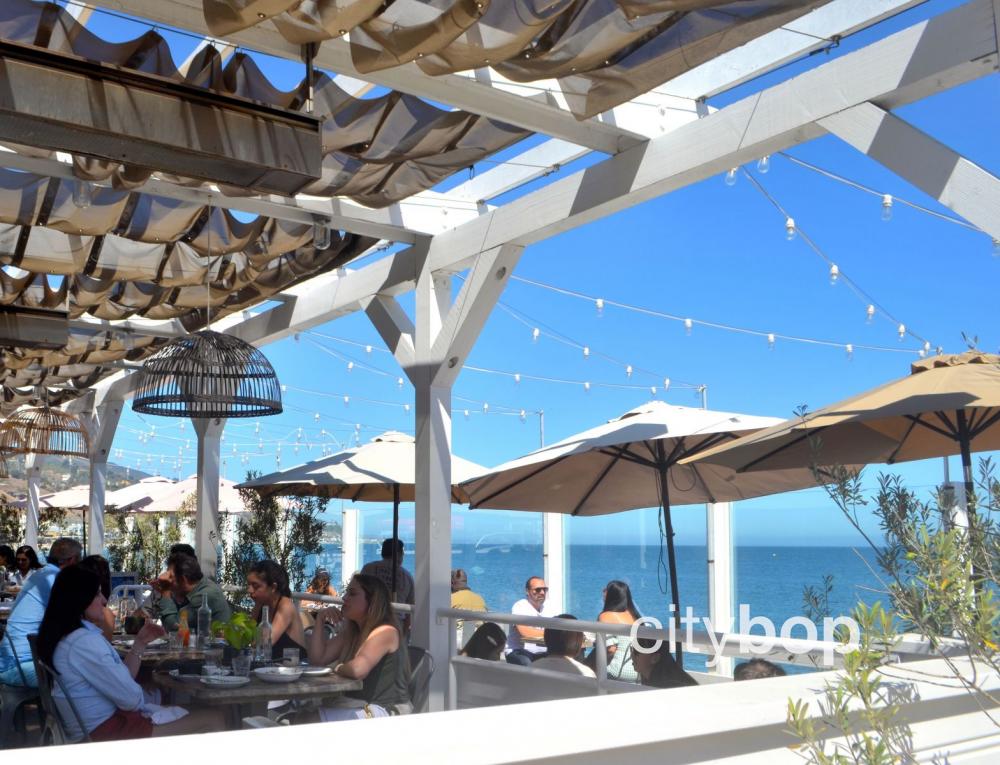 There's a number of waterfront restaurants along the Pacific Highway in Malibu.
Try Moonshadows Malibu (tiki-themed), Dukes Malibu (Hawaiian), Nobu Malibu (sushi), The Sunset Restaurant (high-end Californian), Paradise Cove Beach Cafe (casual American fare), or visit the Malibu Farm Restaurant at the Malibu Pier entrance.
Stay at the best Malibu hotels.
Want a luxurious, oceanfront hotel? Stay at the luxe, asian-inspired Nobu Ryokan Malibu or the modern Malibu Beach Inn. Looking for more affordable hotels? Try the M Malibu, the chic Surfrider Hotel Malibu with a rooftop deck, or the cosy Malibu Country Inn with outdoor pool.
Other things to do nearby.
Visit the Getty Villa, Malibu, Lake Shrine, and Malibu Country Mart.
More Beaches in Los Angeles