Venice Beach is L.A.'s funky beach neighborhood, directly south of Santa Monica.
Venice Beach is a relaxed, artsy neighborhood in L.A., with a fascinating history, a popular swimming beach and skatepark, and fantastic shopping and restaurants.
There's lots to cover off in easily walkable Venice Beach.
Trendy Abbot Kinney Boulevard is the place to be seen, with cool restaurants and boutiques, and striking murals.
If you're looking for a more relaxed vibe, then try the Venice Beach Boardwalk with a carnival-like atmosphere and famous skate park, or beach-themed burger joints and grills along Washington Boulevard. Take a stroll along the nearby pier, or explore Venice's quiet neighborhood streets with a mix ofsleek modern homes and vintage cottages.
10 best things to do at Venice Beach
1. Walk along the cool Venice Beach Boardwalk.
Every day brings something new along the Venice Beach Boardwalk. It has a fun atmosphere where anything goes.
See fearless street performers, henna tattoo artists, film crews, fortune tellers and more. There's lots of t-shirt shops, ice-cream, comfort food, and casual cafes along the boardwalk.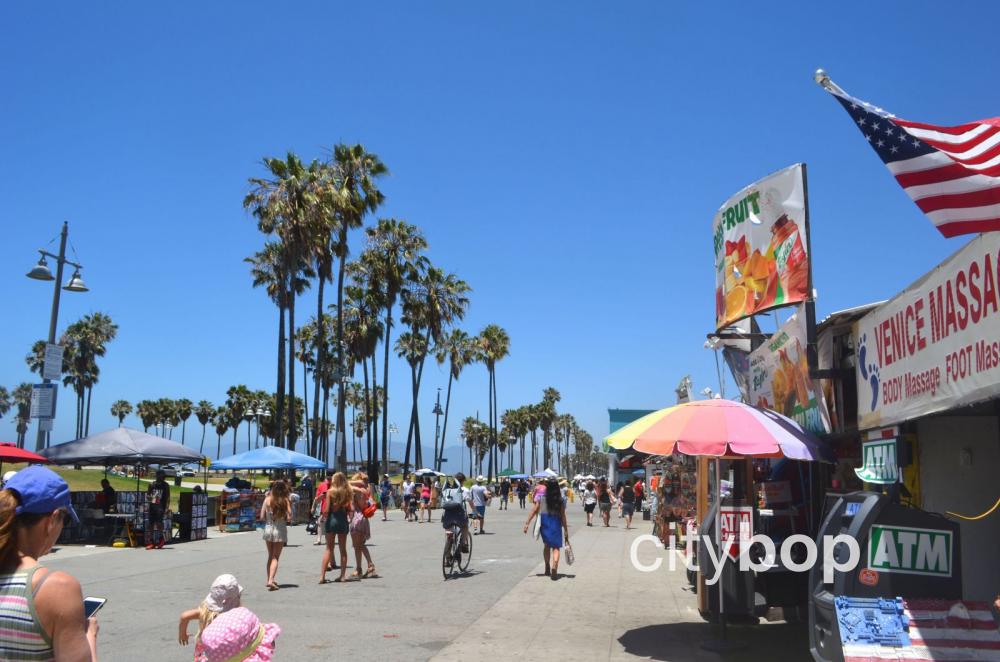 Venice Beach Boardwalk: BEST Attractions.
2. Watch talented skateboarders at the Venice Skate Park.
Stroll out to the Venice Skate Park to watch spectacular stunts.
Skateboarding was invented in Venice Beach and neighboring Santa Monica by a bunch of teens and surf shops owners. They formed the legendary Zephyr Skateboarding Team. These neighborhoods became known as Dogtown. Check out the 2005 movie Lords of Dogtown to learn more about this amazing story.
The 16,000 square foot Venice Skate Park, looks like a series of empty pools. That's because during a drought in the 1970s, the members of the Zephyr Skateboarding Team practiced in empty swimming pools.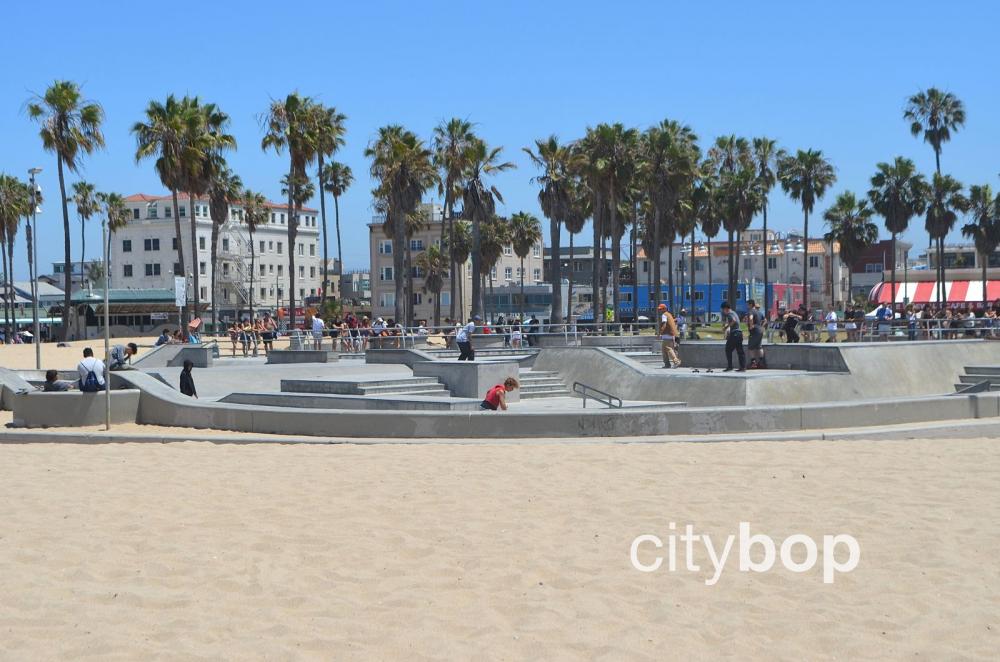 Venice Beach Skatepark: BEST Attractions.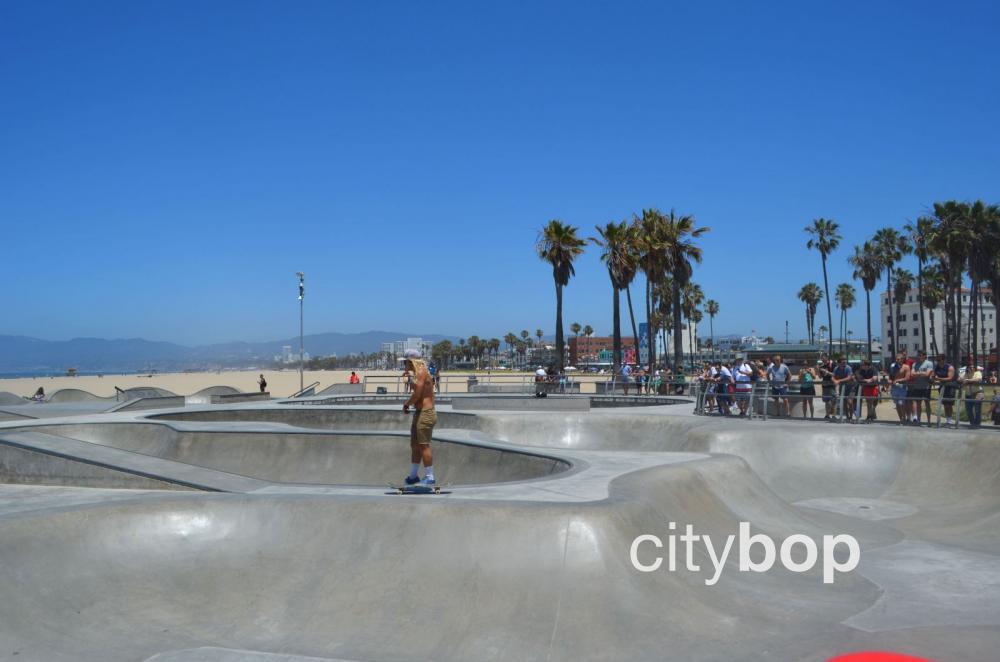 Venice Beach Skateboarder.
3. Enjoy a beach day on the golden sands of Venice Beach.
Venice Beach is stunning, with a wide expanse of golden sand, and sweeping views of the coastline and San Gabriel Mountains.
Grab a towel, sunglasses and sunscreen, then plan a beach day. Don't forget your shoes because the sand gets very hot in summer. There are seasonal lifeguards at Venice Beach.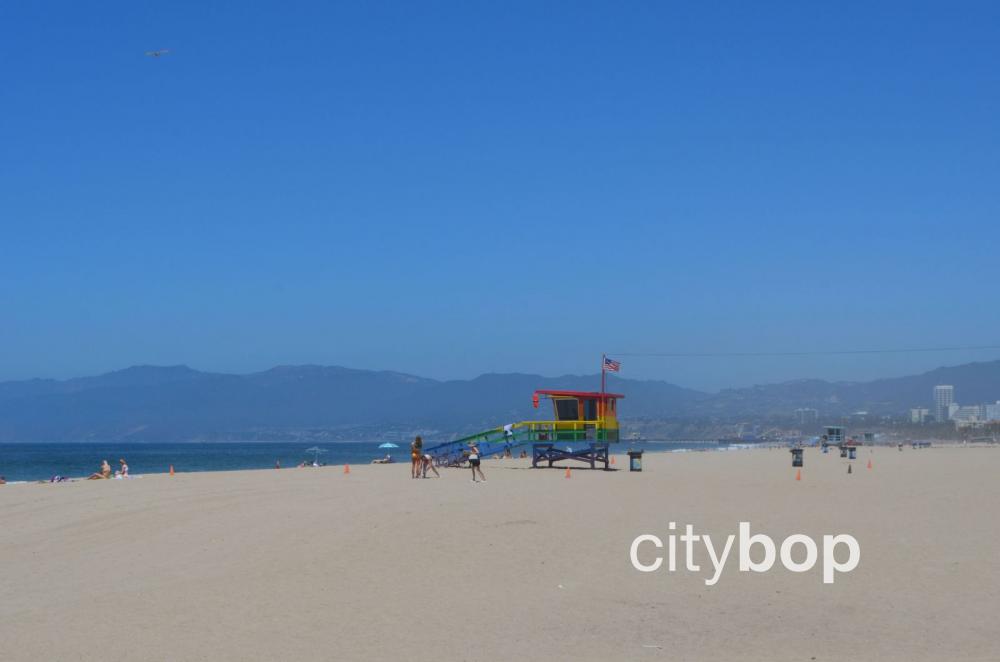 Venice Beach: Golden Sand.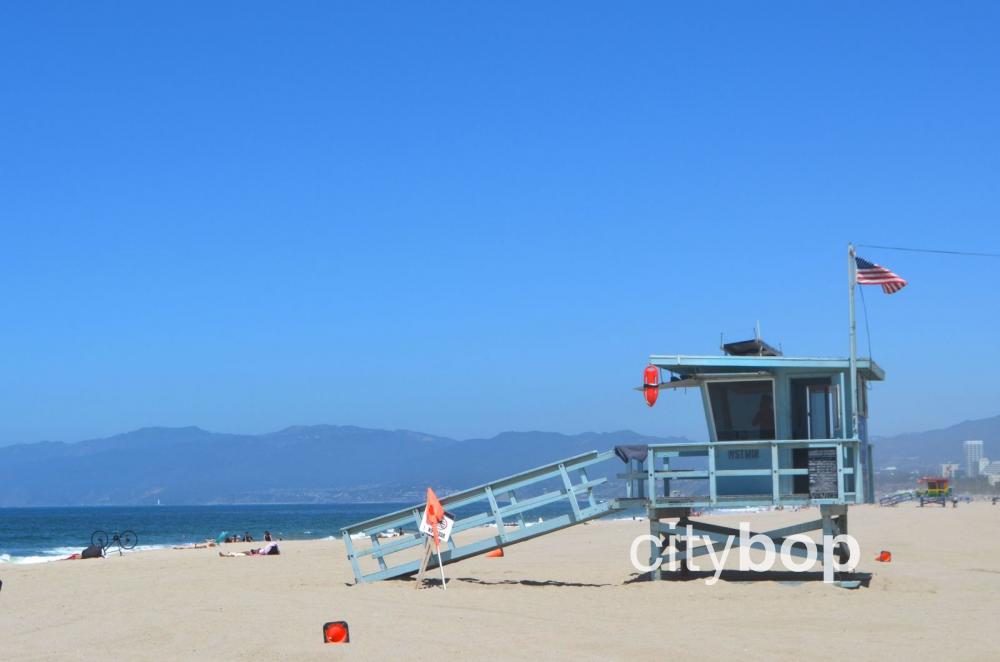 Venice Beach: Golden Sand
4. Walk out along the Venice Beach Pier, for breathtaking views.
The Venice Beach Pier is an undeveloped pier. It's completely different from the busy Santa Monica Pier three miles north.
The Venice Beach Pier is lovely for a peaceful stroll, and to soak in the sun and sea breezes. There are no shops or amusements out on the pier. Just complete solitude.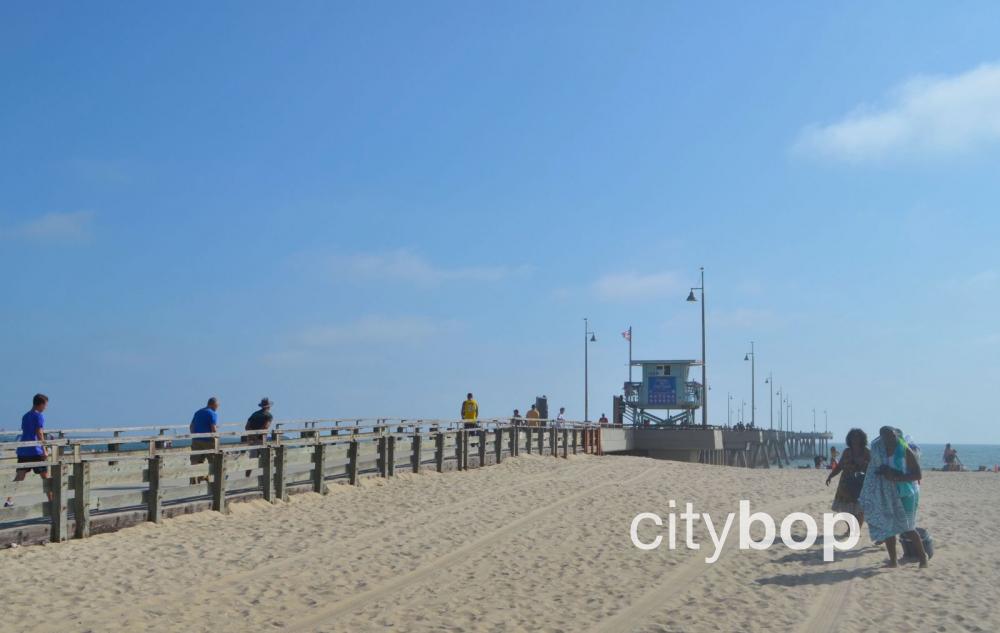 Venice Beach Pier
5. Have a relaxed meal along West Washington Boulevard.
Washington Boulevard runs straight off the Venice Beach Pier. It's full of busy beach grills, burger joints, mexican restaurants and surf-shops.
Sunburned visitors relax in restaurants while washing down meals with cold beers and cocktails.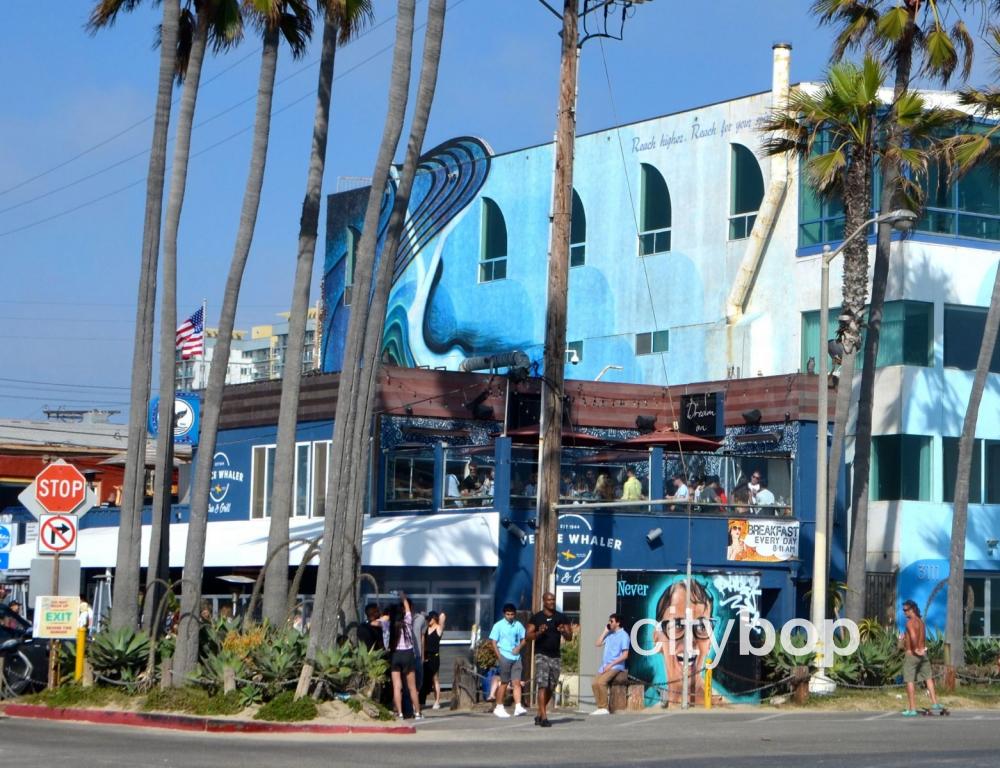 Venice Beach Restaurants - FUN.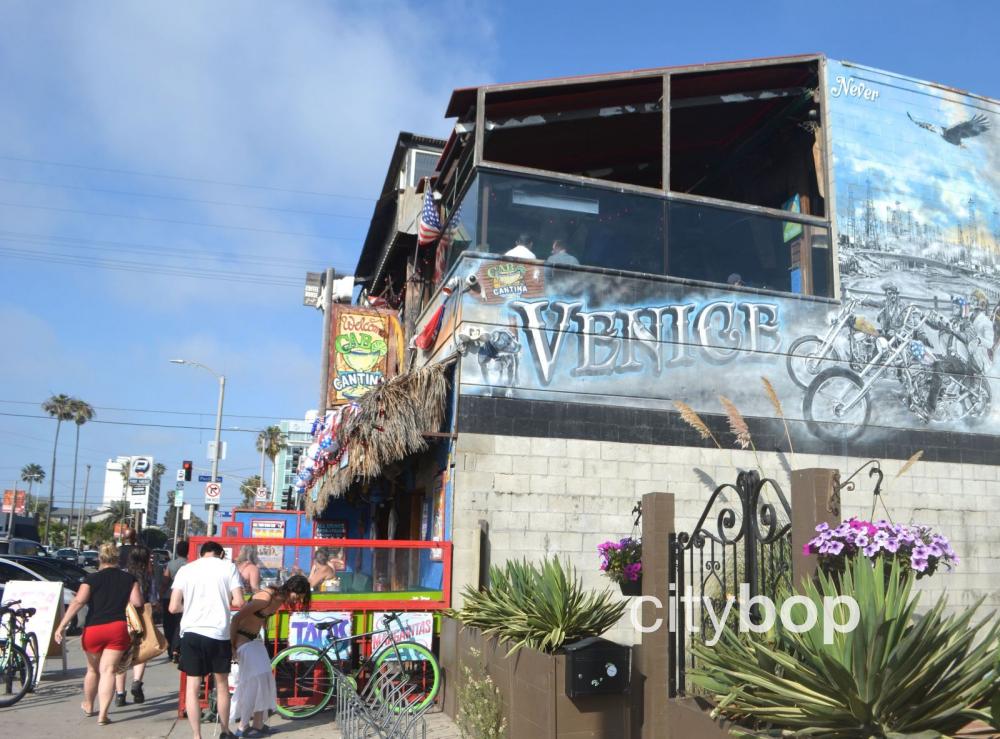 Venice Beach Restaurants and Bars.
6. Take a photo at the famous Venice Sign on Windward Avenue.
The iconic Venice Sign is one block back from Venice Beach (corner of Windward and Pacific Avenue). Snap a selfie at the Venice sign, a replica of the original from the early 20th century.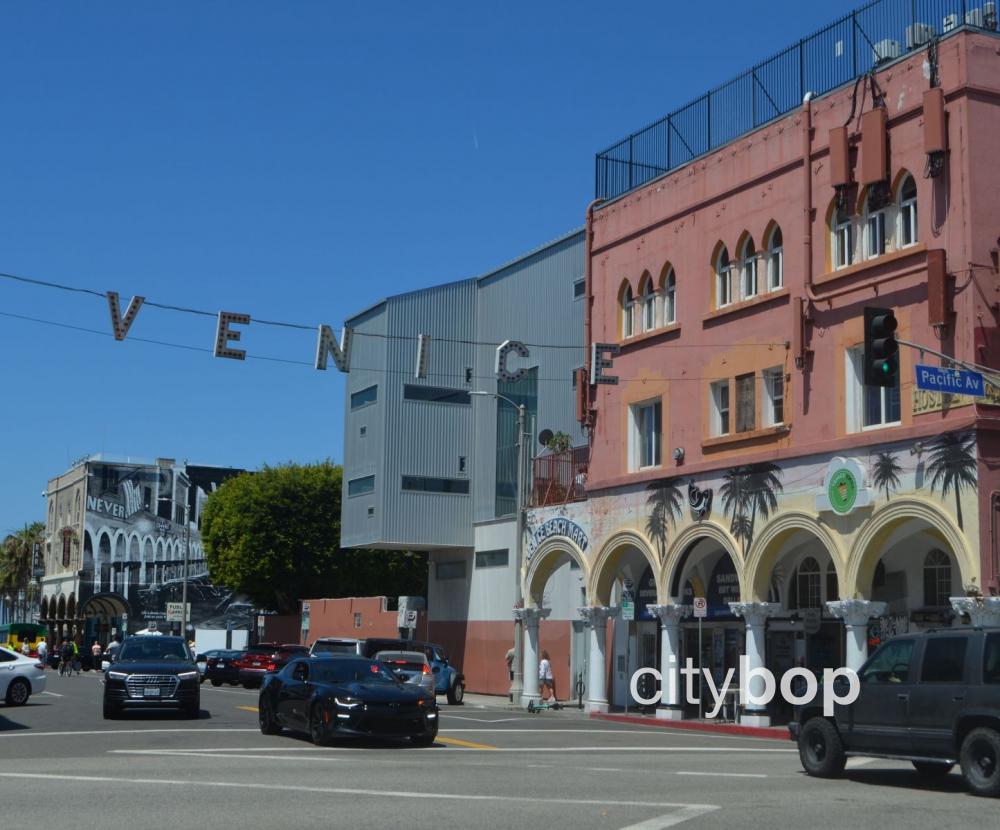 Venice Beach Sign: BEST Attractions.
Venice was founded as a beach resort in 1905 by entrepreneur Abbot Kinney. He modeled this on Venice Italy, constructing Venetian inspired buildings in the central business district and a network of canals with gondola rides.
The Kinney Pier (at the end of Windward Street) featured an amusement park with a racing derby, aquarium, rollercoasters and a dance hall. Visitors arrived by a rail link connecting downtown L.A. and Santa Monica to Venice. They were then transported around the new development on a mini-steam train.
A number of events impacted Abbot Kinney's original vision. The first was the incorporation of Venice into LA county in 1926. In 1929 the majority of Venice's canals were filled in to create more roads due to the popularity of the automobile. The LA Parks and Recreation Department also closed the amusement park on the pier when they refused to renew the lease in 1946.
In the 1930s an oil boom also hit Venice Beach. It was soon transformed from a pristine beach neighborhood into a dystopian landscape with hundreds of 30-foot high oil derricks.
Venice beach fell into disrepair in the 1950s. The once gracious Windward Avenue with it's stunning Venetian architecture was barely recognizable. The counterculture movement of beatniks and artists took advantage of the low rents and moved in.
By the 1970s the last oil had been drilled and the derricks were removed from Venice Beach. By now the buildings on Windward Avenue were irrevocably changed. Their facades crumbled, and many had their upper floors removed to discourage squatters. Drug dealing was rampant.
It took until the 1990s for Venice Beach to undergo rapid gentrification, then finally the arrival of Google in the 2000's. Now the streets of Venice Beach are lined with stunning modern homes priced well into the millions.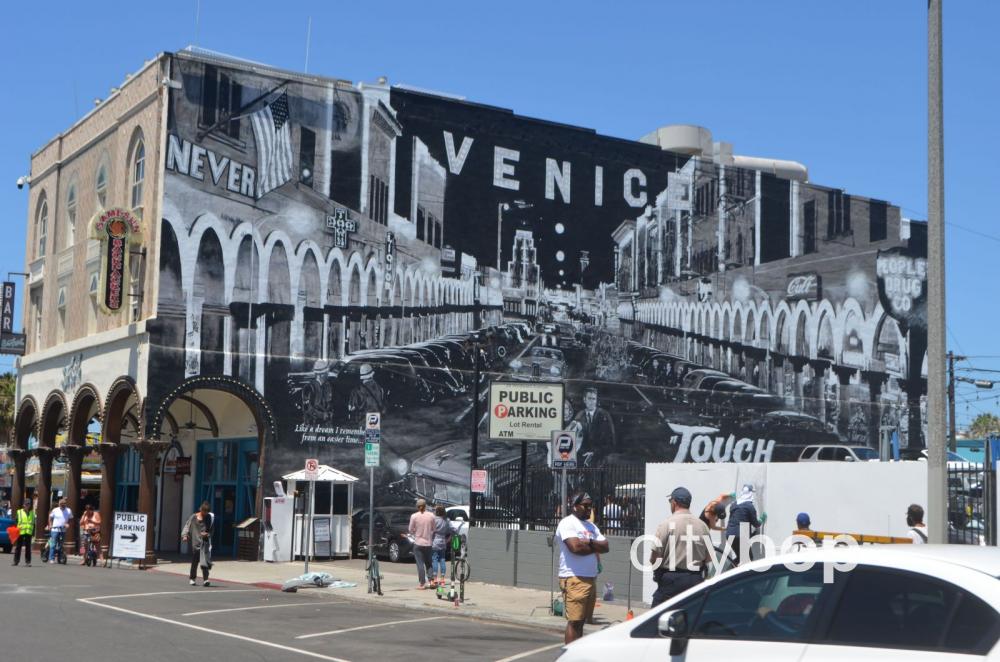 Venice Beach Mural: Touch of Venice.
Admire some of the cool murals along Windward Avenue, in the gentrified Venice Beach.
The most captivating mural is the Touch of Venice (2012), on the corner of Windward Avenue and Speedway. This mural was inspired by the Orson Wells Touch of Evil movie made in Venice Beach in 1958. During the 1950s Venice Beach had fallen into decline and doubled as a rough, mexican border town in the movie.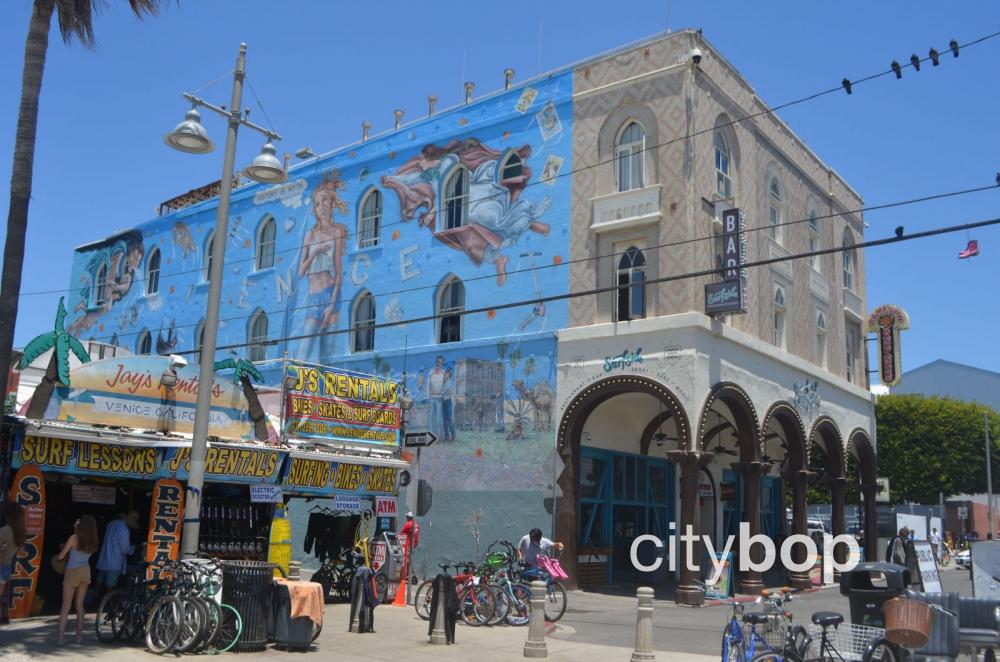 Venice Beach Kinesis Mural
This is the beautiful Venice Kinesis Mural (2010) by artist Rip Cronk. His inspiration was the 15th century Botticelli Birth of Venus. Step inside this building for a delicious meal at the Surfside Venice (Restaurant and Bar).
7. Stroll along the charming Venice Canals.
Just a few blocks from the Venice Beach, take a relaxing walk along the Venice Canals. The gardens and homes are beautiful.
Drive over the four-arched bridges along one-way Dell Avenue. Park outside the Venice Canals and walk in to explore the different pathways.
Families can visit the cool playground at Linnie Canal Park on Dell Avenue and Court D.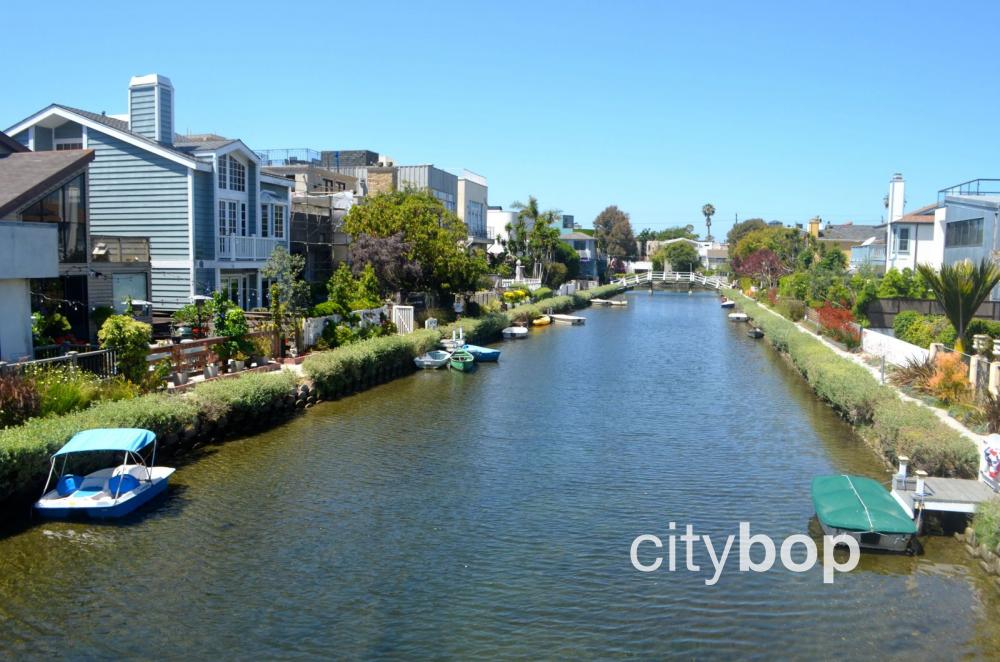 Venice Beach Canals: BEST Attraction.
8. Shop and eat along trendy Abbot Kinney Boulevard.
Trendy Abbot Kinney Boulevard is north of the Venice Canals. This suave shopping street is ground zero for L.A.'s hipsters and fashionistas. Browse the independent boutiques and grab a coffee.
Make a reservation at one of Abbot Kinney's popular restaurants like the Butcher's Daughter, Greenleaf or Gjelina. Intelligentsia is the most popular coffee place on Abbot Kinney. The baked goods are delicious!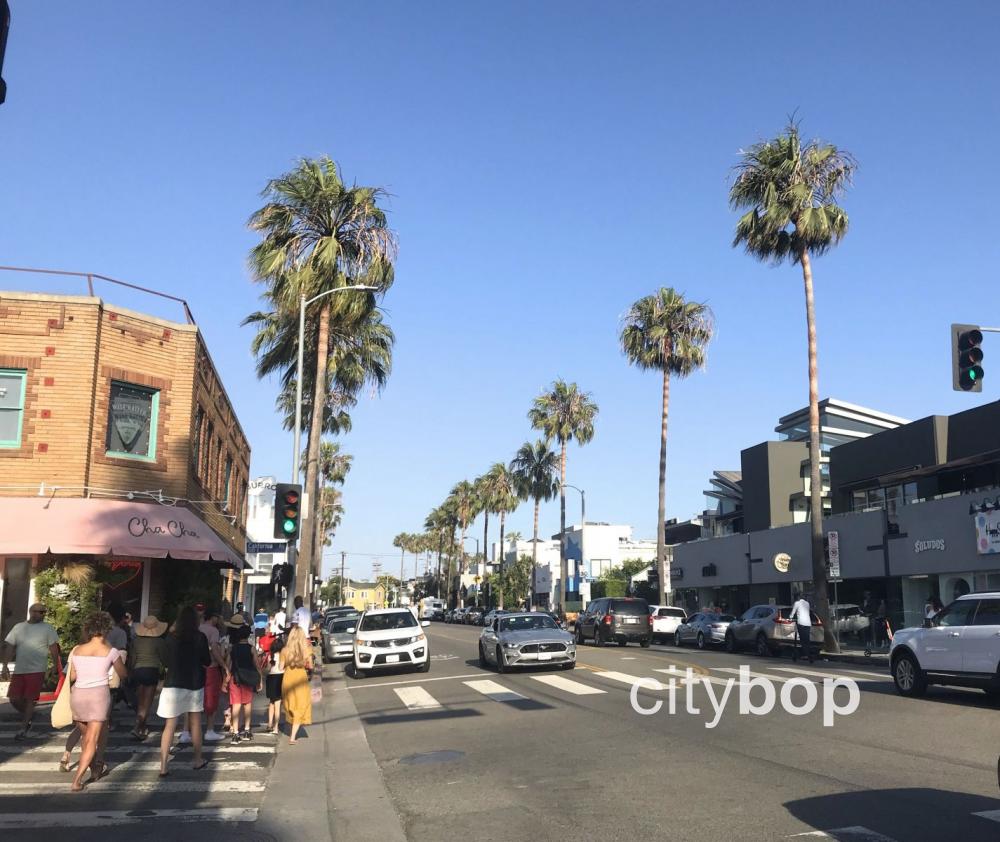 Abbot Kinney: BEST shops and food.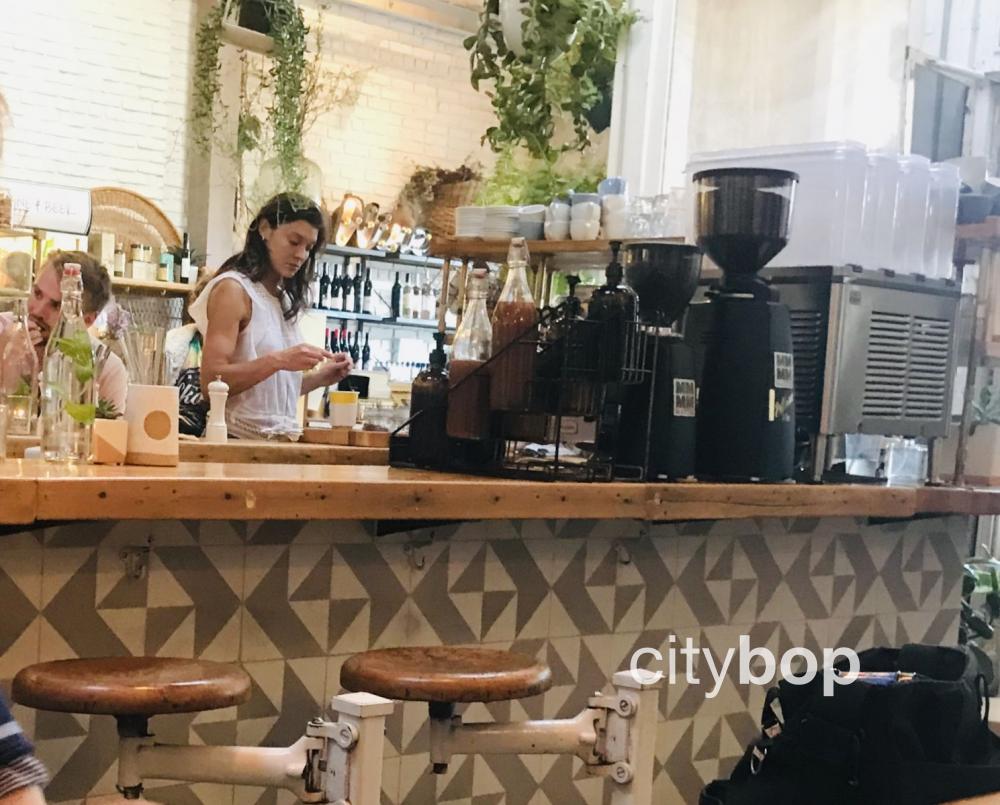 Abbot Kinney: The Butchers Daughter.
The Butcher's Daughter is one of many superb restaurants on Abbot Kinney.
9. Ride along the Marvin Braude Bike Trail on the beach.
This bike trail runs 22-miles south along the coast, starting at Pacific Palisades, past Santa Monica, Venice Beach and ends at Torrance Beach. A section of the trail travels inland around Marina Del Rey near Venice Beach before connecting with the coast again. See map.
Rent a bike from Jay's Rentals, or Ride Venice.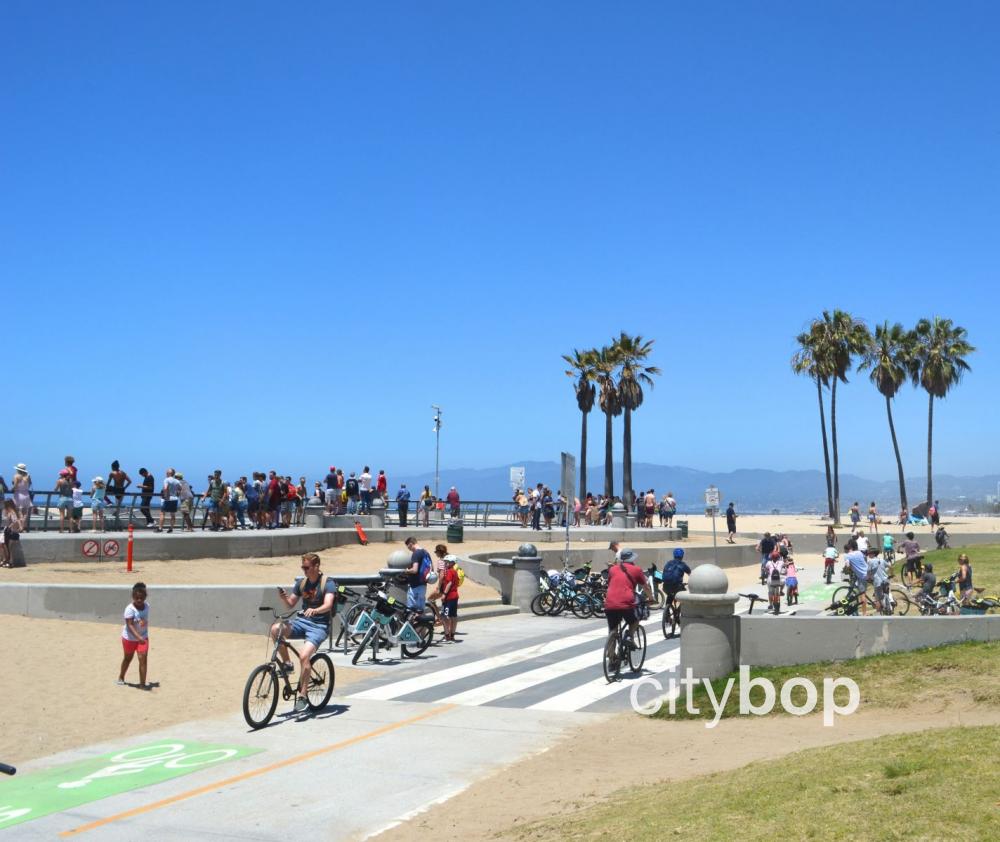 Bike Trail: LA Beaches.
10. Continue the Venice Boardwalk along the Ocean Front Walk to Santa Monica.
Want a longer walk? The Venice Boardwalk is part of the Ocean Front Walk that runs 6 miles south from Pacific Palisades (Will Rogers State Park), past Santa Monica Beach, along the Venice Beach Boardwalk, and down to Marina Del Rey.
Don't miss the playground for kids.
Little kids will love the Venice Beach Playground on the sand just near the Venice Skatepark. Nothing beats the sensation of sand underfoot while playing on the swings or climbing tower!
Best Restaurants at Venice Beach.
Explore casual, beach-themed restaurants near the Venice Pier along Washington Boulevard.
If you're looking for something more upscale, visit Abbot Kinney for chic restaurants like the Butcher's Daughter, Greenleaf or Gjelina.
When checking out the Venice Sign at Windward Avenue, stop at Surfside Venice (bar and grill) for lunch.
The Hotel Erwin is just off Windward and has a fabulous rooftop bar with stunning views.
Cool Venice Beach hotels.
Venice Beach doesn't have the large selection of hotels of Santa Monica. Amongst the smaller selection is the modern Hotel Erwin, Venice Suites, Venice Breeze Suites, and Venice on the Beach Hotel. All four hotels have modern rooms with rooftop decks. There are also two hostels at Venice Beach; the Samesun Venice Beach and Venice Beach Hostel.
More Beaches in Los Angeles