Cool off and relax at tranquil Tongva Park, in the heart of Santa Monica in L.A.
Beautiful 7-acre Tongva Park is across the road from the Santa Monica Pier. Not many tourists know about this hidden gem, so don't forget to include it on your "to-do" list when visiting Santa Monica.
Locals come here to relax on the lawns, jog through the park, sit quietly beside the refreshing fountain, or take their kids to the playground and splashpad. It's unusually quiet, and a wonderful oasis from the bustling streets of Santa Monica.
Tongva Park opened in 2013 at the site of a former parking lot, and cost $42.7 million to construct, winning a dozen design awards.
It has winding pathways with bridges and sculptures, hilly areas with peep-through views of the ocean, and striking succulents to add punches of color.
Tongva Park is at 1615 Ocean Ave, Santa Monica, CA 90401.
5 best things to do at Tongva Park
1. Cool off in the free splash pad for kids.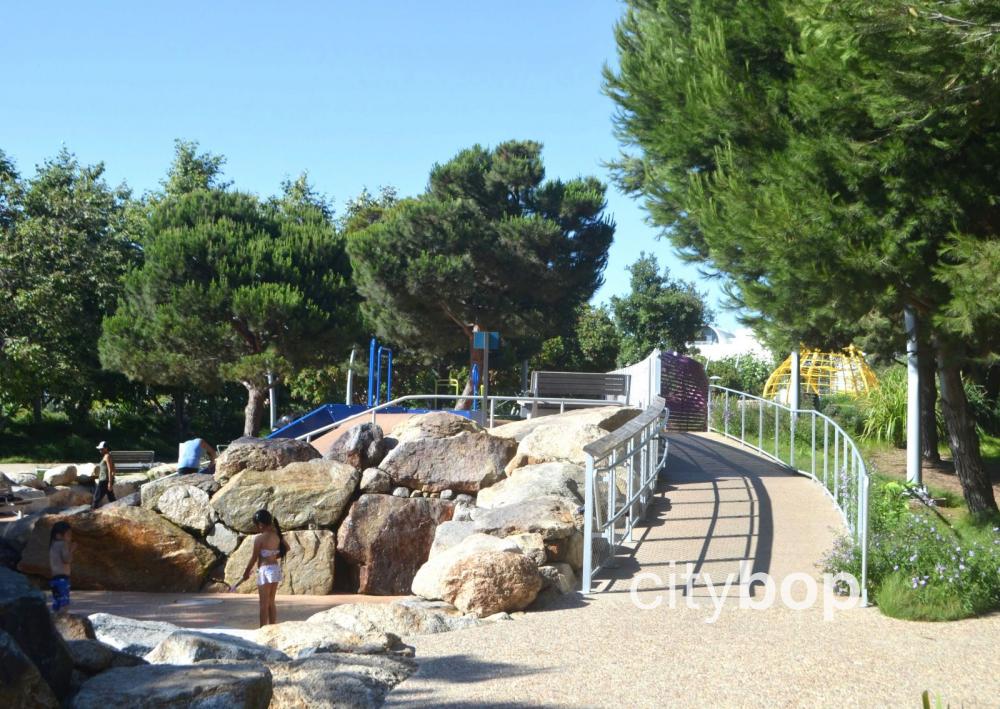 The lovely splash pad is in a rockery, adjacent to the playground. What a great place for kids to cool off! Best of all, there's lots of shaded areas for parents to sit while watching their kids play.
2. The modern playground on Discovery Hill has lots of fun slides and climbing structures.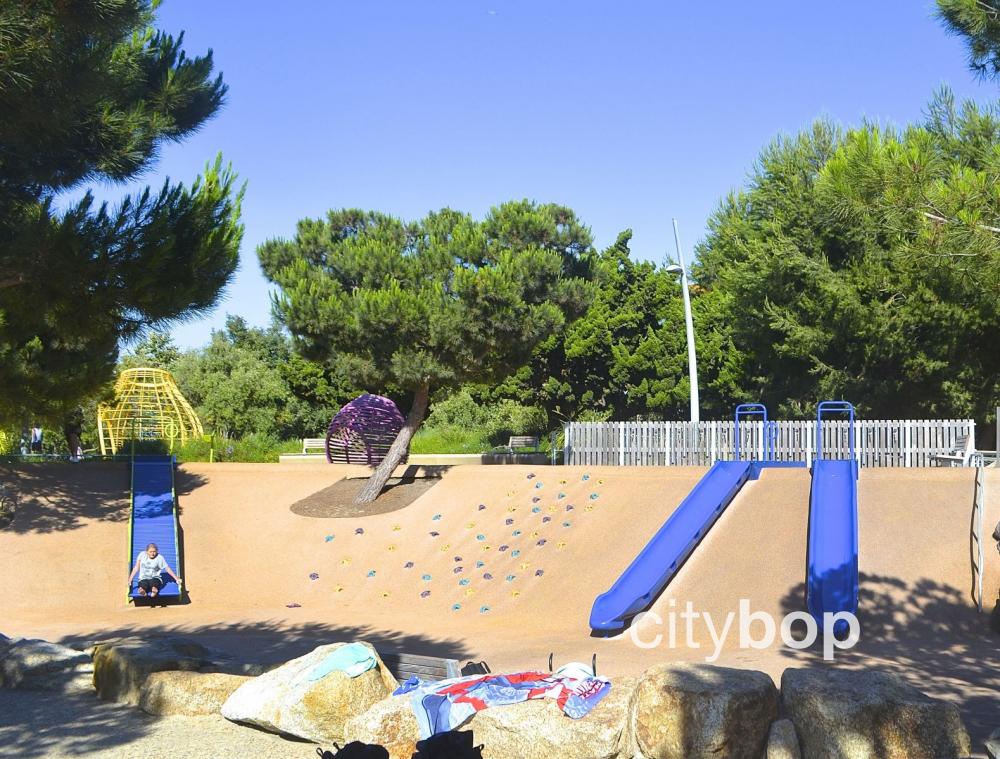 Tongva Park: 5 BEST Things to Do
The Tongva Park playground is for kids aged 2 to 12, and is designed with bright play structures that look more like an art installation, and are sure to capture their imagination.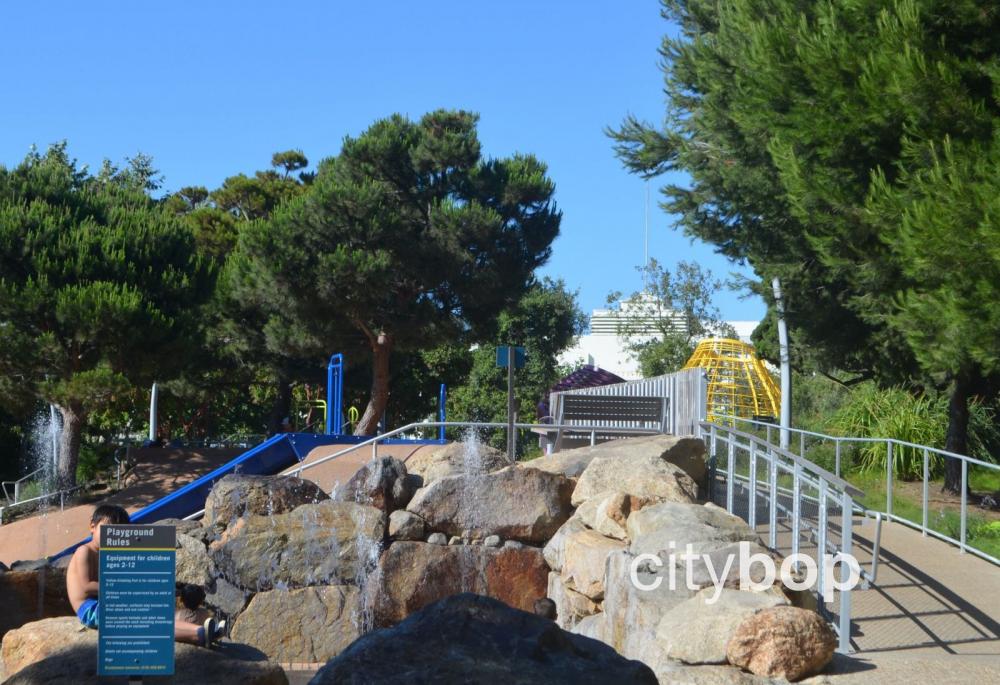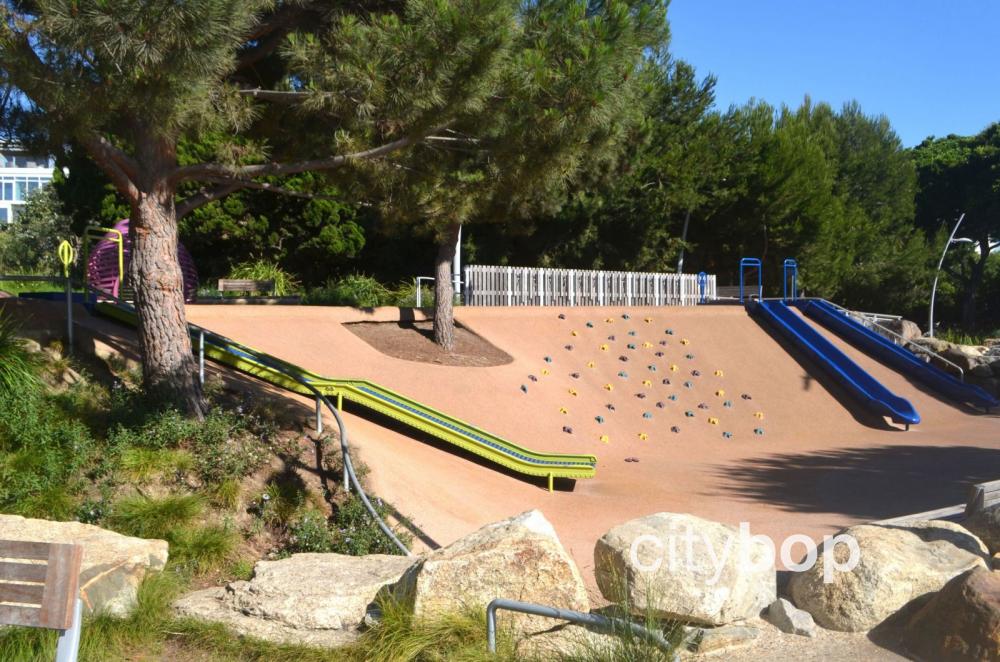 The Tongva Park playground even has a cool climbing wall with foot and handholds.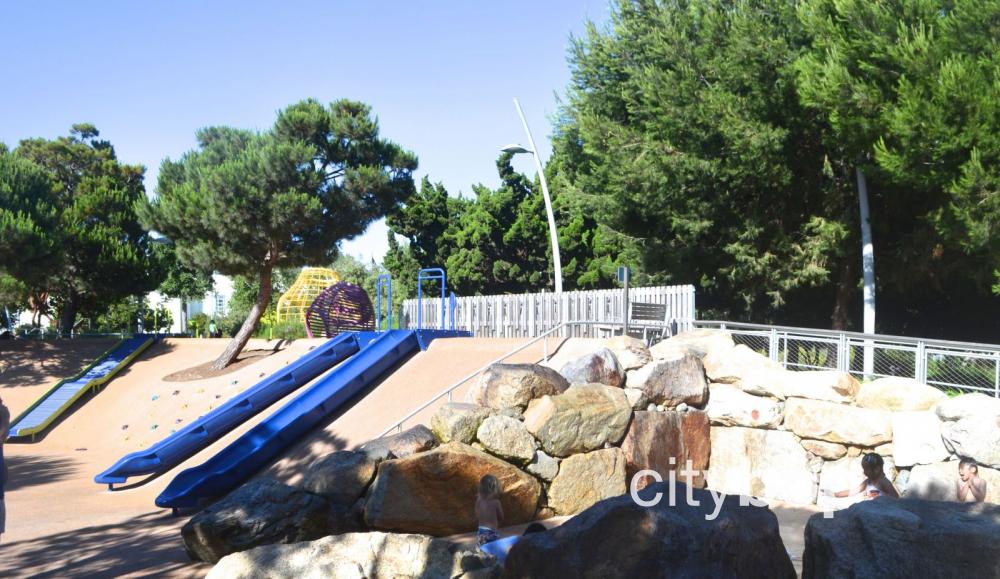 3. Bring a picnic lunch, and spend an inexpensive day out with kids in Los Angeles.
There's a few shaded picnic tables adjacent to the playground and splash pad, and another cluster of tables at Fig Picnic Grove on Gathering Hill.
4. Sit beside the refreshing fountain, and cool off from the L.A. heat.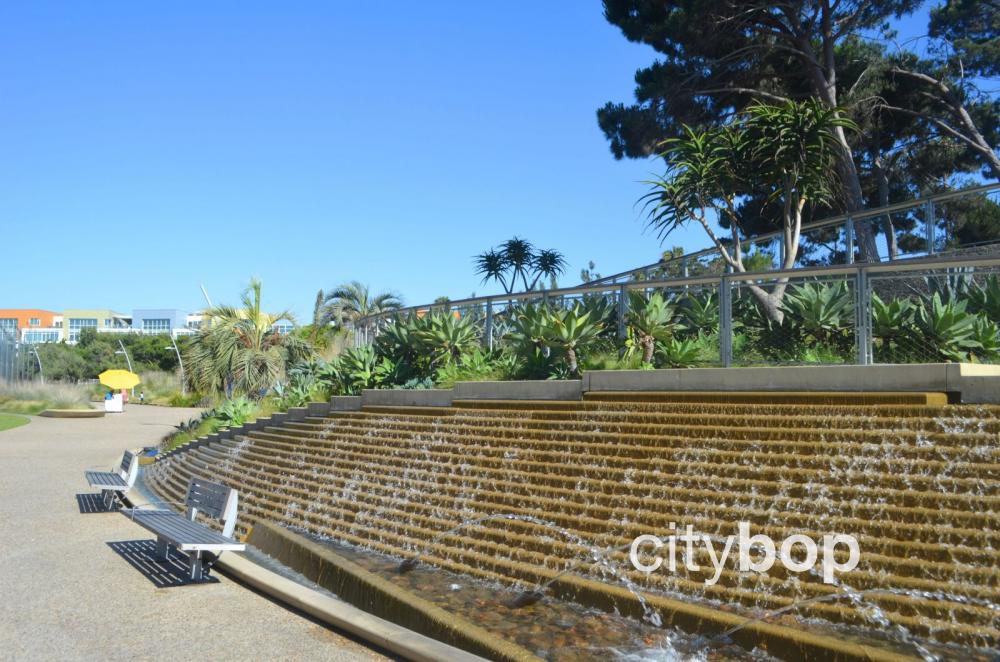 Tongva Park: 5 BEST Attractions
The fountain follows the pathway at Tongva Park, and uses the same water source as the striking Ken Genser Square fountain across the road in front of City Hall.
Look at all those gorgeous, eye-catching succulents behind the fountain! There are over 30,000 plants and 170 species at Tongva Park, with many native shrubs, flowers and grasses like Pink Peruvian Lilies, Pink Oxalis, Forest Lilies, California Asters, and Mountain Aloe.
5. Explore the two steel cocoon sculptures on Observation Hill, with views of the Pacific Ocean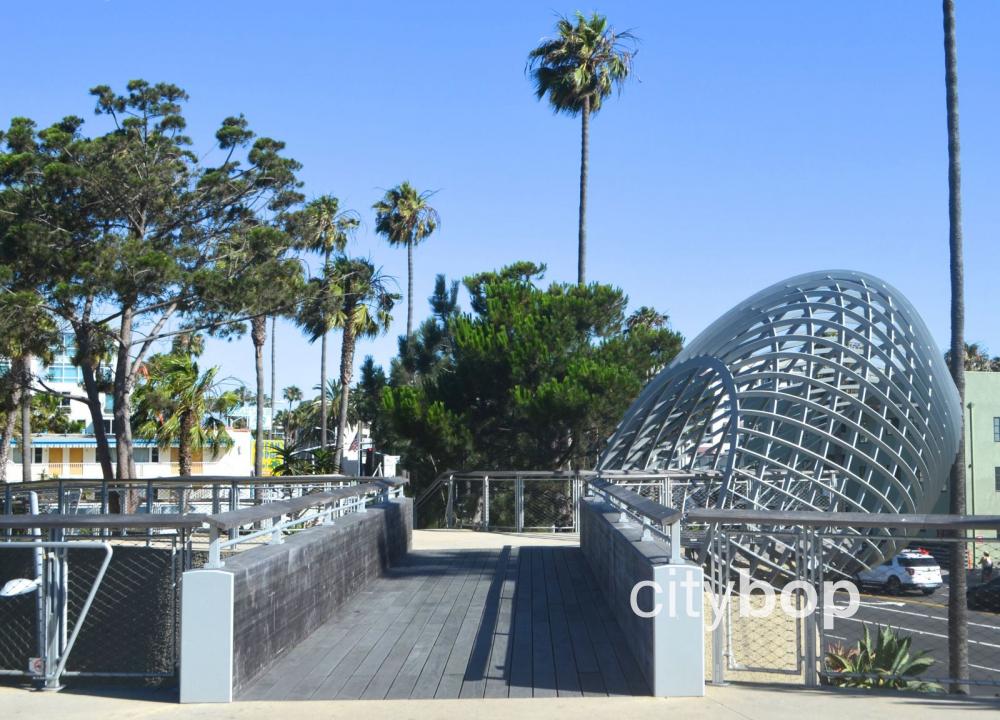 These striking steel cocoon sculptures are best viewed from Ocean Avenue, where they overhang the pedestrian walk. Get a friend to pose inside a sculpture, then take a photo looking back up at the sculpture. Enjoy stunning views of the Santa Monica Pier from this overlook.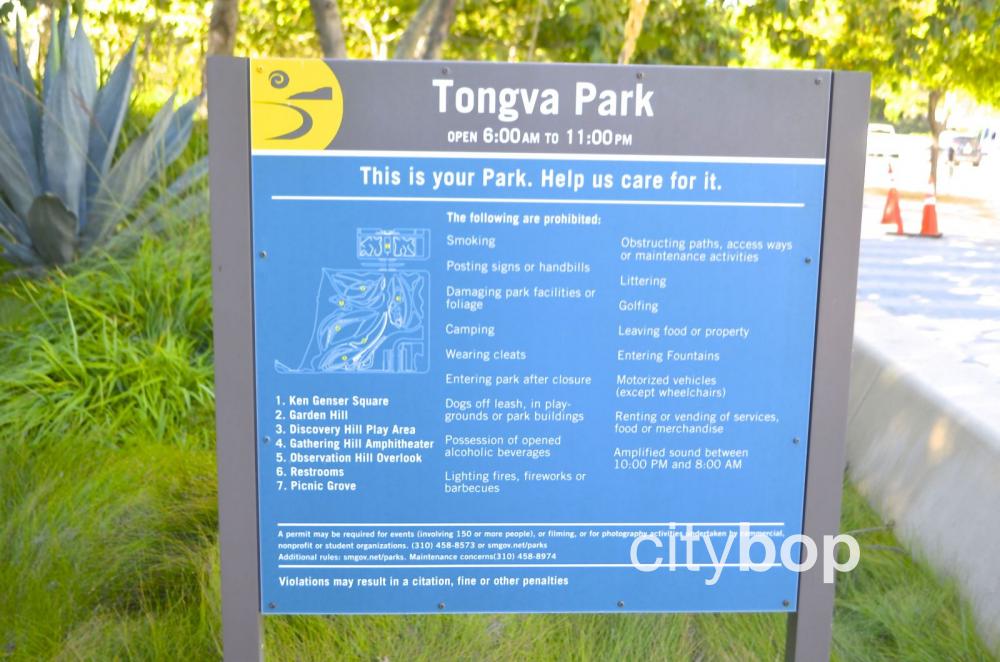 Know before you go
Address:

1615 Ocean Ave, Santa Monica, CA 90401 (across the road from the Santa Monica Pier).

Dogs: Must be on-leash.
Restroom: Yes.
City WIFI: Yes.
More Parks & Nature in Los Angeles