Explore Downtown Portland's best shops, hotels, and restaurants.
Plan a getaway to Downtown Portland for a great selection of shopping, hotels and eateries. Best of all, there's no sales tax!
Portland's downtown area is anchored by Pioneer Courthouse Square, surrounded by well known stores like Nordstrom, Apple and Sephora, and cool independent boutiques from local Portland designers like Wildfang and Odessa.
There are so many gorgeous hotels to choose from, and each hotel has a distinct vibe, ranging from Old Hollywood, to chic to super trendy. Their magazine-worthy interiors represent the latest in interior design.
There's also lots of excitement around the thriving restaurant scene along 12th Avenue in the West End of Downtown Portland, with popular restaurants like Bamboo Sushi.
10 best things to do in downtown Portland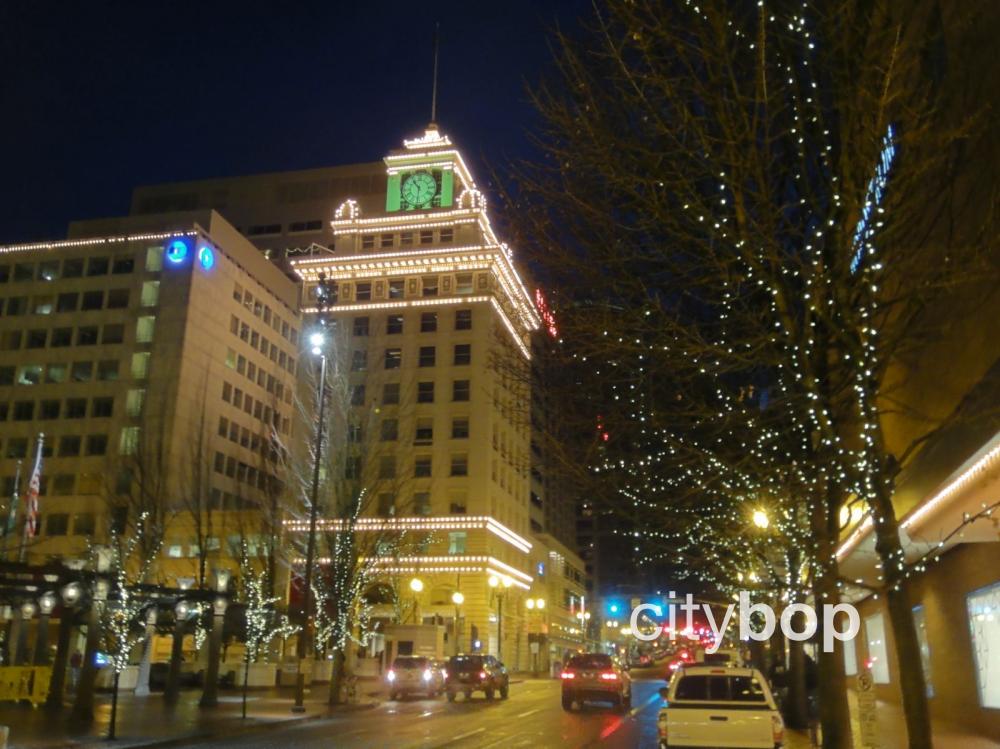 1. Visit Pioneer Courthouse Square to see concerts, or shop at the Nordstrom, Sephora and Nike stores.
Pioneer Courthouse Square is described as the "Living Room" of Portland, occupying a 40,000 square foot block in Downtown Portland. Grab a coffee at the Starbucks at the Square, sit on the steps, and soak up the fun atmosphere.
Pioneer Courthouse Square is always buzzing with activities and concerts. If you're visiting during the holidays, don't miss the the annual Christmas Tree Lighting Ceremony event.
You can can also walk to popular stores like Nordstrom, Nordstrom Rack, Sephora, and the Flagship Nike Store.
2. Find all your favorite brands at upscale Pioneer Place Mall.
The upscale Pioneer Place Mall is one block from Pioneer Courthouse Square, home to popular brands like Tory Burch and Kate Spade.
3. Hang out on the patio, or dip your feet in the splashpad at Director Park.
Director Park is a new modern square, just one block from Pioneer Courthouse Square on SW Yamhill/Park Avenue. This beautiful park is cleverly built on top of a parking garage!
Sit back and watch people splash around in the fountain, or sign-up to play on the giant chess board. Pick up a yummy sandwich from the gourmet deli, Flying Elephants at Fox Tower, and relax on tables and chairs on the expansive patio.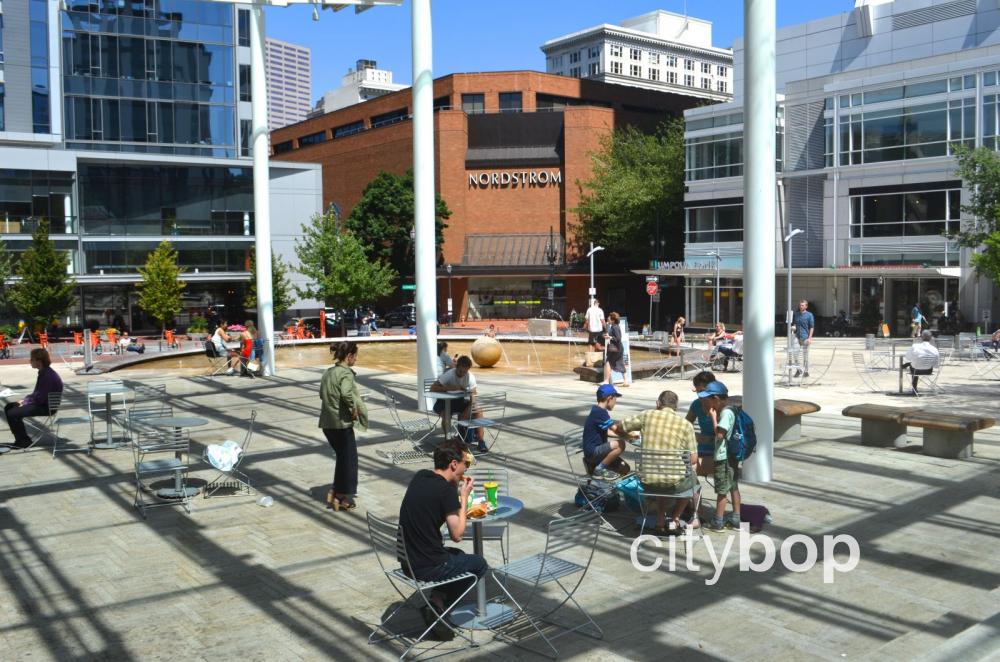 4. Explore cool boutiques in Downtown Portland.
Cool, independent boutiques are scattered around Downtown Portland, with plenty of
exciting designers that you'll fall in love with. The fashions cover the full spectrum, from edgy to classic, so there's something for everyone.
Here are some of the best picks for hipster fashions:
This is a higher-end boutique with more classic styling:
​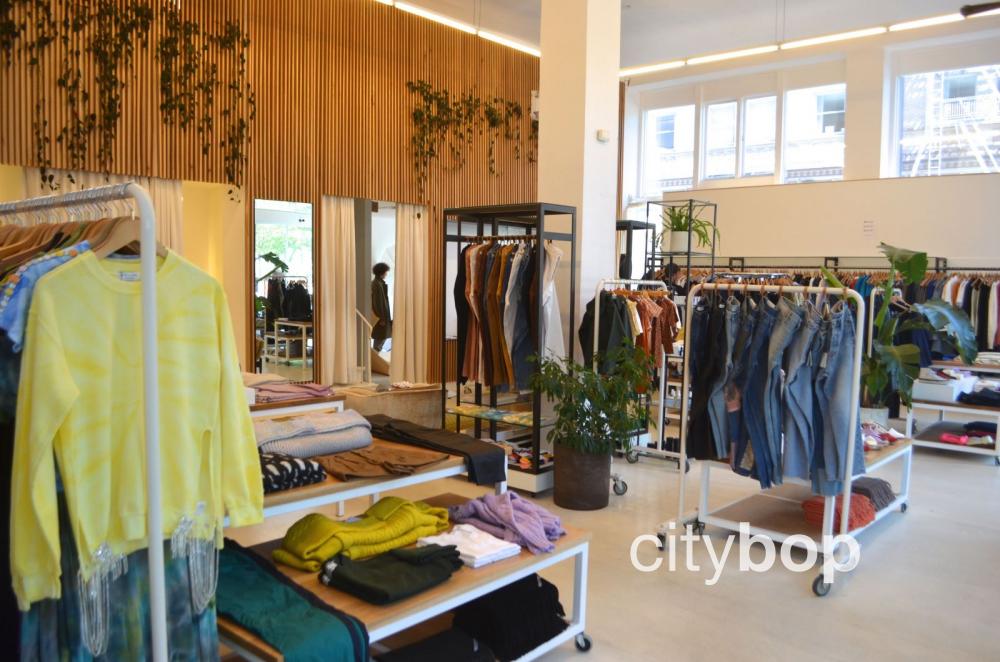 Check out these striking store displays at Odessa.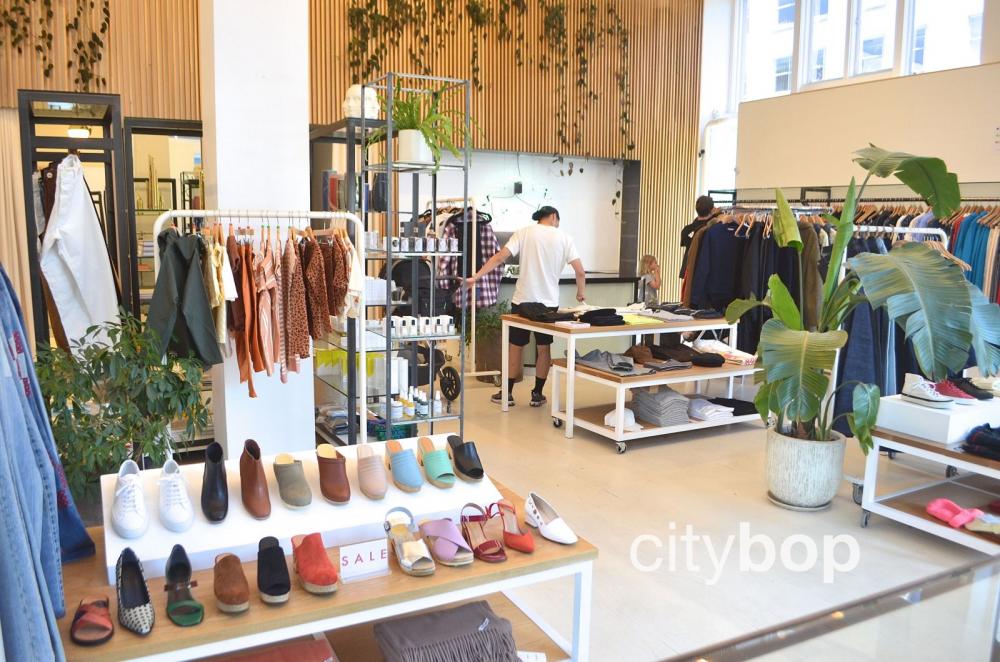 Here's some more gorgeous displays at Odessa (410 SW 13th).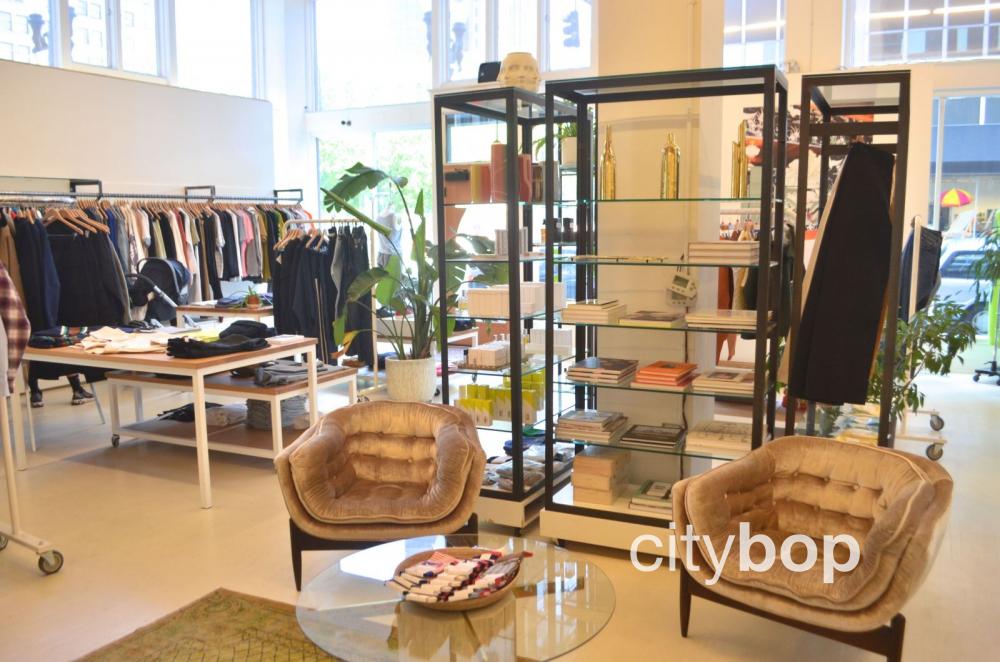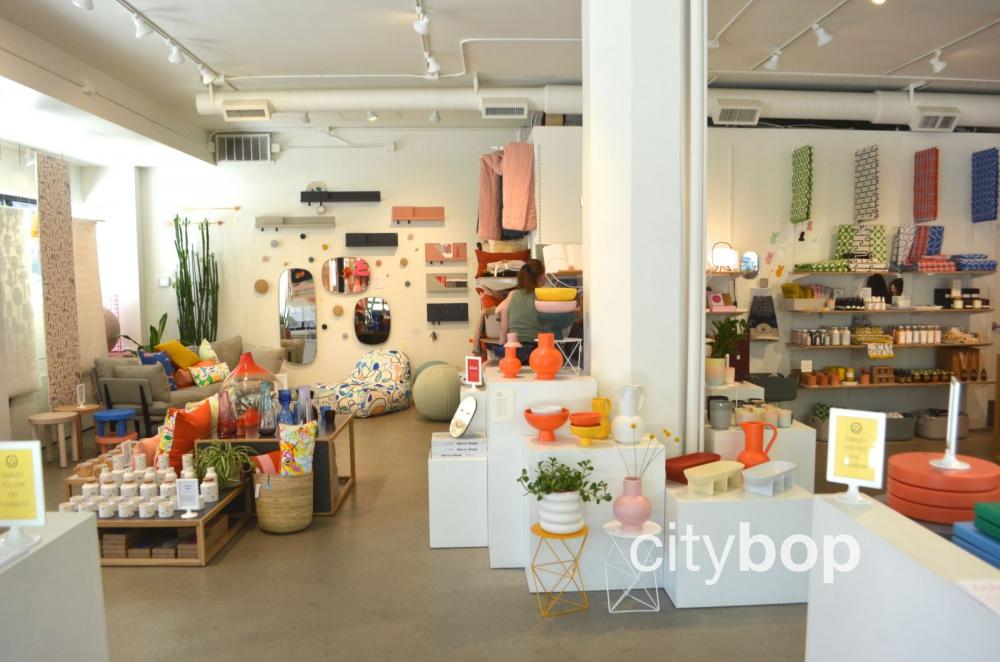 Pick up some fun, quirky items at the popular Moonwinkel gift shop (935 SW Washington Street).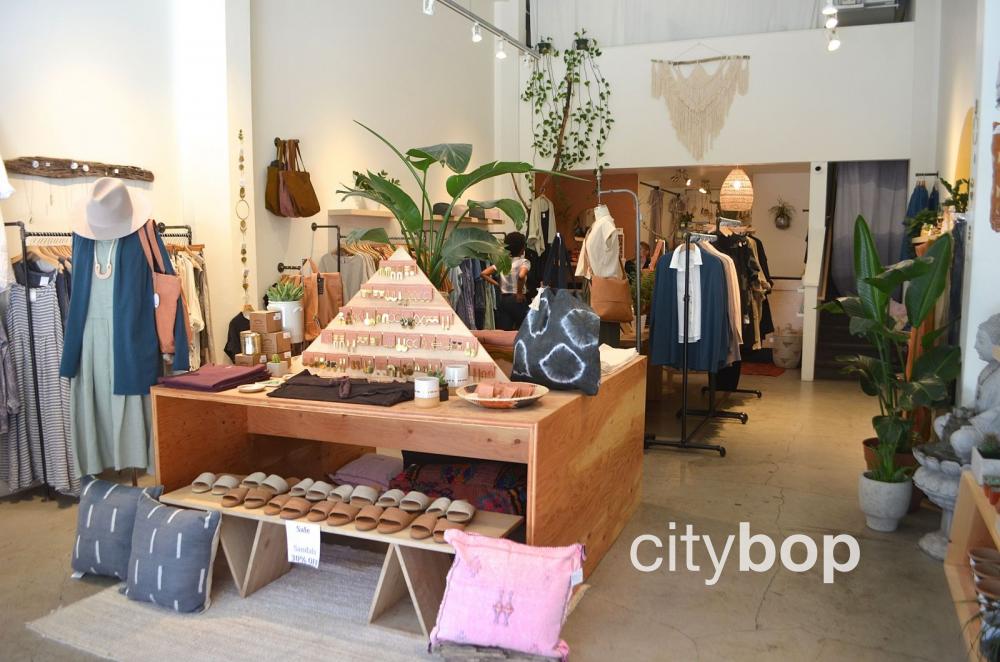 Stop by Tender Loving Empire (412 SW 10th), with artisan made jewelry, clothes, shoes, and home accessories. They have five shops, and also support a successful record label!
The highly successful Wildfang boutique (404 SW 10th) has super cool street fashions.
5. Shop for trendy street fashions for men.
There's some awesome clothing shops in downtown Portland just for guys, including: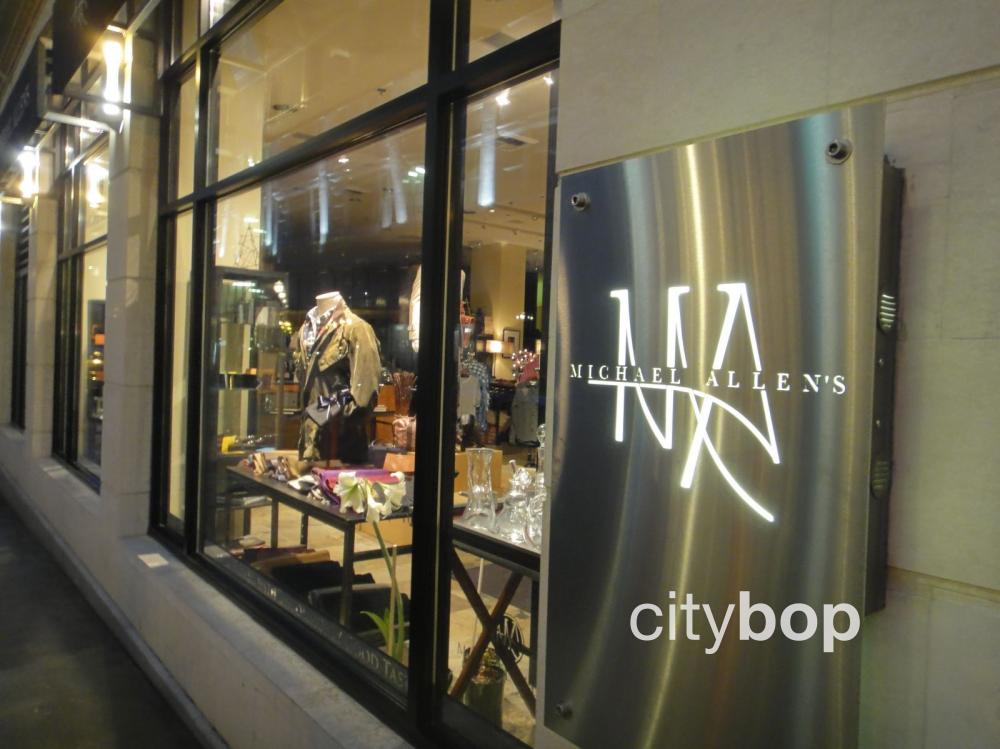 6. Caffeinate yourself in authentic Portland coffee shops.
Portlanders are serious about their coffee and Downtown Portland doesn't disappointment. Step inside a coffee shop for a quintessential Portland experience.
Many of these offer homegrown, craft-roasted brands, like Stumptown Coffee Roasters on 11th and Harvey Milk Street.
7. Spend a romantic weekend away in a luxe hotel in Downtown Portland.
Portland is the epicenter of beautiful design in the US, and attracts a vibrant, creative community. This is reflected in the trendy interiors of downtown hotels that are anything but cookie-cutter. Each immerses you in a different experience or era, with dramatic lobbies and rooms that deliver the wow factor!
The swanky Nines Hotel in downtown Portland has a soaring atrium and restaurant lifted straight from a magazine page! It's housed in the old Meier and Frank department store building.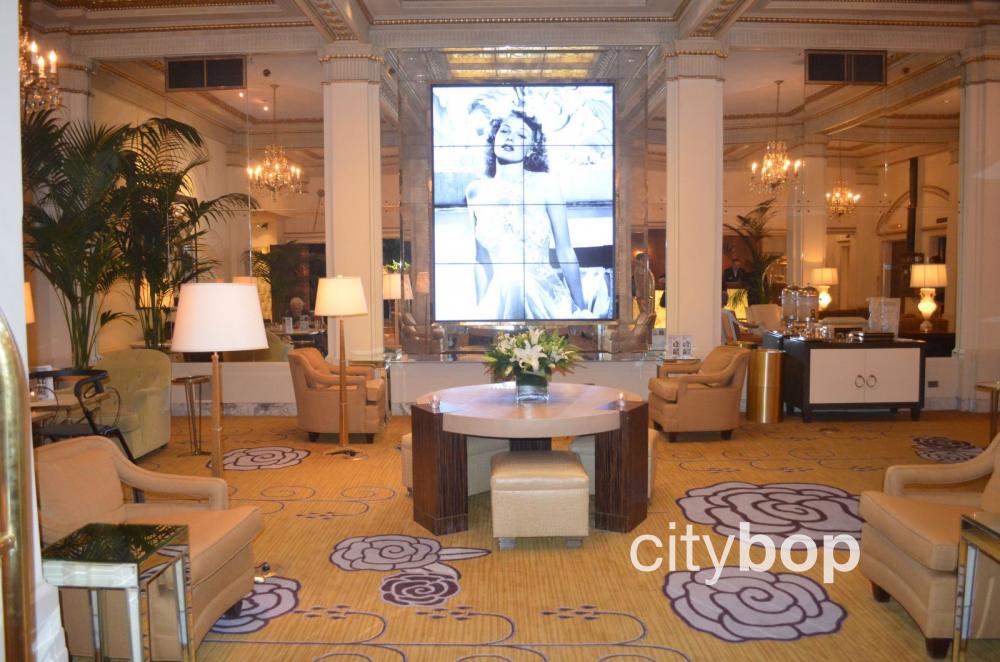 Get transported back to Old Hollywood, in the stylish Hotel DeLuxe lobby.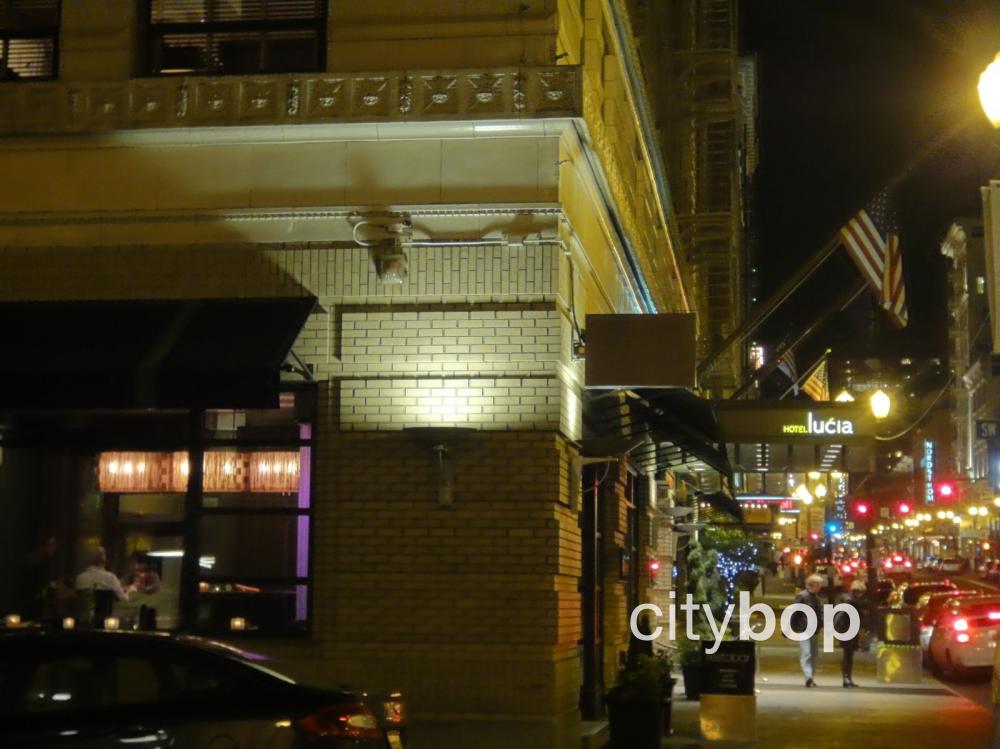 Check out the chic Hotel Lucia, on Harvey Milk Street and Broadway in Downtown Portland.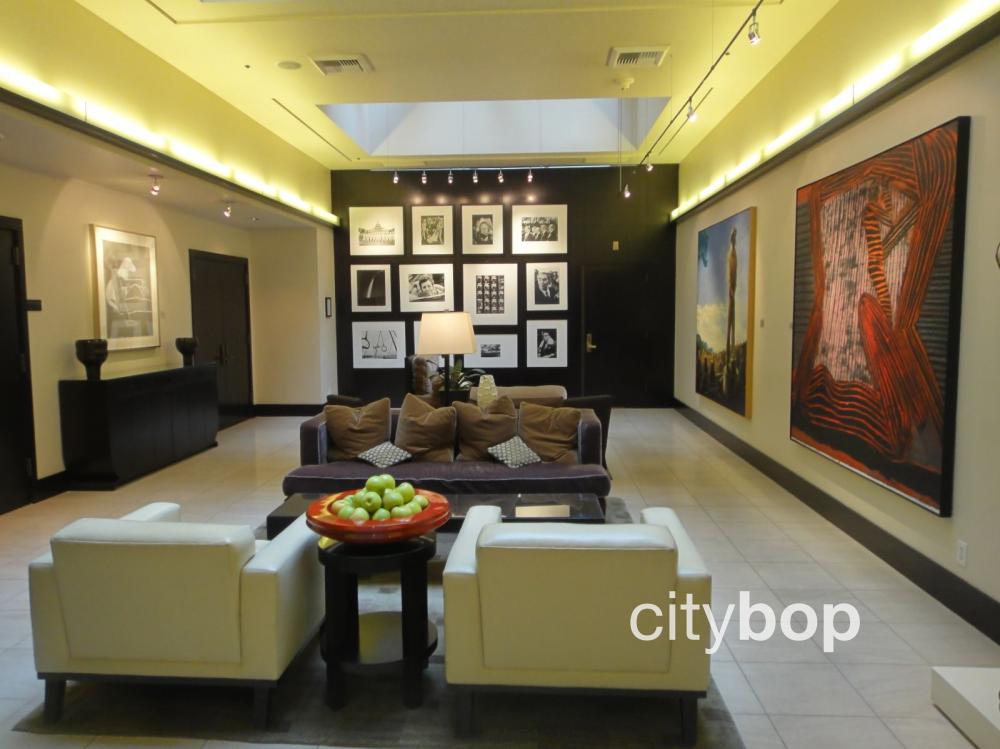 Hotel Lucia's lobby is full of eye-catching art works and paintings.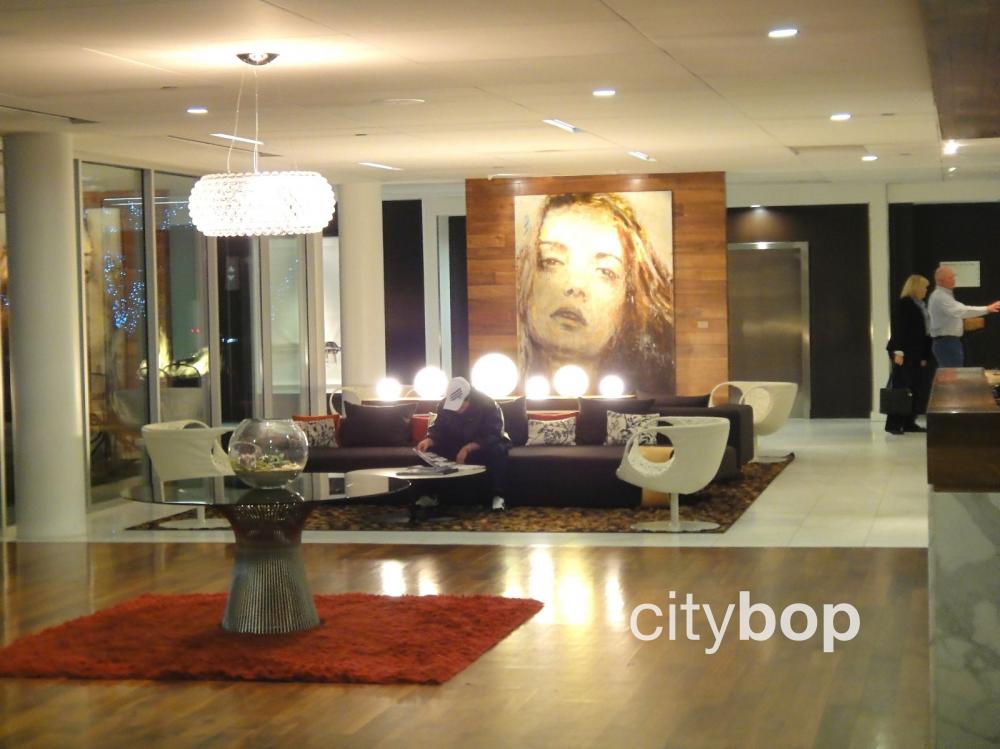 Be impressed by the sleek, modern entrance to The Hotel Zags on Clay and 5th.
8. Visit some of Portland's best restaurants at the West End.
One of Portland's best kept secrets is the flourishing restaurant scene along 12th Avenue in downtown's West End.
Portland is a renowned foodie town that attracts world-class chefs. Not only is the food superb, but the restaurants are gorgeous. Some of the best restaurants along or near 12th Avenue in Downtown Portland are Bamboo Sushi and Dolly Olive (mediterranean) and Grassa (italian).
9. See live musical performances at concert halls in Downtown Portland.
Walk from your Downtown Portland hotel to live performances at a choice of three locations. The leafy South Park Blocks is home to the Arlene Schnitzer Concert Hall and Antoinette Hatfield Hall, and the Keller Auditorium is closer to the waterfront.
The Arlene Schnitzer Concert Hall is in a stunning 1928 Italian Rococo Revival Building. It was previously known as the Portland Public Theater, then the Paramount Theater. Check events.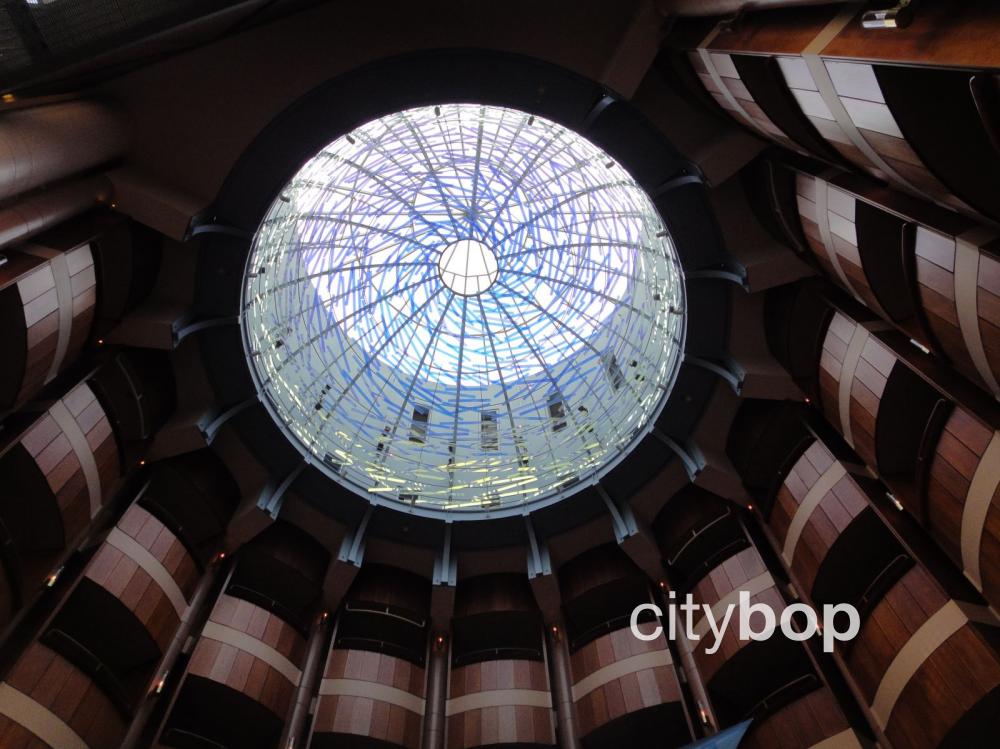 Antoinette Hatfield Hall is home to three theaters; the Winningstad Theater (check events), Newmark Theater (check events), and the Brunish Theater (check events).
10. Visit two great museums in Downtown Portland.
Portland's lovely South Park Blocks has a vibrant museum district, and is walkable from Downtown Portland. Check out the excellent Oregon Historical Society Museum to learn about Oregon's wild west history, or the Portland Art Museum to see Monet's Waterlilies (1914) and Vincent Van Gogh's Ox-Cart (1884).
See the award winning "Experience Oregon" exhibition at the Oregon Historical Society Museum, and learn about Oregon's rough and tumble beginnings as thousands of settlers made the difficult journey along the Oregon Trail to start a new life.
The Portland Art Museum is hugely popular, attracting 350,000 visitors a year.
More Restaurants & Shopping in Portland Oregon