The bustling Hawthorne District is in south-east Portland, and has a bohemian, independent vibe.
Its main shopping street is along Hawthorne Boulevard, with an eclectic mix of locally owned shops and restaurants, extending 43 blocks east to Mt Tabor Park.
Hawthorne Boulevard was once known as Asylum Road, named after the asylum ran by Dr. Hawthorne in this area in the 1860s and 1870s.
10 best things to do in Hawthorne Portland
1. McMenamins Bagdad Theater
The stunning Bagdad Theater is the most prominent landmark in Hawthorne, constructed in 1927 by Universal Studios, and now owned by the McMenamins Group.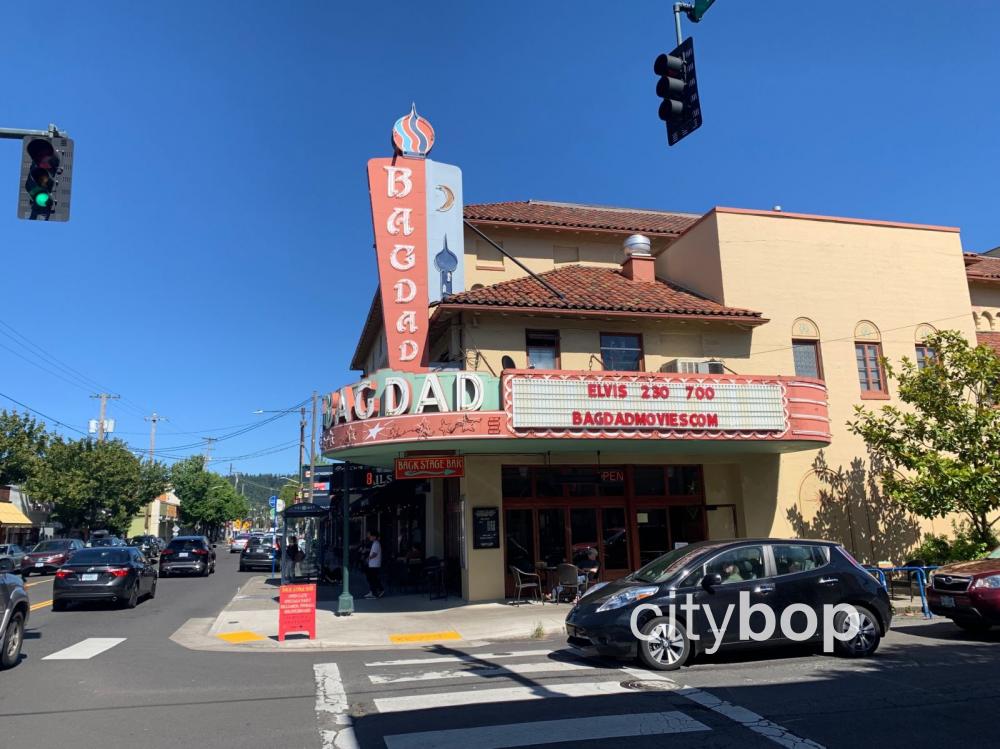 See first run movies inside this majestic theater while eating pizza, popcorn, or enjoying a beer (check movie times). The Mediterranean themed theater is visually spectacular, with wrought-iron chandeliers, frescoes and decorative arches. It has even hosted prominent film premieres for One Flew over the Cuckoo's Nest (1975), and My Private Idaho (1991).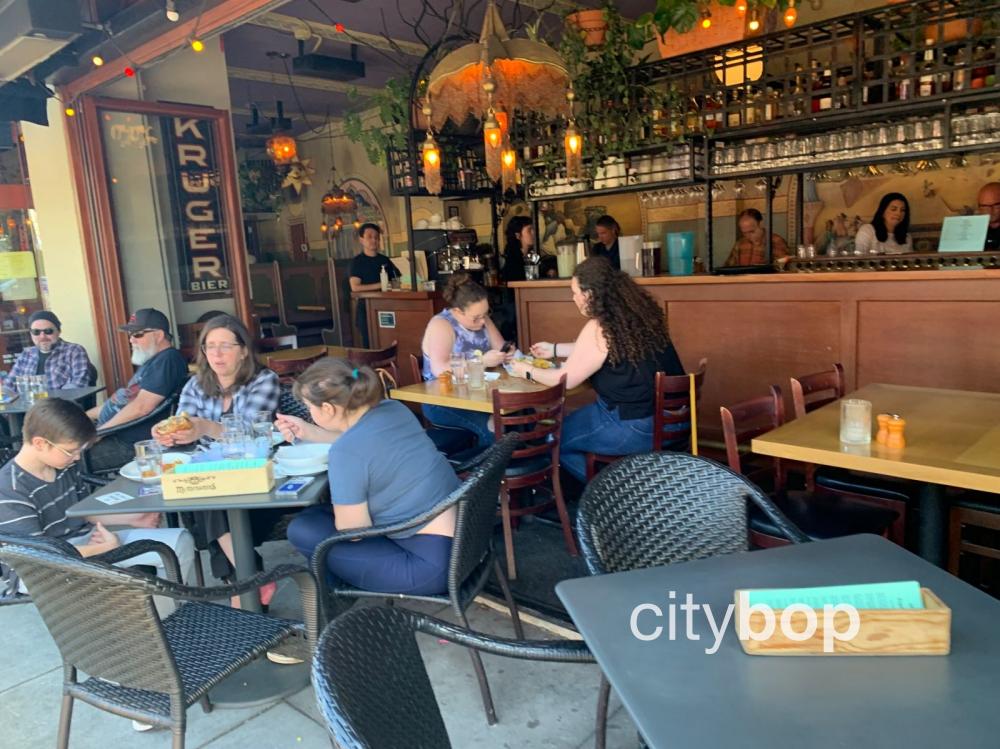 The theater also has a pub, cigar lounge and bar. Stop by the casual Bagdad Pub at street level (pictured) for a comfort meal, or enjoy a nightcap at the sophisticated Greater Trumps cigar lounge. Don't miss the spectacular Back Stage Bar with seven story high ceilings, a massive mural depicting the theater's history, and an 130-year old salvaged bar.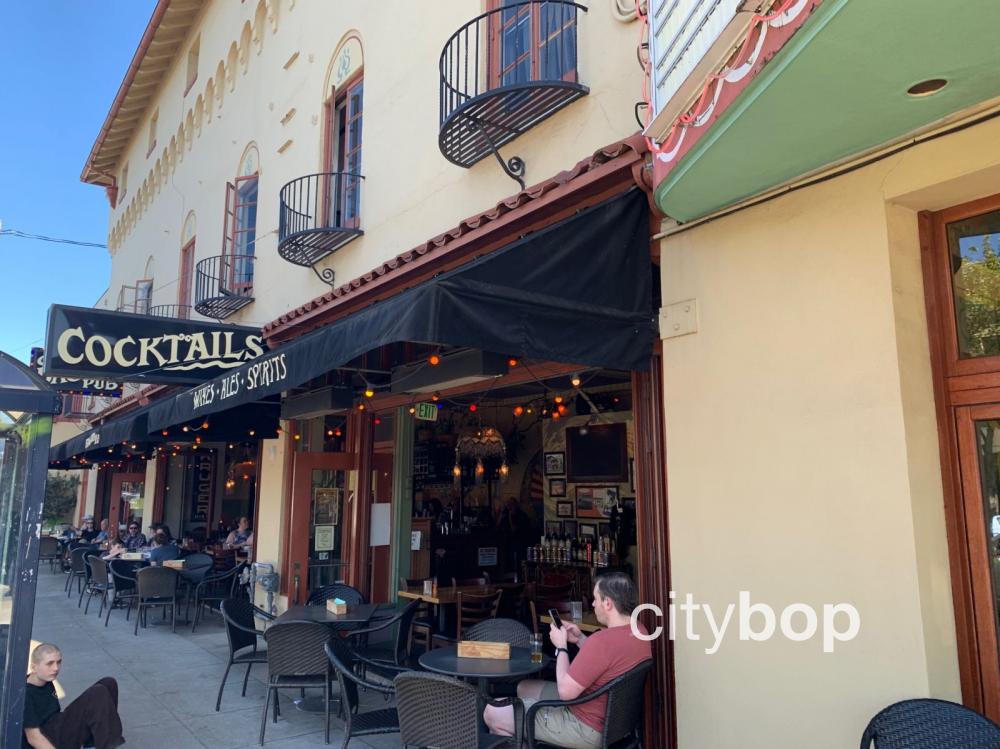 2. Brunch on Hawthorne Portland
Portlanders take brunch very seriously, and Hawthorne Boulevard has a fantastic selection of options.
Little Griddle has a cozy interior, serving citrus cocktails and all the breakfast classics, like eggs benedict, pancakes and skillets, while Fried Egg I'm in Love makes yummy breakfast sandwiches in a bright, modern space.
For an out of this world breakfast experience, try the iconic Space Room Lounge on Hawthorne, with a 3,000 square foot patio, arcade games, and psychedelic interior with space age murals on the walls.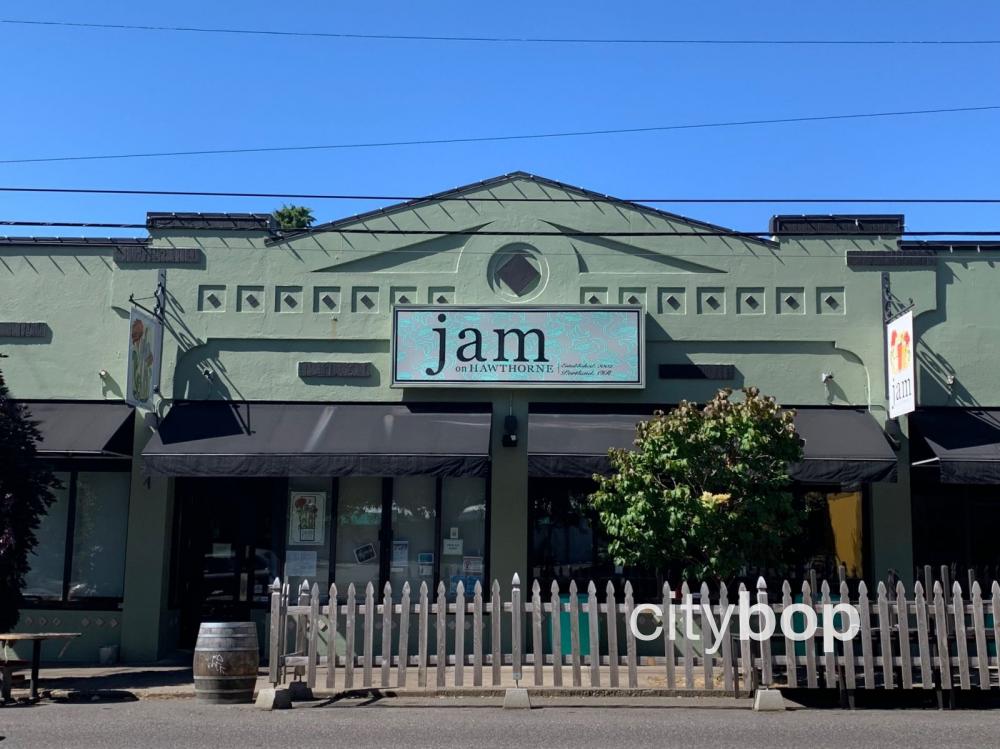 Jam on Hawthorne (pictured above) is filled with quirky art, and serves traditional breakfast fare with vegetarian and vegan options, washed down with mimosas and Bloody Mary's.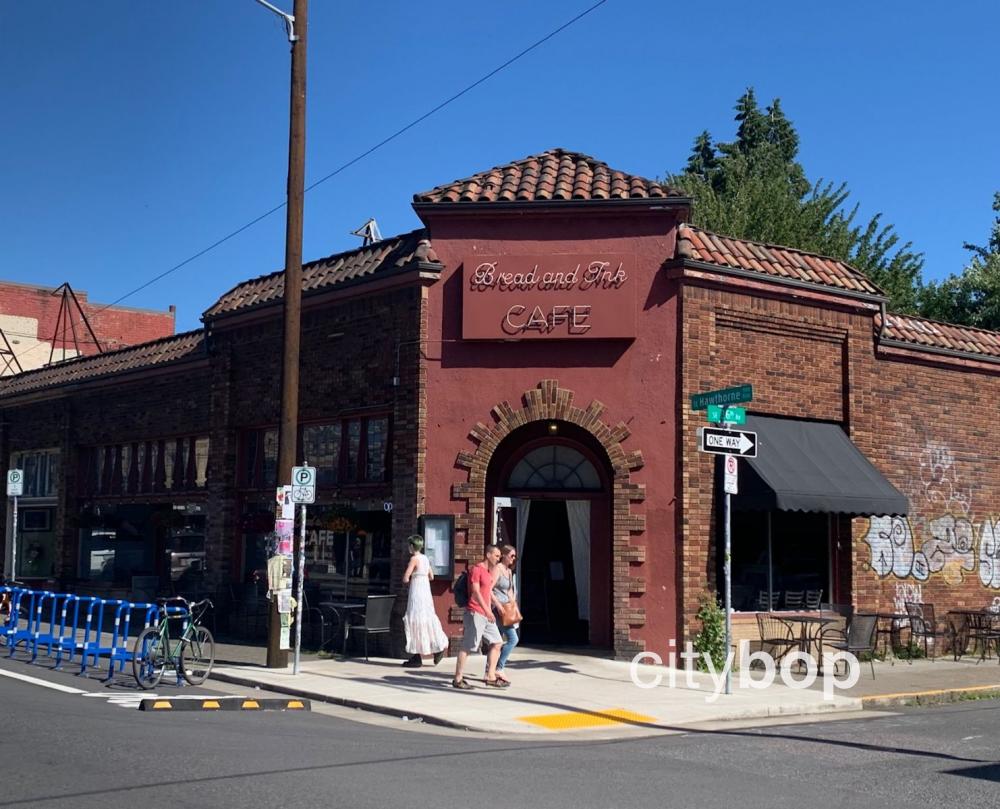 Bread and Ink Café (pictured above & below) serves benedicts, fried chicken and waffles in a European-style café.
3. Restaurants on Hawthorne
Hawthorne Boulevard has a fabulous mix of casual restaurants, covering a diverse range of global foods. Nothing is pretentious or trendy here, just straight up, delicious food!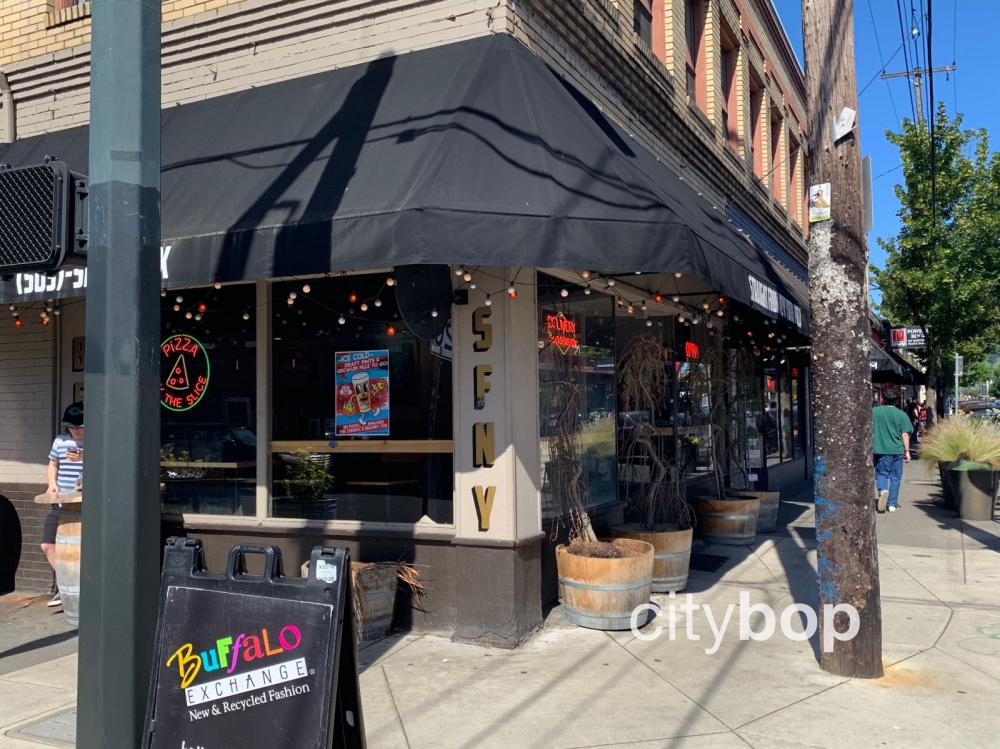 Some great selections include Straight from New York pizza (pictured above), Cubo (cuban), Que Bacano (Columbian), Farmhouse Kitchen (Thai), Short Round Crying Tigers (Vietnamese street food), Por Que No (Mexican), Apizza Scholls (visited by Anthony Bourdain), and Harlow (vegetarian eats).
4. Hawthorne Asylum
The entrance to the Hawthorne Asylum is on 11th and Madison, a short distance from Hawthorne Boulevard. This fun food court has 20 food trucks, serving Egyptian, Korean, South African, Burmese, Spanish, BBQ, vegan and so much more!
Huddle around the communal table with a roaring fire pit in the middle, or take a photo at the cool, steam-punk sign at the Hawthorne Asylum's entrance. Check out the giant mural of Dr. James Hawthorne, who built an asylum a short distance from here in the 1860s.
5. Coffee shops
Get your coffee fix at two great places along Hawthorne Boulevard. Coava Expresso Bar has a sleek, art-filled space with a fireplace and comfy couch, and the super relaxed Common Grounds Coffee House has a nice selection of pastries, and patio seating for warmer days.
6. Cool cocktail bars
Slip into a booth at the mid-century Gold Dust Meridian for happy hour, cocktails and pub food, while soaking up the fun atmosphere. There's also a jukebox and pool table, and a lush outdoor patio for summer.
The top rated Sapphire Hotel has a dimly lit bar infused with mystery and ambiance, harking back to its earlier days as a hotel lobby full of 19th century prostitutes plying their trade. Enjoy the cocktails, beer, wine and delicious bites.
7. Powell's Books on Hawthorne
The famous Powell's book-sellers is the largest independent bookstore in the world, operating 3 stores in Portland, including a 10,000 square foot store along Hawthorne Boulevard. Check out 200,000 new and used books in this massive space.
8. Quirky stores
Hawthorne Boulevard has a fun mix of quirky stores, catering to all whims.
Excalibur Comics has a huge selection of comics and is Portland's oldest comic store, in business for 40 years!
Pick up some unique accessories or furniture with mid century flair at the Asylum home-ware shop. Vintage Pink Retro Furniture also specializes in mid century furniture.
Fred's Sound of Music has been around since 1948, and are the experts in home theaters.
You can also be dazzled by the incredible selection of 1,000 perfumes at the European-style The Perfume House, rumored to be have attracted celebrities from all over the world.
9. Thrift shopping
You will be spoiled for choice with plenty of thrift clothing stores along Hawthorne Boulevard. Some options include the House of Vintage, Red Light Clothing Exchange, In Real Life, and the trendy 2nd Street Hawthorne.
10. Brewpubs
Portland is full of brewpubs, and Hawthorne Boulevard is no exception. Check out the industrial-style interior at Gigantic Brewing, or the low-key relaxed vibe at the Lucky Labrador Brewpub, or McMenamins Barley Mill Pub.
11. Hawthorne Theater
Check out a live show at the historic Hawthorne Theater, in the Hawthorne Masonic Building completed in 1922. The building was once a meeting place for stonemasons until the 1970s, when it took on various uses as a pub, ballroom, comedy club, art gallery and record shop, before becoming the Hawthorne Theater in 2005.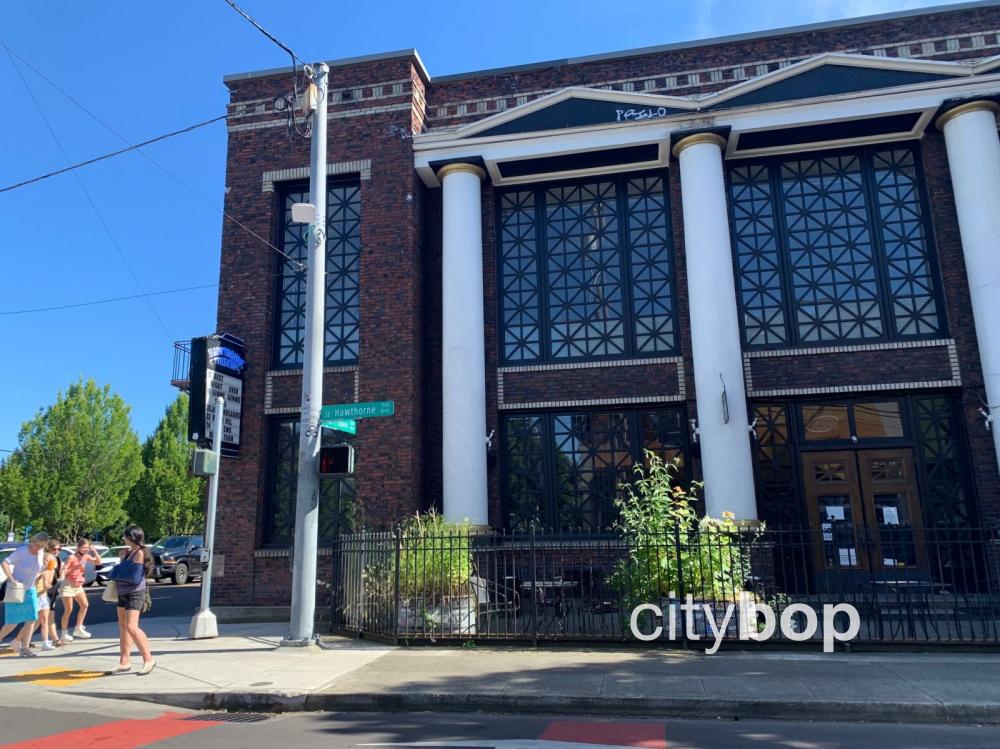 12. Quarterworld
The Quarterworld arcade is on Hawthorne Boulevard, with 40+ pinball machines and 55+ arcade games. There's also two bars fully stocked with cocktails, beer, burgers and pizza.
13. Commonwealth Skatepark
The Commonwealth Skatepark is an indoor skatepark tucked away on 11th Avenue, a few steps from Hawthorne Boulevard. This super cool 4,500 square foot space opened in 2011 inside an old warehouse, and has two concrete bowls, rails, and ledges.
You can stop by for general sessions, book a lesson, or reserve this space for a party (check hours & rates). There's also a small store staffed by experts, selling boards, sneakers, caps, hoodies, bearings and decks.
More Restaurants & Shopping in Portland Oregon