Laurelhurst Park is one of Portland's most stunning parks.
Laurelhurst Park is an urban sanctuary in southeast Portland, with trails meandering through 32-acres of grassy meadows and forested areas, and 120 different species of trees. There's also a popular off-leash dog park, and a playground adjacent to basketball and tennis courts.
The centerpiece of Laurelhurst Park is beautiful Firwood Lake. Follow the trail around the lake for regular sightings of the resident duck and turtle population.
History: Laurelhurst Park was established in 1909, when the city acquired it from prominent real estate developer William Ladd. Ladd had utilized the land as a dairy farm and bred Jersey cattle here. In 1912 the landscape design for Laurelhurst Park was completed by Emanuel Mische. Mische worked for the famous Olmstead Brothers Company who designed NY's Central Park, and established the system of parks for Portland and other cities like Seattle. Laurelhurst Park was later added to the National Register of Historic Places in 2001.
Location: Laurelhurst Park is across the Burnside Bridge in the idyllic Southeast Portland neighborhood of Laurelhurst, just 10 minutes from the city.
Nearest Restaurants: There's a great strip of restaurants a few blocks away from Laurelhurst Park on NE 28th Avenue (between Hoyt Street and Ash Street). Start at City State Diner and Bakery for a delicious brunch.
5 best things to do at Laurelhurst Park
1. Admire Firwood Lake
The lake at Laurelhurst Park was originally a smaller, spring-fed pond that was a popular waterhole for locals to swim in (swimming is prohibited today). It was later enlarged to 3-acres when the park was created. Today this picturesque lake is full of ducks, fish and turtles, and there are frequent spottings of ducklings in the spring. The lake's aqua blue color is the result of blue-green algae that heats up in the shallow depths a lot faster in summer.
There are plenty of benches to sit on around Firwood Lake at Laurelhurst Park.
2. Enjoy a picnic
Lay out on the lush, green lawns at Laurelhurst Park on a sunny day with a picnic blanket, or sit under the shade of the giant trees. Gather a large group together and book some picnic tables through Portland Parks and Recreation.
3. Bring your kids to the playground & sports courts
The playground at Laurelhurst Park is separate from the rest of the park, located on SE 37th Avenue and SE Stark Street. There are also basketball, volleyball and tennis courts.
4. Take your dog to the massive off-leash area.
The huge off-leash dog area is on the western side of Firwood Lake at Laurelhurst Park, just off SE Oak Street.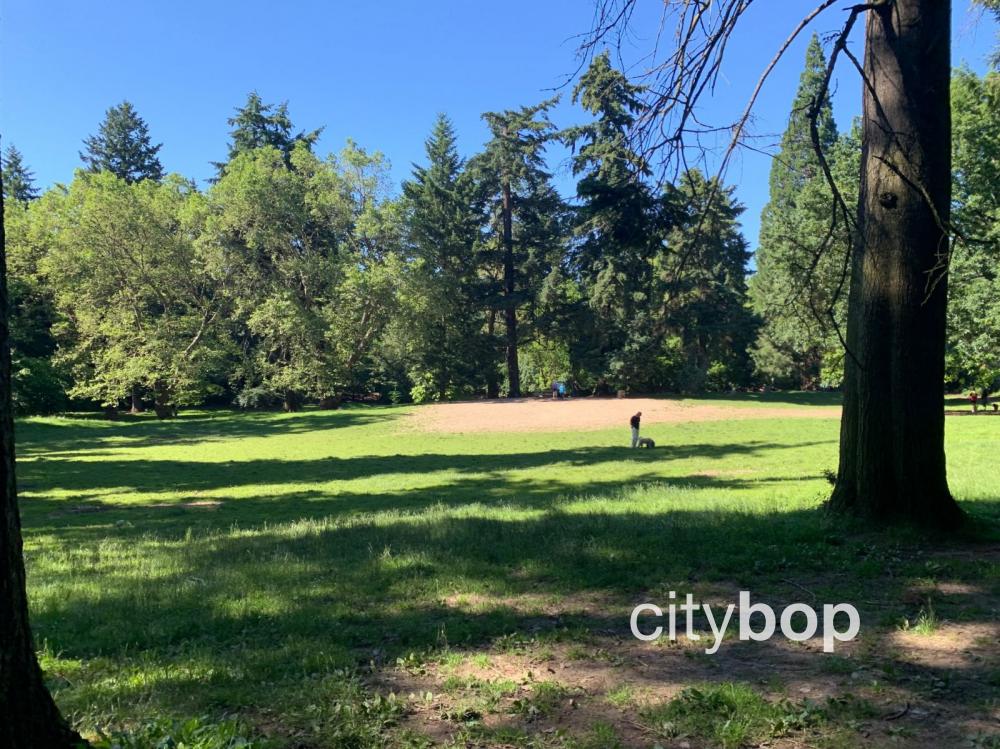 5. Explore the loop trail.
Follow the loop trail around the perimeter of Laurelhurst Park, setting aside 45 minutes to fully complete it. You can also venture off into the network of meandering trails that feed into this loop trail, traversing open meadows and forest, beneath a canopy of majestic trees. Look up at these impressive trees, including five redwoods and roughly a hundred Douglas-fir trees.
More Parks & Nature in Portland Oregon