Lake Oswego is a scenic town,15 minutes south of Portland.
This affluent community has a population of 40,000 people, with million dollar waterfront homes lining the 3-mile wide lake.
Lake Oswego's downtown area is extremely walkable, located on the northeastern shore of Lakewood Bay.
The main thoroughfare is along First Street, with plenty of boutiques, coffee shops and restaurants leading to a stunning plaza overlooking the lake. In warmer months enjoy alfresco dining, outdoor concerts and a summer market in this idyllic setting.
The lake flows into the Willamette River via Oswego Creek. There are three beautiful parks at Lake Oswego overlooking the western shores of the Willamette River, featuring walking paths, overlooks, gardens, a sandy beach, and playground.
10 BEST things to do in Lake Oswego
1. Downtown Lake Oswego.
Most of the action in downtown Lake Oswego is concentrated along First Street, with casual restaurants like Holy Taco and Pizzeria Sul Lago, and more upscale dining at Five Spice Seafood.
This is downtown Lake Oswego, overlooking the entrance to First Street from Millennium Plaza Park.
Holy Taco is along First Street, and one of the most popular places to eat at Lake Oswego.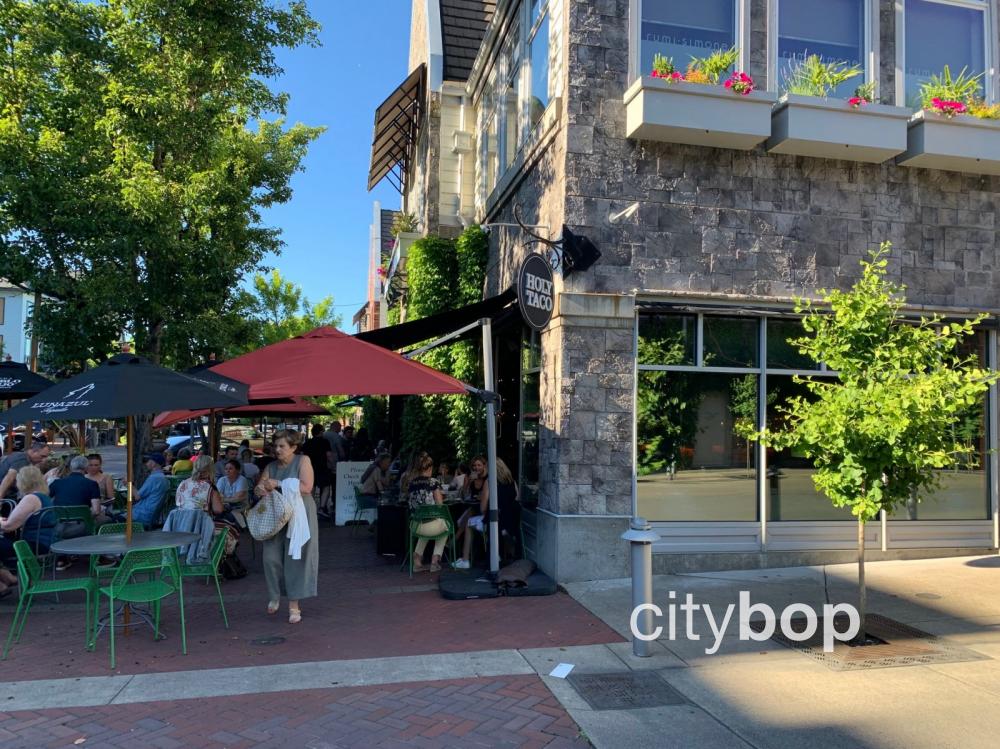 Don't forget to take advantage of the fun happy hour at Holy Taco!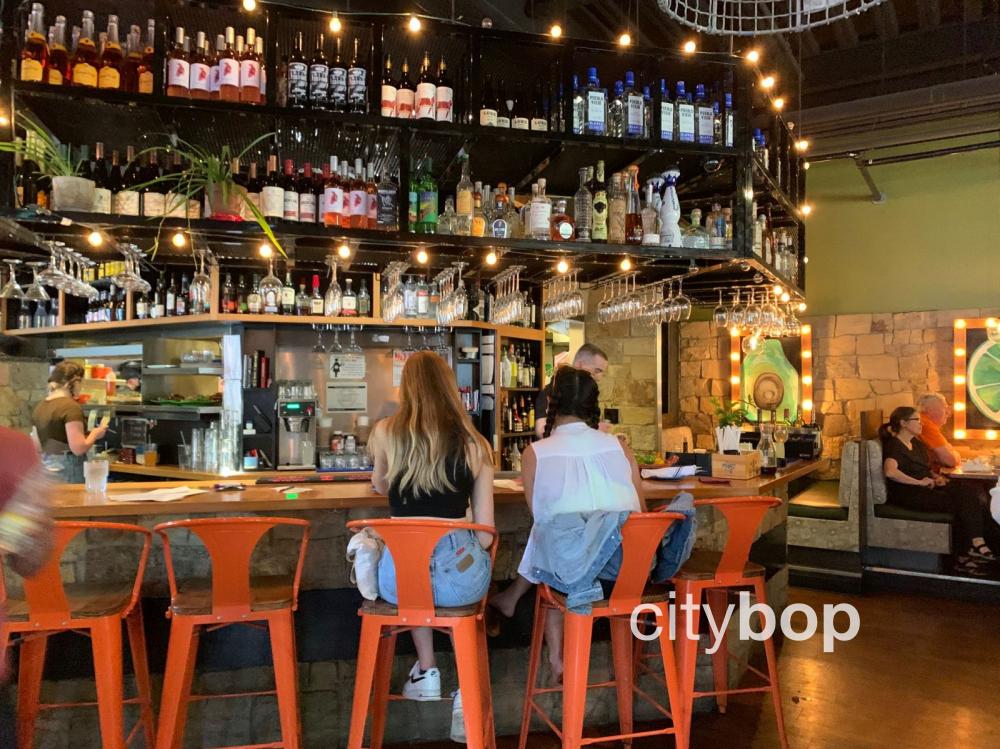 Holy Taco has a vibrant interior, with a choice of seating at both booths and the bar.
There's also a few gift shops, home-wares and boutiques to explore along First Street at Lake Oswego.
2. Millennium Plaza Park.
Millennium Plaza Park is directly off First Avenue in downtown, and enjoys sweeping views across Lake Oswego. This is an enchanting setting in summer, with a reflecting pool, grassed area for picnics, and a seasonal Farmer's Market.
This is the reflecting pool, adjacent to the area where the seasonal Farmer's Market is held at Lake Oswego.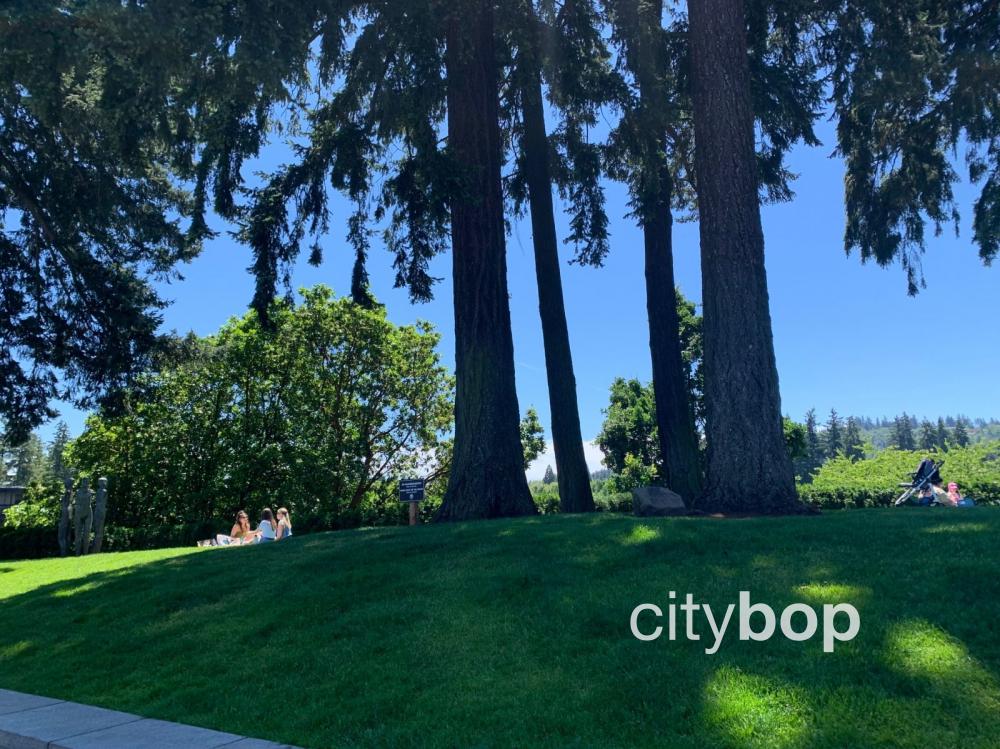 The grassed area at Millennium Plaza Park is the perfect place to hang out with friends and enjoy a picnic.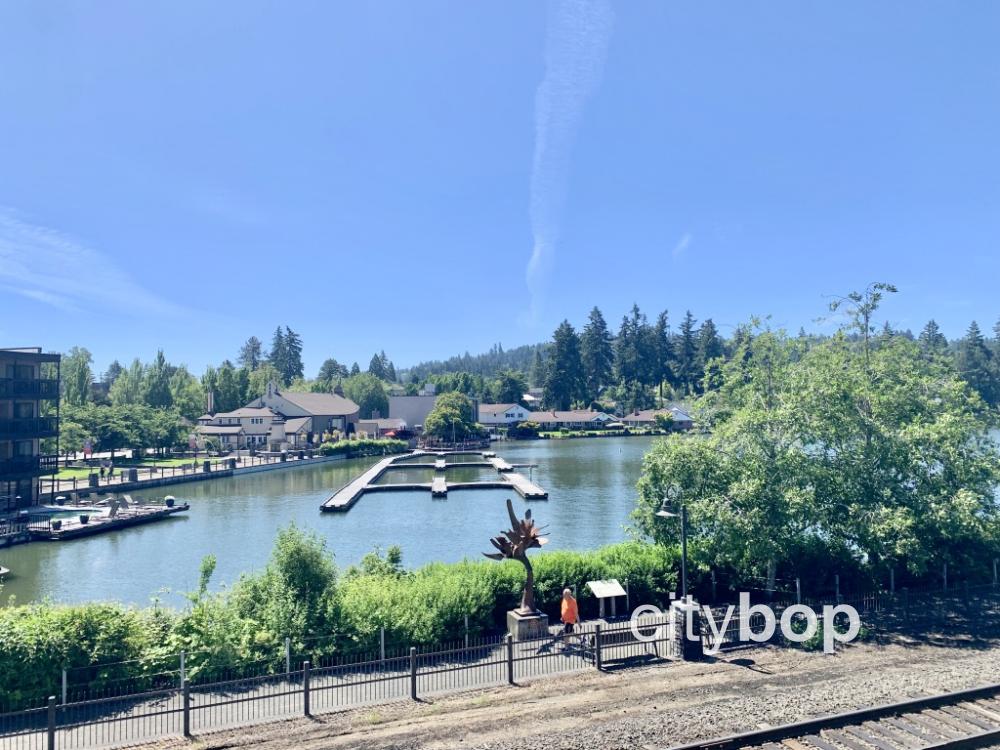 These are the spectacular views from Millennium Plaza Park.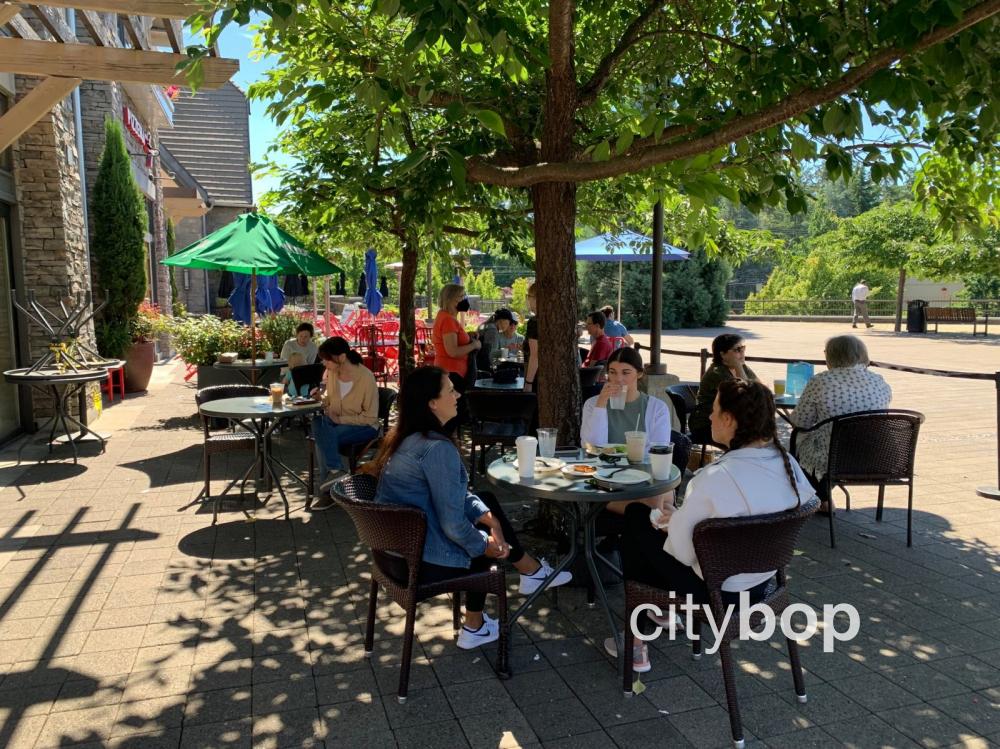 Both St Honore Bakery and Pizzeria Sul Lago offer outdoor seating at Millennium Plaza Park.
3. Lakefront splashpad.
Take the stairs from upper Millennium Plaza Park down to the railway crossing, then across to lower Millennium Plaza Park on the lakefront. Here you'll find a seasonal splashpad that overlooks the lake, adjacent to the Lakeshore Inn. The Lakeshore Inn is the only hotel on the lake. However,there are plenty of Airbnb's to choose from in Lake Oswego.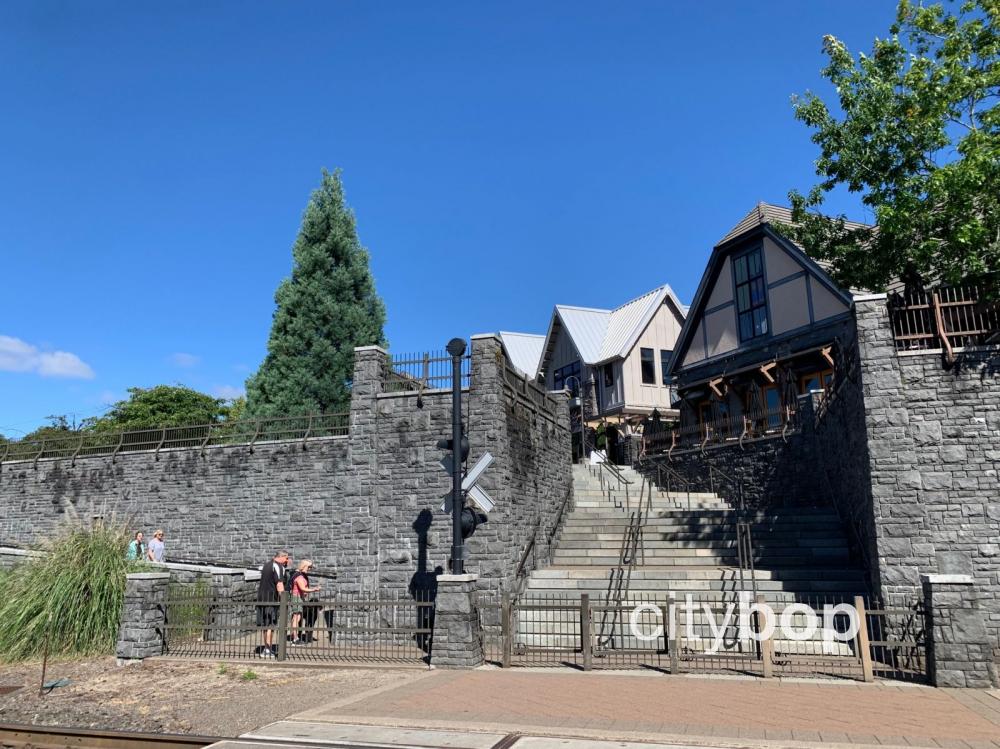 This set of stairs leads to lower Millennium Plaza Park, but you might have to wait behind the gates for a passing train.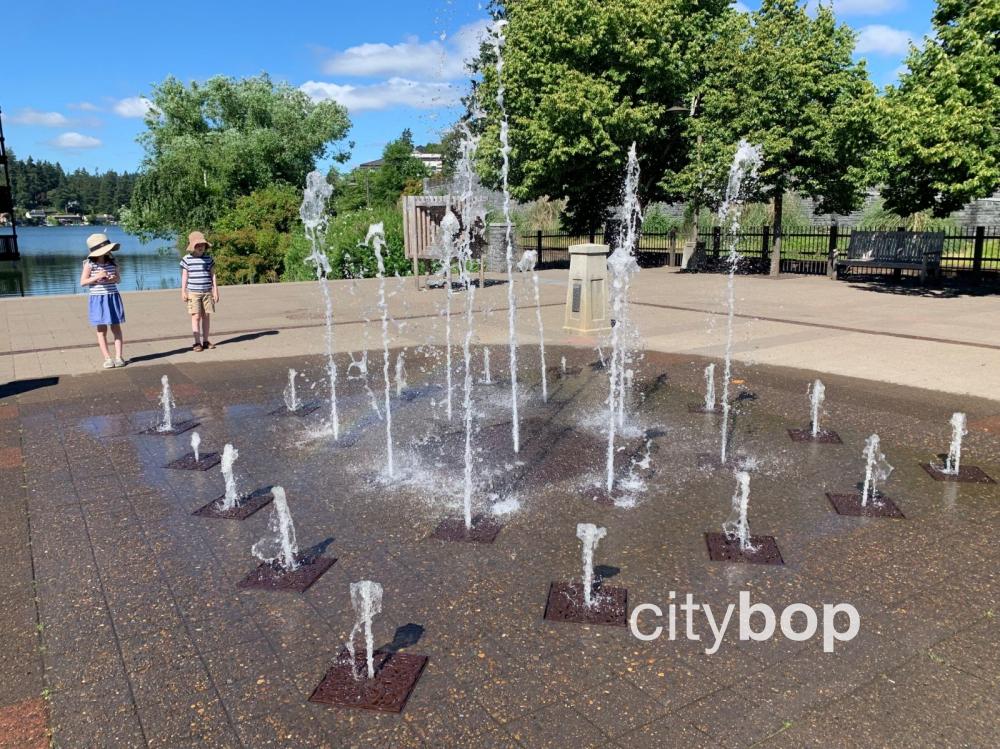 The seasonal splash-pad at the bottom of the stairs is perfect for kids.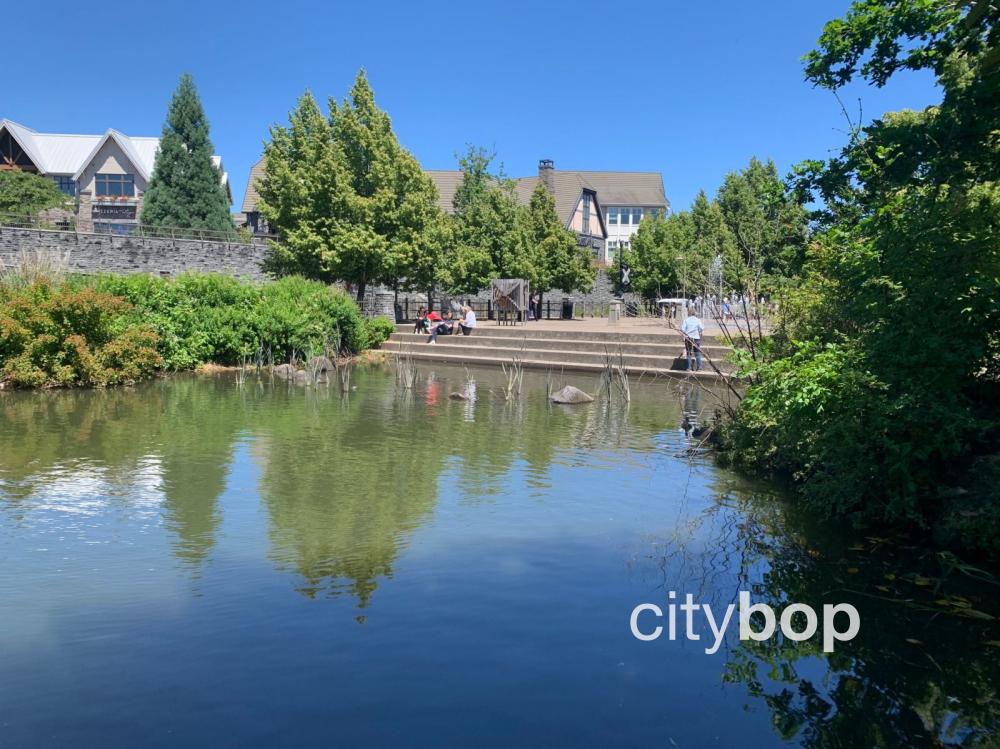 You can also sit on the nearby stairs to get a close-up look of the birdlife. Can you see the splashpad in the background?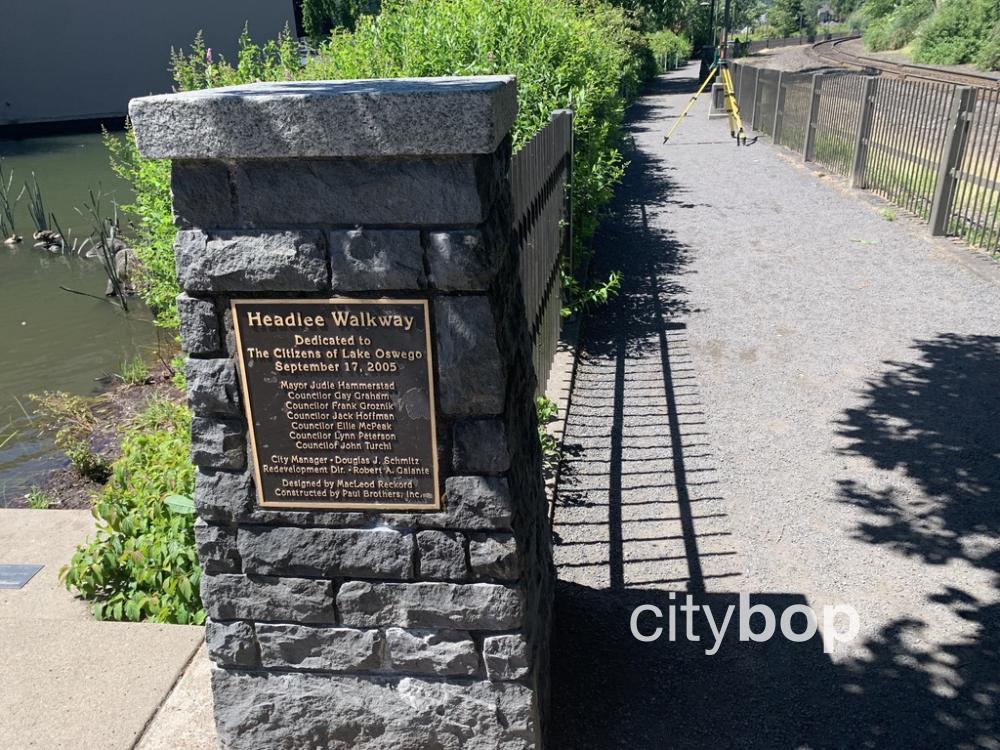 The entrance to the Headlee Walkway is near the splashpad. This 5 minute walkway runs along the northern shore of Lakewood Bay in Lake Oswego, ending at 3rd Street.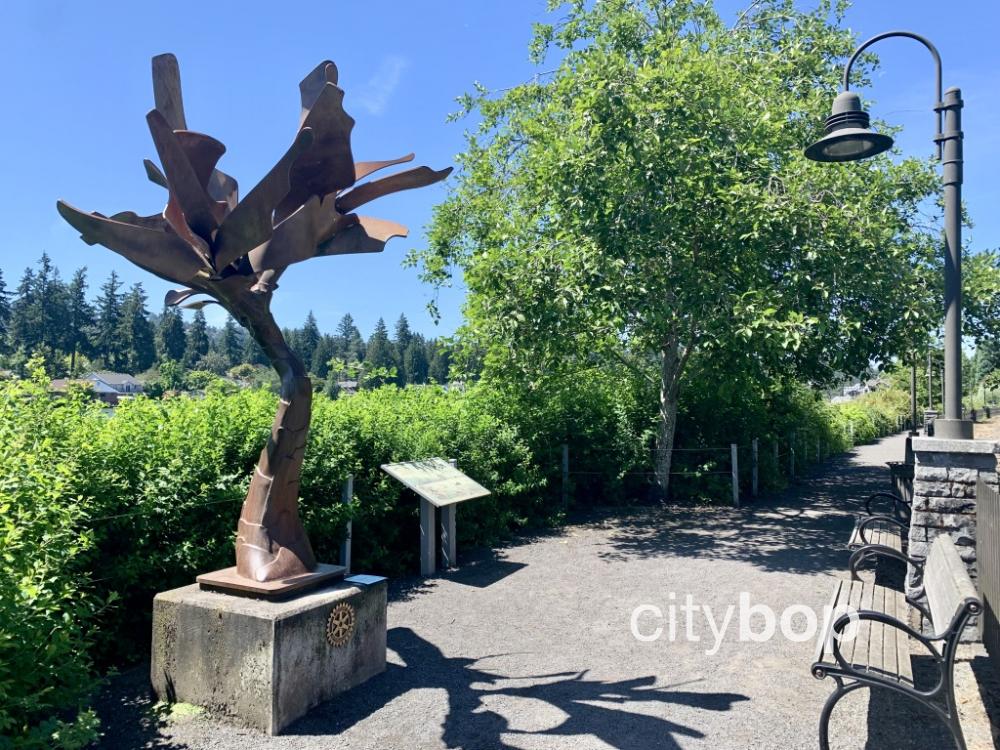 Check out this beautiful sculpture along the Headlee Walkway at Lake Oswego.
4. Sundeleaf Plaza.
Follow the footpath along State Street to reach Sundeleaf Plaza, and walk along the wide promenade for gorgeous views of Lake Oswego. There's also plenty of benches and lawned areas for relaxing.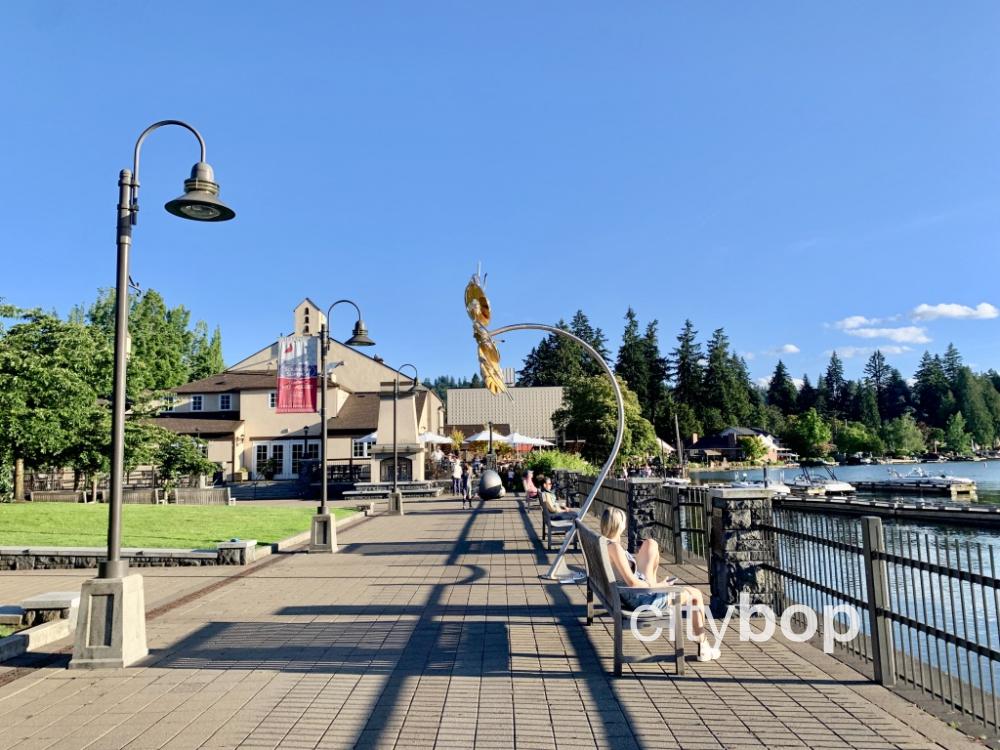 5. Lake Theater and Cafe
The historic Lake Theater and Café is on Sundeleaf Plaza in Lake Oswego, and has been operating since 1940.
This popular neighborhood hang-out has two movie screens and a restaurant/bar with a patio on the lake.
The restaurant and bar at the Lake Theater has an emphasis on locally sourced, fresh ingredients, and a comprehensive wine and beer list.
6. Stickmen's Lakeside Smokehouse.
The second lakefront dining option is the family friendly Stickmen's Lakeside Smokehouse and Brewery, with a great selection of beers on tap, house smoked BBQ and pub food. It's also perfect in winter, with a cosy interior reminiscent of an English pub.
The large patio gets super busy in summer, crammed full of locals. Many locals arrive by water on their private boats, docking at the marina in Lake Oswego, then walking to the restaurant.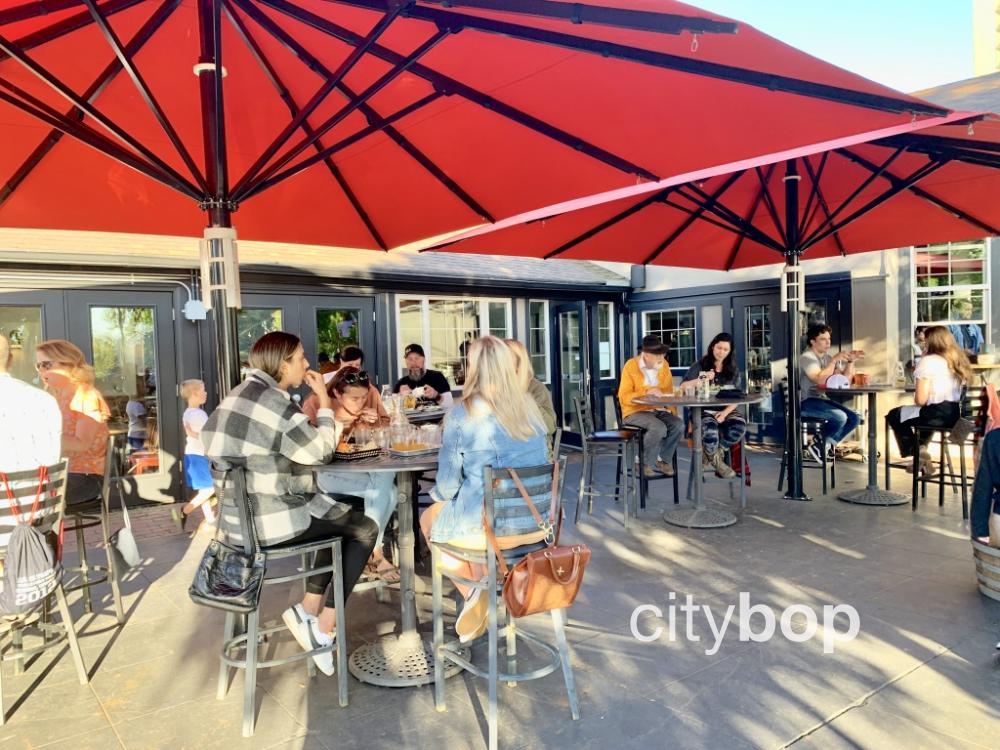 7. George Rogers Park.
George Rogers Park is the best known park in Lake Oswego, with a wide, sandy beach on the Willamette River that is popular with locals and Portlanders alike. There's no public access to the water at Lake Oswego, and the swim parks are only open to residents, therefore making the beach at George Rogers Park a great alternative. Note there are no lifeguards at the beach, so you swim or paddle at your own risk.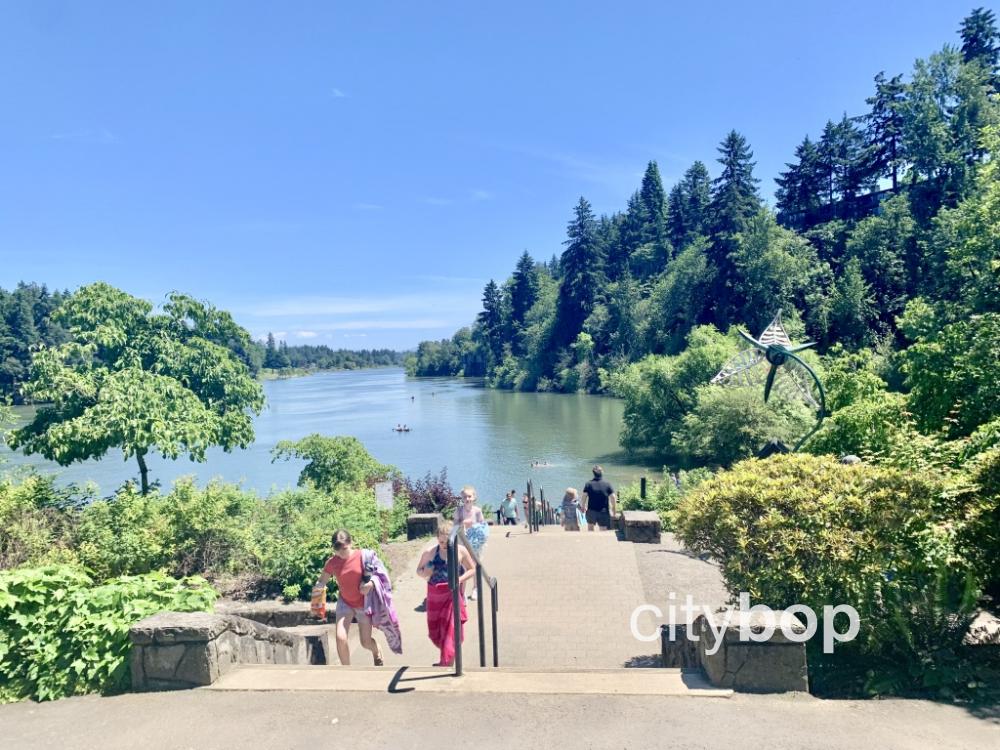 During warmer months, you can also rent kayaks and paddleboards there.
Beyond the beach, there's so much to do at George Rogers Park in Lake Oswego, including a playground, baseball field and tennis courts at the upper parking lot, and lots of open lawns and gardens for sunbathing, closer to the riverfront.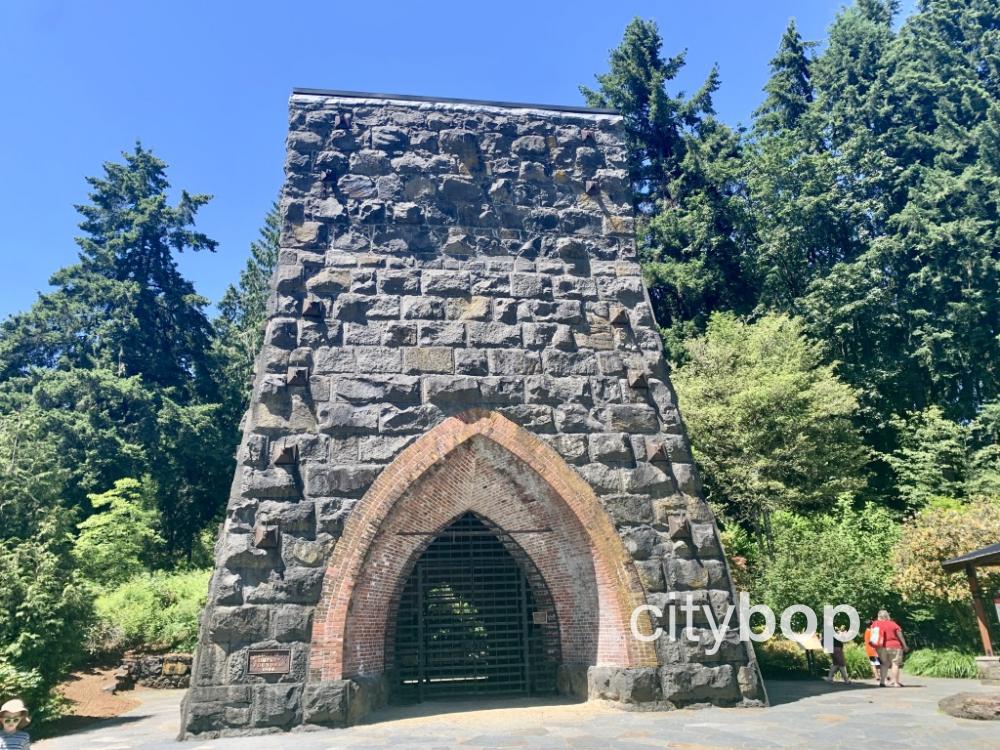 The centerpiece of George Rogers Park is the historic Oregon Iron Company Furnace, constructed in 1866.
The fun playground is near the upper parking lot at George Rogers Park.
8. Lake Oswego brunch.
If you're looking for a scrumptious brunch at Lake Oswego, visit Lola's Café Bar on Third Street, with a choice of indoor dining or a heated patio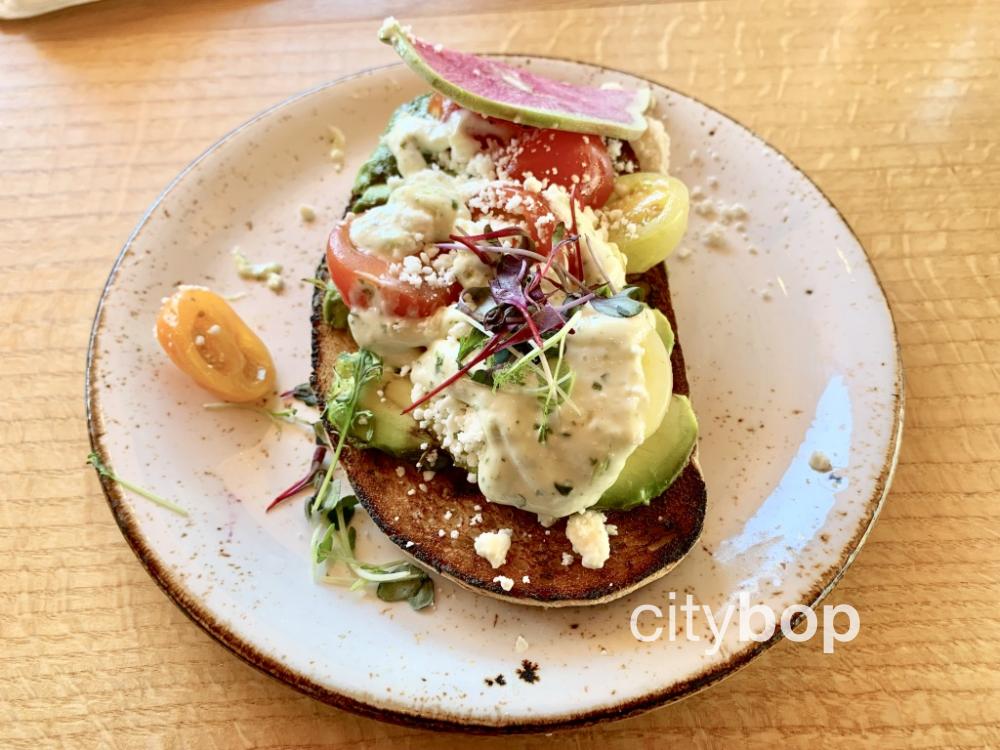 Lola's Café Bar serves delicious salads, toasts, breakfast bowls, smoothies, cocktails and coffee.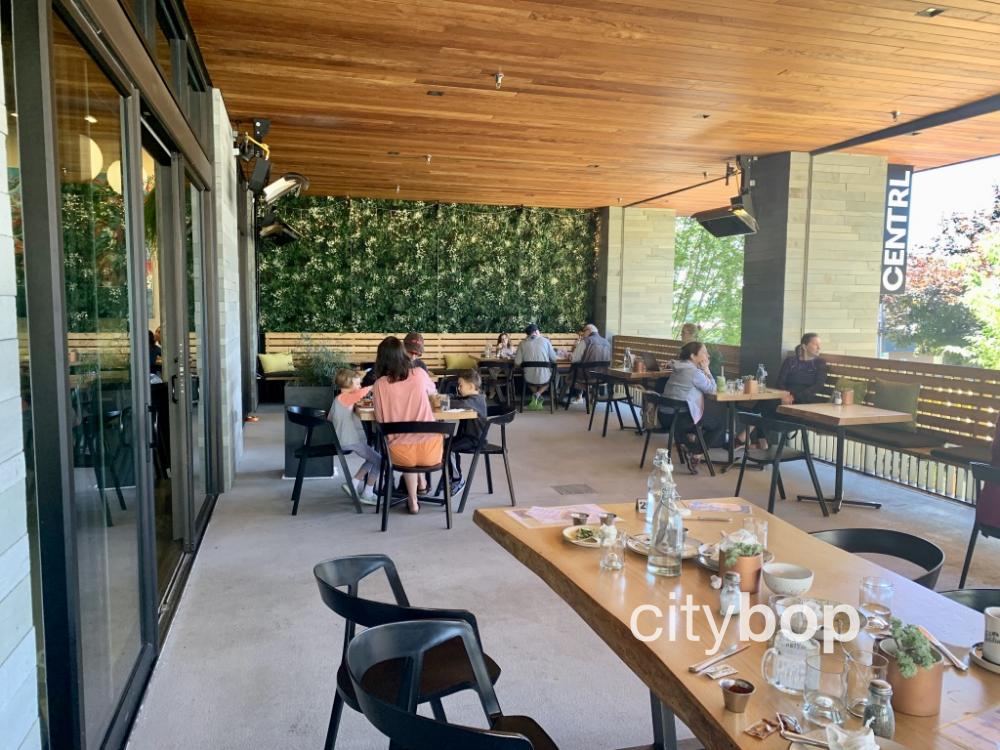 Sit outside on the heated patio that overlooks B Avenue in Lake Oswego.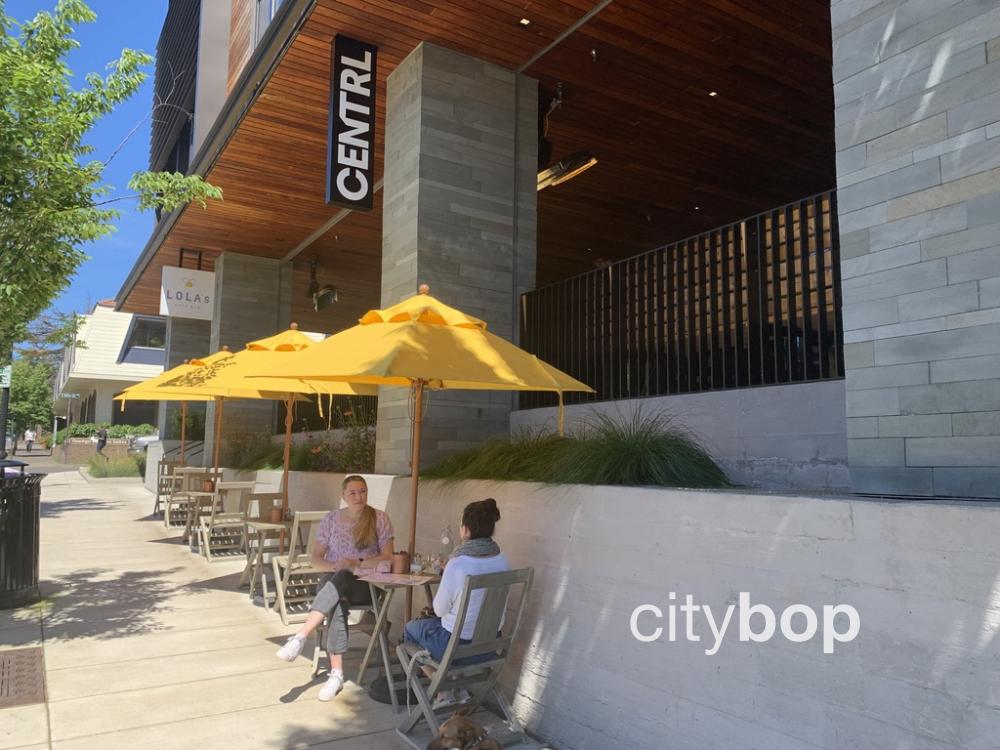 Lola's Café Bar also offers streetside tables on B Avenue.
Another great brunch option is St Honore Boulangerie in downtown Lake Oswego, overlooking Millennium Plaza Park.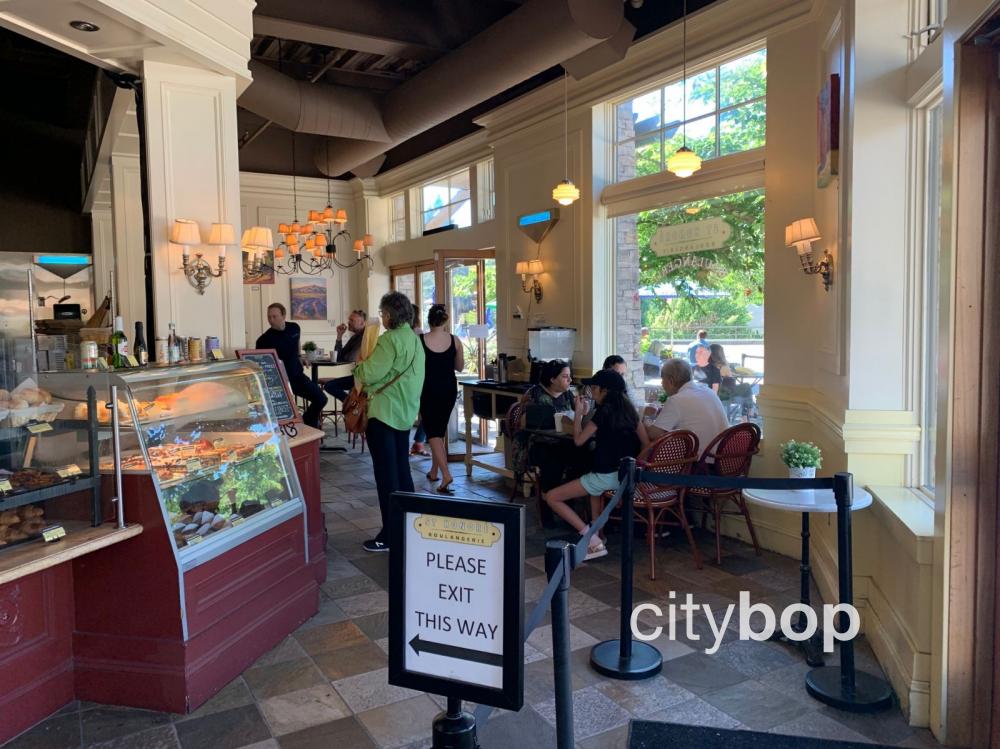 St Honore Boulangerie serves quiches, baked goods, baguettes, panini's and coffee.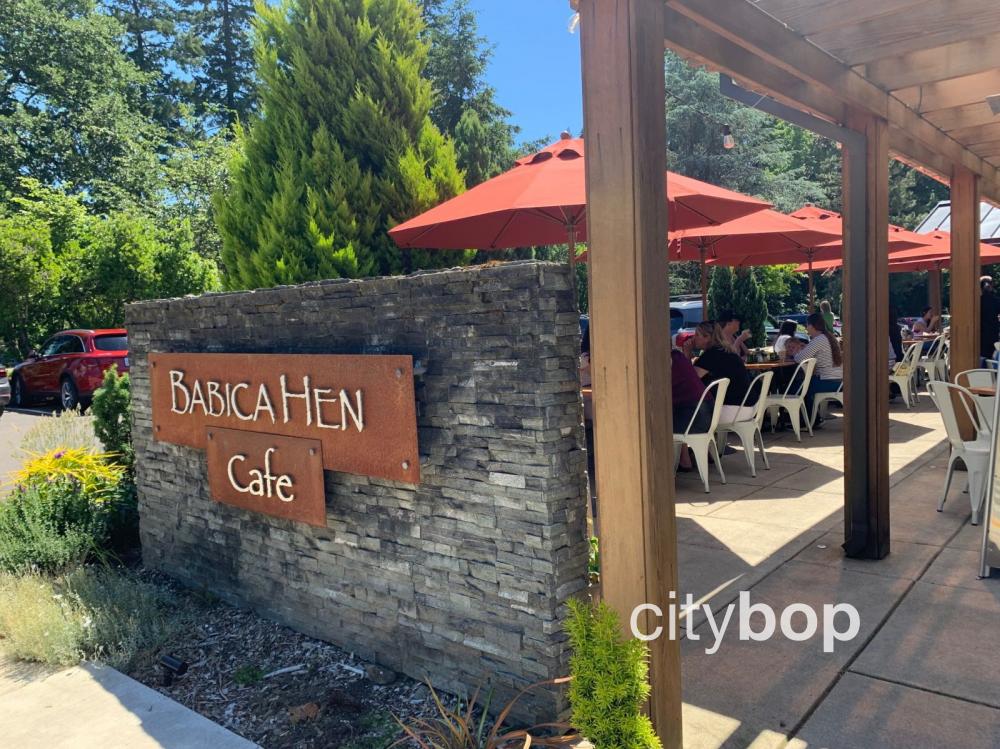 You can also drive to the northwestern shore of Lake Oswego for more brunch options, like Babica Hen Cafe (pictured) and La Provence. Both these cafes can get very busy on weekends.
9. Riverfront trail with two parks.
Lake Oswego has two lovely parks tucked away on the western shores of the Willamette River; Foothills Park and Roehr City Park. These two parks are connected by a riverfront trail, so you can visit both parks in one trip. There's no parking at Roehr City Park, so the best starting point is the parking lot at Foothills Park.
The 6-acre Foothills Park is a beautifully laid out city park, with large swathes of grassy parkland on a bluff overlooking the Willamette River. During summertime this quiet park is an ideal spot for sunbathing on the expansive lawns.
There is a dock and an overlook at Foothills Park.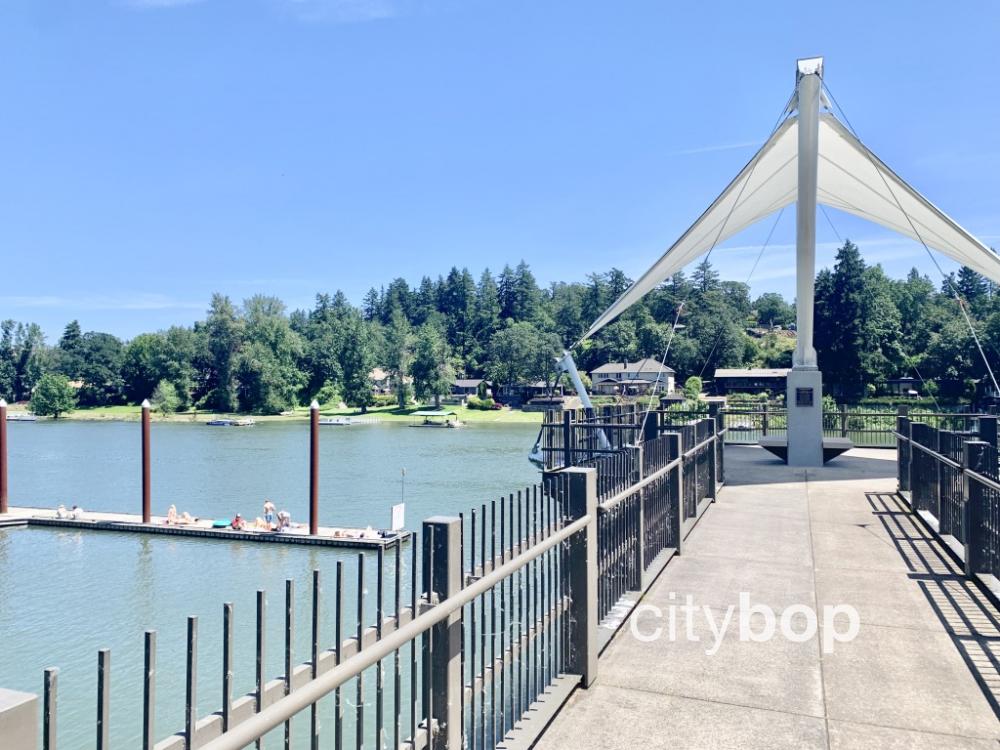 The dock that juts out into the river is also a popular spot for sunbathers, although no swimming is permitted from the dock.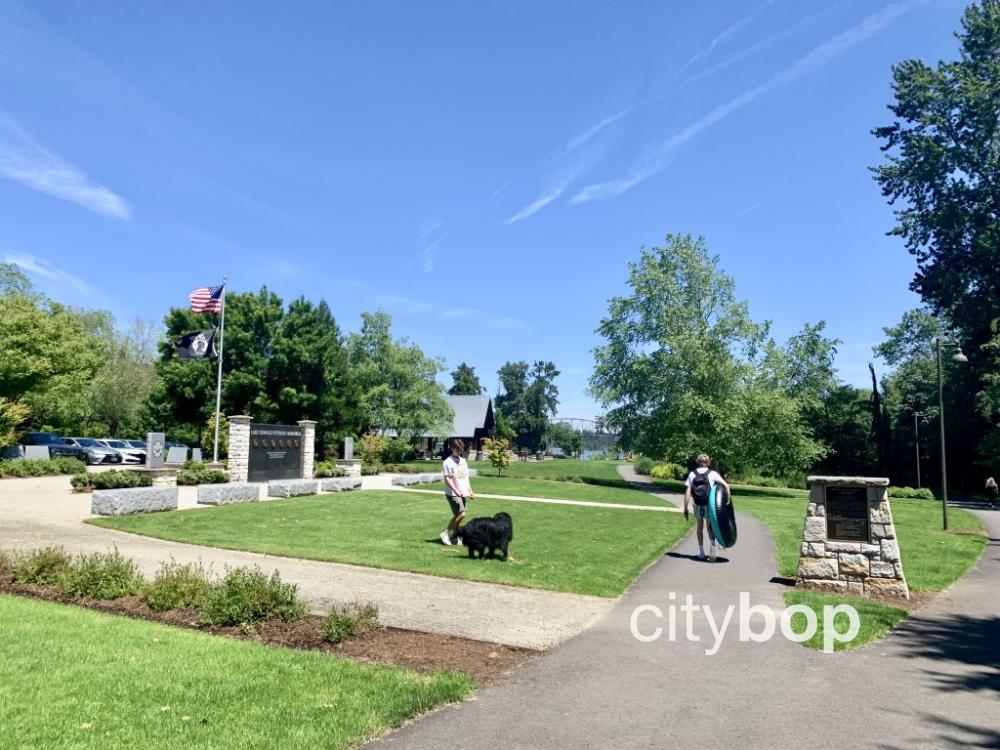 The pathways at Foothills Park take you past a Vietnam Memorial, a pavilion with picnic tables, and an art installation from basalt columns featuring the poetry of William Stafford. The path dead-ends at an overlook with views of the Lake Oswego Railroad Bridge.
Here's a closer look at the Vietnam Memorial at Foothills Park in Lake Oswego.
There are also some beautiful gardens near the parking lot at Foothills Park Lake Oswego.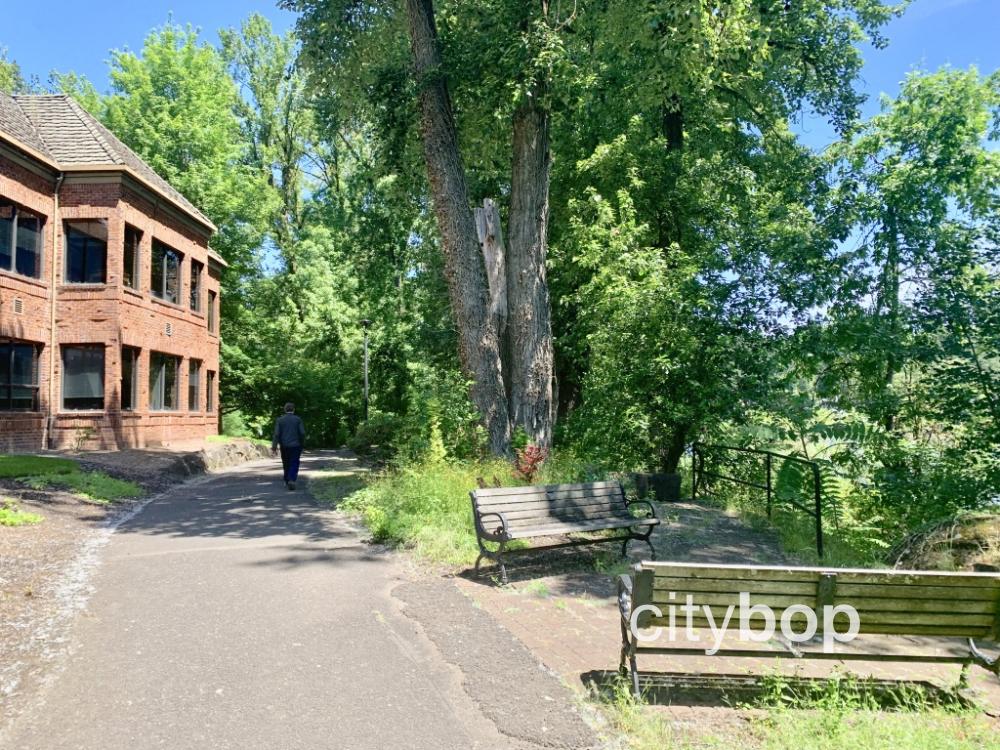 Continue south from Foothills Park down to Roehr City Park, which has a more secluded setting along a forested path that flanks the river.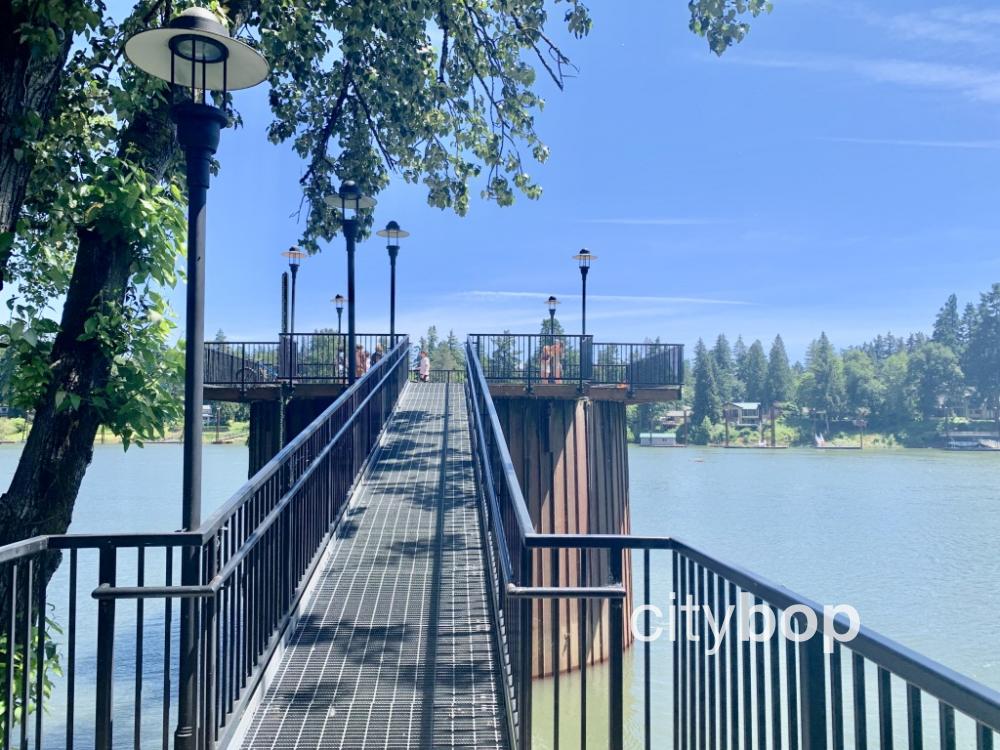 Step out along one of the two viewing platforms at Roehr City Park, and take in the tranquility of the river.
The site of Roehr City Park is where the Oregon Iron Company was founded at Lake Oswego in 1865, when iron ore deposits were discovered nearby. There was great excitement that Oswego would become the "Pittsburgh of the West", supplying cheaper iron for the West Coast of America. The West Coast desperately needed a cheaper source of iron, because the cost was ten times higher than the West Coast, due to the exorbitant cost of shipping it around Cape Horn. The company changed ownership twice, and then finally met its demise after the financial panic of 1893.
10. Old Town
Lake Oswego's Old Town is about a 10-minute walk from downtown. There are 9 points of interest, highlighted by bronze plaques along the streets.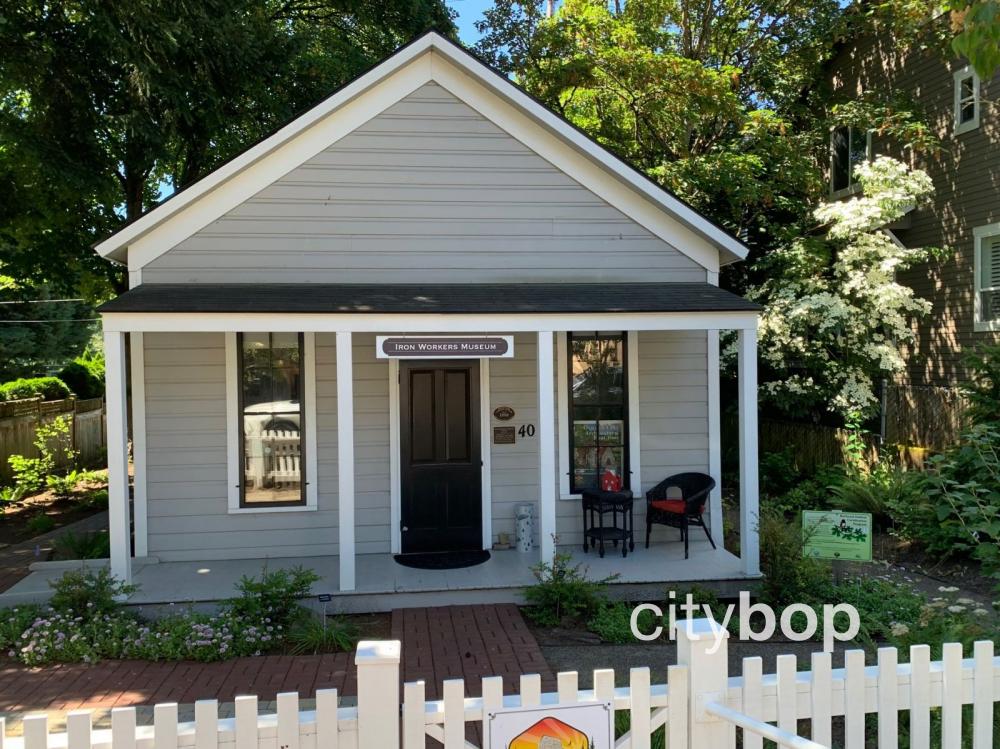 Start at the Iron Worker's Museum (40 Wilbur Street), built in the 1880s by the Oregon Iron Company to house one of its many workers. It's also the oldest house in Lake Oswego! This tiny museum is free to visit, and is on the National Register of Historic Places (check hours).
Walk across Wilbur Street to the George Rogers House built in 1929, with walkways constructed from the furnace of the Oregon Iron and Steel Company.
Continue to the corner of Wilbur Street and Durham Street, to find a street map above a park bench that highlights other points of interest in Old Town. Don't miss the plaque above the bench explaining how Oswego was named after a small town in New York, by a settler who established a free land grant here in 1850.
11. Oswego Heritage House Museum.
Learn more about Lake Oswego's fascinating history at the free Oswego Heritage House Museum, about a 5 minute drive west of Lake Oswego's downtown. The house was constructed in 1928, and built by a property developer who masterminded the conversion of Lake Oswego's land from the Oregon Iron and Steel Company, to prosperous real estate (check hours).
12. Lake Oswego's historic Trolley.
Ride on a historic Portland Trolley from the late 1800s! The historic Willamette Shore Trolley runs from the Lake Oswego depot (311 North State Street), to the SW Portland riverfront. Check tickets & times.
13. Lakewood Center for the Arts.
The Lakewood Center for the Arts has plenty of theater productions and art exhibitions, and is conveniently located near downtown Lake Oswego (check shows & tickets).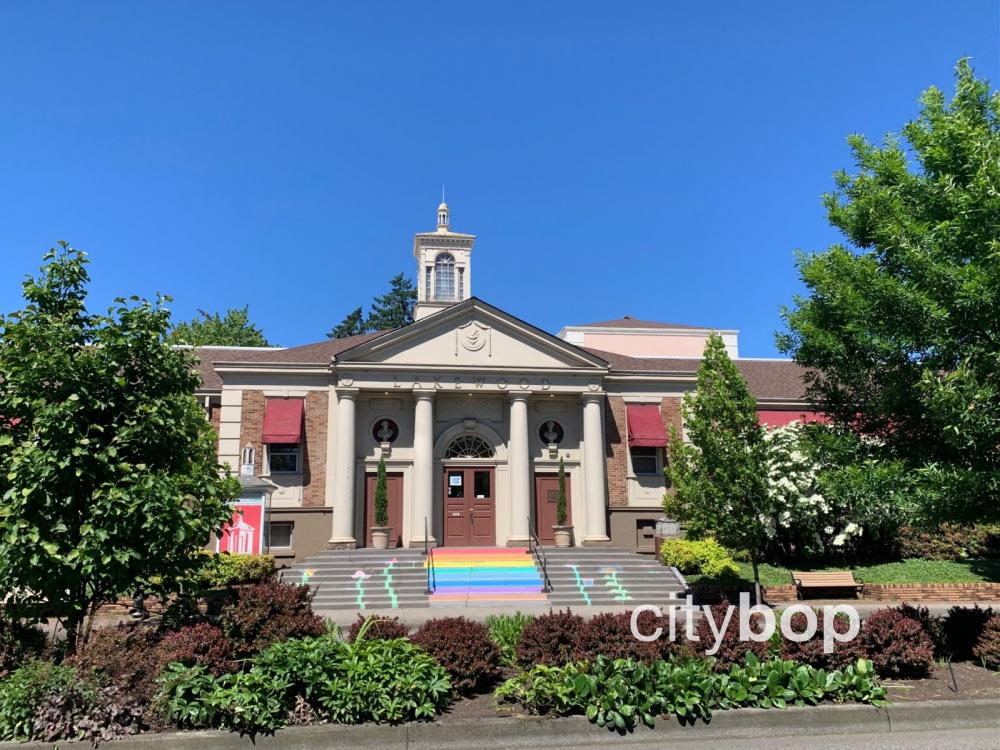 More Restaurants & Shopping in Portland Oregon