Voodoo Donuts is one of Portland's biggest tourist attractions, selling delicious, quirky treats.
The Voodoo Donuts flagship store is north of downtown Portland in a modest, historic building in Old Town (22 SW 3rd Avenue Portland). You can also order online.
You'll know you've arrived at Voodoo Donuts, when you see a long line out the door. Rain or shine this shop is extremely popular. If you want to skip the line, then call ahead and place your order. Your order will arrive in one of Voodoo's distinctive pink boxes.
What makes Voodoo Donuts special is that in addition to being a taste sensation, each donut is infused with a sense of fun and personality. Take for example the hilarious Voodoo Doll donut with a pained expression on it's face as a pretzel stake is plunged through it's raspberry jelly belly. There's also the Old Dirty Bastard made from Oreo cookies, chocolate and peanut butter. Check out other fun options, like Easy Kesey Lemon Peasy, Vicious Hibiscus, and Memphis Mafia.
After purchasing your donuts, cross the road to take a selfie at the Keep Portland Weird sign. You can also walk to other Old Town attractions like the exquisite Lan Su Chinese Garden, and bustling Pine Street Market.
5 best things about Voodoo Donuts
They offer 50 types of donuts with creative toppings, like bacon, fruit loops, M&Ms and bubble gum dust.

It's such a Portland success story that it's now expanded to nine locations, including Denver, Los Angeles, Orlando, Austin, and Hollywood. It was founded in 2003 by Kenneth "Cat Daddy" Pogson and Tres Shannon, who identified a business opportunity when they realized there wasn't a single donut shop in Portland.

Voodoo Donuts performs wedding ceremonies at all of its locations.

It was featured on Anthony Bourdain's famous TV series, No Reservations.

Their mottos include "The Magic is in the Hole", and "Good Things come in Pink Boxes".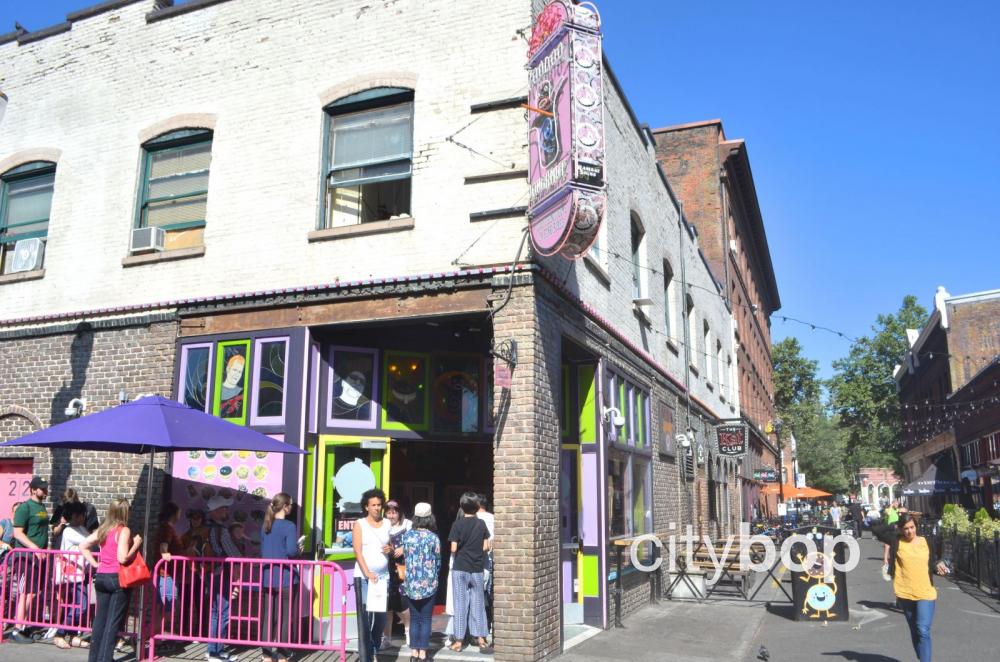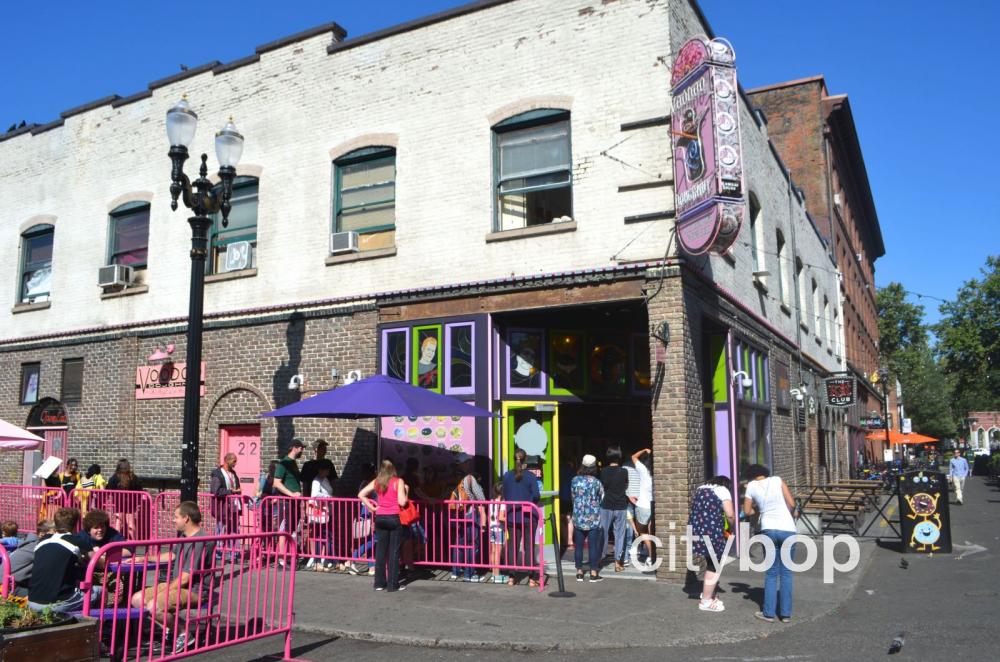 Voodoo Donuts has a whimsical interior decorated in fun pink, green and yellow accents. The sweet treats are served up in Voodoo's famous pink boxes.
More Restaurants & Shopping in Portland Oregon