The Pine Street Market is a major culinary destination in Portland.
The Pine Street Market is in the historic Carriage & Baggage building in Portland's Old Town, just 5 minutes north of downtown (126 SW 2nd Ave). The market opened in 2016 after the building underwent extensive renovation.
There are eight different restaurant vendors featuring some of Portland's most renowned chefs. Sample some of the best food that Portland has to offer, in a casual, unpretentious setting!
The 10,000 square foot rustic interior of the Pine Street Market has large communal tables, polished concrete floors, and rows of sparkling lights from exposed, douglas fir beams. The original red brick walls add a beautiful ambience to this space.
5 best things to do at Pine Street Market
1. Admire the historic Pine Street Market building.
The stunning 1886 Italianate building that houses the Pine Street Market is on the National Register of Historic Places.
This building has had a wide variety of uses. During the late 1880s it was first used as the United Carriage and Baggage Building to store horse drawn carriages, with an astounding 100 horse stalls on the second floor!
It then underwent a number of ownership changes, selling cars and machinery, steel and wire, logging equipment, and as a storage facility. During the 1970s it became the Old Spaghetti Factory Restaurant, then finally a series of nightclubs.
In 2016 it opened as the Pine Street Market.
2. Sample world class food from awarding winning chefs.
There's a huge choice of food at the Pine Street Market, including dumplings from Shanghai's Best, and Latin American street food at Teote Outpost. Enjoy mediterranean food at Tavli Kafeneio, and ramen and fried chicken at Matsunoki Ramen.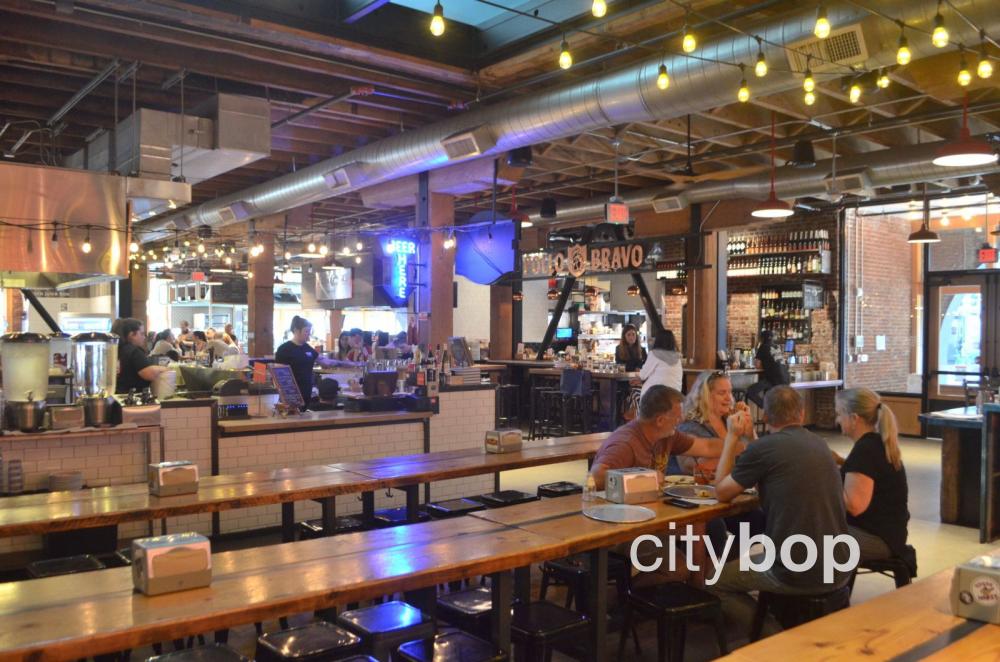 3. Indulge in treats at The Mini Donut Company.
Enjoy mini donuts in yummy flavors and purchase handcrafted donuts by the dozen at The Mini Donut Company.
4. Stop by the Pine Street Tap Room.
Sample local IPA's, signature cocktails, cider and more at the Pine Street Tap Room.
5. Visit other nearby attractions in Old Town.
The yummy Voodoo Donuts and Keep Portland Weird sign are 2 blocks from the Pine Street Market. Gorgeous Lan Su Chinese Garden is a must-see, and is only 5 blocks away.
Know before you go
Pine Street Market address:

126 SW 2nd Ave, Portland, OR 97204.
More Restaurants & Shopping in Portland Oregon