Bothell is 20-miles from Seattle, northeast of Lake Washington on the Sammamish River.
Bothell has a population of 48,000 residents, but has a quaint, small-town feel. The area was first settled by homesteaders in the 1870s, who braved the rugged conditions to establish a thriving logging industry. After the land was cleared, the local economy shifted to farms and dairies.
Most of Bothell's downtown shops and restaurants are along Main Street, just one block from the Sammamish River.
In 2015, Bothell's downtown area was re-vitalized by the opening of the McMenamin's Anderson hotel in the old Bothell Junior High School. The hotel is more like a mini-resort, with three restaurants, lush gardens, an indoor swimming pool, and a movie theater.
Another highlight of Bothell is its beautiful parks and riverfront trails.
15 best things to do in Bothell
1. Visit restaurants in downtown Bothell.
Most of the restaurants in Bothell's Downtown are along Main Street (between Bellevue Way NE and 102nd). Try neighborhood favorites like Sushi Zone, the beer garden at the Hop and Hound, The Bine gastro-pub, and Krobar for small plates and cocktails. If you venture a little further down Main Street, you can join games nights at Zulu's Board Game Café.
Sushi Zone is on Main Street, inside the building with the prominent Woodland Park Zoo mural.
The Bine gastro-pub serves craft brews on tap, and lots of delicious comfort food.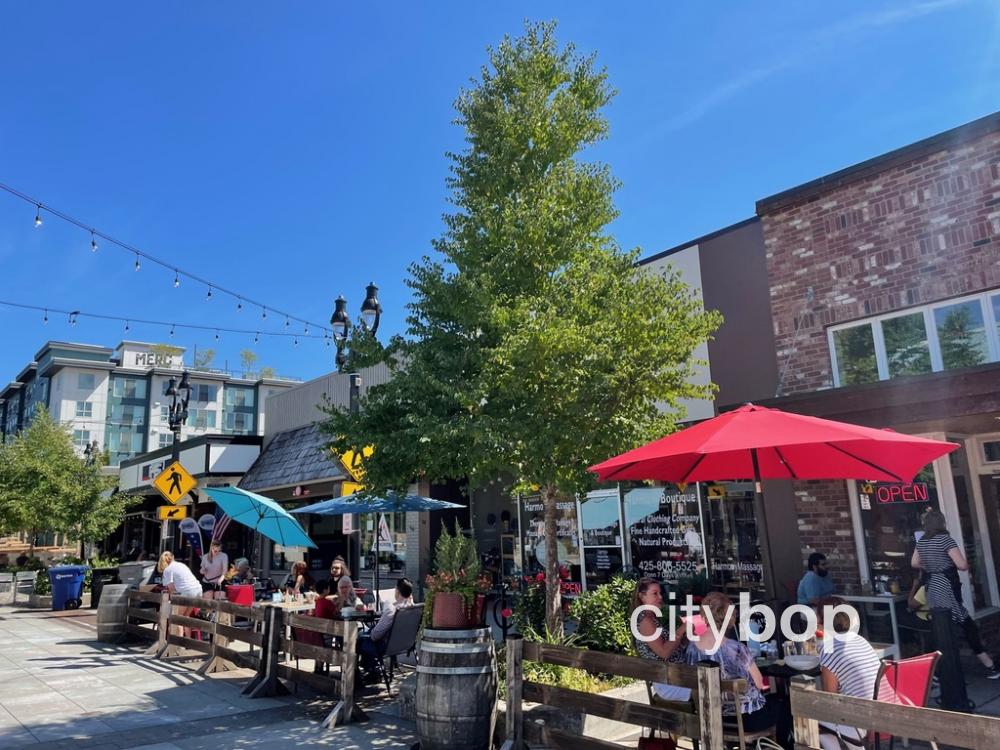 There's lots of patio dining along Bothell's Main Street in summer, with a pedestrian only block between 101st and 102nd Ave NE.
Explore the fun cluster of restaurants along Bellevue Way NE, including Poquitos mexican (pictured above), Bay Leaf Bar & Grill (Indian), and the swanky Amaro Bistro (Italian).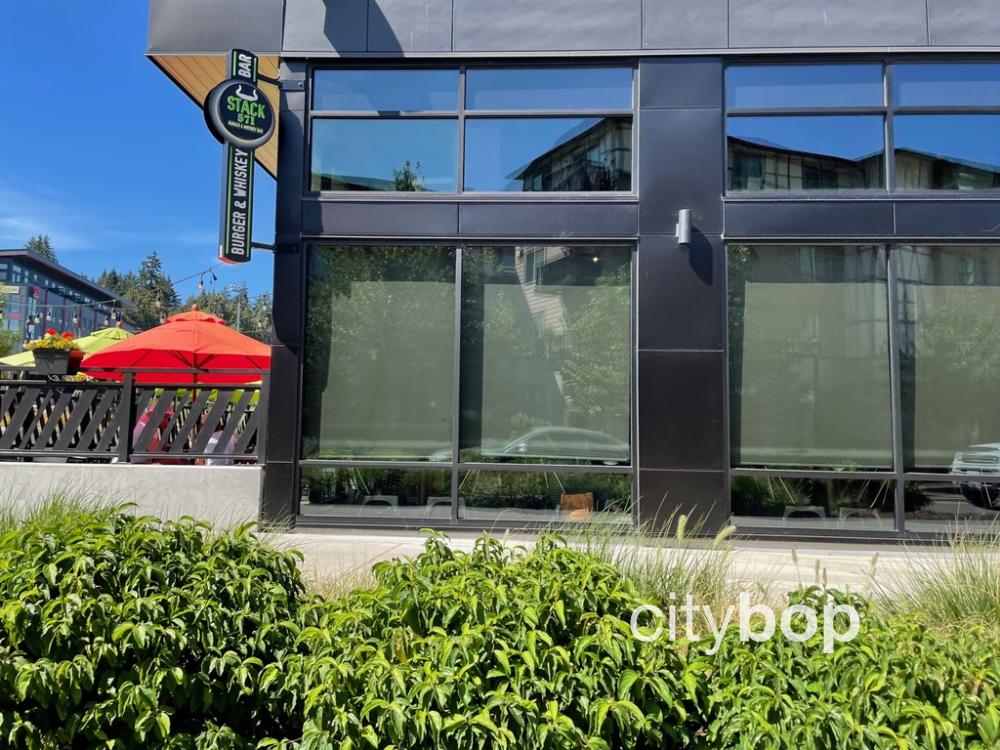 Modern apartment complexes have sprung up around downtown Bothell, with stylish new restaurants at street level.
One such restaurant is Stack Burgers and Whiskey on NE 185th (pictured above).
If you'd like to venture further out then downtown Bothell, drive 10 minutes northeast to a unique experience at Russell's Restaurant and Loft, where you can dine inside a converted barn. Another fabulous option is the stylish pub at Beardslee Public House.
2. Eat brunch in Bothell's downtown.
Bothell has a great selection of brunch spots!
Top of the list is Alexa's Café on Main Street (pictured below), which can get super busy on the weekends. It opened in 1995, at the site of an old Five and Dime run by Senator Patty Murray's father. The Cottage bistro is also in Bothell's downtown on 183rd, and is the perfect spot for brunch, with an outdoor patio ideal for warmer months, or a cozy fireplace in winter.
You can also stop for coffee and pastries on Bothell Way NE, at either Café Ladro or Social Grounds.
3. Book a fancy high tea.
If you're in the mood for a fancy, English-style "high tea", then book a table at Grahams Royal Tea on Main, and sample delights like four finger sandwiches and devonshire scones.
4. Get treats at Hillcrest Bakery.
The Hillcrest Bakery in Bothell's Downtown, has been run by the same family since 1965, and serves European style treats like chocolate eclairs, petit-fours, apple strudels, sugar cookies, fresh bread, and so much more!
Hillcrest Bakery is one of Seattle's best bakeries, and not to be missed!
5. Check out some Main Street shops.
Browse stylish furniture pieces along Bothell's Main Street at the First & Main Design Market.
There's even an interior design service to assist with your selections.
You can also find trendy clothing and styling services at CoCapsules on Main.
6. Visit McMenamins Anderson hotel.
In 2015, the McMenamins hotel opened in downtown Bothell, at the site of the renovated Bothell Junior High School. The hotel is in a sprawling, resort-like complex, with 3 restaurants, a whiskey shed, cinema, and indoor swimming pool.
The hotel rooms are inside the old Bothell Junior High School (1931), pictured above. This art deco building oozes ambiance and history, with soaring windows and ceilings, and the same stairways used by throngs of students. Each of the 72 hotel rooms is named after a different personality that helped shape Bothell's history, and the hallways on all three floors are lined with pictures, stories and memorabilia.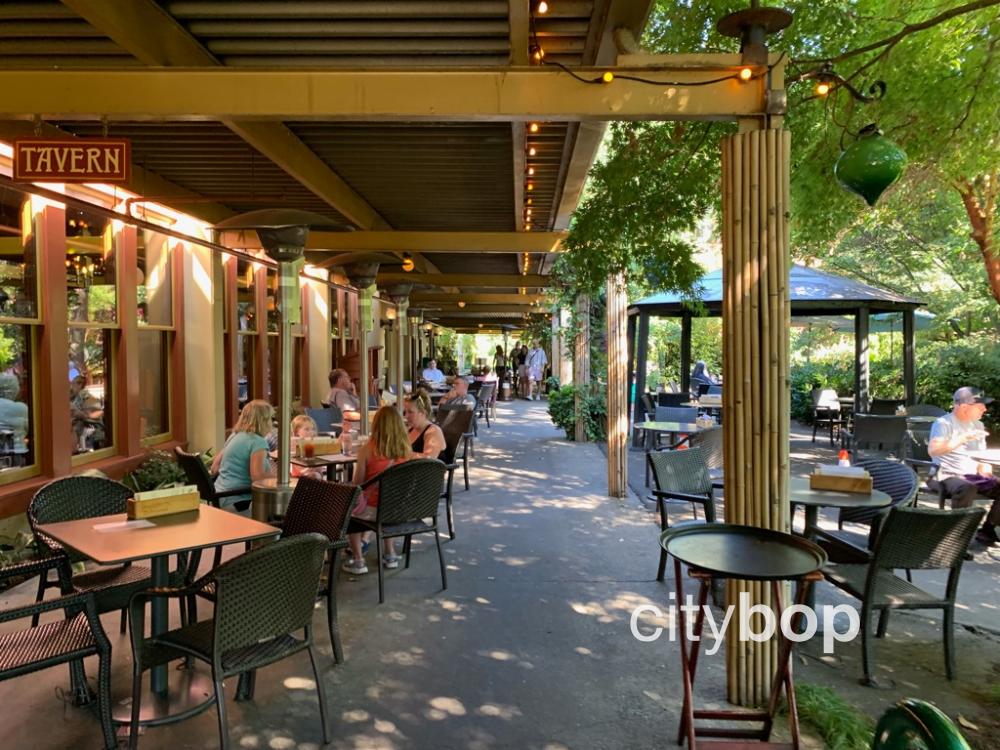 Enjoy patio dining in an enchanting courtyard garden at McMenamins Anderson. During warmer months, you can sit in the courtyard with a drink, while listening to live music.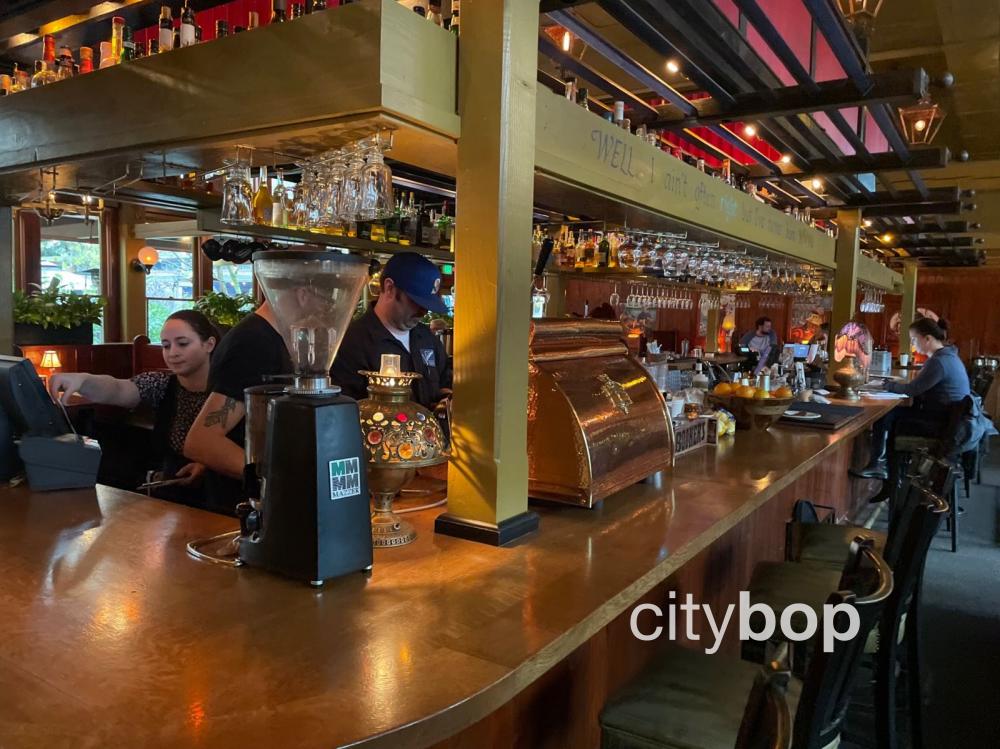 The Tavern on the Square is inside the old school cafeteria, and has both bar seating and tables, with the best seats in the house next to the roaring fire.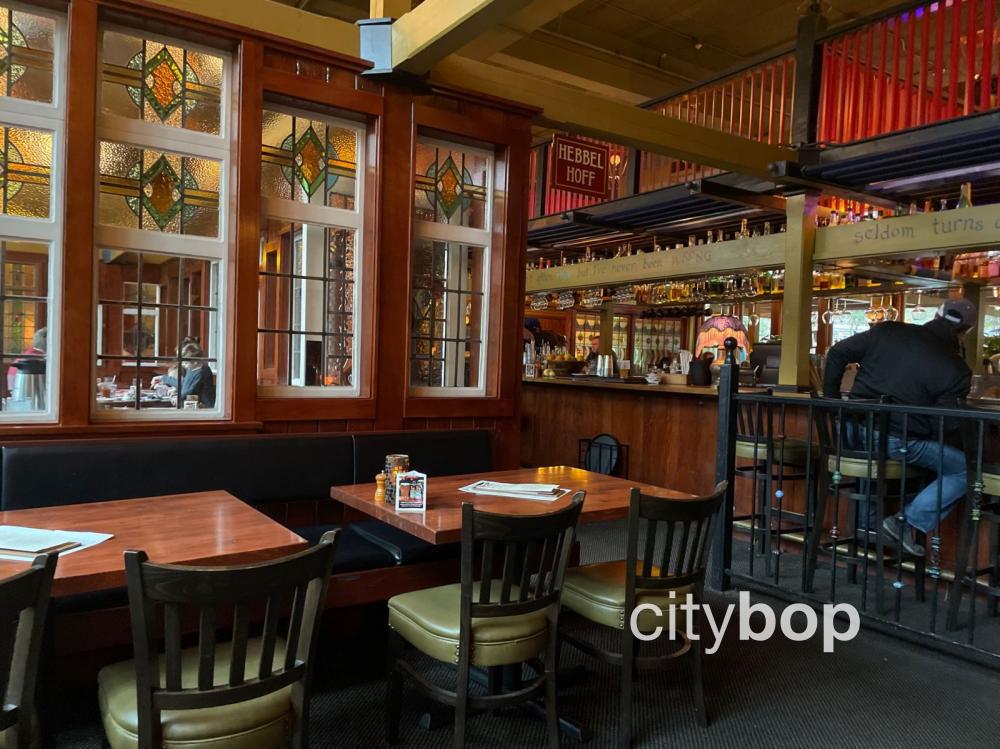 There are also other restaurants and bars throughout McMenamins Anderson, created from old school buildings. For example, The Woodshop pub is at the site of the old school woodshop, and serves pub food, with plenty of entertainment options like billiards, foosball and pinball machines. Continue next door to the Anderson School Theater Bar constructed on the old basketball court, serving drinks, popcorn or burgers to enjoy while you watch a movie. There's even a Principal's Office on the top floor of the hotel, serving all your favorite alcoholic beverages in a cozy bar.
7. Swim at the North Shore Lagoon.
Walk across the parking lot from the hotel to the North Shore Lagoon indoor swimming pool, with a fantastic tiki bar and restaurant upstairs.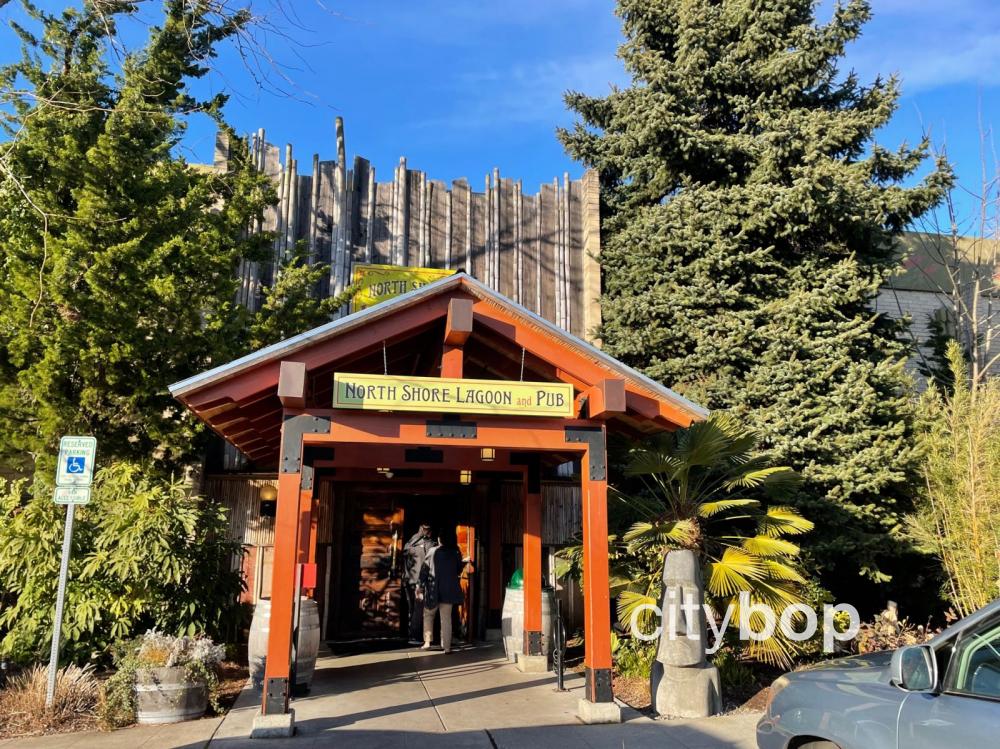 This is the entrance to the North Shore Lagoon and Pub (tiki bar), accessed from across the parking lot at McMenamins.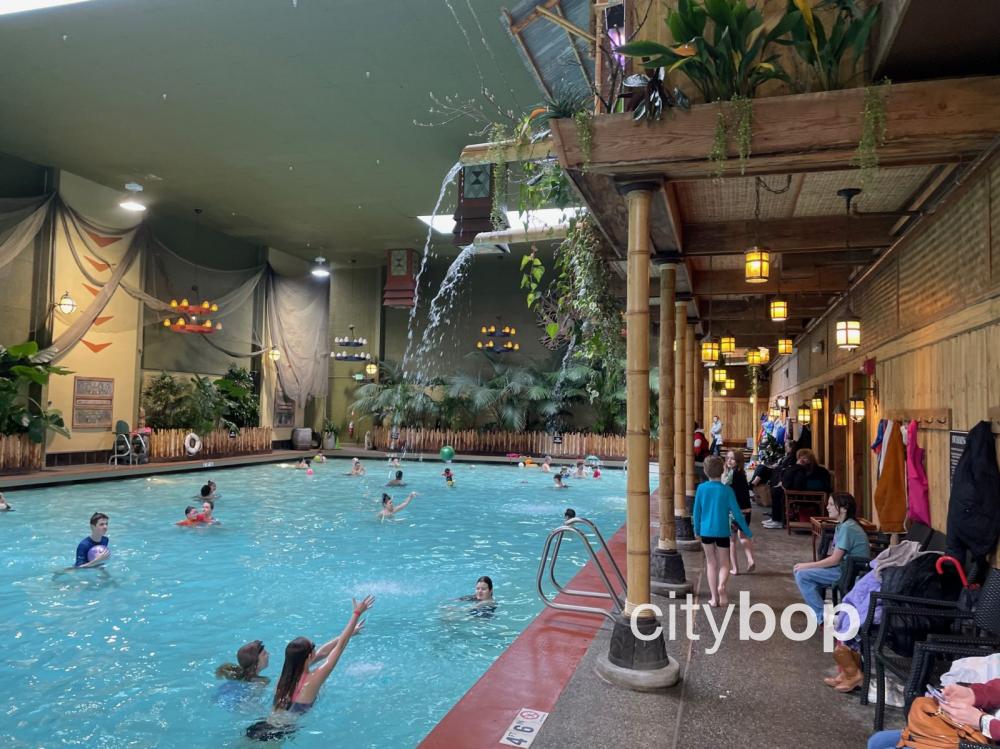 ​
Hotel guests can stay in the swimming pool as long as they like, and other visitors can drop in for an hourly session.
Check out the fantastic view of the swimming pool from the tiki bar.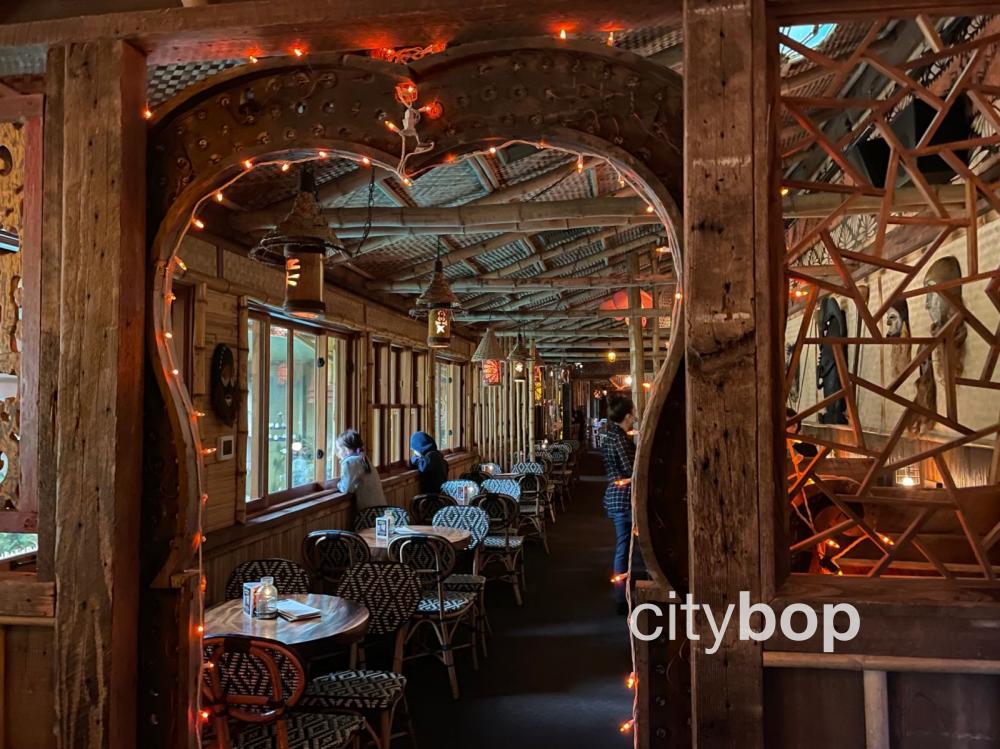 8. Visit the riverfront at Bothell Landing.
The Bothell Landing Park is just one block from downtown, on the banks of the Sammamish River. It has a playground, amphitheater, picnic tables, and a historic museum. There's also a beautiful arched bridge, and a gazebo.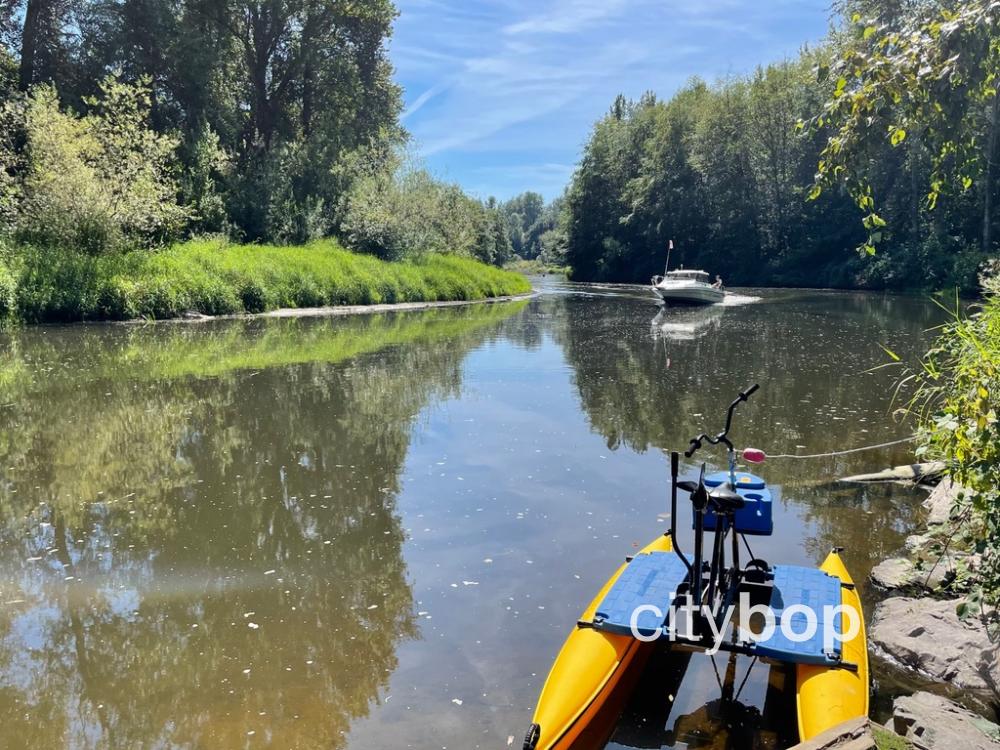 The Sammamish River flows for 14 miles, originating at Lake Sammamish, and traveling north to drain into Lake Washington.
​In summer you can rent kayaks, canoes and paddleboards at the Bothell Landing Park, then enter the river from a dedicated launch area.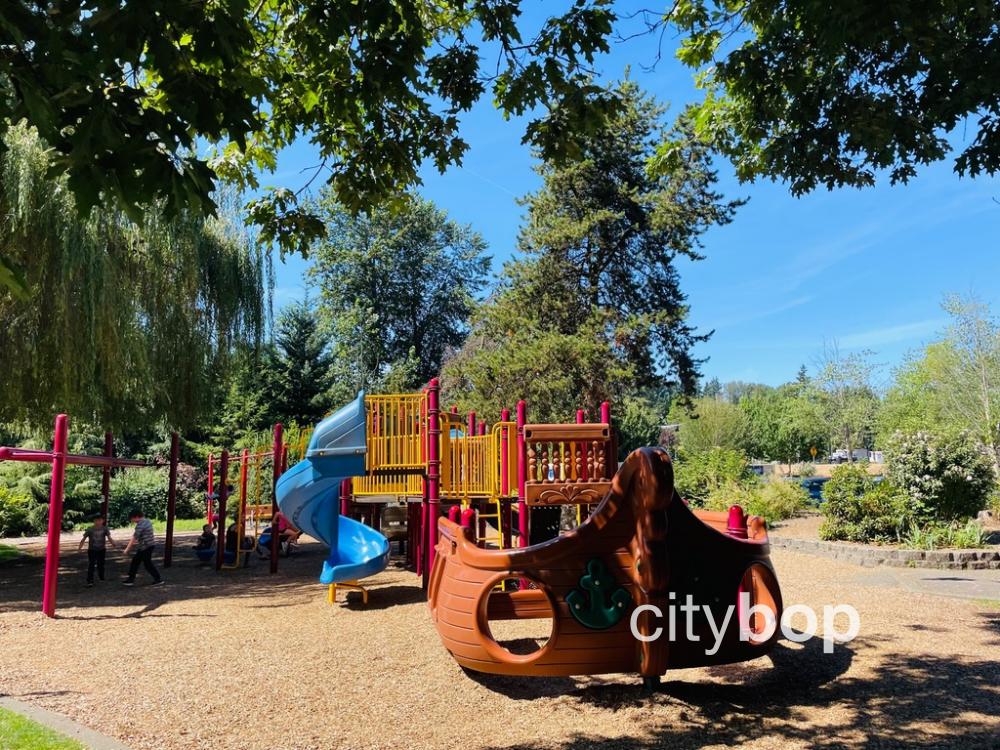 There's also a riverfront playground at the Bothell Landing Park.
9. Walk the Sammamish River Trail.
The Sammamish River Trail travels 10.1 miles southeast from Bothell Landing Park to Marymoor Park in Redmond. Cross the pedestrian bridge at Bothell Landing Park to start the trail.
It takes about 3.5 hours to walk the full distance of the paved trail, and bikes are also permitted. The most notable attraction along the way is the Woodinville wineries and tasting rooms. A pedestrian bridge off the trail leads directly to the celebrated Barking Frog restaurant, and sophisticated tasting room at DeLille Cellars.
10. Check out the riverfront museum.
The Bothell Historical Museum has a riverfront setting at Bothell Landing, just one block from downtown. You can tour three main dwellings; the William Hannan House (1893), Bothell's first Schoolhouse (1885) and the Beckstrom log cabin (1884). Check hours.
This is Bothell's first Schoolhouse (1885).
The one-room Beckstrom log cabin (1884) once housed a Bothell family with sixteen children, who all lived on a nearby dairy!
The Queen Anne style William Hannan House (1893) has two floors of vintage furnishings. It was originally located on Main Street in Bothell, but relocated here in 1978.
George and Alice Bothell (pictured) were some notable early residents. George Bothell was a civil war veteran and the first mayor of Bothell. He was also the son of Bothell's founder, David Bothell, who filed the first plat for the town in 1889.
11. Explore the Lodge at St Edwards State Park
The impressive Lodge at St Edwards is Bothell's crown jewel, and is a boutique hotel surrounded by lush forest and hiking trails, located on the shores of Lake Washington. The hotel boasts a restaurant, two bars, a spa, gift shop, and complimentary bike rentals and lawn games.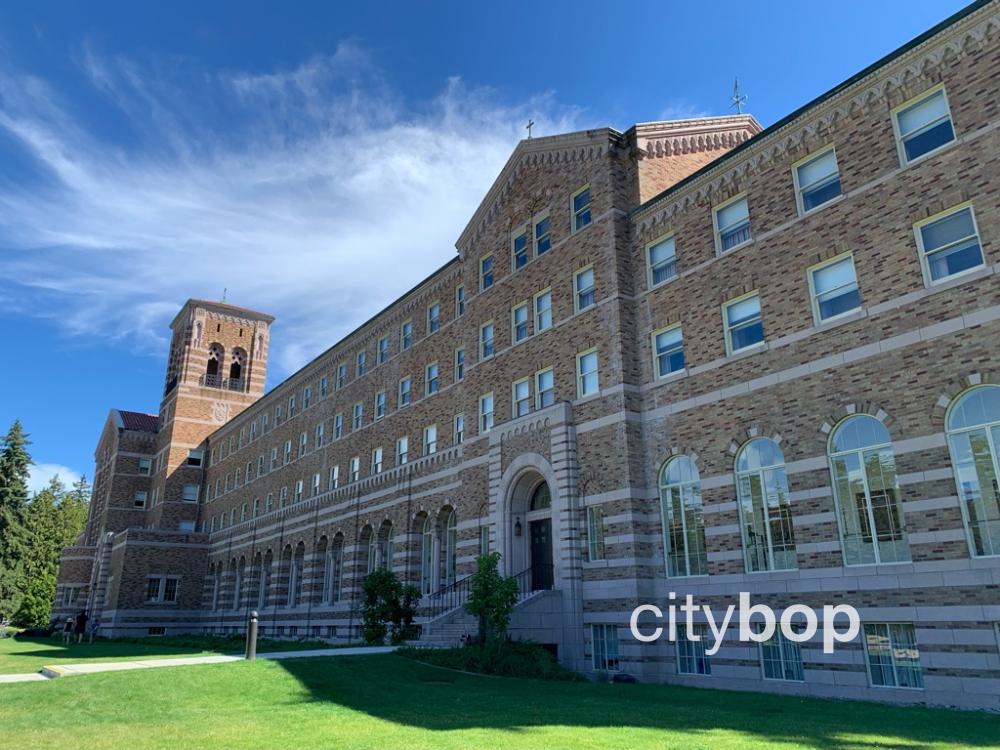 The main building at the Lodge was constructed in 1931 in the Romanesque revival style. It was a Catholic seminary for 45 years, until it was sold to the State of Washington in 1977 to become the 326-acre Saint Edward State Park. This State Park has walking trails that lead to both a beach and a historic grotto, plenty of picnic tables, and a huge playground for kids.
The seminary was re-opened as a hotel in 2021, and completely renovated at a staggering cost of $57 million dollars. The seminary's old rooms were re-purposed for the new hotel development, retaining many of the original architectural details. For example, the old dining hall is now the elegant Cedar + Elm Restaurant, the basement barbershop is now the Tonsorium Bar, the priests' common room is Father Mulligan's Heritage Bar, and the gymnasium is a pickle-ball court for hotel guests. The hotel's 84 luxurious guestrooms were created from the seminary's dorms.
Much of the history of the seminary is documented in black and white photographs along the corridors of the hotel. You can also go to the front desk to request the "Stories of St Edward" self-guided tour, with QR codes.
Book a table at the elegant Cedar + Elm Restaurant, once the dining hall for seminarians. Many of the original features are in-tact, like the dramatic chandeliers and arched windows. You can also dine outdoors on the patio in warmer months.
Or enjoy cocktails, wine, coffee or brunch at Father Mulligan's Heritage Bar, adjacent to the front desk and check-in area.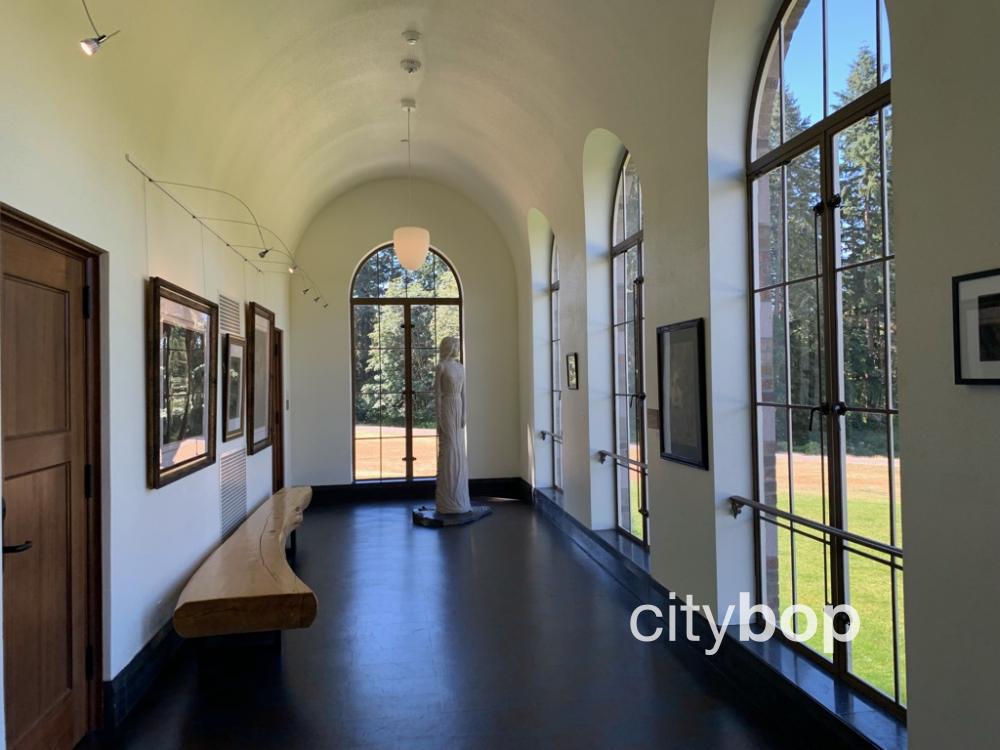 Stroll down the Gallery of Fine Arts on the main floor, to see a rotating selection of Northwest artworks for purchase.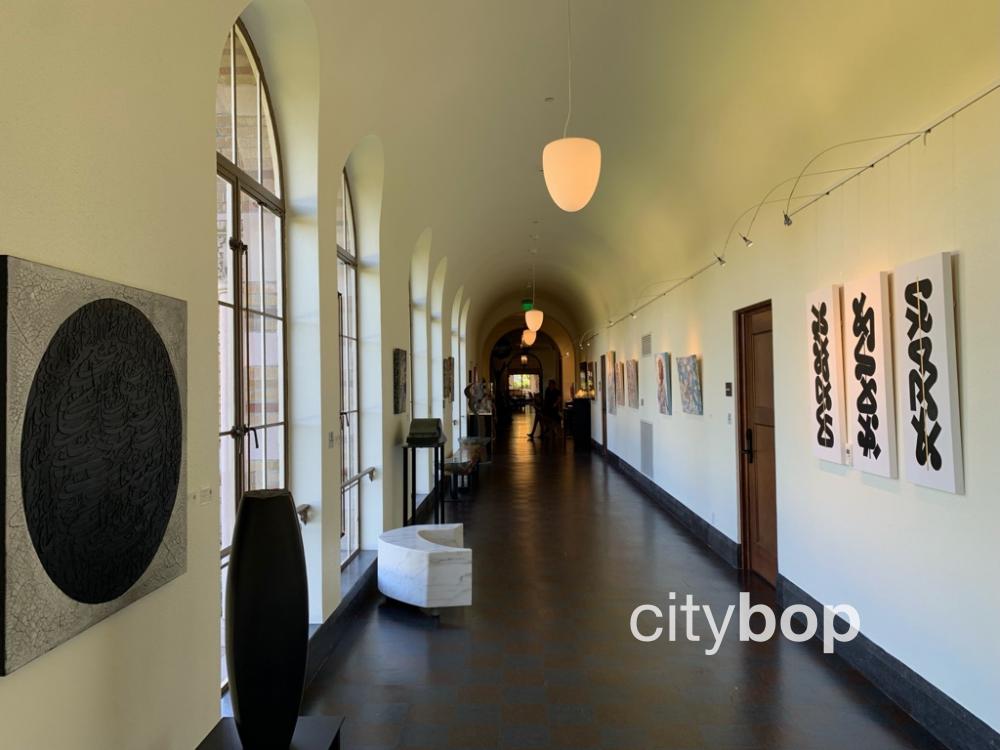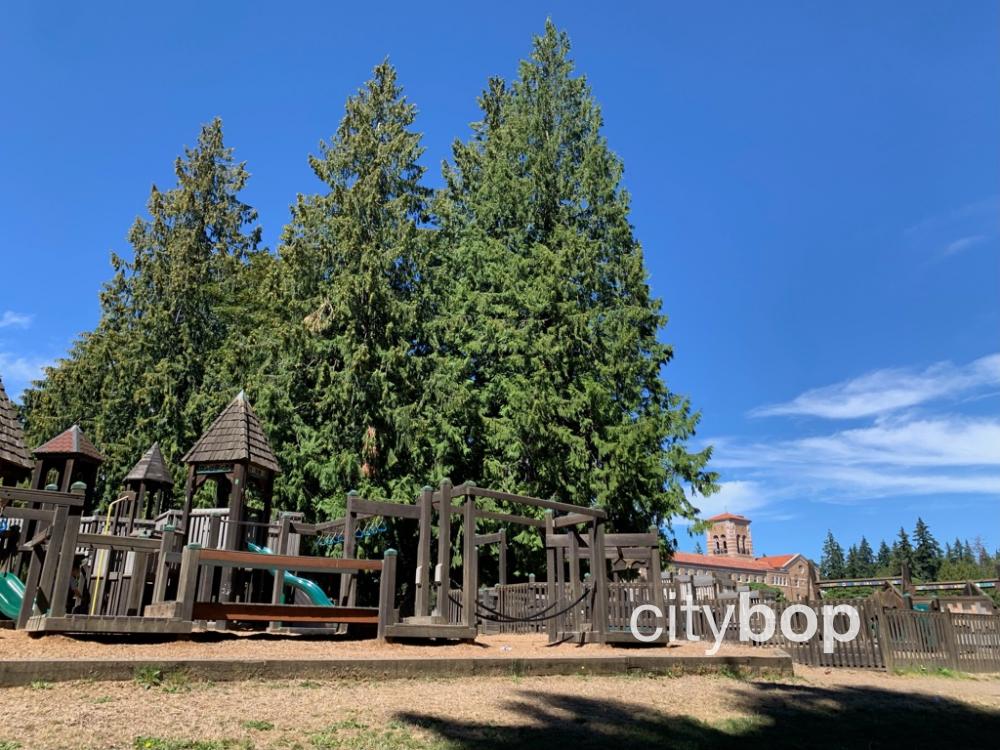 The playground is a five minute walk from the lodge, and part of St Edwards State Park.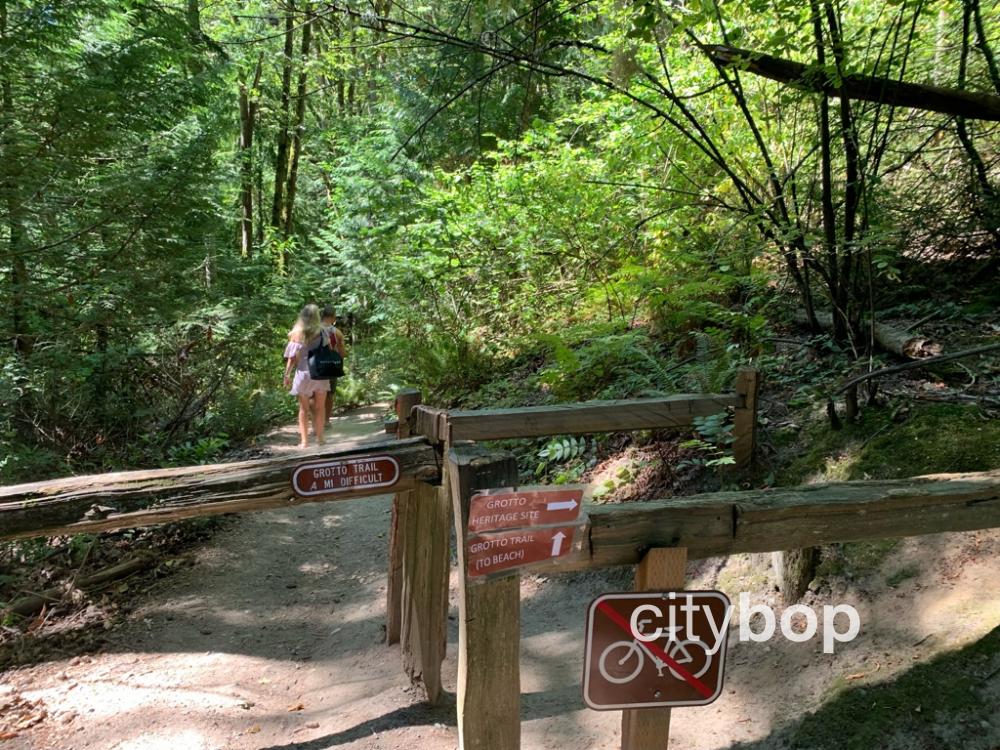 The trails at St Edwards State Park lead to the Grotto.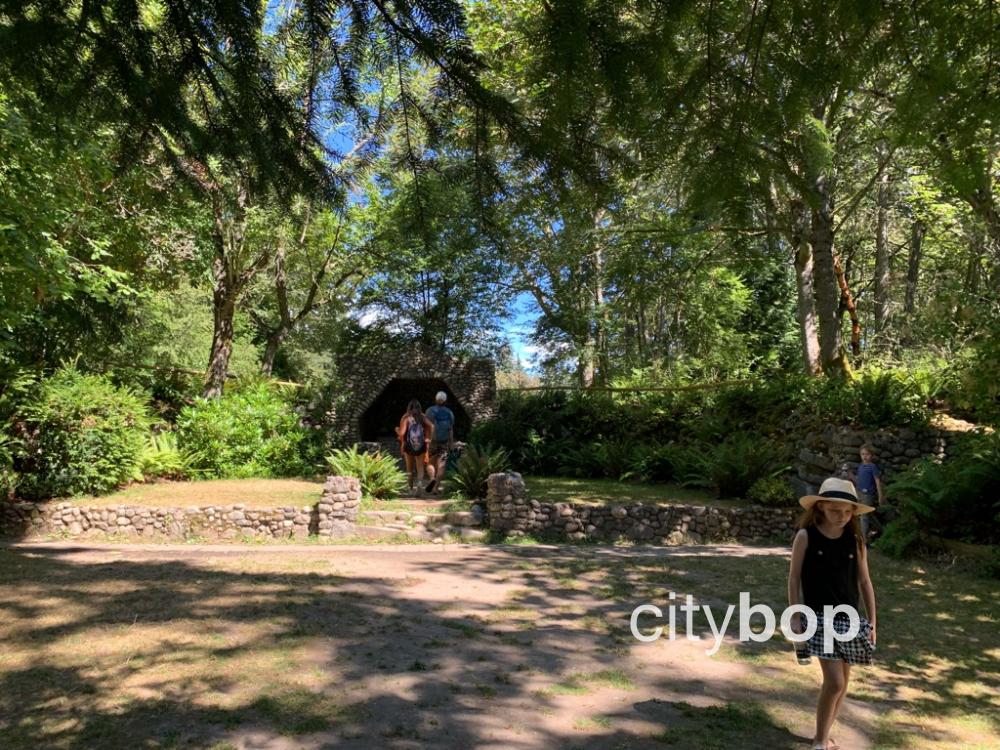 The beautiful Grotto is a popular venue for weddings and memorials, and available for rent.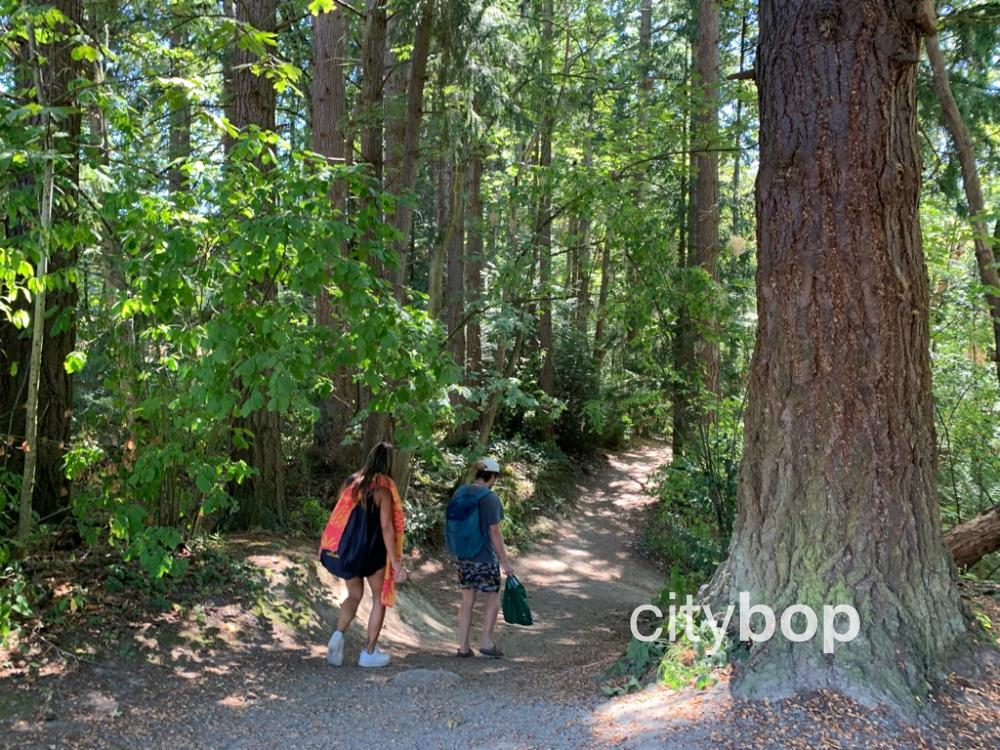 There are also trails to the waterfront at Lake Washington.
12. Hang out at the playground at Miner's Corner Park.
Miner's Corner Park is a 10 minutes northeast of Bothell's downtown, and has a wonderful playground in a beautiful, forested setting. The playground is popular with families, and definitely Bothell's best playground!
The fun playground is a big hits with kids, and has towers, bridges, slides, swings, monkey bars, and even a flying fox. There's also a rock wall built into a mound, and a large sand box with excavators.
Relax on the open lawn area at Miner's Corner and throw a Frisbee, or rent the covered pavilion with picnic tables. There's also some short trails to explore, and a basketball court for older kids to work off some energy.
13. Walk through Blyth Park.
The 40-acre Blyth Park is a 3-minute drive south of downtown Bothell, and is at the site of a former brick factory, with lovely views of the Sammamish River.
Blyth Park is Bothell's second largest park after Wayne Park, with trails full of bicyclists, walkers and joggers, and large open, grassy areas. It takes 20 minutes to walk into downtown Bothell here, between Blyth Park and the Bothell Landing Park, by first taking the Burke Gilman Trail, then connecting with the Sammamish River Trail.
Blyth Park has two reserve-able picnic shelters, picnic tables, and BBQs, and is the perfect place for a family get-together or kid's birthday party. There's also a fun playground for kids, with swings, a tire hill to climb on, and a volleyball court nearby.
One of its coolest features at Blyth Park is the free 10-hole Howling Coyote Disc Golf Course, where players attempt to throw a flying disc into a raised metal basket.
14. Visit the Red Brick Road Park.
Visit the Red Brick Road Park in Bothell (16815 96th Ave NE) to learn about a fascinating part of Bothell's history.
In 1913, the 4-mile "Red Brick Road" was completed along northern Lake Washington, between Lake Forest Park and Bothell. Italian immigrants laid an astounding 3 million bricks to build the road.
Prior to the construction of the Red Brick Road, it took 3 hours to travel from Seattle to Bothell by steamship, traveling north up Lake Washington, then east along the Sammamish River. The other alternative was a rough, dirt road, where cars were easily bogged down. There's a stunning mural in downtown Bothell that depicts these journeys (Main Street and 101st).
After the construction of the "Red Brick Road in 1913", the entire drive between Seattle and Bothell took just 55 minutes, in vintage cars traveling 10-miles an hour.
Today you see a small section of the Red Brick Road at Red Brick Road Park (16815 96th Ave NE), near the Burke Gilman Trail, with historic markers detailing some of the history.
20. Go wine tasting.
The Woodinville Wine region is also down the road from Bothell WA, with dozens of wineries and tasting rooms to choose from.
More Restaurants & Shopping in Seattle