West Seattle is 25 minutes southwest of downtown Seattle.
West Seattle's two biggest attractions are Alki Beach and Lincoln Park. Its main restaurant districts are along Alki Avenue SW on the beachfront, and the West Seattle Junction up the top of the hill.
West Seattle is separated from Seattle by the Duwamish River, giving it a small town feel. It's easily accessed over the West Seattle Bridge, or by taking a water taxi from downtown Seattle.
It's a relaxed community that encompasses a dozen different neighborhoods, and has miles of saltwater shoreline, bordered by Elliott Bay to the north, and Puget Sound to the West.
10 best things to do in West Seattle
1. Alki Beach
Alki Beach is a huge summertime destination in West Seattle. This 2.1 mile sandy beach stretches northwest along Alki Avenue, from Alki Point to Duwamish Head.
The water is too cold for swimming and there are no lifeguards, but visitors flock to the volleyball courts, or to stroll and bike along the wide pathway that overlooks the beach. Alki Beach takes on a festive atmosphere in summer, with friends gathering for picnics, or huddling around designated fire-pits to watch the sunset.
2. Alki Avenue SW restaurants
Alki Avenue SW is a vibrant strip overlooking the beach, bustling with restaurants, cafes and ice-cream shops.
Enjoy fresh seafood at laidback Duke's, or delicious Mexican food at colorful Cactus Restaurant.
For an upscale, gourmet meal, try the seasonal fare at Harry's Beach House.
Pick up a sweet treat at Alki Icecream & Bubble Tea, then coffee, beer or wine at Ampersand Café. Or visit the taproom at Locust Cider, for hard cider, craft beer, flatbread pizza, and vintage video games.
3. Alki Beach promenade
Walk 2.1 miles along the promenade at Alki Beach, from the Alki Beach Pier to Alki Lighthouse. It's flat the whole way!
Start at the Alki Beach Pier at Duwamish Head, at the site of a vintage amusement park known as Luna Park.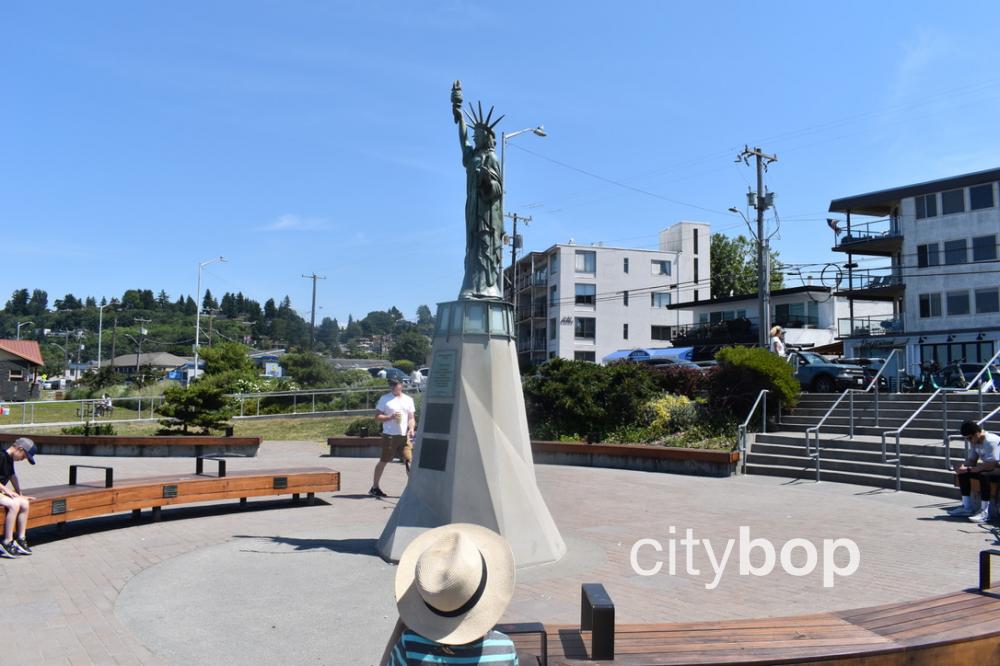 Next, walk to the historic Alki Beach Bathhouse, then take a photo at the Statue of Liberty replica nearby.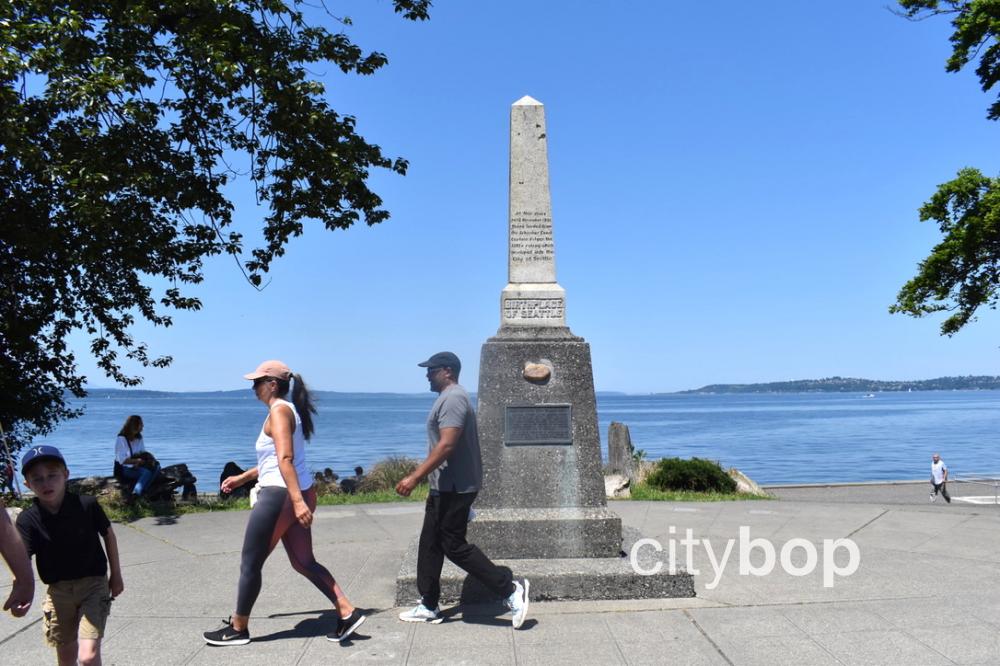 Continue to the Birthplace of Seattle obelisk on the corner of Alki Avenue SW and 63rd Avenue SW, where the first white settlers in the Denny Party landed in 1851 to found Seattle.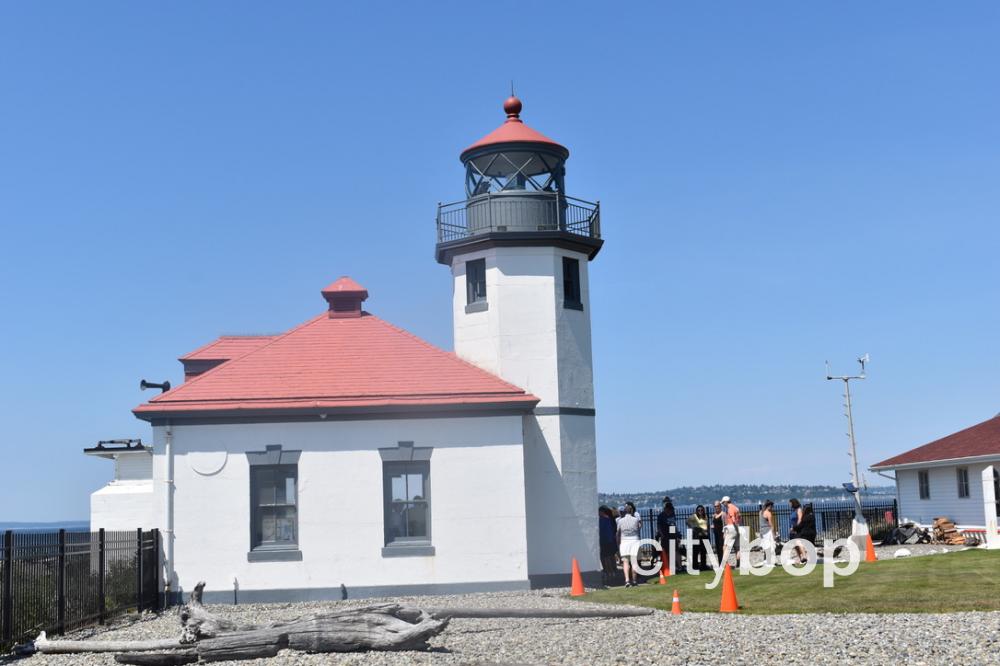 Finish your walk at the Alki Point Lighthouse.
4. Bike rentals
Rent a bike from Wheel Fun Rentals at Alki Beach, and choose from tandem bicycles, kids' bikes and electric bikes. They even have maps with self-guided tours, to cover off the main points of interest in West Seattle.
5. Water taxi to West Seattle
The Water Taxi departs Pier 50 on the Seattle Waterfront, with a 15 to 20 minute crossing to the West Seattle Water Taxi Pier (check schedules). From here it's a short walk to two waterfront restaurants in West Seattle; Marination Mai Kai and Salty's. It's a 20 minute walk from here to reach the Alki Beach Pier, then another 20 minutes to reach the restaurants/shops along Alki Ave SW.
This is the water taxi making it's crossing from the West Seattle Water Taxi Pier back to Seattle downtown.
6. Marination Mai Kai
Marination Mai Kai is a casual, waterfront restaurant specializing in Hawaiian-Korean Food. Indulge in delicious offerings like tacos and sliders, kimchi fried rice bowls, salads and Lu'ua plates. It's located right at the West Seattle Water Taxi Pier, with views of the Seattle skyline. You can eat inside, or enjoy the incredible views from the outdoor patio. It's fun to take the water taxi from Seattle downtown, eat at Marination Mai Kai, then take the water taxi back! There's also two small, pebbly beaches on either side of the restaurant.
7. Salty's Restaurant
Salty's is a waterfront restaurant in West Seattle, with awesome views of the Seattle skyline across Elliott Bay. It has both a dining room and expansive patio, and is perfect for a special occasion.
8. Alki Point Lighthouse
The Alki Point Lighthouse was built in 1913, and is at the southern end of Alki Beach at Alki Point. It's only open for Sunday afternoon tours in summer months, but call ahead for more information (206 841 3519).
9. Lincoln Park
Lincoln Park is the crown jewel of West Seattle. It sits atop a forested bluff, with steep trails leading down to a saltwater shoreline overlooking Puget Sound. If you'd prefer to avoid a strenuous walk along the bluff-top trails, then take the flat, 1-mile path along the waterfront that passes Colman Pool. There's also a playground, splash-pad and picnic tables at the top of the bluff, easily accessible from the upper parking lot.
10. Colman Pool
Colman Pool has the most spectacular setting of any Seattle pool, with a waterfront location at Lincoln Park. This saltwater pool is only open during summer months.
11. West Seattle Junction
The West Seattle Junction is in the downtown area of West Seattle, 2-miles south of Alki Beach along California Avenue. If you're visiting Alki Beach, you will need to drive up the hill to get to the West Seattle Junction.
There's a wonderful selection of restaurants along vibrant California Avenue, ranging from casual to upscale.
Stop for a meal at popular Lady Jaye Restaurant and Smokehouse, and enjoy smoked meats and cocktails beside a fire-pit in a relaxed setting. Moto is a block from California Avenue, and serves delicious pizza and soft serve in a trendy cottage.
Check out some more upscale options along California Avenue; including Itto's Tapas and the Raccolto Italian restaurant.
Olympia Coffee is a popular neighborhood hangout, or you can stop by Bakery Nouveau for delicious pastries, French breads and quiches.
West Seattle Junction is anchored by the iconic Easy Street Records that's been here since 1988.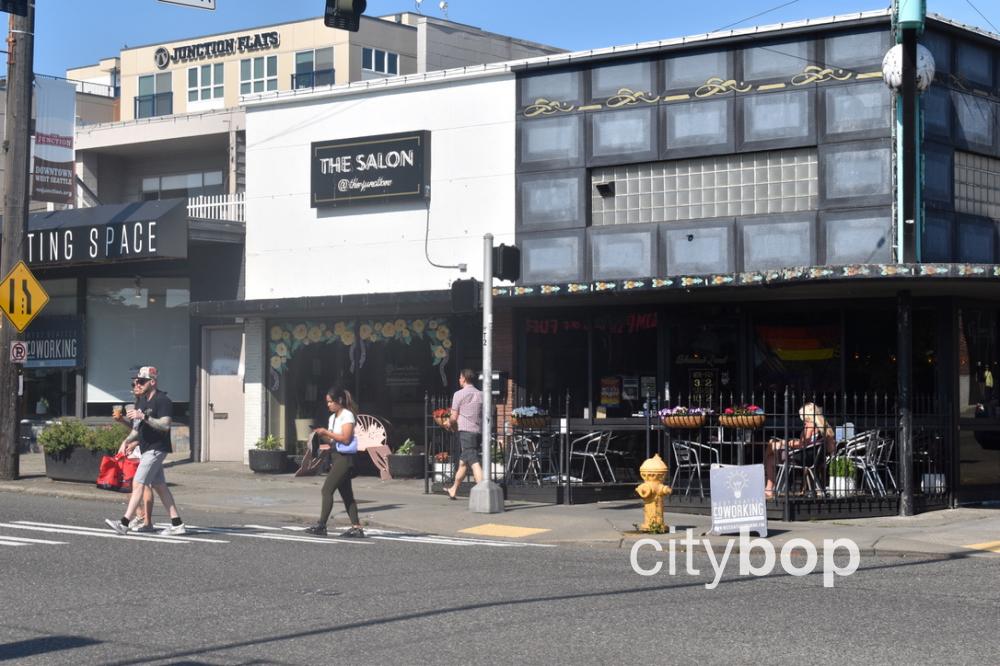 11. Alki Kayak Tours
Explore the waters around Alki on a kayak tour, or paddleboard.
These paddleboarders are enjoying incredible views from Alki. They are looking out at the Olympic Mountains, with both the Bainbridge Island Ferry and Kingston Ferry in the background.
12. Emma Schmitz Memorial Outlook
Stop at the Emma Schmitz Memorial Outlook along Beach Drive SW, for incredible views of the Olympic Mountains. There are a few benches for relaxing, and you can also stroll along the pebbly beach at low tide. The beach here is a marine reserve, and a great spot for seal and whale watching. There are also plenty of picnic tables across the road at Me-Kwa-Mooks Park, the site of a pioneering family's homestead.
13. Elvis house.
Walk a short distance north of the Emma Schmitz Memorial Outlook, to see the house that Elvis Presley slept in on May 18, 1962 (4225 Beach Drive SW). Elvis was in town for the Seattle World Fiar, and decided to visit an old army friend, who rented an upper floor apartment at this house.
14. Hamilton Viewpoint Park
Hamilton Viewpoint Park is a short drive up the hill from Alki Beach, and has panoramic views of the Seattle skyline and Cascade Mountains. It has a large parking lot, with an open grassed section and plenty of benches. The views of the Seattle lights are especially amazing here at night!
15. Schmitz Preserve Park
Explore 53.1 acres of old growth forest at Schmitz Preserve Park, in West Seattle's Admiral neighborhood. You can venture deep into this pristine forest along trails that lead to Schmitz Preserve Creek. Unfortunately there are no trail markers or maps, and sturdy shoes are required for rainy, muddy days.
16. Fauntleroy Ferry to Vashon Island
Take the 20-minute ferry ride from West Seattle's Fauntleroy Terminal to beautiful Vashon Island (check schedules). Vashon Island has a number of attractions, like the Point Robinson Lighthouse, wineries, restaurants and beautiful beaches.
More Restaurants & Shopping in Seattle