Magnuson Park is Seattle's second largest park, located on the western shore of Lake Washington in Seattle's northeast.
This breathtaking park has a popular beach, waterfront trail, and a fun brewery near a kayak rental area. The dog park even has its own beach!
Kids will love the airport-themed playground, basketball courts, tennis courts, and a special hill for flying kites.
Magnuson Park history
The 350-acre Magnuson Park was formerly the Sand Point Naval Air Station, with a rich aviation history. Many of the old hangars and military buildings are visible today. In 1975 the navy handed over the majority of the land to the City of Seattle and NOAA. NOAA maintains a restricted access campus today at Magnuson Park.
10 things to do at Magnuson Park
1. Magnuson Park Brewery.
The Magnuson Park Brewery is at the north end of Magnuson Park, and serves brunch, lunch and dinner, and has a large, heated patio overlooking Lake Washington (check hours).
2. Waterfront Trail (1-mile).
The waterfront trail at Magnuson Park has soaring views across Lake Washington towards Kirkland and the Cascade Mountains.
Start at one of four parking lots at the south end of Magnuson Park, and enjoy a 1-mile walk along the waterfront trail, until it dead-ends at the restricted access NOAA campus (National Ocean Atmospheric Agency). You can't continue along the waterfront here, so you will need to drive around this campus, to get to the Magnuson Park Brewery.
3. Magnuson Park Beach.
The swimming beach at Magnuson Park is near the Finn Art sculpture, and has a parking lot, restrooms and picnic shelter (check here if there is a seasonal lifeguard). The water is cold, so you swim at your own risk. Many visitors to Magnuson Park avoid the busy beach area, and choose more secluded spots along the 1-mile waterfront trail, with plenty of shaded areas overlooking the water.
4. Dog Off-Leash Park with beach.
Magnuson Park has the largest off-leash dog park in Seattle, and the only one that has beachfront access! This huge, 6.8-acre dog park starts in central Magnuson Park near the playground. It then continues east along a gravel trail for 15 minutes, before reaching the water, so dog owners can get a nice workout! There's even a separate section for shy dogs.
5. Playground & basketball courts.
The airport-themed Junior League of Seattle Playground is in central Magnuson Park, and caters to both young and older kids. There is currently a proposal underway to replace the playground. As an added bonus, there are two half-sized basketball courts, behind the playground, so bring a ball!
6. Kayak rentals.
Sail Sand Point is just east of the Magnuson Park Brewery, and rents kayaks, paddleboards, sailboats and windsurfers (check hours & prices). They also run summer camps, private lessons, and competitions.
7. Sand Point Tennis Center.
The Sand Point Tennis Center is in central Magnuson Park, and offers lessons and court rental.
8. Center Point Café.
The Center Court Café is at the Sand Point Tennis Center, is open to the public (check hours), and serves breakfast, lunch and dinner, and coffee and smoothies. This can be a great stop on your way to the nearby playground or dog park.
9. Arena Sports.
The giant Arena Sports facility is at the northern end of Magnuson Park, with indoor fields, and a large play area with inflates (check hours).
Arena Sports offers adult-drop in soccer and recreation leagues. You can also book your kid's birthday party here, with packages including giant inflatables for the kids to climb and bounce on, a party room, and supervised games like soccer and tag on the indoor fields.
10. Finn Sculpture.
Check out the beautiful Finn Sculpture behind the Magnuson Park Beach, made from the old fins of decommissioned military submarines.
11. Wetlands Area.
Stroll through the prolific wetlands area at Magnuson Park, and identify hundreds of bird species. This is one of the best places for bird spotting in Seattle. Start at the playground at Magnuson Park, and meander through a network of trails that eventually lead to the waterfront.
12. Kite Hill.
Kite Hill is behind the main swimming beach at Magnuson Park, and is a large, grassy knoll, with some of the best views over Lake Washington. It's also popular for kite flying, due to the open space and breezes up here. Take your kid up here for an afternoon of kite flying! The hill was compacted from the remains of the Sand Point airfield.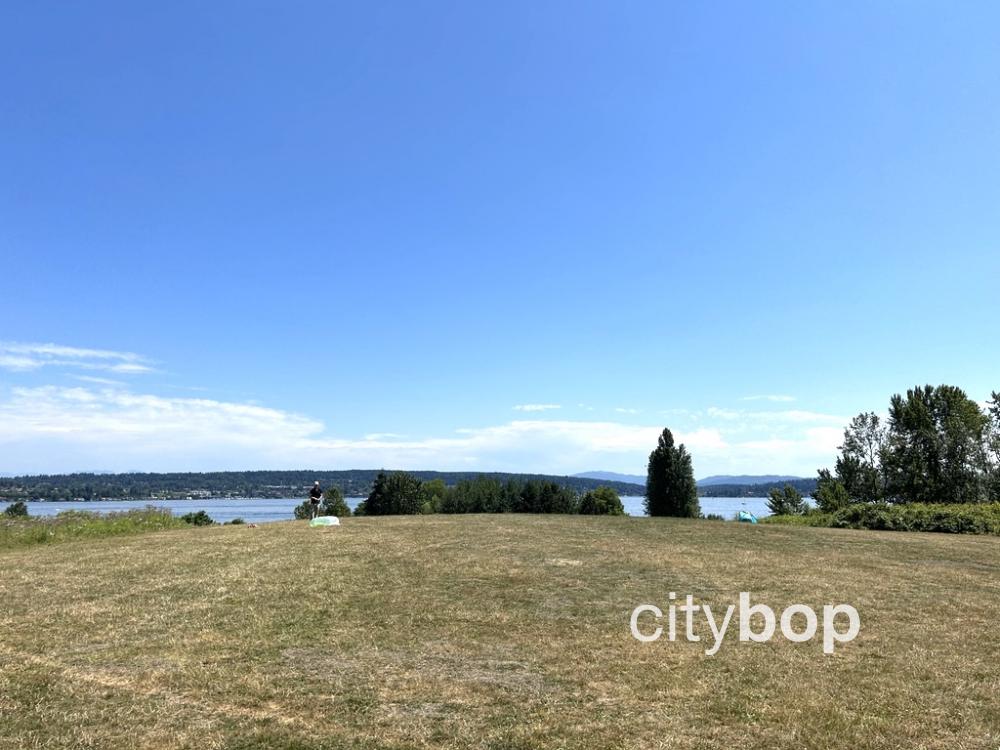 13. NOAA Art Walk (includes Sound Garden) – currently closed.
The NOAA Art Walk is currently closed. In the past you could explore 5 art installations along a path with stunning water views. These installations were created in 1981, and include A Sound Garden, Berth Haven, Knoll for NOA, Viewpoint, and NOAA Bridges. A Sound Garden is the most famous installation, making an eerie noise as the wind whistles through its metal towers.
When the NOAA Art Walk was open to the public, a Federal ID was required to enter the campus through a security checkpoint.
More Parks & Nature in Seattle