Experience Seattle's most exciting FREE playground!
Artists at Play is a playground located adjacent to the Museum of Pop Culture in the Seattle Center, at 305 Harrison Street.
The playground was thoughtfully designed by artists Trimpin and Judith Caldwell, to encourage creative play and engage the senses.
5 best things at Artists at Play Playground.
1. This elaborate playground has a 30-foot high climbing tower as it's centerpiece. The climbing tower connects to sky cabins, suspension bridges, and two slides. It also connects to a smaller climbing structure for kids aged under 5.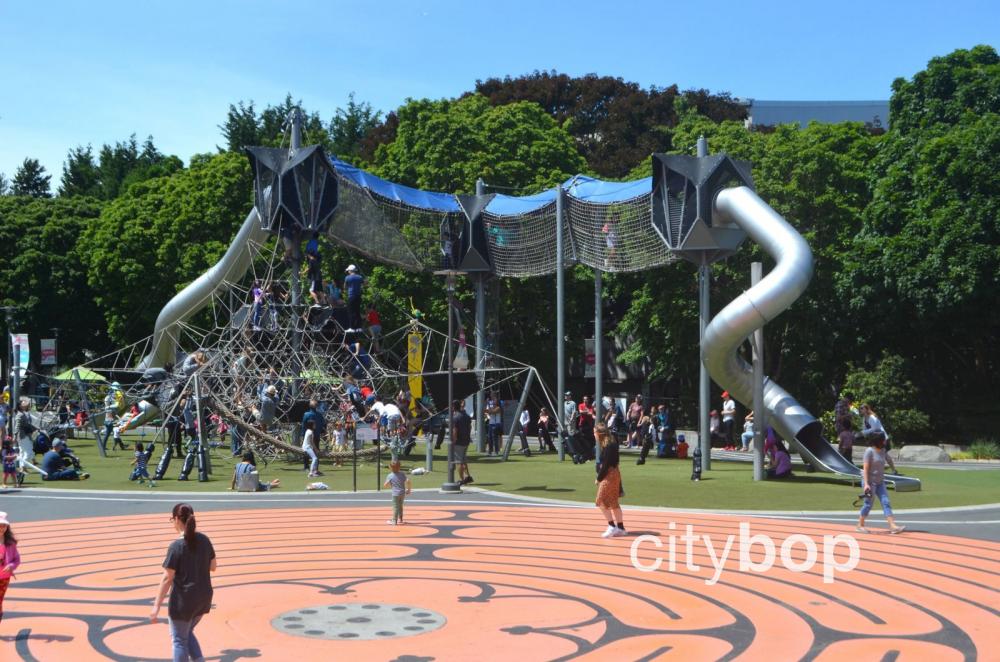 2. Kids can ride the ADA accessible swing baskets or merry-go-round, dig in the pea gravel play area with buckets and spades, and run up the turf mounds.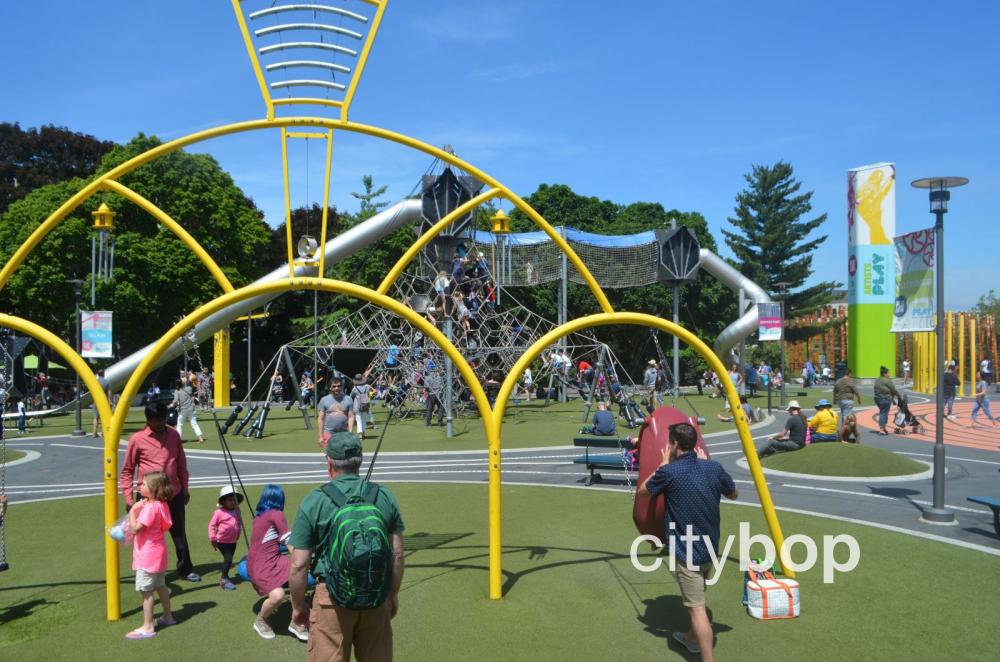 3. They can then play the yellow song fence that functions as an upright xylophone, or listen to the big yellow, stump-o-phones.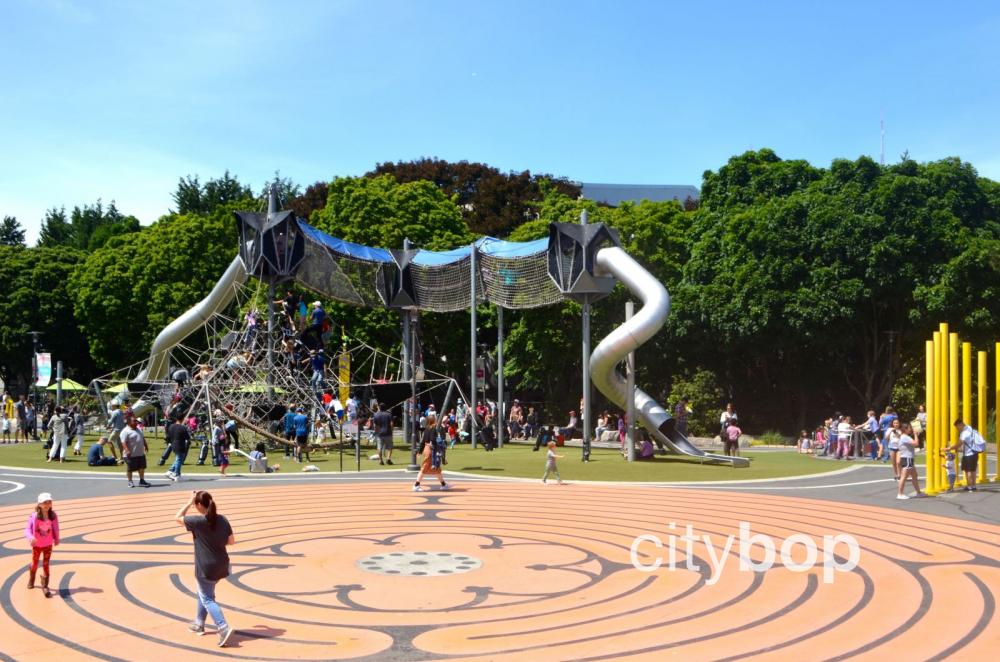 4. The Alphabet Tree has seven letters that a sound a note when a wheel is cranked.
5. The Rain Stick simulates the sound of rain.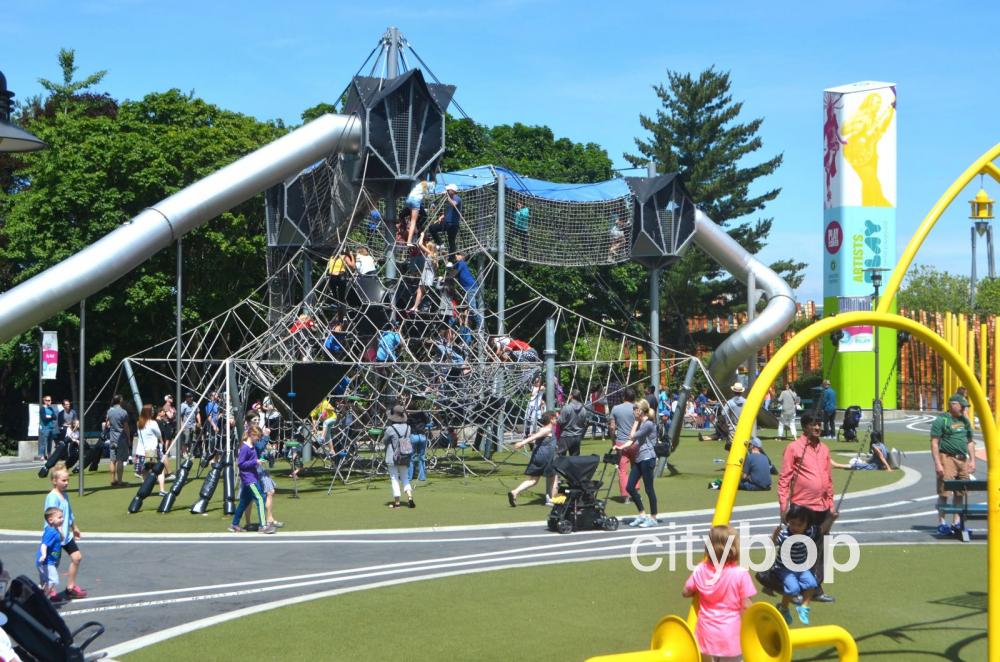 Know before you go
Cost: FREE.

Address: Adjacent to the Museum of Pop Art in the Seattle Center (305 Harrison Street, 98109).

Parking: Paid parking on the neighborhood streets around the Seattle Center. Also try the 5th Avenue N Garage (516 Harrison Street, 98109) and the Mercer Street Garage (650 3rd Ave N, 98109).

Food: The Armory building is next door with a huge food court on the main floor, including a Starbucks.
Other things for kids to do at the Seattle Center
The Pacific Science Center is just a short distance from the playground. It has a planetarium, play area, science experiments, maker's area and dinosaur exhibit.
On a warmer day, make your way outside to the International Fountain. Have a picnic on the lawned area overlooking the fountain while your kids splash about.
The Seattle Childrens Museum is also close to the playground, in the basement of the Armory. It's especially great for kids under age 7 with plenty of exhibits to explore and interact with. There's also enclosed toddler areas. The Armory has a huge food court area with a Starbucks.
More Kids Activities in Seattle