Georgetown is a trendy, artsy community 20 minutes south of Seattle's Downtown, and is Seattle's oldest neighborhood.
Georgetown's beautifully preserved 19th century buildings are full of stylish restaurants, brewpubs, bars and galleries. The best section is along Airport Way South, on a half-mile stretch that runs between Elysian Taproom and Great Notion Brewing.
Kids will enjoy the playground and splash-pad at the Georgetown Playfield. There's also two fascinating museums to visit; the Connections Museum and Georgetown Steam Plant Museum.
Don't forget to stop by the giant Hat n' Boots sculpture for a photo in Georgetown Seattle.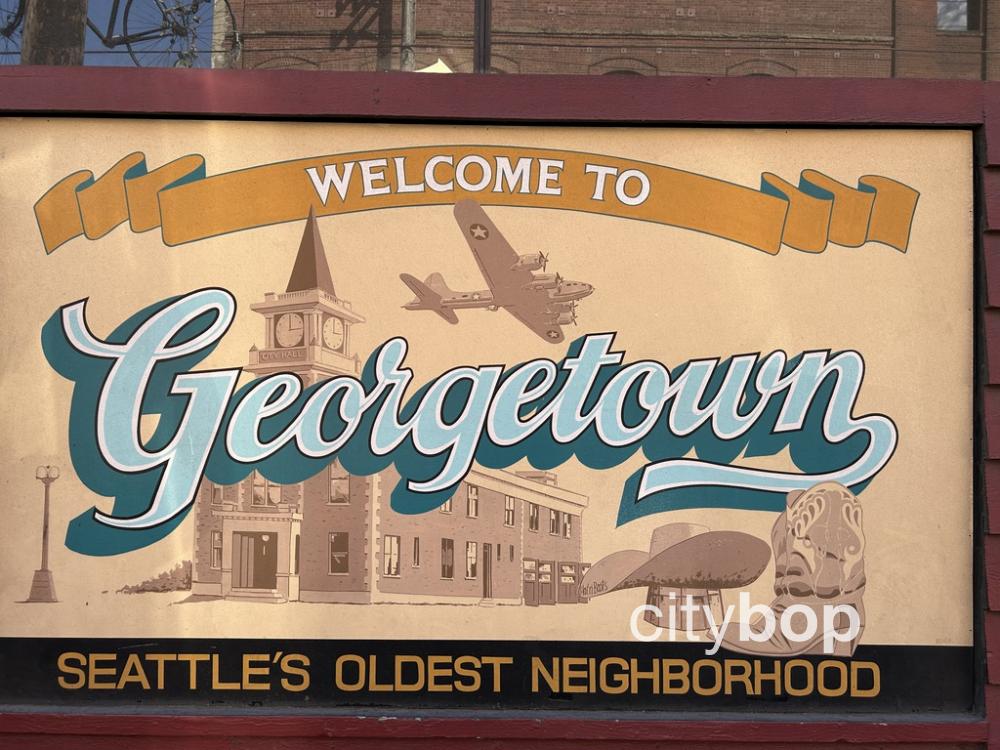 Georgetown history
Georgetown is Seattle's oldest neighborhood, permanently settled by the Conley Party in 1851, six months before the Denny Party moved to downtown Seattle. Its abundance of flat land made it a major transportation hub for the railways.
Georgetown became a bustling neighborhood full of saloons, brothels and even a racetrack. One of its biggest employers was The Old Rainier Brewery founded in 1878, once the sixth largest brewery in the world. Unfortunately Georgetown experienced a major decline after the construction of Interstate-5 through its neighborhood in 1964.
Modern day Georgetown is bordered by the highway and railway to its northeast, and SEATAC airport to the south. Experience the thrill of low flying planes, as you explore this unique neighborhood!
15 best things to do in Georgetown Seattle
1. Georgetown restaurants.
Georgetown Seattle has a great selection of superb restaurants.
Eat delicious Mexican food in the trendy surroundings of El Sirenito or Fonda La Cantrina, both with patio dining.
The industrial aesthetic at Ciudad Grill is the perfect backdrop to a Mediterranean inspired meal of charcoal grilled meats and vegetables. This hip restaurant is housed inside the historic Oxbow Building (1922).
Families will love the casual atmosphere at Flying Squirrel Pizza Company, or the food-truck at Burbs Burgers.
Bopbox is a relaxed Korean restaurant, serving bento boxes and bopbowls in vegetarian and vegan options.
2. Destination restaurants.
Georgetown has two destination restaurants, perfect for a special occasion.
The Corson Building is a slice of Europe, with an enchanting, vine-draped patio (see below) with sparkling fairy lights, and a Tuscan-inspired interior.
The Corson Building (1910) was originally owned by Rose and Bernardo Germani, who ran a statutory (see above).
Mezzanotte is another great destination restaurant in Georgetown. It's a chic Italian restaurant featured on season 13 of Top Chef, with handmade pasta and cocktails. Book a nine-course dinner at the bar, specially prepared by chef Jason Stratton, or sit outside on the expansive patio.
3. Seattle's oldest bar!
Georgetown is full of old-style saloons that ooze atmosphere, with exposed brick walls, soaring ceilings, and vintage bars. The Jules Maes Saloon is Seattle's oldest bar, starting out as The Brick Store in 1888!
Other great bar options along Airport Way South include the 9lb hammer, Smarty Pants, Seattle Tavern & Pool Hall, and Star Brass Works Lounge.
4. Brewpubs.
The main commercial area in Georgetown Seattle along Airport Way South is book-ended by two popular breweries, Elysian Taproom and Great Notion Brewing.
5. Fran's Chocolates.
Fran's Chocolates is a luxury chocolatier, located inside the striking interior of the old Rainier Brewing building in Georgetown Seattle (pictured below). The architectural details are incredible, including a Carnegie Steel spiral staircase from the 1800s. Purchase truffles, caramels, or gold bars in the retail area, or step inside the viewing room to see how chocolate is made. This beloved Seattle chocolatier has been in operation since 1982, originally located in Capitol Hill.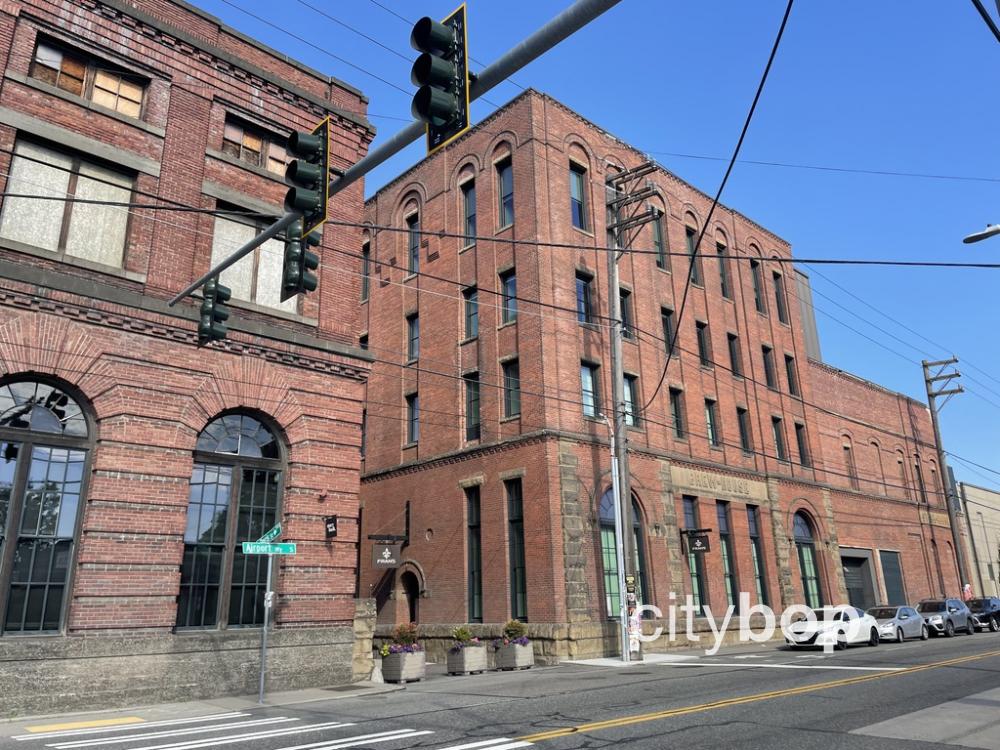 6. Georgetown Playfield.
The Georgetown Playfield is a short walk from the main commercial area in Georgetown, and has a playground, summer splash-pad and ½ basketball court, perfect for kids. There's also lots of low flying planes!
7. Georgetown Trailer Park Mall.
The Georgetown Trailer Park Mall is housed inside 8 vintage trailers, lined up behind the Star Brass Works Lounge (check hours). You can find all manner of items here, including clothes, glassworks, jewelry, art, skincare and cookies.
8. Shotgun Wedding Chapel.
The Shotgun Wedding Chapel officiates weddings inside a tiny, shipping container! (check hours). It's located at the Georgetown Trailer Park Mall.
9. Georgetown Records.
Georgetown Records is a funky, independent record store, selling and buying vinyl inside the historic Julius Horton building (1915). They only features CD's from local artists, and host regular live music and art events.
10. Fantagraphics Bookstore & Gallery.
The iconic Fantagraphic Bookstore and Gallery is next door to Georgetown Records, and has been publishing and selling classic comics and graphic books since the mid-seventies.
11. Coffee.
Enjoy a coffee at the trendy All City Coffee or Brother Joe Provisions and Goods in the heart of Georgetown Seattle. The Hangar Café is also a great breakfast spot.
12. Galleries, Antiques and Home Goods!
Georgetown Seattle is full of fantastic art galleries, antique stores and home goods stores.
If you're looking for something more affordable, check out the vintage clothes at The Barn Owl Vintage Goods, or a unique gift at Brother Joe Provisions and Goods.
The furniture stores and art galleries in Georgetown are on the pricey side, and include the gorgeous furniture galleries at Adorn or Brume House. You can also pick up a unique piece at the eclectic Kirk Albert Vintage Furnishings, or Susan Wheeler Home.
Art enthusiasts will appreciate the stunning artworks at Fogue Studios and Gallery or the Housewright Gallery.
13. Hat n' Boots (Oxbow Park).
Take a photo of the giant Hat n' Boots sculpture at Oxbow Park in Georgetown Seattle. The striking 44-foot wide hat and 22-foot tall boots were created in 1954 for a western themed gas station in Georgetown. The boots housed the restroom, and the hat sat on top of the main shop. There's also a small playground beside the sculptures.
14. Georgetown Steam Plant Museum.
Take a free monthly tour of the Georgetown Steam Plant (check hours). This National Historic Landmark once powered all the trolley cars in Seattle, and was built in 1905 to 1906 in the heart of Georgetown.
The striking, industrial interior of the Steam Plant has become a major hub for the performing arts, and serves as a backdrop for live music, dance and even sketching classes! The fascinating, multi-level interior is dominated by three giant steam turbines, with ladders and catwalks, boilers and generators.
15. Connections Museum.
The Connections Museum in Georgetown Seattle is a great place to learn about the early history of the telephone. Best of all it's a working museum, so you get to see a full telephone exchange in action! See switchboards, rotary phones, switching hardware, teletype machines, and so much more.
It's free to visit, but a small donation is appreciated (see hours).
More Restaurants & Shopping in Seattle