The best way to see Myrtle Edwards Park is along its popular 1.25-mile trail on the Seattle waterfront at Elliot Bay.
Seattle is blessed with some incredible waterfront walks, and the trail at Myrtle Edwards Park is one of the best.
The trail is 1.25-miles (one-way), and starts at Broad Street/Alaskan Way near the Olympic Sculpture Park, ending at the Pier 86 Grain Terminal.
This easy walk has panoramic views of the snow-capped Olympic Mountains across Puget Sound, and is conveniently located near downtown and other waterfront attractions. It has both a pedestrian path and bike trail.
10 best things at Myrtle Edwards Park trail
1. Start at the magnificent Father and Son fountain (2006) by Louise Bourgeois on Broad Street/Alaskan Way.
2. Admire the Shubert Sonata (1992) art installation by Mark di Suvero.
3. Relax on the shores of Pocket Beach, with spectacular west facing views of the Olympic Mountains.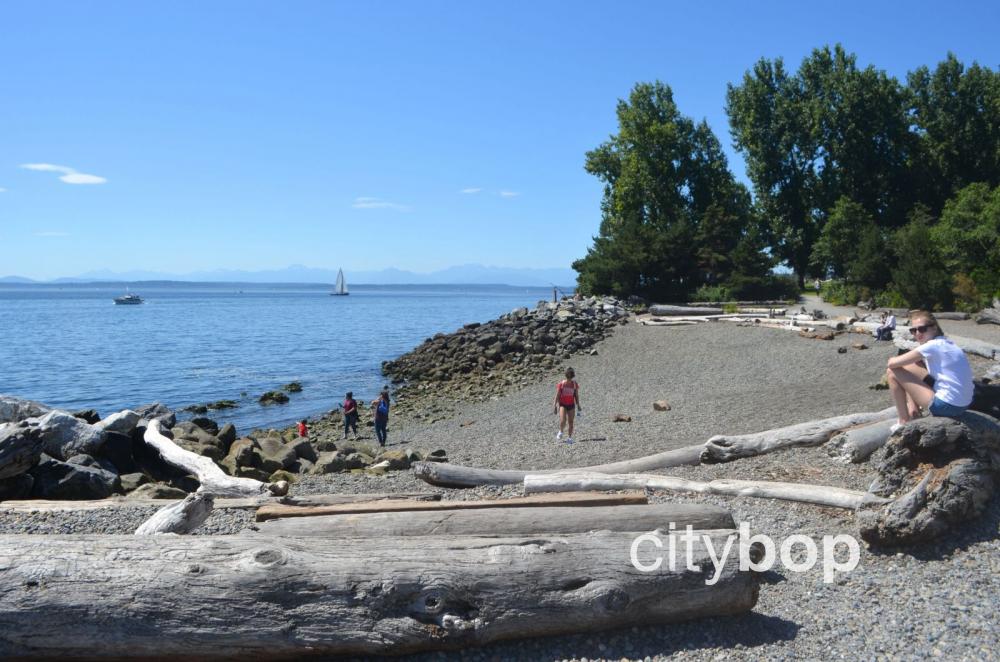 4. Enjoy soaring views of Mt Rainier to the south.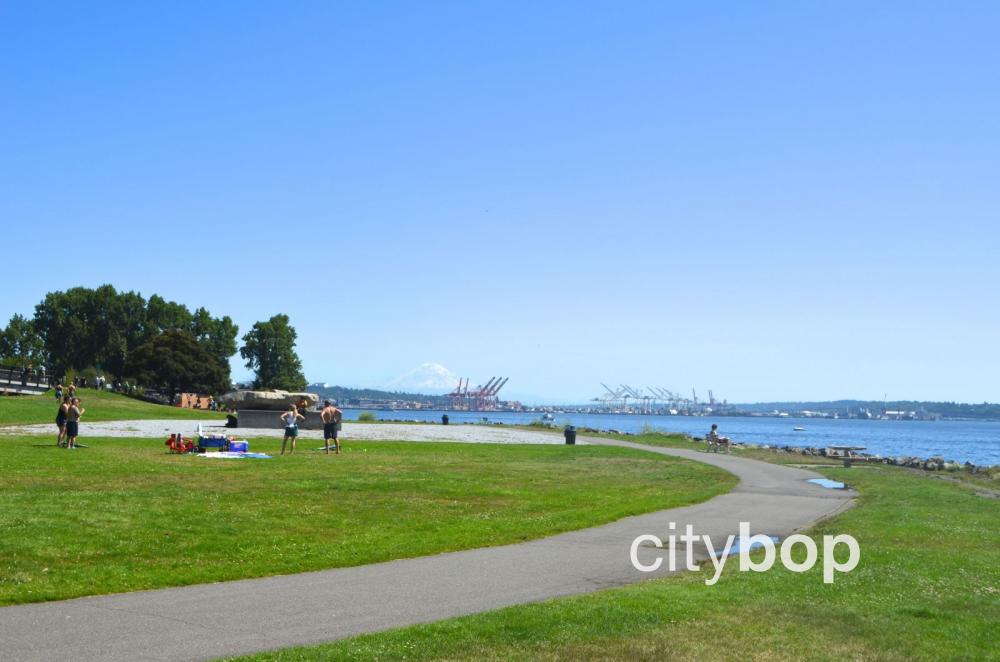 5. Stop at the Myrtle Edwards Park Beach, the second beach along this pathway, and watch boats gliding by.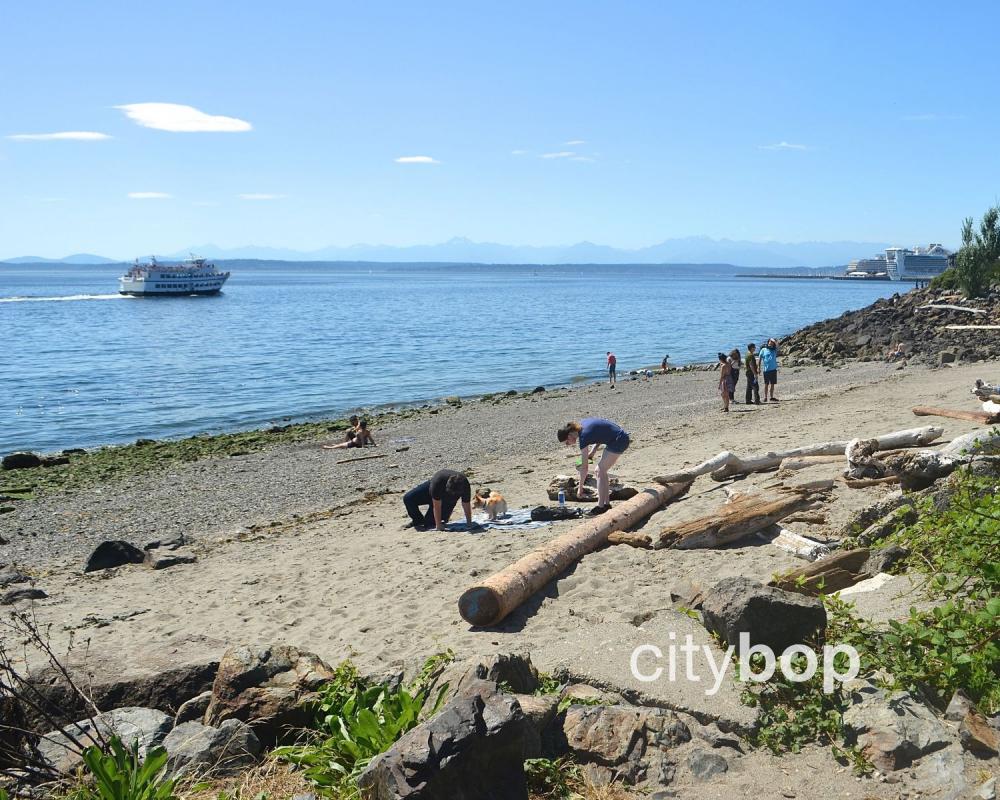 6. See intriguing, giant rock sculptures near Myrtle Edwards Beach.
7. Find plenty of waterfront picnic tables and benches to admire the views.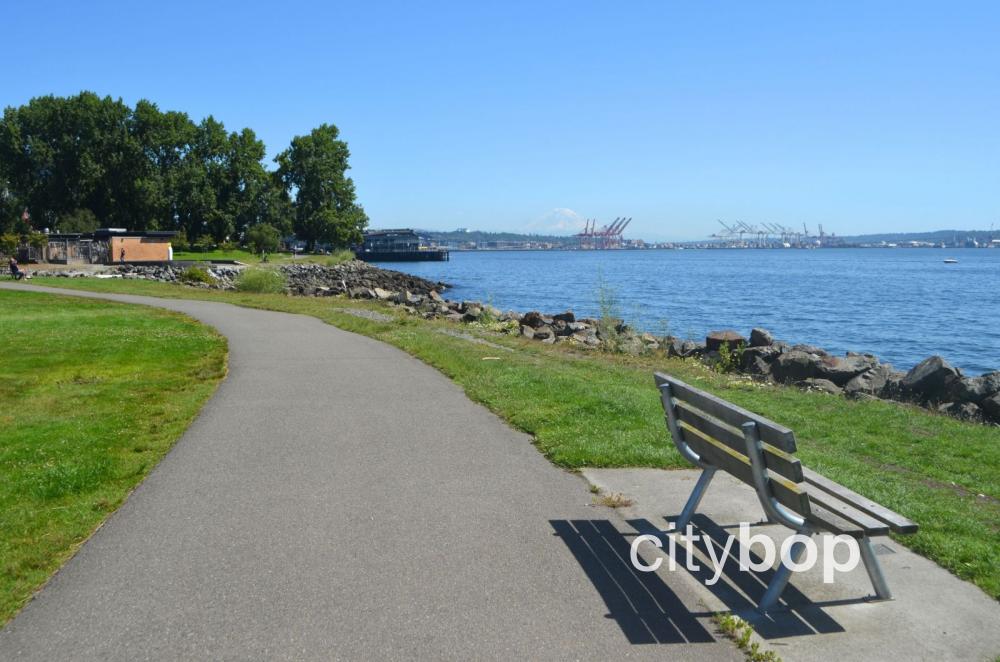 8. Bring a book and lay out on the expansive lawns.
9. Choose from either the bike path, or pedestrian trail closer to the water.
10. Take a photo from the pedestrian overpass, that leads to the Queen Anne Neighborhood.
Know before you go
Address: The Myrtle Edwards Park trail starts at the corner of Broad Street and Alaskan Way on the waterfront, adjacent to the Father and Son fountain near the Olympic Sculpture Park. You can also access it from a pedestrian overpass on 3rd Avenue West/Harrison Street in the Queen Anne neighborhood.
Coffee: Pick up a coffee at Uptown Espresso adjacent to the Father and Son fountain (2801 Alaskan Way).
Parking: There's no parking lot attached to the Myrtle Edwards Park. Paid parking is available on Broad Street at the Olympic Sculpture Park underground park. There's also an abundance of on-street parking around the Sculpture Park.
If you'd like a longer walk. Continue another 1.5 miles (one-way) past the Pier 86 Grain Terminal, to the Elliot Bay Marina.

This section of the path is isolated and winds through an industrial area, therefore should not be done alone. However, there are big rewards at the end of this path, with magnificent views from the Marina. Enjoy a meal at swanky Palisades Restaurant, or the casual Maggie Bluff's Cafe at the Marina. These are some of Seattle's best views.
More Parks & Nature in Seattle