Kayak, swim or walk around Seattle's beautiful Green Lake!
Green Lake is 10 minutes north of downtown Seattle in a picturesque Seattle neighborhood with lots of craftsman homes and charming, tree-lined streets.
This beautiful, urban lake is popular in all seasons, with a 2.8 mile paved inner loop path that you can walk around. As of 2022, bikes are not allowed on this inner loop, although strollers and mobility devices are still fine.
In summer the two beaches at the northern end of Green Lake attract big crowds. Both beaches (West Beach and East Beach) usually have seasonal lifeguards, but East Beach is closed for summer 2023. Neither of the beaches have any sand, but there's a large, grassy area to lay out on, and soak up the rays.
It's impossible to find a parking spot at any of Green Lake's busy parking lots in summer,
so a better strategy is to find something on the neighborhood streets.
10 best things to do at Green Lake
1. Visit a great selection of restaurants and cafes at Green Lake.
Choose from Green Lake favorites like the Greenlake Grill, Zeeks Pizza, or trendy Tapas Lab. Starbucks is also a stone's throw from East Beach, or fuel up at the stylish Retreat cafe for coffee and sandwiches (pictured below). Local Bigger Burger is also great for a delicious burger.
2. Walk the 2.8-mile path around Green Lake.
It's a rite of passage for all Seattleites to walk around the 2.8 mile Green Lake, and take in all the sights! This path is popular in all seasons, even on chilly, winter days.
Park at the East or West parking lots in Green Lake, or find a spot on the neighborhood streets.
West parking lot:

7312 West Green Lake Drive North.

East parking lot:

7351 East Green Lake Drive North.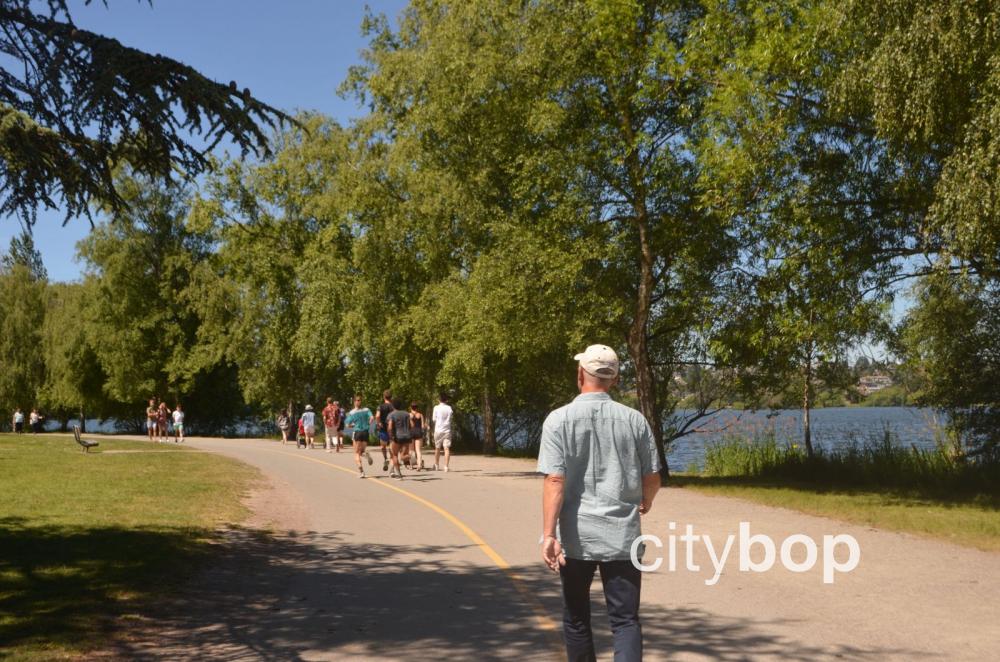 3. Go swimming at beautiful West Beach.
West Beach is the place to be on summer's day in Seattle. You'll know you've reached it when you see the old Bathhouse Theater that started out as a changing room for bathers in the 1920s, later becoming a local theater.
The big draw at West Beach is the two floating docks with diving boards, that seem to attract all kinds of daredevils eager to show off their skills. Lay out on a towel on the grass, and munch on some snacks from the seasonal kiosk, while watching all the action in the water.
The only downside to West Beach is that there are no restaurants or cafes within a short walking distance.
Parking lot:

7312 West Green Lake Drive North.

Seasonal snack bar: yes.
Restrooms: yes.
Seasonal lifeguards: yes.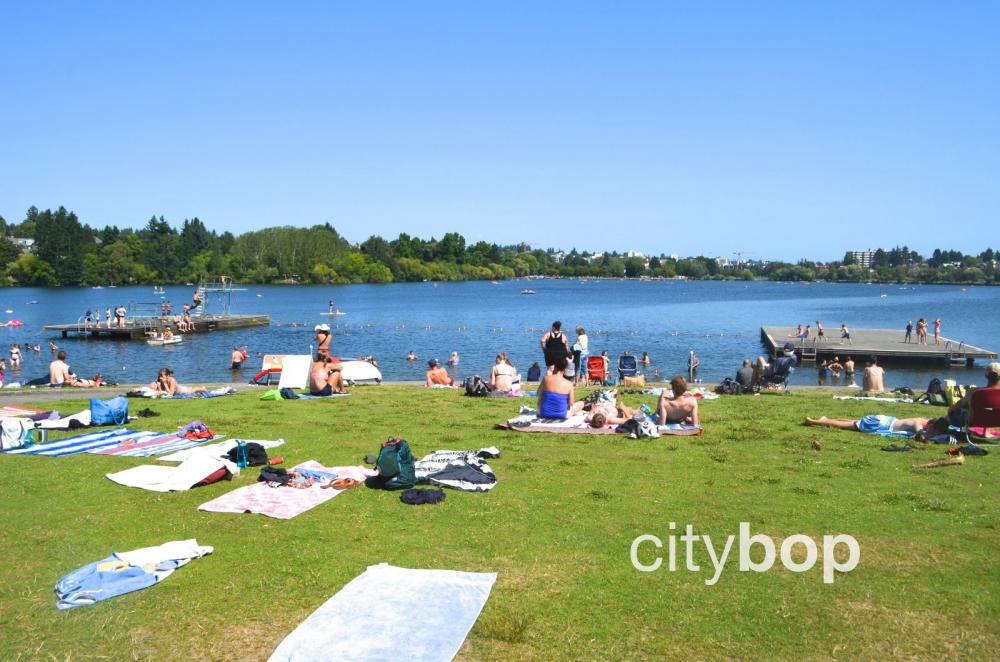 The diving boards are removed during colder months.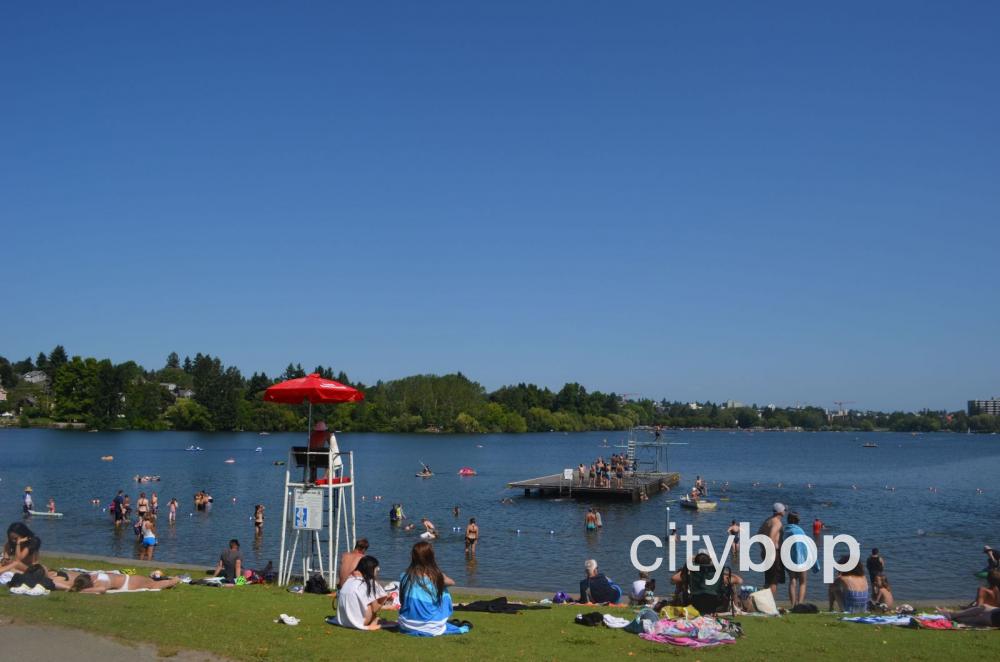 The seasonal lifeguard at West Beach keeps a close eye on everything.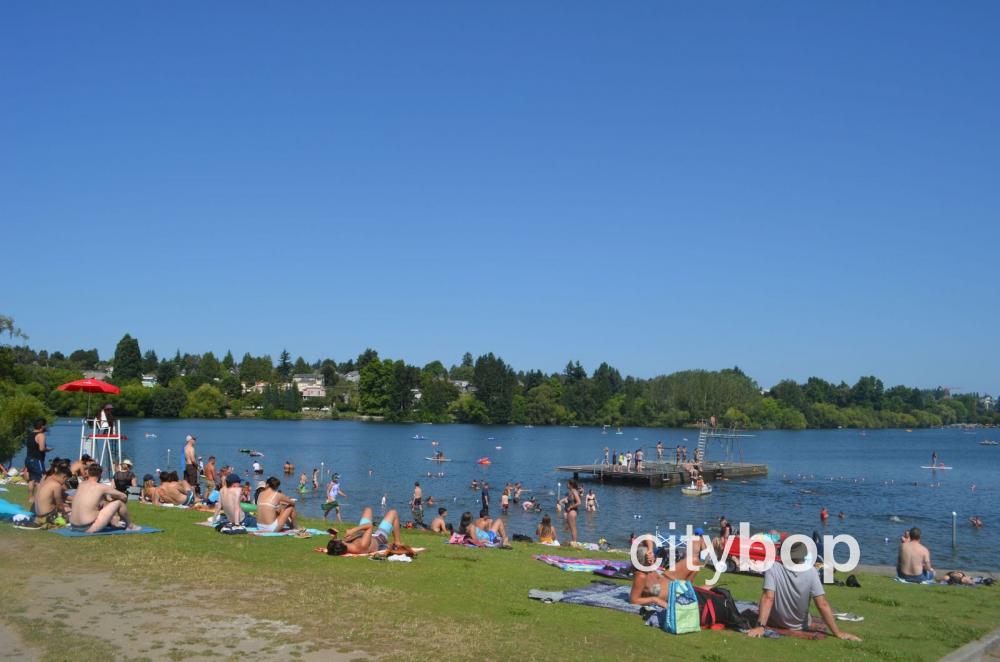 4. Go swimming at lovely East Beach.
East Beach is near the Green Lake Community Center, and has year-round boat rentals at its boat house. During winter you can stop for a coffee here while strolling around the lake.
In summertime, East Beach has a festive atmosphere, bursting at the seams with swimmers and sunbathers competing for space on the waterfront lawns. Head to the boathouse for ice-cream and snacks, and spend a relaxing day on the beach. There's also a heated intdoor swimming pool (Evans Pool), with fitness classes, lap swims and swimming lessons.
If you're looking for a more substantial meal, then walk to popular Green Lake restaurants like the Greenlake Grill or Tapas Lab. Starbucks is also a stone's throw from East Beach, or stop by the stylish Retreat cafe for coffee and sandwiches.
If you're looking for activities outside the water, then head to the playground near East Beach, or play on the tennis courts or basketball courts.
Parking lot:

7351 E Green Lake Drive N.

Restrooms: yes.
Playground: yes.
Boat rentals: year-round.
Boathouse kiosk: year-round.
Seasonal lifeguards: yes.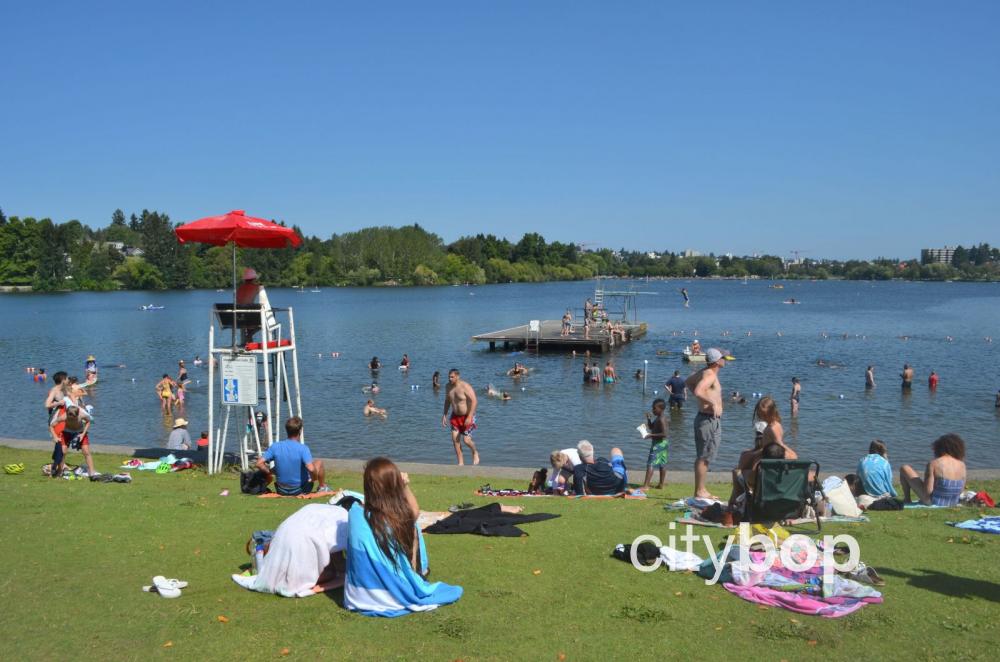 5. Rent a boat from the Green Lake Boathouse at East Beach.
The best way to see Green Lake is out on the water on a boat!
There's so many boat rentals to choose from at the Green Lake Boathouse, you'll be spoilt for choice. Rent kayaks, pedal boats, water bikes, row bikes, sail boats, and stand up paddle boards. Check hourly rental rates here.
Boat rentals are most popular in summer, but are available year-round.
Green Lake Boathouse:

7351 E Green Lake Drive N.

Rates and hours: Check

here

.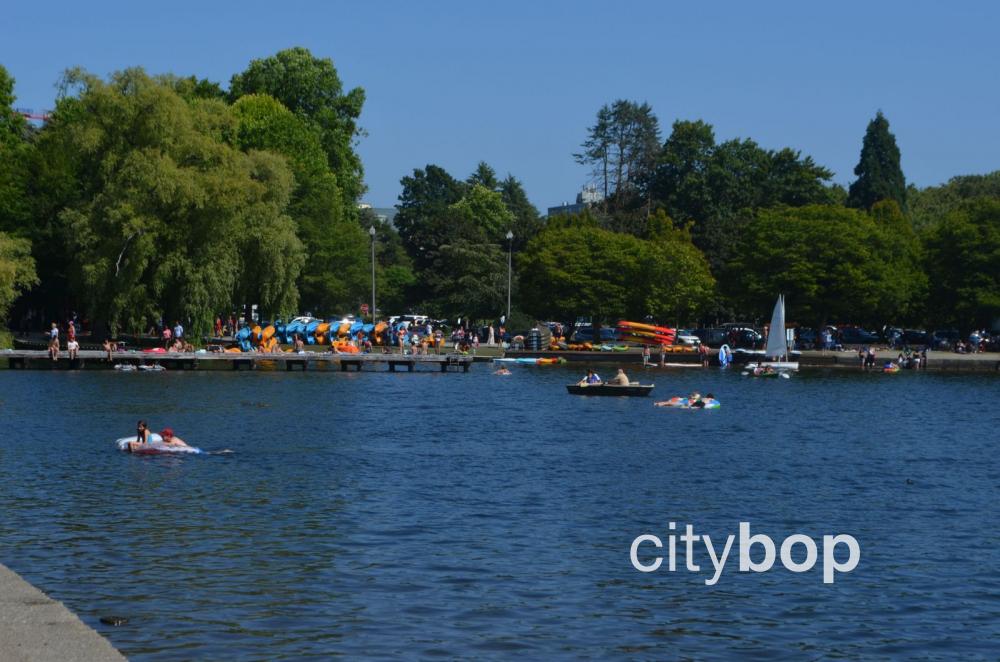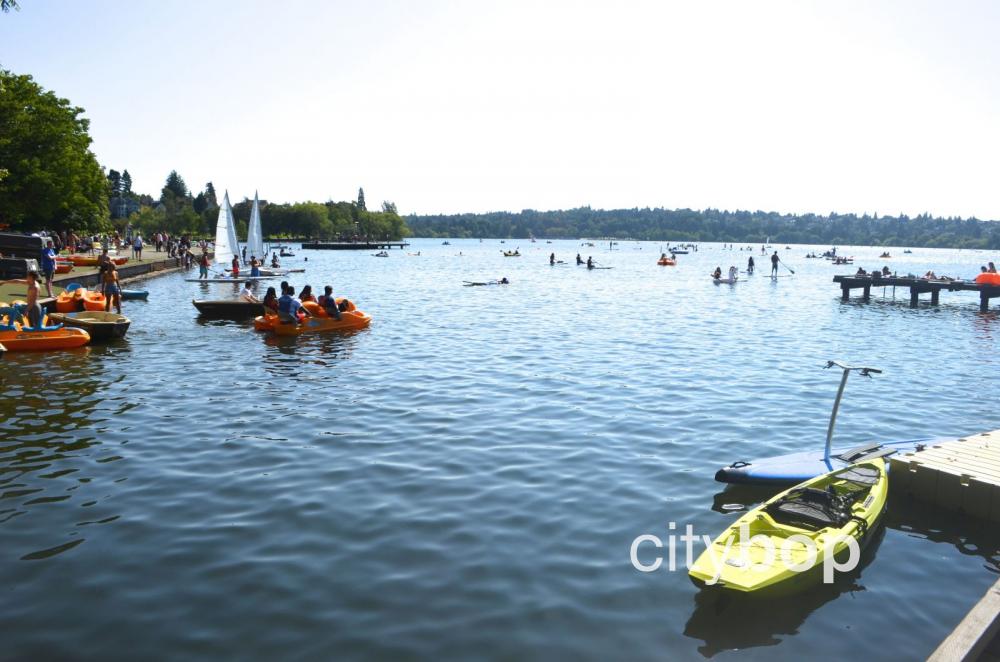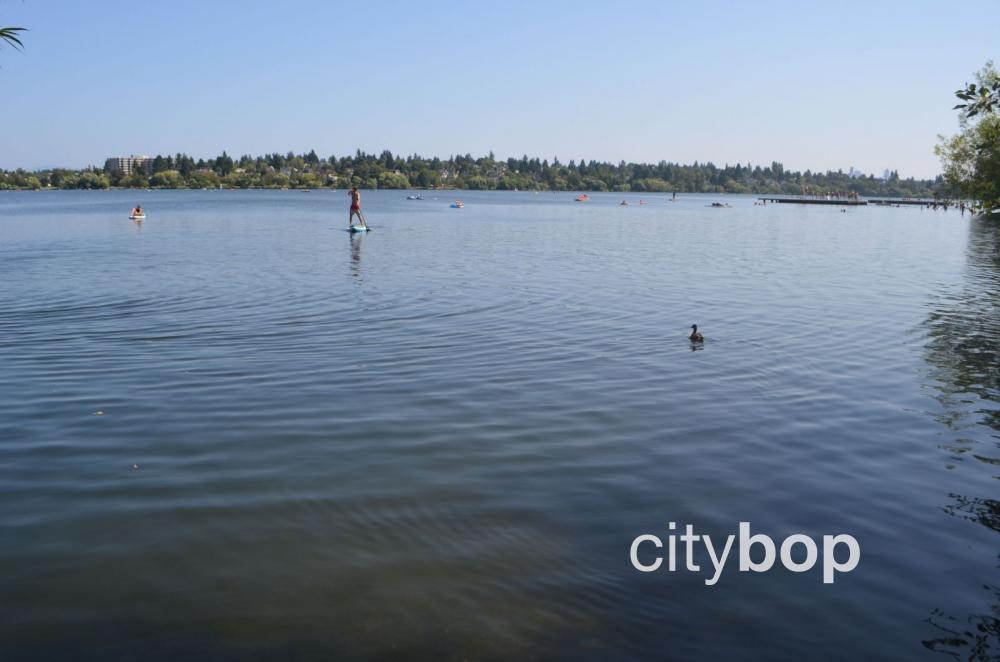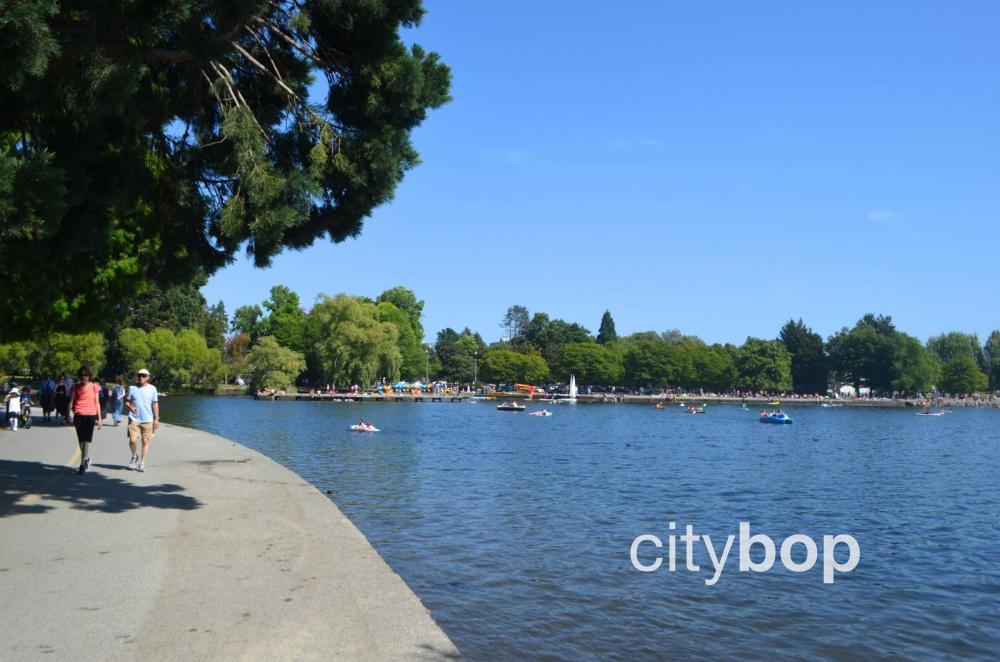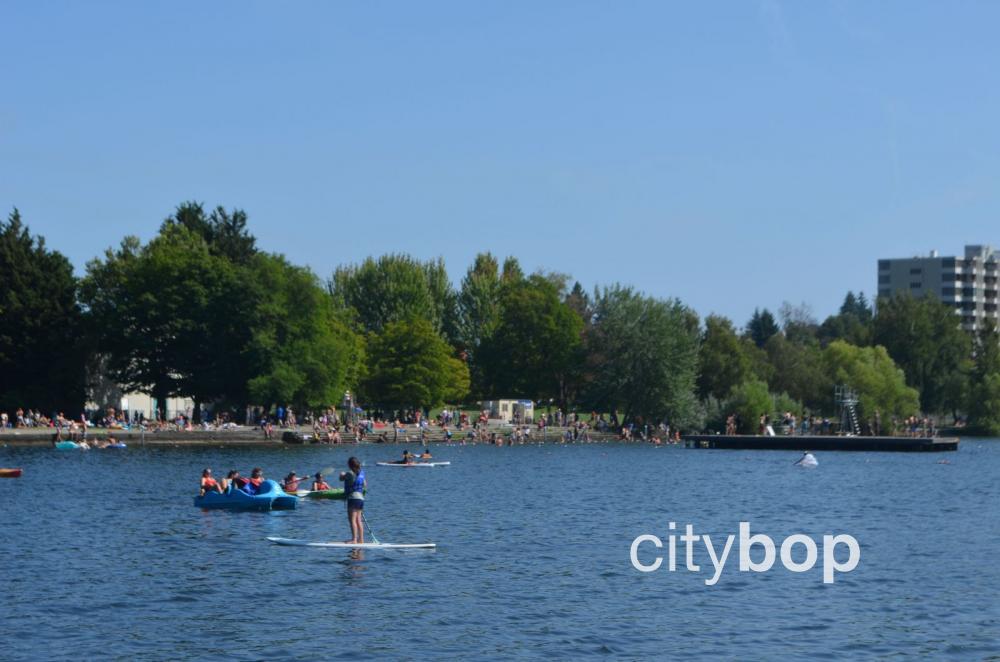 6. Dip your feet in the Green Lake Wading Pool.
The seasonal Green Lake Wading Pool is a fabulous place to take little ones, located between East Beach and West Beach. Parents will love all the shaded and grassy areas around the pool, perfect for a picnic.
After a few hours at the wading pool, the whole family can walk to nearby restaurants like Duke's Seafood or Zeeks Pizza, or you can take the kids to Ben and Jerry's icecream across the road.
Location:

North end of Green Lake Park (close to the intersection of East Green Lake Drive N and Wallingford Ave N).

Open: July and August, 11am to 8pm.
Restrooms: Nearby.
Parking: No parking lot. Park on nearby neighborhood streets.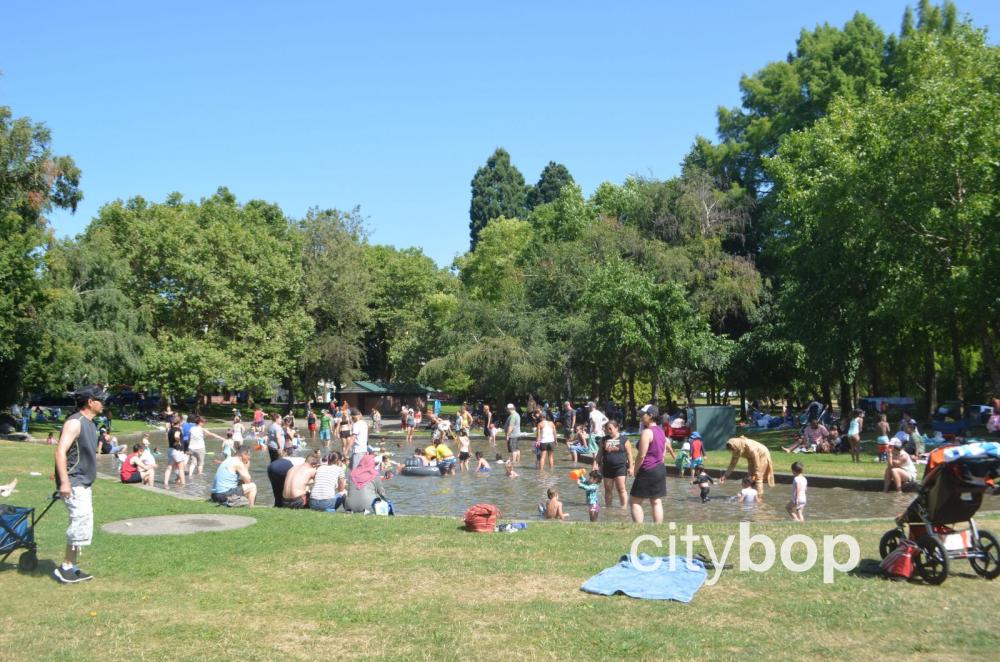 7. Enjoy a relaxing waterfront picnic.
In summer the grassy slopes of the Green Lake are full of visitors enjoying a picnic, or laying out with a book. It's easy to while away an entire afternoon here in this beautiful setting! Some visitors get extra comfy by stringing up a hammock between trees.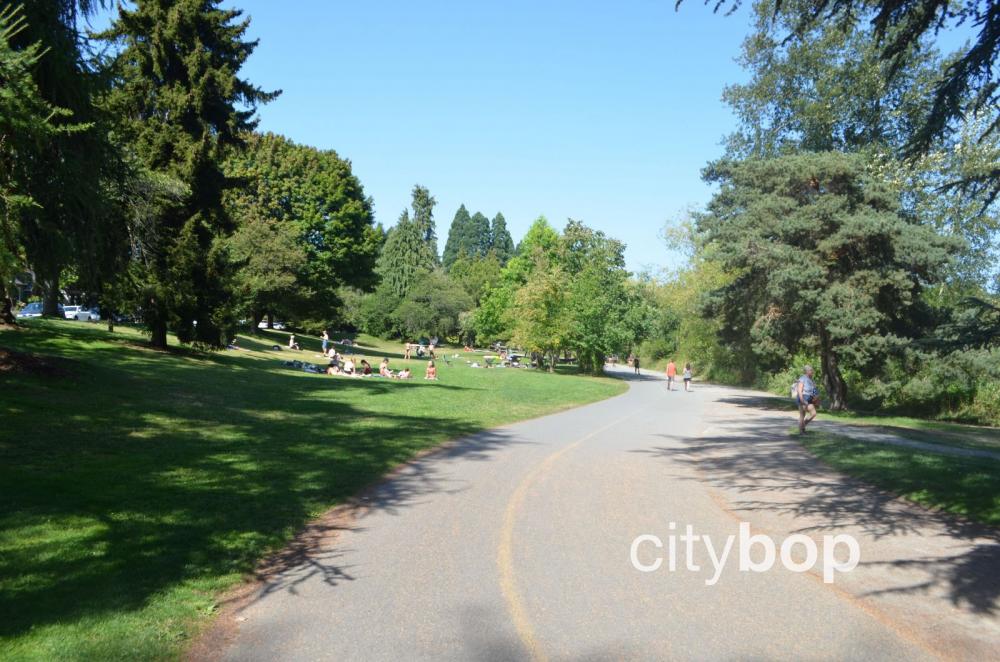 8. Catch a show at The Bathhouse Theater near West Beach.
The Bathhouse Theater is located near West Beach in a vintage, 1920's building. This intimate theater seats only 130-people, and has been a community theater since 1989. Check the latest shows.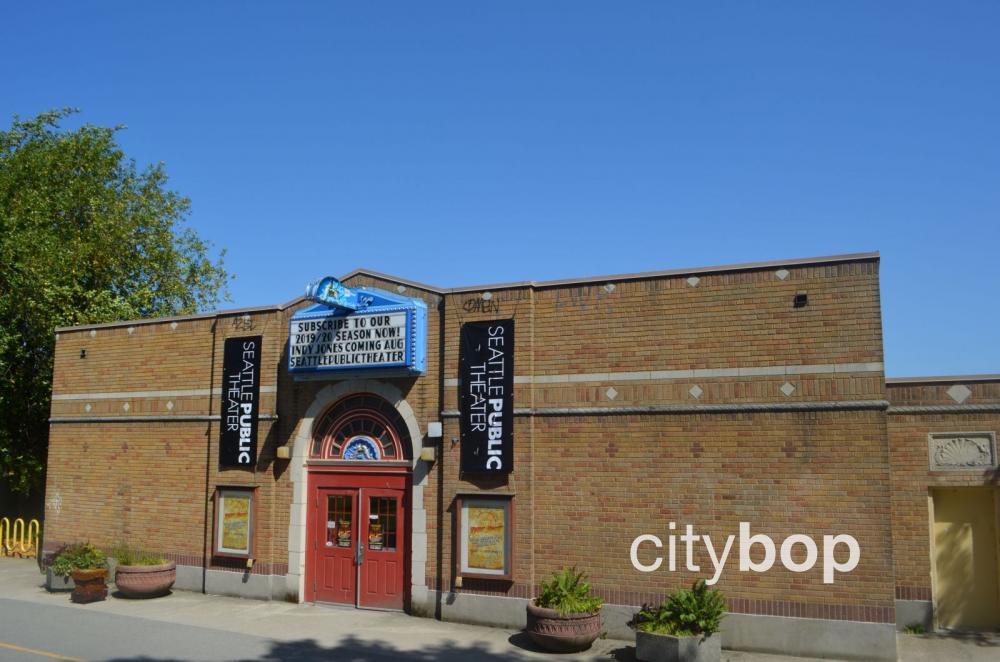 9. Take your kids to the fun playground near East Beach.
10. Use the basketball courts and tennis courts near East Beach.
More Lakes in Seattle