Fremont is Seattle's most bohemian neighborhood.
Fremont is 20 minutes north of downtown Seattle on the other side of Lake Union.
This extremely walkable neighborhood has eclectic street art, quirky stores with unusual items that will pique your interest, and a vibrant restaurant scene.
Fremont's independent streak evolved during the hippie movement of the 1960's when artists and students were attracted by it's cheap rents. The cheap rents have long since gone and tech companies like Google have moved in.
The old Fremont is clinging to it's alternative, quirky flavor, but sleek new modern restaurants and cafes have started to emerge in this previously gritty neighborhood.
10 best things to do in Fremont Seattle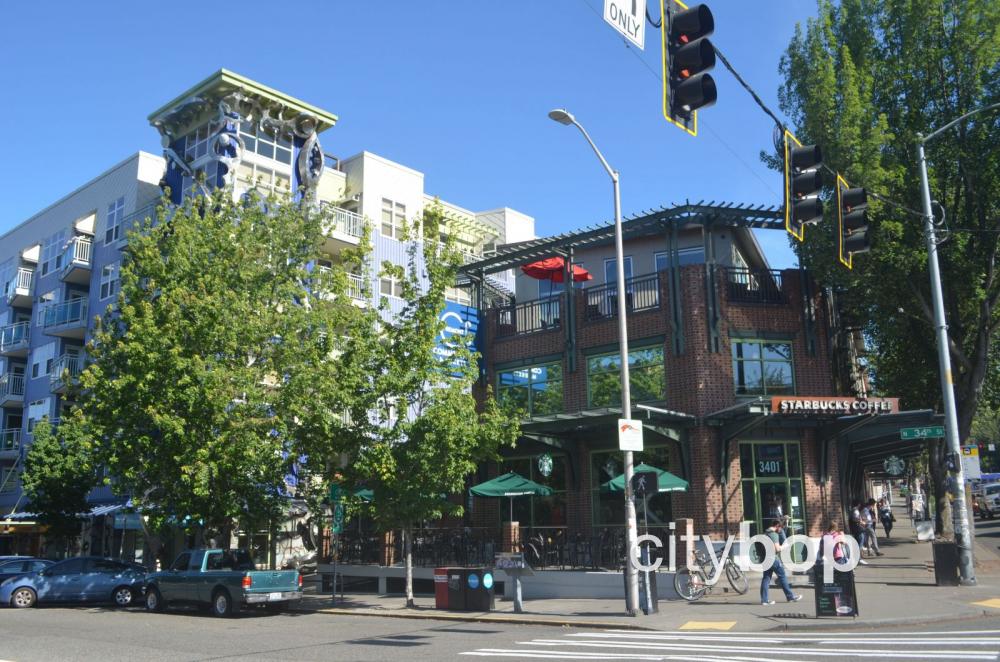 1. Experience the vibrant restaurant scene at Fremont.
Fremont abounds with casual restaurant options, including Red Star Taco Bar (tacos and tequila), Triangle Spirits (gourmet burgers), Cafe Turko (turkish), El Camino (mexican), and ZapVerr (thai). Fremont is a relaxed foodie destination with low-key neighborhood pubs like the Outlander Brewery and Red Door.
If you're looking for a trendy restaurant with super-sleek decor, then make a booking at The Whale Wins (northwest fare), Joule (asian fusion), The Masonry Fremont (craft beer and pizza), or Tavolata Stone Way (pasta).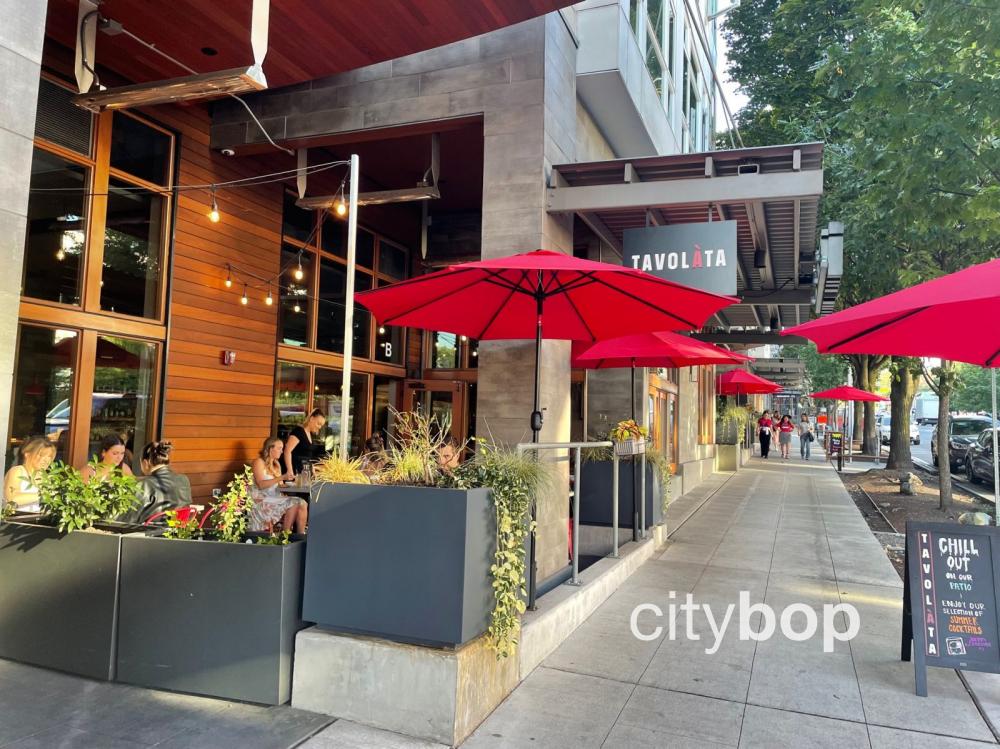 Tavolata Stone Way (plates, pasta and cocktails).
Joule restaurant (asian fusion).
The Whale Wins (northwest fare).
2. Visit a brewery.
The Fremont Brewing Company is also hugely popular and has an outdoor patio.
3. Take a picture at the scary Fremont Troll.
Fremont has lots of public art that's perfect for a photo opp
The most popular is the Fremont Troll under the north side of the Aurora Bridge (N 36th). The scary looking Fremont Troll stands 18-foot high, and is clutching a volkswagen beetle.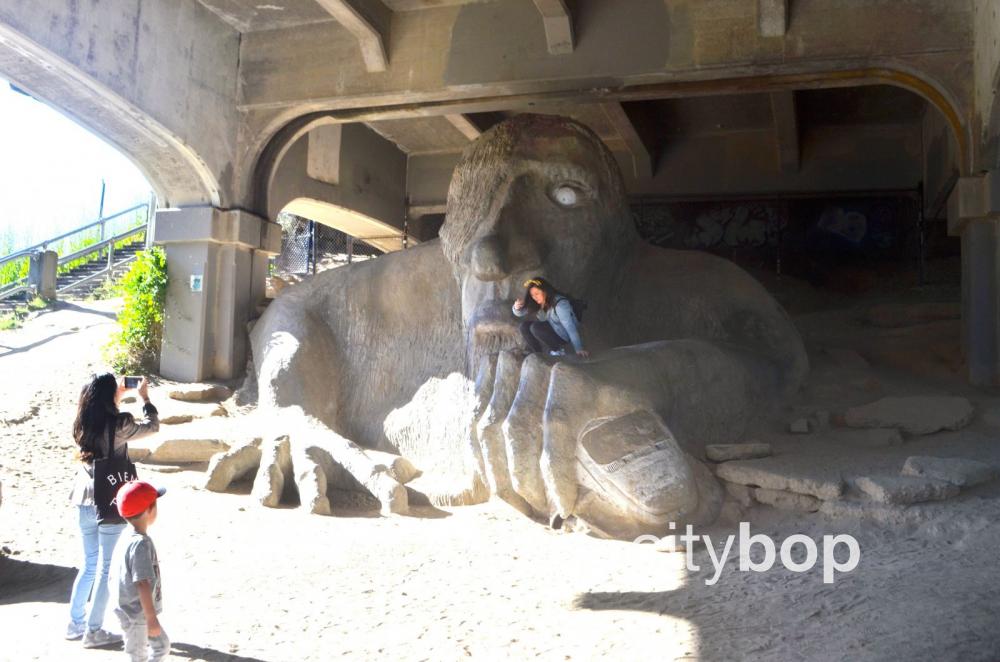 4. Load up on coffee.
To experience the old Fremont, stop by the Fremont Coffee Company housed inside a cosy Craftsmen, or the shabby-chic Expresso to Go. There's also the Seattle staple Cafe Ladro.
The trendy interior of Milstead of Co. appeals to hordes of tech workers in the area.
5. Visit Fremont's quirky shops.
One of the greatest delights in Fremont is exploring the whimsical shops, and there's a little bit of everything here to capture your imagination.
Pick up some vinyl or a CD at Jive Time Records, or scour the Fremont Vintage Mall for bric-a-brac, vintage clothes, and mid-century furniture.
Find a good selection of gifts at shops like Portage Bay Goods, Uncommon Cottage, and Essenza for bath products and perfumes, or check out Pipe & Row or Les Amis for cool fashions.
Theo Chocolate has been around forever, and has delicious treats and a popular factory tour.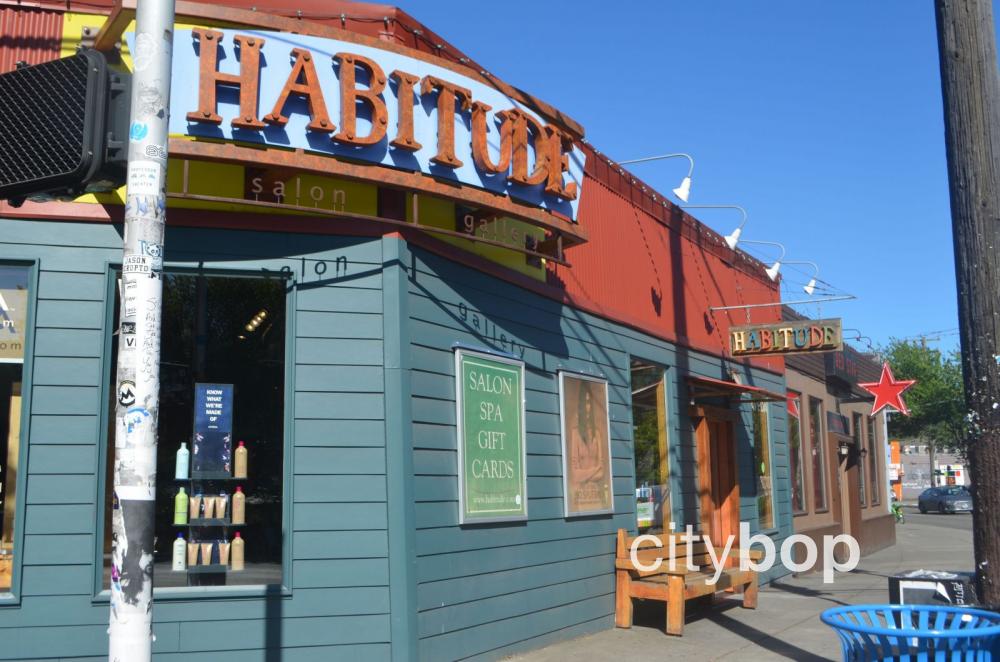 6. Visit the Statue of Lenin (N 36th and Evanston).
Stop by the Statue of Lenin in Fremont. It was removed from Czechoslovakia after the ousting of the communist party in 1989 . The statue has caused some controversy over the years due to its communist undertones, but remains there today.
7. See an authentic Cold War rocket (N 35th and Evanston).
The Fremont Rocket is one block south of the Statue of Lenin. This authentic 1950's cold war rocket fuselage stands 54-feet high, and has cool laser lights and smoke shows.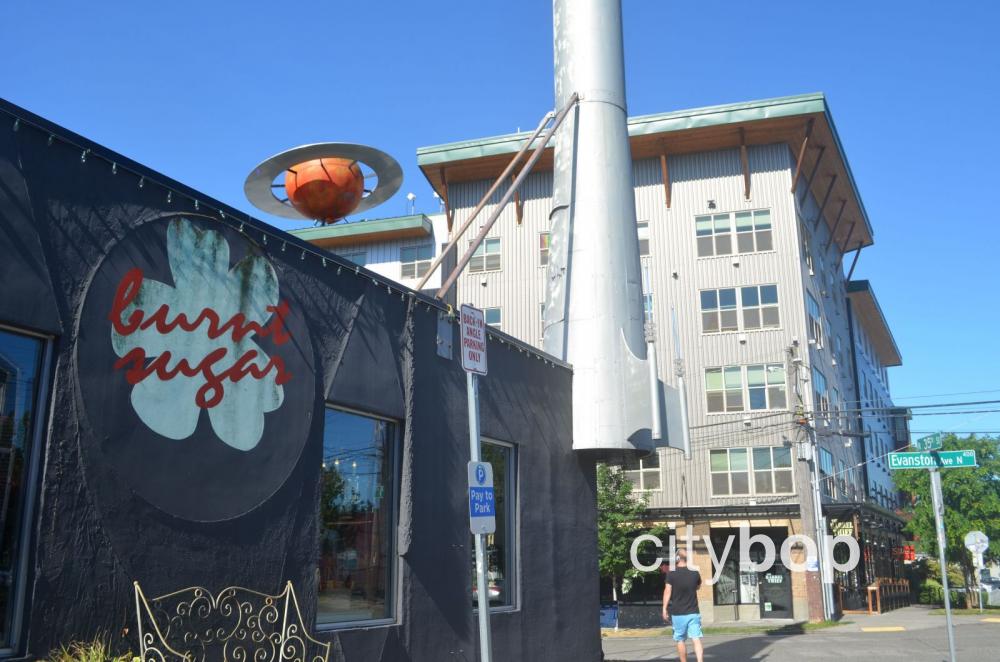 8. Visit the Center of the Universe Signpost (Fremont Place N).
The quirky Center of the Universe Signpost is one block east of the Cold War rocket. Visit the Dinosaurs, Xanadu, and Timbuktu.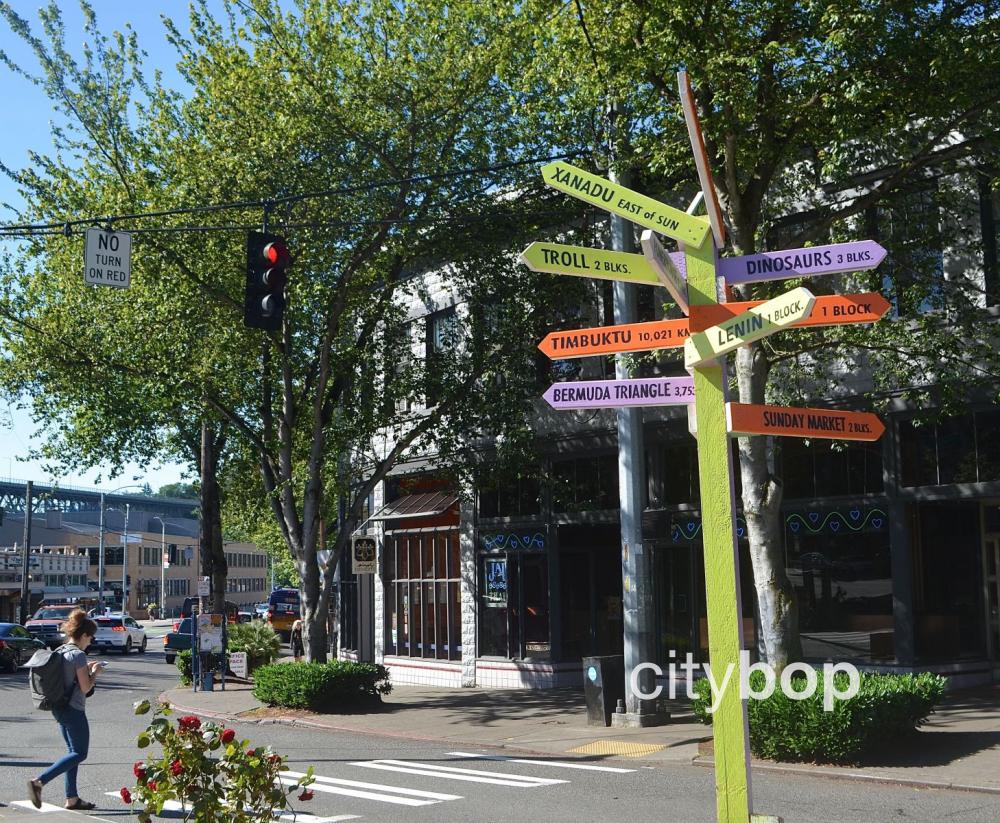 9. Take a picture at the famous Interurban Sculpture (JL Patches Place and Fremont Ave N).
Continue two blocks south of the Center of the Universe Signpost to the Waiting for Interurban sculpture. This sculpture is routinely decorated by locals, and depicts five people and a dog waiting for the Interurban streetcar. The Interurban streetcar used to serve Fremont and surrounding neighborhoods from 1910 onwards, but was eventually removed in the early 1940's after racking up debts.
The J.P. Patches statue is just a short distance away, and celebrates Seattle's favorite clown. The J.P. Patches TV show ran from 1958 to 1981 in Seattle, and is one of the longest running kid's shows in America.
10. Experience superb live music venues at Fremont.
Fremont also excels at live music, and two of the best venues are High Dive and Nectar Lounge.
11. See nude cyclists at the Solstice Parade!
Visit the annual Solstice Parade in June, to see nude cyclists and rollerbladers adorned in body paint. Nothing is left to the imagination! This fun parade is a nod to Fremont's artsy, counter-culture past.
Any good hotels in Fremont?
Trendy Hotel Hotel is a hostel conveniently situated in Fremont. There are family rooms with ensuite bathrooms.
Any fun attractions near Fremont Seattle?
Take in the panoramic views of beautiful Lake Union and downtown Seattle at the nearby Gas Works Park. The rusted ruins of a former gasification plant add character, and there's also a playground and dirt trails to meander through. It's a lovely, serene viewpoint, popular for kite-flying, picnics or sitting on a bench and savoring your latte.
Three miles north west of Fremont, check out another historic Seattle neighborhood at Ballard. Ballard is full of bustling restaurants and shops. Just nearby is the breathtakingly beautiful Golden Gardens beach, and the fascinating Ballard Locks where ships pass from Seattle's freshwater lakes into the salty ocean of Puget Sound.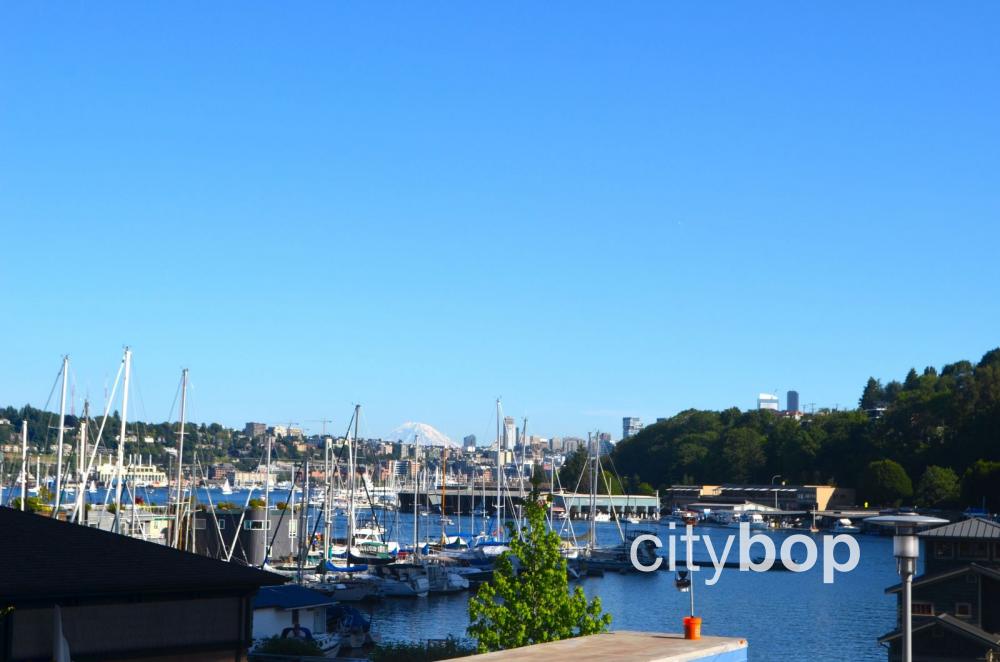 Awesome view of Mt Rainier along N 34th Street in Fremont.
More Restaurants & Shopping in Seattle