Golden Gardens is one of Seattle's best kept secrets, with panoramic views of Puget Sound and the Olympic Mountains.
Golden Gardens is in the bustling Seattle neighborhood of Ballard, 20 minutes from downtown Seattle. It has a sandy beachfront, off-leash dog area, kiosk, playground, picnic table, and trails.
Golden Gardens is located at 8498 Seaview Avenue NW, 98117. There are 3 main parking lots at Golden Gardens; at the marina, behind the beach, and an overflow parking lot up the hill from the beach.
10 best things to do at Golden Gardens
1. Enjoy incredible views out to the snowcapped Olympic Mountains over Puget Sound.
In winter months the beachfront at Golden Gardens is a place for quiet contemplation. Enjoy brisk walks along it's sandy beach while watching the drama of winter storms roll over the Olympic Mountains.
In summer the atmosphere is festive. Golden Gardens is popular for volleyball, picnics, and soaking up the fun atmosphere. Kids frolic near the shoreline building sandcastles and wading in the creek. There's also a modern playground with a pirate ship! Elsewhere the park is full of life. Dogs excitedly roam the off-leash park. A trail also meanders through tranquil wetlands at the northern end of the park. At the end of the day people congregate around fire pits to watch the glorious sunset over the Olympics.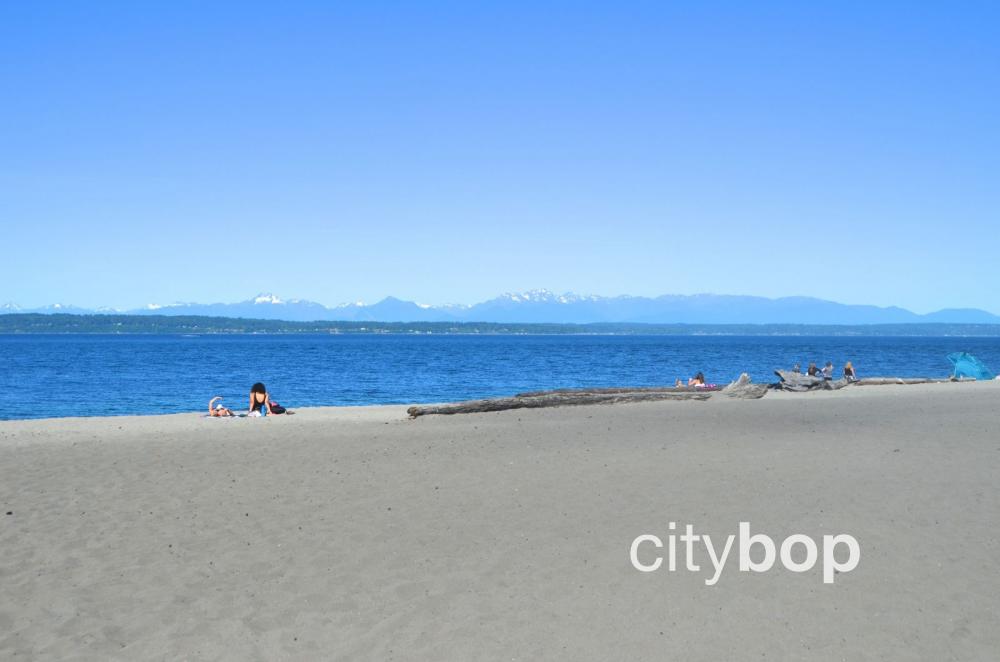 2. Order delicious food at Miri's Snack Shack at the Golden Gardens Bathhouse.
Choose from a great selection, including picnic platters, acai bowls, fruit cups, chicken wraps, popsicles, and coffee, iced tea and cocoa.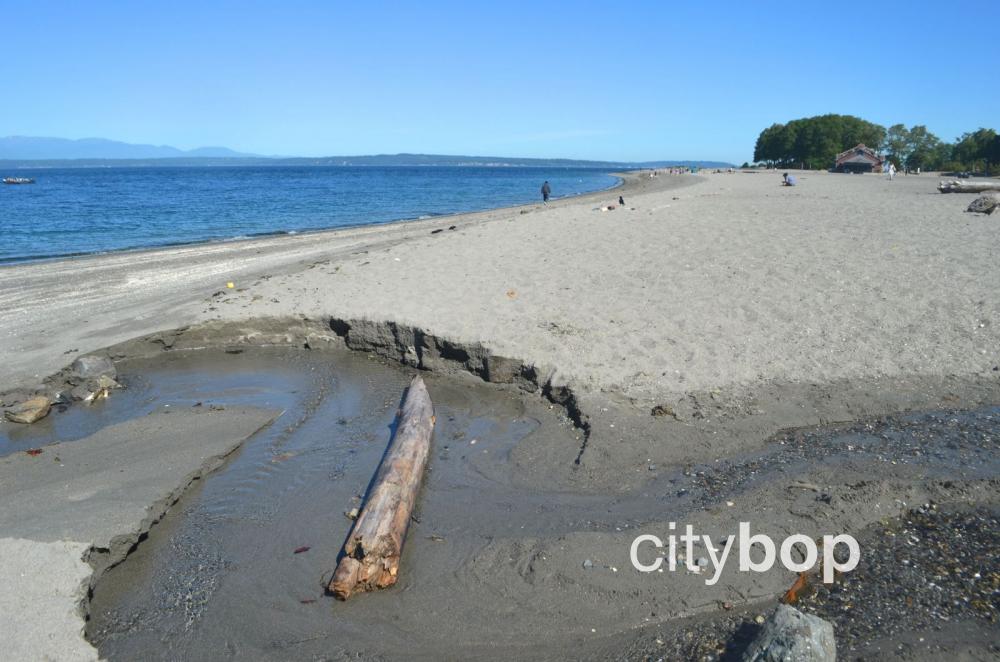 3. Visit Little Coney near the marina at Golden Gardens, with hamburgers, ice-creams and milkshakes.
4. Take your kids to the fun, pirate themed playground at Golden Gardens.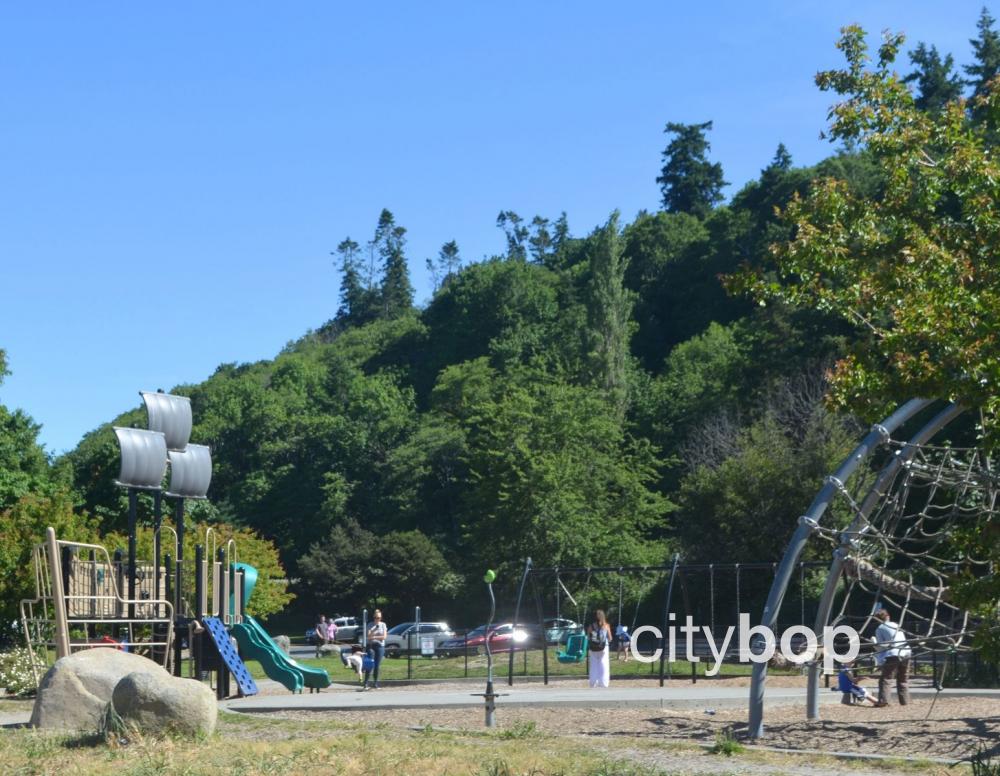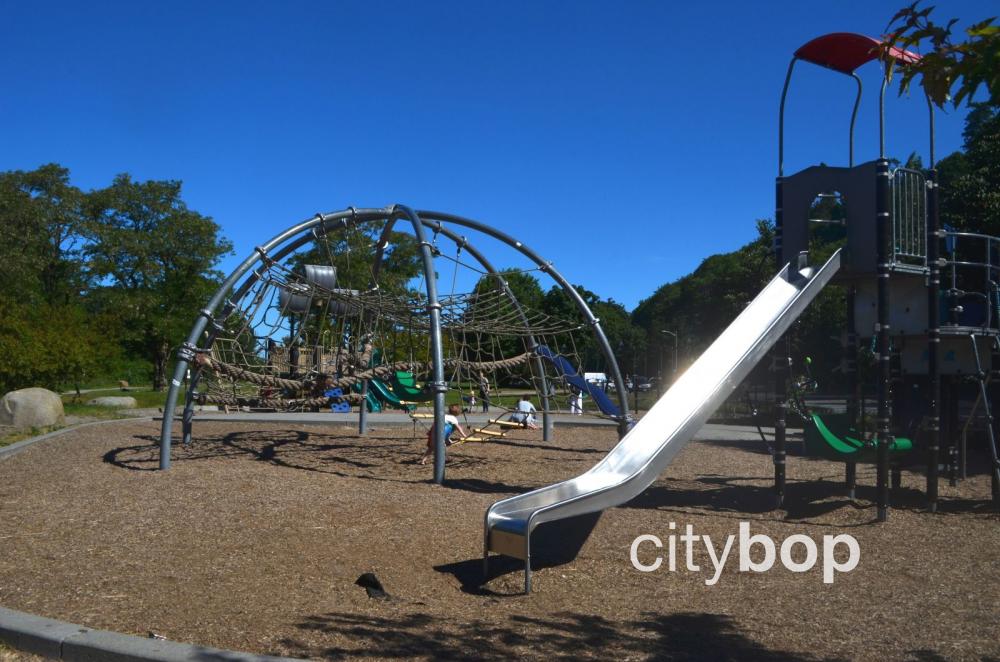 5. Gather around a firepit on a summer evening, and watch the sun sink below the Olympic Mountains.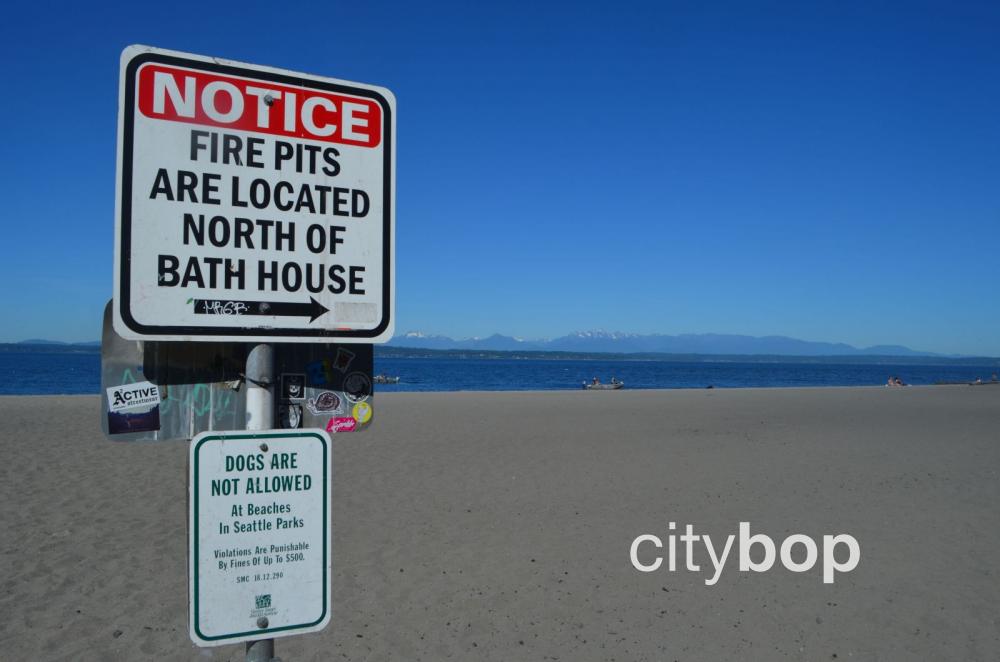 6. Take your dogs to the off-leash park in the northern section of Golden Gardens.
7. Sunbathe on the beach during the warm summer months.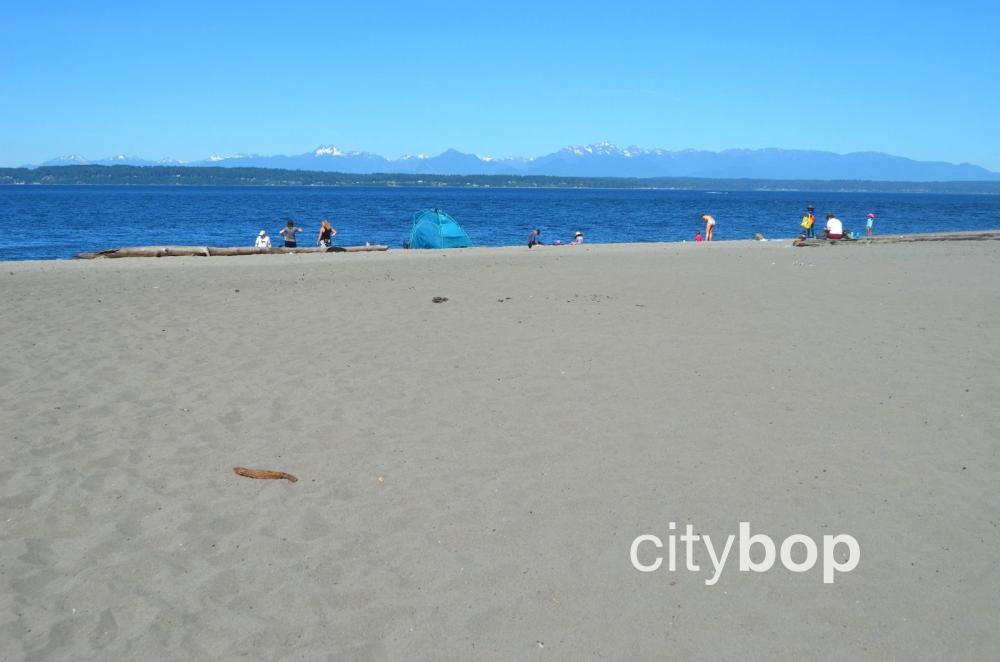 8. Stroll along the stunning 2-mile beachfront walk, from Golden Gardens to Carkeek Park.
One of Seattle's best beach walks is the 2-mile stretch from Golden Gardens, up to Carkeek Park. You'll know you've reached Carkeek Park when you see the green pedestrian overpass above the railway line, visible from the beach.
This lovely walk is perfect for beachcombing, and low tide yields a bounty of fascinating sea life, including moon snails, crabs and sea stars. Check tide tables, as this stretch of beach is only accessible at low tide.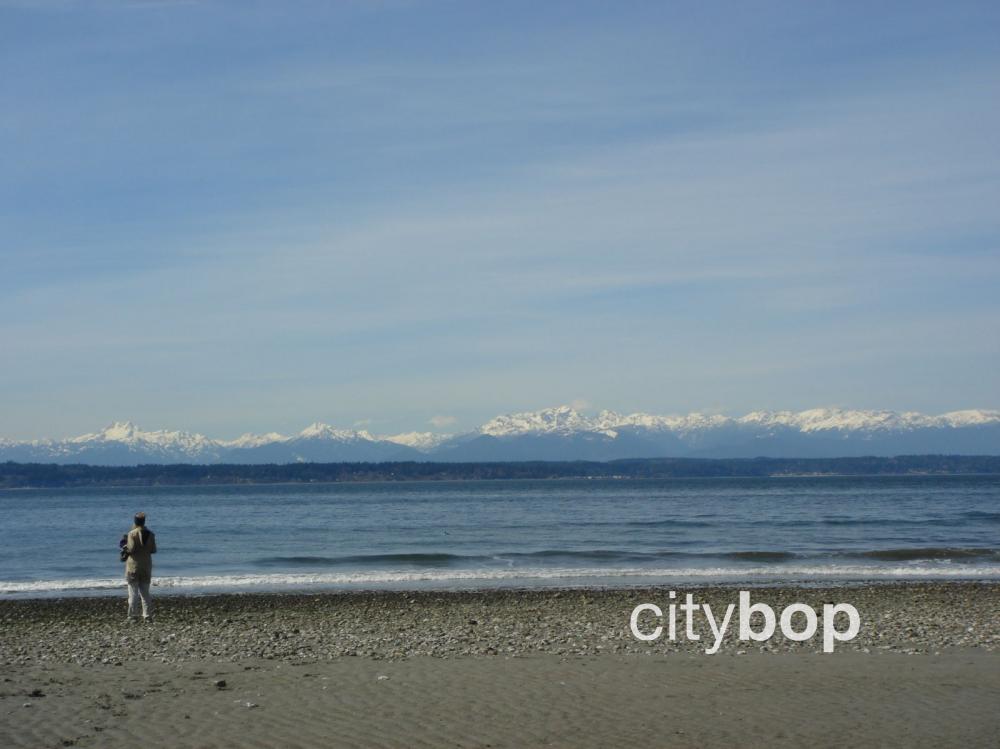 Enjoy the breathtaking northwestern views across to the Kitsap Peninsula.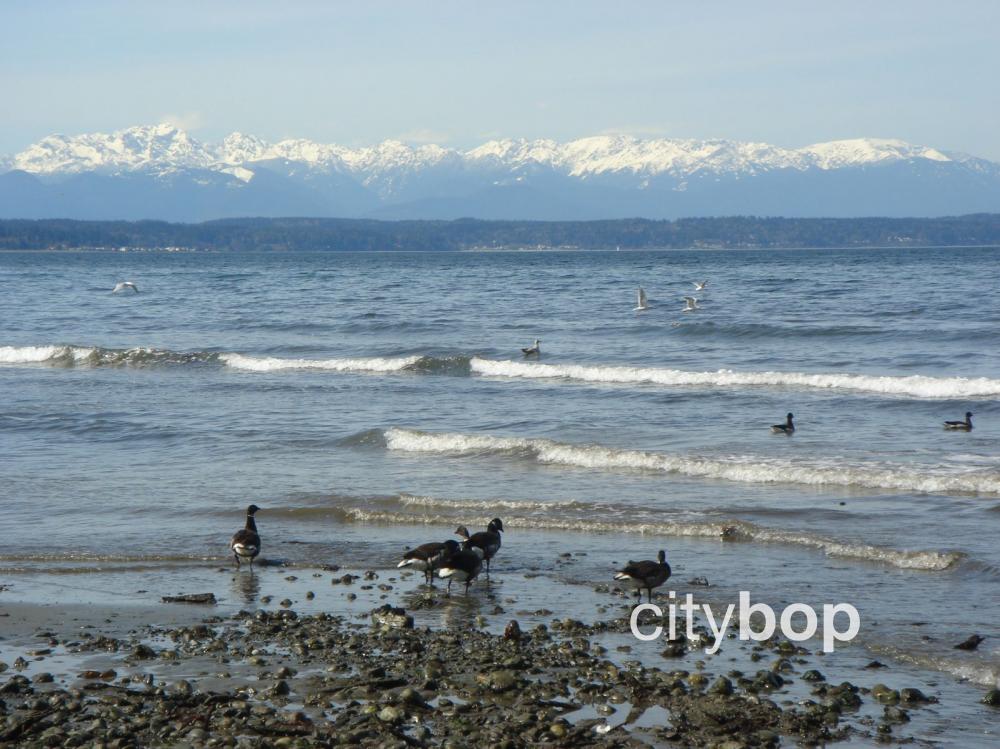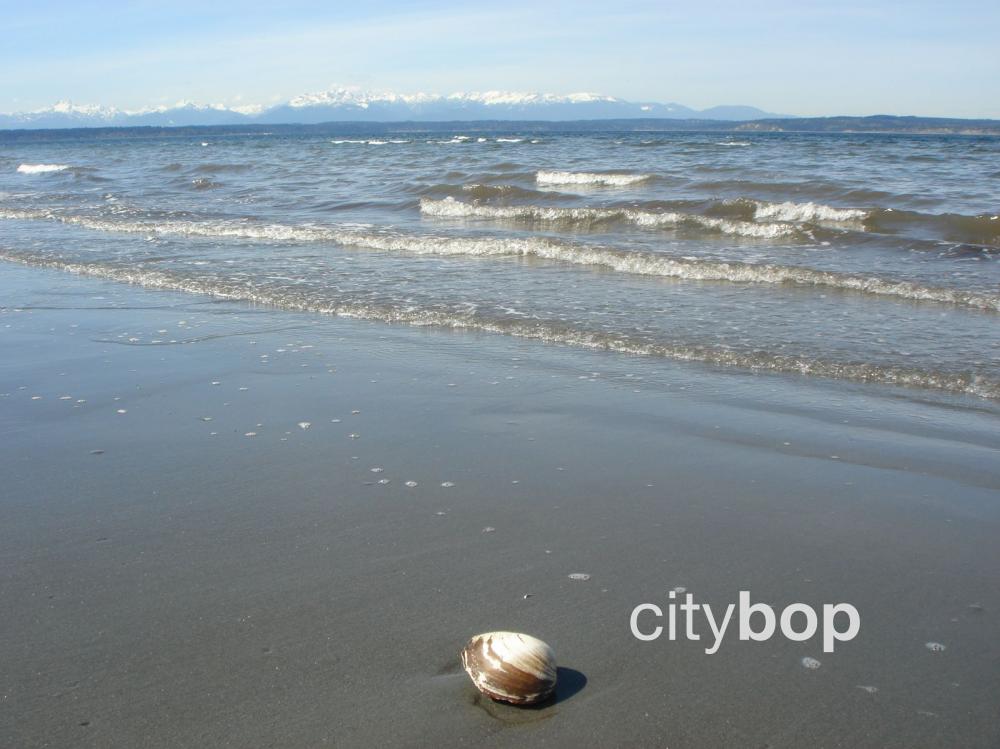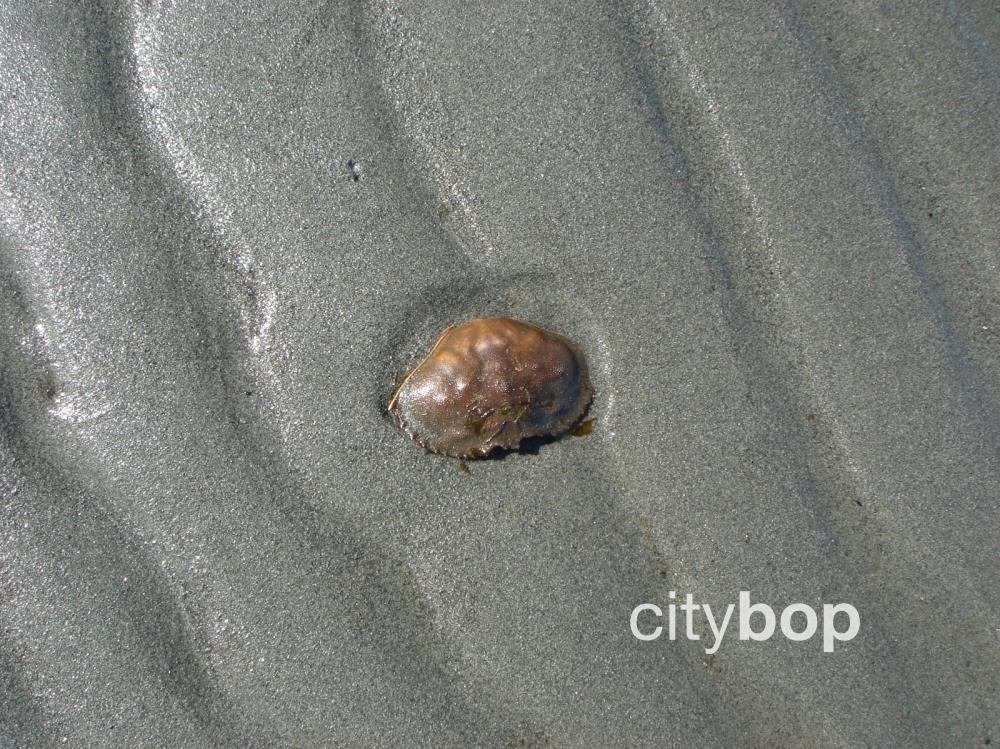 This is a Graceful Sea Crab.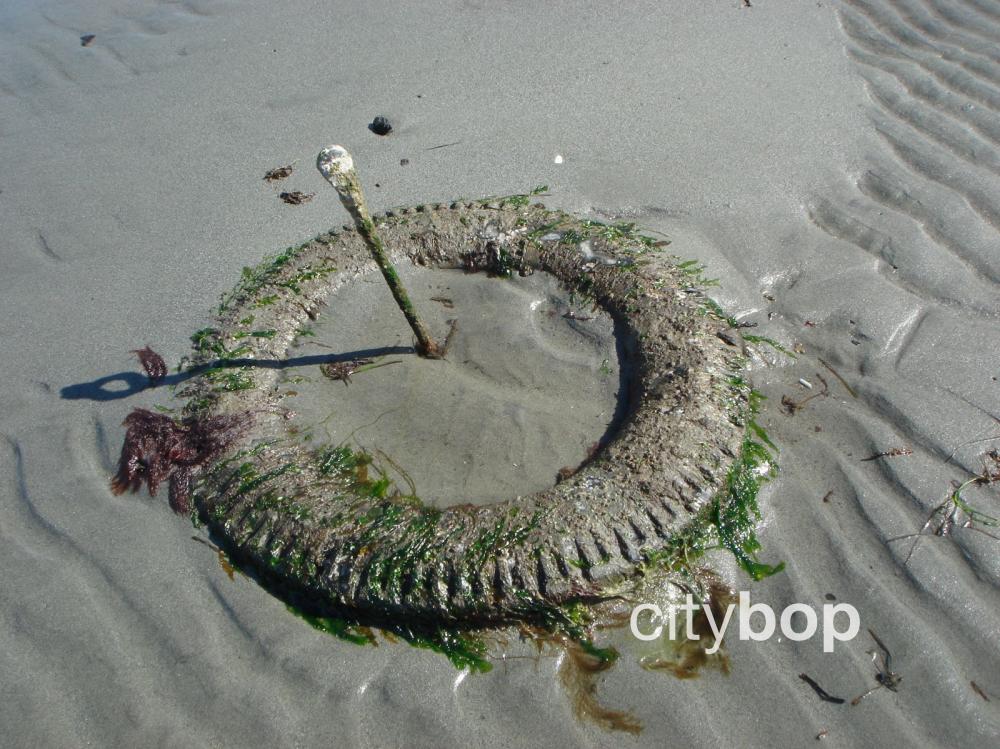 An old tire has washed up on shore, barely discernible through the layer of sand and seaweed.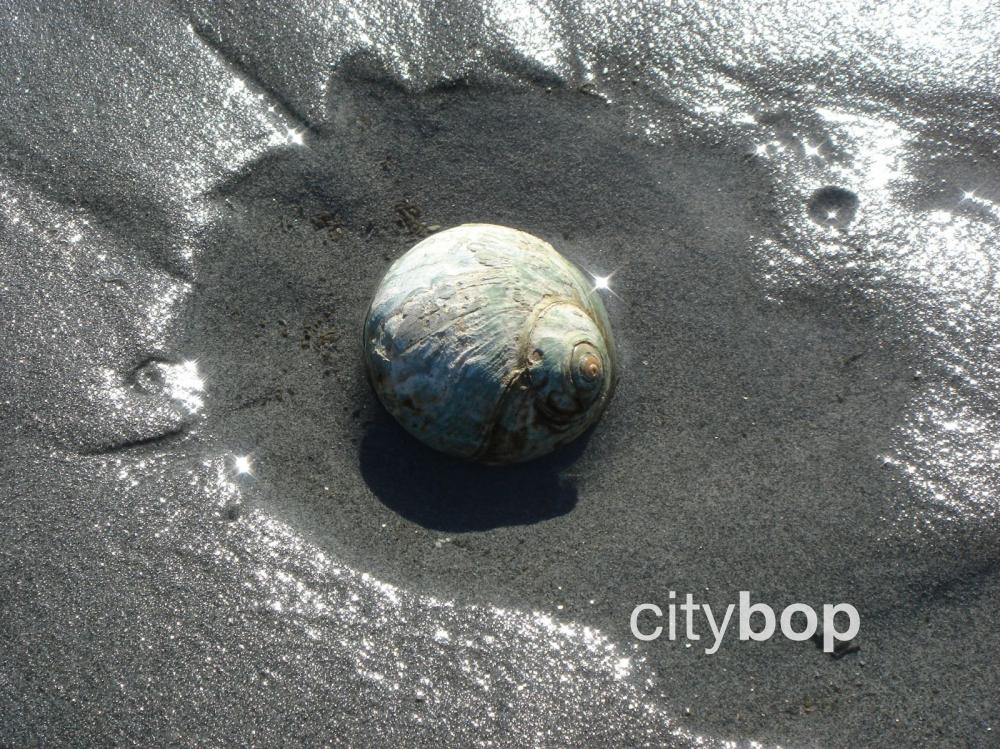 Moonsnail Shells are a common sight.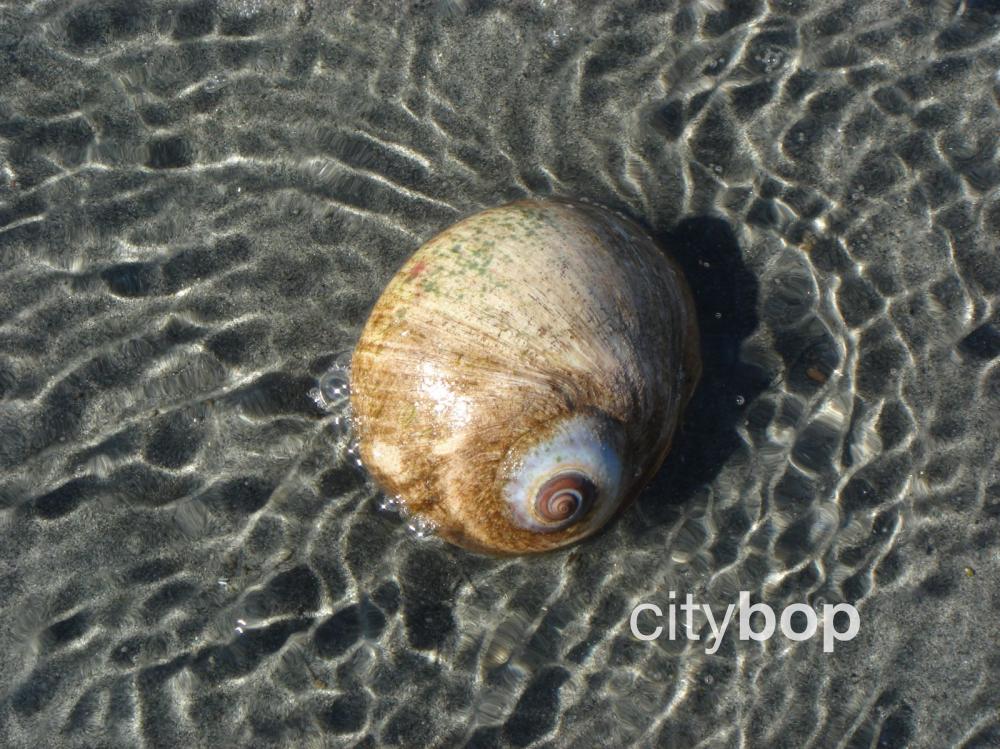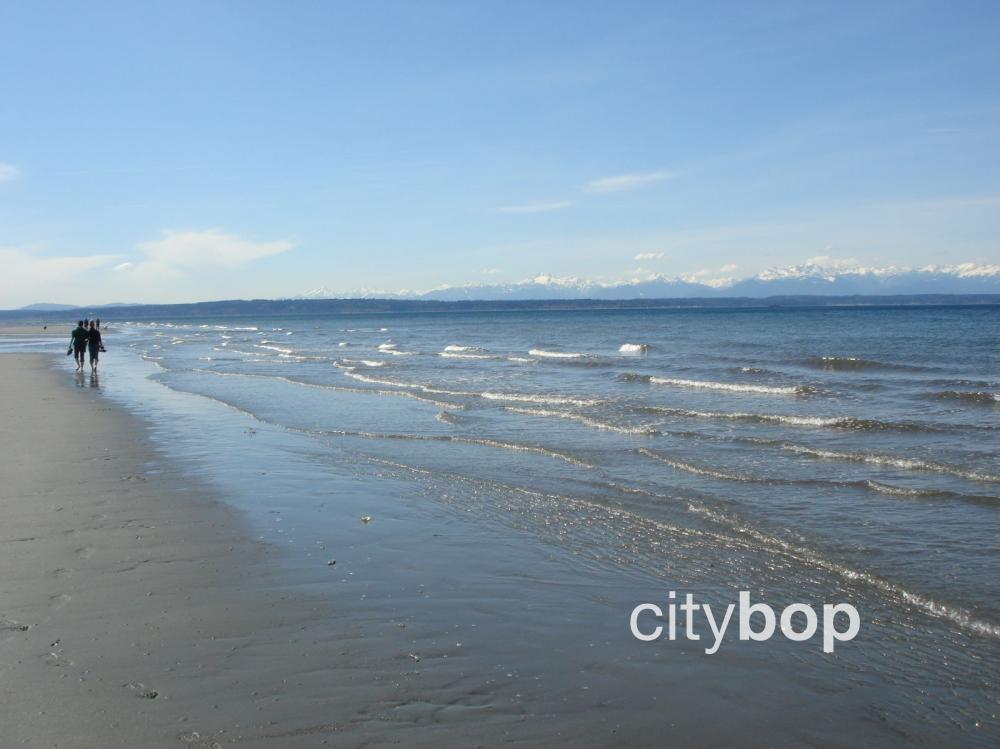 Take your shoes off and feel the soft sand underfoot.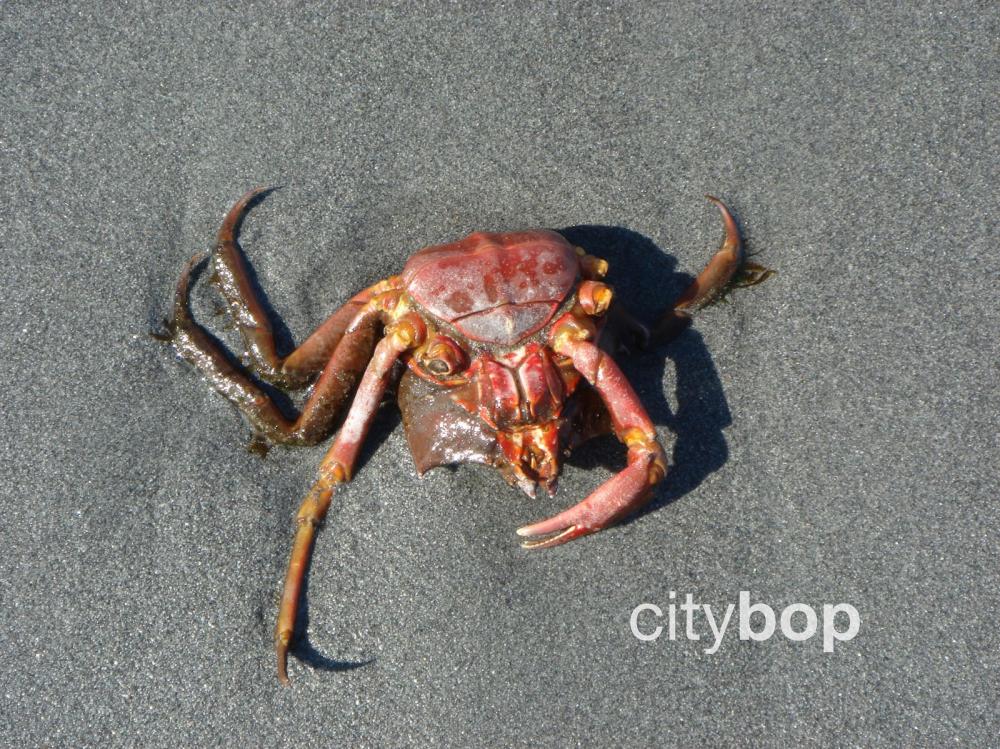 This little beauty is the underside of a Northern Kelp Crab.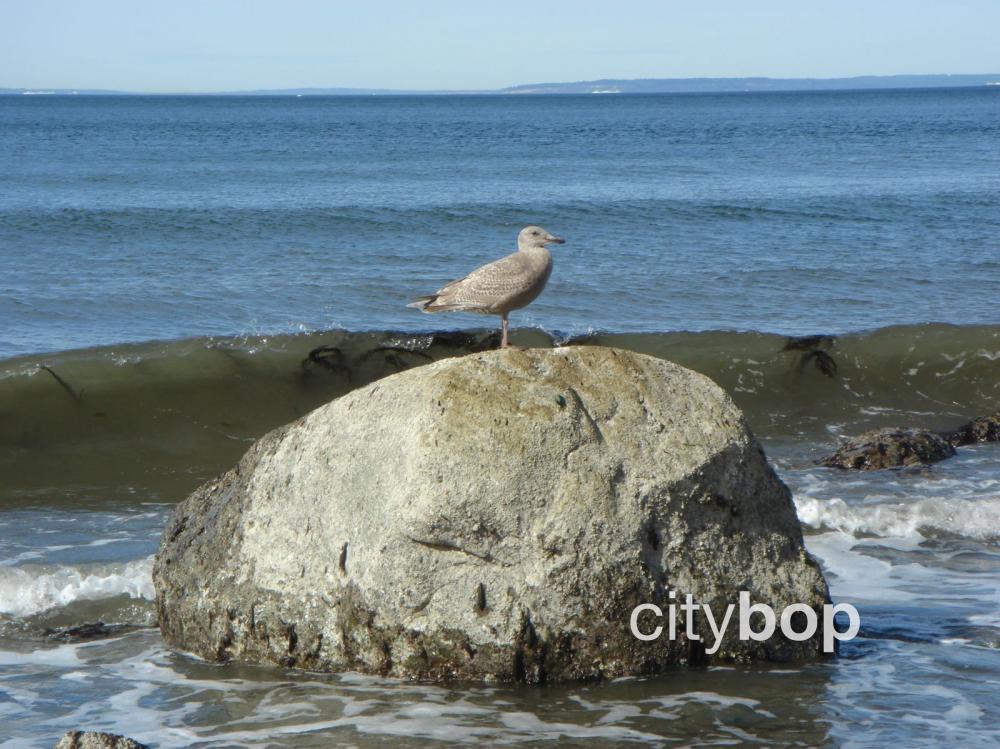 The Glaucous Winged Gulls are a common sight in Puget Sound.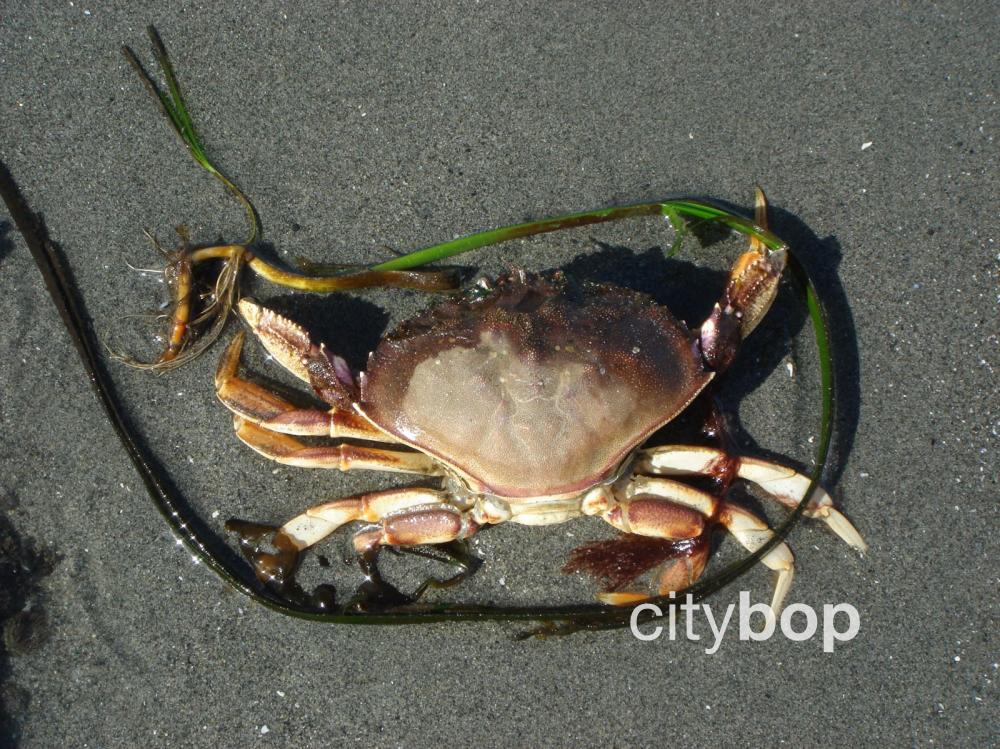 This is another Northern Kelp Crab. It has two large claws and spidery, hairless legs.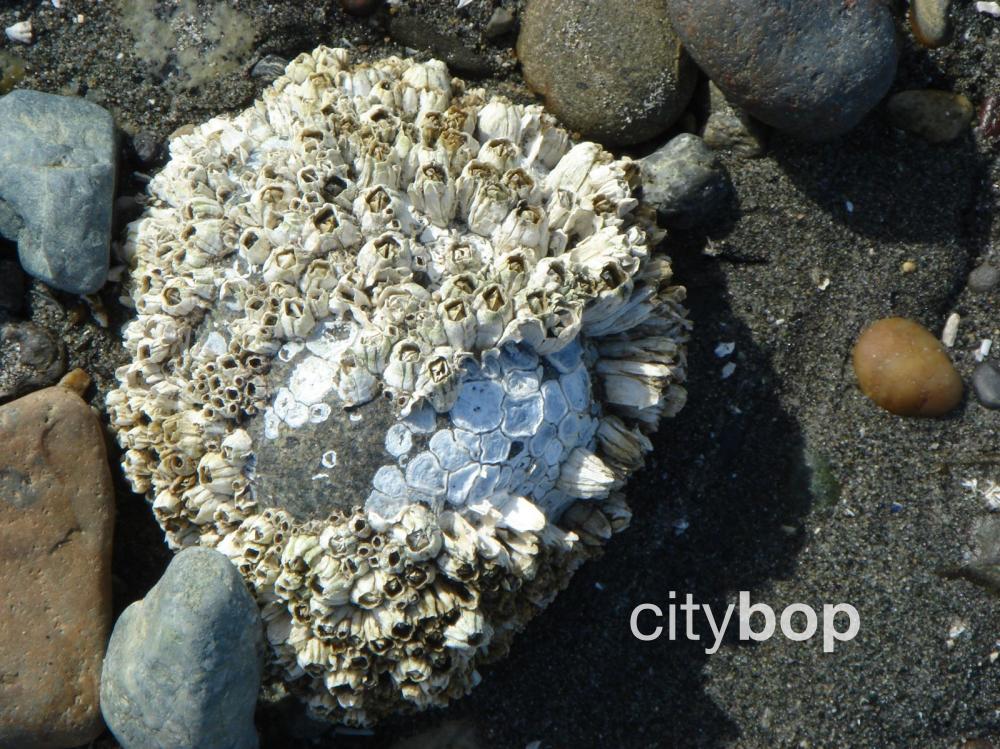 These are dried Acorn Barnacles that have attached themselves to a rock. This crustacean feeds itself through the hole at the top, and feed on small plankton.
9. Book one of the five volleyball courts at Golden Gardens, in high demand during summer (reserve).
10. Book 2 picnic shelters or 17 tables at Golden Gardens (reserve).
Know before you go
Golden Gardens address: 8498 Seaview Avenue NW, 98117.
Parking: There are 3 main parking lots at Golden Gardens; at the marina, behind the beach, and an overflow parking lot up the hill from the beach. These parking lots get busy on summer weekends.
Kiosk: The historic Golden Gardens Bathhouse at the beach has a kiosk, restrooms, and an event space popular for weddings. Another option is Little Coney near the marina with hamburgers, ice-creams and milkshakes.
Restrooms: Yes.
Playground: Yes.
Fun things to do in nearby Ballard
Stop by the Ballard Locks 2-miles south of Golden Gardens, with a lovely botanical garden, and a fascinating fish ladder where you can observe salmon swimming upstream. Ballard is also very close, with a superb selection of trendy restaurants, chic cafes and independent shops. The excellent Nordic Museum is a few blocks from Ballard Old Town, documenting the fascinating Nordic history of this area with artifacts, videos and interactive multimedia.
Great restaurants near Golden Gardens
Visit Ballard for an excellent selection of restaurants and cafes including the Matador and Senor Moose for mexican food, or Café Besalu for coffee and french pastries. Enjoy waterside dining and fresh seafood at Ray's Boat House, or caribbean food at Paseo, both less than 1-mile south of the Golden Gardens entrance on Seaview Avenue NW.
More Beaches in Seattle