The Pike Place Market is a Seattle icon, attracting 10 million visitors a year.
The market is located in a historic building near downtown Seattle on First Avenue and Pike Street, with breathtaking views of Puget Sound. It's one of the oldest farmer's markets in the U.S. and has operated since 1907.
The Pike Place Market was saved by the wrecking ball in the 1960s by local activists, and looks pretty much the same as it did over a hundred years ago, with a basic, rustic appearance. The only major change is a $73 million MarketFront addition in 2017 on the northern side of the Pike Place Market, with a pavilion and spectacular viewpoints over Elliott Bay.
The Pike Place Market has a festive atmosphere, with plenty of street performers, fishmongers, craftsmen, farmers and merchants vying for attention. Visitors will delight in the rich sights, sounds and aromas of this bustling market.
15 best things to do at Pike Place Market
1. See amazing fish throwing performances by fishmongers.
Fishmongers delight the passing crowds by tossing slippery fish like Alaskan Halibut and King Salmon through the air to the front counter, to be sold and wrapped up for customers! This is no easy feat, because many of these hefty fish weigh over 30 pounds.
2. Make your contribution to the colorful yet icky Gum Wall on Post Alley at the Pike Place Market.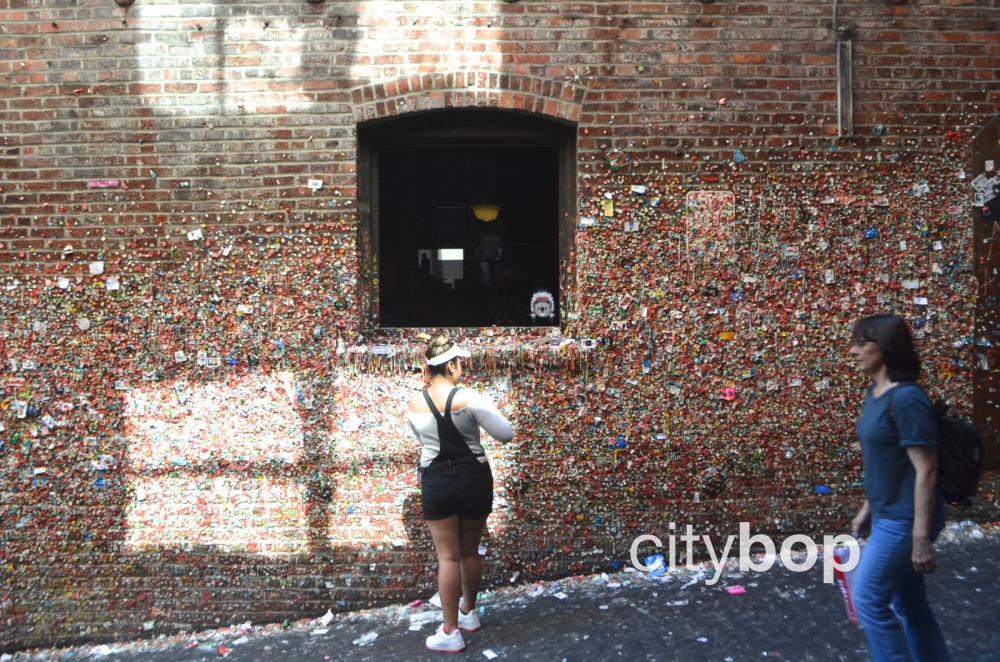 3. Stop by the Original Starbucks opened in 1971 at the Pike Place Market.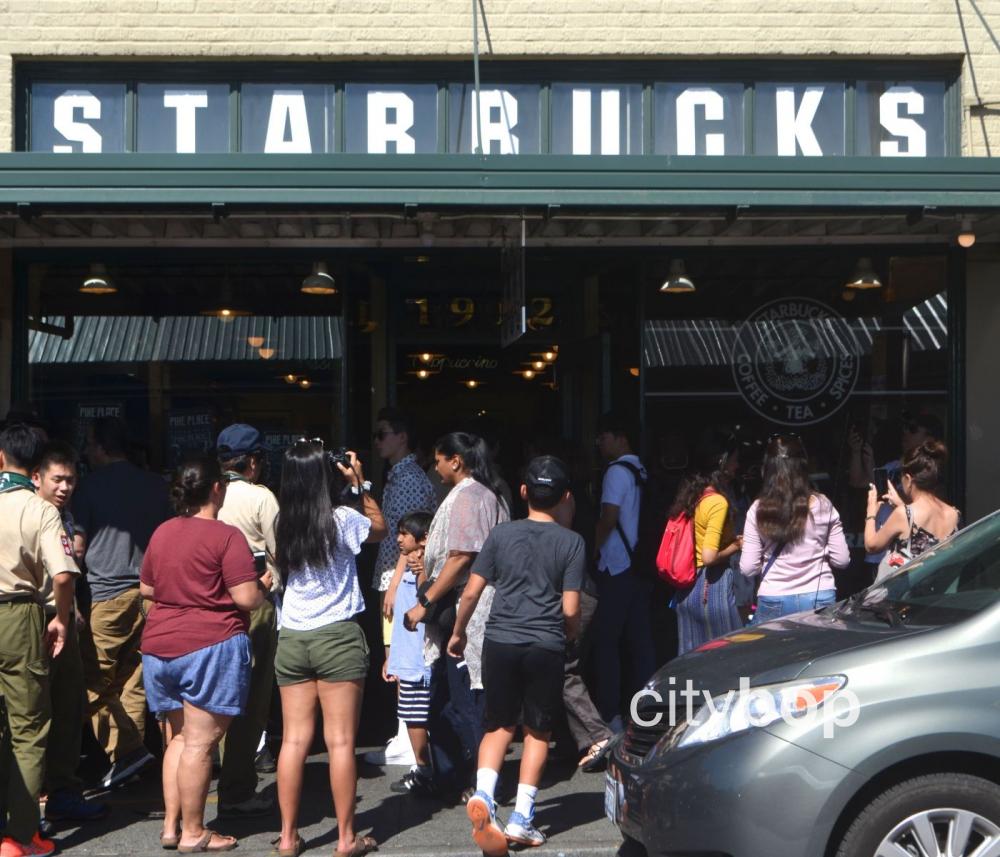 4. Enjoy incredible views of Elliot Bay and Mt Rainier from the deck of the new $75 million MarketFront Plaza, opened in 2017.
5. Eat at Old Stove Brewing at the MarketFront Plaza, with an 80-foot wall of windows and panoramic views.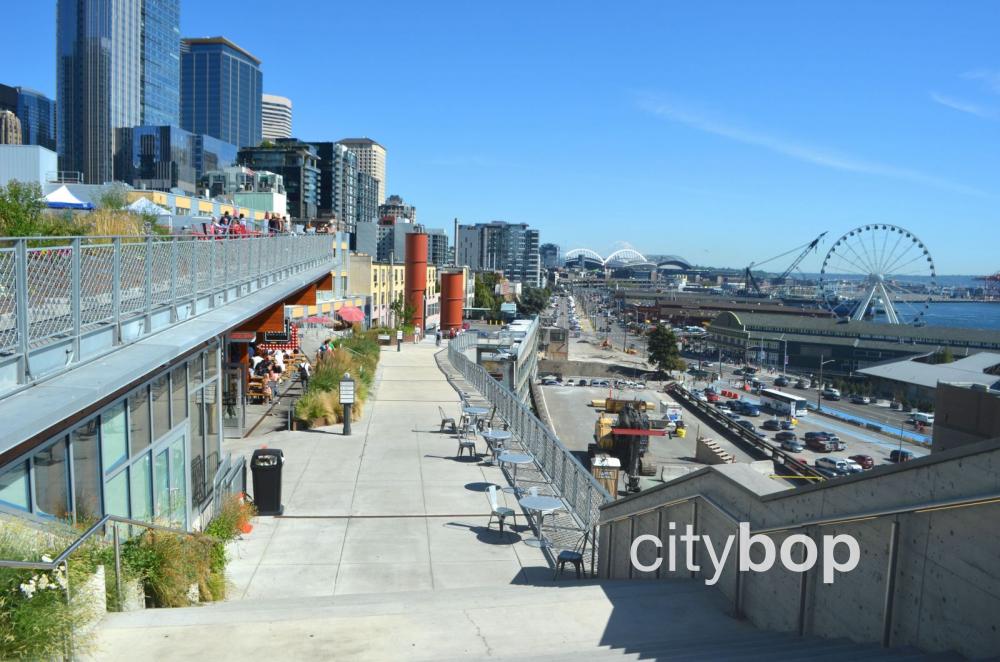 This popular brewpub commands exceptional views of Puget Sound from an indoor restaurant with 80 foot wall of windows, that blends seamlessly with an outdoor patio. Choose from 24 taps of craft beer, and yummy comfort food like burgers, pizza, and fish.
6. Take a photo beside the popular Rachel the Pig metal piggybank.
This famous piggybank is under the Market Place sign, and raises $200,000 each year for the Pike Place Market Foundation. The Foundation supports awesome causes, like a food bank, emergency meals, assisted living for the elderly, medical care, and a senior center.
7. Purchase the fresh catch of the day!
Purchase Alaskan King Salmon at the Pike Place Market, the largest species of Alaskan Salmon.
Steam, boil or grill some lobster tails, for a delicious meal!
The seafood vendor Pure Food Fish Market has been in business since 1911, run by four generations of the same family.
8. Shop for delicious fresh produce and specialty foods.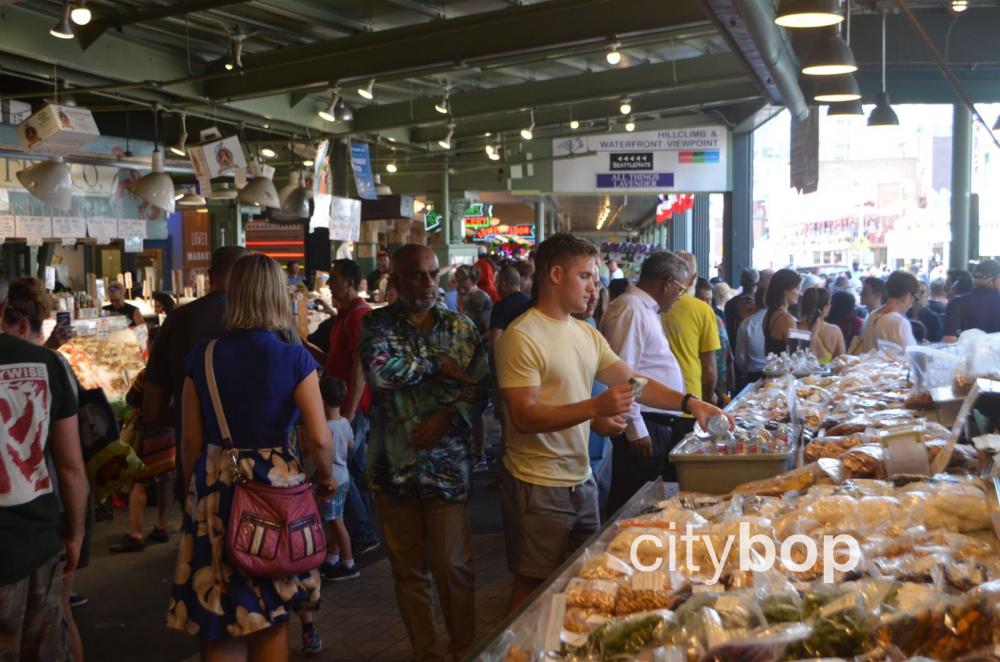 The Pike Place Market has the most incredible selection of specialty foods, including nuts, peppers, medicinal herbs, hot sauces, jams, cheeses, and so much more!
Purchase fresh fruit and vegetables, sourced from local farms.
Pike Place Nuts sells every conceivable type of nut, including jumbo cashews, chili-lime pumpkin seeds, roasted pistachios and candied mixed nuts.
DeLaurenti has been selling gourmet cheeses, wines and sandwiches since 1946.
The Sunny Honey Company sells raw honey in tantalizing flavors like wild blackberry honey, and lavender infused honey. You can also pick up honeysticks, and fresh honeycomb.
Chukar Cherries is your go to for dried cherries, beautifully packaged and perfect for gift giving.
9. Smell the sweet scent of flowers wafting from the market's stalls.
See stunning bouquets at the Pike Place Market, full of exotic flowers.
10. Explore unique shops at the Pike Place Market, with fun and eclectic merchandise.
The Pike Place Market is home to five independent book stores!
These exquisite glass creations are from Glass Eye Studio, founded in 1978.
Old Seattle Paperworks is home to vintage postcards, magazines and posters.
The super fun Golden Age Collectables sells pop culture memorabilia; like cardboard cut-outs of celebrities, Star Wars figurines, screenplays, comic books, and board games.
Check out these vintage Star Wars figurines!
The super cool Holy Cow Records, specializes in rare vinyls.
Stock up on fun magic products at the Market Magic Shop.
Choose from an amazing selection of handmade ceramics at the Pike Place Market.
11. Find locally made products at the 12,000 square foot Producer's Hall at the MarketFront Plaza.
12. Visit the famous Athenian Seafood Restaurant from the Sleepless in Seattle (1993) movie, and sit on Tom Hank's stool!
Fans of the popular movie Sleepless in Seattle (1993), will identify this as the restaurant where Sam (Tom Hanks) and Jay (Rob Reiner) shared a meal, as Jay imparted dating advice. There are plaques above the bar stools to show you exactly where they sat!
13. Enjoy a meal with a water view at the Pike Place Market!
The Pike Place Market is full of great water views restaurants. Enjoy breakfast and lunch with fresh seafood daily at the three floor Lowell's. Other options include the casual Sound View Cafe, and swanky French restaurant Maximilien.
14. Explore restaurants and shops along the enchanting Post Alley.
Post Alley is one block back from the Pike Place Markets, and home to some of Seattle's most beloved restaurants like the Pink Door, Cafe Campagne and Kell's Irish Restaurant and Bar. There's also a wine tasting shop, tea and chocolatier.
This famous door along Post Alley leads to the elegant Pink Door Restaurant, with trapeze artists and burlesque shows to entertain you, over a candelight meal oozing with ambiance.
Cafe Campagne is a chic french bistro, and another favorite along Post Alley, serving breakfast, lunch and dinner.
Don't miss the scrumptious Chocolate Market along Post Alley, with truffle and caramel boxes, dog treats and sculpted chocolates.
The Can Can Culinary Cabaret serves up a fun night of entertainment at the Pike Place Market, with burlesque and dinner in an intimate space.
15. Book a walking tour of the Pike Place Market, like the Savor Seattle Food Tour.
Where to stay near the Pike Place Market
Stay at the luxe Inn at the Market, and pick up some goodies at homegoods store Watson Kennedy.
The Inn at the Market is steps from the Pike Place Market, with a selection of waterfront rooms, and a rooftop deck with some of the best views in Seattle.
This is the lobby inside Inn at the Market.
Watson Kennedy homegoods is next door, with a fantastic selection of beautifully curated candles, lotions, candlesticks, artworks, stationary, table linens and more. This store is simply gorgeous!
Know before you go
Pike Place Market Address: First Avenue and Pike Street.
Parking: Public Market Garage at 1531 Western Avenue.
Other things to do near the Pike Place Market
Visit other waterfront attractions like the Seattle Great Wheel (Pier 57) for soaring views over Puget Sound, or the Seattle Aquarium (Pier 59). The Seattle Art Museum is a short distance from the market in downtown.
More Restaurants & Shopping in Seattle