​Tour a rainforest in downtown Seattle, inside the Amazon Spheres.
The Amazon Spheres are part of the Amazon Headquarters. They are open for FREE tours two Saturdays a month. Tours fill up quickly, so get in early!
The spheres are comprised of three buildings, constructed between June 2015 and January 2018.
They are located at 2111 7th Avenue, Seattle.
10 best things about the Amazon Spheres.
1. There are 40,000 plants from 30 countries inside the Amazon Spheres, with exotic cloud forest species like staghorn ferns, orchids and rhododendrons.
2. The first plant was an Australian tree fern.
3. During the day the temperature inside the Amazon Spheres is in the mid 70's with 60% humidity. At night it drops to 55 degrees with 85% humidity.
4. The most striking feature inside the Amazon Spheres is a 4,000 square foot Canyon Living Wall. It stands 62 feet tall and 50 feet wide.
5. A path winds up four stories across a suspension bridge to a Bird's Nest meeting area. This provides a unique vantage point of the canopy of the 55-foot Ruby Fig tree. The top panel of one of the Amazon Spheres had to be removed to gently lower the 55-foot Ruby Fig Tree into position by crane. The Ruby Fig Tree is from California and was planted in 1969.
6. The highest of the three Amazon Spheres is 90-meters tall.
7. The catalans at the Amazon Spheres contain an incredible 2,643 panels of glass.
8. The Spheres are an Amazon workspace, so casual meeting spaces with tables and chairs are scattered throughout the entire complex. The objective is to encourage creativity in a serene, natural setting with rainforest foliage and beautiful water features.
9. There's also a cafe with treats and coffee.
10. There are FREE tours of the Amazon Spheres, two Saturdays a month.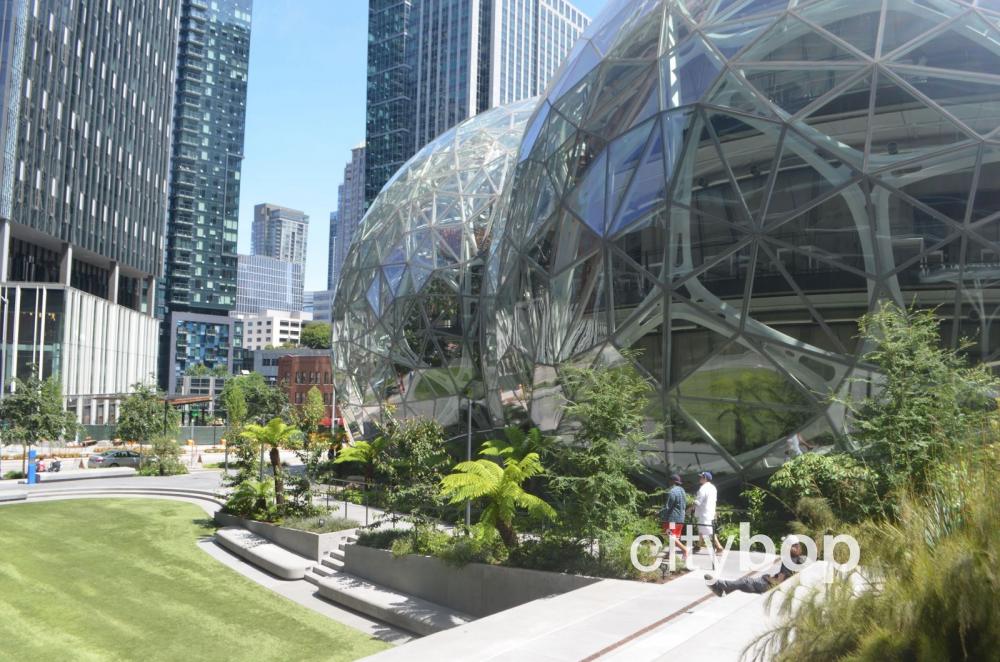 Know before you go
Address: 2111 7th Avenue.
ID: Government ID required to enter.
Parking: Paid parking at 2021 7th Avenue.
Tours: FREE tours

two Saturdays a month.
Fun things to do near the Amazon Spheres
Walk one block from the Amazon Spheres to yummy Top Pot Doughnuts, to fuel up on coffee and pastries.
The Amazon Spheres are 0.7 miles southeast from major attractions in the Seattle Center like the Space Needle, Museum of Pop Culture, and Chihuly Garden and Glass. The Spheres are also 0.7 miles north of waterfront attractions like the Seattle Aquarium, Seattle Great Wheel and Seattle Art Museum.
More Gardens in Seattle