The Museum of Pop Culture is next to the Seattle Space Needle at the Seattle Center.
The Museum of Pop Culture is a striking building, with thousands of shimmering panels in gold, silver and metallic pink.
This space age museum opened in 2004, and was commissioned by Microsoft co-founder Paul Allen and designed by Frank Gehry.
The Museum is a must see for lovers of American pop culture, grunge and science fiction.
See cool exhibits on Nirvana, ACDC and Jimmy Hendrix, and browse memorabilia from iconic movies like Star Wars, Lost in Space, Superman and the Matrix.
This museum has a treasure trove of famous popular culture items like instruments, costumes and props.
It's located at 325 5th Avenue North, Seattle, WA, 98109, next to the Space Needle. Check hours & admission.
5 best things to do at Museum of Pop Culture
Browse the excellent exhibits on Jimmy Hendrix, ACDC and Nirvana. See Kurt Cobain's guitars and handwritten lyrics, and learn about the social forces leading to the emergence of Seattle's grunge movement in the 90's.

Record live music in a studio, and rock out with drums, guitars and vocals! Each recording studio has computer simulated tutorials to help improve your technique.

See memorabilia from Star Wars and the Matrix at the Science Fiction Exhibit. Exhibits include Darth Vader's Light saber, the Lost in Space robot, and Neo's coat from the Matrix. There's also Captain Kirk's chair from the Enterprise, the Death Star model from Star Wars, and Superman's cape worn by Christopher Reeve. Wow!

Stand in-front of the the world's largest video screen. Immerse yourself in a rich sensory experience as music videos blare out from a sophisticated sound system, on a 40-foot high video wall known as Sky Church.

Look up at a giant sculpture with 500 guitars converged into a single guitar tree. The Rocks and Branches sculpture pays homage to the guitar by converging 500 guitars into a single guitar tree. The Guitar Gallery continues this theme, documenting the evolution of the guitar from its earliest days to today.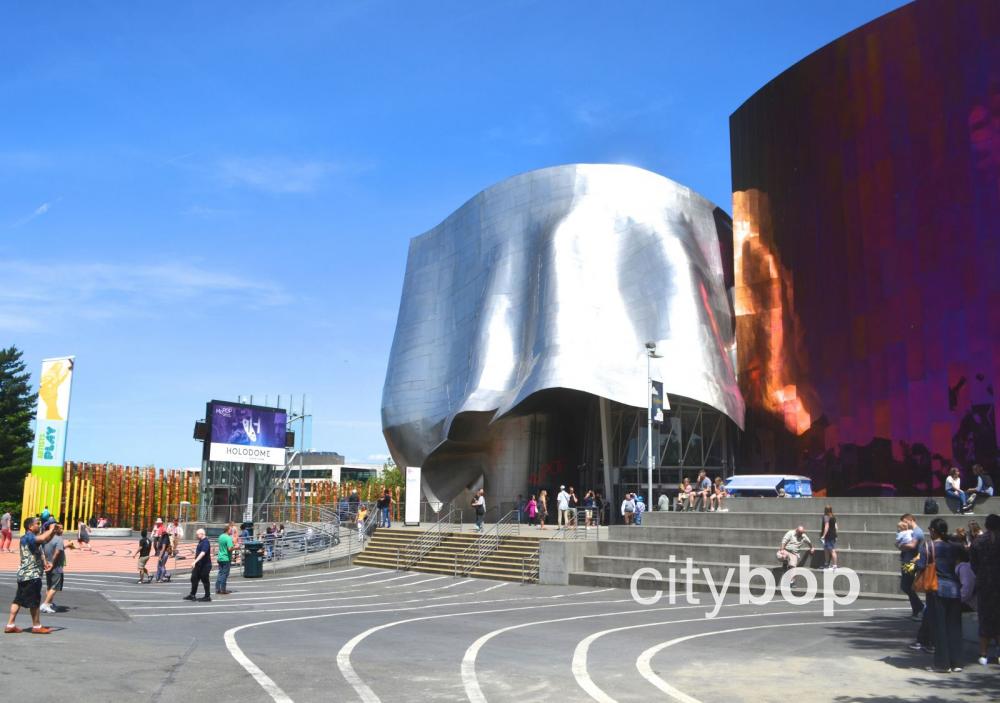 Know before you go
Address: 325 5th Avenue North, Seattle, WA, 98109, next to the Space Needle.
Amenities: Gift shop and café.
Parking: Paid parking lot across from the museum at Key Park Northwest on Broad Street.
Tickets: Pay at the ticket booth, or purchase online. To save money, purchase the Seattle City Pass combining six popular Seattle attractions.
Other fun things to do at the Seattle Center
The Space Needle and Chihuly Garden & Glass are within walking distance of the Museum of Pop Culture.
If you have children, take them to the Pacific Science Center. It has a play area for toddlers, planetarium, tropical butterfly house, science demonstrations and Tinker Tank where they can build things. The Seattle Childrens Museum will also keep them engaged for hours, with creative play spaces best suited for kids under age 7.
Just outside the Museum of Pop Culture, take your kids to the elaborate Artists at Play Playground. A short walk away is the International Fountain where kids can splash around on a hot day.
More Museums in Seattle