Queen Anne is an affluent, hilltop neighborhood overlooking Seattle's downtown and waterfront, just 5 minutes north of the city.
It's most famous attraction is the viewpoint at Kerry Park, one of Seattle's top attractions.
Queen Anne is also a great place to visit restaurants, cafes and boutiques, with two main shopping streets along West Galer Street, and Queen Anne Avenue North. Many Queen Anne residents are within walking distance of these shopping areas, making this an extremely walkable neighborhood.
Queen Anne is also a fantastic neighborhood for families, with an abundance of wonderful parks like Big Howe, Little Howe, and David Rodgers Park, featuring playgrounds, a seasonal wading pool and sports fields.
10 best things to do in Queen Anne
1. Kerry Park viewpoint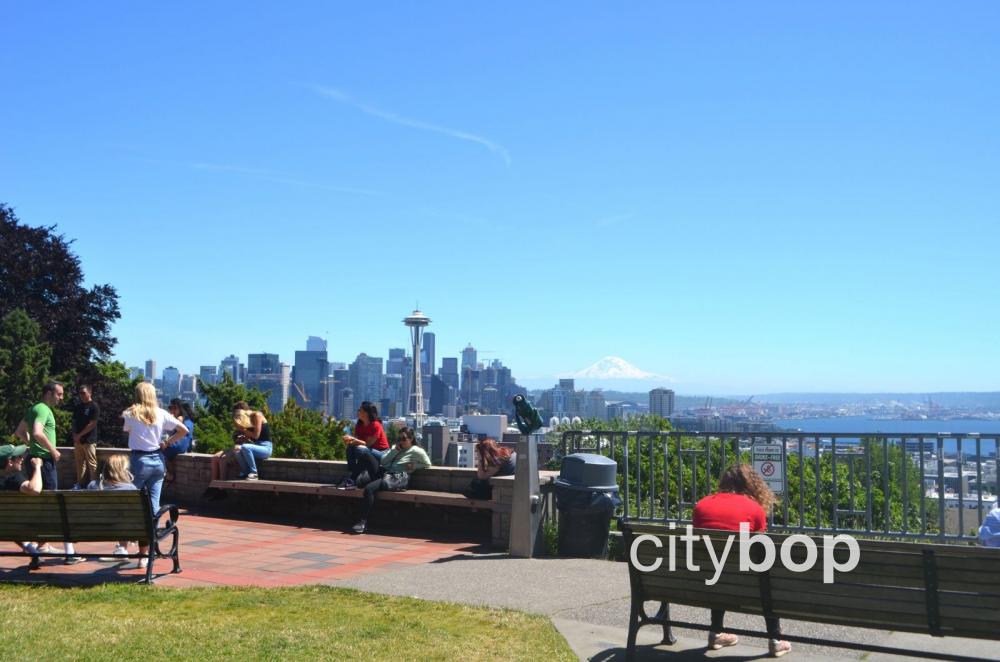 Kerry Park is an incredible viewpoint, with sweeping views of Seattle's downtown, Mt Rainier and the Space Needle. It's at the south end of Queen Anne, at 211 W Highland Drive.
2. Grey's Anatomy House
The famous Grey's Anatomy House from the TV series is one block north of Kerry Park, at 303 West Comstock Street. This is the fictional house that Meredith and her friends lived in. Please respect the privacy of the residents that live in this house.
3. Parsons Gardens
Parsons Gardens is a small, secluded park, tucked away on Queen Anne's south slope, just a 5-minute walk west of Kerry Park. Bring a picnic blanket, or a book to read, and enjoy an afternoon surrounded by beautiful gardens in this tranquil oasis
4. Marshall Park viewpoint
Marshall Park is also a 5-minute walk west of Kerry Park, and across the road from Parsons Gardens. This small park has incredible west facing views of the majestic Olympic Mountains, and is the perfect place to watch the sunset, from three available benches.
After hanging out at the park, walk north along 8th Avenue West, following the lampposts for 0.5 miles along the top of the historic West Queen Anne Walls, until you reach Blaine Street. The views are breathtaking, and you will also get a glimpse of some of Queen Anne's beautiful homes. The ornate West Queen Anne Walls were built 1913 to 1916, and are a designated Seattle historic landmark.
5. West Galer Street
West Galer Street is a quieter shopping street in Queen Anne, three blocks north of Kerry Park.
Café Fiore is the neighborhood hangout along Galer Street, and has a cosy interior perfect for rainy days. There's also plenty of outdoor seating for people watching.
You can then cross the road and pick up some delicious treats at Trophy Cupcakes, Molly Moon's Homemade Ice Cream, or Top Pot Donuts, also along Galer Street.
Via Tribunali is also a popular restaurant along Galer Street, serving wood fired, Neopolitan pizzas in a European inspired interior. This restaurant is bathed in candlelight in the evening, giving it a lovely ambiance.
6. Queen Anne Avenue North – restaurants & cafes
Bustling Queen Anne Avenue North is the main shopping street in Queen Anne, and runs north-south along the top of Queen Anne Hill.
Some of the more hip, upscale restaurants here are Eden Hill (American fare), How to Cook a Woof (Italian), Grappa (Mediterranean), and Ikiiki Sushi Bar.
If you're looking for a more relaxed pub meal, then enjoy some comfort food and beer at the Hill Top Ale House.
The best places for families along Queen Anne Avenue North, are yummy Zeeks Pizza, or Big Max Burger Co.
Some popular brunch spots are vibrant 5 Spot and the Queen Anne Cafe.
Hankering for a coffee along Queen Anne Avenue North? Then try cosy Caffe Ladro, or the trendy Queen Anne Coffee Company.
7. Queen Anne Avenue North - shopping
Shopaholics can indulge in retail therapy at chic Queen Anne boutiques like Millie Boutique, the Vixen Collection, and Willa: A Lifestyle Shop.
Another neighborhood staple for shopping is Queen Anne Book Company, with a charming outdoor patio, and plenty of author readings.
8. Bayview-Kinnear Park playground
Take the steps from Kerry Park down to the fabulous playground at Bayview-Kinnear Park, while enjoying incredible city views!
9. West Queen Anne Playfield ("Big Howe")
The West Queen Anne Playfield is at the top of Queen Anne Hill, and is affectionately known as "Big Howe". This 6-acre park has an extremely popular playground, and a large grassed area that is popular for baseball, softball and soccer with local families.
The West Queen Anne Playfield is also just across the road from the Queen Anne Community Center, which has an indoor swimming pool, and a bunch of community programs and summer camps to sign-up for.
10. East Queen Anne Playground & Wading Pool ("Little Howe")
The East Queen Anne Playground & Wading Pool is another popular park at the top of Queen Anne Hill, known as "Little Howe" due to it's smaller, 1.5-acre size.
This grassy park has a wonderful playground, and a seasonal wading pool surrounded by benches for parents to sit on. The eastern end of the park has a grassy field used for soccer.
11. David Rodgers Park
David Rodgers Park is Queen Anne's largest park, stretching over 8.5 acres on a sloped section of northern Queen Anne. This park feels more like an urban forest, with abundant shade, trees and meandering paths, making it perfect for walks or picnics. It was originally known as "Evergreen Park" before it was donated to the city in 1883 by realtor B.F. Charles. There's a lovely playground, and three tennis courts nestled amongst the trees.
More Restaurants & Shopping in Seattle