Kirkland is 10 minutes from Seattle, across Lake Washington. It has a charming downtown area with restaurants and boutiques, just steps from waterfront parks.
Kirkland was the first town on Seattle's Eastside, settled in 1888. Both steel and wool mills were initially its biggest industries.
It later became a major big ship building center for both civilian and navy ships, with a total of 25 warships constructed at Carillon Point during WWII at the Lake Washington Shipyard.
All Eastside commerce flowed through the Kirkland ferry dock at Marina Park, until 1940 when a floating bridge connected the Eastside to Seattle. It's population has now soared to 92,000.
15 best things to do in Kirkland
1. Park Lane.
Kirkland has an extremely walkable downtown area, with a small town feel. The best starting point is along the pedestrian-only Park Lane, with one block dedicated to restaurants, galleries and boutiques.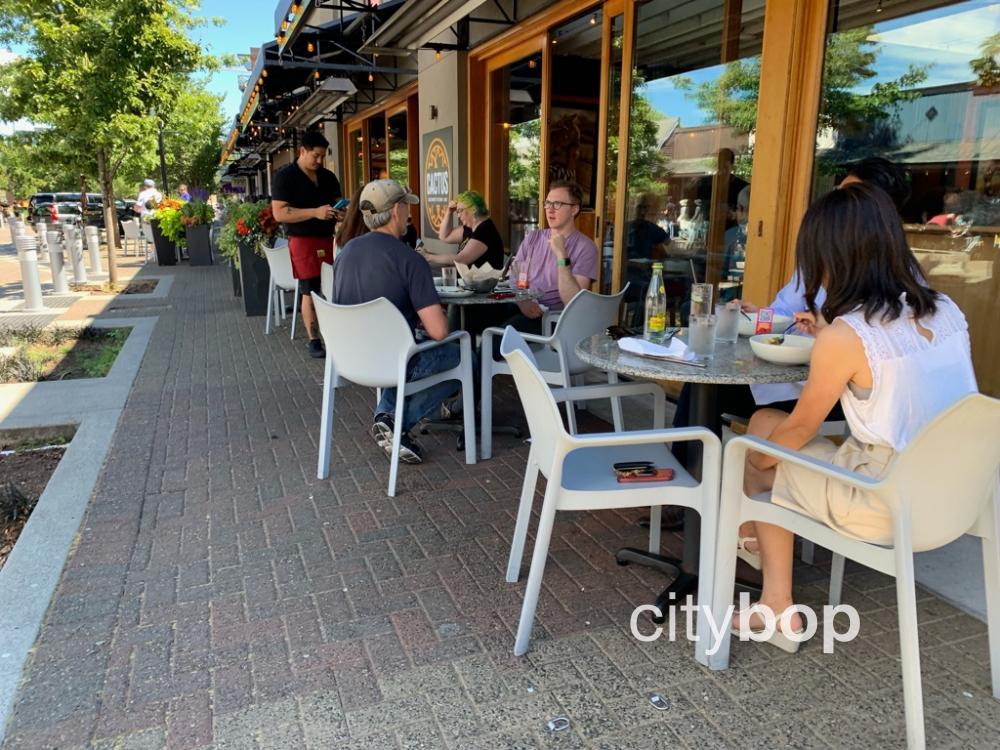 The Cactus Kirkland restaurant (Mexican) is on Park Lane, and is perfect for families.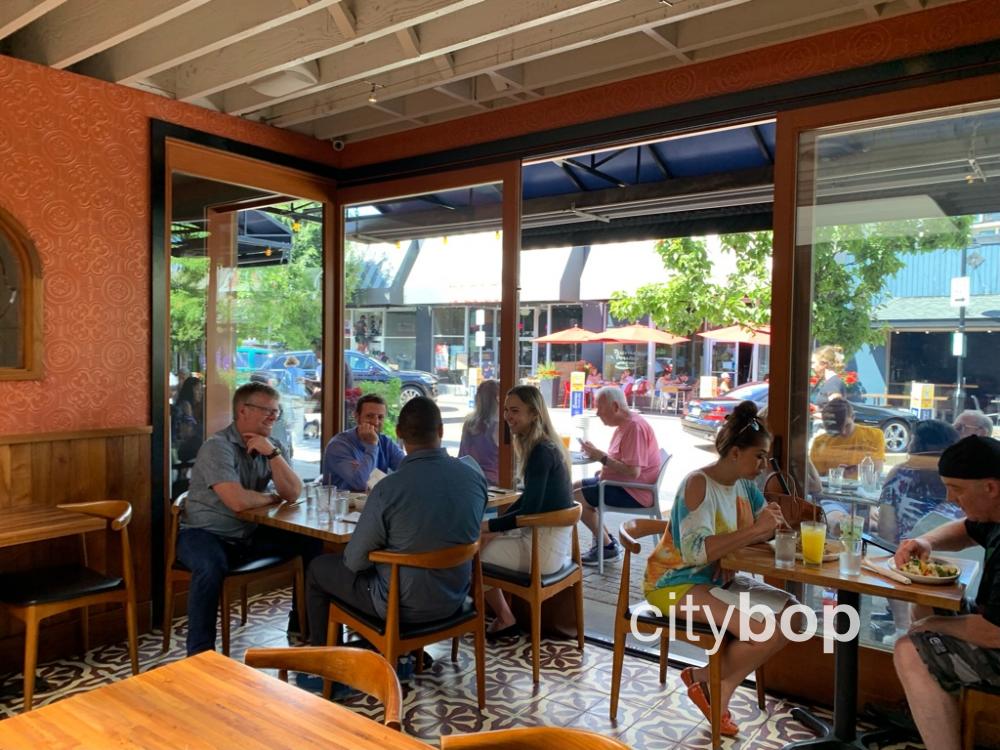 Cactus Kirkland restaurant also has a fun interior.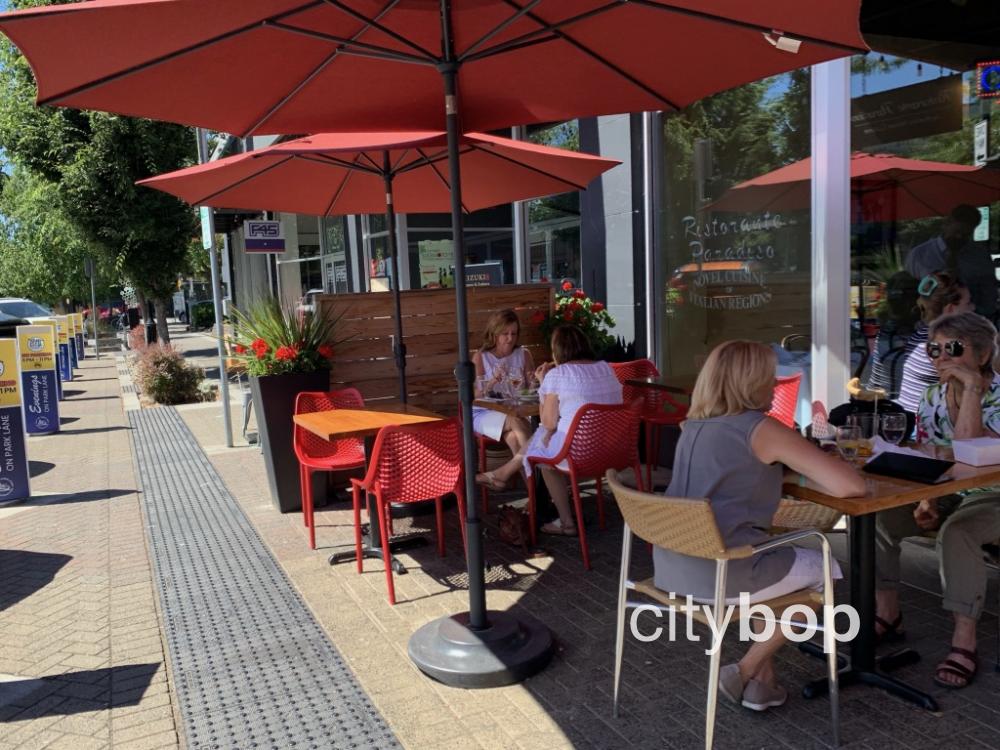 Explore more upscale options along Park Lane at the stylish Ristorante Paradiso (Italian) pictured above. Feast Brasserie (French) is another fantastic choice.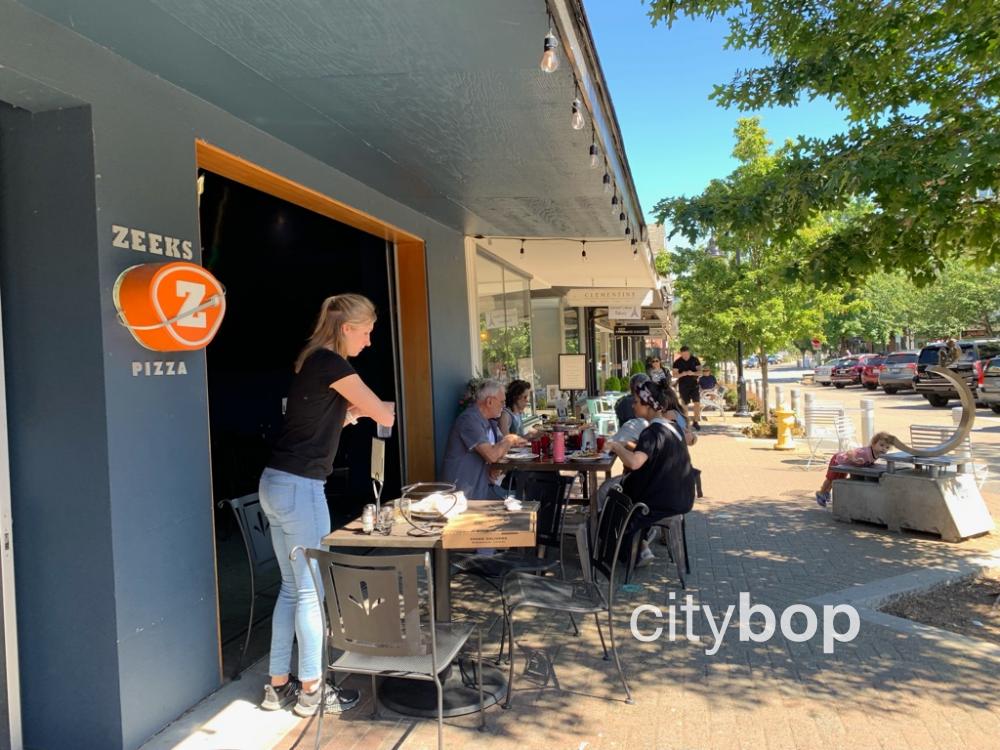 Or opt for a more casual meal at Zeek's Pizza on Park Lane in Kirkland.
Art enthusiasts can then admire the beautiful collection at the Parklane Gallery.
2. Downtown Kirkland.
The streets surrounding Park Lane in Downtown Kirkland also are also full of shops and restaurants. There's so much to do!
Play a round of 9-hole mini gold at the fun Flatstick Pub, or stock up on treats a few blocks away at the popular Kirkland Bakery. If you have a special occasion, then book a table at the European style Chianti Kirkland, with an intimate patio area for warmer evenings. Another fine dining option is the Volterra restaurant, serving Tuscan style food.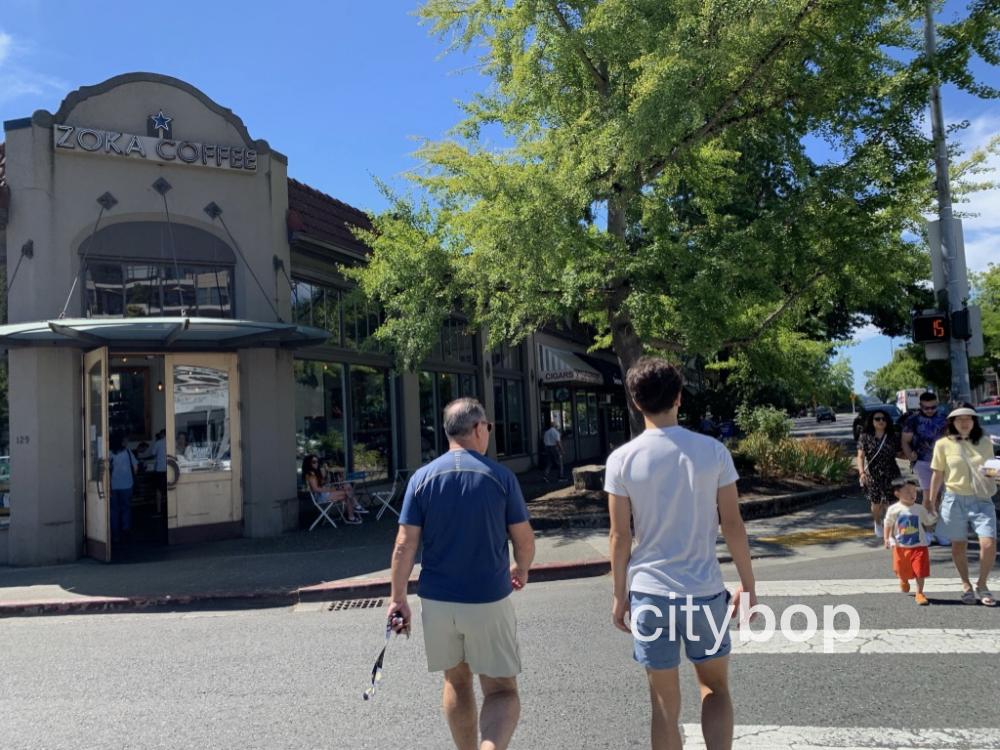 Drop by trendy Zoka Coffee House (pictured above) in Kirkland for a latte.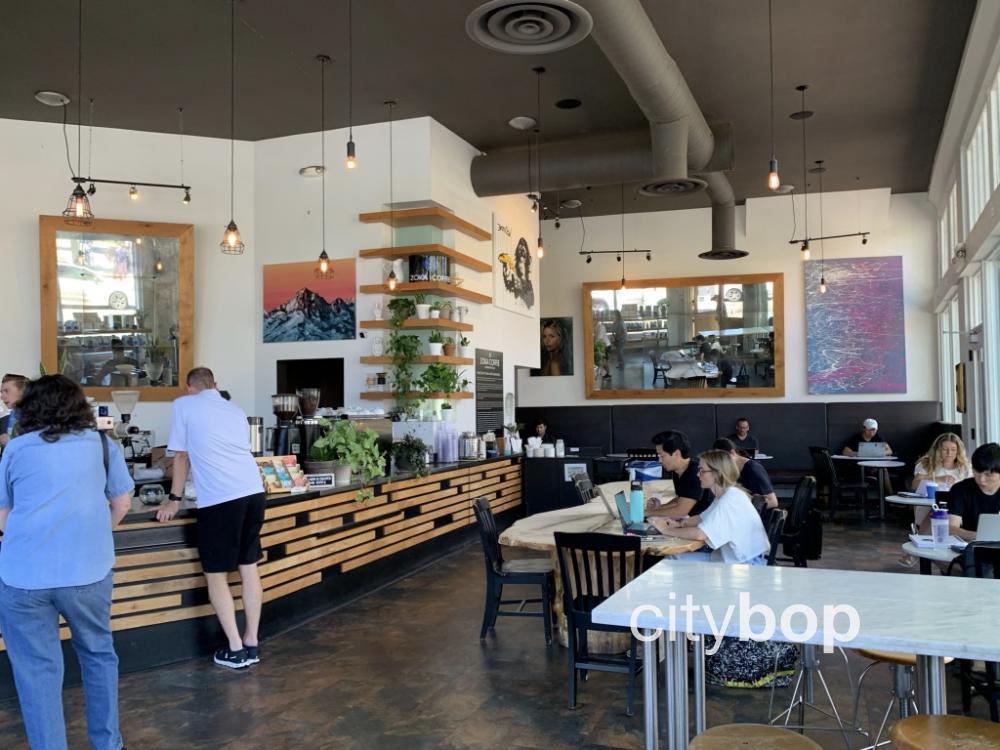 Zoka Coffee House has been in this same location in Kirkland since 2005, and is a neighborhood favorite.
The Slip (pictured above) serves delicious burgers, with peep-through views of the water from its patio.
3. Kirkland Urban.
Drive 5 minutes northeast of downtown Kirkland, to check out the restaurants at the Kirkland Urban business center, including the popular Shake Shack for burgers. There's also a seasonal splashpad.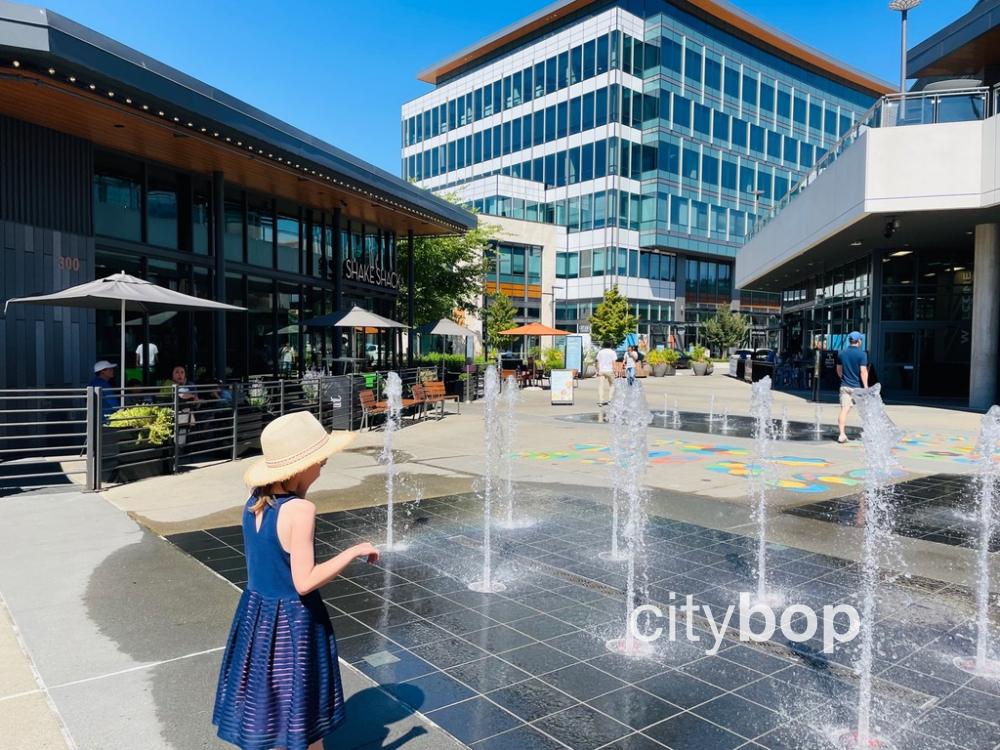 4. Waterfront restaurants.
Kirkland is blessed with a number of waterfront restaurants, with west facing views across Lake Washington towards downtown Seattle, perfect for sunsets!
The closest waterfront restaurant to downtown Kirkland is Anthony's Homeport, overlooking the marina. Anthony's is a beloved chain of Seattle restaurants with waterfront locations.
Travel 1.5 miles south of downtown Kirkland to the BeachHouse Bar and Grill (pictured above) on the edge of Houghton Beach Park. It has a more casual ambiance, and the small patio is just feet from the water.
There's also some water-view restaurants at the Carillon Point development, south of Kirkland's downtown. The Mediterranean-style Como Restaurant has a lovely patio, and a stylish, minimalist interior. If you love French food, then enjoy soaring views from a cozy booth at Le Grand Bistro Americain, also at Carillon Point.
5. Marina Park.
Marina Park is a sandy, arc shaped beach, walkable from Kirkland's downtown area. It's the hub of all activity during summertime, with summer evening concerts in the open-air pavilion, and a fabulous 4th of July celebration.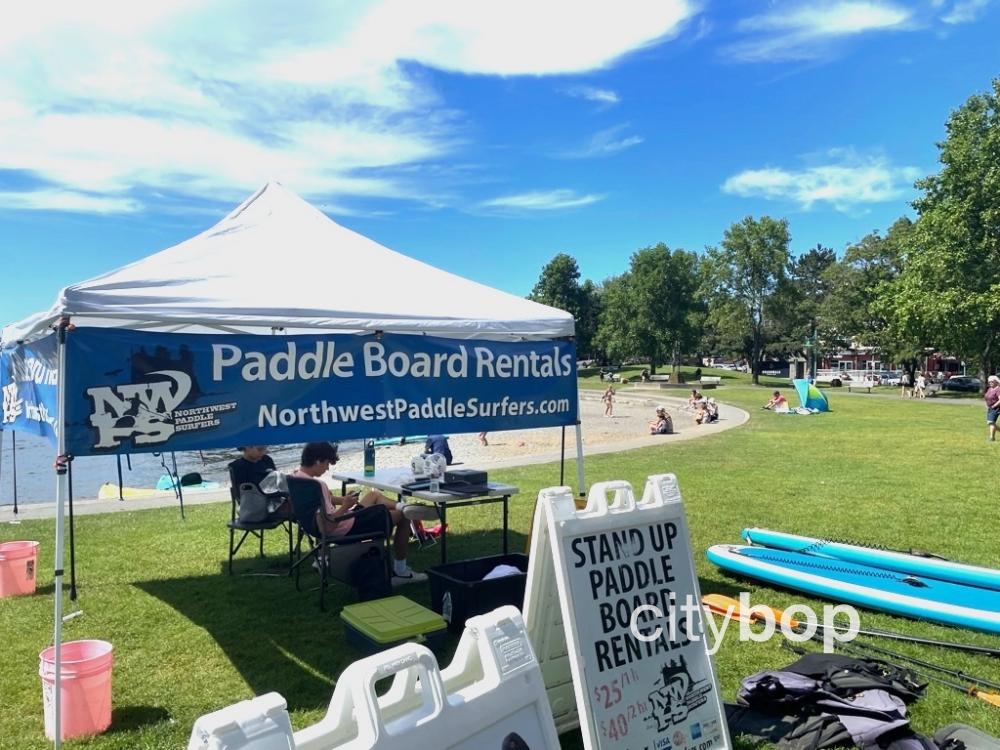 Hang out on the expansive lawns overlooking the beach, stroll out on the dock, or use the boat launch to paddle or kayak around Lake Washington. There's also picnic tables at the north end of the beach, and plenty of benches to sit and take in all the gorgeous views.
6. Heritage Park.
Heritage Park is on a bluff just north of downtown Kirkland.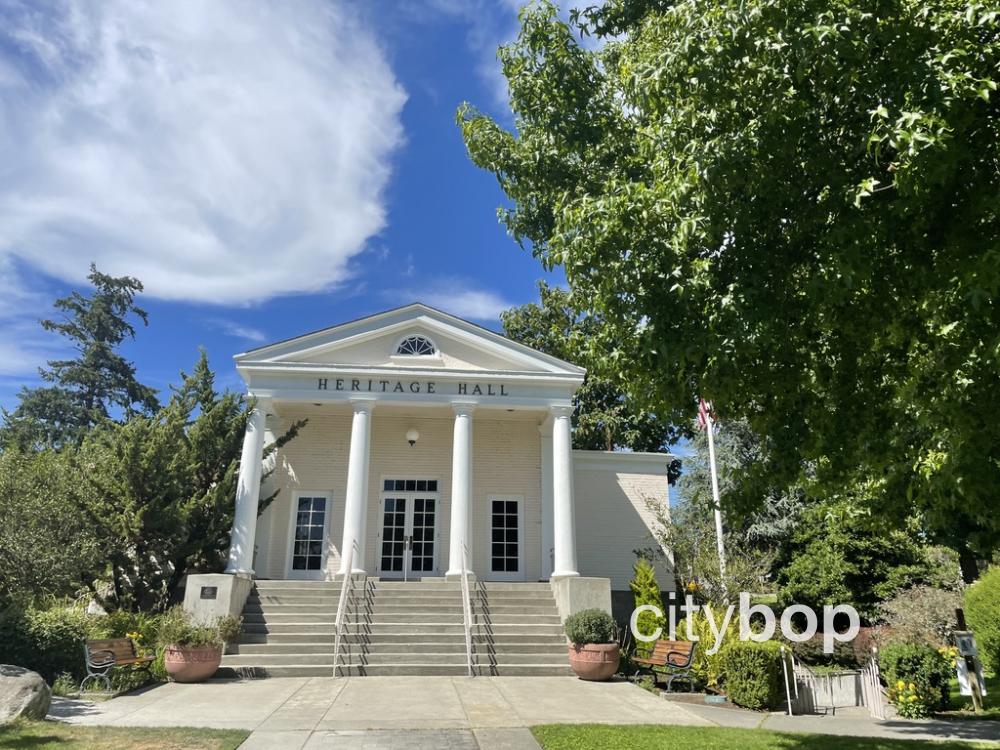 The Greek-Revival Heritage Hall (1922) stands along the southern boundary of Heritage Park, and was originally a church.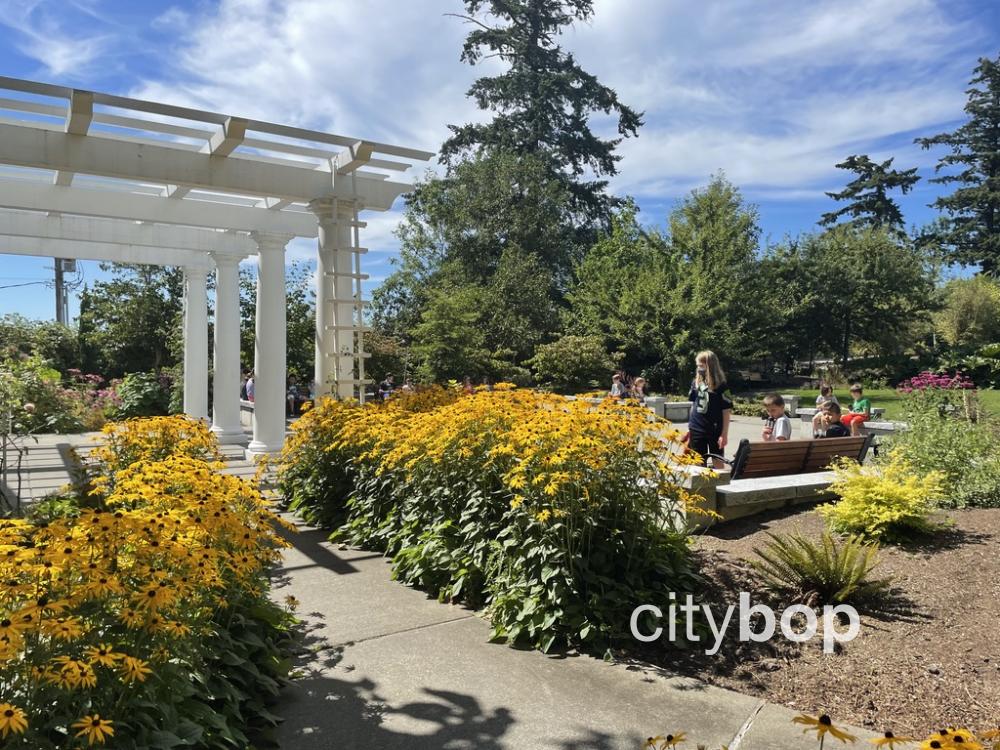 Both the hall and surrounding gardens can be rented for special events.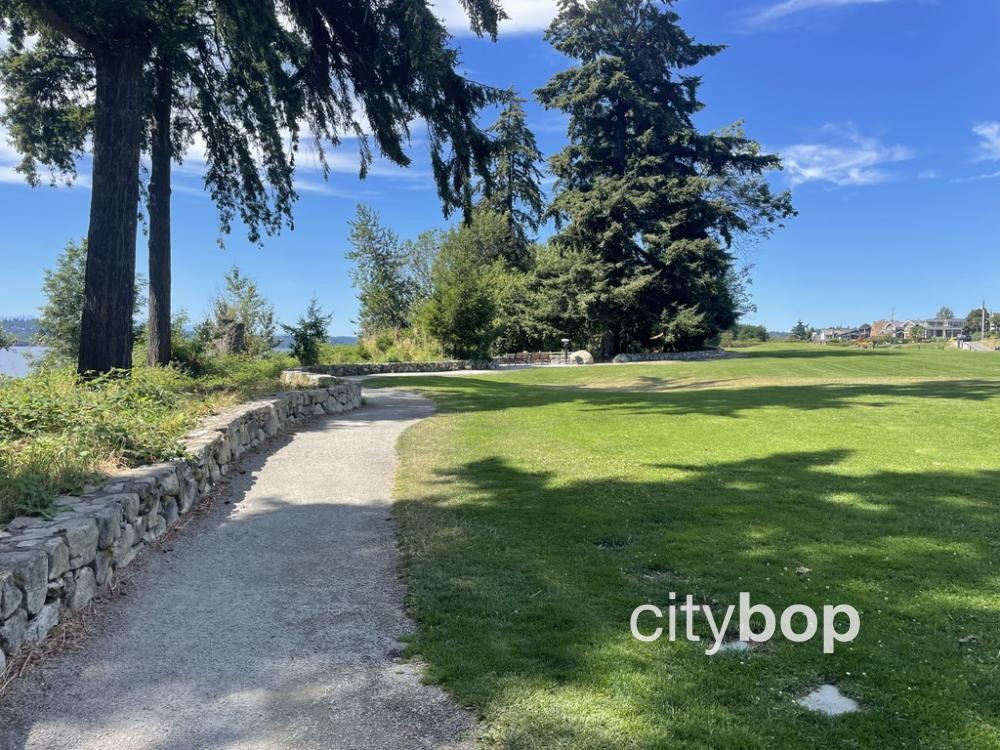 A bluff-top trail continues along Heritage Park, with a dense forest on its sloped side, and a large, grassy area on its other side, perfect for picnics, ball sports, or dog walking. Continue north along this path to discover two tennis courts and a rock play area for kids.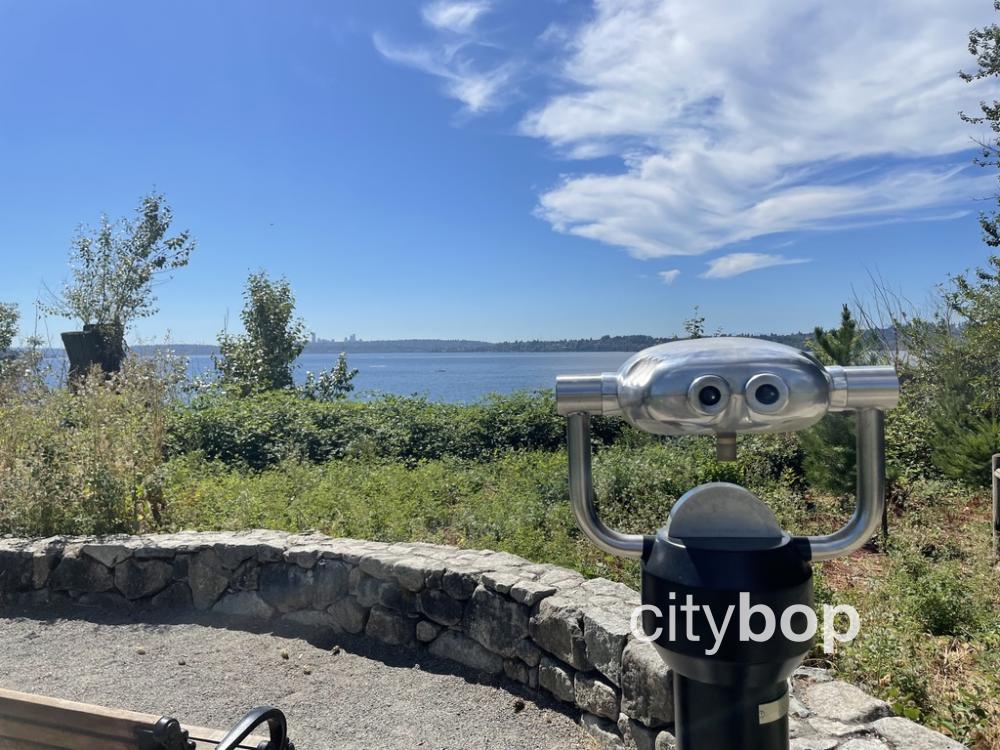 There's also an overlook with a telescope to look out at Lake Washington.
Heritage Park can also be directly accessed from the bluff-top parking lot on Waverly Way, where you can see the vine-covered archway that marked the entrance to Kirkland's first high school. The school was constructed in 1932, but was destroyed by fire in the 1980s.
7. Juanita Beach Park
Juanita Beach Park overlooks a beautiful bay on Lake Washington, 2.5 miles north of Kirkland's downtown.
Juanita Beach Park became a popular vacation destination for Seattle families in the 1920s and 30s. This was after its sandy beach was exposed in 1917, when the water levels at Lake Washington suddenly dropped by 9-feet, due to the completion of the Ballard Locks. Other parts of Lake Washington didn't fare so well, exposing muddy shoreline.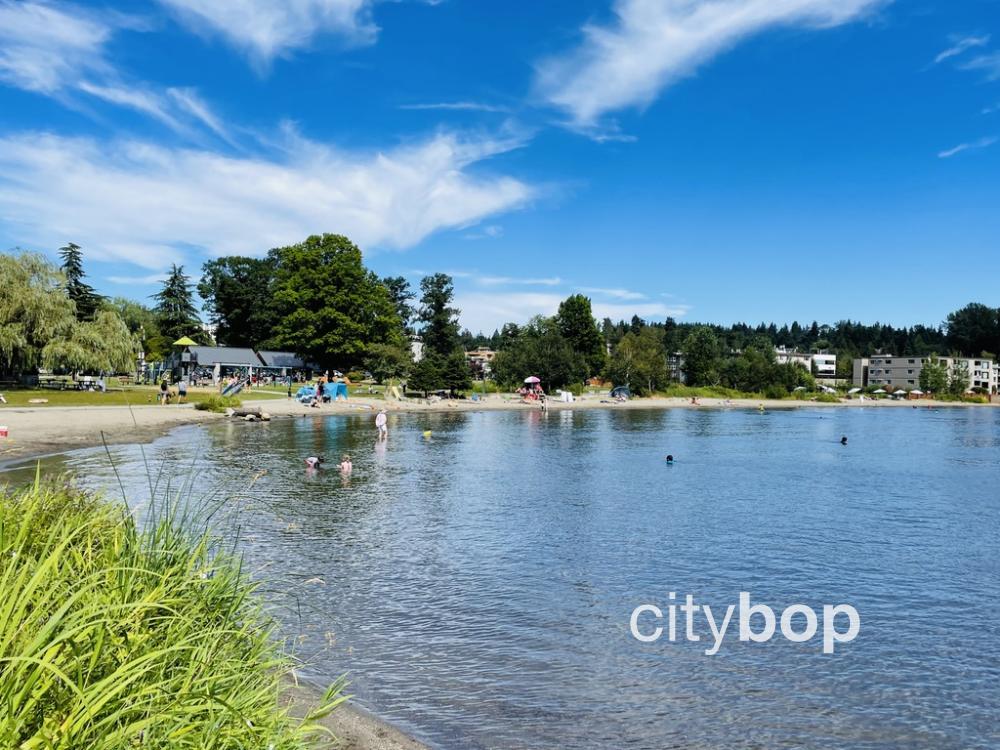 Juanita Beach Park has 1,000 feet of uninterrupted shoreline, with a lovely, sandy beach for swimming.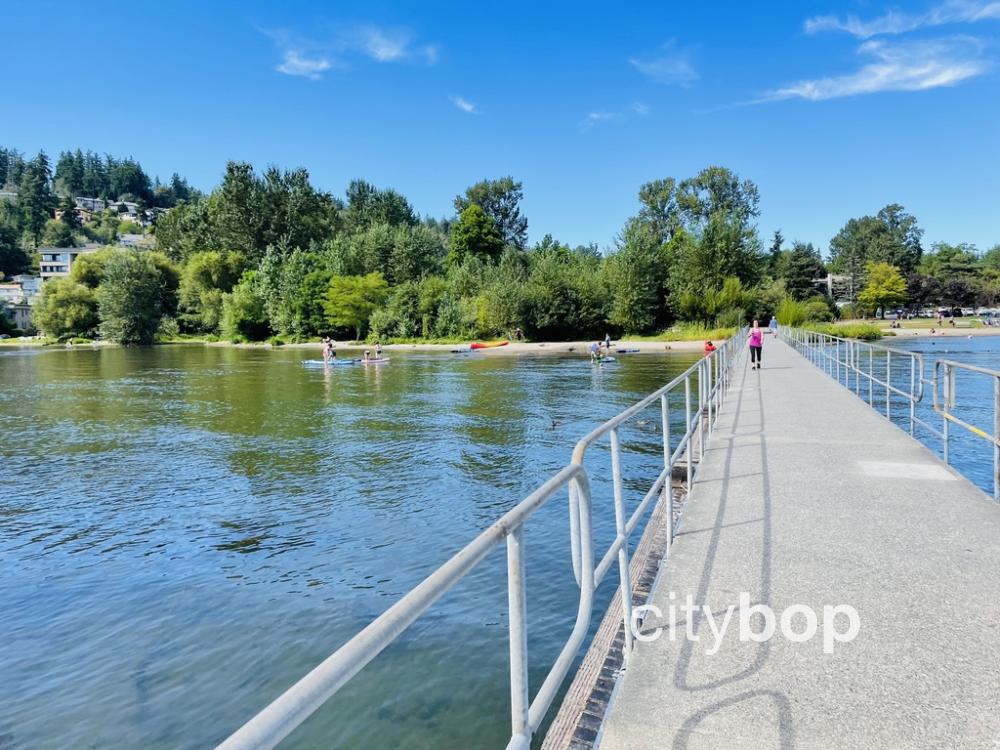 There's also a long pier to walk out on.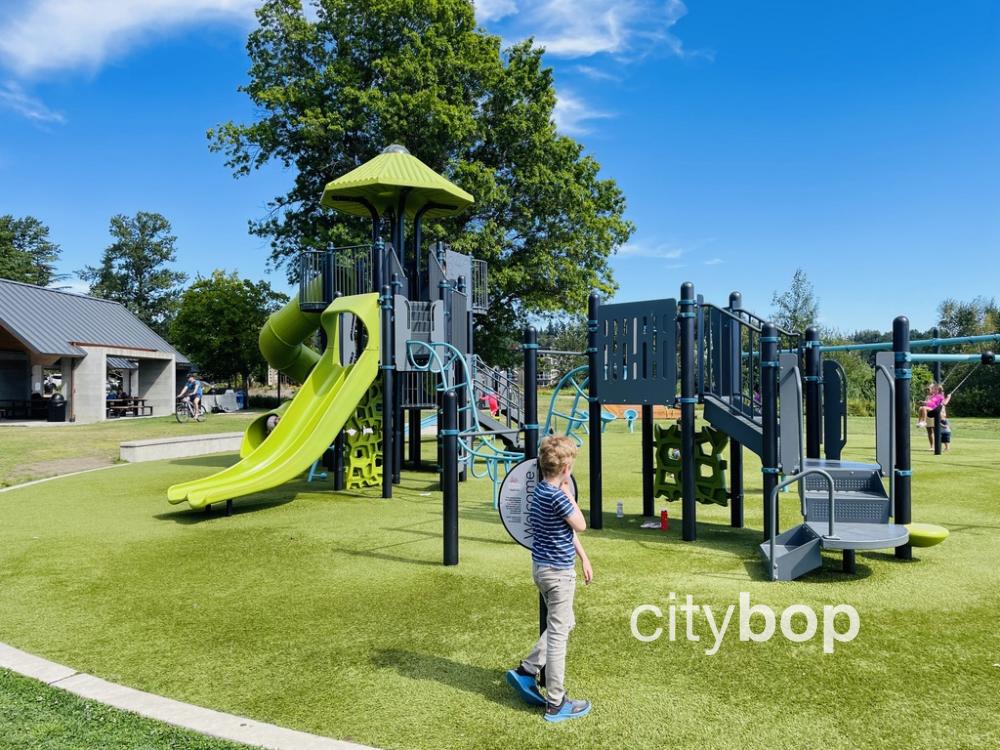 Juanita Beach Park underwent some fantastic upgrades in 2020, including a new playground, and two picnic pavilions.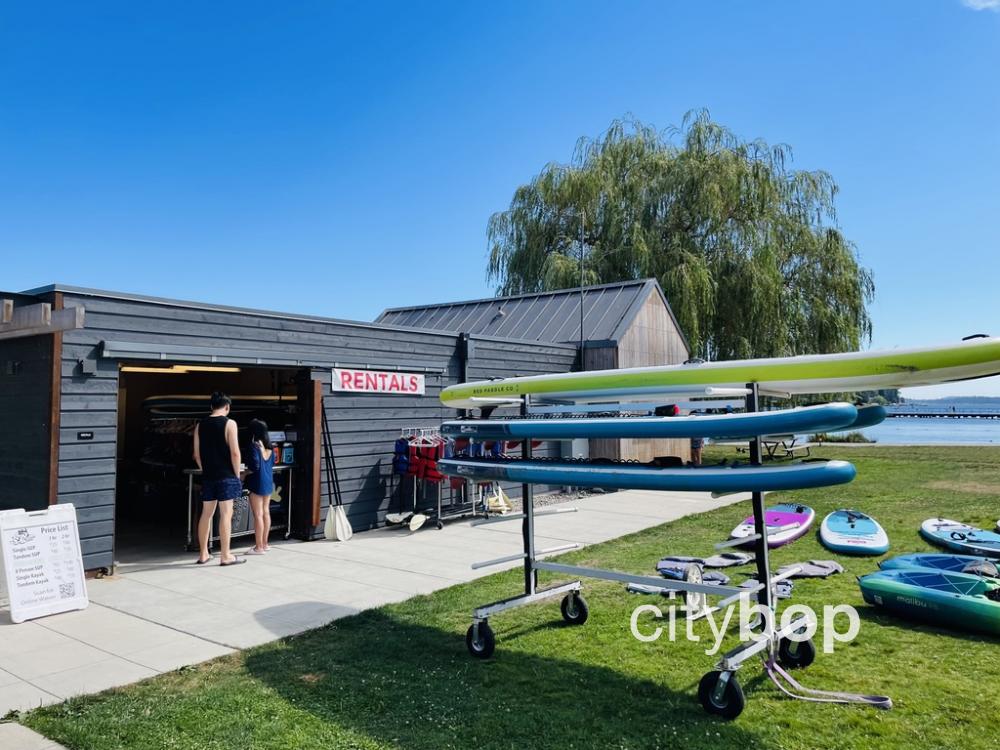 The 2020 upgrades also included a modern bathhouse with a kiosk and kayak/paddleboard rentals.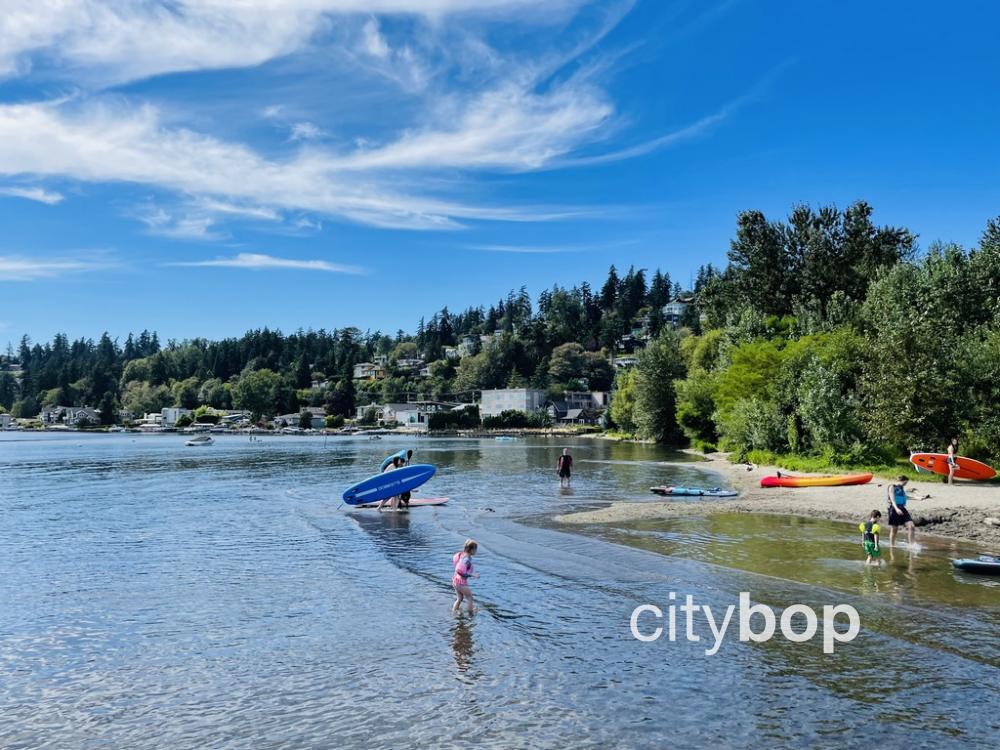 This is the launch area for kayaks and paddleboards.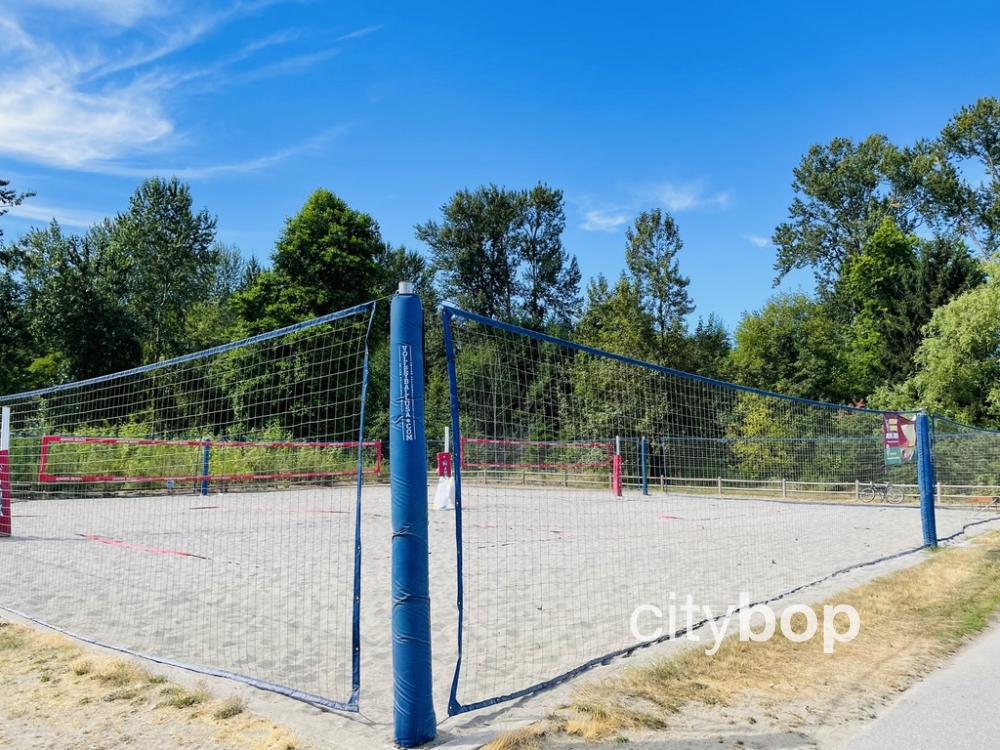 Play on the two volleyball courts at the western end of the beach, or walk inland to the interpretive trail that runs through a marsh along Juanita Creek.
The 22-acre park also has some tennis courts and baseball fields on the other side of Juanita Drive NE.
8. Juanita Bay Park
Juanita Bay Park is 1.5 miles north of the Kirkland downtown area, and is a lovely place for a walk.
This 110-acre protected wildlife habitat has a scenic spot on Juanita Bay, set amongst freshwater marshes and wetlands. This is a bird-lovers paradise, with over 200 types of birds, like waterfowl, pheasants and loons. The Eastside Audubon society does first Sunday interpretive walks here, or you can do your own self-guided tour by reading the interpretive signs.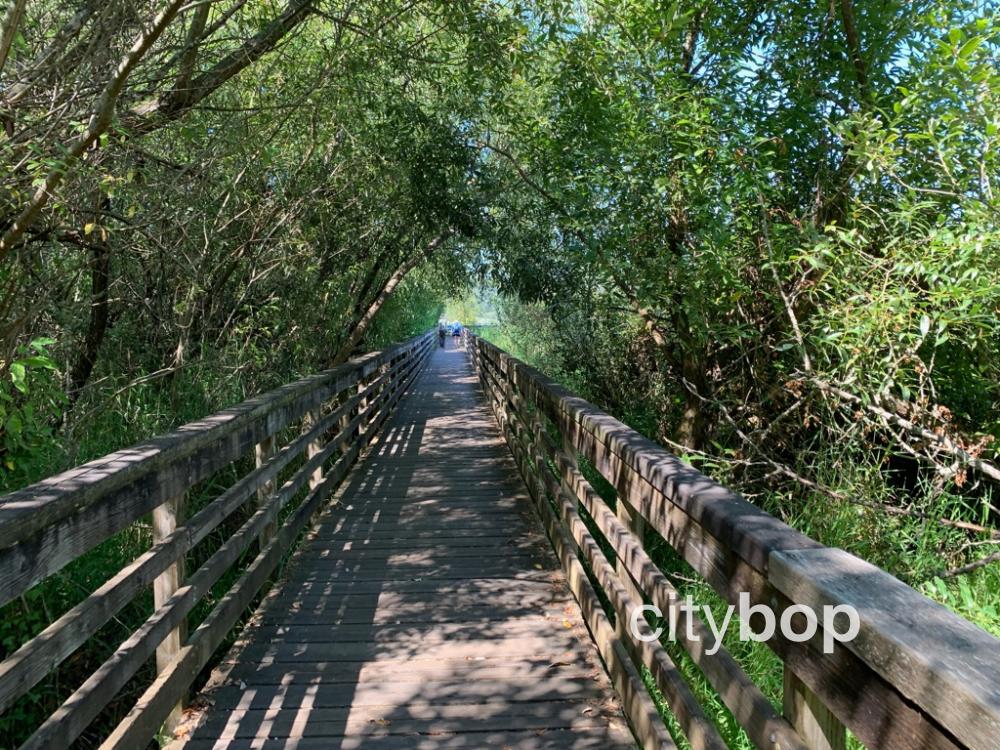 After walking downhill from the parking lot at Juanita Bay Park, the path splits into three different trails. The path to the right travels 0.5 miles along a paved causeway that runs parallel to the road on the eastern side of Juanita Bay, eventually crossing Forbes Creek. The other two paths travel 0.3 miles across boardwalks to viewing platforms over the southern end of Juanita Bay, and are known as the East Boardwalk Nature Trail or West Boardwalk Nature Trail. The East Boardwalk Nature Trail ends at overlook surrounded by duckweed and white pond lilies floating in Juanita Bay.
The Juanita Bay Golf Course once operated here from 1932 to 1975, and was the only public golf course in Kirkland. It was a popular neighborhood hangout for kids and adults alike, even producing some champions. The wetlands gradually reclaimed the old 9–hole course, and returned it to its natural state.
9. Waverly Beach Park
Waverly Beach Park is the place to be on a summer's day! It's located on the western shore of Lake Washington, 1-mile north of the Kirkland downtown.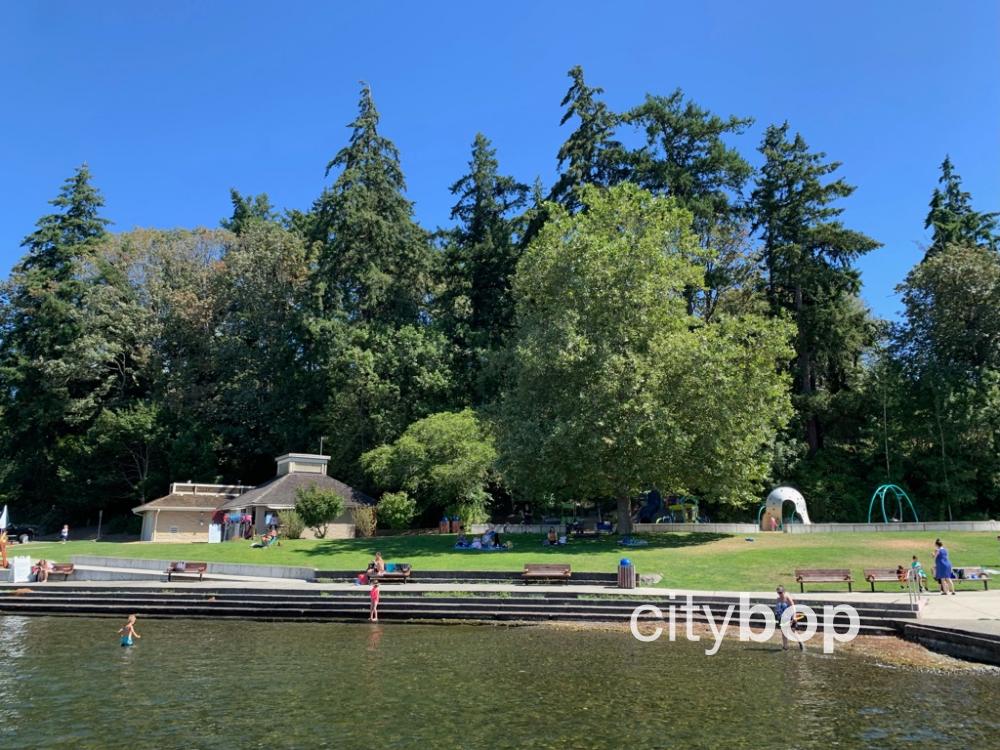 This beautiful park has a large, grassy area, perfect for picnics. There's also a large pavilion with picnic tables, next to a fun playground with hillside slides.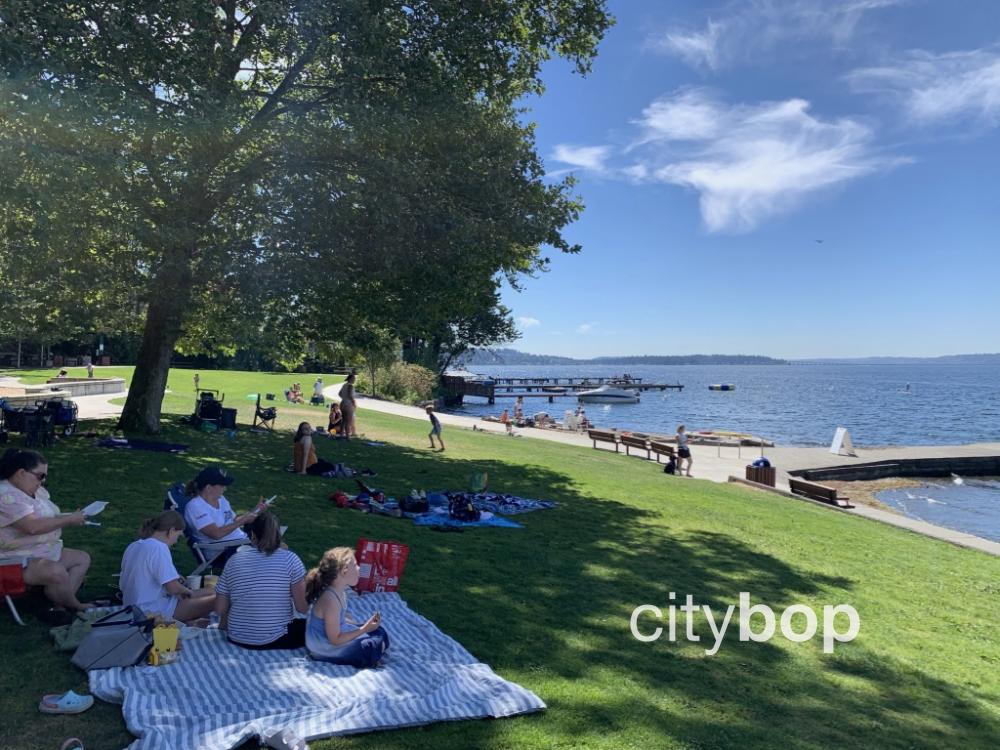 Find plenty of shade under the trees.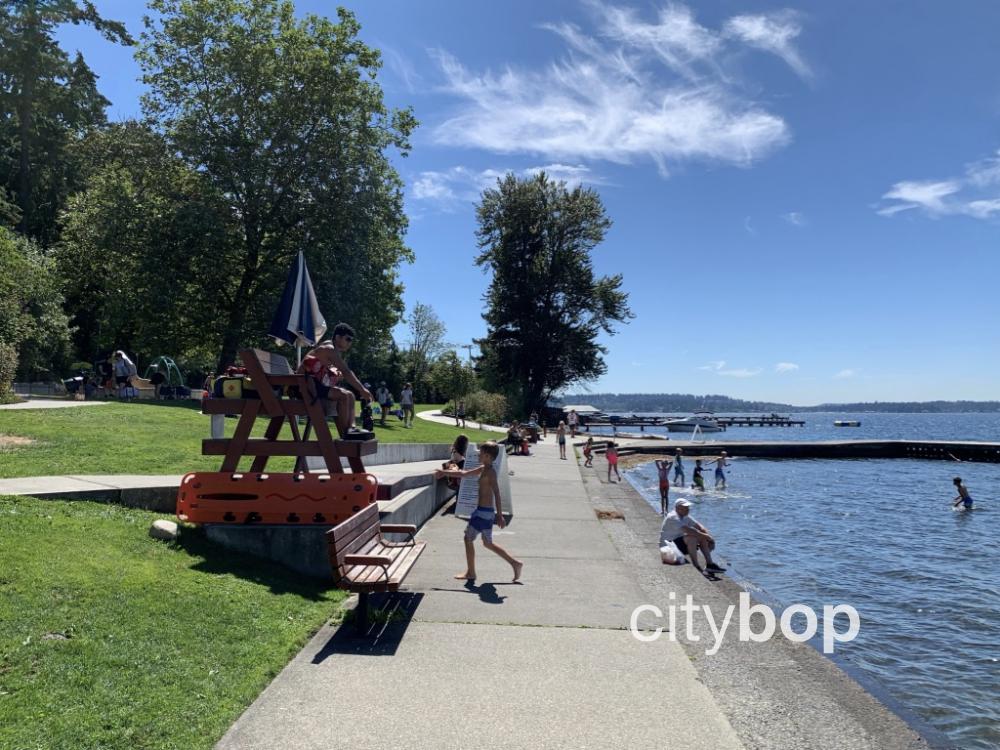 You can swim inside the enclosed area created by the pier at Waverly Beach Park.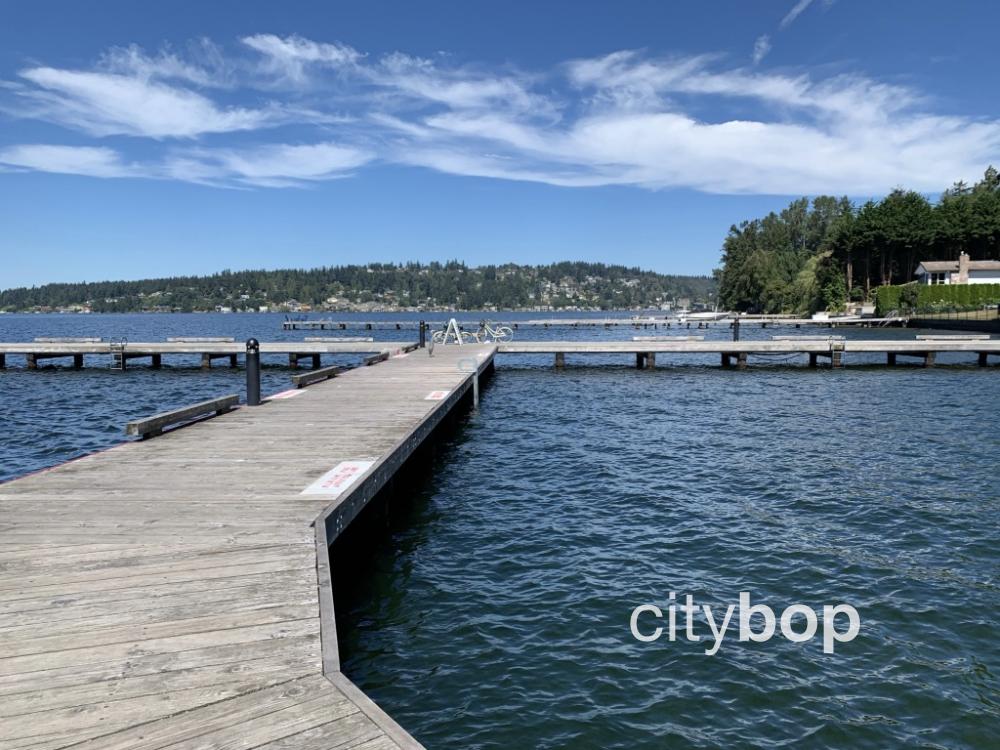 Enjoy soaring Lake Washington views by walking out on the pier that encircles the swimming area.
10. David E Brink Park
The David E Brink Park is just a 0.5-mile walk from Kirkland downtown, and is a quieter park with sloping lawns and plenty of benches, perfect for sunbathing or reading. This hillside park is less popular for swimming than other Kirkland beaches, with no seasonal lifeguard service, and a small, gravel beach.
11. Settler's Landing Park
The Settler's Landing Park is just a 5-minute paved walkway on Lake Washington that passes a few apartment buildings, and has no water access. It's a nice place to stroll through, if you want to see the lake, and is directly accessible off Lake Washington Boulevard.
12. Marsh Park
Marsh Park is yet another Kirkland waterfront park, and is directly accessible off Lake Washington Boulevard, just south of Kirkland's Downtown.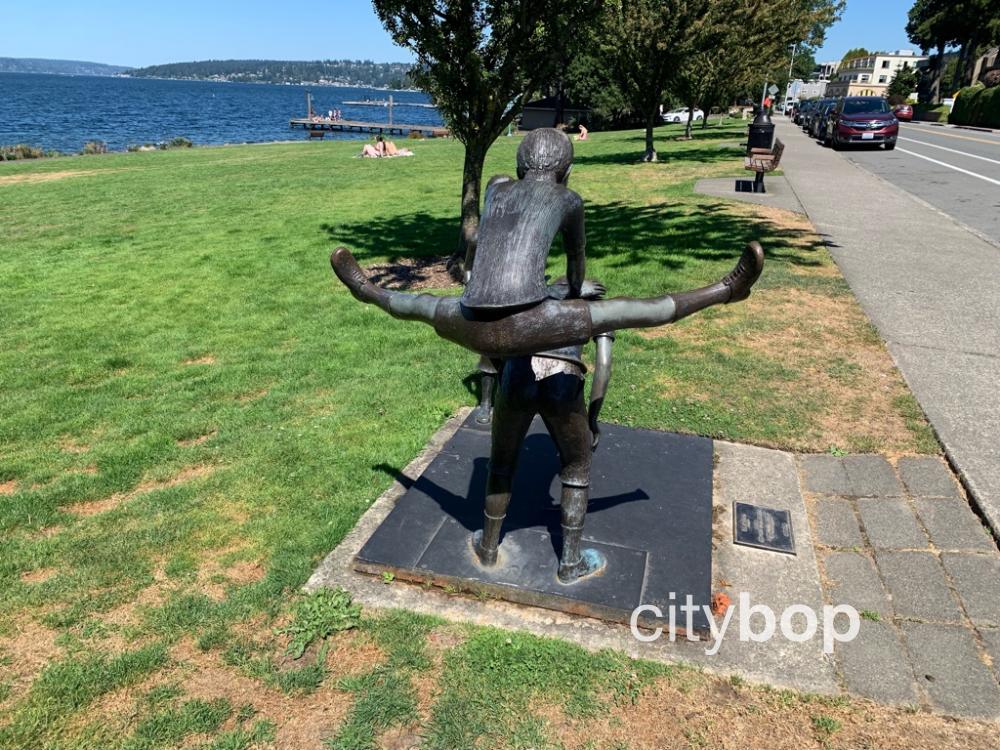 It has a large, grassed area, and a pebbly beach, but no seasonal lifeguard service. Plan a picnic in the shaded, lawn area, north of the parking lot, and savor the views of the Seattle skyline.
Louis Marsh donated the land for the park, and owned Marsh Mansion constructed in 1929, directly across the road (circled in white). Louis was an esteemed, pioneering Boeing engineer, and one of its first 3 employees.
13. Eastside Trains
Eastside Trains in Kirkland is for serious model train collectors, and has been in business since 1983. They are known as one of the best model train stores on the West Coast of America, and carry trains in all track gauges. Find some amazing train sets or scenery, or check out the massive model railroad displays.
14. Houghton Beach Park
Houghton Beach Park is directly accessible off Lake Washington Boulevard, about 1.2 miles south of downtown Kirkland.
This beautiful beach park is perfect for families, with a seasonal lifeguard service.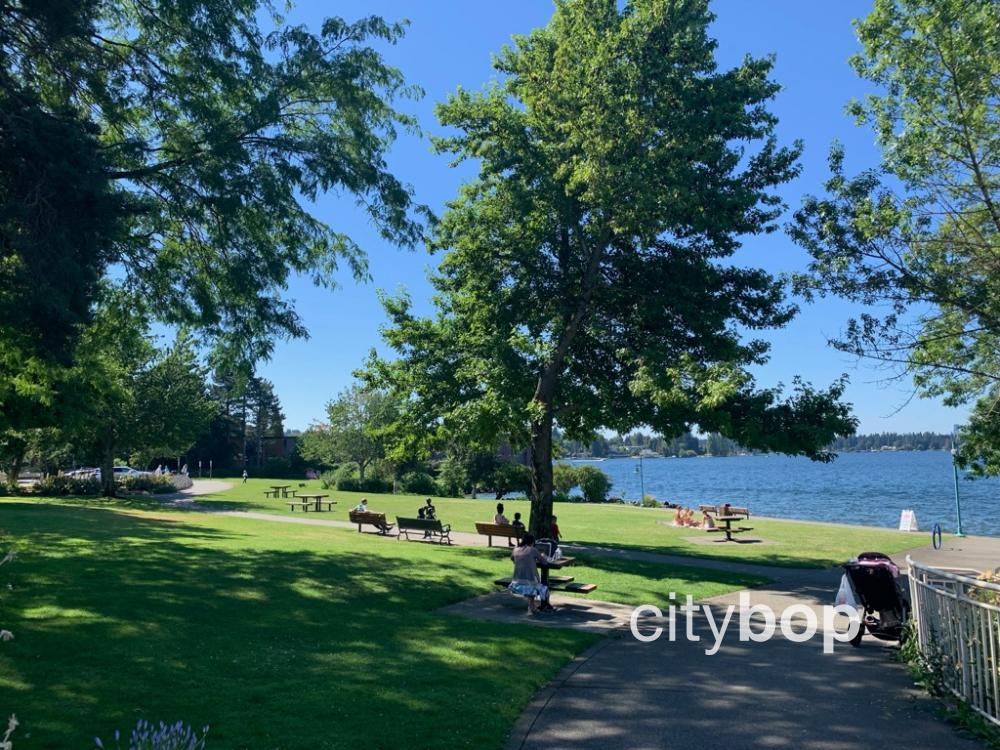 There's also a large lawn area behind the beach, perfect for summer picnics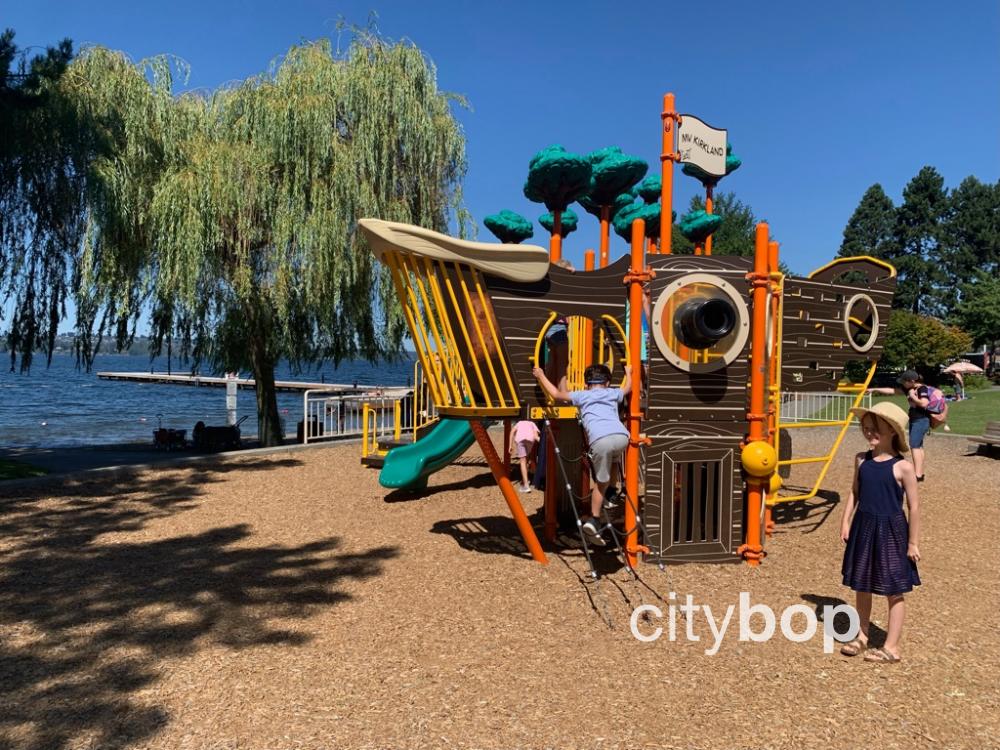 Or kids can climb the fun, pirate ship.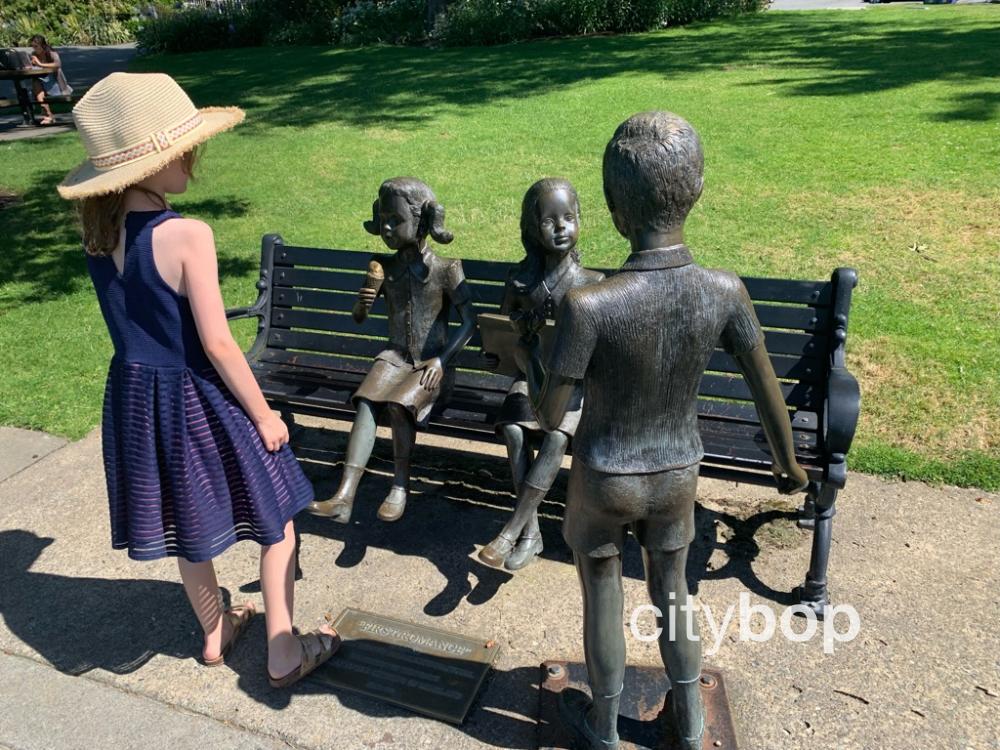 Check out the "First Romance" sculpture at Houghton Beach Park in Kirkland.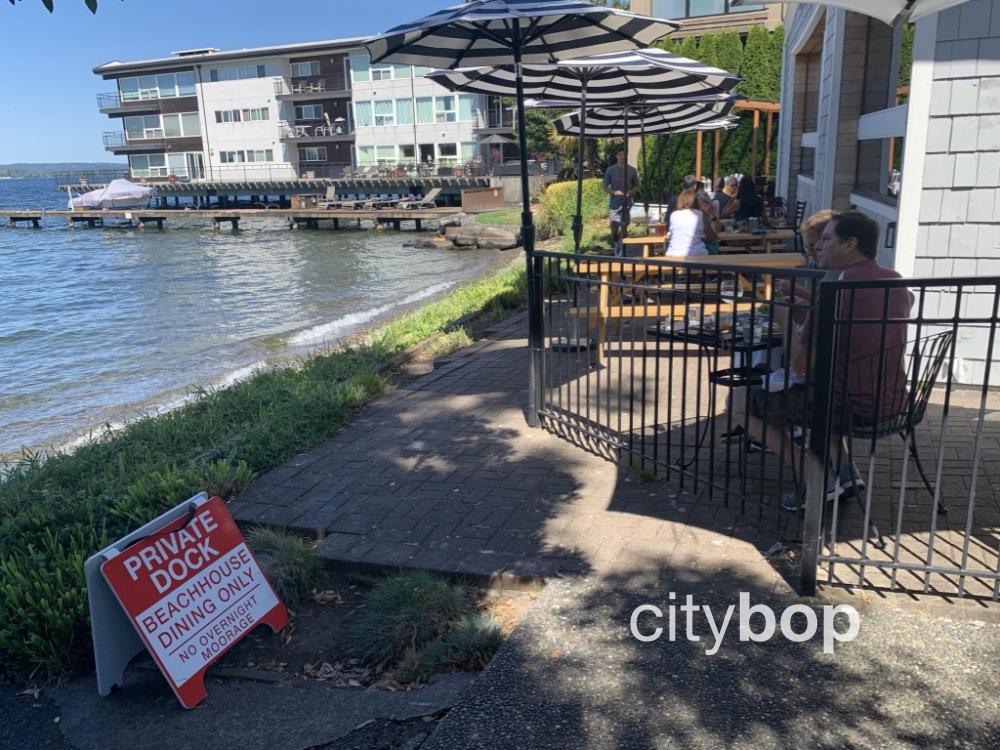 Continue north past the volleyball court, and enjoy waterfront dining at the Beachhouse Bar + Grill.
15. Carillon Point
Carillon Point is on the shores of Lake Washington in Kirkland, and is a swanky hotel development with three restaurants, a spa, marina, and boat rentals.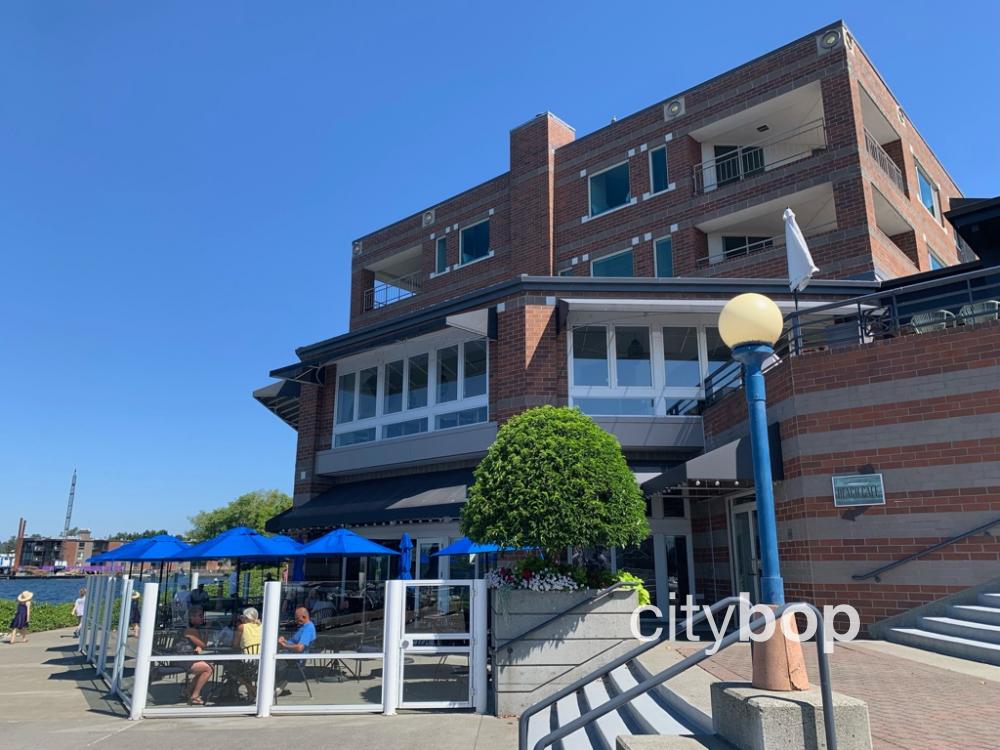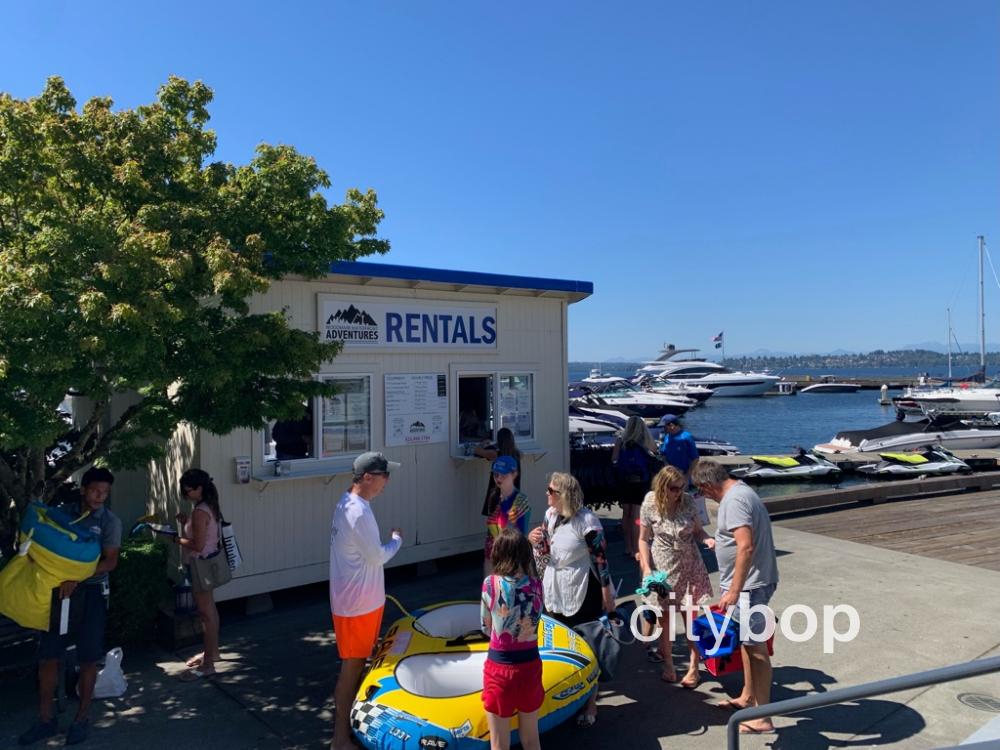 16. Kirkland Arts Center & Old Town.
Kirkland Old Town is the original commercial center from the 1890s, and runs along Market Street, roughly 0.5 miles north of the modern day downtown. It has some notable historic buildings, like the Peter Kirk Building, Sears Building, and Campbell Building, all constructed in 1891.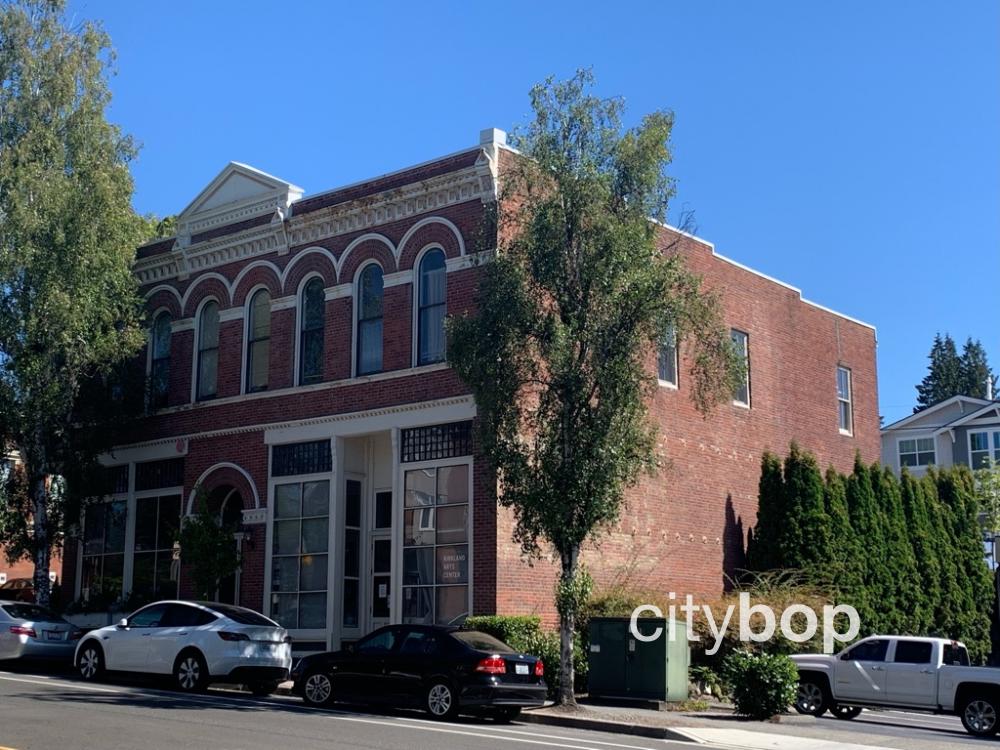 The Kirkland Arts Center is located in Old Town in the Peter Kirk Building (pictured above), and runs free arts shows throughout the year. In addition, you can sign up for painting, drawing and ceramics classes.
The Peter Kirk Building provides a direct link to Kirkland's founder, Peter Kirk, whose office was on the second floor of the building. He was an English steel mill owner, who planned to open a steel mill in Kirkland and make it the "Pittsburgh of the West", by mining iron ore deposits near Snoqualmie Pass.
Peter Kirk partnered with the owner of the Seattle Post Intelligencer, S.J. Hunt, to found a land holding company in Kirkland. They established Kirkland's commercial center along Market Street up the hill, holding on to the more valuable waterfront land as an investment. However, Peter Kirk's ambitions for a successful steel mill were thwarted by the financial panic of 1893.
17. Tot Lot Park
The Tot Lot Park is 5 minutes north of Downtown Kirkland, and is a neighborhood park perfect for kids under 5. The highlight is the sandbox full of toys left behind by other kids, like dump trucks, excavators and tractors. There's also a playground with slides and climbing equipment, and fun 4x4s for the kids to climb aboard and steer.
More Restaurants & Shopping in Seattle