Bellevue is a thriving metropolis, just 10 minutes east of Seattle across Lake Washington.
Bellevue's skyline is full of gleaming skyscrapers, home to some of the world's most successful tech companies.
Its downtown core is anchored by the Bellevue Square Mall, within walking distance of the Bellevue Arts Museum and spectacular Downtown Park with an amazing playground.
Dine out at stylish restaurants near Bellevue Square mall, see a movie and go bowling at the adjacent Lincoln Square, or discover charming restaurants along the quieter Main Street, a few blocks away in Old Bellevue.
Bellevue was once a patchwork of farms and orchards, until the Mercer Island floating bridge connected it to Seattle in 1940, opening it up to development. Despite its massive growth and soaring skyscrapers, there are still plenty of natural attractions around Bellevue, like the stunning beach parks on Lake Washington, a free botanical garden, a seasonal blueberry farm, wetland trails, and a small animal farm at a historic dairy.
15 best things to do in Bellevue WA
1. Explore shops & restaurants at Bellevue Square.
Bellevue Square mall is in the heart of Bellevue, and attracts an astounding 22 million visitors each year!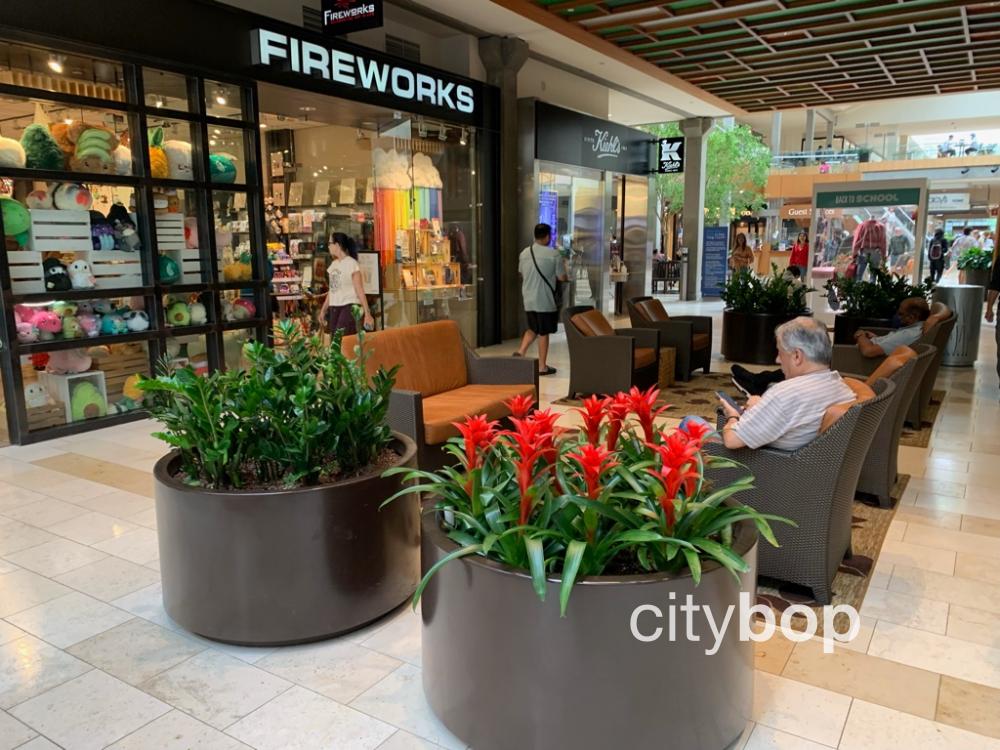 Bellevue Square has 200 shops including Apple, Gap, Banana Republic, Macy's and Nordstrom. There's also an indoor playground for kids, and some swanky restaurants like Cactus (Mexican), Castilla tapas, the Cheesecake Factory, P.F.Changs (Chinese), and Joey's (American).
Here's a photo of the beautiful interior of Castilla tapas restaurant.
2. See a movie, go bowling, or play mini golf at Lincoln Square.
Check-out some cool entertainment options at Lincoln Square, just across the road from Bellevue Square. Choose from the luxury 16-screen Cinemark movie theater, the hi-tech Lucky Strike bowling alley, and the amazing atmosphere at Forum Social House with an 18-hole miniature golf course and Top Golf Swing Suite.
3. Check out an exhibition at the Bellevue Art Museum.
The striking 36,000 square foot Bellevue Arts Museum was established in 1975, and is conveniently located across the road from Bellevue Square.
It displays three floors of contemporary art in rotating exhibitions.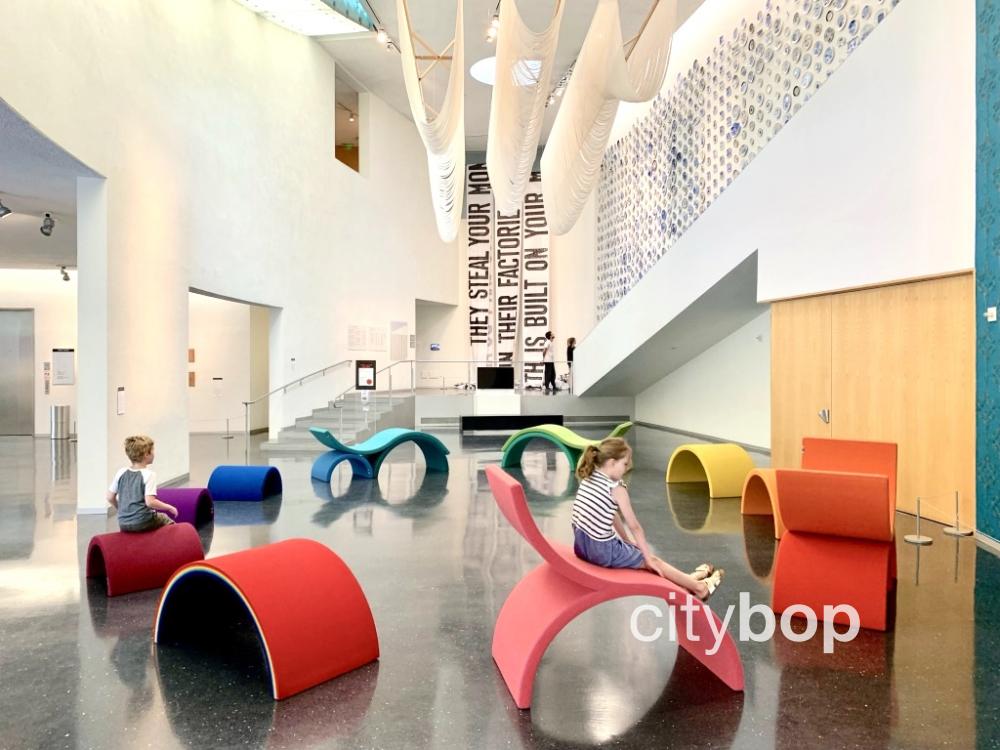 This is the magnificent lobby at the Bellevue Arts Museum. Can you see the 800 plates on the wall along the stairs? These are from Julie Green's "The Last Supper", where she collected plates from prisoners' last meals before they were executed.
4. Stroll along the beautiful promenade at Bellevue Downtown Park.
This stunning 21-acre park is in the heart of Bellevue, with a 240-foot wide waterfall, and a half mile promenade that encircles the park, perfect for strolling.
5. Take your kids to Inspiration Playground.
The fabulous Inspiration Playground is at the southwest edge of the Bellevue Downtown Park, with a seasonal spray-pad, and an innovative layout.
6. Visit charming restaurants along Main Street in Old Town Bellevue
Main Street is part of Old Town Bellevue, located one block south of the Bellevue Downtown Park (on Main Street between Bellevue Way NE and 100th Avenue NE). This charming street is full of restaurants, shops and galleries.
Choose from an abundance of restaurant options along Main Street, like 520 Bar and Grill (American), Cantinetta Bellevue (Italian), Fern Thai, and Araya's Place (vegan thai). Then stop by Rouge Cocktail Lounge for a drink, or sip a latte at trendy Matcha Magic cafe. Third Culture Coffee and Molly Moon's Ice Cream are just around the corner on 102nd.
7. Walk across the suspension bridge at Bellevue Botanical Garden!
The free Bellevue Botanical Garden has 53-acres of gardens, with highlights including a dramatic suspension bridge over a ravine, a café in a mid-century residence, and a Japanese Garden. They also put on a Christmas Lights display each year.
Walk across the 150-foot suspension bridge in the Ravine Experience.
Enter the traditional gate to the Yao Garden at the Bellevue Botanical Gardens.
There's a lovely patio outside the cafe at the Bellevue Botanical Garden, or you can sit indoors on cooler days.
8. Spend a summer's day at Enatai Beach Park.
Enatai Beach Park is a small, waterfront park in south Bellevue, directly below the i-90-bridge.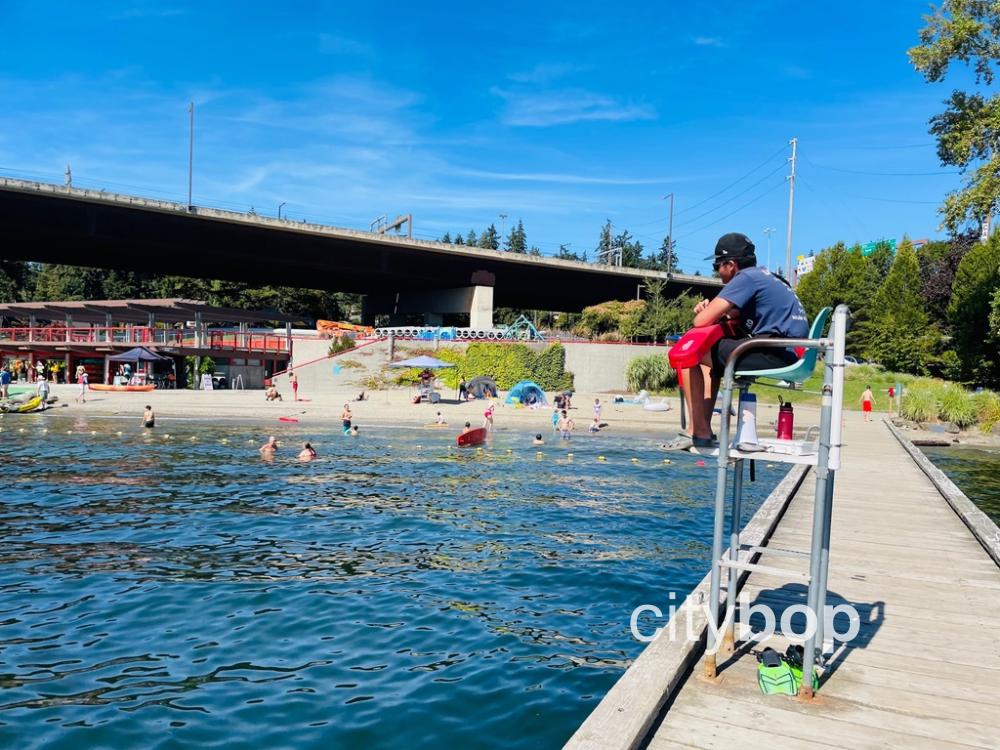 It has a lovely, sandy beach with a pier, and a fun playground up the stairs.
There's plenty of room on the sandy beach to set up a tent for the day.
Enatai Beach Park also has seasonal kayak rentals.
9. Enjoy a picnic, or swim at Newcastle Beach Park.
Newcastle Beach Park is in South-East Bellevue, and is Bellevue's most popular park, with a lovely, sandy beach overlooking Lake Washington. Its large lawn area includes a playground, covered picnic pavilion, and plenty of picnic tables.
Walk out along the 300-foot pier for beautiful views of Newcastle Beach Park.
The bright colored train playground has swings and climbing structures, and is located near the picnic areas.
There are three picnic areas at Newcastle Beach Park, including this pavilion that has both tables and a BBQ.
The large lawn area is also popular for picnics, sunbathing or throwing a frisbee.
10. Discover the enchanting Chism Beach Park.
Chism Beach Park is a secluded gem, tucked away in a forested part of West Bellevue.
Pathways lead from the parking lot down the hillside to a sandy beach, with plenty of grassed areas for picnics, and a fun playground. It takes about 10 minutes to walk down the hill and get to the beach.
There's a roped off area for swimming in summertime.
The playground is right on the sand at Chism Beach Park!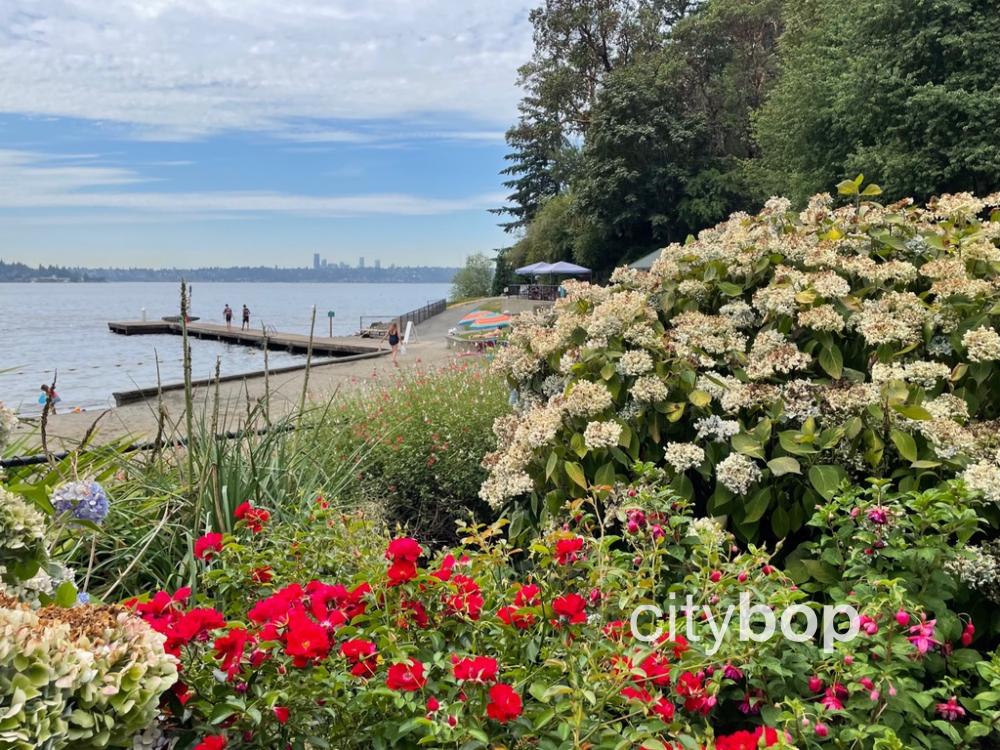 There are also beautiful gardens and lawns surrounding the main beach.
11. View farm animals at Kelsey Creek Farm.
Kelsey Creek Farm is east of Bellevue, close to the Bellevue Botanical Garden. It's located within the 150-acre Kelsey Park, and features two historic barns from a dairy that operated here in the 1920s and 30s. The farm is a popular place to view farm animals, and participate in day camps and farm-themed activities.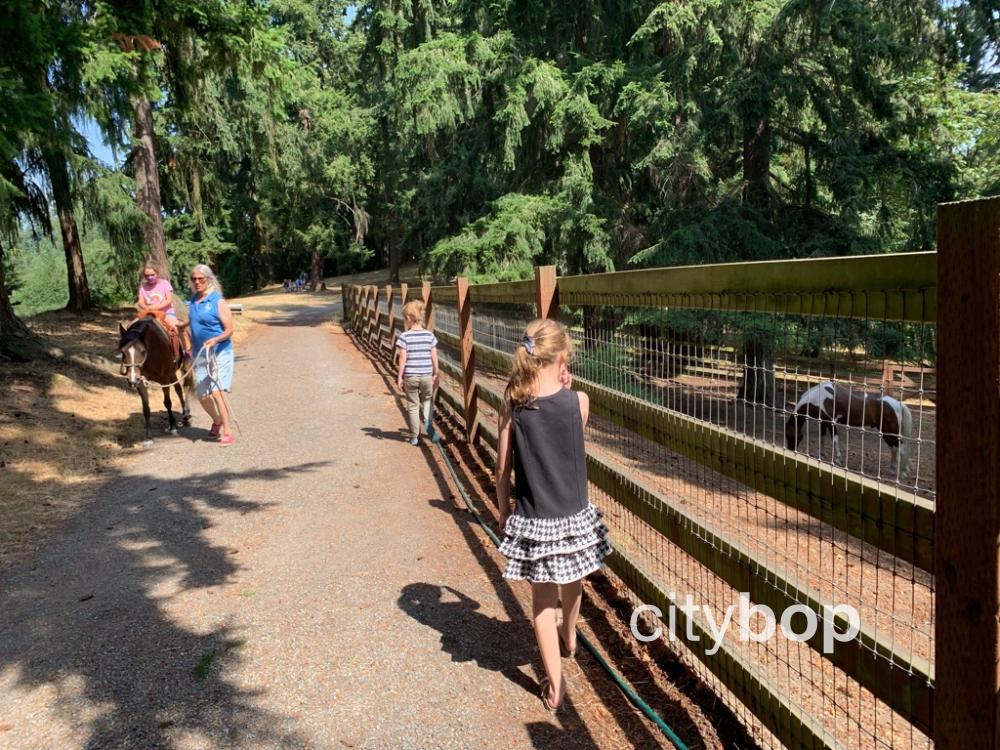 Register for a fun trail ride on a pony, along the Kelsey Creek Farm trails.
Kids can also visit the small animal area behind the barn, to see chickens, rabbits and ducks. Some larger animals like cows and horses are out on the adjacent fields.
After visiting the farm you can then explore the trails in the scenic 150-acre Kelsey Park in Bellevue, with a creek, wetlands, and open grassed areas. Hang out at the playground, or enjoy a picnic.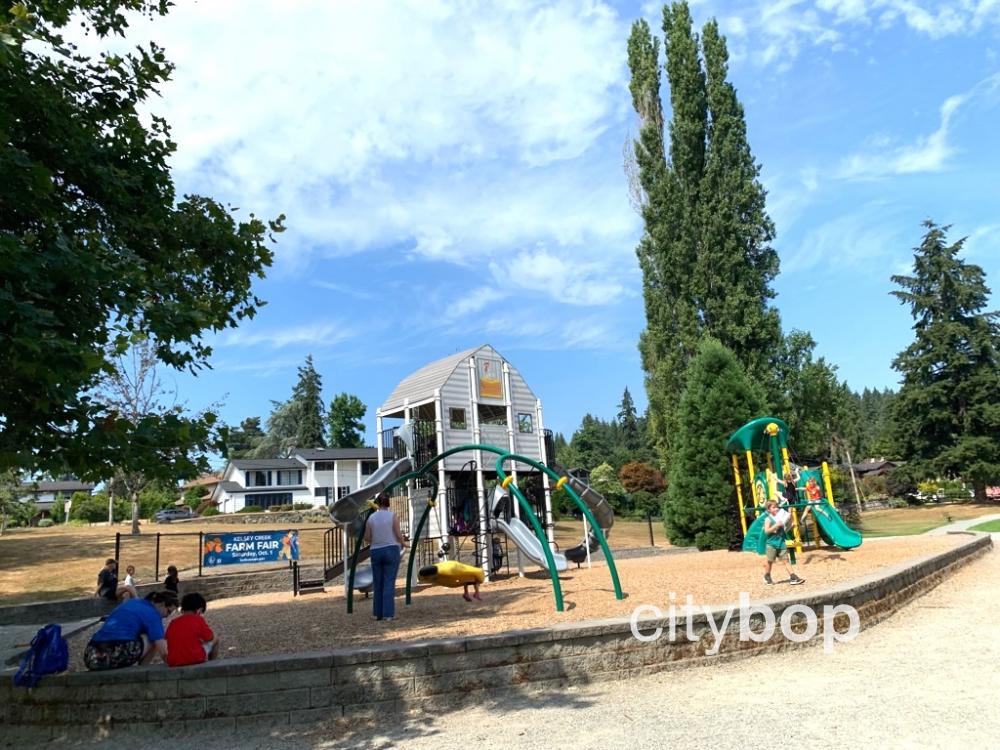 12. Sunbathe on the lawns at Clyde Beach Park.
Clyde Beach Park has a picturesque setting on the shores of Lake Washington, just a few minutes northwest of downtown Bellevue.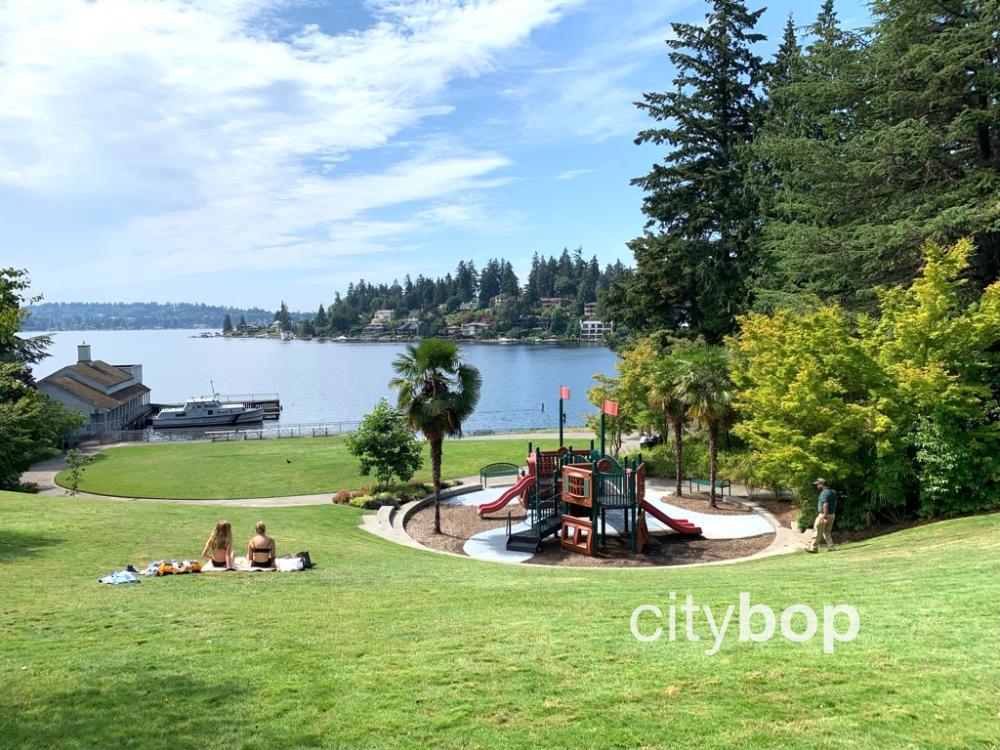 The 2.2 acre park has a grassy hill that stretches all the way to the waterfront, with a playground, picnic tables and a vintage boathouse. There's no sandy beach, just set of a concrete stairs that leads to the water.
13. Hang out at the playground or beach at Meydenbauer Bay Park.
Spectacular Meydenbauer Park is 2 minutes drive west of the Bellevue Downtown Park, located on the shores of Lake Washington on Whalers Cove. Kids can hang out at the waterfront playground, or swim at the beach in summer. There are stunning views from the parking lot on Lake Washington Boulevard NE, with a series of paths and overlooks in this beautifully landscaped park, leading to the waterfront.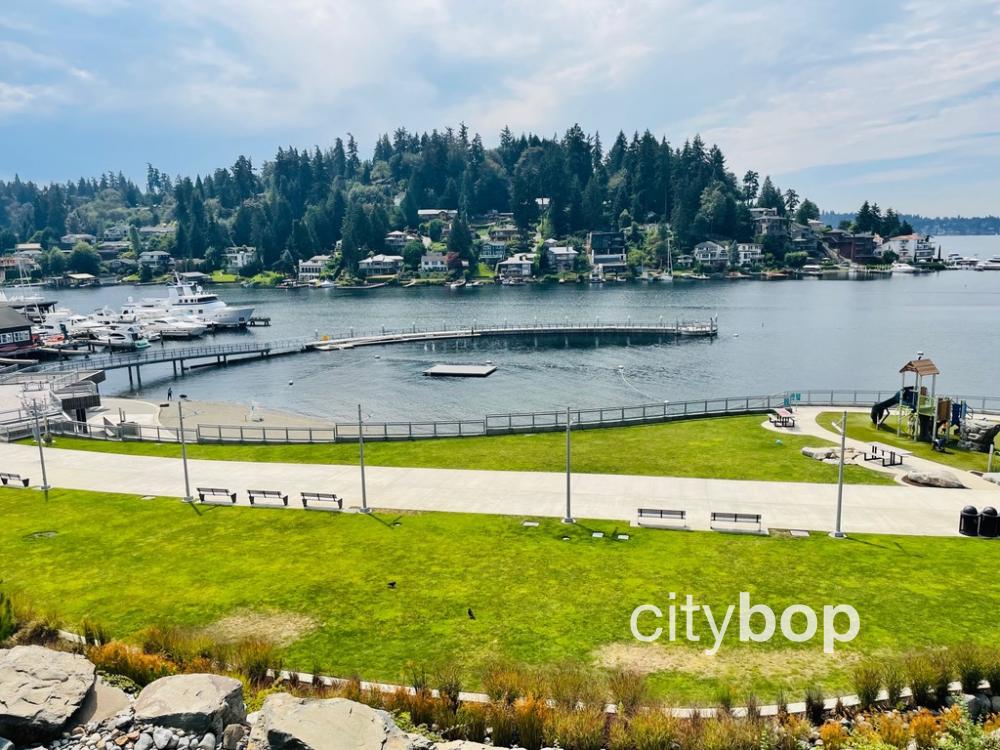 Walk along the arc shaped pier at Meydenbauer Park, jutting out into Whaler's Bay.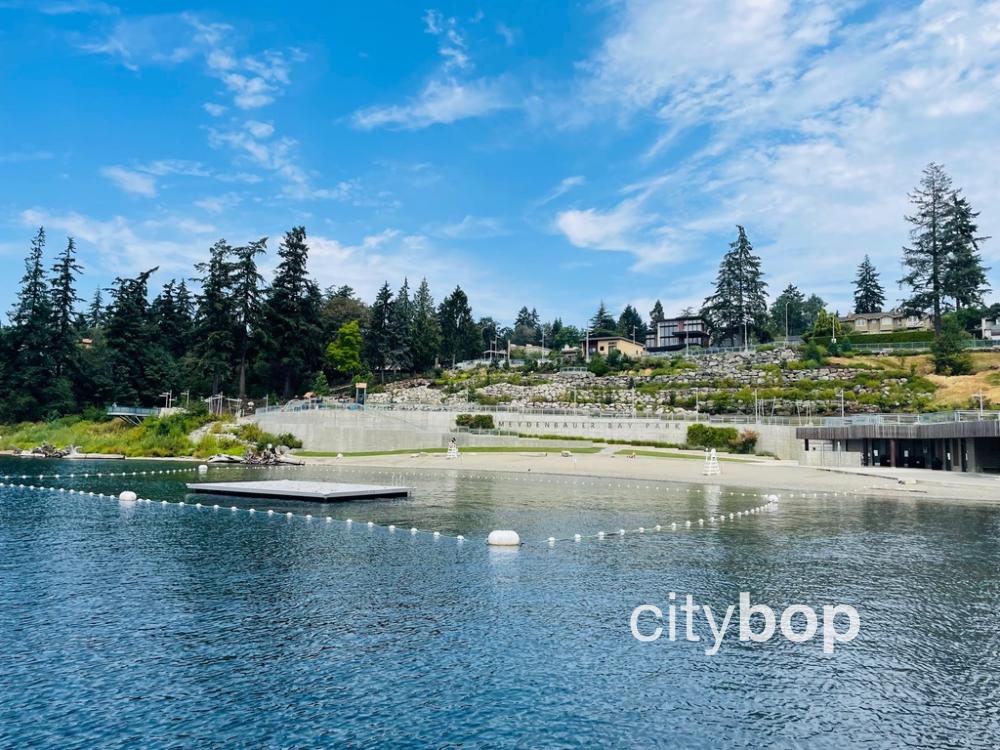 These are the amazing views from the end of the pier!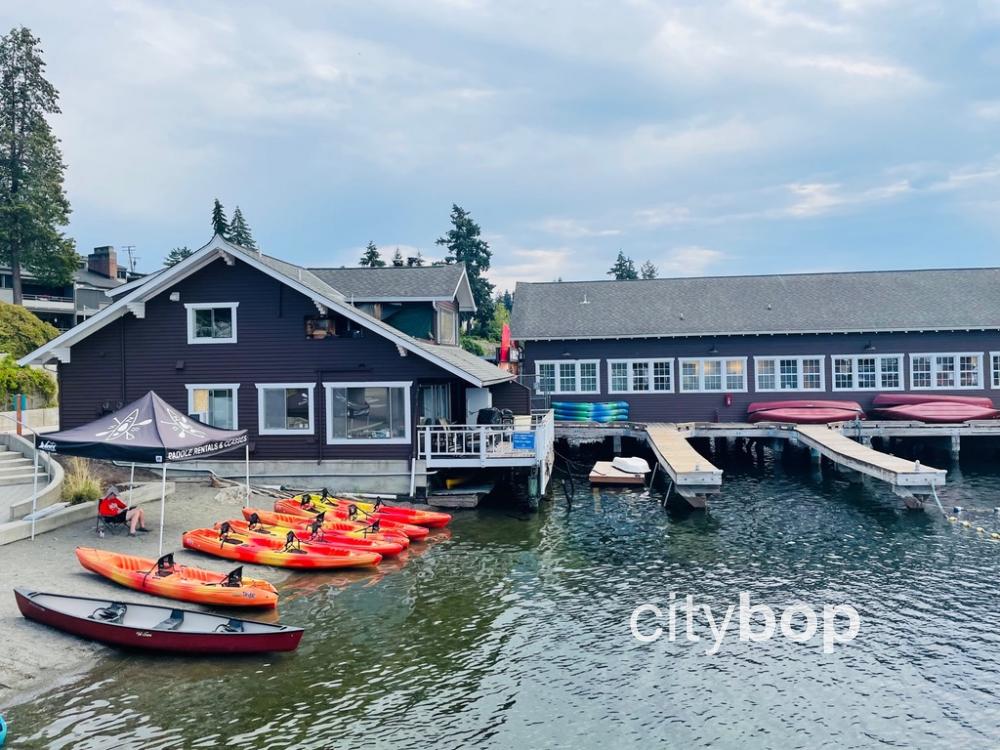 Seasonal kayak and canoe rentals are also available at the historic REI boathouse.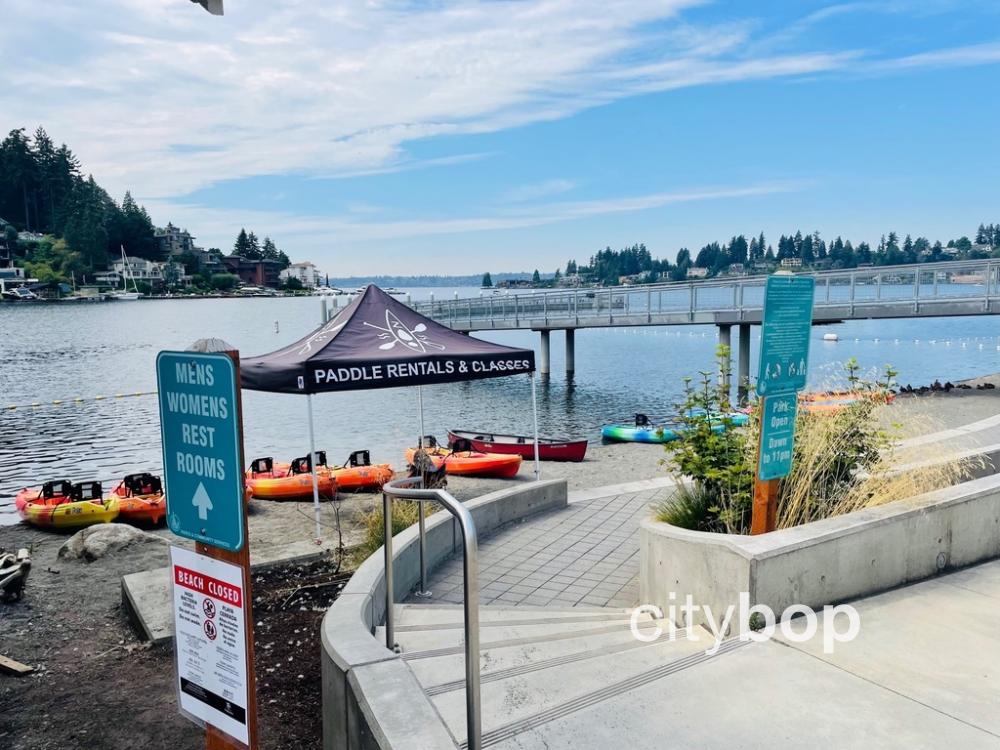 You can also book a kayaking or canoeing class.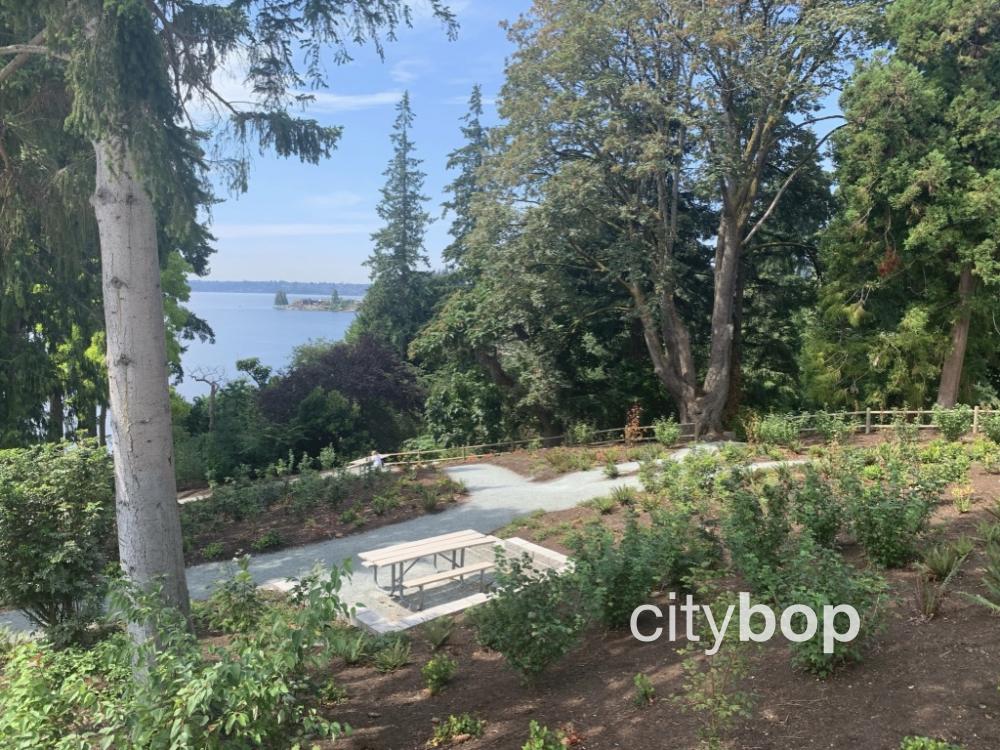 Find a shaded area beneath the trees at Meydenbauer Park for a picnic.
14. Visit the fantastic KidsQuest Children's Museum.
The hands-on, interactive KidsQuest Children's Museum is a few minutes northeast of downtown Bellevue, and is perfect for kids under 9. The highlight is climbing to the top of the three-story high play structure!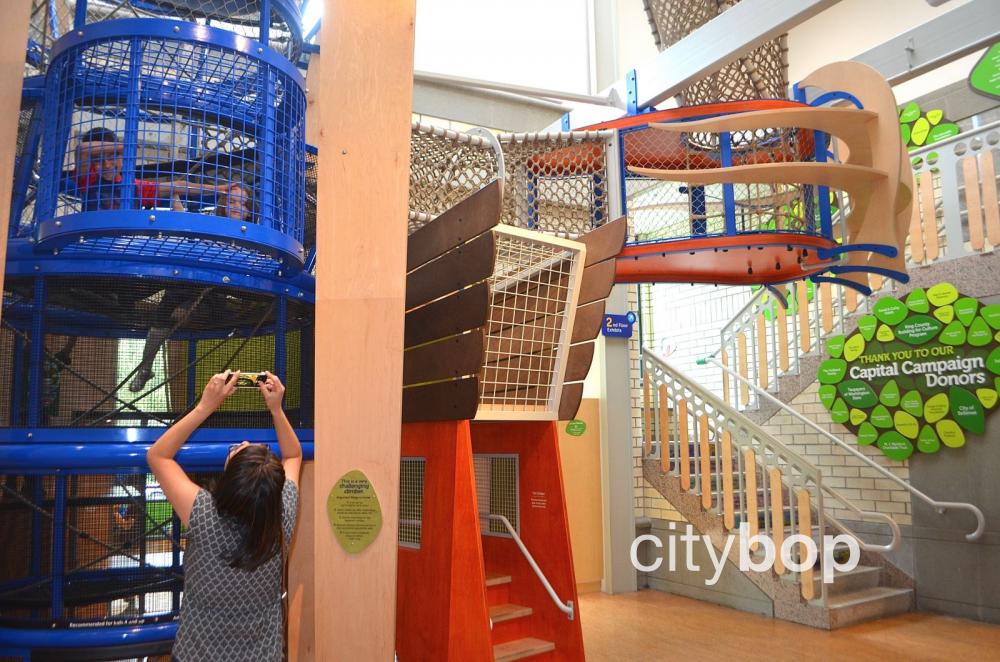 15. U-pick blueberries at Larsen Lake Blueberry Farm.
Larsen Lake Blueberry Farm is in East Bellevue, at the site of an early settler's farm. During summertime you can grab a bucket and u-pick from fields of blueberries in this idyllic setting. There's also a fruit and vegetable stand, and fresh cut flowers at the farm's vintage shed. Take the pathway around nearby Larsen Lake to view duck and bird life. The blueberry farm is part of the 150-acre Lake Hills Greenbelt Park, with 3-miles of trails in a wetlands setting.
16. Climb the treehouse at Mercer Slough Education Center.
Mercer Slough Environmental Education Center is inside the Mercer Slough Nature Park in southeast Bellevue, with 320 acres of wetlands. There's a fabulous tree house to climb with views across the forest canopy, and a visitor center with displays, trail maps, and Park Ranger led programs and walks.
More Restaurants & Shopping in Seattle