Experience amazing views from the Seattle Great Wheel.
The Seattle Great Wheel is located at the end of Pier 57 on Seattle's waterfront, at 1301 Alaskan Way. Check hours.
This fabulous wheel is the highest on the West Coast of America, and stands at a lofty 175 feet!
Purchase tickets online, or at the ticket booth there.
10 best things to do at Seattle Great Wheel
1. See panoramic views as you ride three revolutions on the Seattle Great Wheel.
The ride takes 10 to 20 minutes depending on the crowds, with views of the city, Puget Sound and Olympic Mountains!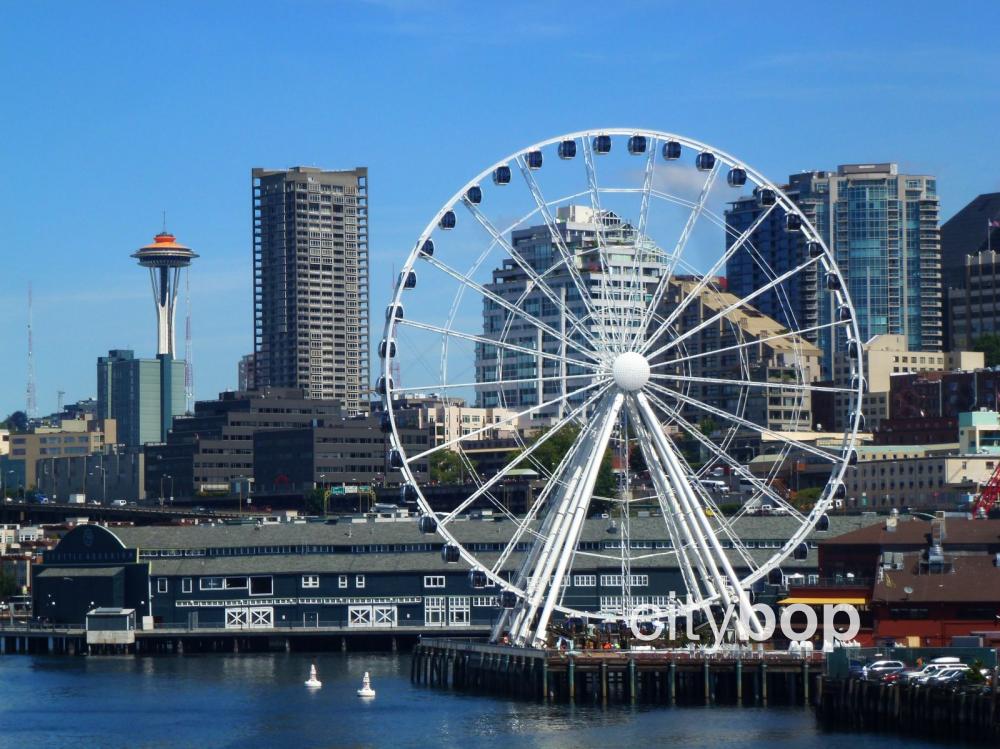 2. Book a VIP gondola for a special occasion.
Book an upgraded gondola for your special occasion, with a glass floor, leather bucket seats, a stereo, and seating for up to 4 people. It's on a first come first served basis, so unfortunately no reservations.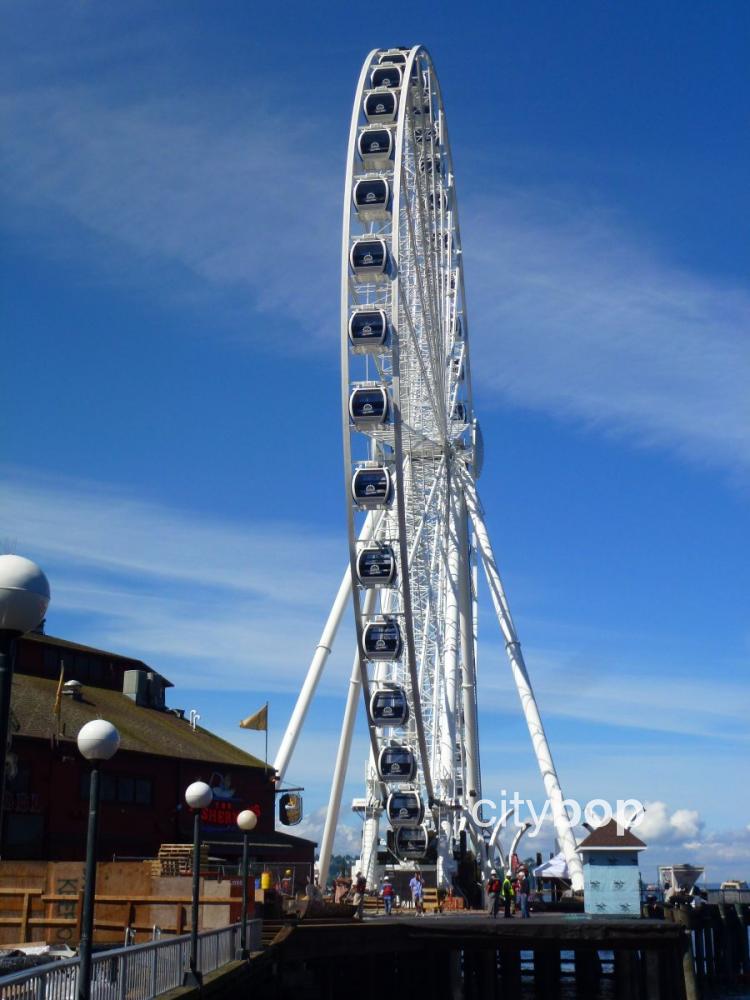 3. Enjoy a 4-course dinner as you ride the Seattle Great Wheel.
Enjoy a delicious dinner with prawn cocktails, salmon and wine, with a maximum of four people inside a gondola. Make a reservation.
4. After riding the Seattle Great Wheel, eat at one Seattle's iconic waterfront restaurants.
Visit waterfront restaurants like Ivar's Acres of Clams (Pier 54), Elliot's Oyster House (Pier 56), or Anthony's (Pier 66).
5. Explore other cool attractions at Miner's Landing at Pier 57.
Take your kids on a ride around the carousel at Miner's Landing, or hang out in the games arcade there. There's also a Wings over Washington 5D Theater, that takes you on a flying tour of popular Washington State sights, like Snoqualmie Falls and the San Juan Islands.
6. Check out the Aquarium at Pier 59.
The popular Seattle Aquarium is just a 3-minute walk north of the Seattle Great Wheel, in a blue building on Pier 59. The ferry has touchtanks full of sea anemones, starfish and sea urchins, a Giant Pacific Octopus, jellyfish, tanks full of brightly colored tropical fish, sea otters, harbor seals and fur seals.
7. Walk a short distance to other major Seattle attractions.
It's only a 5 minute walk two blocks up University Street to visit the celebrated Seattle Art Museum. The iconic Pike Place Market and Original Starbucks are also only a 10 minute walk away.
8. Check out the free light shows at the Seattle Great Wheel, on Friday, Saturday and Sunday nights.
The Great Wheel is beautifully illuminated with 500,000 LED lights, celebrating major sporting events and holiday celebrations.
9. Request a custom light show for your special event.
If you have a special event, like a gender reveal, the Seattle Great Wheel can program lights, letters and designs.
10. Take a cruise or ferry ride, near the Seattle Great Wheel.
Argosy Cruises are a three minute walk from the Seattle Great Wheel departing from Pier 55, and include tours of the harbor and Ballard Locks, and to Blake Island. The short ferry ride to the charming township of Winslow on Bainbridge Island, is also near the Seattle Great Wheel, departing from Pier 52. Leave your car behind, and walk on the ferry.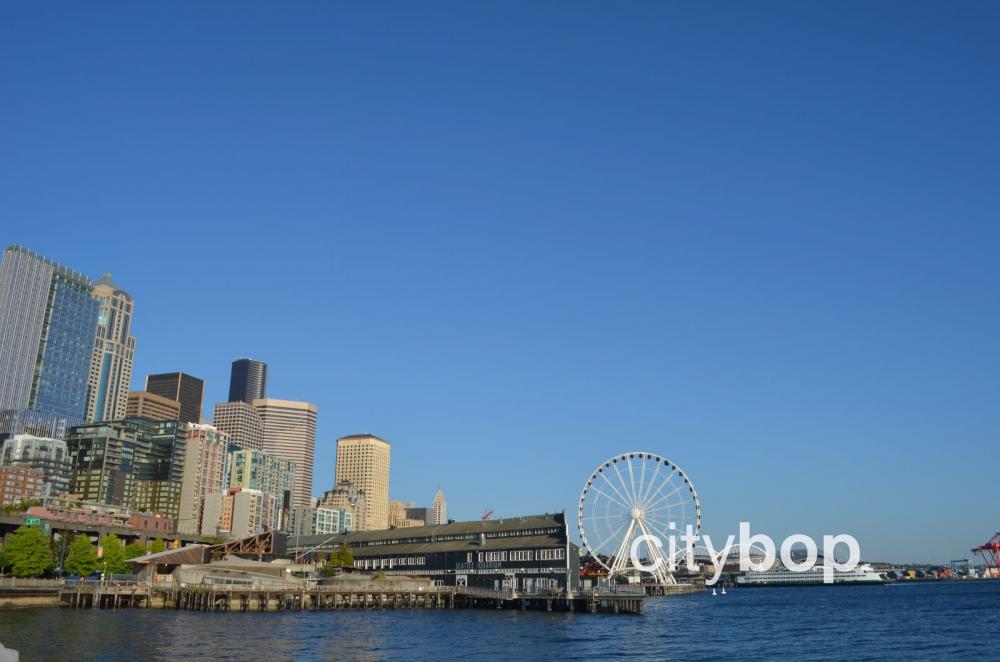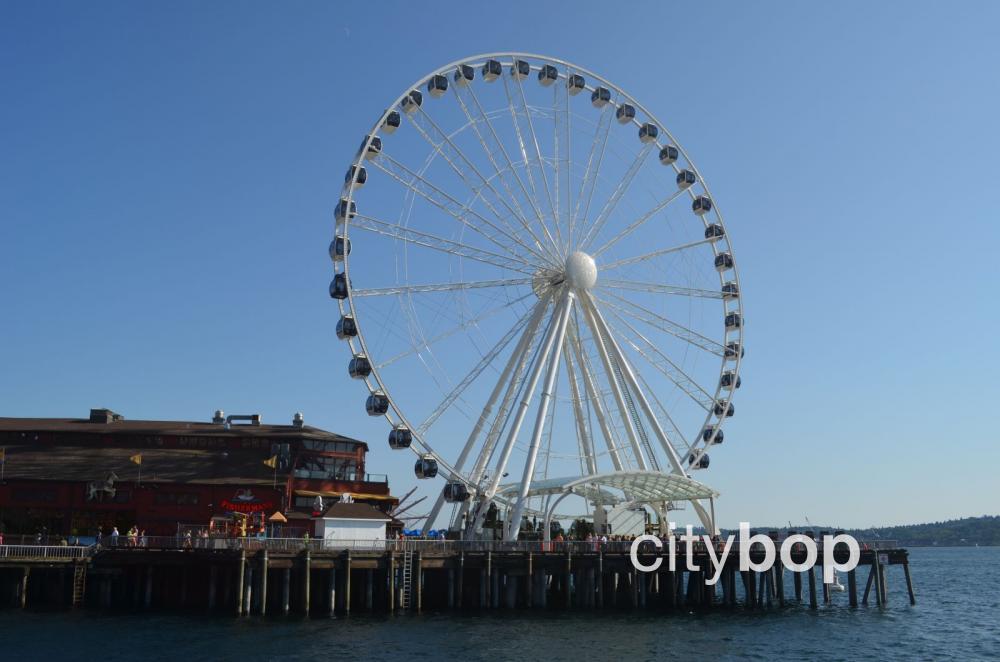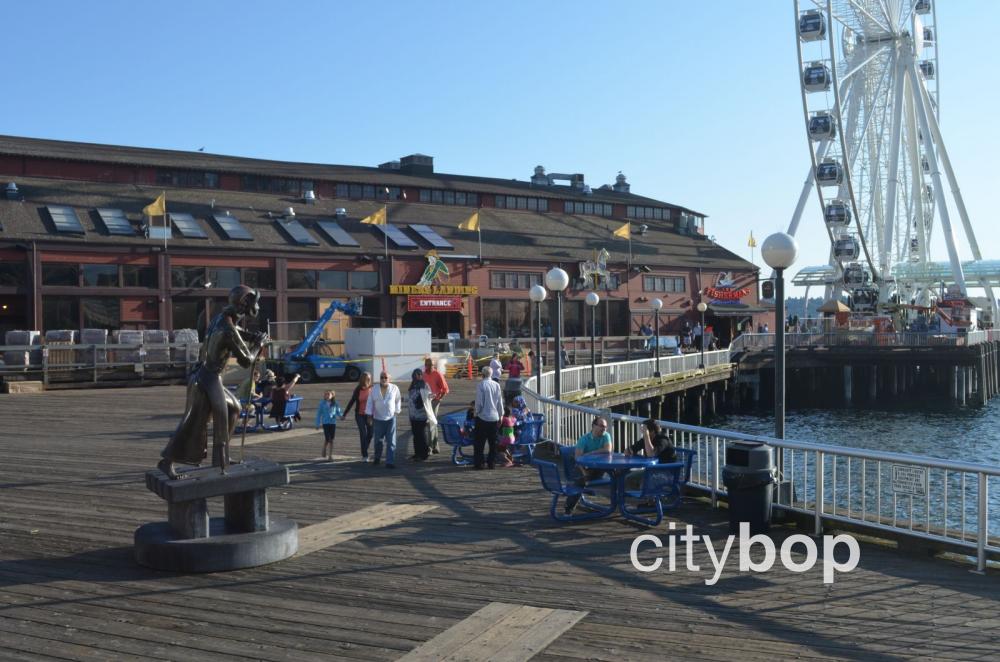 Know before you go
Location: Pier 57 on Seattle's waterfront.
Tickets & hours: here.
More Sites & Landmarks in Seattle